College Basketball Nation:

Terrence Jennings
July, 6, 2011
7/06/11
7:29
PM ET
By
Diamond Leung
| ESPN.com
Louisville coach Rick Pitino has seen Samardo Samuels and
Terrence Jennings
unexpectedly depart the team and declare for the NBA draft in consecutive offseasons. Now Pitino is reportedly recruiting point guards in the event that
Peyton Siva
leaves for the draft after his junior year.
According to
The Courier-Journal
, several prospects have said Pitino talked about Siva's potential NBA future. Kris Dunn and Gabe York, two top-10 guards in the 2012 class,
told the paper
about Pitino mentioning the possibility of early entrants.
According to York
, "He's told me up front that he thinks the guards are leaving and that I would have a good chance to play."
Much of this is Pitino covering his base to make sure a potential departure doesn't leave him without having communicated with some of the nation's top recruits at guard.
At the same time, it also presents an opportunity to look at the NBA prospects for Siva, the 5-foot-11, 175-pounder who has emerged an important player for the Cardinals. He averaged 9.9 points and led the team in assists last season, but also made only 27 percent of his 3-point attempts. He led the team with 69 steals, yet also committed 101 turnovers.
Siva recently spoke with
Louisville Sports Buzz
about his thoughts on the NBA and sounded more interested in the upcoming season.
"Of course every kid has dreams and aspirations of playing in the NBA, but we have not even been able to get out of the first round the last two years so that is really what I am focused on. This year I am just focused on getting out of the first round and winning games throughout the year and I will worry about that stuff when it comes," said Siva. "When you have that mindset of I am leaving after the year you kind of get sidetracked. All I am focused on is this team and I want to win games because if you don't win game you are not going anywhere. I am just going to come out every day and work as hard as I can and the sky is the limit."
March, 17, 2011
3/17/11
6:29
PM ET
By
Diamond Leung
| ESPN.com
DENVER -- Morehead State coach Donnie Tyndall was having trouble sleeping at 2:30 a.m. when he made the decision. If the Eagles had the ball on the final possession against Louisville, they were going to go for the win.
Faced with that scenario, the way
Demonte Harper
heard Tyndall telling that story in the huddle before the biggest shot of his life, there was no way he wasn't going to take the 3-pointer confidently.
Harper buried the shot at the top of the key with 4.2 seconds left and
Kenneth Faried
blocked
Mike Marra
's jump shot attempt on the other end at the buzzer to lift No. 13-seeded Morehead State to a
62-61 win
on Thursday in the second round of the NCAA tournament, easily the most significant victory in the program's history.
[+] Enlarge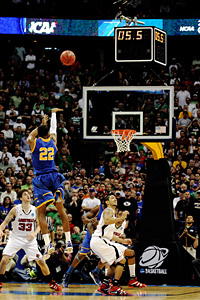 Justin Edmonds/Getty ImagesMorehead State's Demonte Harper watches his game-winning 3-pointer sail toward its target with seconds to play.
A senior who experienced a loss to in-state power Louisville two years ago when the Eagles were a No. 16 seed and the Cardinals had future NBA players all over the floor, Harper saw his shot to make his coach's vision come true.
"Coach said, 'I dreamed about this last night. I know exactly where I'm going to. I'm going to put it right in your hands, Demonte. I don't want you to drive it to the hole. I want you to pull up and win the game off a 3-pointer. I want you to pull up and win the game.'"
The Cardinals used a 9-0 run to take a four-point lead with 1:20 left and the hopes of an upset started to wane. But despite a tough day on offense for Faried (finished with 12 points on 4-of-17 shooting), Morehead State -- which trailed by eight at one point -- delivered the ball to its dreadlocked big man in the post, and he came through with two subsequent free throws to cut the lead.
With Louisville leading scorer
Preston Knowles
knocked out of the game in the second half with a sprained foot, it was left to
Elisha Justice
in crunch time. The freshman had hit a 3-pointer to give Louisville the lead with 2:13 left, but missed the front end of a one-and-one after Faried's free throws gave MSU the ball with 23.8 seconds left.
Harper unleashed his dagger, beating
Peyton Siva
with a crossover and burying the shot. Faried blocked Marra's attempt at the other end, and the school's cheerleaders rushed the court to celebrate. In Tyndall's new reality, he approached a cheering section and repeatedly pumped his fists as his face reddened.
"We played for 40 minutes, and that's what it takes to beat a team like Louisville," Tyndall said.
Morehead State surprised UL by racing off to a 7-0 lead, using a swarming defense to get the Cardinals out of sorts and force them into 10 of their 16 turnovers in the first half. The Eagles'
Terrance Hill
buried a 3-pointer at the halftime buzzer to leave the two teams tied at 33, and it was a sign of things to come.
Hill scored 13 second-half points, repeatedly hitting 3-pointers to bring the Eagles back and keep them within a reasonable distance.
Chris Smith
led Louisville with 17 points, but it wasn't nearly enough.
"I could live with losing last year. They were much better, Cal," Louisville coach Rick Pitino said, referring to last season's first-round loss to Pac-10 champion California. "This is a tough one to lose. This is a tough one."
Pitino's team surprisingly tied for a third-place finish in the Big East in the face of injuries and without returning a single starter. But with Faried gathering 17 rebounds, it was apparent the Cardinals missed leading rebounder
Rakeem Buckles
despite a solid game from
Terrence Jennings
, who blocked four shots and had eight rebounds.
"We are what we are," Pitino said. "We're just too small, and unfortunately it hurt us on the backboard."
And it was Faried, the nation's leading rebounder, who made his 6-foot-8 presence felt at the end of the game. Marra pulled up for a shot, and Faried threw his arms up and said he got all ball.
"This is a dream," Faried said. "Did we just beat Louisville?"