College Basketball Nation:

Terrence Ross
July, 17, 2012
7/17/12
10:00
AM ET
Editor's note: ESPN.com's Summer Shootaround series catches up on the offseason storylines for each conference. For more on the Pac-12, click here.
1.
UCLA's late recruiting surge
: Less than two months after a Sports Illustrated story threatened to damage the reputation of coach Ben Howland and his program, the Bruins added a pair of standout freshmen who could make UCLA a top-10 staple this season. Shooting guard
Shabazz Muhammad
-- the No. 2-ranked prospect in the class of 2012 -- announced his intentions during a live telecast on ESPNU in May. Center
Tony Parker
, who is ranked No. 26, followed suit soon after. Mix in fifth-ranked
Kyle Anderson
, a small forward who signed in the fall, and it's easy to see why UCLA's haul was ranked No. 1 in the country by ESPN.
2.
Mark Lyons transfers to Arizona
: The Wildcats' list of newcomers became even more impressive with the addition Lyons, who scored nearly 1,200 points in three seasons at Xavier. Arizona coach Sean Miller signed Lyons when he coached the Musketeers and had a chance to reconnect with him when Lyons decided to transfer for his final season. Lyons will provide a huge boost to a squad that also welcomes the country's third-ranked recruiting class. Mix in returnees such as
Solomon Hill
and
Nick Johnson
and there will be no excuses for the Wildcats missing the NCAA tournament, which they've done two of the past three seasons.
3.
USC's bounce back
: Could a team that finished 6-26 overall and 1-17 in Pac-12 play last season actually make the NCAA tournament in 2013? Trojans coach Kevin O'Neill says yes, and there appears to be validity to his optimism. Last year's squad lost four starters to season-ending injuries and was down to six scholarship players by the end of the season. Now USC is preparing to welcome back team captain
Jio Fontan
and NBA prospect Dewayne Dedmon along with newcomers such as Wake Forest transfers J.T. Terrell and Ari Stewart. Tissue-thin a year ago, the 2012-13 Trojans will be the deepest team of O'Neill's tenure.
4.
Washington hurt by NBA draft
: The Huskies' chances of repeating as Pac-12 champions took a major hit when sophomore small forward
Terrence Ross
and freshman point guard
Tony Wroten
left school early to turn pro. Both players became instant millionaires when they were selected in the first round. Ross was picked eighth by Toronto; Memphis nabbed Wroten with the 25th selection. The early departures will put additional pressure on players such as
C.J. Wilcox
,
Abdul Gaddy
and
Aziz N'Diaye
. Even with Ross and Wroten in the lineup, Washington missed the NCAA tournament last spring. Can they make it this season without them?
5.
Can Jahii Carson make Arizona State relevant again?
: The Sun Devils experienced their worst season under Herb Sendek when they went 10-21 last season. But let's face it: Arizona State hasn't had a quality point guard since Derek Glasser graduated two years ago. Carson was supposed to fill that void as a freshman last season, but he was ruled academically ineligible and never played a game. Luckily, he was able to practice with his teammates, which should help him adapt to the college game more quickly when he takes the court for the first time this fall. Arizona State has missed the NCAA tournament the past three seasons.
June, 27, 2012
6/27/12
5:00
AM ET
1.
Jared Sullinger
,
Terrence Jones
and
Perry Jones III
all returned for their sophomore seasons to be top-five picks and compete for a national title. None was invited to the NBA draft green room Thursday night. But none of them should regret a thing. Terrence Jones won a national title at Kentucky and wasn't ready emotionally after his freshman season to leave, let alone from a basketball perspective. Sullinger reached the Final Four with Ohio State. Perry Jones III got to the Elite Eight with Baylor. Neither of them was ready a year ago, either. Revisionist history isn't appropriate here. All three should still land in decent situations Thursday.
2.
Terrence Ross
was a late addition to the draft. The Washington sophomore wing could be a legit pick for Milwaukee, Phoenix or Philadelphia at Nos. 12, 13 and 15, respectively. Had Ross played in the Big East or the ACC he would probably be a household name. Having played at UW doesn't mean he'll go higher, since teams are well aware of players all over the country (see Weber State's
Damian Lillard
), but recognition of Ross wouldn't be a question Thursday night.
3. As the NBA heads into the final two days of pre-draft drama, there are a number of teams looking to make a move. Milwaukee and Houston want to move up. Sacramento is willing to move down. Cleveland would love to get to No. 2. Charlotte could easily move back, even after the latest trade to get Ben Gordon. Golden State has plenty of flexibility and can stay where it is or move.
March, 5, 2012
3/05/12
8:30
AM ET
The tallies have been counted. The results are in. The
Washington Huskies
are your outright 2012 Pac-12 champions, an honor they managed to obtain despite losing at UCLA Saturday. How? Because Cal -- thanks to two straight road losses to end the season, including Sunday's 75-70 loss at rival Stanford -- lost its share of the top position in the league. As conference title races go, this was a rather anticlimactic finish, and it probably says something incisive about the conference in general that its winner was decided via losses.

But give some credit to the Huskies too. UW clearly got better over the course of the Pac-12 season. But for a few detours along the way -- an 87-69 loss at Colorado here, an 82-57 loss at Oregon there -- they've mostly played good basketball, and they've been excellent down the stretch in close games. They earned this title, inefficacious finish and all.
The big question now, of course, is what this final week of the season means for the Pac-12's at-large chances. One thing's for sure, it wasn't good. Arizona's loss at Arizona State may well eliminate the Wildcats from serious bubble consideration. Washington and Cal's losses further dinged what were already weak tournament profiles, which, like the rest of the league's, are devoid of anything resembling quality nonconference victories.
Pac-12 fans will argue that the conference's regular-season champion deserves an at-large bid by default. But why? Because it's the Pac-12? That's not a reason. The more you dive into the resumes on offer here, the more you wonder if two bids won't require deep Pac-12 tournament runs from both the Huskies and Bears. Three bids is specious. Four feels like a
huge
stretch. And I'm not sure any team should feel entirely safe if it fails to capture the automatic bid on offer in the Staples Center this weekend.
Shortly thereafter, the committee will register its assessment, and we can mercifully stop talking about this forever. Until then, expect plenty of
sturm and drang
from fans all along the West Coast. It's going to be an interesting week.
1. Washington
: We'll leave behind the criticisms of the conference and the agonizing over NCAA tournament selection and instead praise the Huskies for their ability to get wins despite never really dominating in any phase of the game. Per Ken Pomeroy's adjusted efficiency stats, UW was this league's sixth-most efficient offense and its fourth-best defense. Per John Gasaway's most recent Tuesday Truths (which doesn't include the final batch of games, but does include the 17 that preceded them), the Huskies had the fifth-best efficiency margin in conference play. So how did it go 14-4 and win the league title? Much more often than not, Washington won close games down the stretch. That's a skill, too, and if
Tony Wroten
,
Terrence Ross
,
Abdul Gaddy
& Co. do get to the NCAA tournament (and no guarantees, but I'd guess they will) it's one that should serve them well.
2. California
: Two season-ending road losses will obscure an otherwise excellent conference run by the Bears. That's a bit of a bummer, because this team was the league's statistical best for most of the season. They led the league in efficiency margin pretty much wire to wire, and they had one of the league's best offenses throughout. Alas, the Bears will have to settle for second place. The good news? Theirs is the league's only top-40 RPI, which should come in handy if the Bears falter in the Pac-12 tournament. They aren't a guaranteed tourney inclusion by any stretch, but they're the closest thing this league has.
3. Oregon
: Oregon has been a different team since former Minnesota transfer
Devoe Joseph
found his stride in Pac-12 play. The Ducks have played especially well lately, winning their last four games, including potential resume-killers at Stanford and Oregon State last week. As a result, they finished 13-5, tied for second in the league. Given where this team appeared to be early in the season, that's a major sign of improvement.
4. Arizona
: To this Bubble Watcher's mind, the Wildcats' profile was already very shaky before Sunday. After Sunday, it may be too shaky for the selection committee after all. That's because Arizona lost 87-80 at Arizona State, which ranks No. 246 in the RPI. It was a rare Sun Devils win in a typically one-sided rivalry, and it couldn't have come at a worse possible time for Sean Miller's team.
5. Colorado
: The Buffaloes were always a fringe bubble candidate, but their back-to-back, season-ending road losses at Oregon and (especially) Oregon State are sure to end any hopes of an at-large tournament selection. Even so, some credit is deserved. Tad Boyle lost Alec Burks (a first-round NBA draft pick) and Cory Higgins (the team's senior leader) at the same time his team was relocating to a new conference replete with new and unfamiliar opponents and road venues. Despite all that, the Buffaloes finished 11-7 in the league and played themselves into the tournament conversation for weeks at a time. This season may not end in Dance glory, but it was an unqualified success all the same.
6. UCLA
: When George Dohrmann's now-famous Sports Illustrated expose dropped last week, it could have been an unmitigated disaster for the Bruins' program. In some ways, it was, revealing Ben Howland as a distant, difficult personality who allowed talents like Reeves Nelson to behave rather horribly for years as his program's success disintegrated around him. But on the court, UCLA responded with what may have been its best week of the season. On Thursday, Howland's team was comprehensive in its win over Washington State; on Saturday, the Bruins played temporary spoiler to Washington at home. If Howland survives this mess to coach another season in Westwood,
the positivity and solidarity exhibited by these besieged players and coaches
-- who will now have to be the foundation of a top-down reworking of this entire program's
modus operandi
-- may count as a major reason why.
7. Stanford
: The Cardinal may not have lived up to the potential they flashed in their 11-1 start (and their near-upset of Syracuse in Madison Square Garden in November), and they won't be heading to the NCAA tournament this season (barring a Pac-12 tourney title, obviously). But Dawkins' team did take a major step forward from last season's 15-16 finish. What's more, they beat Cal on Sunday, and spoiling their rivals' share of a Pac-12 title has to feel pretty good, too.
8. Washington State
: Ken Bone's program hardly had a banner season, but let's keep it positive. Washington State center
Brock Motum
emerged almost from nowhere, establishing himself as a major force to be reckoned with this season and one to be feared in 2012-13. You can make a very cogent player of the year case for Motum. At the very least, his performance was all-conference-worthy, and he'll be one to watch next season.
9. Oregon State
: Oregon State closed out its Pac-12 slate with two straight home wins, but the victories were just the sixth and seventh of the season. It's clear Craig Robinson's program -- despite the consistent excellence of guard
Jared Cunningham
, for whom you can also make a pretty convincing POY case -- has a long way to go before the rebuilding project is through.
10. Arizona State
: Tough year for the Sun Devils, but at least it ended well. If rival Arizona falls off the bubble picture in the days to come -- and it probably should -- it will have Sunday's 87-80 upset at ASU to thank. Arizona State fans haven't had much to smile about this season, but serving as a potential death knell for their hated (and usually dominant) rivals has to provide some solace.
11. Utah
: The Utes were putrid in 2012, particularly in the nonconference, and they didn't improve much once Pac-12 play began. But they did compete. Given how bad this team looked in November and December, and the fact that it dismissed do-everything guard Josh Watkins midway through the season, Utah's scrappy competitiveness against obviously superior Pac-12 rivals is, if anything, a credit to Larry Krystkowiak's leadership. Here's to brighter days ahead.
12. USC
: The Trojans ended their season the way they lived it: being almost unfathomably bad on the offensive end. Their point totals in this week's home losses to Washington and Washington State (58 and 38, respectively) added yet two more data points to a rather remarkable stat: The Trojans scored more than 60 points just twice in conference play. Some of that is pace, but most of it is the 82.7 (adjusted) points per trip. It also pales in comparison to the greatest data stat of them all: In this year's Pac-12 -- the worst year in this league in quite some time -- USC went 1-17. Blech.
February, 6, 2012
2/06/12
8:30
AM ET
Allow me to concur with my colleague, Myron Medcalf, who included the Pac-12's intriguing title race
among his five observations Sunday
:
2. The Pac-12 race is actually exciting: Let's ignore the fact this could still be a one-bid league and the overall conference has been bested by multiple mid-major conferences this season. The Pac-12's title race is compelling right now. Washington beat Arizona on the road last weekend and then overcame a late double-digit deficit to beat UCLA on Thursday. The Wildcats overcame Cal's early 22-9 lead in one of the better matchups of the week: a 78-74 road win for Arizona, which it followed up with a victory at Stanford. The Pac-12 might end up with the most captivating finish in the country simply because so many teams possess questionable NCAA tourney résumés.
This is entirely true. Sure, the quality of play in the Pacific 12 conference isn't the highest in the country, but so what? If you want to watch the best basketball in the world, played by all of its best players, well,
NBA League Pass is right this way
. Go wild. If you want your hoops defined as much by imperfection as success, it's hard to do much better than this fascinating and downright weird league.
Anyway, onto the rankings.

1. Washington
: For much of the season, yours truly has been pining over the
Washington Huskies
. Well, not pining, exactly, but at least keeping an eye out. With
Tony Wroten
,
Abdul Gaddy
,
Terrence Ross
and
Aziz N'Diaye
, Washington has always appeared to be the most talented team in the conference. Of course, talent only goes so far, and for much of the season, this team's talent was undermined by a lack of chemistry and a lack of defense, and not always in that order. Both of those things have changed in conference play. The Huskies are hardly blowing the doors off on offense, but they're allowing the league's third-fewest points per possession on defense, and unlike their mediocre nonconference slate, Lorenzo Romar's team is getting key stops, closing out tight games and winning on the road. As a result -- and thanks to Cal's home loss to Arizona this week -- Washington finds itself alone atop the Pac-12 standings Monday morning. Can the Huskies take that lead to the finish line? It may not matter, this team's at-large tourney profile is still pretty mediocre. But you can't knock Washington's improvement. If things keep going this way, Romar's team will be in excellent position heading into the all-important Pac-12 tournament.
2. California:
The Bears have spent the entire Pac-12 season looking like this conference's best, or at least most solid, team. That perception hasn't changed, despite Thursday's home loss to Arizona, which dropped California out of first place in the league standings. Thing is, Cal has reached its ceiling. The Bears are what they are. That's not something we can necessarily say about Washington, which looks capable of greater improvement each time it takes the floor. The Bears are solid (and their total per-possession numbers are solid, if not amazing, particularly in conference play) but unspectacular. Meh.
3. Colorado:
Is it time to believe in Colorado? Insofar as "believe in Colorado" means "think they might be the third- or fourth-best team in the Pac-12," then yeah, sure. The Buffaloes are playing solid defense and got a couple of nice wins last week over Oregon State and Oregon (though Saturday night's win over the Ducks featured a controversial last-second foul call on Oregon's
E.J. Singler
that gave coach Tad Boyle's team two late, game-sealing free throws). In any case, the Buffaloes still need to prove themselves on the road. This team's only Pac-12 road victory came at USC, and five of their final seven games -- including the next three, at Arizona, Arizona State and Utah -- are on the road. We'll see.
4. Arizona:
The Wildcats move up the board further than anyone this week thanks to their impressive Bay Area sweep, which began Thursday at Cal and ended Saturday at Stanford. Both were solid wins for coach Sean Miller's improving bunch. The Wildcats are now 7-4 in conference play with the best per-possession defense in the league. Arizona's offense could hold them back (it was uncharacteristically good at Cal, and it didn't prevent a win at Stanford), but the Cats may have found their niche on the defensive end.
5. Oregon:
Perception-wise, it's hard to penalize the Ducks too much for losing on the road at Colorado, let alone losing on the road on such a controversial last-second call. Coach Dana Altman's team has an excellent chance to bounce back this week when Washington comes to town, so that's good news. But Oregon has yet to really impress when it comes to efficiency margin in league play, and while Altman and Oregon fans may feel like they are a few missed opportunities away from contention, the Ducks' advanced metrics beg to differ.
6. Stanford:
Stanford entered league play with a sluggish offense and what appeared to be the conference's best defense. Since then, coach Johnny Dawkins' team has regressed to the mean on the defensive end, allowing the fifth-most points per possession in Pac-12 play. That wouldn't be so bad if Stanford were playing a bit better on offense. Unfortunately, that's not the case. That's why Arizona was able to win in Palo Alto on Saturday despite scoring well under a point per possession, and that's why Stanford, once a potential title contender, is stuck here at 6-5.
7. Oregon State:
It's hard to move the Beavers either up or down after Oregon State lost at Colorado and won at Utah. Guard
Jared Cunningham
leads an offense that can score in bunches and a defense that is far too permissive both at home and on the road. Last week's win at Oregon was nice, but little else has been impressive.
8. UCLA:
Believe it or not, the Bruins score the most points per trip of any team in the Pac-12. Travis and
David Wear
are providing efficient role scoring, and
Joshua Smith
remains a load for any defense to handle. Strangely enough for a program that has prided itself on defense in the Ben Howland era, this team is totally mediocre on the defensive end. Losing to Washington on the road, as the Bruins did Thursday, is hardly a crime. But the way UCLA lost -- with a timeout still on the board -- was curious. More importantly, this team hasn't gone anywhere since the turmoil of November and December, and that has UCLA fans questioning the program's future direction.
9. Washington State:
Washington State had one thing going for it in early Pac-12 play: home-court advantage. The Cougars were offensively potent at home, and that trait guided them to wins over Stanford and Cal in back-to-back games last month. But
Faisal Aden
's sad, career-ending ACL injury has robbed them of even that ability, made evident by a meager 60-53 win over USC and a 60-points-in-65-possessions performance in Saturday's three-point loss to UCLA. This was never going to be a tournament team, but that doesn't make Aden's fate, or its effect on this fledgling squad, any easier to swallow.
10. Arizona State:
No surprises here. Arizona State had two road games this week -- at Stanford, at Cal -- and lost by 20-plus in both. Those blowouts moved the Sun Devils to 3-8 in league play, good enough to stay atop Utah and USC and no one else.
11. Utah:
The Utes will never truly wash off the stink of their horrendous nonconference performance; on a per-possession basis, they've been ranked in the low 300s all season, and they'll be there for the remainder. But they do still own one more league win than USC. Then again, Utah has lost its past four (including at USC), mostly in blowout fashion, and the Utes may return to their seemingly predestined spot at the bottom of these rankings if the trend continues.
12. USC:
And then there's Southern California. The Trojans' only win in league play came at home over Utah, and while they kept things relatively close at Washington State (losing 60-53), that's hardly worth much. USC is scoring about 0.83 points per possession in Pac-12 play, a league that hardly specializes in lockdown defense. Unless the Trojans discover a magical way to score the basketball in the next few weeks, their only hopes of avoiding the 2012 Pac-12 wooden spoon award is if Utah somehow plays even worse.
February, 3, 2012
2/03/12
3:35
PM ET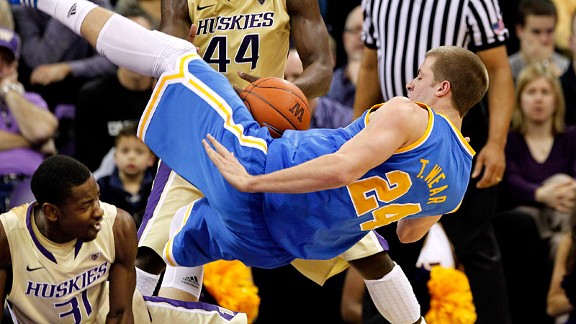 AP Photo/Elaine ThompsonTravis Wear and UCLA took another tumble with Thursday night's disappointing loss at Washington.
For the past month or two -- pretty much since UCLA dumped forward Reeves Nelson for his continued nonsense -- yours truly has been patiently waiting for the Bruins to finally figure it out. Maybe Nelson would be addition by subtraction. Maybe they needed time to grow as a team. Maybe the young guards just needed a month or two to develop. Maybe
Joshua Smith
just needed to get in shape.
If any or all of these things turned out to be true, UCLA -- one of the more talented teams in its league -- had a major opportunity. The Pac-12, as you may have heard, is down. A few bounces in the right direction, a little midseason congealing, and blammo: UCLA, once
ranked No. 20 in the preseason
(remember that?), would be right back in the thick of this season.
As of Feb. 3, the dream, as it were, appears to be officially over. Barring a totally unforeseen late-season surge, or a Pac-12 tournament title rush, the Bruins are not going to the NCAA tournament. The Bruins aren't as bad as they were in November, to be sure, but they're still incapable of beating anything resembling a decent Pac-12 team on the road. (The only conference road win came over USC, which, sorry, doesn't count.) UCLA is 12-10 overall, 5-5 in the Pac-12. At this point, they are what they are: Not horrible, not good and not likely to change either of those facts.
Still, Thursday night's loss at Washington might hurt more than any other in recent weeks, if only because UCLA had a genuine opportunity to "upset" (ahem) the conference's co-leader on the road. Basketball Prospectus' Kevin Pelton was on hand, and
he was rightfully baffled by UCLA coach Ben Howland's game management
:
The Bruins' visit to Hec Edmundson Pavilion last year was the quintessential Howland timeout game. He burned through three timeouts in the first half and had used up all five of them by the 12:57 mark of a close game. When Howland took his first timeout 2:32 into Thursday's ballgame, it looked like we were headed for a repeat. Instead, the UCLA coach showed surprising discretion, added by his team's ability to stem any Washington momentum with timely scores.

Howland took a pair of timeouts to the five-minute mark, then used one with 4:38 to play to set up his defense after a score, giving him one to burn. He never used it.

Remarkably, the Bruins found themselves in precisely the sort of situation for which most coaches save their timeouts. After a Terrence Ross miss, UCLA took possession down two with 26 seconds remaining. The Bruins came down and got into their offense, even after the Huskies took away any opportunities for transition or the secondary break. The resulting play was a mess. Freshmen guard Norman Powell eventually got the ball in the corner. Powell, who was in the game only because Tyler Lamb had fouled out, driving for a contested pull-up jumper with three seconds left. When he missed, time ran out before the Bruins could secure the rebound or foul.
[+] Enlarge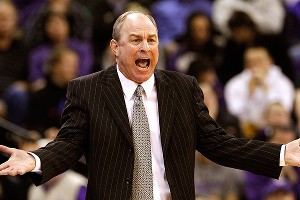 AP Photo/Elaine ThompsonBen Howland has taken UCLA to three Final Fours, but some fans are calling for change at the helm.
You can't take timeouts with you. It's a hoary old chestnut, but it's true. And when your team has a chance to win the game in the final moments, a coach usually decides to not leave that potentially all-important timeout on the board. It's just sort of strange, right?
More than that, it underscores the current strife of the UCLA basketball fan, who understandably expects his or her program to look more like the one of the early Howland years, when the Bruins were a fixture in three-straight Final Fours. Since then, UCLA has seemed in a constant rebuilding limbo. NBA defections and a downtick in recruiting have been the main cause of these woes -- this team would be so much better if Tyler Honeycutt and Malcolm Lee hadn't bolted for the league last spring -- but the causes don't affect UCLA fans' reception of the end result.
If Friday's post at Bruins Nation is any indication -- titled
"End of Faith: Why Howland Must Go, Even Though It Hurts"
-- UCLA fans are officially ready to end the Howland era. To wit (warning, long blockquote ahoy!):
I take no joy in calling for Ben Howland's firing. I really don't. But, when you look at the numbers, it's clear that Ben hasn't gotten the job done, at least not to the level UCLA deserves. That said, it's about more than the numbers, but it's about something happened this season that made me realize, on a deep, visceral level, that Howland had to go.

I stopped believing in Ben Howland.

I no longer have the confidence that everything will turn out okay for UCLA. I no longer believe that Ben can guide us to the pinnacle of college basketball. I don't have faith in Ben, not anymore. I can't point to any particular reason, or any particular point in time where that happened: I just know it did. I lost faith. I stopped believing in Ben. The magic is gone.

I could care less about watching our basketball games, because it's just painful. It hurts to see the shell of a formerly great coach flail about with a mediocre team (that he is solely responsible for building), unable to adjust, unable to find a way to win, and unable to bear any resemblance to the outstanding coach that made UCLA a dominating force in college hoops.

When you look at schools like Duke, North Carolina, Kansas, and the other elites, the fans have something we don't: a belief in their coach. Deep down in every Blue Devil, Tar Heel, Jayhawk, etc. is the belief that, even in a bad, rebuilding season (which for these guys, still always result in at least a NCAA tournament appearance), that Coach K, Williams, or Self would right the ship.

Howland, on the other hand, lost that. It's sad.
Obviously, one blog (let alone a singular post) can't speak for every UCLA fan, of which there are many. But if the comments on that post are any indication of Howland's current status among fans -- there are lots of "me toos" and "100 percent right" and "beautiful post" and so on -- UCLA fans have seen enough. The time has come, at least to them. Of course, impassioned blog comments don't have the power to fire Howland, and he is almost certain to survive this season and perhaps even another one, depending on how his latest surge in recruiting (specifically the pursuit of top-ranked recruit
Shabazz Muhammad
) plays out.
Either way, the Bruins' proud program finds itself at another crossroads. After another disappointing loss, UCLA fans aren't asking when this team will get better, when it will congeal, when the talent will shine through, when Joshua Smith (who is playing better) will finally become dominant. They're asking different questions now: Why isn't this team improving? Why isn't Howland doing a better job? How soon can we move on? How soon can we hire someone new?
As of February, that's where things stand in Westwood. And you thought November was ugly.
December, 15, 2011
12/15/11
3:35
PM ET
By
Diamond Leung
| ESPN.com
Resident bracketologist Joe Lunardi today selected a 4-4 Washington team to be one of his
First Four Out
of the early-season look at the projected NCAA tournament field, but take one look at the video above and it's clear the Huskies still have room to grow.
They might be inexperienced, but the talent is there with an emerging star in
Terrence Ross
. According to
Grantland
, plays like that one in New York have NBA talent observers talking about his lottery-pick potential.
Spend time around those scouts, as I did at MSG, and you'll quickly learn what they like about him. "He's a special athlete," said one. "Everything comes so easy for him," another opined. "He's just scratching the surface of how good he can be," a third gushed.
That's good news for Washington because the Huskies have lost four of their last five games and are in need of someone to step up. According to the Seattle Times, there also might be a leadership void after Isaiah Thomas left for the NBA.
Ross appears to be maturing into the go-to guy. The only UW player to score in double figures in every game, he banked in a go-ahead jumper with 19 seconds left against Marquette that would have made him the game's hero if not for a last-second three-pointer from the Golden Eagles.

Ross, a soft-spoken sophomore projected as a lottery pick in next year's NBA draft, commands the respect of teammates.

"He hates to lose," [co-captain Darnell] Gant said. His teammates will follow Ross because "he's playing hard and he's not just talking about it. We want to get everybody like that," Gant said.
December, 7, 2011
12/07/11
2:06
AM ET
NEW YORK -- A season ago, Marquette won 22 games and went all the way to the Sweet 16 -- yet was just 4-7 in games decided by 5 points or fewer.
This season is starting very differently, as evidenced by the Golden Eagles' thrilling
79-77 victory
over Washington on Tuesday night at Madison Square Garden.
Marquette, ranked No. 11 in the country, is now 8-0 on the season. Coach Buzz Williams was happy with the victory, but not with his team's play early in the game, nor with himself.
"I thought [Washington's] energy and their intensity to start the game, we were not able to match. And I think I did a poor job of helping our team when
Chris Otule
got hurt," Williams said of Marquette's starting center, who sprained his knee less than two minutes in and did not return; he will have an MRI on Wednesday. "Because that changes how you have to guard ball screens. That changes when and if you're gonna trap the post, and who you're gonna trap the post with. And I didn't think that I handled that very well.
"I thought once we kinda got in a groove, we were better."
They certainly were. After falling behind quickly 11-2, Marquette rallied back to take its first lead of the game, 27-26, just under 6 minutes before halftime. The Golden Eagles led 37-34 at intermission.
The second half of this game was a classic seesaw battle, with 18 -- yes, 18! -- lead changes. Neither team led by more than 5 (and that was only after Marquette's first bucket of the second half).
The game came down to the final minute. Washington's
Terrence Ross
(team-high 19 points) hit a tough foul-line bank shot to give the Huskies (4-3) a 77-76 lead with 17 seconds left to play. Williams elected not to call a timeout -- he had already gone over a play with his team in a previous timeout, in case Washington scored on the previous possession.
The ball ended up in senior forward
Jae Crowder
's hands. "My man showed pretty hard, I got a good screen from
Jamil Wilson
to pop out to the [right] corner," Crowder said. "Once that happened, I knew I had a good look at the rim."
[+] Enlarge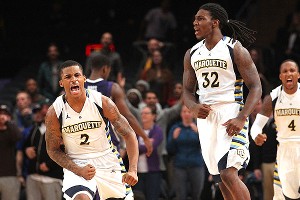 Nick Laham/Getty ImagesWith its win over Washington at MSG, Marquette improved to 8-0 on the young season.
The shot, from just beyond the 3-point arc, was on the money, giving the Golden Eagles a 2-point lead with 6.3 seconds remaining.
Washington elected not to call a timeout, instead pushing the ball up the floor.
Abdul Gaddy
's well-defended desperation heave from the right wing was way off at the buzzer.
"Yeah," said UW coach Lorenzo Romar, when asked if he thought about calling a timeout to set up a last shot. "Probably in retrospect, probably would have liked to."
This is the Golden Eagles' second win by 5 points or less this season, following a
59-57 victory
over Norfolk State in the championship game of the Paradise Jam on Nov. 22.
Marquette was also coming off an impressive
61-54 win
at No. 7 Wisconsin on Saturday. Williams admitted that fatigue may have played a role in his players' struggles Tuesday night, particularly at the start.
Leading scorer
Darius Johnson-Odom
had 23 points, but shot just 6-for-17 from the field. Crowder added 18 points, 16 of them coming in the second half.
"I think we're whipped," Williams said.
On the bright side, Marquette -- picked to finish sixth in the Big East this season in the conference's preseason coaches' poll -- looks like it's capable of being much better than that, as we inch closer to the beginning of conference play.
Losing Otule for a significant period of time would hurt, to be sure. But this Marquette team is deep -- Williams used 11 players on Tuesday, with seven of them contributing 4 points or more.
There have been some pleasant surprises as well. Among them are freshman
Todd Mayo
, the younger brother of NBA player O.J. Mayo, who scored 11 points off the bench against Washington, and has scored in double figures in five of the team's eight games.
There may be some increased competition for playing time in the weeks ahead, and talk of that made Williams grin at the postgame podium.
"Yeah, I like that," he said. "It's good. Recruit as many good players as you can, win as many games as you can, and play as many as you can along the way."
December, 6, 2011
12/06/11
4:11
PM ET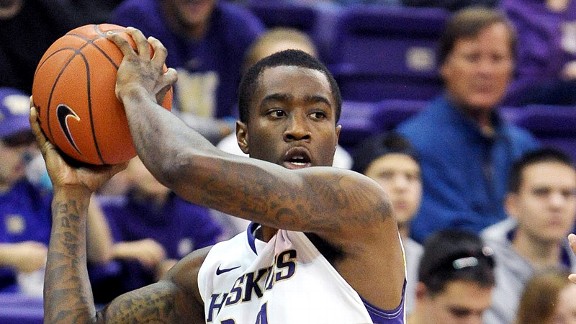 Steven Bisig/US PresswireWashington guard Tony Wroten is showing a lot of promise early in his freshman season.
This summer, at the Nike Skills Camps in Chicago, one guard consistently stood out from the rest. He was left-handed. He had good vision, a solid outside shot and a knack for making the well-timed pass to a streaking forward on the break or appropriately deciding to finish the play himself.
At 6-foot-5, he stood taller than most of his fellow guard attendees, all of which were (or were about to be) the best point guards in the country. By the end of the day, he had NBA scouts raving. In a sea of talented-but-too-short point guards, here, finally, was a player with the skills
and
size to play the position at the next level.
This player was
Tony Wroten
, Jr.
This college hoops writer, wary of small sample sizes though he is, allowed himself to throw his data-oriented caution to the wind. I was sold: Wroten was going to be great, and the 2011-12 Huskies were going to be better than anyone had reason to expect.
Moreover, Wroten's commitment to Lorenzo Romar's team couldn't have come at a better time. This summer, the Huskies waved farewell to point guard and spiritual leader Isaiah Thomas, a ball-dominant, left-handed guard who led his team in minutes, points, assists and steals in 2010-11 and won the conference tournament title over Arizona with a floating jumper at the buzzer. With Thomas gone and Wroten in, the Huskies were replacing a very good but undersized lefty point guard with a much bigger, much more naturally talented version -- and a guy
with plenty of his own swagger, too
.
After seven games, at least one thing is clear: Wroten is every bit as important for the Huskies as Thomas. Maybe even more so.
The question is whether Wroten is ready for that sort of responsibility. On that front, the jury is still very much out.
The freshman guard has had no shortage of opportunities this season. After seven games,
per Ken Pomeroy's adjusted efficiency stats
, Wroten ranks No. 4 in the nation -- to be clear, that's No. 4 out of
every college basketball player in the country
-- in usage rate. Wroten finishes 35.9 percent of his team's available possessions when he's on the floor; the next-highest of the Huskies, sophomore
Terrence Ross
, checks in at 21.7 percent.
Wroten has dominated possessions: He brings the ball up the floor and initiates Washington's offense, but he also has the freedom to create for himself whenever he chooses to do so. He takes 28.8 percent of his team's available shots.
The problem? Wroten's efficiency isn't just so-so -- so-so would be good for a player that shoulders this much of his team's offensive load. No, Wroten's efficiency numbers are downright bad. After seven games, the guard's offensive rating, per KenPom, is 86.0. (For comparison's sake, Ross' 118.5, while teammate
C.J. Wilcox
is among the best in the country at 131.2.) His effective field goal percentage (which accounts for the added value of a 3-point shot) is 46.2 percent. His true shooting percentage (which factors in free throw percentage) is 47.2. Wroten's turnover rate is 27.6 percent.
According to Synergy Sports Technologies data, Wroten has scored 88 points on his 119 possessions this season -- an average of .739 points per possession. Wroten has been much better in transition (27 points on 26 possessions) than he has in the half court, but half-court possessions have accounted for 78.2 percent of his possessions on the floor. His tallies in those trips: 93 possessions, 61 points, .656 points per possession. Synergy's built-in descriptors politely describe this mark as "below average."
Weirdly enough, it's not as if Wroten has been forcing bad jumpers or obviously trying to do more than he's capable of. According to Synergy, 71.4 percent of his shots are "around basket (not post-ups)." Essentially, as the Wroten film backs up, these are drives to the rim. He simply hasn't been finishing. Throw in the close misses with the turnovers, and you have a recipe for severe individual offensive frustration.
Fortunately, there are plenty of positive signs in Wroten's game. Despite all the turnovers, his turnover-to-assist ratio is still positive, because Wroten has been finding open teammates with regularity. (Assist rate: 30.1 percent, which ranks just outside the top 100 nationally.) Wroten has also turned those drives into plenty of trips to the free throw line; he's drawing nearly 7.2 fouls for every 40 minutes he's on the floor (national rank: No. 32).
In the meantime, the Huskies' problems aren't limited to their freshman guard. He isn't the only one turning the ball over, for example. Plus,
Romar has said that he's allowed his team to experiment in the first few weeks
in order to better find out what he was.
"I've looked at that quite a bit, and obviously that's my fault," he said. "Early on, as you're putting your team together, a lot of times offensively you kind of let the guys play more just to try to find out who can do what when they're actually playing.

"Sometimes you can restrict players and hold them back and you don't know what they are capable of giving you. I kind of let the guys blow it out early on, probably too much. It usually bites us early because we don't do as good of a job offensively as we should do."
That quote came before Washington's loss at Nevada, but it's no less true for the passage of time. It's safe to assume Romar will gradually attempt to tighten Wroten's game, to accentuate the things he's good at -- leading the Huskies in transition, creating matchup problems on the perimeter, penetrating and working toward the rim -- and minimize the problem areas.
There are other caveats, too. Here's a big one: Wroten is still just a freshman.
Much like
Austin Rivers
or
Harrison Barnes
or anyone else, it's unfair to judge him after four weeks of college basketball. There's a learning curve, and Wroten is on it.
Likewise, it's important to remember that whole small sample size thing. It's just seven games. It's early.
More likely than not, Wroten will finish more of those plays around the rim, improve his efficiency and have a very productive freshman season in Seattle. He'll adjust to collegiate defenses, realize he can't get away with certain things at this level, and cut down on his turnovers in the process. He'll get used to playing with guys like Ross and Wilcox and
Abdul Gaddy
, and he'll defer more frequently when the shots don't fall. If I had to guess whether Wroten will improve, worsen or perform at roughly the same level all season, I'd bet the house on "improve."
But as early as it is, we do know this much for sure: Few players in 2011-12 will be as important to their teams' success -- or failures -- as Wroten. The Huskies' potential mirrors their silky 6-foot-5 freshman point guard's. They can't improve if Wroten doesn't.
In other words: Stay tuned.
July, 20, 2011
7/20/11
7:12
PM ET
By
Diamond Leung
| ESPN.com
The always-entertaining Isaiah Thomas conducted an
online chat with the Seattle Times
today and had some interesting thoughts. The former Washington guard likes UCLA to win the league if the Huskies don't, called the court at Oregon's Matthew Knight Arena "ugly," and also said of new Sacramento Kings teammate Jimmer Fredette, "He's like the Justin Bieber of basketball. Everywhere we go, people are crying over him."

The declaration from Thomas that should excite Washington fans was this:
Terrence Ross is the most talented player I've played with during my time at the UW.
During the three years Thomas was in Washington, he played with the likes of future NBA draft picks Jon Brockman and Quincy Pondexter. So that's a high compliment for Ross, the 6-foot-6 guard who made the honorable mention all-conference freshman team. Ross averaged eight points per game, and there have been other indications he's ready for a breakout season.
Percy Allen of the Seattle Times
recently watched pickup games on campus and had this observation:
Even with NBA players on the court, at times Ross looked like the best player on the floor. Still if you were drafting a team of the players Thursday, the 7-1 [Spencer] Hawes would probably be the first person taken. But Ross would likely go No. 2. He thrives in an open-gym setting. He wowed the few folks in the stands with high-flying dunks, alley-oop slams and putback jams. Whenever anyone guarded him one-on-one, Ross either tried to blow past them with a dribble drive or he jabbed and whirled to create room for a fadeaway jump shot. Ross, a 20-year-old sophomore, also looks much more chiseled than he did last season.
That's great news for the Huskies, who will be looking for a go-to player after Thomas left for the NBA draft and Justin Holiday and Matthew Bryan-Amaning completed their eligibility.
A lot of the attention will be focused on the backcourt with the arrival of flashy freshman Tony Wroten and the return of Abdul Gaddy from a torn anterior cruciate ligament.
But don't forget about Ross.
March, 28, 2011
3/28/11
11:33
PM ET
By
Diamond Leung
| ESPN.com
The NBA draft could end up stealing plenty of talent from the Pac-12. USC's
Nikola Vucevic
declared last week he was signing with an agent, as did UCLA's
Tyler Honeycutt
today. Several players must still make decisions, including Arizona's
Derrick Williams
, Washington State's
Klay Thompson
and
DeAngelo Casto
, and UCLA's
Malcolm Lee
and
Reeves Nelson
.
And when it all shakes out, UCLA could easily be the favorite going into next season. The Bruins
lose their best athlete in Honeycutt
, but won't miss his 100 turnovers and could return most of their roster to go along with transfers David and Travis Wear.
"Would we be a better team if (Honeycutt) came back? Absolutely," said coach Ben Howland, whose team was without a senior this season. "One hundred percent.
"I'm still very optimistic. I think we'll be a very, very good team."
Howland said the team could still play with three guards, using David Wear as a small forward. And the interior presence provided by the Wear twins along with freshman center
Joshua Smith
-- all standing 6-foot-10 -- is a nice advantage to have.
Should Nelson and Lee stay in school, UCLA would return its top two scorers along with point guard
Lazeric Jones
, who now has a Division I season under his belt.
UCLA will have plenty of challengers in the Pac-12. Arizona will really miss Williams should he leave for the NBA, but would still return most of a team that includes point guard
Lamont Jones
and bring in a top recruiting class coming off an Elite Eight appearance. Washington should still have
Isaiah Thomas
and an emerging star in
Terrence Ross
. Cal brings back freshman of the year
Allen Crabbe
, and Washington State would be strong with Thompson returning to school.
Losing Honeycutt isn't ideal, but it appears the Bruins will manage. And after some more draft decisions get made, they could really find themselves in a good spot.
March, 12, 2011
3/12/11
4:00
PM ET
By
Diamond Leung
| ESPN.com
After Washington's Pac-10 semifinal win last night, guard
Isaiah Thomas
spoke of today's championship game as a chance for revenge against Arizona and a second opportunity to win a conference championship.
The Huskies, the preseason favorites that finished third, desperately want to prove themselves going into the NCAA tournament by defending their Pac-10 tournament title and taking it to the Wildcats after splitting the season series.


With reserve guard
Venoy Overton
suspended for the entire tournament, it's been Thomas who has played 78 minutes over the past two days and taken it upon himself to get the job done.
"He was going as if he hadn't played any minutes, as if he was fresh," Washington coach Lorenzo Romar said. "He's just doing a great job of leading this team."
Will Washington have enough depth to beat Arizona? Thomas had 10 points and 12 assists, but struggled in going 2-of-11 from the field against Oregon, so he'll need help. The Huskies have also adjusted their lineups depending on the matchup, most recently starting guards
C.J. Wilcox
and freshman
Terrence Ross
alongside Thomas.
A game against a deep Arizona team might not be the best matchup for Washington while it runs on fumes.
Derrick Williams
is coming off another big game, and the Wildcats have begun starting
Kevin Parrom
while getting good production from
Jamelle Horne
and freshman
Jordin Mayes
off the bench against USC.
And Arizona coming off its regular-season title is no less motivated for this game.
"We came here trying to separate our regular-season championship and pursue a quest for the conference tournament championship," coach Sean Miller said. "You have that postseason now, and these guys understand that from this point forward after a lot of hard work and a great regular season that when you lose, you go home."
December, 30, 2010
12/30/10
10:14
PM ET
By
Diamond Leung
| ESPN.com
Pac-10 preseason favorite Washington exited the national rankings weeks ago, and the conference hasn't seen one of its teams in the polls since then.
The way UCLA coach Ben Howland sees it, the Huskies merely lost to three current top-20 teams away from home in Kentucky, Michigan State and Texas A&M, and the Huskies deserve more national respect.
"I find it really, really surprising they're not nationally ranked," Howland said on the eve of Washington playing at UCLA. "They should be ranked. I don't understand it."
The Huskies could easily climb back into the rankings with a win on Friday that would mark only their third-ever sweep of the Los Angeles schools. Gutting out a 73-67 overtime victory at USC on Wednesday was crucial, proving they could win a close game in a road environment (though Huskies fans were loud in chanting
"just like football"
at Trojans fans).
Matthew Bryan-Amaning
, after some early-season struggle,s came through with 18 points, and freshman
Terrence Ross
also had 18 in a confidence-building game for him on a night when USC was focused on stopping
Isaiah Thomas
.
UCLA is looking to go 2-0 in the Pac-10 as well after containing Washington State's
Klay Thompson
. The Bruins will now ask
Malcolm Lee
try to shut down Thomas.
That match-up along with the Bruins' ability to stop the Huskies' transition offense should determine which team wins and takes first place in the Pac-10.
And also whether or not the conference is represented when the polls come out next week.
August, 10, 2010
8/10/10
12:55
PM ET
For the next month or so, our friends at The Mag are previewing one high-profile school per day for their Summer Buzz series. For the sake of all that is synergistic, yours truly will be attempting the same, complementing each comprehensive Insider preview with some adjusted efficiency fun. Today's subject? Washington

. Up next? Gonzaga.
The 2009-10
Washington Huskies
were always there. We just didn't quite notice them.
It was easy to write off a team that, at times throughout the Pac-10 season, seemed no better than much of its mediocre conference competition. After early-season losses to Texas Tech and Georgetown, the Huskies lost five of their first eight Pac-10 matchups, including losses to Oregon, Arizona, UCLA and USC, all teams in the midst of rebuilding (or, in Oregon's case, deconstructing).
But the Huskies weren't bad. They were just inconsistent. A look
down their tempo-free game stats throughout the season proves as much
: When they were on, the Huskies showed flashes of the consistent, high-octane offensive play that got them to a somewhat unexpected Sweet 16 berth. When they weren't, they lost. It was pretty much that simple.
That offensive inconsistency came down to one key stat: shooting. As a talented, veteran UW team looks to take the next step in 2010-11, it'll have the same challenge to overcome. Can Washington shoot well enough to win?
That will require some new contributions. In 2009-10, the Huskies posted a 49.7 effective field goal percentage, ranking them No. 128 in the country. It was their one sub-standard offensive stat. Washington rebounded well (36.6 offensive rebounding percentage), prevented turnovers (17.5 turnover percentage, good for a No. 34 overall rank) and got to the free throw line (40.9 percent free throw rate) at a reasonable clip. But they didn't always shoot well, and that could be troublesome given the personnel losses the Huskies will have to deal with. Cue
Quincy Pondexter
.
Pondexter, like the Huskies, flew under the radar for much of the season, but he was a ruthlessly effective offensive player. He posted an offensive rating of 122.2; that was the 44th-best mark in the country and the
No. 3 ranking among all players who used at least 24 percent of their team's possessions
. Pondexter shot well (54.7 percent eFG), didn't turn the ball over (12.7 percent turnover rate), cleared the offensive glass (10.2 percent offensive rebounding percentage) and drew plenty of fouls (5.9 per 40 minutes, to be exact) from opposing teams. He registered national KenPom rankings in all of those statistics. Frankly, he did it all, and he did it all well.
Pondexter is gone, of course, which begs the question of just who can replace his offensive efficiency. The answer is discouragingly unclear.
The obvious if somewhat questionable solution is the backcourt. Guards
Isaiah Thomas
and
Venoy Overton
had the second- and third-most Huskies possessions in 2009-10, respectively, and while their offensive ratings weren't nearly as high as Pondexter's, both players have scoring ability. Washington fans will also expect more from sophomore
Abdul Gaddy
, who showed occasional flashes of brilliance as a freshman but finished with pedestrian per-possession numbers (84.1 offensive rating, 42.8 eFG, and a much-too-high 30.8 percent turnover rate). Gaddy will have to improve his consistency in 2010-11 if he wants to assert himself on a veteran team. He certainly has the talent.
Meanwhile, senior
Matthew Bryan-Amaning
-- whose nickname is MBA, which I learned today, and which is totally awesome -- will have to recreate some of Pondexter's low-post proficiency. He might not be the scorer Pondexter was, but MBA has already proven himself as an offensive rebounder. A bigger role could mean bigger contributions.
And, of course, there are the recruits, too:
6-foot-6 small forward Terrence Ross is an athletic wing

with a proficient jump shot. There's also 7-foot junior college transfer Aziz N'Diaye that will give the Huskies their first legitimate size in years. Pondexter, after all, was the team's best rebounder at 6-foot-6, and Bryan-Amaning is a mere 6-foot-9. (Which is still very tall, but you get the point.) Adding a 7-foot center to the mix, even if his main contribution comes on the glass, will surely help the Huskies match up against taller, more physical teams.
In the end, though, the 2010-11 hopes for Washington hoops come down to a simple equation: Who will replace Pondexter's offense? If the Huskies can get better, more efficient guard play, and young talent like Gaddy and Ross can score consistently at the collegiate level, U-Dub could be just as good as 2009-10. If not, expect more inconsistency and a less effective team.
Last season, Northwestern basketball had a funny little team motto, one that eschewed the typically dramatic coach-speak fluff you find on college fan T-shirts. Those shirts merely read: make shots. The 2010-11 Huskies would be wise to take Bill Carmody's advice. Above all, Washington needs to make shots. Whether they can do so without Pondexter will be the great challenge of their season.