College Basketball Nation:

Terry Rozier
February, 28, 2014
Feb 28
10:00
AM ET
Louisville's basketball rivalry with Memphis is probably better than its one with Kentucky. This version of Red vs. Blue certainly has run longer, although only old-schoolers on both sides maintain deep hatred. The Cardinals and Tigers have followed and fought each other through four different conferences (Missouri Valley, Metro, Conference USA, American) -- how many rivals can say that? Saturday's meeting will be the final time (we think?) as league opponents, as Louisville jettisons the American for the ACC next season.


Louisville looks to avenge its 73-67 home loss to the Tigers on Jan. 9 and keep pace with Cincinnati for first place in the conference. The Cards were a disjointed team still trying to figure out who fit where in their loss. As Rick Pitino teams tend to do in February, they have hit their stride now. Louisville closed out the regular season of its 2013 national championship run with seven straight wins. The Cards got started a little earlier this season, and the proof is in their beards. Pitino and staff vowed not to shave until they lose a game. Their winning streak has reached seven games headed into Memphis.
Louisville guards
Chris Jones
and
Russ Smith
have developed a backcourt chemistry that was lacking earlier in the season. Jones is taking fewer shots; Smith is dishing more assists. The first meeting with the Tigers was a breakout game for senior forward
Luke Hancock
, last year's Final Four Most Outstanding Player. He went from averaging 7.8 points in nonconference play to averaging 14.7 points in the American. Freshman
Terry Rozier
is becoming a budding star off the bench.
For Memphis and coach Josh Pastner, a win over the Cardinals could again bring validation that they could sorely use. Back in January, the Tigers' road win over a ranked Louisville team brought credibility. The Tigers are staggering down the stretch of the regular season. They struggled with last-place Temple at home before winning 82-79 in overtime. They fell flat at Houston on Thursday and lost 77-68.
The schedule doesn't present Memphis any breaks in its final three games. The Tigers close out conference play with arguably the toughest road in the league with Louisville, at Cincinnati and SMU. The Tigers will have the advantage of serving as hosts for the American tournament, but they can't afford to try to build momentum then. They would love to start now and in the process send their old nemesis away to a new conference with the bitterness of a season sweep.
February, 22, 2014
Feb 22
4:47
PM ET
CINCINNATI -- Louisville's 58-57 road win Saturday bore some resemblance to Rick Pitino's new facial hair. Not always smooth. Definitely some scraggly patches.
But, like the beards Pitino and his players began sporting before Valentine's Day, the No. 11 Cardinals might not be going away anytime soon. Much as they did a year ago at this time, the defending national champions are displaying noticeable growth in February. Louisville (23-4) has won six straight and got its first major scalp of the season
by nipping No. 7 Cincinnati
in a close shave.
"This was big for us," swingman
Wayne Blackshear
said. "There were a lot of doubters out there saying how good are we because we can't beat a ranked team. But obviously we pulled one out today."
It took a signature moment of Russdiculousness for the Cardinals to finally earn that cornerstone victory.
Russ Smith
knocked down a jumper from the left elbow with 2.2 seconds left, helping Louisville avenge a three-point home loss to Cincinnati on Jan. 30 and creating a virtual tie atop the American Athletic Conference standings with the Bearcats.
That Smith would take and make the game winner came as no surprise. The unexpected part was that his late-game unselfishness proved the difference in a back-and-forth street brawl of a contest.
Cincinnati erased a 10-point second-half deficit and led 55-52 with just 1:28 left after
Justin Jackson
sank two free throws. After a timeout, Smith dumped the ball to
Montrezl Harrell
for a dunk off a designed pick-and-roll. On Louisville's next possession, Smith contorted through traffic to find Harrell for an easy layup.
[+] Enlarge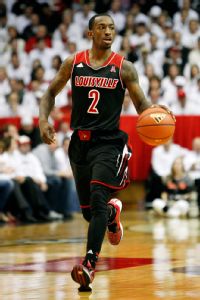 Frank Victores/USA TODAY SportsAfter finally beating a ranked team, Russ Smith and Louisville are getting better and better as March approaches.
Down by two points with under 10 seconds to go, Smith drove left off a Blackshear screen. The Bearcats met him with a double-team, so he passed the ball out to
Terry Rozier
on the wing. Rozier took one dribble and rose up, later saying he thought about shooting it. But, at the last moment, he spotted Smith standing alone to his left and passed it back, showing uncanny poise for a true freshman.
"It was a great play," Pitino said, "but it was an even better play by Terry."
There's little doubt that trigger-happy Smith would have jacked up a quick shot rather than work for a better one early in his career. But the senior -- who made only three field goals Saturday -- said he showed maturity by searching for his teammates against the Bearcats.
"That was the right thing to do," he said. "That was the basketball play, to give it up.
"I knew scoringwise that I wasn't going to beat Cincinnati. It was going to be a team effort, and I was going to have to find people, get Montrezl going, get everybody else going. I feel really good about the decisions I made down the stretch."
Louisville won in an extremely hostile environment despite getting only 10 points from Smith and enduring one of
Luke Hancock
's worst games (0-for-6 from the floor, five fouls). That's because other players are starting to contribute more, which is a great sign for the Cardinals as March approaches.
In a fitting regular-season halt to this rivalry -- the two teams have no scheduled games in the foreseeable future after the Cardinals bolt to the ACC -- every play in the paint turned into a mosh pit of flying body parts. No one enjoyed that more than 235-pound Harrell, who led Louisville with 21 points and 10 rebounds. That marked Harrell's sixth double-double in his past 12 games, and Pitino said the sophomore forward is "really developing into a great basketball player."
"I just try to go out there and be that one to dive on the ball or hustle down to the block," Harrell said. "Just do something to get my team going and hope they feed off my energy."
Rozier, a nonfactor much of the season, added 11 points and has scored in double figures in three straight. He provided key minutes and defense Saturday as Hancock struggled.
"I never really played that much against good teams earlier in the year," Rozier said. "[Pitino's] confidence in me is definitely growing, and I'm getting more minutes and more looks. He's starting to trust me."
Even Blackshear, who has had a frustrating tendency to disappear in big games, came up with the key defensive play by blocking a
Sean Kilpatrick
layup attempt with 47 seconds left.
Pitino said he gave the same pregame speech he delivered before last year's Final Four game against Wichita State, telling his players the better defensive team would win. Neither team shot well in what Cincinnati coach Mick Cronin described as a "bloodbath," but Louisville held the Bearcats to a season-low 28.6 percent from the floor. That included a 3-for-26 start to the game.
Kilpatrick matched the 28 points he scored in last month's win at the KFC Yum! Center but had to work much harder for his points as the Cardinals' aggressive zone often kept him far from the lane. He hit just nine of his 26 shots and -- after an 11-for-11 free throw performance in the first meeting -- missed a foul shot that could have given his team a three-point cushion in the final two minutes.
The Bearcats (24-4) lost for just the second time since Dec. 14. Meanwhile, the Cardinals appear to be taking off at the right time. They vowed before last week's win at Temple not to shave again until they lost a game. Results have varied on that fuzzy front.
"I look like a 61-year-old, aging Al Pacino," Pitino joked after the game.
The most striking facial features among the Louisville contingent Saturday afternoon were the broad smiles through the whiskers. The beards will continue to grow. So, too, does this team's outlook.
February, 21, 2014
Feb 21
9:30
AM ET
The first time Louisville and Cincinnati met this season, the Bearcats were the victors. Barely.
That 69-66 win for Cincy on Jan. 30 is the only home loss on Louisville's résumé since Jan. 12. The Cards have won nine of their past 10, with Cincinnati as its lone blemish during this stretch.


It was an interesting matchup. Louisville outscored Cincinnati 46-41 in the second half and forced 20 turnovers. But
Sean Kilpatrick
's 28-point effort was too much for the Cardinals to overcome.
Even though that game was just three weeks ago, this next matchup might involve new factors that weren't as prominent in the first meeting.
Both Cincy and Louisville are receiving contributions from young players on their rosters.
Russ Smith
versus Kilpatrick might have been the headline last month, but this game is not about two players. It's about two teams competing for the American Athletic Conference crown and prepping for March while gaining traction as their freshmen and sophomores continue to mature and produce down the stretch.
Those youngsters could be the deciding factors in a matchup between two teams in the top 10 of Ken Pomeroy's adjusted defensive efficiency ratings.
Freshman
Terry Rozier
took seven shots in the first matchup against Cincinnati. But he's 11-for-24 with 29 points, seven rebounds, four assists, five steals and two turnovers in Louisville's past two games.
Mangok Mathiang
has gone through growing pains in his first few seasons, but the big man looks more comfortable now with the idea of hoisting up the occasional forever-unblockable hook shot inside. And other than a 47 percent clip from the charity stripe,
Montrezl Harrell
's numbers (12.7 ppg, 8.1 rpg, 1.3 bpg) are impressive. That trio could give Louisville an edge against the Bearcats.
But Cincinnati coach Mick Cronin hopes a few of his underclassmen will help on Saturday and beyond, too.
Shaquille Thomas
(7.1 ppg), a 6-foot-7 forward, comes and goes. But in the team's past two games, the sophomore has scored 19 points and connected on 50 percent of his shots. There's always a chance that he'll have a big day. He's talented enough to make a difference. Freshman
Troy Caupain
has had five double-digit scoring efforts this season. And he's a solid shooter from outside. Will he make noise in this high-profile matchup?
Justin Jackson
,
Luke Hancock
, Smith and Kilpatrick will be the players who will carry a chunk of the weight for their respective squads.
But this one could be close again. And it could come down to a handful of plays, plays that some newer faces might have to make in this crucial AAC matchup.
January, 17, 2014
Jan 17
10:00
AM ET
Conventional thinking about the American Athletic Conference race in the preseason figured Louisville, Memphis and Connecticut would compete for the crown. Through five games, they're all chasing Cincinnati.


The Bearcats' 5-0 start in the conference means Louisville game at UConn on Saturday just got real. Should the Cardinals lose, they'll likely fall two games back of the Bearcats, who play at USF on Saturday. Should the Huskies lose, they'll be looking at three conference losses just a third of the way through the AAC schedule.
On paper, the game will be a matchup of two of the nation's best guards, Louisville's
Russ Smith
and UConn's
Shabazz Napier
. Both seniors can now be described with words no one associated with them as freshmen: mature and reliable.
Smith is averaging 18.1 points, 4.8 assists and has increased his shooting percentages to what would both be career bests from the field (45.3) and from the 3-point arc (38.8).
Napier averages 16.1 points, a league-leading 6.2 assists and a team-leading 6.2 rebounds. He's the only player in the nation who leads his team in all those categories, in addition to steals and minutes played.
But this game might not be decided by either player. It might be tipped by the play on the wing.
For Louisville, it's possibly
Wayne Blackshear
. The junior guard/forward entered Thursday night's game having scored a combined five points in his past two games. Louisville coach Rick Pitino opted to bring him off the bench for the first time this season instead of starting him. Blackshear responded with a career-high 23 points on 8-of-10 shooting and had seven rebounds.
Blackshear has had a tendency to go silent in the Cards' big games this season. He was scoreless against North Carolina, had five points against Kentucky and just two against Memphis. But if he can make his presence felt against UConn, Louisville will be that much harder to defend.
For UConn, it's possibly
Lasan Kromah
. He has reached double-figure scoring in only four games this season. But one of those was his 13 points Thursday night in the win at Memphis.
The Huskies can be overly reliant on Napier,
Ryan Boatright
and
DeAndre Daniels
to score. Kromah averaged double figures in each of his three seasons at George Washington before transferring to UConn, so he can be a difference-maker.
Louisville could again be without junior guard
Chris Jones
, who injured his right hip and missed Thursday's win over Houston. If he's unable to play, freshman
Terry Rozier
will probably get the start in his place. Rozier had a career-best eight assists and one turnover against the Cougars.
The Cards have won six of their past seven matchups with UConn, with the last Huskies victory coming in the 2011 Big East Tournament championship game.
November, 9, 2013
11/09/13
6:25
PM ET
People sometimes panic during the first few days of the college basketball season.
Kinks and flaws are magnified, even though the sample size is far too small to be used as evidence to produce a realistic conclusion about any program. That doesn't stop us, however, from making assumptions.
From worrying.
From anticipating doom.
Think Virginia Tech's fans care that the Hokies' 64-63 loss to South Carolina Upstate on Saturday was just the first of many games? Think defending ACC champ Miami's supporters feel calm after Friday night's 66-62 loss to St. Francis (N.Y.)?
At least those teams had problems that were easily identifiable in the offseason.
Louisville, the defending national champion and No. 3 squad in the Associated Press preseason poll, probably prompted jitters within its fan base after its sloppy start against a bold Charleston program that was down just 49-45 with 6 minutes, 41 seconds to play Saturday at the KFC Yum! Center. A late run finished the Cougars.
But don't believe the 70-48 final score
. Charleston was tougher than that.
For a chunk of the matchup, Louisville was inefficient and ineffective. Missed layups and jump shots. Squandered fast-break opportunities.
Charleston forwards
Adjehi Baru
and
Willis Hall
combined for 15 points and 13 rebounds against Louisville. They were probably more comfortable than they would have been with 6-foot-6 forward
Chane Behanan
, currently serving a suspension, available for the Cardinals. Plus,
Luke Hancock
was injured.
[+] Enlarge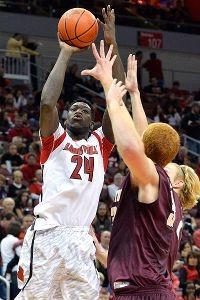 AP Photo/Timothy D. EasleyMontrezl Harrell played 33 minutes in Louisville's season opener and had 10 points and eight rebounds.
Still, Louisville launched a 21-3 rally in the final 6:41 that was created by the full-court pressure that has killed the dreams of many Cardinals opponents in recent years. They were brilliant down the stretch.
So what was the problem before that run?
Well, this is not last season's Cardinals squad. That's obvious, I know.
But Louisville in 2013-14 is different from the team that won the national championship trophy in April. No Peyton Siva and Gorgui Dieng.
Other players have accepted new roles.
Wayne Blackshear
goes from young reserve to critical piece in Rick Pitino's rotation.
Montrezl Harrell
will play center at times this season when Louisville uses a smaller lineup. He averaged 16.2 minutes per game last season. He played 33 on Saturday.
Chris Jones
, the highly touted junior college transfer, was solid in a Division I debut (12 points, six rebounds, five assists and two steals) that justified the hype that preceded his arrival.
Russ Smith
(21 points) struggled from the field (1-for-5 from the 3-point line), but he helped the Cardinals finish strong.
Smith played the last three seasons with Siva next to him. He and Jones could be one of America's best combos, but they'll also play some rough basketball -- they certainly did Saturday -- as they continue to learn each other's tendencies.
Until the Cardinals pulled off that impressive run in the final minutes, a loss seemed possible.
Blackshear, Jones and Smith were 15-for-44 from the field. The Cardinals made 22 percent of their 3-point attempts and 61 percent of their free throws. Not their best day.
But that effort shouldn't serve as an exhibit for critics. The Cardinals are good. They're versatile, athletic and relentless on defense. Charleston committed 21 turnovers.
They're also a team in transition as new faces join old ones and players adapt to new individual expectations. And it showed throughout their first game of the season.
Louisville reached the Final Four in back-to-back seasons with a group that had learned from its experience in 2012 and used that to its advantage in 2013.
Although some of the same players from those teams are on this season's roster, the Cardinals lack continuity. A big part of that change involves Louisville's switches at key positions (point guard and center) and its reliability on new players.
But the Cardinals can still build a similar level of chemistry. It will take time, though. Behanan and Hancock will return. Harrell and Blackshear will become more comfortable as starters. Freshmen
Mangok Mathiang
(seven points, 10 rebounds, one block) and
Terry Rozier
will grow.
But this isn't last year.
That doesn't mean Louisville can't match that team's achievements, because it can.
Moving forward after losing key players and asking others to assume different roles, however, is never an easy adjustment. Even for a national champion.
That rocky stretch in Saturday's game proved as much.
And that's all it proved.