College Basketball Nation:

The Morning After
December, 6, 2012
12/06/12
9:30
AM ET
The Morning After is our semi-daily recap of last night's best basketball action. But it doesn't matter what it is. What matters is its plan.


No. 6 Florida 72, Florida State 47
: We -- and by "we," I mean the collective college hoops consciousness -- have spent a lot of time this season talking about the best teams in the country: Indiana, Duke, Michigan, Louisville, Ohio State, Syracuse and Kansas. One team we seem to not quite talk as much about is, you guessed it, Florida. And that probably needs to stop.
Of course, it's not like Wednesday night's utter demolition at Florida State was all that new. This Florida team had already demolished a couple of opponents better than FSU (which entered Wednesday night's game with three home losses, including to Mercer and South Alabama) in Wisconsin (74-56) and Marquette (82-49). With the possible exception of a 13-point win over Central Florida, the Gators have yet to win a game that could be described in any way other than "demolition." They're just steamrolling people.
This has to do, as it did last season, with the Gators' efficient perimeter offense.
Kenny Boynton
is still doing his high-volume long-range thing,
Erik Murphy
still stretches the floor, and guards
Mike Rosario
and
Scottie Wilbekin
are threats in their own right. But there are some major differences in this year's team which are impossible to ignore. The first is defense: The Gators, always mediocre on the defensive end of the floor last season, are suddenly guarding like a top-five efficiency defense. The other reason is
Patric Young
. After two seasons of looking like a beast but hardly ever touching the ball, the massive Young suddenly leads Florida in usage rate. He's actually getting the ball on the block. He's scoring it when he does. Weird, right?
Combine these stylistic tweaks and wholesale defensive improvements with a Florida State team that can't score to save its life and doesn't defend anywhere near as well as in recent seasons, and it shouldn't be all that surprising to see Florida just utterly destroy their rivals on said rivals' home floor.
Whether you were surprised or not, the bottom line is this: Florida is one of the best three or four teams in the country. Let it be known.

Colorado 70, Colorado State 61
: If you checked out from this game early, you can be forgiven. After all, with 1:33 left in the first half, Colorado led 42-17. At that point, it appeared as if this game was going to be just one more Wednesday night blowout. I already had the title of TMA ready to go: "Blowout Wednesday." (I know! Creative, right?)
This was not a blowout, far from it. Colorado State came storming back in the second half -- an impressive feat given how impressively loud that Colorado home crowd was -- and cut the lead on a
Wes Eikmeier
bucket to 54-51 with less than seven minutes left in the game. But Colorado locked in on defense and CSU started dropping a lot of possessions; the Rams scored just one point over the next five minutes. By that time, the Buffaloes had put together another insurmountable lead.
This game was truly excellent in a variety of ways, but no one shone brighter than Colorado guard
Spencer Dinwiddie
. A couple of days after mocking CSU fans for rushing the court after last year's victory, and calling Colorado State the "little brother," Dinwiddie went out and dropped 29 points on 8-for-10 from the field, and hit a bunch of key free throws to seal the game down the stretch.
After the game, Dinwiddie told the AP he had a lot of respect for Colorado State, but, "backing up the comment is great. They were on my Twitter -- a lot."
Memphis 84, Ohio 58
: This is exactly what Memphis needed. The Tigers and coach Josh Pastner in particular have been harangued for the past two weeks for their limp performance in the Bahamas; the suspicion that Pastner was a nice guy and a great recruiter who couldn't coach was becoming loudly entertained. So Memphis couldn't afford to have a weird, skittish, just escape-or-God-forbid-
lose
sort of game Wednesday night. They needed a solid win. Thanks in large part to two newcomers (
Geron Johnson
and
Shaq Goodwin
, who combined for 14-of-19 from the field and 41 points) and capable ballhandling against a turnover-rabid Ohio defense, the Tigers got much more than that.
Everywhere else
: Winning at Washington State always feels tricky, especially when
Brock Motum
and
DaVonte Lacy
go for 23 and 22 combined. It is even more difficult when your starting point guard shoots 1-for-11 from the field on his first 12 field goals. But Gonzaga guard
Kevin Pangos
' 13th attempt was a game-winner with two seconds left, and the
Zags escaped Pullman
with a gasping two-point win.
You should definitely watch this video
. ... New Mexico got behind early but
eventually topped USC
, which looked better but still, you know, eh. ...
Dayton beat Alabama at Alabama
, and I swear to the basketball gods Dayton is the most unpredictable and mind-bending basketball program in the country. ...
Temple handled a Villanova team that has a long way to go
. ... Don't look now, but Charlotte is 8-0 and actually has a good win -- at Davidson --
worth bragging about
. ...
Saint Louis held on against the Fightin' Tony Mitchells
, who got 18 and 8 from Mitchell and 21 points, seven assists and seven rebounds from guard
Chris Jones
and
nothing from anywhere else
. ... And, finally, I know the game was slow, and I know Virginia can defend,
but goodness are the Volunteers struggling to score
. In losses to Georgetown and UVa, the Volunteers have scored .68 points per possession. Basketball that bad should come with a Surgeon General's warning label.
November, 19, 2012
11/19/12
9:35
AM ET
The Morning After is our semi-daily recap of last night's best basketball action. It thought the clean-shaven look worked well for Abu Nazir
.
No. 23 Connecticut 89, Quinnipiac 83
: It really is a shame this UConn team can't play in the NCAA tournament.
I know, Huskies fans. I know. That was not the most polite way to begin a quick recap of yet another November win for this young, tenacious group of players. It's probably a huge bummer, actually. But it is something I thought to myself watching Connecticut outlast in-state rival (ha) Quinnipiac Sunday night: If this team could get in the tournament, it would be awfully exciting to watch.
As it happens, with just one more game in the Paradise Jam -- a chalky championship showdown with New Mexico -- Monday night will be the last time we get to see this team play an elimination game. We'll see how things hold up during the drudgery of the regular season. But right now, it's hard not to be impressed. That starts with Shabazz Napier, who scored 23 of his career-high 29 in the final 4 minutes of regulation and the two overtime periods, including a game-tying bucket on the penultimate possession of regulation that was just a blatant display of speed superiority. It was as if Napier woke up late in the game, realized no Bobcat could guard him and played the rest of his 47 minutes accordingly. Meanwhile, he and Ryan Boatright combined to shoot 23-for-25 from the line.
The Huskies may have a lot of ugly shooting nights like Monday night, and they may not be as good as the performance against Michigan State would suggest. But they are playing hard. And they are fun to watch.
Meanwhile, let's take a moment and send a kind thought in the direction of ESPN.com college football editor Brian Kelly,
whom I've decided will be name-dropped on the site anytime his beloved alma mater
, Quinnipiac, is mentioned. BK had a rough Sunday night.
New Mexico 70, George Mason 69
: There is a fair amount of anticipation regarding this New Mexico team, because they spent most of the offseason being so vastly underrated a full-fledged backlash is now underway. The real test will come against aforementioned UConn Monday night. (Stay tuned for a preview this afternoon.) But in the meantime it's hard to know exactly what to make of a team that needed a last-second Tony Snell rainbow 3-pointer to take down this George Mason team. Or maybe it's time to revise gloomy predictions for Mason, which now owns wins over Virginia and Mercer, lost by five at Bucknell (no shame in that; Mike Muscala can ball) and gave New Mexico everything it wanted and more. Monday night will offer more clues.
Oklahoma State 76, No. 6 NC State 56
: See Myron Medcalf's closer look at Oklahoma State's
utter trouncing of NC State
for all your analysis needs. I'll just say one thing: NC State is clearly better than last season. This was a gross loss. It'll recover. But it was
never
the sixth-best team in the country. It barely made the tournament last season. How quickly we forget.
Colorado 81, Murray State 74
: Like Myron,
Jason King had this one covered like a covered bridge
. (#fakelilwaynebars)
No. 16 Baylor 97, St. John's 78
: There's not a lot to analyze here: Brady Heslip had the game of his life (29 points, 8-of-12 from 3), the Bears all scored with ease and rebounded 58 percent of their misses and got to the line all the time and cruised to an easy win after a disappointing loss to Colorado at the weekend. But I am interested in St. John's. That is a truly promising team, talent-wise, but it appears to lack two things: 1) A forward who can score on the low block (as opposed to shooting 15-to-18-foot jumpers) and 2) a coherent game plan beyond "outrun, outjump." That's not a slight on coach Steve Lavin; if I wielded that much athletic ability, I'd try to run everybody out of the gym, too. But the lack of a Plan B, particularly against teams that match or outstrip your athleticism, can get you run out of the gym just as quickly.
Everywhere else
: Ohio State rolled Washington, thanks
in large part to Deshaun Thomas being unstoppable
. ... Duke started slow against Florida Gulf-Coast, and
then scored 30 points in a row
. ... Florida had minimal issues with a
much-better-than-you-think Middle Tennessee
. ... Tennessee
got its offense back on track against UMass
. ...
Poor Penn State
. ... Boston College didn't fare much better,
but at least it didn't get blown out
. ... Long-term NCAA tournament sleeper
La Salle took an awfully ugly loss to Central Connecticut State
. ...
and Hofstra had itself a week and a half
, about which more to come.
December, 29, 2011
12/29/11
11:08
AM ET
The Morning After is our semi-daily recap of the night's best basketball action. It remains convinced M83 deserved album of the year.
No. 12 Georgetown 71, No. 4 Louisville 68
: Raising eyebrows, turning heads -- whatever your preferred phrasing, the
Georgetown Hoyas
just keep on doing it. The last time Georgetown lost a game came in the Maui Invitational, in a 67-63 loss to the
Kansas Jayhawks
. Since then, this team has beaten Memphis twice, Alabama at Alabama, and now Louisville at Louisville, and why? Freshmen. Particularly
Otto Porter
.
Of course, Georgetown's veterans have been great, too.
Henry Sims
is one of the nation's most improved players and one of its best passing big men;
Hollis Thompson
has become a versatile scorer and stretch forward;
Jason Clark
remains an excellent shooter. But for all those players' improvements, Georgetown is a different team this season largely thanks to Porter, a once-unheralded, later-touted recruit from a small town in southeast Missouri -- Sikeston, Mo., to be exact -- who didn't play AAU basketball. Porter eventually became a top-50 recruit, according to most analysts, but he appears to have been drastically underrated. Porter's 14 points and 14 rebounds -- borne from his unique combination of size, length, ball skills, intuitive rebounding, toughness and scoring -- were among the main reasons Georgetown was able to leave the Yum! Center with a win Wednesday night.
Perhaps most impressive about Porter -- not to mention emerging sophomore
Markel Starks
(7-of-8 from the field, 4-of-4 from 3, 20 points) -- is the consistency with which he's looked more like a junior than a freshman. Unlike so many players ranked ahead of him in the 2011 ESPNU 100, Porter hasn't needed time to adjust to the college game, whether physically or mentally. He's ready now. In turn, the Hoyas -- who, like Porter, were barely mentioned before the season -- are looking like bonafide Big East contenders.
No. 17 Michigan State 80, No. 15 Indiana 65
: Your obligatory who-scored-what-when statistic of the night: From the 5:47 mark in the first half to the 11:14 mark in the second, Indiana outscored Michigan State 38-14. Outside of that time frame -- in the first 15 minutes and the final 10 -- Michigan State outscored Indiana 66-27.
This game was like that, with both teams making runs, getting hot, opening a lead, getting cold, shoring up the defensive boards, getting hot again, scoring points in transition -- sloppy as it occasionally was, it was an impressively played game. A good offense (Indiana) going on the road against a tough, hard-nosed defense (Michigan State) and seeing which had the most at the end of 40 minutes. Wednesday night, that team was Michigan State, as the Spartans' overhauled defense, one of the best in the country to date, stifled Indiana's offensive threats. Indiana forward
Cody Zeller
found inside touches difficult to come by; he finished with just four points on 2-of-5 from the field. Likewise, point guard
Jordan Hulls
was constantly harassed by Michigan State defensive stalwart
Keith Appling
, and Hulls, one of the most efficient shooters in the country, finished with a totally out-of-character 2-for-10 night from the floor.
Indiana's
Christian Watford
was excellent (26 points, 10 rebounds) but it wasn't enough: Wednesday night, Tom Izzo's defense earned another pelt, stopping an offense that had yet to be stopped all season. It wasn't the prettiest affair, but one doubts the Spartans were bothered by that.
Everywhere else
: Our own Jason King was on hand for Baylor's ugly-but-hey-it's-a-win
54-52 victory over Mississippi State
. ...
Syracuse rolled Seton Hall
and one of the season's early surprises in big man
Herb Pope
. ...
Ohio State didn't break a sweat
against an overmatched Northwestern team. ... Connecticut, playing without Jim Calhoun (who is serving his three-game NCAA-mandated Big East suspension)
barely escaped South Florida 60-57
. ...
Missouri State upset Creighton on the road
, handing the Bluejays their first home loss and earning
Kyle Weems
, who outplayed Creighton star
Doug McDermott
, some deserved attention. ...
West Virginia handled Villanova
, and these Wildcats still look really rough. ... And
Purdue barely escaped Iowa City with a 79-76 win over the Hawkeyes
.
December, 20, 2011
12/20/11
10:30
AM ET
The Morning After is our semi-daily recap of the night's best basketball action. It needs to start getting more sleep.
Davidson 80, No. 11 Kansas 74
: You just kept waiting. Eventually, Kansas would take control of this game. Davidson would fade. I thought it would come at the 9:43 mark, when
Elijah Johnson
and
Thomas Robinson
combined for a huge alley-oop dunk off a gorgeous curl screen set, one Robinson finished with gusto. Bob McKillop's Davidson team had put up an admirable, canny fight to that point, but Kansas had cut the lead to three and seemed to be gaining the momentum it needed to finally shake the Wildcats off their backs.
Instead, Davidson only got stronger. McKillop called timeout after Robinson's stuff — we should start calling those "T-Rob TOs" — and though they allowed Kansas to tie the game at 55 a few plays later, they quickly built a 62-56 lead that had the Jayhawks fans in the Sprint Center in Kansas City audibly squealing in horror. Every time KU looked like overtaking the Wildcats, someone coolly canned two free throws or made a big shot, none bigger than the 3-pointer
Nik Cochran
sank with 1:36 remaining. That moved the Davidson lead to six points yet again, kept Kansas out of immediate striking distance, and gave Davidson the room it needed to calmly kill the game at the free throw line.
Perhaps
that
was the most impressive thing about Davidson's win last night. It's not like the Wildcats snuck up on an apparently better team, or got hot in the closing minutes and blitzed a team they had rightfully trailed all evening. This didn't feel like a shocker. That's not how it looked.
No, for long stretches of the evening McKillop's team looked like the better outfit. Its defense was especially impressive,
holding Kansas
to exactly one point per possession and an effective field goal rate of just 45.2 percent. In the end, this one was pretty simple. That forced the Jayhawks into 23 3-point field goal attempts. The Jayhawks made six, two of which came after the game was out of reach in the final minute. It was just one of those nights. If you're facing a packed-in defense and settling for 3s, you better make sure they fall. When they don't — when Elijah Johnson goes 3-for-10 and Connor Teahan shoots 2-for-8 — those late surges, which always felt just around the corner from Kansas Monday night, tend to come far less frequently.
LSU 67, No. 10 Marquette 59
: So Kansas drops a game to Davidson in Kansas City. That's probably your upset of the night, what with the whole "small-budget mid-major takes down a moneyed blueblood in enemy territory" thing. Wherever you rank Davidson's upset of Kansas, this one can't be far behind. Or are the Tigers actually -- wait for it --
pretty good?
Gasp!
J'accuse!
The answer, at least on the defensive side of the ball, is a resounding "yes." LSU now has the No. 37-ranked defense in Pomeroy's adjusted efficiency rankings; after Monday night's win, it is allowing just .91 points per trip to opposing offenses. That defense shone through against Marquette, which shot at a 43.1 effective percentage clip, which isn't even their lowest figure of the season. (They actually shot worse -- and won! -- at Wisconsin. Go figure.)
The Golden Eagles were stifled by LSU's athletic pressuring defense, which didn't force many turnovers but did force Buzz Williams' team to settle for more outside jumpers (8-of-23 from beyond the arc) than he would have probably preferred. LSU's offense suffered no such woes, finishing the night with a 61.6 effective field goal rate. When LSU got a stop, it usually got a good look at a bucket of its own. And there you have it.
Perhaps the biggest surprise -- more so than the win, more so than LSU's offensive excellence, a rare trait for the previously brick-happy Tigers this season -- is indeed how much Trent Johnson's team appears to have improved from last season. LSU finished the 2011 season
ranked No. 227 in adjusted efficiency
, among the handful of serious contenders for "worst high-major team in the country." In 2010, they weren't much better. It was safe to wonder whether Johnson had lost this program to decay, whether the Tigers could again even be competitive in the SEC, let alone contend to win it. That may not happen this season. LSU's offense has a lot of work to do. But considering how far this team has come since last season already, there may be room for hoops optimism in Baton Rouge. Hey, football season can't last forever.
Everywhere else
: Illinois narrowly avoided joining Marquette and Kansas among the ranked teams to suffer an upset Monday night, and the Illini's -- at home vs. a clearly inferior 4-4 Cornell team -- would have been the most unforgivable. The Illini were awful defensively for much of the night, disjointed and haphazard, and Cornell carved them up. But guard
D.J. Richardson
came on late, the Illini defended well -- OK, not
well
, but better --
and snuck off with a 64-60 win
. Phew. ... Indiana scored the highest number of points per possession (1.45)
in the Tom Crean area
, continuing its scalding-hot offensive ways with a
merciless 107-50 blowout of Howard
. ... Doug McDermott scored a career-high 35 points as Creighton easily handled a potentially tricky road test at Tulsa,
83-64
. ... Cleveland State's at-large chances took an early hit
with a loss to South Florida at the St. Pete Times Forum
. ... and Marshall
survived a thrilling one-point 87-86 win over Belmont
, which may come in handy in March. Even if it doesn't, it's still worth pride. That Belmont team can play.
In case you missed it
: Our own
Robbi Pickeral was at last night's 99-49 UNC win over Nicholls State
.
December, 1, 2011
12/01/11
9:00
AM ET
The Morning After is our semi-daily recap of last night's best basketball action. It didn't sleep well last night, and it asks your preemtpive forgiveness for any typos or dumb mistakes. It will definitely try to take a nap before it watches The Throne.
No. 5 North Carolina 60, No. 7 Wisconsin 57
: Wisconsin did everything right. Bo Ryan's team averages 60 possessions per game; this game had exactly 60. The Badgers never turn the ball over; they turned it over on just 6.7 percent of their offensive trips Wednesday night. The Badgers aren't big on getting to the foul line, and they aren't a great offensive rebounding team. Instead, they eschew offensive boards in order to get back on defense, and that trait was evident in how infrequently North Carolina was able to embark on its patented fast breaks. The middling marks in those two categories can be forgiven. Wisconsin was never going to outrebound North Carolina. Better to turn away and get back on defense, pronto. That worked, too.


The only thing Wisconsin did wrong -- the only thing it was noticeably worse at than in its six impressive wins that preceded Wednesday's trip to Chapel Hill -- was shooting. That's it. In its first six games, Wisconsin's average effective field goal percentage was a sterling 56.7 percent. On Wednesday night, it was 42.2 percent. There's your game right there.
That this game was as close as it was is a testament to Wisconsin's defense, the leveling effects of Ryan's clock-eating slow system, and UNC's struggles on the offensive end. Frankly, the Tar Heels' inability to grab this game by the scruff of its neck early is a bit disconcerting. A team with that much talent and experience should be able to impose its will on teams like Wisconsin, which can never hope to match up athletically. Instead, it took until the second half, right around the time
Harrison Barnes
started demanding touches (and just a few minutes before Roy Williams took off his jacket and screamed "let's go" in that "let's go, we're better than this, get it together" sort of way) for UNC to look like the aggressor.
The Tar Heels deserve credit for affecting so many of the Badgers' shots. Surely UNC's length had as much to do with Wisconsin's off night as anything else. But they don't get credit for much of the rest. In many ways, this could have -- maybe even
should have
-- been a second-straight loss, and at home to boot. Instead, the Tar Heels escaped.
Michigan State 65, Florida State 49
: Those who tuned in to Wisconsin-UNC hoping for offense didn't get a ton of it, but the so-so scoring rate and slow pace of the night's marquee finale still seemed like an offensive explosion next to the game that preceded it.


A low-scoring, physical affair was to be expected in East Lansing, Mich. Florida State is the nation's most efficient (or anti-efficient, I guess) defense two years running, and Michigan State has, for its occasional troubles on the offensive end, played truly repellent defense early in the year. The only difference between these two teams was quality scoring from an emerging go-to guard. That guard's name is
Keith Appling
, a sophomore who posted a career high with 24 points (and tied his career high seven rebounds) and made the biggest shots down the stretch when Florida State had stymied MSU enough to pull within one around the 10-minute mark. Appling is a legitimate breakout candidate; he represents an overhaul from the defensive-apathetic days of former Spartans Kalin Lucas and Durrell Summers. Appling can score, but he's also one of the best perimeter defenders in the country, and he rebounds, too. There's very little in his game to dislike.
Of course, it also helps that Florida State is, once again, Florida State. The Seminoles can defend. Boy, can they ever. Their offense, on the other hand, is about as bad as their defense is good. This has been the story for the past two seasons under Leonard Hamilton, and it doesn't look much like changing now. When FSU can keep opposing teams under a point per possession, as they've been doing all year, they're in OK shape. But if an opposing player gets hot, or the opposing team can defend and score competently (radical concept, I know), the Seminoles are bound to struggle.
Indiana 86, NC State 75
: When Indiana had finally sealed the first non-Evansville true road win of the Tom Crean era -- a few seconds after guard
Victor Oladipo
punctuated the victory with a double-clutch reverse dunk -- Indiana forward
Christian Watford
flung the ball underhand and ran to celebrate with his teammates. It felt like an overwrought celebration for a Nov. 30 win over a team that hasn't gone to the NCAA tournament since the NBA created the one and done rule (2006). Casual fans may have been confused. Why so excited?


The answer is simple: After three years of horrible basketball, and a constant string of promising first-half performances followed by debilitating late-game collapses (especially in 2011; there's a reason why a team ranked No. 75 in KenPom went 12-20 overall), the Hoosiers finally sealed the deal on the road. For a while, it looked like Indiana would let the game fall away: When NC State took a seven-point lead with 7:47 left, it appears turnovers and fouls and all-around shaky defense would doom IU in the closing quarter of yet another game. When IU was able to battle back and eventually finish the game in high-flying fashion, it provided a signal that this team -- with brilliant freshman
Cody Zeller
and hyper-efficient guard
Jordan Hulls
leading the way -- was ready to re-enter something resembling college hoops normalcy.
At the end of the season, when Indiana looks back, it won't remember the NC State win for its effect on the RPI, or what it said about how good they were as of Nov. 30. They'll remember the NC State game as the first time in a long time the program was able to stand on the other guy's turf, take a few punches and emerge victorious all the same. That's why Watford threw the ball in the air. In so many intangible, hard-to-define ways, maybe this win really was that big.
Everywhere else
: I'll let an early-morning tweet from none other than ESPN Analyst Jay Bilas tell you why you should probably go back and check the tape of that
94-88 double-OT UNLV win over UCSB
: "UNLV's
Mike Moser
had 34 points, 10 rebounds in OT win at UCSB.
Orlando Johnson
had 36 points and 10 boards for the Gauchos. Strong." That pretty much sums it up. ... Creighton's
85-83 win
at San Diego State left no doubt about the BlueJays' toughness,
writes ESPN.com blogger Kevin Gemmell
. ... In a resilient performance, Minnesota won its first game without
Trevor Mbakwe
, and
Myron was on hand to check it out
. ... Gonzaga shot 6-of-15 from three; Notre Dame shot 2-of-14, and that wasn't the only reason the
Zags coasted to an easy win over the
Tim Abromaitis
-less Irish. ... Northern Iowa got a quietly solid
69-62 win at Iowa State
. ...
Nebraska lost at home to Wake Forest
thanks to an uncontested layup with three seconds remaining, which can only be described as a deserved loss. ... Pittsburgh stayed out of trouble and got
an 11-point win in the Pittsburgh city rivalry
. ...
Kansas cruised against Florida Atlantic
. ... and Utah State moved to 3-3 after
a surprising home loss to the now 5-1
Denver Pioneers
who also, it should be noted
toppled St. Mary's 70-58 last week
. Interesting.
January, 13, 2011
1/13/11
10:59
AM ET
The Morning After is our semi-daily recap of last night's best basketball action. It had last night off; thank goodness for programming diversity on the TVs in the United Center.
Yes, Duke lost last night. It was probably only a matter of time, especially given
Kyrie Irving
's injury, but talk of an undefeated Duke season grew noticeable, if not necessarily overwhelming, during Duke's brilliant Irving-powered early stretch. In fact, we should have known all along: Teams don't go undefeated in college basketball anymore. That's was Dana O'Neil's reaction to
Florida State's huge upset of the No. 1 Dukies Wednesday night
, and I'll let her excellent piece stand in here.
Likewise, if you need to get caught up on wins by Syracuse, Villanova, and Pittsburgh,
Dana has you covered
.
No. 3 Kansas 84, Iowa State 79:
Kansas was one of four undefeated teams -- San Diego State, Ohio State, and Syracuse being the others -- to survive Wednesday night. Three of those wins (KU's, SDSU's, and OSU's) were tough challenges. Two of them were on the road in hostile conference environments. One of them was in Ames, Iowa.
Last night Kansas, like Ohio State, found itself in the sort of dogfight that, even in a win, further solidifies Dana's premise that it's just about impossible to go undefeated in college basketball anymore. That's because Iowa State, for all its personnel turnover in Fred Hoiberg's first year, has morphed into a surprisingly tough defensive team. In an up-tempo game that featured 50 combined points from the Morii (33 for Marcus and 17 for Markieff), Iowa State held the Jayhawks, the nation's 12th-most efficient offense, to 1.03 points per possession. Neither team shot the ball particularly well, and, in the end, Bill Self's team won with sheer athletic superiority: The Jayhawks grabbed many more of their misses than did the Cyclones, and they got to the foul line three times as often.
That was the difference in the game, that athletic superiority, but Iowa State deserves credit not just for its impressive one-off performance but for being a surprisingly tough team all season long. This was supposed to be a holdover year for Hoiberg and company until this offseason's wave of talented transfers (Michigan State's
Chris Allen
, Minnesota's
Royce White
, among others) becomes eligible next fall. And sure, Iowa State isn't going to the tournament this season. But if
this team
is the worst the Big 12 has to offer -- and it isn't, but it was supposed to be -- then the conference is going to be a basketball bear for years to come.
No. 2 Ohio State 68, Michigan 64:
Speaking of surprisingly tough teams, here's what Michigan has done in its two home outings since a 66-50 loss to Wisconsin last week: Forced No. 3 Kansas to overtime and taken Ohio State to the utter brink of defeat. That's an impressive pair of losses, even at home, and like Iowa State, it portends positive things to come for the Wolverines. This season is not the rebuilding disaster we predicted for either squad.
As for Ohio State, the Buckeyes yielded a 12-point lead in the second half before eventually holding off the surging Wolverines and stealing the win. Given how well Michigan shot from the field -- John Beilein's team posted a 64.1 effective field goal percentage and had its highest overall field goal percentage (52.2) in a loss since 2006 -- this was a borderline impressive feat. Much like Kansas,
Ohio State won this game by getting to the foul line
, the product of its superior athleticism and skill in the low block. But it was another league-play survival effort, the third-straight game in which the Buckeyes have had to hold off a clearly inferior team as the game wound down in the second half. In other words, this one fits last night's premise, too: This team, as good as it is, is going to lose eventually. It's just a matter of time.
No. 6 San Diego State 55, UNLV 49:
This was not a game for the offensive record books. UNLV posted a 36.9 effective field goal percentage; SDSU was only slightly better at 39.6. UNLV scored .78 points per trip; SDSU was only slightly better with .87. The difference, as in the two games discussed above, came on the offensive glass and at the free throw line, where the Aztecs outrebounded UNLV and vastly exceeded the Rebels in free throw rate. This was as ugly as wins get. And yet somehow, given SDSU's 18-game winning streak (which following Duke's loss becomes the longest winning streak in the country) I don't think the Aztecs or their fans will mind.
Everywhere else:
Another interesting result in the Big 12 last night: Colorado, fresh off its invigorating home win against Missouri on Saturday, went into Manhattan, Kan. and
came away with a 74-66 win against No. 20 Kansas State
. Signs of an improved Buffaloes team? A product of Kansas State's ongoing woe? In the end, probably a bit of both. In the end, if Colorado is getting 20 points from anyone not named
Alec Burks
or
Cory Higgins
(Wednesday night, this player was
Levi Knutson
), the Buffs are going to be tough. ... Memphis' disappointing season went from bad to avert-your-eyes-ugly Wednesday night
as the Tigers fell 64-58 to Southern Methodist, somehow.
...
Marcus Denmon
had a very Marcus Denmon-type game, hitting five 3-pointers and scoring 27 points in Missouri's
well-earned win against a sneakily tough Nebraska team.
...
Texas A&M thoroughly dominated Oklahoma State
. ...
Temple easily handled St. Bonaventure.
... and
UNI got a very UNI win (46-44) at Illinois State.
November, 30, 2010
11/30/10
9:30
AM ET
The Morning After is our semi-daily recap of last night's best basketball action. It recommends a well-rounded breakfast.
Virginia 87, No. 13 Minnesota 79
: Dan Hanner of the excellent
Yet Another Basketball Blog
is also a Minnesota fan, and he wins the award for best new term (unless it's not a new term, in which case it's just a good term, but whatever):
the "double surprise."
And with the Gophers leading a terrible Virginia basketball team by 13 at home, my rooting energies were firmly behind the Gophers on Monday. This made the 26 point collapse (from a 13 point lead to a 13 point deficit) all the more painful. I was emotionally invested in a punch to the gut.



[+] Enlarge

AP Photo/Tom OlmscheidMinnesota pulled a "double surprise" on coach Tubby Smith by losing to Virginia in the opener of the ACC-Big Ten Challenge.

In the process, Minnesota became our first "double surprise" team of the season. They surprised us by being better than we thought, and now surprised us by reminding us that maybe they are not so great. Many teams have not even given us one surprise yet; Minnesota has already provided two. But the heartbreak is still tolerable. It is early in the season, and it is hard to be crushed by any loss.
This is probably the best assessment of Minnesota's young season to date. After Puerto Rico, the Gophers looked like a potential Big Ten title contender. After Monday night's surprise loss to Virginia -- a 4-3 team that's been blown out by every good squad it's played so far this season -- well, who knows? The good news is that
Al Nolen
was missing from action; Nolen in particular has been a stable presence. But even without him -- and even taking into account the difficulty of losing any player from your rotation, no matter how obvious that player's production -- Minnesota is not a team that should be losing to Virginia at home.
Here's the thing, though: It's still very early. The wins in Puerto Rico were nice, but we might have made too big a deal of that mid-November success. Were those wins a fluke? Was the Virginia loss telling? Or vice versa.
We don't know
. It's a pratfall that rears its head every year, and it's one to be very wary of. If nothing else, we might thank Minnesota for that much. It's a healthy reminder.
(All of which is not to take credit away from the Cavaliers, of course. That was a quality win, and while they might not shoot 10-of-13 from 3 every night, the fact is they did it at a very tough road environment. That's laudable.)
In the meantime, those of you who actually care about the ACC-Big Ten Challenge tally, well, things are looking a little different now, aren't they? Minnesota-Virginia seemed to be one of the more foregone conclusions in the entire slate;
not one of our ESPN folks picked against them Monday
. The upset clouds an already very close picture, and the Big Ten's road to a second-straight overall victory doesn't look nearly as clear.
Everywhere else
: Kansas State's win over Emporia State went about as well as you could ask for; the Wildcats cruised to the sort of easy blowout you'd expect when a good team plays a Division II squad.
There was one interesting footnote, though
:
Jacob Pullen
hit four 3s, and in doing so broke the K-State school record for 3-pointers in a career. Newsflash: Jacob Pullen hits a lot of 3s. Now you know ... Elsewhere in the Big 12,
LaceDarius Dunn
was encouragingly good in
Baylor's dominant win over Prairie View A&M
... We just got done talking about making rash assumptions early in the year, but, um, yeah: USC is not good.
After an 81-69 loss to TCU
, that's probably a fair assessment ... And, hey, guess who's 8-0? That would be the
Cleveland State Vikings
,
who remained unbeaten with a 58-53 win over Robert Morris
. The Vikings haven't exactly played the toughest schedule in the world -- there are
no real marquee victories or major upsets here
-- but given Butler's well-documented struggles in the non-conference portion of its schedule, and the ascendancy of Detroit still in question, maybe (
maybe
) Cleveland State makes some noise in the Horizon this year. Hey, it's possible. But let's not get ahead of ourselves just yet. (See: Minnesota.)
November, 29, 2010
11/29/10
9:32
AM ET
Yes, folks, it's the return of The Morning After, our quasi-daily morning analysis of last night's best hoops action. Good to have you back for another year, TMA.
It's good to be here.
Wait.
What's up?
Am I talking to my own blog feature?
I don't know, are you?
Whoa. Let's just start.
Yes, let's.
Whoa.


Notre Dame 58, Wisconsin 51
: This early in the season, there are plenty of teams out there you might have expected to be undefeated. Duke. Ohio State. Kansas. Notre Dame? Not so much. Granted, the Domers haven't played country's toughest schedule, but they beat a ranked Georgia team in Anaheim Thursday, held Cal to five points in the first half of an easy win Friday, and scored 15 straight points to roar back from an 11-point deficit in an impressive win over Wisconsin Sunday. Just as impressive as that poise -- typically, Wisconsin is the team you associate with stolid competency and intelligent decision-making -- was Notre Dame's ability to keep Wisconsin off the foul line. The Badgers' free throw rate was an insanely low seven percent. The Irish, meanwhile, got to the foul line on more than 52.1 percent of their possessions, consistent with their season mark of 54.1 percent. You don't have to be the prettiest offensive team to win, but if you get to the line that often, you're certainly going to win.


UNLV 71, Virginia Tech 59
: Speaking of unexpectedly undefeated teams ... ladies and gentlemen, the UNLV Runnin' Rebels. Lon Kruger's team has at least three impressive wins on its resume already: Wisconsin, Murray State and, after Sunday, a neutral-court win over a Virginia Tech team many expected to challenge in the ACC and build an unimpeachable NCAA tournament resume by March. That hasn't happened, primarily because the Hokies can't score: Virginia Tech is averaging .96 points per possession this season, and though the Hokies have been tough on the defensive end, against good teams they're not getting nearly enough offense from players not named
Malcolm Delaney
. Meanwhile, UNLV is 6-0 precisely thanks to the way they won Sunday night: they shoot the ball well, clean up on misses on the offensive glass, and dominate on the defensive end. UNLV's opponents are scoring .88 points per trip this season. If the Rebels continue to defend anywhere as well as they have in their first six games, the Mountain West is going to have a fantastic race at the top.


No. 14 Florida 55, Florida State 51
: When you play Florida State, you're going to have trouble scoring the ball. This isn't a secret. The Seminoles were the nation's most efficient defensive team last season. Much of that team returned in 2010-11, and Florida State entered Sunday night's game already ranked No. 3 in adjusted defensive efficiency
according to KenPom
. The problem? Florida State can't score. At least so far. So Billy Donovan did what smart coaches do. He adjusted his team's defensive set -- going to a rare 2-3 zone, rather than Florida's typical pressing man-to-man -- and eschewed a scoring lineup in favor of what he saw as his best defensive team. To beat FSU, you have to make sure their offensive woes eclipse their ability to stop you on the other end, and you have to hope you can get to the foul line enough to offset whatever sudden shooting problems your team is having. Florida did that, and it escaped with a quality road win. Impressive stuff.
Everywhere else
: Texas A&M is rebuilding this year, but Mark Turgeon seems to find a way to keep his teams in games no matter the personnel; the
Aggies toppled No. 20 Temple at the Old Spice Classic Sunday
... North Carolina had to rally -- yes, rally -- from a second-half deficit to
hold off College of Charleston, 74-69
... Colorado might not be a Big 12 sleeper after all:
Harvard dealt Tad Boyle's team a comprehensive and incriminating 82-66 loss
... Oklahoma State outlasted Murray State
thanks in large part
to
Keiton Page
's 29 points ...
Northwestern handled a Creighton team
that should be much better once forward
Gregory Echenique
becomes eligible in December ...
Princeton ran away from Siena in overtime, winning 86-77
and quite possibly ending the Siena-as-dominant-mid-major meme of the past three seasons ... California still can't score, like, at all;
the Bears scored 48 points in their loss to a mediocre-at-best Boston College team
... And DePaul got what coach Oliver Purnell called a "resilient" performance
in an overtime loss to Stanford
.
January, 19, 2010
1/19/10
10:19
AM ET
The Morning After is our semi-daily recap post. It's coming at you a little later than usual today; the computer ate my saved draft earlier this morning. Apologies. As usual, try not to make it awkward.

No. 9 Kansas State 71, No. 1 Texas 62
: You probably don't need to read anything more about Kansas State-Texas, at least not where chronological details of the game are concerned. If you do,
check out Dana's recap from last night
. That should have you covered. Today, since you probably either a) watched the game, b) saw highlights, or c) read plenty of detailed recaps of the night's action, I'd like to instead point you toward two rather ugly numbers: 77.5, 88.8. That's the points per 100 possessions scored by Texas and Kansas State, respectively, in Monday night's game. Two more numbers: 112, 112.2. That's the points per 100 possessions scored by Texas and Kansas State, respectively,
on the season
. If you thought you saw an ugly game, you did. Both teams turned the ball over at a high rate. Neither team shot well from the outside (though both teams did shoot well from the perimeter). In the end, the difference was free throw rate: Kansas State simply got to the line more frequently than Texas, and it made those shots count. In a game as physical and ugly as Monday night's, sometimes that's all you need.
This result is no reason to worry about Texas. There is a long and distinguished college basketball tradition of elite teams losing on the road to merely good ones, and this is just one more such result. Kansas State, meanwhile, proved that it can play with anyone in the country, even on the coldest of shooting nights. Texas will be fine; this game says far more about the Wildcats, and their prospects for NCAA, than the Longhorns'.
No. 5 Syracuse 84, Notre Dame 71
: Some teams just look like elite teams. You can see it on them. Syracuse is one of those teams. In games against inferior opponents, the Orange never seem to be exerting themselves all that much; if you get a bucket, they'll come down and get it right back.
Andy Rautins
will hit a casual three, or
Wesley Johnson
will pull up from mid-range, or
Brandon Triche
will get to the rim and break your defense down. It's pretty simple stuff, but it's fantastic to watch, and Syracuse fans should relish it. Even in Big East play, your team looks ... casual. And it doesn't seem to affect it all that much. Syracuse is good enough to get road wins in Big East play -- that's 3-0 in its last three, by the way -- and not particularly challenged while doing so. This can only be good news, yes?
Everywhere else
: Other than Big Monday's action, it was a quiet major conference hoops night, but there was a decent bit of mid-major action.
Get the full download here
.
January, 13, 2010
1/13/10
10:06
AM ET
The Morning After is our semi-daily recap post. Try not to make it awkward.
[+] Enlarge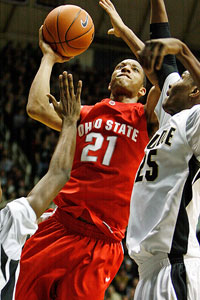 Andy Lyons/Getty ImagesEvan Turner scored 23 of his career-high 32 points in the second half Tuesday night.
Ohio State 70, No. 6 Purdue 66
:
Evan Turner
does bad things. You know this already. He did such things before the ugly back injury (which he suffered doing something awesome; players like Turner don't get injured in normal or unexciting ways, apparently), and he's done such things since returning from that injury. He's, um, really good. But the Buckeyes' accomplishment Tuesday night -- winning a road game over an efficient, brutal defensive team like Purdue -- is truly remarkable: Road wins like this simply don't happen all that often in basketball.
How did Ohio State do it? It was almost flawless where it counts most: The Buckeyes shot well, they rebounded their misses, and they didn't allow Purdue to get to the line, surrendering free throws on a mere 12 percent of the Boilermakers' possessions. Purdue will be disappointed with that number; the Boilermakers must find a way to balance their perimeter strengths with more touches for
JaJuan Johnson
, who shot only five times Tuesday night. Make no mistake, though: This win belongs to the Buckeyes, who got a legendary performance from their star and did more than enough around the margins to complement him. If the Buckeyes go on to stir things up at the top of college hoops this season, they will have learned their formula on Jan. 12.
No. 2 Kentucky 89, Florida 77
: It's almost unfair. After all, John Calipari already has the best point guard and arguably best player (I'm adding in the "possibly" because did you
see
Turner last night?) in the nation in
John Wall
. It's easy to forget that
Eric Bledsoe
was almost as highly touted as Wall as a high schooler;
Bledsoe was considered
the third-best point guard in that class and among the top 20 or 30 players entering the 2009 class. But for all the John Wall love, Bledsoe is showing Kentucky fans they have no reason to worry about 2010 and beyond -- while not as versatile and athletic, Bledsoe is nearly as quick as Wall and has a much better shooting touch, which he displayed last night in his 25-point, 10-of-13 performance at Florida.
In the meantime, the tandem of
Patrick Patterson
and
DeMarcus Cousins
(and even
Daniel Orton
) is proving impossible for teams to stop. The Wildcats scored 1.25 points per possession last night -- an insane rate for any team -- without shooting particularly well from beyond the arc. Kentucky was just that good (65.2 percent for the game) on their twos. If the Wildcats can score at this rate even when they don't shoot well from the perimeter (and when Wall bricks 3 after 3, which he's prone to do), then we were all wrong: The Cats aren't vulnerable. They're just scary.
Colorado 78-No. 24 Baylor 71; No. 12 Kansas State 88, Texas A&M 65

: Who else is trying -- and failing -- to figure out the middle portions of the Big 12? Eamonn confused: Baylor beats Oklahoma by 31 and goes to Colorado and loses to a frisky-but-let's-be-real-here-still-pretty-bad Buffs team. Meanwhile, Texas A&M looks like a tough matchup for a K-State team that lost its first Big 12 game to Missouri. Instead, the Aggies build themselves a tower of bricks (how tall? 38.2 percent FG% tall, is how tall) while K-State scores almost 1.2 points per possession. Road difficulties? Weird night? Who knows? The Pac-10 is this year's most wide-open conference -- which is a nice way of saying there are no good teams -- but the Big 12 might be the most fun to figure out in the next two months.
NC State 88, No. 25 Florida State 81
: Florida State will have some 'splaining to do. How do you lose to the hapless Wolfpack at home? Well, here's how: Freshman Scott Wood made 7-of-11 3-pointers and scored a career high (duh) 31 points on the way to a Wolfpack win. Add that to NC State's generally hot shooting and efficiency on offense -- it went to the line on 66 percent of its possessions and scored 1.2 points per trip -- and you have a recipe for a freaky loss at home to an inferior team. Not that this is the upset of the century, but still.
Everywhere else: Maryland-Wake Forest played a classic that few around the country saw, trading baskets in overtime on the way to a two-point Wake win; Al-Farouq Aminu had 24 and 13 and a key defensive play in the victory. ... Northern Iowa tied a school record with its 14th straight win, but a two-point win over Bradley at home was probably not the win the UNI folks had in mind. ... TCU edged Wyoming out West. ... Illinois needed some last-second drama to top Penn State at home, but escaped with 54-53 the win all the same. ... Iowa got its sixth win, a five-point home win over Tennessee State.
January, 12, 2010
1/12/10
9:25
AM ET
The Morning After is our semi-daily recap post. Try not to make it awkward.
Villanova 92, Louisville 84
: Rick Pitino had his white suit and his full-court press, but he didn't have
Scottie Reynolds
, and that's really all you need to know about Villanova's win in Louisville Monday night. Pitino's Cardinals jumped out to an early lead thanks to Pitino's trademark press defense; if you thought it would be impossible to effectively press a team like Villanova with a guard like Reynolds, you were wrong ... sort of. After Louisville built a 17-point lead on the strength of Villanova's turnovers, it was only a matter of time until Reynolds calmed the Wildcats down and got them back on track, and that's exactly what he did. Reynolds scored 16 points in the final six minutes, shot 9-for-10 from the field (including 5-of-5 from beyond the arc) and made 13 of his 17 free throws as Nova climbed back into the game and sealed a tough road victory against a good team late. If you wanted to, you could make the argument that Villanova is not quite as good as last year's Final Four team. You could not make the same argument about Reynolds.
Oklahoma 62, Oklahoma St. 57
: There were a few good reasons to tune in for Oklahoma-Oklahoma State. For one, it's a great rivalry, and great rivalries tend to be great whether the teams on offer follow suit. Second, those of you who, like me, were confused about Oklahoma's brutal first 15 games -- 9-6 with losses to VCU, San Diego, Houston, UTEP and Gonzaga even with a
projected lottery pick
in
Willie Warren
running the frontcourt -- got a chance to tune in and see just what's wrong with the Sooners. And I think I figured it out: They're enormously disorganized. That could go for the Cowboys, too; Oklahoma State got in its offense well last night but failed to make smart plays in several key situations down the stretch. But Oklahoma especially showed signs of discombobulation. Late in the game and in overtime, Warren would receive an inbounds pass and have plenty of time to get a good shot, and instead would chuck up a short-clock 3. Trying to close out the game in regulation, the Sooners completely failed to switch on a high screen and gave Oklahoma State a wide-open 3, which the Cowboys made. (After this play, as Warren turned and yelled in confusion at his teammates, I yelled: "Come on! Coach 'em up, Jeff!" I have nothing invested in the Sooners. I didn't care if they won. That was just how I felt. Lord knows what it must be like to be a hoops fan in Norman this winter.)
Oklahoma built its lead after the Big 12's leading scorer,
James Anderson
, was knocked out of the game in the second half. After watching Oklahoma for 40-plus minutes, neither this, nor its season to date, seems all that surprising.
Everywhere else
: Last night was a quiet night for big the conferences, but below
the Red Line
, things were busy. Get the
full download here
.
January, 6, 2010
1/06/10
10:39
AM ET
The Morning After is our quasi-daily morning recap post. Try not to make it awkward.
San Diego State 74, No. 14 New Mexico 64:
You may exit the New Mexico bandwagon; the door is to your left
.
It was just this time last week that New Mexico, having soared into the Top 25, hosted a surprising Texas Tech team at home. The Lobos* took home a 90-75 win in Albuquerque and looked for all the world to be a legitimate tournament contender. But that win came after a loss to Oral Roberts. I don't remember really considering the Oral Roberts loss when discussing the Lobos -- it happens, right? -- but put together with last night's loss to a just-OK San Diego State team, and the New Mexico train is starting to look less and less like a ride I want to be a part of. After all, this is still Steve Alford, and Alford, for as well as he's done at three mid-major schools in his career (Manchester College and Southwest Missouri State before Iowa) his failures at Iowa are still pretty fresh.
(*I can never see the word "Lobo" and not immediately think of
former college and WNBA great Rebecca Lobo
. And now you know.)
It's not that New Mexico isn't still a good team. It's just that, after two soft wins in four games, they're not the dominant mid-major their nonconference success seemed to suggest. Adjust accordingly.
Georgia 73, No. 17 Georgia Tech 66
: This is the stuff rivalries are made of. Georgia Tech came into Tuesday night's game with a national ranking, a blue-chip recruit in Derrick Favors, an impressive 11-2 record, and every reason to think it could keep a far inferior Georgia team at bay. It also had its football team
triple-optioning itself into the ground in the Orange Bowl
. Instead, it was a very bad night for Tech: Georgia's Trey Thompkins scored 20 points as the Bulldogs defense held Georgia Tech to less than a point per possession in Athens, Ga.
This is a legitimate upset:
Pomeroy ranks Georgia Tech No. 31 in the country
based on adjusted efficiency, while Georgia, even after this win,
floats all the way down to No. 112
. This is why college basketball is awesome: Even when your team is bad -- and make no mistake, Georgia is still looking pretty bad -- for one night, it need not matter. Forty minutes of basketball at a time is too small of a sample size to be beholden to anything as reasonable as logic. That's why we love it.
No. 4 Purdue 79, Minnesota 60
: Purdue just keeps rolling. Tuesday night's handy win over Minnesota pushed Purdue to 14-0, tying the best start in school history. Matt Painter is somehow convinced his team can win by 19 points, hold the opposing team to .84 points per possession, score 1.1 points per possession itself, and still play "not great." But if you think about it, his point makes sense. The Boilermakers turned the ball over 17 times last night; their turnover percentage wasn't super high (23.9 percent), but a national championship contender like Purdue will want to iron that sort of thing out before it gets too deep into conference play. Knowing Painter, it will. And then Purdue will be really scary.
Everywhere else:
No. 2 Texas got a scare from Arkansas before pulling away late
...
No. 18 Ole Miss easily handled UCF
... Luke Harangody almost singlehandedly kept Notre Dame from dropping a Big East road game to South Florida,
scoring 36 points and making a free throw with 1.9 seconds
left to give ND the one-point win ... and
Oklahoma State got a little breather with Coppin State
, which it beat handily.