College Basketball Nation:

Tim Duncan
June, 14, 2013
6/14/13
10:30
AM ET
In the weeks leading up to the June 27 NBA draft, we'll be taking a look at the 20 schools that have produced the best pros in the modern draft era (since 1989, when the draft went from seven to two rounds). Click here to read Eamonn Brennan's explanation of the series, which will be featured in the Nation blog each morning as we count down the programs from 20 to 1.
Top Five NBA Draftees Since 1989
Tim Duncan (1997)

Chris Paul (2005)

Josh Howard (2003)

Rodney Rogers (1993)

Jeff Teague (2009)
Sixth man
: Darius Songalia (2002)
The rest
: Al-Farouq Aminu, James Johnson, Loren Woods, Ish Smith, Chris King, Rusty LaRue, Anthony Tucker, Randolph Childress
Why they're ranked where they are
: At this point, you really shouldn't need me to explain just how good Tim Duncan has been over these past two decades. (If you do, I highly recommend
Bill Simmons's epic accounting of Duncan's career published over on Grantland
this week. It has a lot of words. You've been warned.)
[+] Enlarge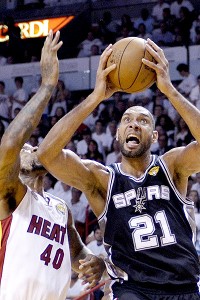 Brendan Smialowski/AFP/Getty Images)Wake Forest product Tim Duncan is arguably among the best five or six NBA players ever.
Really, Duncan's immensity is self-evident: 23,785 career points, 13,219 rebounds, career 20.2/11.2./3.1/2.2 splits on 50.7 percent shooting, 14 All-Star appearances, four NBA championships. If the Spurs beat the Miami Heat in the next 10 days, Duncan and his coach, Gregg Popovich, will have won five titles in a span of 14 seasons -- a sustained run of success unlike any in recent sports history.
To gaze
upon his Basketball Reference page is to look upon a lasting work of art
, and I'm really not being tongue-in-cheek. If Duncan's career had gone the
way Larry Johnson's did
-- if he had shown a world-bending talent before losing it to injury around Year 6 -- he would still have won three NBA titles and two MVPs. He'd still be a Hall of Famer. But Duncan didn't burn fast and hot for a short period of time. His legacy is not secured by mere longevity. Instead, Duncan has managed to be both incandescent and reliable for nigh on two decades. Imagine an alternate world in which the Beatles stayed together as long and made as many records as the Rolling Stones -- only all of those records were at least as good as "Rubber Soul," and more often than not they were "Revolver."
That's Tim Duncan. He is widely regarded as the best power forward of all time, and among the best five or six players in the history of the game. Those points are always fun to debate, but I do know one thing for sure: Duncan is the best NBA product any school has produced since 1989, and it's honestly not even that close.
As such, Duncan's presence alone would have been enough to get Wake Forest into our top 20. He's that far ahead of the rest of the field. But Wake has more than Duncan to offer, much more.
Chris Paul is arguably the best point guard in the league today. Whether you agree with that statement --
Tony Parker
might not -- at the very least Paul exists in that rarified territory so few NBA players reach: He changes franchises. He also
works
games. As good as he's been in L.A., some of my favorite moments to this effect came during his days in New Orleans. There was 2007-08, when he led the league in both assists and steals and turned a previously lost Tyson Chandler into one of the most efficient players in the game. Or Game 1 of the Hornets' 2011 playoff series against the Lakers, when he went for
33/14/7/4
and so thoroughly silenced the Staples Center that by the end of the game the TV microphones picked up his trash talk. Paul has always been the most cerebral player on the floor; his court instincts and vision are second to none. It's almost hard to believe he's only 27, with tons of productive basketball left in the tank.
Wake Forest's list takes a pretty significant dive from there; Rodney Rogers was a nice pro but nothing more, and Jeff Teague is carving out a solid career as a starting point guard, even though he'll probably never be a star. But let's not forget Josh Howard. Before multiple ACL injuries sent his career careening off a cliff, Howard submitted some really strong seasons, particularly in his 2006-07 All-Star campaign, when he averaged 18.9 points and 6.7 rebounds per game for a Mavericks team that finished 67-15 in the regular season. Then he averaged 21 and 10 in the playoffs and followed up with 20 and 9 in the 2007-08 regular season. Don't forget Josh Howard.
Really, though, this list is about Duncan and Paul: the first, a Hall of Famer had he retired 10 years ago; the latter, on his way to inclusion 10 years in the future. That would be quite a leading duo for any school. For Wake Forest, a small private school with an undergraduate enrollment of less than 5,000 students, it's something like a miracle.
Why they could be ranked higher
: It really comes down to the same dynamic we've been confronting throughout these rankings. Which do you value more: a deep group of solid if unspectacular NBA regulars? Or singular stardom? As singular stardom goes, well, you know …
Tim Duncan
. And Chris Paul. We've already placed a noticeable premium on legend-level talent, but we've done our best to temper it against the rest of each team's résumés. I think this is just about the right spot for Wake, but if you think the Duncan trump card is worth even more, I could dig it.
Why they could be ranked lower
: I might be willing to push Wake
up
on the list; I'm not willing to push them
down
. Just below sits Texas, which is likewise a two-stars-and-then-some-other-guys entity, except that Texas' two stars are Kevin Durant and LaMarcus Aldridge. Don't get me wrong; those guys are awesome. Durant has a chance to leave the NBA as the best scorer
of all time
. But he is still at the dawn of his own era; Duncan has been in this game since honeys was wearin' sassoons. No NBA GM would trade Paul for Aldridge. And the rest of Texas' group doesn't stand up to Howard, Rogers and Teague, solid inclusions all. Wake can go no lower.
What's ahead?
Not a whole heck of a lot. Teague, for all his strengths as a ball handler and penetrator, has probably hit something close to a ceiling. Fourth-year man James Johnson is still trying to find a productive NBA role. The program that produced Duncan and Paul in less than eight years has since fallen into severe disrepair, and with the possible exception of rising senior
Travis McKie
, there are no pro prospects in the pipeline.
Final thoughts
: It was really fun to dig into Tim Duncan's numbers, and I recommend you spend the rest of your morning doing the same. Oh, you meant about Wake Forest. Right. There may be no program with a wider gap between what a list of its NBA products since 1989
implies
it is (a powerhouse) and the reality (a bit of a mess). If you're wondering why Demon Deacons fans are so ticked off, it's because they remember when one of the greatest players in the history of basketball played four years at the Joel. They remember Howard's career, and they remember Paul, and why not? It wasn't so long ago.
March, 24, 2012
3/24/12
12:46
AM ET
By
ESPN Stats & Information
| ESPN.com
Tyler Zeller's
historic game was barely enough to help the
North Carolina Tar Heels
reach the Elite Eight.
This win over the
Ohio Bobcats
kept an impressive streak alive. The Tar Heels have now won each of their last 11 Sweet 16 games and are 5-0 all-time in Sweet 16 games against double-digit seeds.
How the Tar Heels won
Zeller finished with 20 points and 22 rebounds. He's the fifth player to have a 20-point, 20-rebound game with at least four blocked shots in the Men's Basketball Championship since 1975, as noted in the chart on the right.
Zeller's eight offensive rebounds were one more than Ohio had for the entire game.
Reggie Bullock
supported the effort with a rare statistical combination.
He's the fourth player in tournament history to have at least 10 rebounds, five assists, and five 3-pointers, joining Mitch Richmond (1987 Kansas State), Hersey Hawkins (1988 Bradley), and Ray Allen (1996 Connecticut).
Stilman White
, starting in place of injured guard
Kendall Marshall
, was the only Tar Heels player who didn't turn the ball over. He's the first North Carolina player to play at least 32 turnover-free minutes, and finish with at least six assists in the Round of 16 or later since Kenny Smith in 1985.
How Ohio hung in
North Carolina won despite committing 24 turnovers, its most in a game since 1989, when it had 26 against Loyola Marymount. Ohio's defense entered forcing an average of 17 turnovers per game, best among those teams left in the Sweet 16.
The Tar Heels also survived an inefficient game from
Harrison Barnes,
who took a season-high nine 3-pointers and finished with a career NCAA tournament-low 12 points.
Barnes was 16-for-31 in the paint in the first two games of the tournament, but just 0-for-1 in this contest.
Oh, so close
This was the seventh time that a team seeded 13th or lower played in the Round of 16. None has won, but Ohio was the first of those teams to take the game to overtime.
Ohio's
D.J. Cooper
, just missed the game-winner in regulation for Ohio. He went 3-for-20 from the field, tied for the second-worst shooting percentage by a player since college basketball went to a shot clock in 1986.
The only one to fare worse in a game with at least 20 shot attempts was Loyola Marymount's Bo Kimble in 1988 -- a 3-for-21 effort that also happened to come in a loss against North Carolina.
Ohio finished the season 1-5 when Cooper took at least 17 shots (Ohio was 28-3 in all other games).
Looking ahead
What's next for North Carolina?
The last time a No. 1 seed played an overtime game in the Sweet 16 was 2006, when
Villanova
and
Connecticut
did it.
Both of them won those Sweet 16 games and lost in the Elite Eight.
February, 28, 2012
2/28/12
1:53
PM ET
By
ESPN Stats & Information
| ESPN.com


The Big Ten title is on the line as No. 5
Michigan State
travels to No. 20
Indiana
(7 p.m. ET on ESPN). With a win, the Spartans would claim sole possession of the regular-season title for the first time since the 2008-09 team that eventually lost in the championship game.
It's also a big game for the Hoosiers, who are looking to become the fourth team in the past 10 years to defeat three AP top-5 teams in the same season. Indiana is 16-1 at home this season, including wins against top-ranked
Kentucky
and No. 2
Ohio State
.
Contrast in styles
The game should be a classic matchup between Indiana's offense and Michigan State's defense. In Big Ten play this season, the Hoosiers lead the league in points per possession and points per game. On the defensive side, the Spartans lead both of those categories in addition to allowing the lowest field goal percentage.
When the teams met on Dec. 28, the Spartans became the first team this season to hold the Hoosiers under a point per possession. Indiana is 0-5 this season when it has been held below a point per possession.
Green powers Spartans from post
Michigan State's calling card under Tom Izzo has been its physical play, especially on the offensive glass. Last season's team strayed from this tradition, barely finishing in the top 100 in the nation in offensive rebounding percent and missing the Final Four for the first time since 2008. This season, the Spartans lead the Big Ten in offensive rebound percentage (39 percent), second-chance points per game (13) and paint points per game (34).
Senior forward
Draymond Green
leads the Michigan State attack. He is one of five players from power six conferences averaging at least 15 points and 10 rebounds per game this season.
Green is also one of the best big men in the country distributing the ball. He has five games this season with at least 20 points, 10 rebounds and five assists. The only players in the previous 15 years who can claim at least four such games are
Evan Turner
(six in 2009-10),
Tim Duncan
(five in 1996-97) and
Carmelo Anthony
(four in 2002-03).
Zeller leads Hoosier turnaround
After three straight 20-loss seasons, Indiana has performed one of the biggest turnarounds in the nation this year. The Hoosiers 10-win increase over last season is the most among power six conference teams and one of seven double-digit improvements in the nation. With one more win, Indiana will match the largest win increase in school history, an 11-game improvement from 18-11 in 1989-90 to 29-5 in 1990-91.
He might be overshadowed by National Player of the Year candidate
Anthony Davis
, but
Cody Zeller
is having a great freshman campaign. He leads the Big Ten and is fourth in the nation in field goal percentage and ranks in the top 15 among power six conference freshmen in points and rebounds per game. His current field goal percentage ranks fifth among freshmen since 2000.
Jeremy Lundblad, Toby Petitpas and David Kiarsis contributed to this post
January, 4, 2012
1/04/12
1:48
PM ET
Arsalan Kazemi
receives an international phone call after every game. His mother, Roya Kazemi, reaches out to her son who plays basketball 7,000 miles away after watching the game or following the play-by-play online.
But Roya Kazemi doesn't ask about the Rice star's numbers, even though he's leading the nation in rebounding. She's only concerned about his well-being.
"After every game, she calls me to make sure I'm fine, that I'm not hurt or anything. That's the way that she does it," Kazemi told ESPN.com. "She doesn't even ask anything about the score. After about five minutes, she asks, 'Did you all win?'"
[+] Enlarge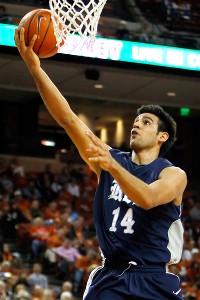 AP Photo/Erich SchlegelRice forward Arsalan Kazemi is averaging 13.7 points per game and is shooting 61.2 percent from the floor this season.
Those conversations -- he talks to his family twice a day -- preserve his connection to Iran, where he remains a star for his home country's junior national team. He ventured to the U.S. four years ago for basketball and educational reasons.
Kazemi averaged 12 points and 8.9 rebounds for Iran in last summer's FIBA Asia Championship. His international exploits have led to multiple professional offers from overseas clubs.
Right now, Kazemi said he's focused on helping his 9-5 Rice squad start strong in Conference USA play, which will begin with a Saturday matchup against Marshall.
Three years ago, Kazemi became the first Iranian player to compete at the Division I level on scholarship. But being a pioneer doesn't define the junior standout.
Check the top of the NCAA's rebounding chart. You'll see Kazemi's name (12.3 rpg). He also leads Conference USA with 2.23 steals per game, No. 30 in the country, and field-goal percentage (61.2 percent).
The 6-foot-7 forward said he focused on scoring in his youth because that's what his Iranian teams needed from him. But coaches at Patterson School in North Carolina -- where he played his senior year of high school -- emphasized rebounding.
So Kazemi, who'd rarely focused on his stat lines from international competition, grabbed old newspaper clippings and discovered that he was a better rebounder than he'd realized.
"When I was playing overseas, I really didn't know rebounding matters that much," he told ESPN.com. "After they told me it's a big deal here, I was taking out some of the newspapers and checking the stats. I had 21 points and 20 rebounds, seven assists and six steals [in one international game]. I was doing pretty good back then."
He's doing pretty good right now, too.
Kazemi is averaging 13.7 ppg, 2.8 apg and 1.3 bpg. He'll end up on Conference USA's first team at season's end if this pace continues.
He said his production is the result of selflessness. He can score but he doesn't have to. So he focuses on affecting the game in other ways.
"One of the things I usually don't think about is scoring. When you don't think about scoring, usually what you think is about defense. I always tell myself to grab the offensive rebound, then we can run and we can score," he told ESPN.com. "Sometimes, when I don't get the ball from my teammates, I just go get it from the rim. That's how I think."
Kazemi said he played multiple sports as a young man. But he gravitated toward the action that basketball permitted. Plus, he liked Michael Jordan and idolized
Tim Duncan
.
After excelling at the youth level in Iran, Kazemi's family sent him to America to get an education and to compete.
He always acknowledges its contributions to his achievements. That's why he's willing to risk his collegiate career every offseason to see the mother and father who supported his dream.
Iran doesn't have an American embassy. So Kazemi has to travel to Dubai once school ends so he can apply for a visa to play basketball in the U.S.
This season, he missed the first week of school while awaiting a response on his visa application. He's not promised anything when he leaves the U.S., so he's never sure if he'll be allowed to return to America and his team.
"I go back home but I have to wait on the results for sometimes two weeks, sometimes two months, sometimes one month. It can take like up to six months," he told ESPN.com. "There's not a guarantee every time I go back home to get the visa. … I always have to realize I might not come back."