College Basketball Nation:

Tim Frazier
November, 5, 2013
11/05/13
10:00
AM ET
In recent years, the Big Ten has boasted an assembly of athletes who have boosted the league to the top of college basketball's conference rankings.
Players who could've turned pro returned and granted the league a lineup of experienced players who carried their respective squads for multiple seasons.
Evan Turner
,
Trey Burke
,
Cody Zeller
,
Draymond Green
, Deshaun Thomas,
Jared Sullinger
, JaJuan Johnson,
Tim Hardaway
Jr. and others had opportunities to sign NBA contracts a year or two earlier than they did. Instead, they stayed and strengthened their teams and subsequently, the entire conference.
Prior to changes at Minnesota and Northwestern this past offseason, only four of the 12 Big Ten schools (Iowa, Nebraska, Illinois, Penn State) had changed head coaches in the previous five seasons. That continuity has fueled immense success for a league that has earned 20 total bids in the last three NCAA tournaments.
There are, however, more questions now.
Other than Michigan State, the Big Ten's membership enters the season possessing promise but also dealing with a rare uncertainty. Michigan and Ohio State return elite talent, but you can't ignore what both lost from last season. Indiana could blossom behind some youngsters, but how many teams improve after a pair of top-five picks turn pro? A fleet of seniors have left Madison. Iowa is still a "maybe" to many.
Illinois and Purdue? They'll either surprise or spend the year at the bottom of the league.
Even with four teams cracking the Associated Press' Top 25 preseason poll, the Big Ten is somewhat of a mystery as this weekend's tipoff to the 2013-14 season approaches. Still, there's plenty of hope for many squads in this league.
There's just a lot we don't know (yet) about the Big Ten.
The Contenders
[+] Enlarge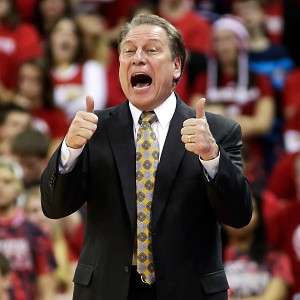 AP Photo/Andy ManisTom Izzo has a Michigan State team with enough talent to return to the Final Four.
Michigan State:
Tom Izzo has another capable crew in East Lansing this season.
Adreian Payne
and
Keith Appling
anchor the Big Ten favorite and national title contender.
Gary Harris
is a future lottery pick who could campaign for All-American honors. Whenever Izzo has this much talent and experience, his teams usually reach the Final Four.
Michigan:
The answer is no. No, the Wolverines won't replace Wooden Award winner Burke no matter how productive
Derrick Walton Jr.
is in his freshman season. But John Beilein's pillars --
Glenn Robinson III
and
Mitch McGary
-- and his stellar recruits should give Michigan a serious shot at the Big Ten crown.
Ohio State:
Somehow,
Aaron Craft
is still eligible and available to squash the dreams of perimeter players throughout the country. Without Deshaun Thomas, the Buckeyes will probably spread the ball around more than they did last season. But
LaQuinton Ross
-- assuming we see the same player who lit up the Big Dance a few months ago -- might be the star Thad Matta needs to make a postseason run and snatch another Big Ten crown.
The (Possible) Contenders
Indiana:
If exhibitions are to be believed, then
Yogi Ferrell
has become a more dangerous threat from the field since registering a 45.4 effective field goal percentage last season. That matters, but not as much as the maturation of the rest of the roster does (will). How much production will
Noah Vonleh
and a bunch of inexperienced youngsters give Tom Crean? We'll find out soon.
Wisconsin:
Say it with me three times: "I will not doubt Wisconsin, I will not doubt Wisconsin, I will not doubt Wisconsin." Once again, however, there are a few reasons to doubt the Badgers, simply because they're entering the season without a trio of seniors (Mike Bruesewitz, Ryan Evans and Jared Berggren) who made a major difference last season, and they're depending on a point guard who's returning from a serious knee injury (
Josh Gasser
).
Sam Dekker
and Co. will probably maintain Bo Ryan's streak of 20-win seasons (10 in a row) and top-four finishes in the Big Ten.
Iowa:
The rebuilding phase is over, folks. The Hawkeyes return every meaningful player from a team that won 25 games and finished 9-9 in conference play during the 2012-13 season. It's time for Iowa to finally make some noise in the Big Ten race and get back to the NCAA tourney. Fran McCaffery has the pieces to achieve both.
The Questionable
Purdue:
The last thing Matt Painter needed was a bout of early drama involving young star
A.J. Hammons
. But that's exactly what he's facing after Hammons was recently suspended for three games after violating team rules. If Hammons gets his act together -- it's always if with him -- the Boilermakers could sneak into the at-large mix.
Illinois:
Same for John Groce's squad. Groce adds eight new faces to the program. This is a much different team compared to the one that reached the NCAA tournament last year. But if Groce can help transfer
Rayvonte Rice
become the star he was at Drake two seasons ago, Illinois might make a case for another berth.
The Bottom
Minnesota:
Richard Pitino has his father's last name and hair, but nothing resembling the players Rick Pitino used to win the national title with Louisville in April.
Northwestern:
Chris Collins is already making strides in recruiting, but he doesn't have the beef inside to compete in the Big Ten yet.
Nebraska:
The Cornhuskers have a new arena, but Tim Miles' squad has the same problems.
Penn State:
Tim Frazier
will have to carry a very heavy load. Again.
October, 22, 2013
10/22/13
9:00
AM ET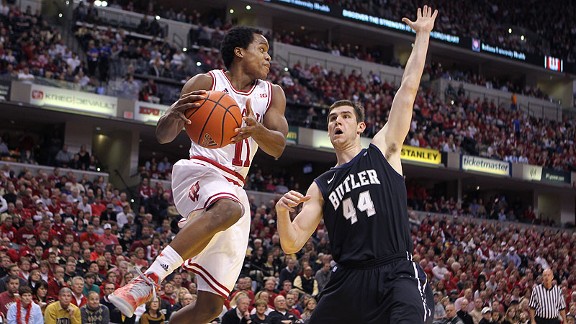 Brian Spurlock/USA TODAY SportsSophomore point guard Yogi Ferrell will take on a much bigger role for the Hoosiers this season.
It's college basketball preview season, and you know what that means: tons of preseason info to get you primed for 2013-14. But what do you really need to know? Each day for the next month, we'll highlight the most important, interesting or just plain amusing thing each conference has to offer this season — from great teams to thrilling players to wild fans and anything in between. Up next: Promise and uncertainty in the Big Ten.
You have to feel for the Big Ten. After decades of punchlines -- 10 losses in its first 10 ACC-Big Ten Challenges, groaningly slow basketball, and a dearth of NCAA tournament success -- last season the Big Ten finally ascended to the conference-hierarchy throne.
Its reign lasted about as
long as Robb Stark's
.*
When the ACC officially added Syracuse, Pittsburgh and Notre Dame this summer, it became the de facto top league by sheer force of acquisition. But even in a status-quo alternate universe, the Big Ten wasn't a guarantee to maintain its exalted position in 2013-14. This is less an argument about conference strength than a way into a summary of the league's individual parts: This season, uncertainty is the one true king.
Nowhere is this crystallized more clearly than in Bloomington, Ind. The Hoosiers, now fully rebuilt by coach Tom Crean, waved farewell to two top-five picks (
Victor Oladipo
,
Cody Zeller
) and two dependable four-year seniors (Jordan Hulls, Christian Watford) this spring. What remains might be as talented as any group in the Big Ten this season: Sophomore point guard
Yogi Ferrell
, sophomore wingman
Jeremy Hollowell
, highly recruited freshman forwards
Noah Vonleh
and
Luke Fischer
, top-100 small forwards
Troy Williams
and
Stanford Robinson
. But save senior guard
Will Sheehey
, the Hoosiers will look totally different when you see them in November. With all that talent and capable guard play, they might be
very
good. But no one can know for certain.
You don't have to squint too hard to see this trend elsewhere in the league. Iowa is looking to make a leap from sneaky-good to just plain good. Purdue has a potential lottery-pick center in
A.J. Hammons
, but what else? Northwestern will be playing modern basketball for the first time in 13 years. With
Tim Frazier
back, Penn State has a chance to be legitimately
good
not terrible. Nebraska will introduce a player who
could be one of the best recruits
in school history (New Zealand native
Tai Webster
). Illinois turned over whole swaths of production, but everyone expects John Groce to come up with an answer. New Minnesota coach Richard Pitino wants the Gophers to run, run, run. Even Michigan will be figuring out how to make its high-powered attack run without the national player of the year. And Ohio State has to score without Deshaun Thomas.
Perhaps the only sure things are that a) Michigan State will compete for the national title, and b)
Wisconsin will finish no lower than fourth
.
That seems like a lot of things to know about the 2013-14 Big Ten. It's really only one thing:
We don't know that much about the 2013-14 Big Ten
. It could be great. It could be meh. There's only one way to find out.
* The North remembers.
July, 23, 2013
7/23/13
10:15
AM ET
Now that
realignment is behind us
, rosters are mostly finalized, and freshmen are getting used to living in dorm rooms (oh, to be reborn at summer orientation), we're spending the week looking ahead at some of the more interesting players and storylines we expect to track in 2013-14. Next up: players facing crucial senior seasons, both individually and for their teams.
(Important note: This is not a list of the
best
seniors, or even necessarily the most important or
most indispensable
). It is a list of seniors -- some who have underachieved to date -- that need to, once and for all, make good on their star potential in their final year in the college game. Make sense? Cool.)
10. C.J. Fair (Syracuse)
: Fair's career to this point has been characterized by admirable consistency. In his first two campaigns he maintained similarly promising offensive ratings (109.5 and 114.6) while averaging a 17.3 percent usage rate, while blending in quality defense, rebounding and stellar work on the offensive glass. Fair's usage jumped slightly as a junior (to 20.5 percent of available possessions), and he grew far more comfortable wielding his outside shot, but the rock-solid fundamentals of his game remained mostly the same. As a senior, even on a
team with plenty of oncoming talent
, Fair
may yet be expected to do even more
. If he can expand his game further on the perimeter and provide go-to scoring in the midrange without losing the things that have made him so solid for so long, the Orange should make a massive impression in their first year in the ACC, and Fair should do the same for NBA scouts.
[+] Enlarge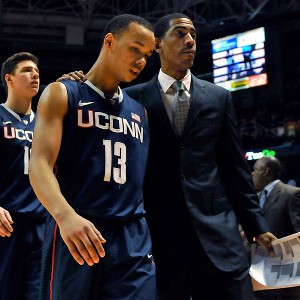 John Woike/Hartford Courant/MCTGuard Shabazz Napier has taken on a leadership role under coach Kevin Ollie.
9. Shabazz Napier (Connecticut)
: Napier has had one of the most up-and-down careers of any player in recent college hoops memory. You can make the argument that he got where he needed to be as a junior. Not only did he have his best year by far statistically (he posted a 115.3 offensive rating on 24.3 percent usage and a 54.4 effective field goal percentage, shot 39 percent from 3 and created plenty of steals) but also, under new coach Kevin Ollie, assumed the leadership role denied him by that apathetic 2011-12 team. The only problem? UConn was ineligible for the NCAA tournament. With a full batch of returning players and that APR-induced postseason ban behind the Huskies, Napier is in position to make his biggest impact since Kemba Walker was on campus.
8. Tim Frazier (Penn State)
: As promised above, some of the guys on this list have underachieved for most of their careers; it's not fair to lump Frazier into that group. There are two reasons he isn't already a household name: Penn State and injuries. When Frazier was healthy for his true junior season in 2011-12, he led the Big Ten in assists (and posted the nation's second-highest assist rate, higher than either Kendall Marshall or Scott Machado), averaged 18.2 points per game (second in the Big Ten), created four steals per 100 possessions and drew an average of six fouls per game, while playing 92.8 percent of his team's available minutes. Thanks to a medical hardship waiver -- the 2012-13 campaign was derailed by a brutal
ACL injury
Achilles tear in just the fourth game of the season -- 2013-14 will provide Frazier with his last chance to earn the kind of individual national attention that gets scouts to raise an eyebrow. If he can also pull Penn State over the rebuilding hump, hey, all the better.
7. Aaron Craft (Ohio State)
: You couldn't say Craft has underachieved in his career. Quite the opposite. During his prep days, Craft was seen as a merely respectable but hardly a program-changing recruit, provided your head coach didn't lie to NCAA investigators about having him over for a barbecue. (
Ba-dum-ksh
.) Craft has long since exceeded those expectations. As a freshman, he seized a starting role in Thad Matta's very good veterans-plus-Jared Sullinger-led lineup, and he has maintained his spot by cementing the respect of teammates and coaches and, most noticeably, playing the best, peskiest perimeter defense in the country. That's his calling card, and it won't go anywhere, but one can't help wondering whether Craft still has more to pick up on the offensive end. Can he be a leading scorer? A more confident 3-point shooter off the dribble? Is that even possible, given the tireless work Craft does on the defensive end? (Related: Can
Shannon Scott
, who morphed into a deadly defender late last season, take on some of that burden?) Losing
Deshaun Thomas
means Ohio State has to replace a large chunk of scoring one way or the other; more incisive stuff at the point of attack would be a good place to start.
[+] Enlarge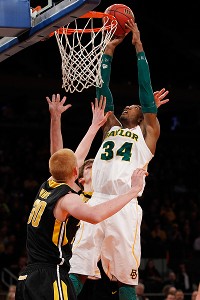 Mike Stobe/Getty ImagesCory Jefferson was a force during Baylor's NIT run.
6. Cory Jefferson (Baylor)
: It is never wise to project too much based on the disproportionately weighted sample of a few postseason games in March. This is especially true when the postseason in question was the NIT. So yes, you can expect Jefferson's 21.2 points per game in the Bears' NIT title run -- which ended with a 74-54 vivisection of a very good Iowa defense -- to earn him his fair share of prospective love this fall. But Jefferson was good long before March. He posted a 128.1 offensive rating on 19.1 percent usage -- and shot 61.8 percent from inside the arc, leading the Big 12 in overall field goal percentage (61.0) in the process -- in 2012-13. Could he approximate that effort with more of a lead role as a senior? We'll see.
5. Marshall Henderson (Ole Miss)
: Here's another question: Did Henderson already max out his talent? After a season in which he took 394 3s (which is insane!) and made 35 percent of them (less insane, but pretty good), it's hard to imagine Henderson somehow finding a way to take more shots. It's even harder, given the volume involved, to picture him finding a way to improve that 113.5 offensive rating. According to Synergy scouting data, 38.2 percent of Henderson's possessions ended with off-ball screen action; no other play type came remotely close to that sort of frequency. (No. 2? Spot-ups, with 17.2 percent, trailed by transition offense and hand-off plays -- all of which screams "not allowed to put it on the floor.") With a less experienced frontcourt, there are only so many screens the Rebels can set. There are only so many shots Henderson can take.
So the premise for improvement is twofold. To dig an even better senior season out of his madcap heart, Henderson needs to become a better ball handler, distributor and scorer off the dribble -- less a gunner than a capable combo guard. He also, obviously, has to get to the court in the first place, which will be no small feat given
the substance abuse issues that put his status at Ole Miss in jeopardy
this month. Henderson
appears to be taking that stuff seriously
-- which he
clearly wasn't at first
-- and that's a good thing. It is also crucial for his career. If Henderson has any shot of making his NBA dreams a reality, he has to adjust his skill set and quell any and all concerns about his life away from basketball. It won't be easy.
4. Kendall Williams (New Mexico)
: It is hardly fair to tie one's assessment of a player to one particularly bonkers scoring night, but I know what I saw, and what I saw was Williams score 46 points in 33 minutes against a good Colorado State team on the road. It's not like he had a bad season otherwise -- 13.3 points and 4.9 assists per game is perfectly respectable -- but it was impossible to watch him that night and not think there was something more below the surface. Truth is, Williams hasn't really improved statistically in his college career. He was a better passer and drew more fouls as a junior, but his freshman season remains his most efficient. His 3-point accuracy fell to 34.8 percent, down from the 42.6 percent mark he posted two years prior. Without newly minted Chicago Bull Tony Snell in the backcourt, it's fair to wonder whether the Lobos will have the same defensive chops that anchored their excellent 2012-13 season. Williams will have to work more efficiently alongside emerging star
Alex Kirk
to find another gear going forward.
[+] Enlarge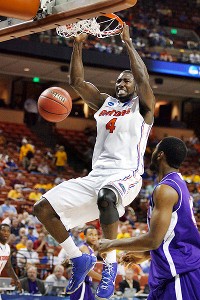 Stephen M. Dowell/Orlando Sentinel/MCT/Getty ImagesPatric Young may see more opportunities in the post this season.
3. Patric Young (Florida)
: Young has always felt a bit disappointing. That's rarely been his fault. During his first two seasons at Florida, he frequently languished on the low block while Erving Walker and
Kenny Boynton
fired away from 25 feet. As a junior, the calculus changed somewhat and Young began to get more genuine post touches in a strikingly balanced edition of the Gators' spread attack. Still, he remains the college game's greatest physical specimen for three years running; you can't look at him and not expect him to dominate everyone in his vicinity. He got closer on the defensive end last season. Overall, he still isn't there. This may be the year. Boynton, shot-magnet
Mike Rosario
and fellow four
Erik Murphy
are all gone. Scottie Wilbekin is not an aggressive attacker by nature. Freshman phenom Chris Walker's status
remains up in the air
. Odds are, Young may finally get the chance to go to work on the low block, even if by default. The question is whether he's ready.
2. Keith Appling (Michigan State)
: When Appling first popped up as a freshman at Michigan State, he was a breath of fresh air. That 2010-11 team was one of the few -- honestly, maybe the
only
-- in Tom Izzo's tenure to genuinely underachieve. Delvon Roe
fought admirably through career-ending injuries
, and a young Draymond Green pointed toward a bright future, but the team's three lead guards (Kalin Lucas, Durrell Summers, and
Korie Lucious
), so key in bright back-to-back Final Four runs, proved to be corrosive, selfish influences. Appling quickly provided a contrast. His offensive game was tentatively promising, and his tenacious defense earned him Izzo's immediate respect. Here was a young, willing guard coached by a guy who made a career out of turning the Keith Applings of the world into Spartan legends. He was as sure a bet as the sport had to offer.
Remind me not to start a career oddsmaking business. Three years on, Appling's offensive game hasn't really improved. As a junior, he averaged 46.4 percent from inside the arc and 32 percent outside it. Turnovers are not uncommon to Izzo's teams, but Appling's inability to get his turnover rate down -- it was still 18.6 percent in 2012-13, just two points lower than his 20.6 percent assist percentage -- has compounded the effects of mediocre shooting. Last season, he went whole games, even whole
weeks
, when he would either (A) disappear, or (B) play so poorly (or at best, so tentatively) that Spartans fans would wonder whether option A wasn't preferable.
Appling has never been bad, per se. His perimeter defense hasn't gone anywhere. He has battled injuries with characteristic toughness, battled his slumps with determined accountability. You never hear bad things about him; he's been a reliable, hardworking presence within the program. But he has also never developed into what his coach once
so convincingly proclaimed he would be
.
This season is his final chance. The Spartans will be loaded again, with the Big Ten Freshman of the Year
Gary Harris
set for a monster sophomore season and forward
Adreian Payne
still blossoming into a devastating talent. Appling doesn't have to morph into a turnover-free replicate. He merely has to do what he does already and shoot the ball a bit better. If he does, there won't be many teams in the country capable of matching Michigan State man for man. If he doesn't, the Spartans will still be good -- but they, like Appling himself, risk leaving something on the table.
1. Joe Jackson (Memphis)
: Fortunately, Memphis won an NCAA tournament game in 2013. Getting that monkey off coach Josh Pastner's back meant knocking back at least some of the steadily growing "
But can he actually coach
?" talk in the Bluff City (and reinforcing a personal pet peeve about tournament sample size). It also meant less pressure on the player that has, for both better and worse, defined Pastner's tenure at the school.
Like many of the very best players Pastner has recruited in his tenure, Jackson is a local product, one of the first Pastner landed, who was unafraid to place his hometown's hopes -- and its uniquely provincial baggage -- on his back. He has also been emblematically frustrating. Hugely confident but too sensitive to criticism. Talented but too inconsistent. At times, he has been Memphis' best player. Just as often, he has moped his way to the bench.
Give Jackson credit for this much: He's still here. Many of Jackson's teammates have been fellow Memphis natives, and by many accounts the dynamic around the program has often resembled a youth team writ large, with whole neighborhoods and high school sets standing in for bickering parents arguing on behalf of one player or another. Rumors of intrasquad squabbles have been just as common. Jackson could have transferred, cordoned himself away from the local intensity, but despite all the struggles he remained. As a junior, he was much improved. His improved third season -- more unselfish and efficient than either of the two that preceded it -- built an excellent foundation for his senior campaign, but there is much more to be accomplished -- a deep tournament run chief among it.
When he arrived four years ago, Jackson embraced the unique pressure of his situation.
As he told our own Dana O'Neil
:
"I want to be remembered," Jackson said. "I want to be a legend. I want to be a hero. I want old people to see me on television and say, 'Look at that kid. He made it. He did it. That's who I want you to be like.'"
His performance has never quite matched that ambition. He has one more chance to close the gap.
April, 16, 2013
4/16/13
1:55
PM ET
On Sunday, Big Ten and consensus national player of the year
Trey Burke
made
official his entrance into the NBA draft
. There was basically nothing surprising about this decision, save maybe one thing -- the conference Burke left behind.
Now that the POY is gone, and taking other top scorers
Deshaun Thomas
,
Cody Zeller
and
Brandon Paul
to the NBA draft with him, the top two returning points-per-game scorers in the Big Ten will both play for the same team. Ah, but which team? Burke's own
Michigan Wolverines
, which shot their way to the national title game? Similarly efficient Indiana? League powers Michigan State or Ohio State? Emerging Iowa? No, no, no, no and no.
[+] Enlarge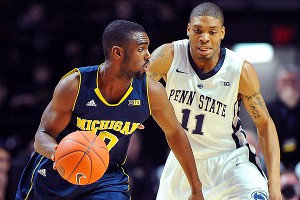 Rich Barnes/US PresswirePenn State's Jermaine Marshall will be among the Big Ten's top returning scorer's next season.
At the start of the 2013-14 season,
the Big Ten's top two returning scorers will be
D.J. Newbill
and
Jermaine Marshall
, both
of whom play for ... Penn State
. Penn State? Penn State!
It's a true story
, and one that probably says more about Pat Chambers' team than the Big Ten, when you really think about it.
First of all, as anyone even remotely into efficiency statistics would recognize, points per game is not the greatest statistic in the world. It's pretty simple stuff: Taking a larger number of shots to score a certain number of points doesn't always mean you're helping your team. Both Newbill and Marshall, despite finishing fifth and sixth in Big Ten scoring last season, failed to post an offensive rating higher than 100.0 last season. Penn State simply wasn't very good, and definitely wasn't deep, because star guard Tim Frazier -- who was a preseason conference POY sleeper pick who finished the 2011-12 year second in the conference in scoring with 18.8 points, 6.2 assists and 4.7 rebounds per game -- was lost to a season-ending an Achilles rupture in the Puerto Rico Tip-Off in November. Newbill and Marshall were asked to do a lot more than they probably bargained for, and while it didn't always result in efficiency, it did result in points.
In other words, it's not like saying Newbill and Marshall are the best returning players in the Big Ten. Obviously not. Michigan State will have
Keith Appling
and some combination of
Gary Harris
,
Adreian Payne
,
Branden Dawson
and
Denzel Valentine
; Indiana has point guard
Yogi Ferrell
; Michigan could have
Mitch McGary
or
Glenn Robinson III
; Ohio State has
Aaron Craft
and a March-emergent
LaQuinton Ross
; Wisconsin has
Sam Dekker
; Iowa has a score of interesting players, particularly center
Adam Woodbury
; Purdue has
A.J. Hammons
, who could be a beast; new Minnesota coach Richard Pitino has a really good returning backcourt (
Andre Hollins
,
Austin Hollins
;
Joe Coleman
), provided it can figure out how to stop turning the ball over.
You get the point: There are still going to be a lot of good players in the Big Ten. Rest assured, the Nittany Lions will not come off a 10-21 season with a monopoly on college hoops talent.
Even so, Penn State will be intriguing. The Nittany Lions have been the victims of some really awful luck in the past two seasons, the first of it minor (when Big Ten teams hit the lottery from beyond the arc against them,
a bit of production not entirely related to defense
) the latter of it Frazier's injury, which came just six weeks ahead of the start of one of the more brutal Big Ten conference seasons in memory.
But Frazier will be back next season. Newbill and Marshall will still be around. Penn State will have more depth, more skill, more issues being guarded on the perimeter. Don't expect the Nittany Lions to compete for a conference title, because that would be even crazier than saying Penn State has the top two returning scorers from the best Big Ten season in recent memory. But they will be very intriguing.
February, 27, 2013
2/27/13
11:03
PM ET
The virtual glass sitting on Pat Chambers' desk wasn't just half-empty; it was cracked straight through and emptying like a sieve.
His Penn State basketball team was 0-14 in the Big Ten this season, winless over its previous 18 games in the league. The Nittany Lions were on a path of ignominy, destined to join DePaul's 2009 Big East entry in the ranks of conference futility.
Except every time Chambers looked at that stinking, leaking glass, he saw something in it.
Had the man stood on the deck of the Titanic, he probably would have remarked at the pretty stars.
He is that optimistic, that positive-thinking.
That he was able to retain his optimism in Misery Valley this season -- where injury to Tim Frazier predetermined the insult -- is stunning.
That he somehow passed it on to his players is a miracle.
Yet there were the Nittany Lions, about to do the impossible and upset the No. 4 team in the nation, huddling close to their coach without even a blink of panic.
"It was fierce focus," Chambers told ESPN.com. "We were ready to win. We'd worked on end-game situations in practices, so I had 15 guys in that huddle looking at me with big eyes just asking, 'OK, how do we finish this game?' And they executed it beautifully."
With the exception of TCU's upset of Kansas, there might not be a more improbable score in this season full of improbable scores than
Penn State 84, Michigan 78
.
Expectations had dipped so low in State College, Pa., that in order to rush the floor, some students and fans first had to pick their way through the empty seats to get courtside.
[+] Enlarge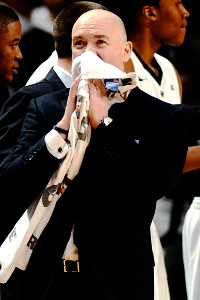 AP Photo/Ralph WilsonPenn State coach Pat Chambers lauded his players' "fierce focus" in finishing off No. 4 Michigan.
"I wanted them to have a moment," Chambers said of his players. "They worked so hard and I just kept thinking and hoping, 'Let them taste victory just one time.' With all this hard work, there's got to be some results."
The fact is, Penn State had been threatening for a few weeks. A blocked shot with 21 seconds left dashed the Nittany Lions' hopes of beating Iowa and they ended up losing by two Feb. 14; they were tied with the Wolverines in Ann Arbor at the half three days later before losing by eight; they trailed by three with 5 seconds to go against Illinois last Thursday and wound up losing by five.
A team that simply couldn't score without Frazier, who was injured in November, solved its own riddle. In Penn State's first 11 Big Ten games combined, the Lions hit 44 3-pointers. In the past four, they've sunk 32, including 10 against Michigan.
"These guys have been totally engaged with what we were saying and what we were trying to accomplish," Chambers said. "They didn't let the outside distractions of 'They're no good; they can't win in that league' get to them. And they got better. I kept telling them the results might not be there, but we are better."
Yes, all of that goes to the players, certainly, but also the coach.
Penn State doesn't exactly have a rich tradition to call on -- the Lions' previous victory against a top-five team came during the 2001 NCAA tournament.
That part Chambers knew. What he didn't know was that he was walking into a volcano about to blow when he took the job two years ago. The Jerry Sandusky scandal has tainted the entire school's reputation, and last summer, Chambers admitted that people looked at him a little funny when he wore his gear out recruiting.
Mix in this season, one where the Nittany Lions started out thinking they could compete in the Big Ten and had those hopes all but dashed with Frazier's injury, and you've got a run of bad fortune that only Job could relate to.
Yet here's Chambers.
Staring at that glass.
On Wednesday night, it wasn't only half-full, it was time to raise it.
Hail to the victors, indeed.
December, 21, 2012
12/21/12
9:50
AM ET
New week, new Big Ten power rankings, new No. 1. Let's dig right in:
1. Michigan
: Indiana's loss to Butler Saturday -- and the fashion in which it came -- prompted some legitimate near-term questions for the Hoosiers. But it's not like Michigan only gets this spot by default. Quite the contrary. The Wolverines are 12-0, have an All-America-level point guard (
Trey Burke
) running a balanced, hyper-talented team, and as such play some of the most efficient offense in the country. Michigan has its weak spots on the defensive end -- it doesn't force many turnovers, for one -- but the Wolverines don't allow opposing offensive rebounds, and they don't foul. They're the real deal.

2. Illinois
: It does not make me an Illinois "hater" (haterz!) to assume that the Illini will not finish above Ohio State and Indiana through the rest of the college hoops season. I mean, I'm ready to have my perceptions altered and all, but even at 12-0 the Illini haven't been playing as well on a per-possession basis as many of the teams now sitting below them in my rankings. And, you know, so what? John Groce's team is still shooting the ball well enough from the perimeter to keep all those attempts looking like the right strategy, and
Brandon Paul
is still playing well, and the Illini beat Butler on a neutral floor (cough, Indiana) and Gonzaga at the Kennel. I think Illinois is probably the fourth- or fifth-best team in the league by February. But right now, it would be a disservice to move Illinois any lower than this.
3. Ohio State
. Nonconference games don't get much bigger than what the Bucks have on tap Saturday. Kansas comes to town. Why is this so important? For one, it's Kansas, a good, tough team that will push the Buckeyes to the limit (particularly on the low block, where
Jeff Withey
's height poses a major matchup problem). For another, Ohio State had just one other nonconference game of note this season, and it was at Duke -- a game the Buckeyes could well have won. Other than that, Ohio State has a pretty weak noncon schedule. Saturday's game is massive.
4. Indiana
. Don't worry, Hoosiers fans: Indiana won't languish this low in the rankings too long. But there's nothing wrong with a little medicine right now. On Saturday, IU was outworked by a Butler team with a fraction of its talent.
Cody Zeller
was beaten up by
Andrew Smith
. Tom Crean was outcoached by Brad Stevens. The Hoosiers were outrebounded, outfought and outthought, and couldn't put away a team missing three starters to foul trouble in the final minutes of overtime. Zeller needs some physical help along the front line -- the arrival of
Hanner Mosquera-Perea
should be a step in the right direction there -- and the Hoosiers still need to shore a few things up on defense. They'll get there.
5. Minnesota
. It's becoming a weekly routine for me: I dig around for some college hoops stats, I check in on Minnesota, I make sure they're still ranked No. 1 in the country in offensive rebounding, I write as much in the power rankings. And so it is again this week, as the Gophers haven't played since last week's 13-point victory over a really solid North Dakota State team.
6. Michigan State
. Thursday was tough on the Spartans. Right up until he unveiled that Duke T-shirt, MSU fans were still holding out a ton of hope that star recruit
Jabari Parker
would decide to take his talents to East Lansing. Instead, Parker passed, citing his positional similarity with
Branden Dawson
(a fair point). The good news: The Spartans you know are still a very good defensive team, and they rebound the ball on both ends of the floor. If they can cut down on turnovers -- particularly by not allowing so many possessions (13.9 percent) to turn into steals --
Keith Appling
and company have a ton of potential. (Saturday's home date versus Texas should be a win, but beware that Longhorns defense.)
7. Wisconsin
. It will come as no surprise for me to tell you that I base most of my statistical analysis -- i.e., the stuff I use to help me see the game, in addition to actually seeing the game (word to ESPN3 and Synergy Sports) -- on Ken Pomeroy's measures of per-possession performance. Currently, Wisconsin is ranked No. 16 overall. Much as it pains me to say this … that number is untrustworthy, even if it isn't quite as off as you might think. Wisconsin's four losses (at Florida, Creighton, Virginia, at Marquette) are all to good teams, and Bo Ryan's squad did put an utter beating on a decent Cal team. But we still haven't seen Wisconsin beat anyone really good. The Badgers have a ways to go yet.
8. Iowa
. Hey, don't mind me -- just hanging out on the Iowa Big Ten sleeper bandwagon again. Oh, I'm all the way back on. Sure, sure: I was critical of the Hawkeyes after that loss at Virginia Tech, but that's because I didn't realize Virginia Tech was actually a really good offensive team (and that
Erick Green
was a legit All-America type this season). But after being somewhat dismissive, the Hawks swept their state foes (Iowa State and Northern Iowa) in back-to-back weeks. I already have Indiana fans telling me they're dreading opening the Big Ten season at Carver-Hawkeye Arena on New Year's Eve. All aboard!
9. Northwestern
. The Wildcats got a quality home win this week, beating Texas State 74-68 … wait a second … how do you only beat Texas State 74-68 at home? It's Texas State! (No offense to Texas State.) I'll tell you how: When your best player, guard
Drew Crawford
, is sidelined for the rest of the season with a shoulder injury, you're bound to experience some difficulties pulling away from inferior teams. The Wildcats had a chance to stay in the middle of the Big Ten race this season, but that Crawford injury might be a killer.
10. Purdue
. I maintain faith in Matt Painter's ability as a coach; indeed, he's probably already underrated, and at this rate will definitely remain so. The Boilermakers play good defense. They do not play particularly good offense. Surrounded by a young team and no real developed interior, one-time glue guy
D.J. Byrd
has tried to morph into a catch-and-shooter star. It hasn't worked. The lackluster loss to Notre Dame at the Crossroads Classic last Saturday wasn't pretty, but it had nothing on the 47-44 loss to Eastern Michigan that preceded it. Yuck.
11. Nebraska
. How offensively challenged are the Huskers? I could give you a handful of statistics, like their rank -- No. 251 -- in points per possession, or cite their paltry offensive rebounding and inability to get to the free throw line. Or I could tell you that Nebraska scored 38 points at Oregon last Saturday, or exactly 0.59 ppp. In the words of Jesus Quintana: laughable man.
12. Penn State
. No jokes or Lebowski references here. We all knew the Nittany Lions were going to struggle without Tim Frazier, and that's what's happened. To wit: Last Saturday, Penn State had to battle to hold on for an overtime home victory against Delaware State. But hey, at least the Nittany Lions are battling.
November, 20, 2012
11/20/12
2:53
PM ET
Penn State was unlucky last season. As Mike Portsheller and Josh Reed (aka
the Big Ten Geeks
) wrote
in College Basketball Prospectus
, 3-point shooting can be a bit of a lottery, and the Nittany Lions caught the wrong end of it on defense last season. If Big Ten teams had shot an average rate against Pat Chambers' team, Penn State would have looked much better on a per-possession basis than last season's 11th-place finish implied.

But that kind of luck has nothing on what happened to the Nittany Lions this week.
On Tuesday,
Penn State announced via its Twitter feed
that star point guard Tim Frazier was scheduled for surgery today to repair a ruptured left Achilles tendon, an injury he suffered
during Sunday's 85-60 loss to Akron
. Frazier will apply for a medical redshirt for the 2013-14 season, one he is certain to be granted, but his current season is over.
It's hard to understate just how devastating this injury is to Penn State's season. Frazier was PSU's everything guy last season. He averaged 16.3 points, 4.5 rebounds and 3.8 assists per game, posted the
10th-highest usage rate in the country
, assisted on 45.3 percent of available possessions (second-highest in the country) and just generally did it all for the Nittany Lions without being inefficient in doing so. This is a very difficult thing for basketball players to do, particularly on rebuilding teams with so few supporting pieces, but that's exactly what Frazier did.
Now Chambers is starting from scratch, which was in some sense already the case. Two players (Trey Lewis, Matt Glover) transferred, guard Billy Oliver left the game due to concussions, and guard Cammeron Woodyard has graduated. Chambers has a few recruits coming in, and transfer D.J. Newbill can take on a chunk of the scoring load, and, ever the energetic optimist, Penn State's coach is
already talking about the opportunity
Frazier's injury will create for younger players to step up. He is also not the
least bit interested in pity
.
Well, forgive me, coach, but I'm feeling some for your program right now. And I thought you got unlucky last season.
November, 15, 2012
11/15/12
8:00
AM ET
While this year's Puerto Rico Tip-Off field isn't chock-full of ranked teams, the bracket is dotted with notable players and emerging squads hoping to prove their worth -- and perhaps pull an upset or two. Here's a quick look:
The basics:
Nov. 15-16, 18 at Coliseo de Puerto Rico in San Juan, Puerto Rico
The set matchups:
Nov. 15 -- Akron vs. Oklahoma State, 10:30 a.m. ET; UNC Asheville vs. Tennessee, 1 p.m.; NC State vs. Penn State, 5 p.m.; Providence vs. Massachusetts, 7:30 p.m.
(
For the full bracket, click here.
)
The favorite:
NC State.
There's a lot of hype surrounding the sixth-ranked Wolfpack, and for good reasons: a strong finish last season that led to an NCAA Sweet 16 berth; the return of junior forward
C.J. Leslie
; and the addition of a heralded freshman class led by
Rodney Purvis
. This is the chance for Mark Gottfried's squad to show it can, and will, build off last March.
[+] Enlarge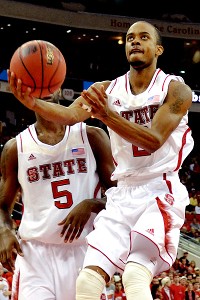 Rob Kinnan/US PRESSWiRENC State will need Lorenzo Brown's leadership as much as his statistics.
FIVE PLAYERS TO WATCH
Jeremy Atkinson, UNC Asheville:
The Bulldogs lost their top three scorers from the squad that won the Big South and came oh-so-close to beating Syracuse in the NCAA tournament last season. Now they're counting on this senior forward. He is averaging 20.5 points and eight rebounds for a team that has already beaten Western Carolina by 10, but lost to UNC Wilmington by eight.
Lorenzo Brown, NC State:
The Wolfpack have plenty of weapons in Leslie, Purvis,
Scott Wood
and
Richard Howell
, but to be consistently successful, Brown has to be the leader of the Pack. He posted 15 points and seven assists in their season-opening blowout win over Miami (Ohio), and those stats are great. But his most important contributions may well be his calm, his confidence and his leadership when this team is tested.
Tim Frazier, Penn State:
The guard was the only Division I player to average at least 17 points and six assists per game last season, setting a PSU season assist record (198) and recording 17 20-point games in the process. Pretty impressive, considering the team averaged only 61.8 ppg. The senior got off to a similar start this season, notching 23 points and six assists in a win over St. Francis (PA).
Marcus Smart, Oklahoma State:
The preseason Big 12 Freshman of the Year recorded 8 points, 7 rebounds, 7 assists and just 1 turnover in 34 minutes in his regular-season college debut against UC Davis. Highly praised for his competitiveness and court vision, the point guard's versatility and decision-making will be key to how far the Cowboys advance.
Jarnell Stokes, Tennessee
: Stokes wasn't quite sure of his identity as a player when he joined the Volunteers out of high school during the middle of last season. But now the 6-8, 260-pound sophomore is a bruiser and a low-post threat. He recorded 10 points and five rebounds in the Vols' season opener, and he will be looking to make things tough in the lane for foes this week. Making him even tougher: the fact that he has so many veterans around him.
FIVE BIG QUESTIONS
Will NC State live up to its ranking?
In this tourney, the Wolfpack are playing for more than what they hope will be the first of several championships this season; they're also playing for credibility. Win, and the kudos continue. Lose, and folks might wonder if NC State is ready for the spotlight. This tournament could set the tone for the rest of NC State's season.
How does Providence fare without Vincent Council?
Ricky Ledo's ineligibility and a shoulder injury to
Kris Dunn
had already left the Friars with only seven scholarship players. Council's hamstring injury not only cuts that to six but also means Providence will be missing the guy coach Ed Cooley considers the best guard in the Big East.
Bryce Cotton
started at point guard in Council's place against Bryant and posted a double-double (24 points, 11 rebounds), but the competition is about to get a whole lot stiffer.
Can Oklahoma State rebound?
In their season opener, the Cowboys had trouble putting away a UC Davis team that won only five games last season, and one of the concerns remains their lack of size. OSU -- playing without expected starting center
Michael Cobbins
, who injured his toe during the preseason -- was outrebounded 40-28 versus UC Davis. The Cowboys will face some tall challenges during this tournament, beginning with Akron's
Zeke Marshall
, and possibly continuing with Tennessee's Stokes.
Who else will step up for UMass?
There's no doubt that guard
Chaz Williams
is the star of this team, but the other Minutemen need to step up in big moments, too. They did just that earlier this week against Harvard, as
Jesse Morgan
and
Sampson Carter
bookended a Williams-forced turnover with 3-pointers to win by three points. Who's next?
Who's that guy with the 7-5 wingspan?
Why, that's the aforementioned 7-foot Akron senior Zeke Marshall. He entered the season as the Zips' career leader in blocked shots (246) and is averaging 4.5 blocks to go along with 11.5 points and 8.5 rebounds. And according to the school's website, he was the first top-100 recruit to sign with a Mid-American Conference program since Rivals.com began its ranking system in 2003.
THE PICKS
Opening games:
Oklahoma State over Akron; Tennessee over UNC Asheville; NC State over Penn State; UMass over Providence
Semifinal games:
Tennessee over Oklahoma State; NC State over UMass
Championship game:
NC State over Tennessee
February, 6, 2012
2/06/12
10:30
AM ET
How many NCAA tourney bids will the Big Ten receive? Five seem safe at this point, but beyond that is anyone's guess -- especially after Illinois' home loss to Northwestern on Sunday.
1. Ohio State:
The Buckeyes went to Madison and beat the Badgers at their own plodding game Saturday. Thad Matta's squad isn't just the best team in the Big Ten right now. It's arguably the top squad in the country based on the way it's played during its five-game winning streak. The Buckeyes could really pull away from the rest of the field with a win against Michigan State Saturday.

2. Michigan State:
Spartans fans can exhale now.
Draymond Green
scored 14 points and grabbed 16 rebounds in a 64-54 win over Michigan Sunday, days after leaving the team's road loss at Illinois with a knee injury. The Spartans get a shot at Ohio State Saturday in Columbus. And they possess the physical style to stifle the Buckeyes.
3. Wisconsin:
Can't knock the Badgers for putting up a 40-minute fight against an Ohio State team that's been the league's best squad for weeks. A few late mistakes cost the Badgers. Their challenges from the 3-point line (18.5 percent against the Buckeyes) continue to hurt a team without an inside force. But they're going to challenge every team in the Big Ten with their stingy defense.
4. Michigan:
Yes, the Wolverines had their fourth conference loss of the season Sunday against Michigan State. No, they're not out of the Big Ten title race. The Wolverines get Ohio State, Purdue and Illinois at home in the coming weeks. And they play Nebraska, Illinois, Northwestern and Penn State on the road. The Wolverines, however, continue to suffer inside with their limited frontcourt depth.
5. Indiana:
The Hoosiers have won three of their past five games. Saturday's 78-61 win at rival Purdue served two crucial purposes for Tom Crean's program. It saved Indiana from a 5-7 Big Ten record and it snapped its four-game road losing streak in conference play. Only two of Indiana's final seven games will be played outside of Bloomington.
6. Illinois:
The Illini followed Tuesday's 42-41 home win over Michigan State with a 74-70 loss to Northwestern Sunday … in the same arena, Assembly Hall in Champaign. Really? You try to figure out this up-and-down Illini team because I can't.
7. Purdue:
The Boilermakers have lost three of four. And they play Ohio State, Illinois, Michigan State and Indiana in their last eight Big Ten games. Why are those opponents significant? Because they all have the inside threats that can expose Purdue's void in the paint.
8. Minnesota:
The Gophers have won five of their past seven games. After losing their best player,
Trevor Mbakwe
, to a season-ending knee injury in November, they could easily be at the very bottom of the Big Ten standings.
9. Iowa:
The Hawkeyes are 3-2 at home in 2012. Fran McCaffery's team has won two in a row. That's certainly an accomplishment for this rebuilding team.
10. Northwestern:
The Wildcats entered the season amid ongoing hope that this would be the first time the program makes the NCAA tournament. That's not going to happen this season.
11. Penn State:
The Nittany Lions have the worst record in the Big Ten at 2-9. But there's just something about State College. Big Ten teams always seem to encounter trouble when they play there. Plus,
Tim Frazier
(18.3 ppg, 4.8 rpg and 6.3 apg) is one of the top players in the league. That's why they avoided the No. 12 slot.
12. Nebraska:
The Cornhuskers' introduction to the Big Ten hasn't been a smooth one. And that's too bad because
Bo Spencer
(15.3 ppg and 3.5 apg) is a special player and he deserves more praise.
January, 23, 2012
1/23/12
10:30
AM ET
Here's my attempt at ranking the Big Ten this week:
1. Ohio State:
The Buckeyes have won four of their last five, so they're back where they're supposed to be. On top of the Big Ten. Excluding a Jan. 10 road loss at Illinois, the Buckeyes have outscored their last four victims by an average of 27.7 points per game. Nope, they haven't beaten the league's best teams during this run. But they're crushing the bottom-tier squads, and that's more than the majority of the Big Ten can say right now.

2. Michigan State:
The Spartans shook off back-to-back road losses with a 25-point home win over Purdue on Saturday. Coach Tom Izzo certainly has the pieces in place to make Michigan State relevant again in March. But in the more immediate future, given the Spartans' physicality inside, they are the greatest threat to Ohio State's bid for the Big Ten title.
3. Wisconsin:
This is just what Bo Ryan does. After the Badgers lost three consecutive Big Ten games, many assumed their Big Ten hopes were dead. And then, the Badgers did what the Badgers do. They collected themselves and burst back into the Big Ten hunt. They've won four in a row, including a 67-63 road win at Illinois on Sunday. Wisconsin Badgers don't care. Watch out.
4. Michigan:
Help me out on this one. Is this too low? Too high? I just don't know what to make of the Wolverines yet. They're definitely a talented team with potential. But are they the squad that outplayed Michigan State a week ago and held Wisconsin to 41 points earlier this month? Or is this the team that ended up in a 20-point hole in a loss at Arkansas on Saturday and suffered a 16-point loss at Iowa last weekend? I don't know. The Wolverines' next four games (at Purdue/Ohio State, vs. Indiana, at Michigan State) will tell us plenty.
5. Illinois:
The Illini have lost two in a row since a Jan. 10 upset win over Ohio State. This seems like the norm for the Illini under Bruce Weber. Outside of a three-game win streak in Big Ten play, the Illini haven't consistently lived up to projections about their potential this season. There's still time for the Illini to put it all together, though. And their effort against the Buckeyes was proof that this could be -- should be -- a team that makes a serious push for the Big Ten title.
6. Indiana:
The Hoosiers might have saved their Big Ten season with a second-half push during their 73-54 home win over Penn State on Sunday (they were down by two at halftime). Things weren't looking good early. But the win was a nice way to end a three-game losing skid for a squad that had been plummeting since suffering a surprising home loss against Minnesota on Jan. 12.
7. Purdue:
The Boilermakers had a horrible weekend. Their plane was stuck on a runway for three hours, so they didn't reach East Lansing, Mich., until a few hours before the tipoff of their 25-point loss at Michigan State. But they had issues before Saturday's mess. The Boilermakers' Big Ten opponents have shot 46.6 percent from the field against them, 11th in the Big Ten. They've lost three of their last five games.
8. Minnesota:
The Gophers lost their first four Big Ten games, but they're riding a three-game winning streak after Sunday's 75-52 home win over Northwestern. Freshman
Joe Coleman
has been a catalyst during this run. He's scored 39 points combined in the team's past two games.
9. Iowa:
The Hawkeyes have lost three of their past four. Their impressive wins against Wisconsin (on the road) and Michigan don't tell the full story of their season. Neither do their recent losses. Iowa, however, has faced Wisconsin, Michigan, Ohio State and Michigan State in its first seven games. Their upcoming slate against some of the squads in the league's bottom tier will give the Hawkeyes a chance to climb the Big Ten standings.
10. Northwestern:
End the bubble conversations/hopes/manufactured buzz. This is not an NCAA tournament team. The Wildcats enter the week with a 2-5 record in the Big Ten. They've lost their last two games (road losses against Wisconsin and Minnesota) by 43 points combined.
11. Nebraska:
Doc Sadler's squad played five ranked teams in its first eight conference games. Like Iowa, this is a squad that could reel off a string of victories (the Cornhuskers showed promise in last week's win over the Hoosiers) once its conference slate gets easier in the coming weeks.
12. Penn State:
Tim Frazier
is Penn State's only consistent scoring threat. Big Ten opponents have shot 47 percent against the Nittany Lions, the worst mark in the league. Tough year for the program.
December, 19, 2011
12/19/11
9:25
AM ET
Here's my attempt at ranking the Big Ten teams:
1. Ohio State: The Buckeyes finished off South Carolina essentially without Jared Sullinger, who was hampered by a foot injury. They're a solid team without him. But to maintain this post, they need Sullinger to get healthy fast. The Big Ten's contenders are coming, and they're far more competitive entering conference play than it appeared they'd be in mid-November.

2. Indiana: The Hoosiers passed their first test since becoming a ranked team with a win Saturday over Notre Dame in Indianapolis. Cody Zeller scored 21. His 6-foot-11 frame and skills that go with it make the Hoosiers Ohio State's greatest threats in the Big Ten. Seasons 2008-09 through 2010-11 just called and they can't believe what I just wrote.

3. Michigan State: The Spartans are rolling. They've won nine in a row. I'd love to see this Spartans squad matched up against North Carolina and Duke right now. It's just a different team compared to the one that lost to those ACC powers in back-to-back games at the start of the season. Draymond Green (15.9 ppg, 9.7 rpg) is playing like an All-America candidate.

4. Wisconsin: The Badgers bounced back from a Dec. 3 home loss to Marquette with four straight wins. That streak included a win over UNLV and a road victory over UW-Milwaukee. The Badgers have the best scoring defense in the country. Bo Ryan's system still works.

5. Illinois: The Illini's offensive inconsistency finally caught up with them Saturday in Chicago, where they accrued only 48 points in a loss to UNLV. Memo to the Illini: That 7-footer in the paint (Meyers Leonard) didn't get enough touches down the stretch in that game. They'll learn. It was just their first loss of the season.

6. Michigan: Trey Burke's talent is undeniable. He's averaging 13.1 points and 4.7 assists per game as a freshman. But it's his poise and leadership that should really scare Big Ten opponents.

7. Minnesota: The biggest surprise in the Big Ten. The Gophers didn't collapse after they lost Trevor Mbakwe to a torn ACL in a loss to Dayton last month. That was their last loss. They've won five in a row, as juco transfer Julian Welch (10.3 ppg) has blossomed into a leader for the team.

8. Purdue: Saturday's 67-65 loss to Butler in Indy exposed one of Purdue's greatest weaknesses: its limited interior. Robbie Hummel has recovered well from back-to-back ACL tears. And Ryne Smith and Lewis Jackson offer solid support. But in the oversized Big Ten, the Boilermakers need some beef inside. They could use a midseason trade.

9. Northwestern: The Wildcats had a close call against Central Connecticut State on Saturday (they won 70-64). But they've only lost once: a blowout against Baylor at home. This is still a hard team to peg based on its soft nonconference schedule. But Big Ten play is coming. We'll find out soon if the Wildcats are ready for their first-ever trip to the Big Dance.

10. Nebraska: Bo Spencer (16.1 ppg) is a special player. He's mature and the bright lights of the Big Ten won't intimidate him, considering the time he spent in the SEC. But this is a deep league. So the Cornhuskers will need more than a one-man operation to climb the conference's standings.

11. Penn State: The Nittany Lions have lost three of four. But Tim Frazier (17.4 ppg, 7.2 apg) is the one bright spot for this struggling team.

12. Iowa: Fran McCaffery's rebuilding phase is apparently going to take some more time, especially considering the depth in the Big Ten. But if he ever gets discouraged, he should call Tom Crean. These rebuilding projects don't show results right away.