College Basketball Nation:

Tim Henderson
April, 9, 2013
4/09/13
3:49
AM ET
ATLANTA --
Luke Hancock
wouldn't let go of the national championship trophy.
He had it in his arms at the podium. He carried it with him down to do more interviews. He walked back to the locker room, clutching it close to him.
The national title belongs to all of Louisville, to the Cardinals, to coach Rick Pitino, to everyone on the team, including the iconic
Kevin Ware
.
But this trophy, the culmination of 27 years since their last title, doesn't get back to the Cardinal nation without Hancock.
Seriously, who had him in their most-outstanding-player bracket? Nobody. Hancock, the onetime George Mason cast-off, was the catalyst for Louisville and the deserved most outstanding player. He had the honor of being the first non-starter to win the award -- not bad to get a first in the 75th year of the event.
"It's unbelievable," said Hancock, who had a Stanley Cup playoffs-like beard working in this NCAA tournament. "All the credit goes to my teammates. I just tried to play off
Russ [Smith]
and
Peyton [Siva]
as much as I can. They require so much attention sometimes. It's kind of unbelievable. I don't know. This is crazy."
[+] Enlarge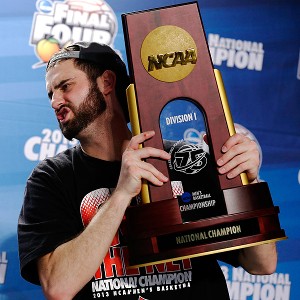 AP Photo/Charlie NeibergallLuke Hancock scored 42 points in the Final Four, including 22 in Louisville's win over Michigan.
Hancock scored 22 points off the bench in Louisville's
82-76 victory
over Michigan on Monday night in one of the best national title games in the past two decades. Hancock didn't miss a 3-pointer, making all five attempts. He was money at the foul line, making 7 of 10. He didn't turn the ball over.
He also scored 20 points in Saturday's semifinal victory over Wichita State, making three 3s.
Hancock did all this while riding an emotional wave that few his age are built to handle.
He was a rock when he comforted Ware after the gruesome compound fracture in the first half of Louisville's Elite Eight win over Duke on March 31. He was here this week, dealing with angst during his greatest athletic moments as his ailing father, Bill, battled an undisclosed illness. Bill and his wife, Van, witnessed Hancock's quick shooting here in the Final Four.
"I couldn't have thought of anything better for him," Louisville teammate
Tim Henderson
said. "To be able to do that and have his dad witness it. It's incredible. It was like it was meant to be.
"Stuff like this happens all the time. You always have that player that goes under the radar and they just need that one big stage to shine. Luke got on the stage and he showed his stuff. I'm going to tell my grandkids I played with him. He's a Louisville legend right now."
That's some heady stuff. But it's deserved. This is a player who never dreamed he would be in this position when he signed with George Mason.
"I wasn't recruited real high out of high school," Hancock said. "I went to prep school and picked up several offers. George Mason recruited me; coach [Jim] Larranaga made me feel like I was home at George Mason. So I went there. Then I ended up needing to transfer when he left.
"[The Louisville staff] made me feel like this was a home, that we'd have a chance to win a national title. I'm so excited for this team to be in this situation. It's been a long road. There's really no way to describe how I feel that my dad was here. It's hard to put into words. I'm so excited that he was here; it just means a lot."
Hancock was the catalyst for the Cardinals in their Big East tournament victory. He was the shooter who had to make shots here at the Final Four. Michigan's
Spike Albrecht
was the talk of the first half with 17 points, but he didn't score in the second.
Hancock had stamina, was consistent and made more plays that mattered in each of the two games.
"It was their four shooters against Luke," Pitino said. "Luke more than held his own."
Hancock grabbed the moment, a once-in-a-lifetime experience. The points, the trophy and the title won't solve his father's illness. But Bill Hancock was there to witness his son's greatest athletic achievement. The memories Luke Hancock has, he owns them forever. And in a week in which he showed his maturity and compassion for the sports world to see, he was more than the most outstanding player of a two-game event; he was a true mensch -- a person with integrity and honor when it mattered most.
April, 7, 2013
4/07/13
2:22
AM ET
ATLANTA --
Kevin Ware
couldn't help but be angry, even as he prayed to God.
There he was, leaning over the edge of the raised floor with his broken leg elevated on a chair, and he couldn't do anything -- couldn't line up in Louisville's press, couldn't attack the rim on offense, couldn't let
Luke Hancock
space the floor in the corner, couldn't keep a walk-on,
Tim Henderson
, from having to play the biggest minutes of his life down double digits in the second half in the national semifinals.
Louisville couldn't get into the lane, couldn't force turnovers, couldn't land a clean punch. There were 13 minutes left. The Cardinals were down 12.
The unflappable Shockers were going to pull off this upset, and none of the post-injury whirlwind insanity of the past week -- sudden national celebrity, a "Late Show" appearance, a shoutout at the Ludacris concert Saturday afternoon -- mattered anymore.
His brothers were going to lose, and there was nothing he could do.
"I was mad," Ware said.
For Eamonn Brennan's full story, click
here
.
April, 6, 2013
4/06/13
11:13
PM ET
ATLANTA -- Don't forget about Wichita State's run to the Final Four.
The Shockers won't. Coach Gregg Marshall never will. The Missouri Valley Conference wouldn't dare. The state of Kansas shouldn't, either.
Wichita State, more so than when VCU and George Mason reached the national semifinals, earned every bit of respect and credibility that should be offered to a school outside the perceived power conferences.
Louisville had to come from 12 points down to beat Wichita State 72-68 in the national semifinals Saturday. The Cards needed a herculean effort from
Luke Hancock
(20 points), and a tie-up call on a jump ball that was quick, but not questioned by the Shockers, to hand the possession to Louisville and prevent a possible Wichita State game-tying shot with less than six seconds remaining.
Marshall said after the game that he wished the Shockers would have had an attempt. Who knows whether Louisville would have gone for the foul or tried to defend while ahead by three. We'll never know.
Ron Baker
, who was tied up on the play, said he was forced to dribble and lost his balance. The whistle came as he was trying to tap the ball to a teammate.
[+] Enlarge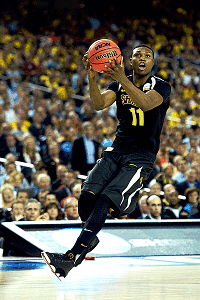 Robert Deutsch-USA TODAY SportsWichita State's Cleanthony Early gained national attention with his performance in the Final Four.
Wichita State was the stronger, more physical team in this matchup. No one was as dominant at his position around the basket as
Cleanthony Early
, who scored 24 points and grabbed 10 boards. But Louisville had the more effective bench -- from
Montrezl Harrell
's key four boards and eight points, to
Tim Henderson
's two 3s in replacing the injured
Kevin Ware
, to a sixth starter in Hancock. Louisville created the turnovers at the right time after failing to turn Wichita State over for most of the game.
Marshall was understandably emotional after the game, tearing up in the locker room and then nearly again in a postgame interview.
"I'm not sure I've ever felt exactly like this," he said. "This one's especially hard because of the run we went on. We set a school record for wins and were in the Final Four for the second time in school history.
"This may be the most important basketball game that I'll ever coach. It's definitely the most important to date and it's probably the most important Wichita State has ever played in."
Wichita State athletic director Eric Sexton said after the game that the Shockers proved to the country what their fans had known all along -- that they belong. He said this run to the Final Four -- the first for a Valley team since Larry Bird and Indiana State in 1979, and the first for the Shockers since 1965 -- will do wonders for all involved. Sexton said he is already talking to Marshall about extending his rolling seven-year contract and adding more significant pieces to his deal. He said Marshall showed a commitment to Wichita State by staying when he could have bolted and that the Shockers will do the same.
The Shockers lose seniors
Malcolm Armstead
,
Carl Hall
, and two reserves in
Demetric Williams
and
Ehimen Orukpe
. But Wichita State brings back Early,
Fred VanVleet
, Baker,
Tekele Cotton
,
Chadrack Lufile
and
Jake White
.
The Shockers were no fluke in beating No. 8 seed Pitt, No. 1 Gonzaga, No. 13 La Salle or No. 2 Ohio State in the West Regional. The run was magical, but it might not be a one-time affair and it shouldn't be forgotten.
"We didn't just say goodbye," Marshall said. "We didn't say this is it. This is just a beginning for us. We've got a lot of good, young players in that locker room. All they're talking about right now is working hard this summer and getting better, so I'm pretty excited about it."
He should be. Wichita State isn't disappearing off the grid any time soon.
April, 6, 2013
4/06/13
8:39
PM ET
ATLANTA -- A quick look at Louisville's
72-68 victory
over Wichita State on Saturday in the national semifinals of the NCAA tournament.


Overview:
It shouldn't be easy to get to the national championship game, right? And it wasn't for the overall No. 1 seed. The Cardinals overcame not just Wichita State but themselves to advance to the national title game.
Without
Kevin Ware
, with an unproductive
Peyton Siva
and unable to penetrate in the lane, Louisville somehow won anyway, which just might be the mark of a champion.
Credit the bench for this victory.
Luke Hancock
, with help from
Stephan Van Treese
and
Tim Henderson
, won this game for the Cardinals. The trio hit big shots, pulled down rebounds and helped spell Louisville's struggling starters.
Turning point:
Unable to force Wichita State into any mistakes, the Cardinals finally caught the Shockers in the backcourt with less than seven minutes to play, forcing their first turnover in nearly 20 minutes of play. It led to a Hancock 3-pointer from the wing to turn what was once a 12-point Wichita State lead into a one-point Cardinals edge. Rattled, the ninth-seeded Shockers (30-9) continued to cough it up as Louisville kept up the pressure.
Key player:
Hancock. Without Ware, Hancock was pressed into action in the backcourt and handled it like he was built to play there. He managed to get into the lane, a feat neither Siva nor
Russ Smith
succeeded at much, but didn't give up on his long-distance game. Hancock finished with 20 points, 4 rebounds, 2 assists and a crucial forced jump ball in the final seconds to seal the win.
Key stat:
Wichita State went from 13:04 of the first half to the 6:42 mark of the second half without a turnover, but then the wheels spun off in a hurry. The Shockers finished with 10, seven in those final 6:42, and that little bit is all the Cardinals needed.
Next:
Louisville (34-5) advances to the national championship game for the first time since 1986, where it will face Michigan.