College Basketball Nation:

Tim Jankovich
December, 6, 2012
12/06/12
5:00
AM ET
1. Larry Brown has been one of the stories of the first month of the season. The Mustangs are 8-1 with the only loss against Arkansas-Little Rock. SMU's most significant win so far was over a Utah team which just beat Boise State. Still, this start is somewhat stunning. How is it happening? According to Tim Jankovich, the former Illinois State coach who has been dubbed Brown's coach-in-waiting, "we are scoring easier and we're playing a little faster.'' Jankovich said the Mustangs aren't a deep team so they have to "hold their breath,'' in wishing against injuries and foul problems.

2. Fairfield gave Sydney Johnson two more years to an existing contract, pushing him to 2019. Financial terms won't be released on the deal, but there are salary increases built in that will activate at a later date. Johnson made a bit of a controversial move a year ago when he left his alma mater Princeton after a thrilling entrance into the NCAA tournament with a last-second Ivy League playoff victory over Harvard at Yale. Johnson was emotional after that win and cried after the NCAA tournament near-miss loss to Kentucky. Johnson wasn't able to take Fairfield to the NCAA tournament in his first year, but has one of the top freshmen classes in the league and fully expects to challenge for the MAAC title in March. The Stags are 4-4 this season.

3. ESPN's Brett McMurphy reported Wednesday that Chicago State is moving to the WAC. The Connecticut Post reported earlier in the week that Quinnipiac and Monmouth would be moving to the MAAC out of the NEC. If that happens, then it would occur Friday when the league's presidents meet. No decision or vote has been taken yet, according to a source, but those two schools are naturals to move up a notch as the MAAC looks to replace Loyola (Md.), which is off to the Patriot League. The facilities at both schools will immediately shoot them up toward the top of the conference in that category.
October, 31, 2012
10/31/12
5:00
AM ET
1. Half of the Associated Press preseason All-America list came from schools outside the power six conferences. Lehigh (
C.J. McCollum
), Murray State (
Isaiah Canaan
) and Creighton (
Doug McDermott
) were all represented. The other three (there was a tie for fifth) came from the Big Ten -- Indiana (
Cody Zeller
), Ohio State (
Deshaun Thomas
) and Michigan (
Trey Burke
). No players represented the ACC, SEC, Big 12, Big East or Pac-12. That's more of a reflection of the NBA draft drain on the major conferences. There will likely be a freshman or two who emerge as All-America but it's hard to project. The individual honors might not translate into team success, however. Creighton, Lehigh and Murray State should be NCAA teams, but outside of the Bluejays, it's hard to see a deep run by any of the three. There are plenty of teams like Kentucky, NC State, Kansas, Louisville, Arizona, Michigan State and others that might not have an All-America but are Final Four contenders.
2. Notre Dame coach Mike Brey is extremely pleased with the progress of the Irish so far heading into the season -- with how well the Irish are sharing the ball a major reason for his good vibe. "We can really pass it,'' said Brey. The Irish should be a top-tier Big East team. Notre Dame can make its mark early in the season in two big events: Nov. 16-17 in the Coaches vs. Cancer Classic, where the Irish will join three other likely NCAA teams -- Florida State, BYU and Saint Joseph's -- in Brooklyn, N.Y.; and on Nov. 29, when the Irish host Kentucky in the SEC-Big East Challenge.
3. Tim Jankovich gave up the short-term success at Illinois State for the long-term bump in taking the head-coach-in-waiting gig at SMU. He knew he was leaving behind a possible NCAA team -- so it should come as no surprise that Illinois State was picked to finish second in the Missouri Valley Conference, behind Creighton. First-year coach Dan Muller said he doesn't know yet if the second-place prediction is justified. But he said practices so far have been going extremely well. The players have immediately bought into his coaching style, and their work ethic has him anticipating a successful season.
July, 25, 2012
7/25/12
6:20
PM ET
Editor's note: ESPN.com's Summer Shootaround series catches up on the offseason storylines for each conference. For more on Conference USA, click here.
Five offseason storylines in C-USA ...
1.
The end of the Memphis era:
And what an era it was. Since 2003, Memphis has won six regular-season titles, six conference tournament titles, made eight NCAA tournaments (including the NCAA-vacated 2008 season, but, you know, whatever) and generally lorded over the rest of the league, only occasionally halting to quench some rebellion or another. Since 2003, when then-coach John Calipari resurrected a proud program from a decade of irrelevance, this has been Conference USA's marquee attraction. After this season, that neon sign will go dark. In 2013-14, the Tigers will complete their conference realignment to the survivalist Big East. The departure is a double-edged sword for the conference. It will open the floodgates for other contenders while almost single-handedly robbing the league of much of its national cachet.
2.
Is that … that's Larry Brown's music!
Have clipboard, will coach: This is the undying unofficial motto of Larry Brown, who returned to the college ranks to take a job at -- wait for it -- Southern Methodist. Why would one of basketball's historic figures, a Hall of Famer, the only coach to win a national championship and an NBA title, return to the college game?
Blame it on the love. Or blame it on the tidy sum SMU -- which is eager to build a competitive (read: relevant) program before its 2013-14 foray to the Big East -- shelled out for the hire. Details of the contract were not disclosed by the private school, but SMU is spending $40 million on an arena renovation, has built a practice facility and hired Illinois State coach Tim Jankovich (plus a coterie of well-regarded recruiters as assistant coaches) to a coach-in-waiting position when the 71-year-old Brown decides, as he so often does, to leave.
[+] Enlarge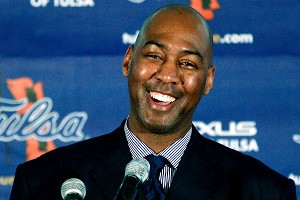 AP Photo/Sue OgrockiDanny Manning arrives at a Tulsa program that hasn't been to the NCAA tournament since 2003.
With a legendary coach, a band of connected assistants, a new practice facility and a newfound enthusiasm, where does SMU go from here? The first season will be a holdover, a transition until the real fun begins in the Big East, but even so, admit it: It's going to be fun to see Brown on a collegiate sideline once more.
3.
Danny Manning takes Bill Self's old job:
Tulsa's head-coaching position -- which has produced Arkansas legend Nolan Richardson, Kansas coach Bill Self and Minnesota coach Tubby Smith and counts Billy Gillispie, Flip Saunders, Kevin O'Neill, Tom Izzo and Mike Anderson as former assistants -- comes with a certain pedigree and a certain expectation of success. In seven years, former coach Doug Wojcik led the Hurricane to several solid seasons but never quite got over the hump. Replacing him is former Kansas legend and Self assistant Danny Manning, who coincidentally took Jankovich's old job at Kansas and won a national title with Brown at Kansas. Whether Manning can get Tulsa back to the NCAA tournament after a nine-year drought remains to be seen, but for sheer name recognition, it's hard to do better than the guy whose collegiate surname was "and the Miracles."
4.
Turmoil at Central Florida:
Any day now, the NCAA is going to rule on the case
UCF brought in front of the NCAA committee on infractions in April
related to Chicago-area "mentor" Ken Caldwell's alleged habit of working with an agent to steer players to UCF and giving those players some $16,000 in benefits along the way. UCF has already self-imposed strict penalties, including three years of probation, the vacancy of men's basketball victories for 2008-09, 2009-10 and 2010-11 and reductions in scholarships and recruiting days. UCF coach Donnie Jones also received a three-game suspension. Meanwhile, UCF star
Marcus Jordan
(son of you-know-whom)
was arrested July 1
following a disturbance outside an Omaha, Neb., hotel. It has not been a banner summer for the Knights, that's for sure.
5.
Conference tournament relocation:
Memphians eager to watch their Tigers go for one more C-USA tournament crown before their Big East defection must have been sorely disappointed by the league's June decision to relocate the conference tournament to Tulsa. Why? Because Memphis is leaving, and the league wanted to punish it, at least symbolically; it did not like the idea of giving the Tigers a conference tourney home-court advantage in their final season of membership. The ticket sales in Tulsa aren't likely to match what Memphis fans would have shelled out, but all's fair in love and realignment.
July, 19, 2012
7/19/12
3:03
PM ET
As part of our Summer Shootaround series, here are the best- and worst-case scenarios for each team in the Missouri Valley:
Bradley
Best-case:
Geno Ford inherited a massive rebuilding project last season, and it showed on the court. The Braves finished 7-25 overall and 2-16 in the Missouri Valley. This season, Ford is adding just two players (unranked recruit
Ka'Darryl Bell
and little-touted juco transfer
Tyshon Pickett
) to a roster missing obvious breakout candidates or young talent. Still, Ford will have had an entire season and the summer to work with his players. This best-case scenario is less about wins and losses than about establishing a system and building positive steps for the future. It's a long way up from here.
Worst-case:
Bradley's offense fails to improve. Per Ken Pomeroy, the Braves ranked No. 301 in the country in adjusted offensive efficiency, No. 321 in effective field goal percentage, No. 318 in offensive rebounding rate and Nos. 300 and 320 in 2-point and 3-point field goal percentage. All of those things have to improve, and significantly so, to fend off an ugly repeat of 2012.
Creighton
Best-case:
A deep NCAA tournament run. That's the expectation, and it should be, because Creighton returns 2012's most lethal offensive player, forward
Doug McDermott
. McDermott was peerless as a sophomore, averaging 22.9 points and 8.2 rebounds on 60.1 percent from the field and 48.6 percent from beyond the arc. The rest of the Bluejays' supporting cast (except point guard
Antoine Young
) is back, and there's no reason to expect 2012's fifth-most efficient offense to regress now. If anything, it's going to improve, and Creighton will be the MVC title favorite and an Elite Eight-type threat come March.
Worst-case:
The defense doesn't improve. We know CU is going to score; we know McDermott is going to pour in the points. What we don't know is whether the Jays can stop anyone. They didn't last year, ranking No. 178 in adjusted defensive efficiency overall and eighth in Valley play. That weakness held this high-flying offense back last season, and the worst case scenario in 2012-13 is another year of brilliant scoring with little in the way of defense to back it up. "Defense wins championships" is a cliché because it's true.
Drake
Best-case:
The Bulldogs have quietly hovered around the .500 mark in the four years since Mark Phelps took over for Keno Davis. Will 2012-13 be the year they get over the hump? The transfer of
Rayvonte Rice
(who averaged 16.5 points and 5.8 rebounds per game last season) sure didn't help, but versatile forward
Ben Simons
(a 6-foot-8, 42.5 percent 3-point shooter) does return, supported by a cast of capable returners and seven newcomers, including two juco transfers.
Worst-case:
It's easy to see this team taking a step back without Rice. If Simons and
Jordan Clarke
have similar seasons to 2012, that's all well and good, but it's not clear that that will be enough to lift Drake out of the 18-win region and into legitimate MVC contention. The worry is that Drake simply is what it is.
Evansville
Best-case:
The name
Colt Ryan
might not mean much even to most die-hard fans, but Ryan had a very good junior season for the Purple Aces both as an efficient scorer and a turnover-averse assist man. The 2012-13 season will be Ryan's last, so he'll need help from junior guards
Ned Cox
and
Troy Taylor
as well as 6-8 forward
Ryan Sawvell
, who scored at a tidy pace and rebounded the ball effectively in limited minutes as a freshman. The most optimistic projection involves a big coming-out party for Sawvell as a sophomore, which helps lift Evansville out of last season's 16-win, 9-9 MVC territory.
Worst-case:
Even slight improvement from the aforementioned regulars isn't enough to vault the Aces out of the middle of the MVC chase. It's hard to see this team regressing, but there is no guarantee it can live in the same neighborhood as Creighton and Wichita State.
Illinois State
Best-case scenario:
The last time Illinois State went to the NCAA tournament (1998), its new coach, longtime Vanderbilt assistant Dan Muller, was completing his still-standing record of 128 consecutive starts for the program. Now he's back to build on former coach Tim Jankovich's sporadic progress, and he has a chance to succeed right away. Leading scorer
Jackie Carmichael
(who finished fifth in the nation in defensive rebounding percentage, by the way) is back, as is impressive sophomore
Jon Ekey
, along with the rest of a starting five that went 9-9 in the MVC and 21-14 overall. If Muller can get his new charges on the same page from day one, there's good reason to expect ISU to contend for an NCAA tournament bid.
Worst-case scenario:
Adapting a group of veteran players to a new head coach is always a murky proposition. When the process goes well, you get the 2012
Missouri Tigers
. When it doesn't, things can degenerate quickly. This will be the defining challenge of Muller's first season.
Editor's note: ESPN.com's Summer Shootaround series is catching up on the offseason storylines for each conference. For the rest of the best- and worst-case scenarios for the Missouri Valley, click here.
May, 10, 2012
5/10/12
12:50
PM ET
ESPNChicago.com's Scott Powers
has the story
:
Former Illinois shooting guard Crandall Head committed to SMU on Thursday. [...] Head said his relationship with SMU assistant Jerrance Howard, who also recruited Head to Illinois, was the main reason for his commitment.

"He's a great friend. He's like a brother to me," Head said of Howard. "Everything he told me about SMU was true. Coach (Larry) Brown is great to be around. The coaching staff was pretty good. The facilities they're working on look great. They have some great players coming in. I got a good look at everything.
What does this mean? Needless to say, SMU basketball fans -- y'all
are
out there, right? -- aren't going to suddenly leap head over heels at the arrival of Crandall Head in 2013-14. Head averaged 1.0 points, 0.6 rebounds, 1.0 assists and 9.2 minutes in nine games in his sophomore season, which was cut short in December when he left the team. This is not a major impact player, at least not as far as we can tell right now.
But it is an interesting development. Head was obviously candid about his feelings toward Jerrance Howard, a highly regarded recruiter in the state of Illinois and the city of Chicago specifically. Howard is one piece of newly hired SMU coach Larry Brown's rather excellent staff, which also includes former Illinois State head coach Tim Jankovich in a coach-in-waiting position
and former Kentucky assistant Rod Strickland
. (
Update
: Actually, Strickland wasn't hired; instead Brown nabbed Ulric Maligi, the Houston assistant who landed two top 30 recruits, Danual House and Chicken Knowles, in the class of 2012. Apologies for the mixup.) That staff's challenge is clear: Branch out far and wide, get as many good players as possible to consider SMU and, whether through the transfer process or good old-fashioned recruiting, get them to consider a long-dormant program they may have never otherwise heard of.
Which is hard enough on its own. It will no doubt be made even more difficult by Brown's reputation. College players will surely have respect for a coach who bested the Lakers with Chauncey Billups and Rasheed Wallace and helped make Allen Iverson an NBA MVP*, but they will also know -- because other people will surely tell them -- that Brown has a noted proclivity for leaving jobs early and often. So not only do Howard & Co. have to lay a groundwork for recruiting that doesn't already exist at SMU, they need to do so
before
Brown decides he's had enough fun with his latest coaching adventure.
Transfers are a good place to start, but they can't be the entire strategy. Or maybe they can? That's the point here: SMU's trajectory into the Big East, under Brown, with Howard and the rest of that staff, is going to be utterly fascinating to watch. How quickly, with a legendary coach and a great staff, can a few men bring a long-forgotten basketball program into relevance? And how? And if/when the players do arrive, can Brown still work his coach-'em-up magic?
I do not know the answers to these questions, but it will be thoroughly interesting to watch them unfold.
*And without caring about practice (not a game, NOT a game, we talkin' 'bout practice) to boot. I still don't understand how Iverson was so good, and I fear I never will. What a freak of nature.
May, 8, 2012
5/08/12
1:15
PM ET
May, 3, 2012
5/03/12
11:00
AM ET
The coaching carousel hasn't come to a complete halt yet. But the bulk of the maneuvering has concluded. Some great moves. Some questionable hires. A few "Huh, really?" selections, too.
But these rankings are not just about the head coaches. They're about the equation. Which schools made the best moves considering their current situations? Let the debate continue.
[+] Enlarge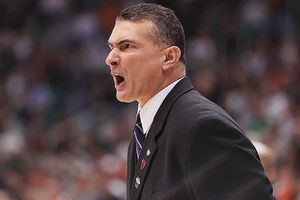 Jed Jacobsohn/Getty ImagesWill the fire of Frank Martin help turn South Carolina into a contender in the SEC?
1. Frank Martin, South Carolina:
So Martin needed a change of scenery. But his offseason options were limited. Enter South Carolina, a program that fired Darrin Horn following three consecutive losing seasons. If Martin builds this program into a contender, it will build a statue for him. He's certainly not intimidated by the odds. He has had to coach, recruit and compete against top programs/coaches in the Big 12 for the past five years. He has a brand that will attract recruits who may have previously dismissed the SEC squad. His personality will draw attention to his project and adding former Kansas State assistant Brad Underwood guarantees continuity. In all, a great move for the Gamecocks.
2. Dan Hurley, Rhode Island:
Rhode Island (7-24) made one of the best hires in the country when it signed Hurley. Under former coach Jim Baron, the Rams never made the NCAA tournament. But they've grabbed one of the top young coaches in America by hiring Hurley, who led Wagner to a 25-6 record this past season and beat Pitt on the road. Wagner had won just five games when he took over the program two years ago. Brother and former Duke star, Bobby Hurley, and former Rutgers assistant Jim Carr will join him, too. Looks like a winning combo for the Rams.
3. Bruce Weber, Kansas State:
I can understand the critics of the move. In recent years, Weber failed to meet expectations at Illinois. But he also won 210 games, third in that program's history. He led the Illini to the 2005 national title game and managed to land some talented recruits in the years that followed. Kansas State signed a coach with the name recognition and experience it needs to maintain a place in the top tier of the Big 12. New assistant Alvin Brooks III has strong ties to the South, a potential recruiting boost for the Wildcats. Former Southern Illinois coach and assistant Chris Lowery has head-coaching experience. Inserting Weber limits the potential drawbacks from Martin's departure.
4. Tim Miles, Nebraska:
Miles needs his own energy drink. He's full of vigor. And he's going to need it to make Nebraska relevant in Big Ten basketball. Doc Sadler couldn't do it. But Miles' mojo made him an attractive candidate for multiple jobs after he led Colorado State to a 20-win season last season and North Dakota State to the NCAA tournament before that. The Rams won seven games in his first season and NDSU had to transition to Division I. The Cornhuskers have a new practice facility and a new arena (under construction) that will become the team's home in 2013. Drawing kids to Lincoln won't be easy. But the facilities and Miles' personality will definitely help.
5. Pat Kelsey, Winthrop:
He was an assistant under former Wake Forest head coach Skip Prosser, whose death in 2007 was so devastating for Kelsey that he left coaching last year. Now that he's back, however, Winthrop has just signed one of the top young coaches in the country. He was known for both his recruiting prowess and player development during his time at Wake Forest and his most recent stint as associate head coach at Xavier. Winthrop went 25-37 over the past two seasons, but the Eagles previously enjoyed a stretch that included nine NCAA tourney berths in 12 years. The 36-year-old Kelsey has the pedigree to rebuild there.
6. Barry Hinson, Southern Illinois:
If you can't beat him, hire him. Former Missouri State coach Hinson had his way with Southern Illinois during his nine seasons with the Bears. Now, he'll try to restore his former adversary, which cracked the Sweet 16 five years ago. Former head coach Chris Lowery had stretches of success but couldn't sustain them. Hinson was dismissed at Missouri State for similar challenges. But he's spent the past two years as Kansas' director of basketball operations. He knows the Missouri Valley Conference and he's a coaching vet. That's the kind of guy that SIU needs to climb to the top of the league and make noise in the postseason again.
[+] Enlarge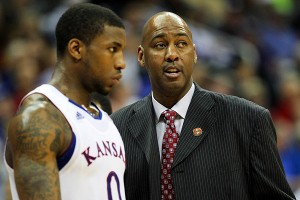 Jamie Squire/Getty ImagesWhile at Kansas, Danny Manning helped Thomas Robinson become one of the nation's elite players.
7. Danny Manning, Tulsa:
Thomas Robinson
was just a physical player with potential when he arrived. He left Kansas as a potential NBA lottery pick and national player of the year candidate.
Jeff Withey
was viewed as a "soft" prospect who'd never make a major impact in the Big 12 when he transferred to the Jayhawks. He set the NCAA tournament record for blocks last month and will enter next season as one of the nation's top big men. Manning helped those players -- and other former KU stars -- reach their potential. Does that mean he'll be a great coach? Not necessarily. But Tulsa needs someone who can take midlevel recruits and turn them into high-level college players. Manning is built for the task. He has developed some of the top players in the country.
8. Larry Eustachy, Colorado State:
CSU found a great replacement for Miles when it hired Eustachy. He rebuilt his career and life during his time with Southern Miss. He left Iowa State following alcoholism and other off-court issues in 2003, but he restored his name with his work at Southern Miss, a program he led to the NCAA tournament last season. He has led three teams to the NCAA tournament. Colorado State could have faced far more challenges in its search for Miles' successor. But Eustachy gives the Rams immediate credibility and a proven winner. Solid move for CSU.
9. John Cooper, Miami (Ohio):
After multiple assistant coaching stints, Cooper took over at Tennessee State three years ago. The program didn't have a great track record. But last season, he led the Tigers to a 20-win season and an upset over top-10 Murray State. It was the program's first winning season since the 1995-96 campaign. The RedHawks went 9-21 last season, but Cooper is familiar with rebuilding projects. And more importantly, he knows that region. He has the coaching prowess to change Miami the same way he changed Tennessee State's fortunes in just three seasons.
10. Larry Brown, SMU:
Can't think of the last time folks cared about SMU basketball on a national level. But there are still many questions. Yes, the school hired Brown, who hasn't coached at the collegiate level since the late 1980s. But former Kansas assistant and Illinois State head coach Tim Jankovich has been named "coach in waiting," whatever that means. New assistants Jerrance Howard and Ulric Maligi are very respected in recruiting circles. And while it's not always about "winning the news conference," Brown gives the Mustangs the national attention they will need to make progress on the recruiting trail. But this could be an "Isiah Thomas hire." No guarantee that this assembly finds success at SMU, but it's an intriguing package for a school that wanted to make a splash on its way into the Big East.
April, 27, 2012
4/27/12
11:00
AM ET
Being an assistant college hoops coach rarely comes with a big-time paycheck. There are exceptions, of course: Maryland assistant Dalonte Hill became the highest-paid assistant in the country while at Kansas State,
and Maryland itself has beefed up its assistant coach salaries
in recent seasons. But Hill's current salary doesn't come anywhere close to what newly confirmed Southern Methodist assistant coach Tim Jankovich will be making under Larry Brown in the coming seasons.
From Andy Katz
:

Illinois State coach Tim Jankovich has accepted a coach-in-waiting position under SMU coach Larry Brown, the school announced Thursday. The deal is expected to be in the range of $700,000 per year, a source with direct knowledge told ESPN.com on Thursday.

There is no time limit on when Jankovich would take over for the 71-year-old Brown.
Yes, you read that correctly: Jankovich will be making $700,000 a year to be an assistant coach and understudy to Larry Brown. According to Andy, Jankovich had given himself a deadline of Thursday afternoon to decide whether or not to take the job. He took it, and really, can you blame him?
It has to be one of the strangest deals in modern college coaching history, but it's a fantastic one for Jankovich. He gets to lead a quality team of assistant coaches under a baggage-ridden but nonetheless legendary coach. And if -- OK,
when
-- Brown gets bored with the gig, Jankovich is guaranteed to take over. And he gets to make all that money! That's a huge salary for an assistant. How could Jankovich say no?
You also have to admire SMU's no-scales-on-eyes approach to the Brown hiring. They need an impact guy right now, as the program ramps up its facilities and makes its big move to the Big East. Brown is definitely that. But the Mustangs brass isn't harboring any illusions about what Brown does after a year or two at nearly every job he takes: He leaves. For one reason or another, he leaves. Jankovich and that assistant coaching staff provide an insurance policy against impending Brown boredom. They seem to have all the bases covered.
April, 23, 2012
4/23/12
5:00
AM ET
1. Mississippi Valley State coach Sean Woods is one of a handful of coaches vying for the Southern Miss job, beginning with an in-person interview Monday. The others reportedly in the mix are Larry Eustachy's Southern Miss assistant Steve Barnes, Middle Tennessee's Kermit Davis, former Nebraska coach Doc Sadler, Wichita State assistant Greg Heiar, and UTEP coach Tim Floyd. If USM, which is also hiring an athletic director doesn't bump up Barnes to replace Eustachy (who left for Colorado State) then Woods should be given a serious look as the choice. Woods did a remarkable job at one of the toughest places to win. He steadily increased his win total from seven to nine to 13 to 21 this past season, going 17-1 in the SWAC. Woods and Sadler are both interviewing Monday.

2. Illinois State coach Tim Jankovich was recruiting with a host of other coaches in Minnesota over the weekend. He still hadn't been told if he's the coach-in-waiting at SMU. It has reached a point where something better happen soon or Jankovich is going to stay put and continue to coach a Redbirds team that has a chance to win the Missouri Valley next season.

3. The Atlantic 10 still may add VCU and George Mason, along with Butler, to get to 16 schools now that Temple is off to the Big East in 2013. But no one from any of the schools or conferences are indicating an imminent departure. VCU athletic director Norwood Teague, fresh off a trip to Europe, said Sunday that there is movement going on and that everyone is simply in evaluation mode. A-10 commissioner Bernadette McGlade and CAA commissioner Tom Yeager both said Friday there was no truth about a done deal for VCU and Mason to leave. Yeager better hope that's true. The CAA can't afford to lose these two Final Four programs. The A-10 would have a chance to elevate itself to being considered a power basketball conference if it pulled off this move.
April, 17, 2012
4/17/12
9:27
PM ET
It is not at all difficult to figure out why the Southern Methodist University men's basketball program wants to hire Larry Brown, and they most likely will,
as reported Tuesday afternoon by ESPN.com's Jason King
.
The Mustangs -- a program with one winning season since 2003-04, just 10 all-time NCAA tournament appearances (exactly one since Brown last coached in a college game in 1988), and no long-term tradition or cachet to speak of -- are in the process of moving from Conference USA to the Big East. This is a program that needs to get good quickly. It is a program that needs a splash hire, a boost to national perception, a conversation-starter. It is a program that needs to take a risk.
Larry Brown, it is safe to say, represents all of those things.
[+] Enlarge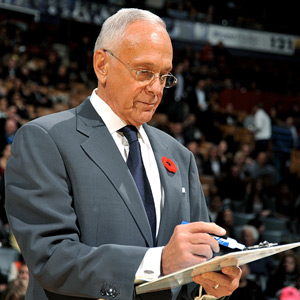 Garrett W. Ellwood/NBAE/Getty ImagesLarry Brown can certainly coach -- but rarely sticks around anywhere for very long.
Brown is something like a legend in the game, the only coach ever to win both a national title and an NBA championship. His legacy in the game, his sheer reach, extends well beyond his own former programs: Both Kansas coach Bill Self and Kentucky coach John Calipari -- the two men in charge of your 2012 national runner-up and champion, respectively -- consider Brown a mentor. Good luck finding someone to tell you this man can't coach the game. Because he really, really can.
But along with that acumen and experience comes the rest of the overstuffed Brown baggage cart. He is just as legendary for his short attention span; his longest coaching tenure --
q.v.
this timeline for the details
-- was six years (with the 76ers), and more frequently he has left his job after two or three seasons, and often even sooner than that. He has coached
30 percent
of the NBA's teams and is on the verge of taking his 13th head coaching job.
Even worse, especially for an athletics program with SMU's history, is Brown's run-ins with NCAA regulatory brass: At UCLA, a Final Four appearance was vacated, and when he left Kansas in 1988 the program was under NCAA probation.
That said, SMU appears to be working on some built-in Brown backup plans. The first is a potential coach-in-waiting deal with Illinois State coach Tim Jankovich, who was still deciding on the opportunity as of early Tuesday evening.
But according to reports, Brown's staff would also include former Illinois assistant/recruiting ace Jerrance Howard and current Kentucky assistant Rod Strickland. That's a good staff. It's also a staff that could take over on a moment's notice if Brown, now 71 years old, decides this whole "coaching basketball again" wasn't such a good idea after all.
So there are huge upsides, sure. In fact, you're looking at one right now. I'm writing about SMU basketball right this very minute. You're reading about SMU basketball. That is a massive improvement over the recent state of the program -- and by "recent" I mean "since 1993 or so" -- in and of itself.
But there are massive risks here, too. The Mustangs, it seems, have decided to take the entire package, the putative risks with the potential rewards. It could work out. It could blow up. That's the Larry Brown package, and all that comes with it.
March, 27, 2012
3/27/12
5:00
AM ET
1. SEC commissioner Mike Slive expects the men's basketball schedule will eventually get rid of a divisional format when the league goes to 18 games and 14 teams next season. The SEC was already headed that way -- shedding its traditional East-West football breakdown -- before adding Missouri and Texas A&M. The additions shouldn't change the plan. A decision will be made when the coaches and athletic directors gather in Destin, Fla., at the annual SEC meetings in May. This would be a critical development for a number of the teams in the former "West" division like Alabama, LSU and Mississippi State, which have been hampered by playing schools like Kentucky and Florida only once.

2. The Wildcats should look long and hard at Illinois State coach and former Kansas State player Tim Jankovich as well as Georgia coach Mark Fox, a former Kansas State assistant, to replace Frank Martin. Jankovich has strong ties to the region and was once a junior college coach. He nearly upset Creighton in the Missouri Valley Conference tournament. Fox will have Georgia relevant again here soon if he were to stay in Athens. The Wildcats won't replace the persona of Martin so they better get someone who is natural to the region.

3. Colorado State should seriously consider Montana's Wayne Tinkle if it wants to stay relevant in the Mountain West-Conference USA hybrid deal. Tinkle has been a winner in Missoula from the moment he took the job. Tinkle will listen to the Rams if they call.

March, 4, 2012
3/04/12
8:55
PM ET
ST. LOUIS -- Moments after the final horn -- after the most physical, emotional game it's played during this magnificent season -- the Creighton basketball team put on a different type of performance for the 5,000-or-so fans who remained at the Scottrade Center Sunday.
Perched atop a podium at center court, the Bluejays cleared their throats.
They took deep breaths.
And then they sang.
"Weeeee aaarrreee the chaaaammmpions, WEEEE ARRREEE the CHAAAMMM-pions!"
Doug McDermott
& Co. crooned, laughing as they veered off-key to the famous Queen song. A few minutes later they watched themselves on the "One Shining Moment" video that played on the JumboTron.
Then then came the snippage of both of the arena's nets.
[+] Enlarge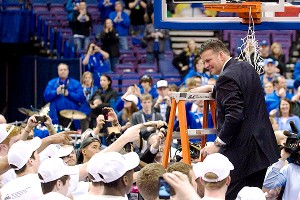 Jeff Curry/US PresswireGreg McDermott has led a resurgence at Creighton as the Bluejays take a seven-game winning streak into the NCAA tournament.
"This is what we work for," McDermott said. "This is what we all dream of, to play on national television for a championship."
Sunday's
83-79 overtime win
over Illinois State was for the Missouri Valley Conference Tournament trophy -- not the NCAA title. But there were times during the celebration when it almost felt that way.
A lot of schools, especially ones from power conferences, don't get all that jazzed about league tournaments. Most of them would prefer Selection Sunday to be the day after the regular season. North Carolina coach Roy Williams once said the events were "nothing more than a cocktail party for the alumni."
It certainly didn't feel that way inside the Scottrade Center, where it wasn't hard to sense a genuine appreciation and satisfaction over what had just been accomplished.
Before they looked ahead to the future, the Bluejays wanted to make sure to reflect on their past, to remember what got them to this moment in the first place. The road, they said, definitely hasn't been easy.
"We've had a target on our backs [all season]," said head coach Greg McDermott, Doug's father. "These guys have handled it really well. They haven't let it become a distraction."
It's indeed rare for a mid-major school to hover in the national spotlight as long as Creighton. The Bluejays garnered national headlines by winning at San Diego State on Nov. 30. They've been one of the most scrutinized non-BCS teams ever since.
Having a player such as McDermott -- a first-team All-American by ESPN.com -- only increased the attention. McDermott's 22.9-point scoring average ranks third in the nation.
The Bluejays got off to a 21-2 start but then dropped three straight games to Northern Iowa, Evansville and Wichita State. The losses kept McDermott's squad from taking the Missouri Valley Conference title, but that hardly deterred the Bluejays, who will take a seven-game winning streak into the NCAA tournament.
"We really didn't change much," Doug McDermott said. "We never lost our confidence."
That was obvious Sunday.
One day after upsetting No. 1 seed Wichita State, Illinois State tried its best to out-tough Creighton Sunday. The Redbirds, who finished just 9-9 in league play, led by six points midway through the second half and made two baskets in the final 16 seconds to force overtime.
But the Bluejays scored the first five points of the extra period and never looked back.
"They were rolling," Creighton guard
Grant Gibbs
said of the Redbirds. "They had that 'not-holding-anything-back-Cinderella-type deal' going. They were playing with a ton of confidence."
All of it came to a crushing halt after Creighton pulled away. While the Bluejays celebrated on the court, Illinois State was despondent in its locker room after coming within minutes of earning an NCAA tournament berth.
"It cuts so deep," Redbirds coach Tim Jankovich said. "To fall this short of an NCAA bid is painful beyond words."
Meanwhile, Creighton couldn't have been happier to be celebrating again after making the NCAA tournament for the first time since 2007. The past two years, the Bluejays weren't even invited to the NIT. The players said the credit should go to Greg McDermott, who is in his second season since taking over for Dana Altman, who left for Oregon in 2010.
"It's very rewarding," point guard
Antoine Young
said. "It's good to have Creighton basketball back where it needs to be, back where it
should
be."
The question now is how much further the Bluejays can go.
Creighton is not extremely quick and athletic, so their defense is a concern against faster teams adept at beating a defender off the dribble and attacking the basket. But the Bluejays do have players in the paint that have both size and skill. Greg Echinique (6-9, 270) began his career at Rutgers. The 6-foot-7 Doug McDermott is aggressive in the paint and 6-11 forward
Will Artino
comes off the bench.
"Not every mid-major has what we have on the front line," Greg McDermott said.
And most aren't as crisp and efficient offensively as the Bluejays.
Creighton shoots a national-best 51 percent from the field. The Bluejays' 79.9 points per game ranks sixth in the nation, and their average of 18 assists is third.
This is an extremely patient, unselfish team that doesn't take bad shots. That can get you a long way in the NCAA tournament -- especially if the matchups are favorable. Just as Butler and VCU, both of which made the Final Four last season.
Creighton is every bit as good as both of those teams. And the Bluejays know it.
"We'll be ready," Doug McDermott said. "We're not scared of anybody."