College Basketball Nation:

Tim Shelton
January, 16, 2012
1/16/12
2:59
PM ET
Let's be real: I don't expect much from my college basketball players turned rappers. Usually, bars and verses are best left to the guys who spend all their time thinking of bars and verses, and shots and assists are best left to the guys who spent all their time shooting and practicing the game of basketball.
Here and there, though, the respective talents do crossover. The best example in college hoops has long been Tennessee's
Renaldo Woolridge
,
who has occasionally carved time out from his busy hoops career
to drop beats and lyrics under the pseudonym "Swiperboy." Now, thanks to San Diego State forward
Tim Shelton
, we may have a new college hoops king sitting atop the throne. Why? Because Shelton's "Aztec Motto" -- featuring a beat from Drake's "Take Care" and copious involvement from SDSU's student section, "The Show" -- is legitimately, unironically good. To wit:
There are some really good lines in there. My favorite might be "ice bags on my knees so I'm so cool." Somewhere, Patrick Ewing is like, "I've been saying the iced knees is a good look since the mid-90s! Come on!" Who knew Ewing was so far ahead of his time?
In any case, SDSU prefaced Saturday's win over UNLV with this video, and if that doesn't get your already-rowdy crowd near their boiling point, nothing will. Good stuff.
December, 13, 2011
12/13/11
9:27
PM ET
By
Diamond Leung
| ESPN.com
On the day San Diego State announced it would leave the Mountain West in 2013-14, it also became clear the Aztecs basketball program plans on a hegemonic reign in the Big West.
After all, the Aztecs are the ones coming off a Sweet 16 appearance in March. They trumpeted
discussions with Connecticut
to schedule a home-and-home series in the future with their new Big East partner. And they were able to get to the negotiating table with a powerhouse in part because the Big West has agreed to
limit the conference schedule to 14 games
despite it being an 11-team league upon SDSU's arrival.
According to the
San Diego Union-Tribune
, the shortened schedule was something the school really wanted and was able to get.
Fourteen is also the number of conference basketball games that SDSU coach Steve Fisher lobbied hard for -- "I voiced my opinion," as he put it -- in negotiations with the Big West as the Aztecs sought a home for their other sports after announcing a 2013 move to the Big East in football only. The Big West will have 11 member schools by 2013, and a balanced schedule would mean 20 conference games.

That would leave Fisher with only 10 or 11 to get enough high-profile games to offset the expected dip in power rating from playing in a league that last season was ranked 25th nationally out of 33 conferences. Fewer conference games mean more nonconference games -- 16 or 17 with a 14-game Big West schedule – and that, Fisher said, "gives us latitude and flexibility."

...

"I think we'll have enough wiggle room," Fisher said, "where we could get an at-large bid."
Of course, life in the Big West will be an adjustment for San Diego State as well even if it is the top dog. The Aztecs won't be able to plan on NCAA tournament berths if they lose too many conference games and fail to pick up resume-building wins in the non-conference.
Despite the Big West's television deals and the recent rise of Long Beach State and UC Santa Barbara, the league still doesn't get much national recognition. And while it's nice for the Big West to increase its profile in Southern California, a market dominated by USC and UCLA leaves schools like Cal State Fullerton, Cal State Northridge and UC Irvine in the shadows.
Visibility can be improved, but only if other programs raise the bar as well. They'll have to do so to compete with the riches of San Diego State.
For now, it remains clear that while SDSU is set to become the Big West's crown jewel, the league still has its doubters even among those who support the Aztecs.
Here's former San Diego State star Lorrenzo Wade tweeting about the move to the Big West, according to the
San Diego Union-Tribune
.
"I would have NEVER transferred to SDSU if they were in the Big West … I'm an Aztec but it's a terrible Bball conference."

Within minutes, Wade's comments were retweeted by a New Mexico fan to Winston Shepard, a four-star recruit from Las Vegas – where Wade also grew up – who has SDSU and the Lobos among his finalists. That prompted current Aztecs basketball player Tim Shelton to tweet Wade: "Can we please not go there Zo … Lol. Sensitive subject this whole big west talk."
December, 1, 2011
12/01/11
2:14
AM ET
SAN DIEGO -- Greg McDermott thinks you're crazy. You, the Creighton fans who never gave up hope that, despite being down 17 points in the first half to the
San Diego State Aztecs
, the 22nd-ranked Bluejays would come back and find a way to win.
"If you told me we were going to be down 17, I would have told you you're crazy to think we're going to beat this team on their floor being behind that much," said the Creighton head coach. "It was a huge win for our program and it comes at a good time for us."
And it comes at a time when some were starting to question the doughiness of Creighton's schedule to date and whether its top-25 ranking was justified. Question answered. The Bluejays
topped the defending Mountain West Conference tournament champs 85-83
behind a double-double by
Doug McDermott
.
Chalk this one up as a resume win for Creighton, which had been 7-27 on the road the past two seasons. When decisions have to be made come March, this is a game the Bluejays can point to – overcoming a massive deficit in one of the most difficult environments they've seen in recent history.
"It's so big to win on the road – especially in a place like this," said Doug McDermott, who finished with 25 points and 12 rebounds. "The student section is so loud and everything is so loud. It was an emotional game the way it ended and we didn't give in.
"This is the biggest atmosphere we've played in the last two years. They rattled us when they went on that run early. They weren't missing shots and we were missing everything. But we kept our composure throughout the whole game. I'm really proud of us."
There won't be any questioning of Creighton's spine after this one. The Aztecs shell-shocked Creighton in the first half, going on a 12-0 run before gaining their largest lead of 17 with 5:55 left in the half. McDermott had provided the bulk of Creighton's scoring to that point, but then
Ethan Wragge
started to heat up. He hit a pair of 3-pointers, McDermott added a 3 and Creighton scraped its way back to a 39-35 deficit at the break.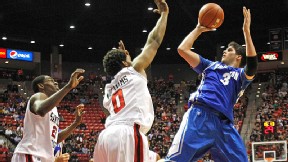 AP Photo/Lenny Ignelzi Doug McDermott's 25 points and 12 boards helped Creighton to a big comeback on the road.
"They threw the first punch, and I was starting to wonder if we'd respond," Greg McDermott said. "Obviously, the last eight minutes of the first half were the key to the game. If we don't inch back, they have all of the momentum going into the locker room. … We had to have somebody step up."
While the younger McDermott kept Creighton in the game early, it was what he was saying and doing in between breaks and away from the ball that helped propel the Bluejays.
"He's a dominant player, but he's a good kid about it," said Wragge, who provided 19 points off the bench. "He doesn't need the ball to dominate, either. He took two charges and had 12 rebounds. He can do it all. When he gets that emotion, it feeds the whole team. It was fun."
Over the past couple of seasons, Viejas Arena has become one of the more hostile gyms for visiting teams. And they took their shots at McDermott (both of them) and Co. But ultimately Creighton was not fazed.
"They fought back, that's a sign of a great team, an NCAA tournament (team) to come into a place like this and be able to execute like that," said San Diego State forward
Tim Shelton
. "Hats off to them, credit to them."
Antoine Young
gave the visitors their first lead with 6:43 remaining in the game when he nailed a 3-pointer to put Creighton ahead 65-62. The Bluejays would not give up the lead – pounding the ball inside and outscoring the Aztecs 24-14 in the paint in the second half.
"We're never concerned with anything," Young said. "We always expect ourselves to win in any type of ballgame. I think that's the difference between this year and last year, we always think we can win. … The second half, we just came out and attacked right away."
February, 9, 2011
2/09/11
12:58
AM ET
SAN DIEGO -- The play-by-play couldn't do it justice.
In the bland vernacular of the stat sheet, it read simply:
Good layup by Gay, D.J.


Miss jumper by Clyburn, Will.
Block by Carlwell, Brian.
Rebound defensive by White, Billy.
Good layup by White, Billy.
In reality, it was wow, oh my, dear Lord, a 12-second offense-to-defense-to-offense assault that left the San Diego State home crowd agog and summarized what the Aztecs are all about.
For the doubters who still believe San Diego State is merely a top-5 team by default, we present Gay to Carlwell to White as your basketball version of Tinkers to Evers to Chance.
BYU may have The Jimmer but the Aztecs have The Team, a roster as complete and built for a long run as any in the country.
Yes the opponent, er victim, of this particular
85-53 assault
was Utah, a team in which maybe two guys are old enough to shave (there are 10 freshmen and sophomores on the roster). That, however, doesn't mean what we saw wasn't real.
San Diego State is real.
The Aztecs were without starter
Chase Tapley
(ankle) and sub
Tim Shelton
(foot) and still played with a fluidity and ease, dishing and dunking like a collegiate version of the Globetrotters.
"That was good, really good,'' SDSU coach Steve Fisher said. "We were dictating the pace, flow, getting runouts and dunks, making 3-pointers. We were very good. We can't play that way all the time, but we're good enough to have stretches like that.''
We have come to the portion of the schedule in which we start to look for a team's Achilles' heel, to discover the weakness that will render them weak come NCAA tournament time.
Still searching for that weakness here in Southern California.
In Gay, the Aztecs have a dynamic and contentedly unselfish point guard. White and
Malcolm Thomas
, with Carlwell off the bench, own the inside and the boards.
James Rahon
can't be left alone behind the arc and
Kawhi Leonard
is the one ingredient virtually every Final Four team has had of late -- a future NBA lottery pick.
And then there's the added bonus that this team is built on defense, and actually likes it, in fact. SDSU ranks 11th in the nation in scoring defense and 16th in field-goal percentage defense. In its past six games, the Aztecs are allowing a ridiculously stingy 55 points per game.
Five less and San Diego State would be indulging in curly fry overload.
The student section is awarded free curly fries whenever the Aztecs hold an opponent under 50 points.
"I said, 'We can't let them get seven points in seven minutes,'' Carlwell said. "We have to get them the curly fries. We've had games where we held them to 53 and I get home and my boys call me and they're mad. Unfortunately we couldn't make it happen this time.''
The fast-food decadence award might be the only place the Aztecs failed on this night.
January, 6, 2010
1/06/10
5:31
PM ET
By
Diamond Leung
| ESPN.com
The Mountain West Conference could very well end up being the top conference on the West Coast, and San Diego State's upset at home last night against a ranked New Mexico team only highlighted its depth.
Four NCAA tournament bids aren't out of the question,
according to Andy Katz
, but injuries are also mounting. Even during the Aztecs' win, leading scorer
Billy White
went down with a high ankle sprain and could miss extended playing time.
Aztecs coach Steve Fisher indicated after the game that White's injury wouldn't be used as an excuse, telling reporters, "Nobody cares when people are hurt."
Feel free to read up about the some of the MWC's hurting players, though.