College Basketball Nation:

Tobias Harris
September, 22, 2011
9/22/11
2:10
PM ET
By
Diamond Leung
| ESPN.com
There's a basketball game on national television tonight, and Jimmer is playing in it.
For fans lulled to sleep by the NBA lockout and the lengthy college offseason, the Jimmer's All-Stars event on the BYU campus will feature the professional debuts of numerous NBA draft picks, including host
Jimmer Fredette
, fellow team captain
Kawhi Leonard
and national champion
Kemba Walker
.
The exhibition features numerous storylines that developed after Team Fredette coached by BYU's Dave Rose and Team Leonard coached by San Diego State's Steve Fisher conducted a draft to
fill in the eight-man rosters
.
Fredette and Walker, the native New Yorkers who led the nation in scoring last season, will be on opposite sides and square off for the first time.
Fredette and Leonard, whose college teams had epic showdowns last season that raised the profile of the Mountain West and resulted in a shared conference championship, will face off again.
Fredette's team includes fellow Sacramento Kings draft pick
Tyler Honeycutt
, whose former UCLA teammate
Malcolm Lee
is on the other side and has the distinction of holding Fredette to a season-low of 25 points in games BYU lost last season.
Former BYU guard
Jackson Emery
also returns to the Marriott Center for possibly his one and only professional game, as he'll team up with Fredette one more time after recently
deciding to step away from basketball
.
And for NBA fans looking to get a glimpse of first-round picks Bismack Biyombo,
Chris Singleton
,
Tobias Harris
,
Nolan Smith
and
Kenneth Faried
, here's your chance.
"The draft was a lot of fun and helped continue the buzz about the game on Thursday," Fredette said in a statement. "I'm excited about my team and I know Kawhi feels like he has a great squad as well. Personally, I'm really looking forward to playing one final game with Jackson in front of our home fans. We had so many great memories during our career at BYU and it will be fun to enjoy one last game night experience together at the Marriott Center."
The game originally scheduled in Salt Lake City as part as what was to have been a two-game exhibition series
was canceled
, so tonight's the night to tune in to BYUtv.
Basketball is being played again, and that's reason enough for excitement.
June, 23, 2011
6/23/11
1:25
PM ET
By
Diamond Leung
| ESPN.com
The NBA draft has become known as an event where
players make fashion statements
, stepping onto the runway while meeting commissioner David Stern. Being the best dressed or worst dressed Thursday night has no bearing on the court, but can create a certain amount of buzz.
It's clear that fashion is on the mind of many of this year's draft picks. Here's a preview and a compilation of some hints on what some of the top picks might be wearing tonight.
Arizona's
Derrick Williams
to
Esquire
: "Didn't want too baggy or too flashy, but didn't want a slim European suit, either. I stuck to my style -- classy -- and picked my favorite colors: black, red, and grey... I can't say what I'm wearing. Giving away your look before the event is like giving away your game plan."
Connecticut's
Kemba Walker
, from the
New York Post
: Asked whether it [his suit] might be something outrageous, Walker looked across the table at TNT's Craig Sager, the King of Outrageous alongside Clyde Frazier, smiled and said; "It's nothing like my man right here!"
Kansas'
Markieff Morris
, from the
Lawrence Journal-World
: After posing for the folks at NBA 2K12, Markieff stopped in the Sean John store to pick out a suit...
Providence's
Marshon Brooks
, from the
Providence Journal
: The suit, a classic light grey with a touch of lavender, is pressed and ready to go.
Tennessee's
Tobias Harris
to the
Chattanooga Times Free Press
: "
I've heard it [fashion] is a big, but they call me 'All-Business' for a reason, so you know I'm going to pull out the nicest suit."
Texas'
Tristan Thompson
to the
Canadian Press
: "Let's just say that my colours will go with any team in this draft."
And finally, BYU's
Jimmer Fredette
:
June, 16, 2011
6/16/11
11:30
AM ET
Tobias Harris has big things popping these days:
He's a likely first-round pick in the upcoming NBA Draft
, and he's spent much of the past few months working out for NBA scouts and general managers in advance of the big day. But he's also apparently taking time to have some fun in the sun -- and challenge a gaggle of children to a water balloon fight at a Knoxville, Tenn., waterpark.
No, seriously. Apparently, Harris recently called a Knoxville radio station to announce that he would be at World's Fair Park -- and was challenging kids to a water balloon fight in the process. He followed through, passed out some Gatorades to the thirsty park-goers, snapped a few photos and, yes, took a bunch of painful-sounding water balloons to the torso.
Even better? There's video:
See? Those balloons sound like they hurt! The good news, of course, is that water balloons aren't likely to damage Harris enough to hurt his solid draft stock. A slip-up in those flip-flops? Thankfully, Harris won't have to find out.
May, 6, 2011
5/06/11
6:19
PM ET
By
Diamond Leung
| ESPN.com
Tobias Harris
really seemed to enjoy his time at Tennessee. In recent weeks, he was caught on camera
playing intramural softball
, doing
community service
, and
singing "Rocky Top
." The freshman forward who this season led the team in rebounding and scored 15.3 points per game had indicated
he would feel comfortable
playing for new coach Cuonzo Martin.
The decision by Harris to
remain in the NBA draft
shouldn't come as a surprise given his talent, but it was nonetheless a blow to what Martin is trying to get started.
Martin loses Harris, and quite possibly will also lose leading scorer
Scotty Hopson
to the NBA draft. He has already lost the recruiting class Bruce Pearl put together with
Chris Jones
and Kevin Ware apparently headed elsewhere.
Harris, who is expected to be a first-round draft pick, has plenty of upside as a versatile forward. Most recently, he had been training with George Gervin and John Lucas in preparation for the draft. Martin will miss out on his production.
"First of all, Tobias is a wonderful young man," Martin said in a statement. "He had a great freshman season, but more importantly he also conducts himself in all the right ways off the court. There's no doubt he'll be successful.
"I wish him well. I absolutely loved working with him, over the past several weeks.
"He'll always be a Tennessee Volunteer, and just like every other former player, we're always here for him. He's part of the family."
Martin had similar words at last week's team banquet in addressing the seniors that had played for Pearl as he bid them farewell. It was a potentially awkward moment that he pulled off while also paying tribute to Pearl's achievements.
Losing Harris was just another reminder that Martin will be building his own program while the last vestiges of Pearl's program gradually disappear.
April, 29, 2011
4/29/11
8:58
PM ET
By
Diamond Leung
| ESPN.com
Alabama coach Anthony Grant was among those in Tuscaloosa doing what he could to assist storm relief efforts Friday.
Grant
told ESPN.com's Andy Katz
he and his staff spent the afternoon distributing supplies to families. He is scheduled to participate in a telethon to raise money and also has set up a
fund to help storm victims
.
"It is comforting to see and know that there is a large mass of people trying to provide assistance and help any way they can," Grant said in a statement.
At Tennessee, senior
John Fields
and freshman
Tobias Harris
went to the regional blood bank and helped urge others to donate.
"We're going to donate blood for the victims of the tornado, give back to the community, give back and show that we really care about stuff like this," Harris said.
March, 11, 2011
3/11/11
10:43
PM ET
ATLANTA -- Maybe this Florida team really is different from the last few teams coach Billy Donovan has put on the floor.


After three straight early-round exits in the previous three SEC tournaments,
Florida defeated Tennessee 85-74
in Friday night's quarterfinals at the Georgia Dome. It was Florida's third victory this season over UT, and the Gators advanced to play the winner of Friday night's late game between Mississippi State and Vanderbilt in Saturday's semifinals.
Florida, the SEC regular-season champion, had each of its five starters score 10 points or more. Guards
Kenny Boynton
and
Erving Walker
led the Gators with 22 and 17 points, respectively.
Turning point:
The score was tied 50-50 with 12:09 to go. After Vernon Macklin's layup gave the Gators a 52-50 lead with 11:48 left, UT coach Bruce Pearl was hit with a technical foul. Boynton made both foul shots for a four-point lead, and then the Gators started to pull away.
Key players:
Florida's guards struggled with UT's aggressive defense in the first half, but Boynton and Walker took control in the second. They combined to score 39 points on 10-for-20 shooting, including 5-for-11 on 3-pointers. Boynton went 10-for-10 at the foul line.
Key stat:
11-4: Florida's record away from the O'Dome in true road and neutral-site games. It's the second-best mark away from home, trailing only Kansas' 13-1 record entering Friday's action.
Miscellaneous:
The Volunteers squandered a fantastic performance from freshman
Tobias Harris
, who scored 25 points on 10-for-17 shooting. Harris scored 18 points in the first half.
What's next:
The Gators, who advanced to play the winner of Friday night's late game between Mississippi State and Vanderbilt in Saturday's semifinals, still have a realistic chance at a No. 2 seed in the NCAA tournament. Tennessee seems to be in good shape for an NCAA at-large bid with a 19-14 record and several high-end victories.
March, 10, 2011
3/10/11
10:12
PM ET
ATLANTA -- Tennessee nearly blew a 16-point lead in the final seven minutes of its SEC tourney opening-round game against Arkansas, but survived with a
74-68 victory
at the Georgia Dome.


The Razorbacks trailed 68-52 with 7:05 to play, but then went on a 16-0 run to tie the score at 68 with 2:08 remaining. After starting the second half 14-of-18 from the field, the Volunteers went 0-for-11 from the floor and had two turnovers during their nearly five-minute drought.
Arkansas had a chance to take a lead in the final two minutes, but forward
Delvon Johnson
turned the ball over while trying to spin around UT freshman
Tobias Harris
with 1:10 left.
On Tennessee's next possession, Harris found senior
Brian Williams
inside for an easy layup to make it 70-68 with 55 seconds to go. After the Hogs called timeout, UT guard
Melvin Goins
stripped the ball from guard
Julysses Nobles
, and Harris was fouled with 33.8 seconds to play. Harris made two foul shots to seal the victory.
Turning point:
After the Volunteers took a 16-point lead in the second half, Arkansas got back-to-back 3-pointers from
Rotnei Clarke
and Nobles to make it 68-64 with 3:41 to play. Williams, the Vols' best inside presence, was poked in the eye and had to leave the floor. The Hogs tied the score at 68 with Williams sitting on the bench. He returned to make the winning basket.
Key player:
Harris, a freshman from Dix Hills, N.Y., is considered a potential one-and-done player and it doesn't take very long to see why he might enter the NBA draft after only one college season. The 6-foot-8 forward scored 20 points on 7-for-13 shooting and grabbed three rebounds.
Key stat:
The Volunteers held on to win despite shooting only 2-for-15 on 3-pointers. It was the fewest number of 3-pointers UT made in a game this season, tying season-lows in losses to Kentucky and Charlotte.
Miscellaneous:
Junior guard
Scotty Hopson
, the Vols' leading scorer with 17.7 points per game, scored only eight points on 4-for-9 shooting. He didn't start the second half because of a "coach's decision" and was replaced on the floor by senior
Josh Bone
.
What's next:
The Volunteers will play SEC regular-season champion Florida in Friday night's quarterfinals. Both of UT's games against UF this season were extremely close, with the Gators winning 81-75 in overtime in Knoxville on Jan. 11 and 61-60 in Gainesville on Feb. 12. Arkansas finished the season with an 18-12 record, and coach John Pelphrey's future at the school seems to be tenuous at best with a 69-59 record in four seasons.
February, 9, 2011
2/09/11
1:19
AM ET
LEXINGTON, Ky. -- Bruce Pearl returned to the SEC sidelines on Tuesday night. Unfortunately, not all of his players came with him.
Tennessee could have had Bruce Wayne or Minnie Pearl coaching it against No. 18 Kentucky, and the Volunteers still wouldn't have had much of a chance the way they let themselves get pushed around in a
73-61 loss
at Rupp Arena.
[+] Enlarge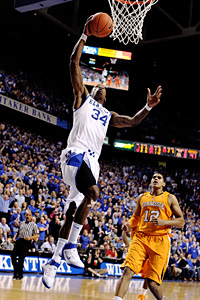 Andy Lyons/Getty ImagesKentucky's DeAndre Liggins finished with 19 points, five steals, five rebounds and three assists.
"Just too many no-show performances," Pearl said.
The story of the night was the re-emergence of the Wildcats' veterans, not Pearl. Normally so reliant on its freshmen, John Calipari's team got an unexpected boost from the upperclassmen.
Junior
DeAndre Liggins
, a defensive standout who's usually an offensive afterthought, matched his career high with 19 points. Senior center
Josh Harrellson
scored in double figures for the first time in over a month with 16 points; he apparently loves rivalry games, since Tuesday was his best scoring effort since a 23-point performance against Louisville. Inconsistent junior
Darius Miller
struggled with his shot but chipped in six rebounds and generally solid play.
Calipari's favorite comeback, though, was the resurfacing of a toughness missing from his team's back-to-back road losses at Ole Miss and Florida. On the plane home from Saturday's loss in Gainesville, he berated his players' individual shortcomings. Each had to stand up before his teammates this week and verbally commit to improving an aspect of their game. To drive the point home, Calipari put boxing gloves on each player and had them work the heavy bag for about a minute.
"It was like jab, jab, jab, body shot," Liggins said. "It was more of a mindset, a toughness thing."
Kentucky didn't do any literal punching but outfought Tennessee in just about every aspect. The Wildcats outrebounded the Volunteers 38-28, got to the free throw line 27 times to Tennessee's 12, hustled for every loose ball and scored 21 points off turnovers.
"Looking at the stat sheet, there was no possible way we could have won that game," Tennessee center
Brian Williams
said.
It was almost a must-win game for both teams in the crowded SEC East. Kentucky (17-6, 5-4) was in danger of falling under .500 in league play. Instead, it moved into a second-place logjam with Tennessee and Georgia, with South Carolina and Vanderbilt also tied in the loss column. The Wildcats still are in the race but have to figure out how to win on the road, where they're 1-4 in league play with a tricky trip to Vandy coming up.
"We've got a short roster and are not playing that many guys, so we've got to be tough," Liggins said. "That showed big tonight, but the main thing is doing it on the road, not just at home."
[+] Enlarge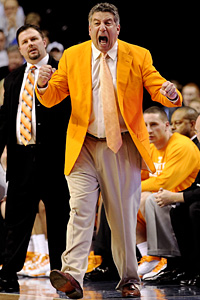 Andy Lyons/Getty ImagesBruce Pearl returned from an eight-game SEC suspension against Kentucky.
The Vols (15-9, 5-4) are on the NCAA bubble and face an all-important game at division front-runner Florida on Saturday. But at least they'll have Pearl back in the huddle. They managed to go 5-3 as he served an eight-game league suspension for lying to NCAA investigators last summer.
"It meant a lot to us to get him back," guard
Josh Bone
said. "We didn't get the win, and that hurt. But hopefully having him on the sideline will spark us in our next game."
Pearl joked Monday that his suspension was actually harsher than eight games since he had to make his return at Rupp Arena. He wore his trademark orange blazer for this one, but the garish coat couldn't help him avoid a five-game losing streak in the building.
A Kentucky fan yelled "Welcome back" as Pearl headed to the locker room following warm-ups. But not all proved as welcoming. A small group of blue-clad fans directly behind the Tennessee bench shouted things like "cheater," "liar" and other unprintable words at Pearl (which, given Kentucky's own spotty NCAA history, seemed a little ironic). At halftime, Pearl asked arena security to do something about the fans.
"It was just the language; my family is back there," Pearl said. "They can say whatever they want."
Pearl has bigger issues. Leading scorer
Scotty Hopson
came back from an ankle injury that kept him out of the past two games, but he clearly wasn't 100 percent. Star freshman
Tobias Harris
, whom Pearl said still isn't fully recovered from his own ankle problem, had one of his worst games of the season with 10 points and only two rebounds. Harris didn't get to the free throw line until the final minute, but at least he was the only Volunteers frontcourt player who did make it to the charity stripe.
"It's a toughness issue," Bone said. "You can control your toughness and control being punked by somebody. We lacked that tonight."
Unless that changes, it won't matter where Bruce Pearl spends his game days.
November, 26, 2010
11/26/10
10:45
PM ET
NEW YORK -- The NCAA mess that Bruce Pearl and his staff got the Tennessee program into will rear its ugly head again when the NCAA releases its official document of allegations, most likely within the next month.
But for one night at least, the Volunteer basketball team shifted the focus to actual basketball -- in this case an improbable NIT Season Tip-Off trophy after an impressive
78-68 win
over seventh-ranked Villanova in the championship game at Madison Square Garden.
It's become clear now that the more Tennessee wins, the less likely an NCAA investigation will have a major effect on this particular team.
The reason is the Vols have a basketball team that is again worthy of attention, and a freshman in
Tobias Harris
that should at least be in the same conversation with
Jared Sullinger
of Ohio State,
Harrison Barnes
of North Carolina,
Terrence Jones
and
Brandon Knight
of Kentucky and in a few weeks,
Josh Selby
of Kansas.
[+] Enlarge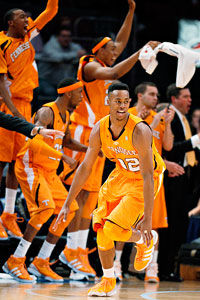 AP Photos/Henny Ray AbramsTourney MVP Scotty Hopson and his Tennessee teammates were all smiles on Friday night.
"We showed toughness, in a tough environment and we had an edge coming in,'' said Pearl. "Nobody picked Tennessee to win.''
No one on ESPN.com, that's for sure
.
"I wouldn't blame you,'' Pearl said. "I would have picked Villanova against the field, too.''
After this 10-point victory, in which they led for the final 12 minutes and for most of the game, the 24th-ranked Vols will certainly move up in the rankings. But just as importantly, perhaps, they'll strike a bit of fear in the minds of every team in the SEC East, after Tennessee was picked to finish fourth in the division despite several pieces of the Elite Eight team returning and Harris' arrival.
"We wanted the focus of our basketball program to be on the basketball,'' said Tennessee senior wing
Steven Pearl
, whose scrappy 15 minutes didn't go unnoticed. "I think [my dad] has handled it great. You can't tell any difference with his coaching this team. He has acted normal. Off the court we talk about it, but he's handling it very well. He's done a good job of keeping it away, from it being a distraction.''
The University of Tennessee and the Southeastern Conference had made it difficult to ignore. The school self-imposed penalties on Pearl and his staff, from docking salary to taking them off the recruiting road after Pearl misled NCAA investigators about high school recruits at a Pearl-housed barbeque. And then SEC commissioner Mike Slive put the focus back on Pearl with his unique eight-gamedays suspension to start league play, which doesn't prevent Pearl from traveling with the team, coaching them in practice or -- in the middle of the suspension -- coaching the Vols at Connecticut on Jan. 22.
With that as a backdrop, the Vols arrived in New York perceived as sort of a team turmoil.
Well, they hardly fit the part. The only disruption Tennessee had here was backup point guard
Trae Golden
's 102-degree fever that kept him out of the game against Villanova. Pearl said it was going to be a problem prior to tipoff because of Villanova's guards.
But point guard
Melvin Goins
, a backup last season and now a starter, and
Skylar McBee
among others (including Hopson), handled the Nova guards quite well as
Corey Fisher
went 1-for-10 for three points (after scoring 26 in the semis) and
Maalik Wayns
went 3-for-11 for 11 points. The trio of Fisher, Wayne and
Corey Stokes
-- the same group that combined for 61 points against UCLA -- tallied just 25 against the Vols.
Villanova coach Jay Wright warned his guards about driving against Tennessee's bigs and said they might have to make an extra pass. He foresaw that the Cats wouldn't be able to get to the rim -- and they didn't.
"What impressed me the most was how physical they all were, from Melvin Goins to Skylar McBee to Tobias Harris, their physicality,'' Wright said.
The Vols had great balance against Nova, shutting down the Wildcats on 3s (4-of-21) and then hitting 3s at a more efficient manner on their end (6-of-16). Harris' ability to be a point forward -- to take the ball and drive on his own to the hoop -- makes him a tough mismatch. Wright noticed.
"I want to win and I'm trying to do everything I can to help this team win,'' said Harris, the freshman from Long Island.
[+] Enlarge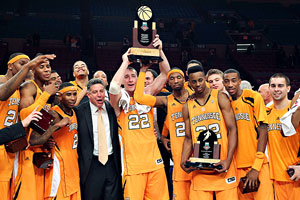 Nick Laham/Getty ImagesA team many expected to lose its first game in New York instead won two en route to the NIT title.
"I think you saw what he was capable of, making tough plays,'' said Pearl of Harris, who finished with 15 points and nine boards. "We put the ball in his hands a lot. He was recruited to play that point forward. He can be a good passer too. We need him to score. He's an inside-out player and those are tough matchups.''
The NIT was also the official arrival of
Scotty Hopson
as a go-to scorer. Hopson was a celebrated recruit as a McDonald's All-American, but admittedly took a backseat the past two seasons. At SEC media day last month, he said he needed to be much more assertive.
Mission accomplished in New York. He was named the NIT's MVP after scoring a team-high 18 (to go along with 19 against VCU).
Cameron Tatum
's 17 showed how balanced offensively this team can be throughout the season. And the gritty play of another New Yorker, forward
Brian Williams
(12 points and seven boards), only adds to the Vols' toughness.
"We were an Elite Eight team last year, but this is a new team with a lot of new guys,'' Pearl said. "Our depth will always be a factor, but we played hard and were unselfish. We can rebound and we can defend.''
On Dec. 11 at the SEC-Big East Invitational, Tennessee plays Pittsburgh at the CONSOL Energy Center, home of the Pittsburgh Penguins. Then the Vols have yet another Big East date Jan. 22 at UConn. And in between, Tennessee hosts USC and Memphis as well as a sneaky good College of Charleston. So there are plenty of potential potholes on the nonconference schedule.
As for league play, picking Florida, Kentucky or Vanderbilt ahead of Tennessee in the SEC East is still not a reach, based on the rosters and the flashes each of shown at times already this season. Georgia has been a bit of disappointment so far, but the Bulldogs haven't had SEC preseason player of the year
Trey Thompkins
at full strength yet. Still, all those other teams have lost. The Vols have not. And they have the best win of that group so far.
"We understand that we're not a great basketball team and we can't get carried away and say we're the best team in the country,'' Steven Pearl said. "We beat a good Villanova team. We've got to stay grounded. Playing Pitt could be a different animal. But we're excited for the test.''
The players were certainly euphoric after the game, jumping on the back of Bruce Pearl at center court. Pearl kept saying the right things -- that this wasn't about him, but rather about the team. And on this night at least, he was right. The shift from off the court to on the court was real.
"We had to get the issues focused on the court,'' Williams said. "That's what we wanted.''
And that's what they got.
November, 25, 2010
11/25/10
12:44
AM ET
NEW YORK -- Tennessee came to New York hoping to find an identity, regardless of whom the Volunteers played.
So far, the definition of this team is and may have to be its defense.
And if
Brian Williams
can continue his maturation as a complement to heralded freshman and fellow New Yorker
Tobias Harris
-- or vice versa -- then this team should be fine amid the loaded SEC East.
The Vols kept upstart Virginia Commonwealth just out of reach in Wednesday night's
77-72 victory
in the semifinals of the NIT Season Tip-Off at Madison Square Garden. The lead was just one point at halftime despite VCU shooting less than 20 percent on 3s and less than 24 percent overall. The Rams shot better in the second half, but when it mattered most, Tennessee was there to defend, block a shot and finish the necessary play.
[+] Enlarge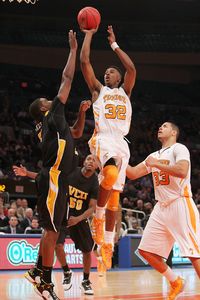 Nick Laham/Getty ImagesScotty Hopson (left) and Brian Williams combined for 27 points and 24 boards against VCU.
"We've been an up-and-down team since I've been here, but we were able to drop back and play defense,'' said UT's
Scotty Hopson
, who finished with 18 points and 11 rebounds. "We're putting this together and when we do we'll be a team to reckon with.''
The plan for the Vols is to ensure that Williams, who has shed weight and is playing some of the best basketball of his career, can be effective alongside the heralded Harris.
Harris, a Long Island native, finished with 15 points and four boards. Williams had a team-high 13 rebounds (out of the team's impressive 54) and many were extremely timely for the Vols. He also added nine points and a pair of key blocks. Every freshman needs a mentor when he arrives in college basketball and the once-maligned Williams has become Harris' for the time being.
"He's helped me a lot,'' Harris said. "He's a big player inside. He rebounds very well. He did a lot of key things for us down the stretch. He's a great passer and with me we can be a great inside-out tandem.''
Harris has the face-up game. Williams the post game.
"I think we're complementing each other very well,'' Williams said.
But the need is for the two of them to be defensive anchors. VCU didn't pose the type of threat inside that the Vols will see from Villanova in Friday's championship game or against any of the teams in the SEC East, notably Georgia's
Trey Thompkins
.
As has been well-documented, the Vols are dealing with constant controversy because of the NCAA investigation and the admission of guilt from head coach Bruce Pearl. An NCAA notice of allegations will bring that back when it comes out sometime in December. Tennessee athletic director Mike Hamilton said Wednesday that the investigation is complete and the report is being written, so the school hopes to receive the document -- which will also include football and baseball -- sometime soon so it can respond and get in front of the NCAA committee on infractions as soon as possible.
But for now at least, maybe this quality win and the prospect of playing a top-10 team (Villanova) in a tournament title game will go a long way toward putting the attention on the team.
"This victory takes what's happening off the court of our minds,'' Williams said. But when asked if it had been a distraction, he quickly said, "Not for us. We're focused on the basketball.''
And it showed Wednesday with a solid defensive effort. It wasn't up-and-down Tennessee basketball. But for now, the Vols don't have to do that. They just have to ensure that they can defend inside, score enough in the low post and make sure the most talented players -- notably Harris and Hopson -- get the ball at the right time.
"We're going to be a tough team,'' said Tennessee's
Cameron Tatum
. "We won't get pushed around. For a couple of years we've tried to have that as our identity. That's what we're trying to form.''
October, 26, 2010
10/26/10
1:05
PM ET
It's the SEC's turn in the preview spotlight. Here are five things I can't wait to see in the conference this season:
1. Florida's rebirth
Bill Simmons, some other guy that writes for ESPN.com,
has a rule
: "After your team wins a championship, they immediately get a five-year grace period: You can't complain about anything that happens with your team (trades, draft picks, salary-cap cuts, coaching moves) for five years. There are no exceptions." There's nothing particularly wrong with that rule, but success breeds the desire for more success, so it's hard for a fan base -- even as it basks in the glory of back-to-back titles -- to just sit a half-decade out. In other words, spoiled as they might have been by Florida's back-to-back national title brilliance in 2005-06 and 2006-07, you can forgive Gators fans for maybe being just a little bit impatient. Billy Donovan's program took a steep nose dive into NIT mediocrity for two years following his career-making national titles. Some Florida fans even questioned if Donovan merely caught lightning in a five-man batch, that the glory days at Florida were already over.
As we know now, Donovan has been patiently and quietly performing a classic rebuilding project in Gainesville. That project started to pay dividends last season, when a young Gators team got back to the NCAA tournament for the first time since the program cut down the nets. In 2010-11, the project should really pay off. Florida returns all five starters from last season's team. That group includes a trio of seniors led by forward
Chandler Parsons
, and a still-developing sophomore talent in
Kenny Boynton
. More talent arrives this fall, too,
in the form of 6-foot-9 forward
Patric Young
, the No. 13-ranked player in the class of 2010. That combination of veteran experience and precocious talent led the SEC media to overwhelmingly select Florida as the favorite in this season's SEC, and if Young is ready to contribute immediately, the Gators could be a top-10-type team for much of the season.
Which is to say that while they still have a ways to go -- and this season's team will have plenty of last season's flaws baked in -- Donovan's Gators are back on top of the SEC. And guess what? It didn't even take five years.
2. Kentucky's young stars
That group may or may not include
Enes Kanter
, the Turkish forward whose eligibility case remains at a standstill at NCAA headquarters in Indianapolis. But no matter: John Calipari's latest
No. 1 recruiting class
should still have plenty to offer in entertainment value. There's guard
Brandon Knight
,
the No. 2-ranked point guard in the 2010 class
, who
gave UK fans the vapors
in a trio of impressive summer exhibition performances. There's
Terrence Jones
, the No. 2 small forward in the class, who put on a Washington hat at a press conference before finally settling on Big Blue. There's
Doron Lamb
, another McDonald's All-American, who could play Eric Bledsoe to Knight's John Wall. This team will have interior issues if Kanter can't get eligible; the only other players taller than 6-foot-8 on the 2010-11 roster are junior college transfer
Eloy Vargas
and little-used backup Josh Harrelson. Meanwhile, Calipari is promising a return to his up-tempo dribble-drive system after last season's more post-oriented pro-style offense. We might not know how good this Kentucky team can be -- anything is on the table -- but we do know that those freshmen should be awfully entertaining.
3. Trey Thompkins' turn in the spotlight
If you took an informal poll of 100 casual college basketball fans, I bet 65 wouldn't be able to tell you where Trey Thompkins played his basketball. Learn now, folks: Mr. Thompkins just might be your SEC Player of the Year by the time March rolls around. That honor will have to do with Georgia's performance, of course. The Bulldogs played their conference foes as tough as anyone last season, and second-year coach Mark Fox has a couple of talented players in hyperathletic guard
Travis Leslie
and prized in-state recruit
Marcus Thornton
, and Georgia should be more competitive and consistent in 2010-11. But the real draw is Thompkins. Versatile at 6-foot-10 and 247 pounds, Thompkins is an effective rebounder, a tough interior scorer, a shot-blocker, and the rare college big man capable of working his game from anywhere on the court. In 2009-10, he averaged 17.7 points, 8.3 rebounds, and 1.2 blocks per game, all the while shooting 38 percent from beyond the arc. There's no reason to expect any less this season. The only difference this time around is a few people outside the SEC might actually notice.
4. The debut of Renardo Sidney
Few players come with so much baggage, and so much talent, as Mississippi State forward Renardo Sidney. Ineligible for his entire freshman season thanks to a handful of shaky recruiting issues, Sidney languished on the sidelines in 2009-10 wondering when it would be his turn. This season, after all that waiting, Sidney's turn has finally come. (After a nine-game suspension and a repayment of around $11,000. Naturally.) Sidney was one of the most highly touted big men in the 2009 class, and in the wake of the graduation of Jarvis Varnado, the NCAA's all-time leading shotblocker, Sidney's effectiveness on the low block will be immediately needed. Will his long-awaited arrival live up to the hype? We'll eagerly wait nine games to find out.
5. The ongoing Tennessee mess
It's never easy to predict how off-court drama will affect on-court performance. Last season, when Tennessee was missing four players (including top big man Tyler Smith) thanks to their involvement in a New Year's Day arrest, the team's season was supposed to be over. Instead, without Smith, the Volunteers went on to upset Kansas at home and eventually make an appearance in the Elite Eight. In other words, it'd be foolish to write off Bruce Pearl's 2010-11 Volunteers. Pearl's situation
keeps getting worse
. While the successful coach wouldn't lose his job thanks to on-court performance, he has already had his contract terminated, has been caught in at least one big lie, and will be facing the same questions all year long. It's impossible to predict just how much of a distraction the nonsense swirling around Tennessee's program could be, but one thing is for sure: Pearl's position is tenuous. There is little he can do on the court in 2010-11 to improve it.
October, 25, 2010
10/25/10
11:12
AM ET
Last week's revelations that Tennessee had, already, without letting anyone know,
terminated Bruce Pearl's contract
, was, well, let's just call it a surprise. We could also call it a drastic step. And also potentially the end of Pearl's career at the school, even if the NCAA is eventually lenient, which is far from the likely outcome. And it has to throw recruiting efforts into a major lurch.
Fortunately, Pearl already has a handful of players from the 2010 class on campus, and it's a lot harder for those guys to rethink their commitments. One player,
Tobias Harris
-- the best of Pearl's 2010 recruits, and the highest-ranked player Pearl has ever landed -- seems OK with the situation.
According to his father, that is
:
"There's no impact on Tobias," Torrel Harris said. "He's very focused and ready for the basketball season. He's working extremely hard and his energy level is very high. I expect great results for Tobias and the UT basketball team."
Uh, OK then? On one hand that's good. On the other it's probably a little unrealistic. Harris' new coach is the figurehead of a program that lied to NCAA investigators, told recruits and their families to lie, and then voided its coach's contract but didn't fire him (huh?) in the midst of three ongoing NCAA investigations. I'd say that might have some effect on how Harris, and the rest of the Vols, play this year.
That's an unfortunate bit of collateral damage. But right now, it's the reality of life with Pearl.