College Basketball Nation:

Todd Mayo
November, 16, 2013
11/16/13
9:58
PM ET
Marquette's anemic offensive output in its 52-35 loss to Ohio State on Saturday afternoon wasn't exactly what the NCAA men's basketball competition committee had in mind when it sought to increase scoring this season.
Freedom of movement meant the Golden Eagles could miss more shots without being impeded by a hand check. The Buckeyes weren't any better in the first half, as they needed a late basket to tie the game at 19 going into intermission.
It was the lowest combined halftime score in Division I this season.
Despite the rules to benefit offense and increase scoring, a team without at least one scorer in the backcourt is a team that is going to struggle.
[+] Enlarge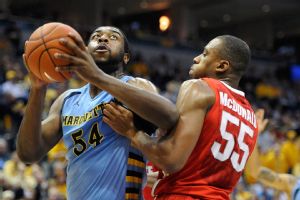 Benny Sieu/USA TODAY SportsDavante Gardner is a force inside, but Marquette is learning that the new rules mean backcourt scoring is more important than ever.
Marquette was the prime example Saturday.
Yes, it's still early in the season and teams are adapting to new personnel and new lineups.
But other ranked teams like Florida, Virginia and Syracuse -- all of which started freshman point guards -- managed to work through slow first-half starts to post double-digit victories.
The Golden Eagles, who had to replace their entire starting backcourt from last season, actually shot worse in the second half. After making just 6 of 29 shots in the first half, they made just 4 of 24 in the second.
It wasn't the pace of the game that led to their low scoring output. They had 20 turnovers. They missed open shots. And that snowballed into taking bad shots, too.
Even senior forward
Davante Gardner
, all 6-foot-8 and 290 pounds of him, for some reason felt compelled to launch a 3-pointer in the first half, which marked just his eighth career attempt.
The strength of the Golden Eagles is in their front court, with Gardner and
Chris Otule
on the blocks. Neither one of those guys can break down a defender off the dribble and create his own shot. That should be up to the backcourt, but no one in the Golden Eagles' current rotation fits that description.
Junior guard
Derrick Wilson
isn't a scorer. He'd taken only a combined two field goal attempts in their first two games, and went 1-for-7 against the Buckeyes. Wilson had never really played extended minutes at point guard, either, but is being forced in the role this season.
Senior
Jake Thomas
is a good spot-up shooter, but never quite got any open looks. Although he entered the game making 3 of 7 from behind the arc, he missed all seven of his shot attempts against the Buckeyes, including six 3-pointers.
Junior
Todd Mayo
generally is a scoring boost to the backcourt from off the bench. He scored a team-high 11 points Saturday, but needed 15 shots to get there.
Ohio State's backcourt shook off its 7-of-26 shooting performance in the first half thanks to its backcourt getting better shots in the second half. And by better shots I mean layups and runouts.
Shannon Scott
led the charge for Ohio State, going 5-for-10 in the second half to finish with 13 points. Scott missed all four of his 3-point attempts but kept attacking the rim for high-percentage shots.
Aaron Craft
, meanwhile, went 4-of-5 in the second half after making just one of his four shots in the first. He got layups, too, and the Buckeyes scored 12 points before the first media timeout of the second half.
Ohio State coach Thad Matta could expect that from his veteran backcourt. Freshman point guards
London Perrantes
at Virginia,
Tyler Ennis
at Syracuse and
Kasey Hill
at Florida seem to be slowly learning despite stumbling blocks.
Perrantes only scored five points in the Cavaliers' 70-57 win over Davidson, but he added five assists and no turnovers. He didn't need to score, as backcourt mate
Malcolm Brogdon
netted 17 on 7-of-10 shooting.
Ennis had a shaky season debut, but has played well in the two games since, including his 12-point performance as the Orange beat Colgate 69-50.
Hill is starting for the Gators while
Scott Wilbekin
serves his suspension. Hill had six assists and scored eight of his 14 points in the second half and helped Florida run past Arkansas-Little Rock 86-56 despite being tied at the half.
November, 10, 2012
11/10/12
12:58
AM ET
Finally, college basketball is here. The 2012-13 season kicked off Friday with some great finishes, high drama and even a pair of cancellations. More on those later.
Here's a snapshot of the action from Friday night:


Connecticut 66, No. 14 Michigan State 62:
The pageantry surrounding college basketball's opening-day matchup in Europe elevated the first high-profile game of the 2012-13 season. MSU and UConn played at Ramstein Air Base in Germany, home to more than 17,000 servicemen. A year after kicking off the season by playing basketball on a ship, college basketball's creative minds raised the bar by sending a pair of perennial powerhouse programs overseas. (You know we're about five years away from a "Let's play on the moon" conversation.)
The Spartans and Huskies entered this game under different circumstances. Michigan State lost former All-American Draymond Green but regrouped with a talented recruiting class and returning standouts such as
Keith Appling
and
Derrick Nix
. Connecticut was banned from postseason play due to subpar Academic Progress Rate scores during the offseason. Then, Jim Calhoun retired and left the program to Kevin Ollie, who has essentially been given seven months to prove that he's worthy of a long-term contract. They can't compete for the national title, so what's their motivation?
And yet, the Huskies played like a determined squad and the Spartans looked flat, going 13-for-33 from the field in the first half. They committed eight turnovers. The Huskies exploited the opening and took a 34-18 lead with 7:46 remaining in the first half after making 11 of their first 12 shots. Michigan State chipped at the deficit and eventually took a lead in the closing minutes.
But the Spartans couldn't overcome their 15 turnovers or the production of
Ryan Boatright
and
Shabazz Napier
(14-for-28 and 38 points combined). That backcourt duo will challenge any defense. It's not doomsday for the Spartans, who lost their first two matchups in 2011-12 but finished the year with 29 wins. They clearly need more time to develop chemistry. The game means much more for UConn. The Huskies competed like a team that's still focused, despite its situation. Ollie's "10 toes in" philosophy worked Friday. The Huskies came to play in Germany.


No. 3 Kentucky 72, Maryland 69:
Earlier this week, former Xavier standout
Dez Wells
was cleared to play after the NCAA reversed its decision on his initial eligibility. Wells was expelled from Xavier following sexual assault allegations and transferred to Maryland. He lost his first waiver request but won an appeal. That decision enhanced the buzz leading up to Maryland's matchup against the defending national champions at the Barclays Center in Brooklyn, N.Y.
Here's the thing. Wildcats coach John Calipari has found success year-after-after with the same formula. He convinces multiple high-level prospects to compete together. They play good defense and score at will. That's why he's achieved so much during his time at Kentucky. The group he's assembled for 2012-13 is very similar to past teams he's assembled at Kentucky. They're young but dangerous and deep. Former walk-on
Jarrod Polson
scored 10 points and came up with a crucial steal and big free throws down the stretch. The Wildcats seem to have it all. Again.
With
Nerlens Noel
's shot-blocking (three swats),
Kyle Wiltjer
's 3-pointers and
Archie Goodwin
's penetration (16 points), the Wildcats amassed a 53-38 lead midway through the second half (Maryland started the game 2-for-11). Game. Set. Match. Nope.
Maryland bounced back with a 15-0 run that suggested it's not going to be a pushover in the ACC.
Alex Len
looked like a lottery pick (23 points, 12 rebounds). Wells (2-for-12), however, struggled. But the Terrapins were tougher than Kentucky (23-12 edge in offensive rebounds). And there multiple moments when the Wildcats looked like a young, inexperienced team. But they were mature enough to hold on for the win. Kentucky led 70-69 with 7.7 seconds to play before Polson hit two free throws. Maryland's
Pe'Shon Howard
missed a 3-pointer at the buzzer. Nice game. Jay-Z should be proud.
Here's what we learned: Len and Wiltjer are stars. Their respective teams will count on their continued production all year. And if they produce at a level comparable to their efforts on Friday, then both programs will thrive. Len takes a lot of pressure off his teammates with his effectiveness inside. Wiltjer is 6-foot-10 with range (4-for-6 from 3-point-line line). How do you guard that?
The aircraft-carrier cancellations:
Games on boats make a lot of sense. Until they don't. This year's Carrier Classic between Ohio State and Marquette seemed like a great idea. Michigan State and North Carolina started the 2011-12 season on a ship. Why not do it again? And why stop at one ship? The Marquette-Ohio State matchup on the USS Yorktown in Charleston, S.C., was one of a handful of scheduled games on watercrafts.
[+] Enlarge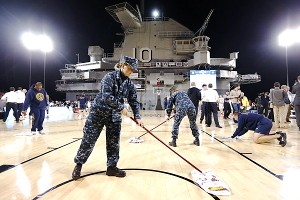 AP Photo/Mic SmithCondensation on the court aboard the USS Yorktown made things unsafe for Ohio State and Marquette.
But a condensation problem turned the court into an ice rink. The chaotic scene played out on NBC Sports Network as players, coaches and servicemen used towels to dry the floor. But they couldn't stop the moisture from resurfacing. Citing the potential safety risk, game officials ultimately canceled the game. It will not be rescheduled.
It was an important matchup for both squads. There are major questions for each team. Marquette lost so much talent from last season and earlier this week,
Todd Mayo
was deemed academically ineligible. Ohio State was set to compete for the first time with a new nucleus sans Jared Sullinger and William Buford. But now they'll both wait to play their first games of the year on Sunday, when Marquette plays Colgate and Ohio State faces Albany.
And that was just the first game of the night that was canceled due to condensation. Georgetown's matchup against No. 10 Florida was called after halftime (the Gators led 27-23) because game officials had similar issues with a slippery floor aboard the USS Bataan in Jacksonville, Fla.
We might have just witnessed the end of the game-on-a-ship era. So if you like outdoor basketball, make sure to savor Syracuse-San Diego State on Sunday.
A few more observations from games that actually did happen on Friday ...
November, 6, 2012
11/06/12
5:00
AM ET
1. Marquette is being quite transparent lately. The Golden Eagles didn't hesitate to suspend coach Buzz Williams for a Big East game for a violation committed by assistant Scott Monarch, who was subsequently fired. The latest from the Golden Eagles is this:
Todd Mayo
has rendered himself academically ineligible indefinitely. When asked what that means, a Marquette official said just what it says. Mayo did this to himself. Marquette isn't afraid now to call out who is at fault. There are no excuses at Marquette.
2. Louisville coach Rick Pitino was right. And Josh Pastner is proving it with each commitment at Memphis. The Big East had to invite Memphis once Syracuse and Pitt were gone. The Tigers are now putting together a top two recruiting class, behind Kentucky and former Memphis coach John Calipari. The Tigers added Austin Nichols to a crew that includes Kuran Iverson, Nick King, Rashawn Powell and Markel Crawford. Memphis will immediately become a player in the new Big East. The Tigers' loading up in recruiting for 2013 should be applauded by the league office in Providence. The Big East needs Memphis to come in and compete for a top spot in the Big East, just like Syracuse and Pitt are likely going to do for the ACC.
3. Rutgers coach Mike Rice is still without power in New Jersey, like countless other residents due to Hurricane Sandy. Rice has stayed home, using candles for light. He just got a generator and is committed to being a part of the recovery effort in the area.
September, 12, 2012
9/12/12
5:00
AM ET
1. UCLA coach Ben Howland said that North Carolina transfer Larry Drew II will start at the point. "That's going to happen,'' said Howland. "He's our most indispensable player.'' Drew is getting a second chance at his college career after he was removed from the Tar Heels' starting lineup two years ago in favor of
Kendall Marshall
. Drew subsequently left the team in the middle of the ACC season. But he has won over the UCLA coaching staff and offered needed experience on the recent trip to China. The current eligibility issues surrounding
Kyle Anderson
make Drew's role even more important. Anderson is considered an offensive possibility at the point, but is lacking on the defensive end.
2. Marquette sophomore
Todd Mayo
said the player who might have improved the most over the summer for the Golden Eagles is
Vander Blue
. "His jump shot,'' said Mayo of what aspect of the junior guard's game has changed for the better. Meanwhile, Mayo shrugged off the firing of Marquette assistant Scott Monarch for an NCAA violation. "The team handled it pretty well,'' said Mayo. "We've lost five coaches and Monarch is the last to go. We just looked at it as a business and there are consequences so we just keep moving forward.''
3. Arkansas coach Mike Anderson is incredibly positive about the upcoming season. Anderson said last Friday that the summer tour the Hogs went on was a huge success. He also promised that the Hogs are ready to embark on playing his fastest 40 minutes of basketball, a knockoff of the 40 minutes of hell made famous by Anderson's mentor, Nolan Richardson. The SEC needs Arkansas to be a program of record again. If Anderson's good feelings are indeed borne out, it will give the league the depth that it so sorely requires, especially with the addition of two more teams this season.
September, 10, 2012
9/10/12
11:03
AM ET
Editor's Note: In the buildup to Midnight Madness, we are taking an in-depth look at ESPN Bracketologist Joe Lunardi's top five seeds in a series called Countdown To Madness. In addition to the Insider pieces, Eamonn Brennan will offer Three Big Things about each team and we'll have Five Questions with a player or coach from each squad.
Marquette has thrived on veteran players taking the program toward the top of the Big East and deep into the NCAA tournament.
There are certainly candidates to fill the void now that
Jae Crowder
and
Darius Johnson-Odom
are gone.
Vander Blue
and
Jamil Wilson
will be counted on heavily, but
Todd Mayo
may have to mature even faster as a sophomore wing.

The younger brother of NBA guard O.J. Mayo, Todd wasn't as highly recruited out of high school as his sibling. He's not a one-and-done. And he doesn't come with the storm clouds of NCAA inquiry that shadowed and eventually enveloped his brother at USC.
Mayo is more of a four-year player who can develop and improve a program as his skill set improves. He averaged 7.9 points and 4.1 rebounds last season. His numbers will surely increase as the demands on his production grow.
The Golden Eagles won't be picked high in the Big East based on the departures of Crowder and DJO, but when are they ever? As long as players like Mayo continue to progress, Marquette will be right there.
Andy Katz:
What's it like to play for [MU coach] Buzz Williams?
Todd Mayo:
You know you have to bring it every day and work hard on and off the court and always stay positive.
AK:
How would you describe a Buzz Williams practice?
TM:
Very intense. I would say he's always going to be on you and want you to do right and do it his way and go by what he preaches each and every day, doing it his way every day.
AK:
What's your best O.J. Mayo story?
TM:
When we were in South Africa on a safari in July, a lion got really, really close to us and the man pulled out his rifle. But O.J. got real scared when the lion got real close. I took out my camera and took a picture when the lion was real close.
AK:
When was the last time you beat him one-on-one?
TM:
I can never say I beat my brother one-on-one ... well, maybe on a Nerf rim.
AK:
How can Marquette challenge for a top-four Big East finish without Darius Johnson-Odom and Jae Crowder?
TM:
We all just got to be one and can't rely on two players like last year and make it easier for teams in the Big East to key on us. From the starters to the bench, that's what Kentucky had and that can put us in the top three or four in the Big East this year.
March, 23, 2012
3/23/12
12:38
AM ET
PHOENIX -- A quick recap of Florida's
68-58 win over Marquette
Thursday night:
Overview
: Maybe Florida can defend after all. The Gators' defense has been their chief deficiency all season, the one major factor keeping such a talented team -- and such a high-powered offense -- from truly breaking through. But after two huge defensive performances in their first two tournament wins, the Gators kept it up, holding Marquette stars
Jae Crowder
and
Darius Johnson-Odom
to a combined 29 points on just 10-of-30 shooting from the field.


Turning point
: As usual, Florida's shooting made the difference. The Gators maintained a six-point lead for the first six minutes of the first half when
Erving Walker
and
Bradley Beal
made back-to-back 3s, opening a 12-point advantage the Gators more or less maintained until the final three minutes. That's when Marquette -- thanks to a steal, a timeout call, a made 3 and a fast-break layup, all from
Todd Mayo
, all in the matter of 50 seconds -- drew the game back to 58-52.
On the ensuing possession, Walker found
Kenny Boynton
for a wide-open 3. Boynton missed, but forward
Patric Young
corralled the rebound and kicked it out just in time to preserve the possession. Walker knocked down a 3 of his own, stretching the lead to nine. Crowder answered with a 3 -- as expected, the Eagles refused to go away --but four free throws from Boynton essentially sealed the game.
Key player
: Bradley Beal. The freshman and likely NBA lottery pick has had a mostly unsung season for the Gators, but he remains as dangerous as any player on the floor at any given time. His 21 points -- the last two of which came on a thunderous punctuation-mark dunk in the game's final minute -- came in hyperefficient fashion on 8-of-10 shooting from the field. Beal doesn't force; rather, he picks and chooses his spots. He did so brilliantly Thursday night.
Key stats
: The combined marks for Crowder and Johnson-Odom tell the tale; without efficient contributions from its two stars, Marquette scored just 58 points on 66 possessions, well below its typically stellar offensive averages.
What's next
: Marquette coach Buzz Williams saw his second straight team into the Sweet 16, but that's the ceiling yet again. The Golden Eagles will go back to the drawing board in 2012-13 without their two senior stars. Meanwhile, the Gators progress to the Elite Eight, where they will meet No. 4-seeded Louisville, which got there by posting the tournament's best defensive performance to date. That should be a
fascinating
matchup.
December, 19, 2011
12/19/11
9:20
AM ET
Here's my attempt at ranking the Big East teams:
1. Syracuse: The Orange handled their first true road test of the season with ease, dispatching of NC State by 16 on Saturday. What continues to impress about Syracuse is the bench. The Orange might have the best second five in the country. Dion Waiters, who's been sensational this season, scored 22 against the Wolfpack, with James Southerland and C.J. Fair chipping in 11 in "reserve" roles.

2. Louisville: It's time to start believing in the Cardinals. Dogged by injuries all season, Louisville's worth has been questioned but the Cards ability to keep old rival Memphis at bay Saturday proved Rick Pitino's squad is for real.

3. Marquette: With or without Darius Johnson-Odom, the Golden Eagles keep rolling. Marquette's sensational guard spent the game against Northern Colorado on the bench for a violation of team rules. No matter. His sub, Todd Mayo, scored a career-high 22. Johnson-Odom should be back for Marquette's game at LSU on Monday.

4. Connecticut: The Huskies continued to waltz through their New England competition, dispatching of Holy Cross with ease. Things get a little more interesting when Fairfield, a team better than its 7-4 record, brings its four-game winning streak to town this week.

5. Georgetown: Henry Sims continues to thrive as arguably the league's most improved -- and most surprising -- player this season, becoming the prototypical point-center for John Thompson III. Sims scored 17 against American but it was the big man's seven assists that really turned heads as the Hoyas continue to rack up victories.

6. Pittsburgh: Highly touted freshman Khem Birch has left the program and Travon Woodall is still out injured. None of it is affecting the Panthers. Pitt has won eight in a row and doesn't appear to be in danger of losing until the conference season starts.

7. West Virginia: The young and improving Mountaineers got what will go down as a quality win with their double-overtime victory against Kansas State. Kevin Jones, the best and most experienced player for Bob Huggins, is starting to play that way. He's combined to score 64 points in his past three games.

8. Seton Hall: The last time the Pirates started so well, P.J. Carlesimo was the head coach. Now 9-1, Seton Hall is continuing to go where Herb Pope goes. The senior has double-doubles in eight of 10 games. The road gets a little scarier before 2012, with a game at tough Dayton this week and a Dec. 28 matchup at top-ranked Syracuse.

9. Cincinnati: The Bearcats caught the nation's eye last week, just not in a way they'd ever want to. The ugly brawl that came at the end of the Xavier game put Cincinnati in the nation's headlines for all the wrong reasons. The good news: Cincy faced the music and has accorded itself well without some of its top players. Sans Yancy Gates, the Bearcats manhandled Wright State and Radford.

10. Providence: The Friars continue to pad their record by feasting on unimpressive competition. This week's flavor of the week, Bryant, has just one win. Providence will face New Hampshire and reeling rival Rhode Island before figuring out just how good it is when Big East play begins.

11. DePaul: Like Providence, DePaul's record looks good. At 8-3, it's off to its best start since 2004. Then again, the Blue Demons haven't played anyone. DePaul opens the Big East season against Syracuse and Pittsburgh. That ought to offer a better barometer.

12. Villanova: In disarray seems an apt description of the Wildcats about now. Their first trip to the St. Joe's campus ended up in a beatdown, with the Hawks throwing down enough thunder dunks to fill a highlight reel. Disjointed on defense, Nova also is a mess on offense. The Cats, who are at their best when they drive to the hoop, instead opted for 27 3-pointers against St. Joe's and made just five of them.

13. Notre Dame: The Fighting Irish's offensive woes continue. Against Indiana, Notre Dame went more than 16 minutes without a basket. It's tough to win that way against anyone.

14. St. John's: Credit the Red Storm for playing a tough schedule. Unfortunately, the young team has nothing to show for it. St. John's has lost to the three ranked teams it's faced but, more damning, lost to Northeastern and Detroit as well. The upside for this team is big once the players mature and Steve Lavin is able to return for the duration.

15. Rutgers: Mike Rice is trying to use the starting rotation as a motivation, bringing Myles Mack off the bench against Stony Brook. It worked well in that game -- Mack scored 22 and the Knights won. It remains to be seen if the coach has found a temporary fix or a more permanent one.

16. South Florida: Bad to worse is the best way to describe the Bulls' current path. USF lost to Auburn, tough to swallow in and of itself, and scored all of 40 points in the process. South Florida ranks a woeful 301st nationally in scoring, averaging an anemic 61 points per game.

December, 19, 2011
12/19/11
5:00
AM ET
1. Vanderbilt coach Kevin Stallings acknowledges that he may have over scheduled with teams like Cleveland State, Xavier and Indiana State. The Commodores haven't had an easy game this season. That's on the Commodores and their inability to finish at home, or on the road (at Louisville). But Stallings is still confident, saying they'll be there in the end. I don't doubt that Vandy will be in the NCAA tournament, but the losses will ensure that the Dores won't be seeded as high as they were projected to be in the preseason.
2. Ohio State's
Jared Sullinger
felt better Sunday after a bone bruise during Saturday's win at South Carolina forced him to leave the game in the first half and get an X-ray off site. He's still listed as day-to-day and his status for Tuesday's game against Lamar will be based on how he responds to treatment. Meanwhile, Kentucky coach John Calipari said
Terrence Jones
, who injured a finger on his left hand, had swelling and the finger is black and blue. But Calipari said Jones should be fine. Kentucky plays Samford Tuesday.
3.
Darius Johnson-Odom
is ready to go for Monday's game at LSU after he was suspended for Saturday's game against Northern Colorado. DJO was averaging 18 points before he was suspended for a violation of team rules. In his absence, freshman
Todd Mayo
scored 22 points against UNC. Associate head coach Tony Benford said that Mayo knows how to score and is very mature for a freshman. Having Mayo play this well in DJO's absence will only enhance this team's depth and productivity.
December, 3, 2011
12/03/11
9:38
PM ET
Hopefully, you ignored college football. Hopefully, you procrastinated putting up your Christmas decorations. Hopefully, after
Kentucky's thrilling win over North Carolina this afternoon
, you stayed plopped in that couch groove, remote in one hand and snacks in the other, ready to flip from one hoops affair to the next.
Why? Because UK-UNC was merely this Saturday's opening salvo. Sure, it was the best and most important and most entertaining and most talented and most insert-your-adjective-of-choice-here game of the day. But it wasn't the only one. Let's run through the rest of this afternoon's action -- beginning with Xavier's remarkable comeback win over Purdue. (
Tu!
)


No. 11 Xavier 66, Purdue 63
: Technically, a brief glance at the Game Flow illustration in the link to the left tells the story here. The Purdue lead was 20-6 after 10 minutes. It was 33-22 after 20 minutes. It was -- get this -- 55-36 after 30 minutes. Then, in the final 10 minutes, and especially the final five, Xavier staged a marvelous comeback, ending the game on a 30-8 run and holding on in the end to get the most unlikely of wins.
You can look at the box score and know this, and therefore know the story of the game. But believe me when I say this is one you had to see to believe. In particular, you needed to see X guard
Tu Holloway
, whose late-game transformations -- Holloway goes from inefficient to "oh my God, did you just see that?!?" -- are one of the strangest and most compelling performance storylines in college basketball this season. It pains me to say this, but in his past two games, Tu Holloway became college basketball's Tim Tebow. (I know, I know. I couldn't resist.)
As in Xavier's victory at Vanderbilt on Monday, Holloway was pedestrian to downright bad for much of Saturday afternoon. Before the final five minutes, he was borderline invisible, when he wasn't committing one of his six turnovers, that is. And then, just as it did Monday night in Nashville, something clicked. After the five-minute mark, Holloway went 3-of-4 and scored 13 of his 21 total points, including the three consecutive dagger 3s he stuck in the closing moments when his team needed them most. He won the game with his shooting and finished it off with his free throws.
It's strange, this lightbulb that seems to click only in the closing moments. But whatever it is that goes off in Holloway's head when the game is on the line in the closing moments, Xavier fans will take it. Thanks in large part to Holloway's late-game heroics, the Musketeers end this week with two crucial nonconference wins over two power-six teams, one of which came on the road.
There's a ton of season left, but would anyone want to draw the Muskies in an elimination game right now? For all its occasional struggles -- and by occasional, I mean "for the first 35 minutes of any given game" -- this Xavier team not only appears to be balanced and talented, but also appears to be as difficult an out as any team in the country. If you're up on the Musketeers, you better bury them deep. As long as Holloway's on the floor and the lead is mathematically in reach, you're never, ever safe.
As for Purdue, Matt Painter and Co. will certainly be unhappy to lose a game they controlled for so long in such heartbreaking fashion. And the sight of
Robbie Hummel
wincing at the end of the Boilermakers bench -- Hummel was crippled by apparently excruciating cramps for much of the afternoon -- was certainly an unwelcome one. But there are bright sides. For one, Hummel's injuries were merely cramps. (Seeing the Purdue senior, in the midst of a heartwarming comeback from two major ACL surgeries, hold his leg after contact is the quickest way this side of an Eli Roth movie to feel one's stomach turn in knots.)
More important, it should be noted that Purdue was the vastly superior team for much of the game. A loss is a loss, of course; no distinction will be made for its type during the résumé comparison season in early March. But the Boilers can take something from this game. They were the better team for its majority -- on the road, in a tough environment, against an experienced and talented team, with its best player cramping late -- and at the end of the day, maybe that's what's worth remembering.


No. 16 Marquette 61, No. 7 Wisconsin 54
: Make no mistake: Marquette is a good team. Arguably a very good one. Even without star Jimmy Butler, last season's do-everything scorer, rebounder, glue guy and teammate extraordinaire, the Golden Eagles are still very good.
Even so, this is a borderline shocking result. Why? Because Wisconsin doesn't lose at home, like, ever. Before Saturday, in 11 seasons under Bo Ryan, UW was 156-11 at the Kohl Center. The Badgers were working on a 23-game home winning streak against all opponents; the last time they lost a nonconference home game was Dec. 23, 2008. So for the Golden Eagles to come in and get a win in this underrated in-state hoops rivalry -- well, yeah, that's a shocker, no matter how good this Marquette team is.
Of course, the Badgers gave Marquette the opportunity almost from the starting tip. Wisconsin posted an uncharacteristically awful shooting performance Saturday afternoon, particularly in the first half, when the Badgers scored just 22 points and found themselves in a 10-point hole at halftime. Things improved slightly in the second, but UW still finished 16-of-50 from the field and 5-of-19 from 3. For a team averaging 44 percent from 3 and 50 percent from 2 this season -- a team that relies on slowly working the ball in pursuit of a high-percentage final shot -- that simply won't get it done.
Wisconsin's slow pace -- its greatest advantage at times -- also makes it very difficult for the Badgers to mount a comeback. They tried, and cut the lead to within striking distance late in the second half even despite a tough charging call on point guard
Jordan Taylor
that cost the Badgers a three-point play and sent Taylor to the bench with his fourth foul. But Marquette was just as good down the stretch. Guard
Darius Johnson-Odom
didn't have a hugely efficient night (17 points on 15 shots), but anytime he can get his 18-foot step-back jumper off, it becomes an unstoppable offensive weapon. Meanwhile, Marquette is getting good contributions from sophomore
Vander Blue
and freshman guard
Todd Mayo
(younger brother of O.J.).
Wisconsin may have shot itself in the foot in this one -- not unlike Tuesday's close call at North Carolina -- but Marquette deserves the credit. The Golden Eagles took advantage early, made enough plays to finish the game and in the process notched one of the biggest wins of Buzz Williams' ever-promising tenure at the program. Impressive stuff.


Illinois 82, No. 18 Gonzaga 75
: Maybe Gonzaga beats Illinois on a neutral court. But maybe not.
That's the feeling one got while watching this game, in which Illinois -- a young team but one with talent, which is something yours truly has been saying all season -- never looked overmatched or overwhelmed against a ranked Bulldogs team with designs on a deep tournament run. A little like UK-UNC, this win didn't feel like the benefit of home-court advantage as some deciding factor. Illinois can play with people. Now we know.
[+] Enlarge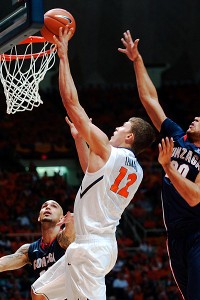 AP Photo/Robert K. O'DaniellSophomore Meyers Leonard's second-half surge helped Illinois to the upset of visiting Gonzaga.
Of special note? Illinois forward
Meyers Leonard
. The sophomore missed much of the first half thanks to foul trouble, but he returned in the second with a determined style of play. The end result: 21 points and 6 rebounds on 9-for-11 shooting from the field. Those are impressive tallies any way you slice them, but considering Leonard posted those numbers while matched up with Gonzaga center
Robert Sacre
, they're doubly so. Throw in the balanced performances from starters
D.J. Richardson
(19 points),
Brandon Paul
(13 points, 5 assists, 4 rebounds) and
Sam Maniscalco
(10 points, 6 assists, 4 rebounds) and, well, don't look now, but this Illinois team might well be better than last season's disappointing senior-led squad. It certainly looked the part Saturday.


No. 17 Pittsburgh 61, Tennessee 56
: In Maui, the
Tennessee Volunteers
proved themselves to be a flawed but hard-nosed and pesky bunch, one that would refuse to roll over for their apparently more talented opponents. That quality was on full display against Pitt, which led UT by eight with 1:46 to go. That's when the Vols began fouling, and after an elbow cost guard
Ashton Gibbs
a technical foul -- and gave Tennessee the customary shots and possession -- the Panthers missed the front end of two one-and-ones and watched as
Trae Golden
's 3 cut the lead to 58-56 with 11 seconds remaining.
It wasn't pretty, but the Panthers pulled this one out after forcing a jump ball on Tennessee's key possession late. They'll be thankful for that when seeding time comes around this spring. But let it be known: Tennessee was supposed to be rebuilding. That may be true. But don't tell the Volunteers. Because they aren't yielding anything in the meantime.
Other noteworthy results from the afternoon:
The jury is still out on Iowa State; the Cyclones don't have any truly bad losses (at Drake is forgivable, and so is a home loss to UNI), but
after Saturday's 75-65 loss at Michigan
, Fred Hoiberg's rebuilt team hasn't made us sit up and take notice either. ...
Ryan Boatright
's home debut after a six-game NCAA rules suspension went swimmingly: The freshman guard scored 23 points and led his team to a game-opening 14-2 run in what was arguably a struggling
UConn team's most impressive performance of the year
, a 75-62 victory over Arkansas. ... Usually, UCLA-Texas is a marquee game. Not this season.
The Bruins are now 2-5 after today's home loss to the Longhorns
, which was briefly interrupted by a power surge that caused the lights to dim in the aging Los Angeles Sports Arena, UCLA's temporary home. One imagines Ben Howland would have preferred the lights stay off. ... BYU played at the home of the Utah Jazz (hey, there's nothing going on there) and dusted off Oregon with a 13-0 run in the second half of its
impressive 79-65 win
.
Noah Hartsock
led the way with 23 points and 12 boards for the Cougars. In other news, the Horizon League began conference play -- yes, conference play -- on Saturday, with the two biggest results a
77-71 overtime win by Valpo
at Butler and
Cleveland State's 66-61 win at preseason Horizon favorite Detroit
. We know to never count out Butler (or Detroit if
Eli Holman
ever returns), but it's becoming apparent that the Crusaders and Vikings are the teams to beat in the Horizon.