College Basketball Nation:

Todd O'Brien
January, 12, 2012
1/12/12
5:00
AM ET
1. Murray State coach Steve Prohm said senior forward
Ivan Aska
(broken right hand) won't play Thursday (Jacksonville State) and Saturday (Tennessee Tech) after being checked by a doctor Wednesday. Aska, who leads the undefeated Racers with six rebounds a game, missed the past two games. Prohm said it may be 2-to-4 weeks before Aska is back in the lineup.
2. UAB coach Mike Davis is convinced that Saint Joseph's coach Phil Martelli is the only one holding up
Todd O'Brien
's eligibility. SI.com reported O'Brien's latest waiver attempt with the NCAA was rejected on Friday. O'Brien, a reserve at Saint Joe's last season, transferred after he graduated and wanted to play his final year of eligibility immediately as a grad student at UAB. But the waiver was rejected. The NCAA told ESPN.com that St. Joe's not supporting his case was one of the factors. O'Brien has been practicing with the Blazers but can't play. Martelli won't return messages to explain his decision to withhold an endorsement of O'Brien's transfer.
3. I know a number of Northwestern basketball fans in the media and they are a passionate lot. But their faith is akin to the nearby Cubs. It's amazing how many close games the Wildcats get in but can't close. Wednesday night was yet another example. The Wildcats were on the verge of getting their first signature win of the season at Michigan. But the Wolverines rode
Trey Burke
's hot hand and won in overtime. Northwestern missed a chance to take out Illinois, too. The Wildcats have never made the NCAA tournament. Barring a run through the Big Ten tournament it's hard to see history happening in Evanston.
December, 30, 2011
12/30/11
5:00
AM ET
1. Kentucky coach John Calipari said the Wildcats aren't where they need to be at this stage in the season, especially with Louisville on deck Saturday. "We've got a ways to go,'' Calipari said. "I would have hoped in the (Lamar) game we would have shown improvement. We're not executing the way we need to be right now. Indiana executed better than us. Louisville can be that same kind of team.'' The players that Calipari knows will likely produce on a given night are
Anthony Davis
(on the defensive end) and
Doron Lamb
and
Michael Kidd-Gilchrist
(on the offensive end).
2. Pitt coach Jamie Dixon said
Travon Woodall
probably shouldn't have played at Notre Dame. Dixon said Woodall wasn't ready to return from the groin injury that kept him out of the previous six games; he went 0-for-5 in the loss to the Irish. Meanwhile, Dixon said the Panthers saw defensive slippage in the defeat, something that must be corrected before the Panthers host Cincinnati on Sunday.
3. Saint Joseph's still won't release graduate student Todd O'Brien to play at UAB, a likely requirement for him to get a waiver that has been denied twice. The NCAA responded to the inaction, through spokesperson Erik Christianson: "It is extremely rare for an NCAA member to oppose a student-athlete transfer, and St. Joseph's opposition was an important factor in both the NCAA staff's and the independent Division I Subcommittee for Legislative Relief's review of this waiver request. The Subcommittee also spoke directly with Mr. O'Brien, UAB representatives and Mr. O'Brien's legal counsel as part of the appeal process. These decisions are never easy, and the Subcommittee's final determination was based on all facts and views presented."
December, 22, 2011
12/22/11
5:00
AM ET
1. The Pac-12 missed a chance to send a strong message by just reprimanding Arizona State's
Ruslan Pateev
for throwing a punch at Southern Miss player
Torye Pelham
. Pelham threw the first pop and was ejected for it, but Pateev's retaliation from behind wasn't justified, either. The Pac-12 should have suspended Pateev for at least one game in addition to the NCAA-mandated suspension. That would have put Pateev out for the Pac-12 opener against Arizona. The league missed a chance to send a message rather than cluttering up the initial reaction by taking credit for a suspension that is already mandated by the NCAA.
2. Saint Joseph's and the NCAA could have made the Todd O'Brien story disappear if eacch entity simply gave a reason for why his wavier to play was rejected. Transparency on this issue shouldn't be a student privacy act. If the reason that his wavier -- which asked for him to play immediately as a grad student at UAB -- was rejected was because it was his third school in five years (he started at Bucknell), then simply say it. If it was something else, then divulge that reason. I'm not sure when the NCAA and its members will ever learn that giving reasons why something is approved or dismissed can answer questions and limit the traction of stories.
3. If it weren't for a double-overtime loss to Belmont and a rare blip that was a 10-point loss at UAB, Middle Tennessee might be getting as much pub as Murray State. Blue Raiders assistant Monte Towe, the former NC State assistant, was pushing his team earlier this season, stating that they should be taken more seriously. He's right. The win at UCLA was no fluke. The Blue Raiders won handily at Ole Miss on Wednesday night and head into the Sun Belt with an 11-2 record as the clear co-favorite with Denver. If Middle Tennessee and Denver end up in a Sun Belt final, the winner will not be a team anyone will want to face early in the NCAA tournament.
December, 20, 2011
12/20/11
11:32
AM ET
The transfer rules in college basketball are bad enough when coaches
don't
abuse them.
More often than not, when a player wants to transfer — whether that's early in his career, or it's to take advantage of the rule that allows an athlete to play immediately if he transfers to pursue a graduate degree in a field not offered by his current school, or whenever — his coach releases him.
It's unsettling that this needs to happen at all, really, that players don't have anywhere near the same freedom (never mind the money) and personal efficacy their coaches possess. But in most cases, coaches realize that denying a transfer request is (a) the wrong thing to do morally, (b) horrible for recruiting and perception or (c) some combination of the two.
[+] Enlarge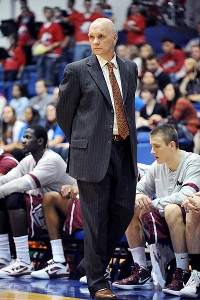 Mitchell Layton/Getty ImagesThe college basketball world awaits coach Phil Martelli's side of the Tom O'Brien story.
Phil Martelli, apparently, is not one of those coaches.
Former Saint Joseph's basketball player Todd O'Brien went public Monday on SI.com
with his first-person account of his attempt to transfer from Saint Joe's to UAB this season
. O'Brien graduated from the Philadelphia school in the summer and sought a graduate student transfer exception release from the NCAA. O'Brien's plan was to head to UAB, play one more year of basketball at the school and begin his graduate work in UAB's public administration program, a field that O'Brien says aligned with his focus of study and internship work before the transfer.
Naturally, O'Brien had to tell his current coach, Martelli, about the decision. According to his account, that's when things got strange:
I met with Coach Martelli to inform him that I would not be returning. I had hoped he would be understanding; just a few weeks before, we had stood next to each other at graduation as my parents snapped photo. Unfortunately, he did not take it well. After calling me a few choice words, he informed me that he would make some calls so that I would be dropped from my summer class and would no longer graduate. He also said that he was going to sue me. When he asked if I still planned on leaving, I was at a loss for words. He calmed down a bit and said we should think this over then meet again in a few days. I left his office angry and worried he would make me drop the classes.

A few days later I again met with Coach Martelli. This time I stopped by athletic director Don DiJulia's office beforehand to inform him of my decision. I told him I would be applying to grad schools elsewhere. He was very nice and understanding. He wished me the best of luck and said to keep in touch. Relieved that Mr. DiJulia had taken the news well, I went to Coach Martelli's office. I told him that my mind had not changed, and that I planned on enrolling in grad school elsewhere. I recall his words vividly: "Regardless of what the rule is I'll never release you. If you're not playing basketball at St. Joe's next year, you won't be playing anywhere."
When O'Brien finally settled on UAB (which came after his initial decision to transfer), the school was flummoxed when it found that Martelli and Saint Joe's had objected to his eligibility this season on their release form.
Confused, UAB contacted Saint Joseph's to ask why they had done this. Turns out, Coach Martelli was adamant to the athletic director that I should not be allowed to play because I had "wronged him."
So, yeah. O'Brien is stuck in NCAA legal limbo. Martelli still hasn't released him. And for his trouble, he appears in the pages of Sports Illustrated looking petty, vindictive and monstrously out of touch.
Of course, there are two sides to every story. What's Saint Joe's side?
Nothing, actually. The school released a statement Monday, one that hid behind the NCAA's waiver decision and said the school "considers the matter closed." The reaction to this statement was not positive. (
SI's Seth Davis called it "pathetic,"
to name one example.) In the meantime,
our Andy Katz spoke with O'Brien's attorney
, Donald Jackson, who said that Saint Joe's could reopen the release case and get the NCAA to grant O'Brien's eligibility within hours. Katz attempted to contact Martelli, as did others from ESPN.com. Saint Joe's athletic director Don DiJulia — with whom O'Brien recounted a positive conversation — declined to comment.
There are two sides to every story, unless one side refuses to give it, as Martelli and DiJulia have here. The immediate impulse, then, is to assume their side of the story is suspect. If there isn't some major chunk of information left undiscussed, and if O'Brien's account is accurate, Martelli is merely lashing out. He's making a personal point — and a self-destructive one at that.
Because here's the thing: O'Brien (no disrespect, Todd) is not a great college basketball player. He played 7.2 minutes on an 11-22 team last season. He would not be playing much more for the Hawks this season, especially given the emergence of sophomore forward C.J. Aiken, who has provided solid post work in Saint Joe's 8-3 start to 2011-12. It's not like O'Brien's transfer cost Saint Joe's a chance to be competitive. O'Brien didn't transfer to a school in the same league or the same city. He transferred rather harmlessly and with minimal impact.
In a normal transfer situation, a coach does a quick cost-benefit analysis and realizes that, yes, although he technically can prevent a player from transferring from his program, he should not exercise that ability. For one, it's wrong. Two, it's bad publicity. Three, is the kid that good anyway? Four, it's a headache — if a player doesn't want to be on your team, why would
you
want
him
? Why keep a kid against his will? How does that help your team?
So, usually, the coach does the math and quickly says, "Hey, sure, go ahead, transfer. We wish Player X the best of luck in all his endeavors," etc. Maybe he'll append a restriction or two, like saying the player can't transfer to a team within his own league or he can't go play for an in-state rival. Or whatever.
You can have murky philosophical opinions on the transfer rules. I know I do. But in practice, these things usually work out.
Not for O'Brien, not for Martelli, not for Saint Joe's. And it just doesn't make any sense. Why is Martelli preventing a former benchwarmer from going where he wants to go with his final year of college basketball eligibility? He didn't really think it would just go away, did he? That O'Brien would just happily sit on UAB's bench all season without a peep?
If he did, he vastly underestimated O'Brien. If he didn't, he was apparently willing to take the risk that this would become public and that he would get, to use the sports writer parlance, "crushed," which is pretty much exactly what's happened since O'Brien's account was published Monday. With no response, let alone a competing version of events from Martelli or the school, we're left to assume O'Brien's story is true. Martelli, for his part, appears to be hiding.
Why?
For
what
? It's Todd O'Brien! It's a graduate transfer exception! You're 8-3! You just beat Creighton and Villanova!
What on Earth are you doing?!
The only explanation, based on what we know, is that the Saint Joe's coach holds the mother of all grudges. Otherwise, your guess is as good as mine. Or, for that matter, Todd O'Brien's.
November, 13, 2011
11/13/11
10:03
PM ET
Todd O'Brien
averaged just 7.2 minutes and 1 point per game in his final season at Saint Joseph's, which would seemingly make O'Brien a strange player to spar over.
Yet the 7-footer is in the middle of a gigantic kerfuffle between the Hawks and UAB.
O'Brien graduated this spring from St. Joe's, and with one year of eligibility left, decided to transfer and pursue a graduate degree at UAB. He asked St. Joe's to agree to a waiver that would make him eligible immediately.
Except St. Joe's won't agree to the waiver, a source told ESPN.com, and though the NCAA could overrule, it has chosen not to.
"[The NCAA] didn't give a reason, but I don't think they want to do it without the school's rubber stamp,'' the source said.
In October, the NCAA denied the waiver; now O'Brien pleads his case to a five-person appeals committee.
So why won't St. Joseph's let him go? That's the million-dollar question.
Hawks coach Phil Martelli told ESPN.com that everything "was in the hands of the NCAA" and that the entire situation "hasn't been on our radar for months."
But when reminded that if St. Joe's would merely agree, this likely wouldn't be an NCAA issue, Martelli admitted that the university had, in fact, refused to sign off on the waiver.
Asked why, Martelli said, "I probably wouldn't say anything about that.''
The source said that the university did grant O'Brien the chance to speak with other schools this summer, "so what did they think was going to happen?,'' the source added.
According to a
report in the Birmingham News
, O'Brien has retained lawyer Don Jackson, who represented Mississippi State's
Renardo Sidney
in his case with the NCAA.
"When I get a case like this, it really rubs the wrong way,'' Jackson told the newspaper, pointing out that Martelli is chair of the NCAA's ethics committee. "You hear all the discussion about college athletics and the importance of academics. This young man has graduated and has now enrolled in graduate school at a great university with another year of athletic eligibility. And now you have a coach 1,000 miles away trying to prevent him from playing.''
O'Brien enrolled at UAB in the fall and has been practicing with the Blazers.
Will he get to compete in games?
Stay tuned.