College Basketball Nation:

Toledo Rockets
October, 26, 2012
10/26/12
4:55
PM ET
By
ESPN.com staff
| ESPN.com
Before we get to the Blue Ribbon team-by-team previews for the Mid-American Conference, here is Eamonn Brennan's quick wind sprint through the league: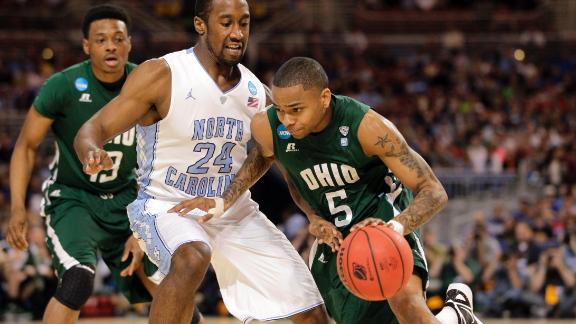 For Myron Medcalf's look at the nonconference schedules at Akron and Ohio,
click here
. For Medcalf's look at Keno Davis resurfacing at Central Michigan,
click here
. And for Blue Ribbon's in-depth previews of all 12 MAC teams:

Akron
Ball State
Bowling Green
Buffalo

Central Michigan
Eastern Michigan
Kent State
Miami (OH)
Northern Illinois
Ohio
Toledo
Western Michigan
February, 3, 2012
2/03/12
1:30
PM ET
By coaching standards, at least, Tod Kowalczyk is nattily dressed.
Compared to Larry Burns, Toledo's executive vice president for external affairs, Kowalczyk is a schlub.
[+] Enlarge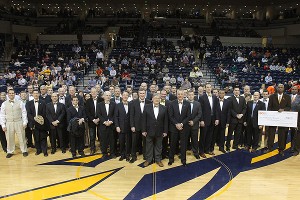 Toledo athleticsRockets coaches will don bow ties Saturday to raise money for prostate cancer care and research.
Two years ago, when Kowalczyk joined the Rockets after eight years at Wisconsin-Green Bay, Burton asked him if he'd ever wear a bow tie for a game.
Kowalczyk said not without a legitimate reason.
On Saturday for Toledo's game against Buffalo, Kowalczyk and his entire staff will sport specially-made Rocket bow ties as part of the university's Tie One On campaign to raise money for prostate cancer care and research.
The bowties are available
for purchase here
for a $100 donation or $20 for students.
Kowalczyk, who helped raise $5,000 in last year's first Tie One On celebration, is hoping to bring in $20,000 this year.
The pep band will be sporting the fancy neckwear as well as Kowalczyk's toddler kids, Race and Rose.
It's not just Burns' sartorial challenge that got Kowalczyk to thinking. It was Burns himself. A cancer survivor, the longtime university administrator has put a lasting imprint on the university, helping to develop their marketing and social media arms and also stressing Toledo's commitment to cultural diversity.
"He's incredible," Kowalczyk said simply.
Burns is also incredibly well-dressed, his impeccable suits and style serving as his calling card.
Now for at least a few hours, the rest of Toledo will follow in his fashion conscious footsteps for a good cause.
January, 22, 2012
1/22/12
3:03
AM ET
By
ESPN Stats & Information
| ESPN.com
A scan of the box scores always reveals statistical oddities and under-the-radar performances. Here are some we found from Saturday's games:
Kansas 69, Texas 66
Texas guard J'Covan Brown shot 7-of-26 (27 percent) from the field after going 8-of-28 (29 percent) in his previous outing. This season, 18 different players have taken at least 26 shots in a game, but Brown is the first to do it twice. He's also had the two worst shooting performances of those players.
West Virginia 77, Cincinnati 74
Darryl "Truck" Bryant missed as many field goals (14) in 44 minutes as the rest of the West Virginia's starters missed in 131 minutes played.
Jackson State 80, Grambling State 67
Jackson State went 23-of-23 from the foul line in the victory. That's the most made free throws without a miss by any team this season.
Florida A&M 68, Maryland-Eastern Shore 63
UMES collected 35 offensive rebounds while making only 23 field goals. That's the most offensive rebounds by a team in a loss this season.
Missouri 89, Baylor 88
Baylor guard Pierre Jackson scored 20 points and handed out 15 assists in his first start of the season. He's the first player to reach those levels in a game since VCU's Joey Rodriguez (22 and 17) on Nov. 12, 2010.
Eastern Michigan 41, Toledo 38
The 41 points are the second-fewest scored by a winning team this season. Arkansas-Little Rock defeated Florida Atlantic 40-38 earlier this month.
Drexel 71, Northeastern 53
Northeastern's Quincy Ford missed all four of his field goal attempts but was 10-10 from the free throw line. He's just the second double-figure scorer this season to go perfect from the line while not making a field goal.
Pacific 64, UC Davis 48
UC Davis shot 50 percent from the 3-point line (9-18), but only 24 percent from 2-point range (7-29) in its 16-point loss.
Nevada 74, Fresno State 61
Trillion of the night: Patrick Nyeko of Nevada played 10 minutes without recording a stat in the Wolf Pack's 74-61 win.
Elsewhere around college basketball ... Jan. 18, 2003. That's the last time Mike Krzyzewski, Jim Boeheim and Jim Calhoun all tasted defeat on the same day.
Saturday, it happened again, as No. 1 Syracuse fell on the road at Notre Dame, No. 4 Duke saw its 45-game home win streak snapped against Florida State and No. 11 Connecticut lost its second straight game and fourth of its last six.
The Orange falls after beginning 20-0, the best start to a season in Syracuse history. The loss leaves Murray State (20-0) as the only remaining undefeated team in Division I.
November, 3, 2011
11/03/11
4:56
PM ET
By
ESPN.com staff
| ESPN.com
Before we get to the Blue Ribbon team-by-team previews for the Mid-American Conference, here is Eamonn Brennan's quick wind sprint through the league:
Blue Ribbon breakdowns of all 12 teams in the MAC:
Akron
Ball State
Bowling Green
Buffalo
Central Michigan
Eastern Michigan
Kent State

Miami (Ohio)
Northern Illinois
Ohio
Toledo
Western Michigan
More MAC content
:
September, 29, 2010
9/29/10
1:15
PM ET
It's been three long years since Toledo has put together a winning basketball season, three strings of disappointing runs where the Rockets could only muster 11, seven, and worst of all, last season's four wins.
Naturally the fans have been frustrated, disenchanted even.
Which is why, for the past three seasons, the Rockets have ranked third, second and second in attendance in the Mid-American Conference.
Yes, you read that right. While Toledo struggled to a 22-72 record, the fans still came to Savage Arena despite the painful product on the court.
And that is why Tod Kowalczyk is here, why he abandoned a cruise-along gig at Wisconsin-Green Bay, where he had literally brought the Phoenix up from the ashes and turned them into 22-game winners in each of their last two seasons.
It is not what Toledo is right now, but rather what it could be.
"I took this job almost sight unseen,'' Kowalczyk said. "Over the course of a 22-year career, while you're out recruiting you hear people talk about what jobs are good jobs. I had always heard that Toledo was one of the best jobs in the MAC. So when it all went down, I made some phone calls to some very close friends, people I trust and they all said, 'Tod, take this job. It's a great situation.'"
Well, it will be.
[+] Enlarge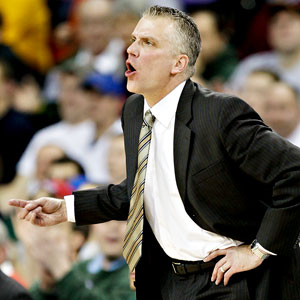 AP Photo/Andy ManisUnder Kowalczyk, Green Bay finished in the top four of the Horizon in each of the past seven seasons.
Right now, Toledo -- which suffered a 19-game losing streak en route to its ultimate 4-28 demise last season -- is something of a disaster. Two players, including leading scorer Jake Barrett, opted to leave in the offseason and Kowalczyk elected to release four more, cutting the numbers to five returning scholarship players.
Despite the hole they put him in, the dismissals were necessary for a team that needs to understand what it takes to win, Kowalczyk said.
"This program needed an awful lot of adjustment regarding the culture of the program, the culture of responsibility and accountability both socially and academically,'' he said. "We're starting from ground zero. Some guys decided they didn't want to be here and I respect them and to be honest, there were some guys that I didn't want to have as part of this program. I want guys who are committed to being great students and great teammates and that wasn't the case when I first got here.''
A bulky freshman class of eight has buoyed the slim numbers and the future looks brighter with transfers
Rian Pearson
and
Matt Smith
(from Green Bay) and
Dominique Buckley
(from Iowa State) in the wings for next season.
Still, it is a shaky base to pull a program out of a 4-28 quagmire.
"Well I know this much, we'll be picked to finish last,'' Kowalczyk laughed.
But the 44-year-old is invigorated, not overwhelmed, by the challenge, an instinct he comes by naturally. He is the son of a coach.
Rod Kowalczyk spent 40 years at De Pere High School in Wisconsin, serving with such distinction as a teacher, coach and athletic director that the court there now bears his name.
His second son was a tough competitor with a natural stubborn streak. Rod tried to steer Tod into a high school career, arguing it offered job security and a decent salary, but his son was hell-bent on the college route. After playing, graduating and assisting for a year at Minnesota-Duluth, he took a job at the University of New Hampshire as an administrative assistant, where his salary was less than $10,000.
"I went to visit him in New Hampshire,'' Rod Kowalczyk said. "He was sharing a house with three or four other people. The windows were all sealed shut. His mattress was on the floor, so that's where we slept and I'm not exaggerating when I say that the thermostat was set to 58 degrees. I woke up in the morning and said, 'Tod, this is no way to live.' But he saw the light at the end of the tunnel.''
Plenty of people figured the tunnel would stop in Green Bay, the place where he grew up. The elder Kowalczyk still lives in De Pere, just outside of the city, and his son was a success there. When he arrived at Green Bay, the Phoenix were -- like Toledo -- coming off three losing seasons, with an RPI hovering around 270.
In his eight seasons, UWGB averaged 16 wins a year.
The jump to Toledo, in many people's eyes, seemed little more than a lateral move. Take away Butler and the Horizon League isn't much different than the MAC. Some might argue it's better.
But Toledo has football -- a huge recruiting ploy in Kowalczyk's eyes -- and the Horizon has Butler, the looming shadow that eclipses the Horizon. Those 22-win seasons Kowalczyk engineered at Green Bay were rewarded with tickets to the CBI.
So when Toledo called, Kowalczyk listened.
And what he heard the program was, and more what he imagined it could be, was enough.
"It was difficult to leave for two reasons: I was leaving behind a very good team with really good guys, and No. 2, I had some very dear friends there,'' Kowalczyk said. "But this was just a better opportunity for our staff to be successful.''