College Basketball Nation:

Tom Herrion
January, 31, 2014
Jan 31
12:35
PM ET
By
ESPN.com staff
| ESPN.com

Andy Katz discusses Nebraska becoming a threat in the Big Ten, Arizona State's rekindled tournament hopes and a great cause taking place on Saturday across college basketball.
June, 17, 2013
6/17/13
4:00
PM ET
If Marshall basketball fans are smarting, it's easy to understand why. After a very solid 2011-12 season, and the return of most of the Herd's key contributors, coach Tom Herrion's team looked set to compete for a spot in the NCAA tournament in 2012-13 and possibly even challenge Memphis for Conference USA supremacy. Instead, Marshall fell off the face of the Earth. The Thundering Herd went 13-19, ending with a first-round C-USA loss to Tulane; they finished the season ranked 217th in Ken Pomeroy's adjusted efficiency rankings, all the way down from 79th a season before.
[+] Enlarge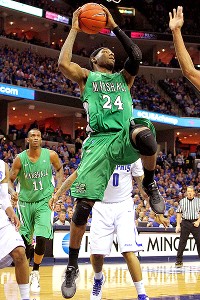 Spruce Derden/US PresswireDeAndre Kane displayed class to Marshall supporters after transferring from the program.
If that wasn't bad enough, this spring
DeAndre Kane
, the team's star guard, left the program after meeting with Herrion.
Herrion's statement at the time
-- "After meeting with DeAndre, I have decided it is in our program's and his best interest that he seek opportunities elsewhere," it began -- clearly hinted at a turmoil that couldn't be solved. You don't decide to send your best player away after a 13-19 season unless something is really wrong.
Whether the departure was the fault of Herrion or Kane (or both) has been a subject of much discussion among Marshall fans, which is part of the reason why
Kane's farewell letter to Huntington, W.Va., published this weekend in the Huntington Herald-Dispatch
, is so interesting. Opinion on Kane has always been split, and some blamed him for the poor performance last season; Herrion has always drawn his fair share of critics for failing to bring a talented but frustrating player under his wing.
The other reason why this is interesting is because Kane -- who is transferring to Iowa State for his final year of eligibility this summer -- wrote a genuinely impressive, even moving statement about his time in Huntington and his gratitude for everything he learned there. It is worth a read based entirely on its own merits:
Coming from where I come from sometimes the end of the road is high school if you're lucky enough to make it that far and your path could be chosen for you after that. It took a while for me to see that and with the support the city has given me through the ups and downs I appreciate my education experience and struggles that I've learned from here that much more.

I know that things didn't end here the way I wanted them too and I apologize for not leading the team to the NCAA Tournament because this city deserves it. What I do promise though is to bring something back to this community better than a basketball championship -- hope and fun for the kids. Whether I play pro basketball or just become a business man, I'll continue to contribute to the youth in this area once I get my career.
It's really good -- the kind of stuff you hope to hear from someone who has grown from four years at an institution of higher learning. At least from the outside, there have been few indications Kane saw that bigger picture, but he's clearly learned something, and that may make his departure even more difficult for Marshall fans to swallow.
In the meantime, it should be noted that this is now the second time in the past month that the citizens of Huntington have been the addressees of glowing, classy open letters from departing players. The first came in late May, when No. 1-ranked recruit
Andrew Wiggins penned a farewell thank you note for the support
he was shown during his years at Huntington Prep. There may be some measure of public relations at work here, sure, but I'd prefer to think Huntington is basically the Pawnee, Ind., of West Virginia. Chris Traeger would love this stuff.
June, 5, 2013
6/05/13
5:00
AM ET
1. Memphis coach Josh Pastner had former Missouri guard Michael Dixon on campus Tuesday for a face-to-face visit. Dixon's case is complicated, as ESPN.com's
Jason King reported
, and there is plenty he must do to become eligible. There are a few issues at play here for Pastner. One of the downsides of social media is that Dixon's arrival was well-chronicled, and his supposed commitment put out for the world to see before it was actually done. Pastner had no time to make a decision before it was presumed to have been made for him. Now, suddenly, his timeline is pushed up because of the assumption that a commitment has been accepted, whether or not an offer was extended. Pastner doesn't need to take second-chance players. He did once with
Geron Johnson
and it worked out. And while there is no guarantee that newcomers
Kuran Iverson
and
Rashawn Powell
will be eligible, according to a source, it's also unknown whether Dixon will be, either. Pastner has done a fantastic job under the shadow of John Calipari and has the Tigers ready to move to the American Athletic Conference next season on an upward trajectory. He was investigating Dixon on his own, but the visit got exposed before any firm decision was made. Now Pastner has to make a public choice of whether to waste his time on taking a player who is searching for an opportunity that not every program may be willing to give him for one year.
2. The U.S. World University Games team will have its hands full with Canada during the competition, set for July 6-17 in Kazan, Russia. The Canadian roster, released Tuesday, isn't as loaded but boasts plenty of major-college talent. Boston College's
Olivier Hanlan
, the ACC freshman of the year, is joined by headline players
Kyle Wiltjer
(Kentucky),
Kevin Pangos
(Gonzaga),
Dwight Powell
(Stanford),
Brady Heslip
(Baylor),
Melvin Ejim
(Iowa State),
Laurent Rivard
(Harvard) and
Jordan Bachynski
(Arizona State). Each of these Canadians will have a significant role on his respective team, with all of them starting the season in position to make a run at an NCAA bid. Ejim may be the most intriguing of the lot, with a real shot to be even more of a breakout player in the Big 12. Pangos will have more scoring next season. Powell led the Cardinal last season. Rivard will be a fixture on a stacked Crimson. Wiltjer has to adjust his role with the newcomers at Kentucky but can still be a matchup problem. Heslip must be more consistent. Bachynski has to absorb some of
Carrick Felix
's numbers after his departure. And Hanlan will be responsible for leading the Eagles higher in the ACC.
3. Iowa State coach Fred Hoiberg has taken plenty of transfers his first few years in Ames. He has had success stories mixed in with quality newcomers. I'll be very interested to see if he can maximize the talent of
DeAndre Kane
, who was a disappointment for Marshall after starting last season with such promise. Kane was essentially asked to leave Marshall by coach Tom Herrion; they weren't going to mesh for one more season. Now Kane has to be in step with Hoiberg if his final year in college is going to be productive. Kane originally was looking to go to Pitt, but that didn't work out, either. He pursued Iowa State and the Cyclones were receptive. It's in everyone's best interest that this works for next season so the Cyclones can be relevant come March for a third consecutive season.
April, 25, 2013
4/25/13
5:00
AM ET
1. Kansas may have the No. 1 pick in the NBA draft and the top nonconference schedule for 2013-14 season. The Jayhawks haven't finished the slate as of yet it but it's getting better with each game that they finalize. The Jayhawks are hosting Georgetown, San Diego State, playing at Colorado, Duke in the Champions Classic in Chicago, and are the marquee team in the Battle 4 Atlantis with Villanova, Tennessee, UTEP, Xavier, USC, Wake Forest and a team to be determined (was going to be Michigan State but the Spartans couldn't get out of the Coaches vs. Cancer Classic in Brooklyn). The SEC-Big 12 Challenge isn't set yet, but according to multiple sources the Jayhawks could be headed to Florida. The inaugural SEC-Big 12 Challenge will have a number of marquee games but some are already determined like Kentucky playing Baylor in Dallas, which will be folded into the event. Kansas also plans on playing two to three "guaranteed" buy games against top 100 teams.
2. The lure of Frank Martin to South Carolina wasn't just his winning culture and his commitment to his craft. Martin made sense for the Gamecocks so he could tap into his native South Florida. Well, Martin proved how significant a connection he has to the area by securing a commitment from 6-8 Demetrius Henry out of Faith Baptist Christian School in Miami, getting Henry away from the hometown Hurricanes. South Carolina has six newcomers so far for next season, including Reggie Theus Jr., the son of the new Cal State-Northridge coach. Martin will consistently tap into his South Florida contacts and ensure the Gamecocks are a player when SEC-level talent is available in the region. This has put a new competitor in play for Miami.
3. Marshall coach Tom Herrion cut loose
DeAndre Kane
because he was tired of his act. Herrion was clear in a statement that this was his call when he was quoted in the MetroNews of West Virginia: "After meeting with DeAndre, I have decided it is in our program's and his best interest that he seek opportunities elsewhere. We appreciate his contributions to our team and wish him the best in his future." There was no need to be anything but transparent here if Herrion didn't want him in the program anymore. Herrion said "it was time to move on" for Kane. Marshall was a major disappointment last season. The Herd, who were supposed to challenge Memphis for the Conference USA title, finished a disastrous 13-19, 6-10 in the league. Kane, who saw all his key production stats drop, can play immediately elsewhere if he were to graduate and then seek a master's not available at Marshall.
July, 6, 2012
7/06/12
5:00
AM ET
1. Marshall's chances of wrestling the Conference USA title away from Memphis increased dramatically with the news that
Dennis Tinnon
will receive another year of eligibility. Tinnon averaged 10 points and 10 boards for the Thundering Herd. The 6-8 forward should be one of the top forwards in Conference USA. Coach Tom Herrion said the decision on Tinnon was a major development for Marshall and changes the complexion of this team. He said there was no Plan B for Tinnon or the Herd if this fell through. Marshall should have one of the top inside-out combos in the league with
DeAndre Kane
and Tinnon. Memphis coach Josh Pastner said Marshall is "loaded" and should be the favorite. But it's hard to look past Memphis' talent pool and put Marshall ahead of them, even with the departures of
Will Barton
and
Wesley Witherspoon
. Still, Marshall could legitimately push Memphis for the title and not having the tournament in Memphis (it's in Tulsa) takes away a major advantage in March.
2. Providence coach Ed Cooley said that the best-case scenario for highly-touted newcomer guard
Kris Dunn
is for him to be ready to play by December after right shoulder surgery. Meanwhile, Cooley said that Ricky Ledo isn't going to be in summer school because he's not eligible. But Cooley said he remains optimistic that Ledo will get through the NCAA Eligibility Center in time to play in the fall. Cooley does have one significant player to count on in his second season. He said
Vincent Council
"is the best guard in the Big East.'' He said watching him work out this week reassured him of this fact even more.
3. Denver officials weren't initially talking about the Pioneers becoming members of the WAC on Sunday. But men's basketball coach Joe Scott offered up a few statements Thursday about the move. "The league will be good for us,'' said Scott of the Pioneers' first-year in the WAC with fellow new members Seattle, UTA, Texas State and UTSA before the latter three jet off to the Sun Belt and C-USA, respectively. The league will also say goodbye in 2013 to Utah State and San Jose State (MWC) and Louisiana Tech (C-USA). "We've got to do well in the WAC this year. We've got four starters back from a 22-win team.'' Denver would love to be with other like teams and get an invite from the WCC. But that's not an option at this point. "We just have to do as well as we can in the WAC, win as many games as we can and hope things have a way of working out. Hopefully good things will happen. It's a fluid situation out there.''
January, 18, 2012
1/18/12
5:00
AM ET
1. Florida State coach Leonard Hamilton said late Saturday night after the Seminoles crushed North Carolina that he wanted to wait to see how his team responded this week before fully judging its potential. Well, the Seminoles beat Maryland by 14 at home Tuesday night. Not bad. Duke is next in Cameron on Saturday.
2. Morgan State coach Todd Bozeman is still idle as he waits and waits for the administration to see if he'll be reinstated after South Carolina State president George Cooper alleged that Bozeman struck Bears player
Larry Bastfield
. The Bears are 1-2 with Bozeman off the bench (he can't conduct practice, either). The Bears host North Carolina A&T on Saturday.
3. Marshall coach Tom Herrion said Central Florida's
Isaiah Sykes
did hit him in the sternum and that is what forced him to fall back on the bench and then stumble to the floor before he regained composure during the Herd's win over UCF on Saturday. The bizarre video shows Sykes appearing to come into contact with Herrion as Sykes is running down the sideline in front of the Herd bench. Sykes received a flagrant 1 foul. Conference USA spokesperson Courtney Morrison-Archer said the league reviewed the incident and the officials made the correct call and no additional penalties are forthcoming.
September, 21, 2011
9/21/11
3:45
PM ET
Since Pittsburgh and Syracuse dropped the ACC hammer on their Big East compadres Sunday -- briefly exacerbating a torrent of realignment movement that was only alleviated
by the Pac-12's merciful reversion to sanity Tuesday night
-- myself and others have wondered whether Pittsburgh basketball
in particular could be hurt by the move
.
The thinking,
which Mike DeCourcy first ruminated on three days ago
, goes like this: For years, Jamie Dixon has built his Pittsburgh program despite the lack of either a) a nationally elite reputation or b) a clear pipeline of hometown talent. Instead, Dixon has built his program by recruiting players from the East Coast who saw in Pitt a potent mix of playing time, style and frequent trips to places like New York City and Philadelphia. Won't that combination be moot in the ACC? And if so, would Pitt face greater recruiting challenges as a result?
I'm not sure there's a right answer. At this point, Pittsburgh is a different program than it was before Dixon took over; it might rightfully be called a national program, and it may yet begin to recruit at the same level as powerhouses like Duke, North Carolina, Kentucky and Syracuse. At that level, geography doesn't matter. But that hasn't been the case in recent seasons at Pitt; all but two of Pitt's current players didn't grow up in a traditional "Big East" area. Isn't dismissing those geographical concerns a bit premature?
Former Pittsburgh assistant Tom Herrion -- now a second-year coach at Marshall -- isn't buying it.
He told The Dagger he thinks the move will have "zero effect" on Pitt's success in the coming years
:
"I think it will have zero effect," Herrion said Wednesday. "Jamie has built that program to continue to sustain success. They've proven over the last 10 years that program can win against teams all over the country. There will be a transition period and an adjustment geographically, but I think it will have zero effect on the program.

"It might even help them in a lot of areas. They may even be able to go into other areas and get kids that they couldn't before."
Dixon's model for success has been simple in theory and complicated in practice. He recruits sub-elite players from East Coast cities to fit roles within his program. He develops those players into successful long-term Big East stalwarts. By the time they reach their junior and senior seasons, those players have been molded in to one of the most physical and most intelligent teams in college hoops. The blueprint has worked time and again.
If the ACC solidifies Pittsburgh's status as an elite program, then the blueprint may change for the better. Maybe elite recruits simply want to play in the ACC, and Pitt can promise them huge exposure and competition against the best league in college hoops. Maybe, like Herrion says, the wider conference footprint opens doors to players that would never have considered Pittsburgh before now.
If that's the trade-off, Pittsburgh fans would surely take it. But the uncertainty is there. Until Pitt has a few years to adjust to its new conference, we just don't know how this will work out. Stay tuned, I suppose.
January, 24, 2011
1/24/11
8:30
AM ET
1. The coach of the year race may come down to three recognizable names: Connecticut's Jim Calhoun, Texas' Rick Barnes and San Diego State's Steve Fisher.
At this point in the season, Calhoun may be the favorite with the Huskies picked near the bottom of the Big East. UConn does have the potential player of the year in
Kemba Walker,
but the Huskies still had to find ways to win against Michigan State, Kentucky, at Texas, Villanova and Tennessee in a collective manner and Calhoun has molded this young team around Walker. It has been his best coaching job in years, despite missing the first practice while at an infractions hearing answering questions about whether he promoted an atmosphere of compliance. The irony is that Calhoun just signed a new four-year deal last spring amid an unexplained absence last season that appeared like he might retire. Now he's looking as energized as ever.
Barnes has done a sensational job with the Longhorns, a year after his most difficult season. Texas is doing a masterful job of winning big-time games at Michigan State, over North Carolina in Greensboro and at Kansas as well as asserting itself over Texas A&M to become the top team in the Big 12. Barnes is maximizing the talent and has
Jordan Hamilton
playing within the system after he never turned down a shot last season. The defense has been solid and freshmen
Tristan Thompson
and
Cory Joseph
came in ready to contribute at a high level.
Fisher is completing quite a career turnaround after being fired at Michigan. The Aztecs were the Mountain West Conference preseason favorite and they are living up to the hype. San Diego State has experience at all five positions and has won games playing quickly and in the half court.
2. Pitt is the best team in the Big East.
If there were any doubts all you had to do was watch the start of the game against Syracuse and then see how the Panthers held on to win that game at the Petersen Center. Pitt has the most experience of any team in the Big East and it has showed. The only blip was getting pushed around against Tennessee in the Pittsburgh Penguins arena. Pitt did beat Connecticut at home and Texas in New York, so the Panthers do have a rightful argument to be the second best team in the country behind Ohio State. Pitt isn't as talented as it was two seasons ago when it was a layup away from a Final Four. But with the Big East champ likely getting a No. 1 seed, the Panthers could be on a similar path to the Final Four.
3. Under the radar moves.
One of the least publicized coaching moves happened in Conference USA when Donnie Jones went from Marshall to Central Florida, and Tom Herrion moved on from being a Pitt assistant to Marshall. The moves couldn't have turned out any better for both schools. Jones led Central Florida into the Top 25 earlier this season. Now, the Knights and their youthful roster have hit the skids, falling to 1-4 in the conference. But the Knights are 14-4 overall and did knock off Florida and Miami on neutral courts.
Meanwhile, Marshall beat West Virginia earlier in the week in a nonconference rivalry game. Marshall, like UCF, has been nipped in C-USA, losing by one to East Carolina on Saturday to drop to 1-3, but both teams are a tough out for every C-USA opponent. You can expect that Marshall and Central Florida, which have arguably combined for the best nonconference wins in the league, to be pests throughout the conference season.
4. Florida State is the second best team in the ACC.
That's the answer to the ACC's season-long question after this past week. Now it looks more like the Seminoles' loss at Auburn was the fluke, not beating Duke or holding on to beat NC State after that win. Florida State went on the road this past week and beat Miami, and then came back home to beat Boston College. The Seminoles have one of the best players in the country in
Chris Singleton
-- who can defend
Kyle Singler
well -- and suddenly a more than capable side act in
Derwin Kitchen
. The Seminoles aren't as offensively challenged anymore. Leonard Hamilton has this team playing up to its potential and in position to -- gasp -- win the ACC. Fear not ACC fans there will be at least two NCAA tournament teams with Duke and Florida State.
5. Not so fast.
OK, so I got ahead of myself when I made my bold prediction that Colorado would make the NCAA tournament. But that's because I thought CU was past blowing road games it should win. The Buffaloes lost at Nebraska and at Oklahoma last week. Colorado now has to make up for it somewhere else, like at Baylor, and can't afford to lose at Texas Tech and Iowa State if the Buffs are going to make the NCAAs. Road games at Kansas and Missouri are highly unlikely. That also means that home games against Kansas on Tuesday, Kansas State on Feb. 12 and Texas on Feb. 26 have grown in importance. Colorado started off with three quality wins over Missouri, at Kansas State and over Oklahoma State, but that clearly wasn't enough. Losing to USF in overtime in San Francisco doesn't look as bad after the Dons beat Gonzaga and at least the Harvard loss was on the road and the Crimson did beat BC. Now the Buffs are in the middle again, unsure of which way they will go if they're not careful.
May, 28, 2010
5/28/10
1:27
PM ET
Making the quick drive from his old job to his new one, Tom Herrion stopped to grab a bite to eat in Morgantown, W.Va.
While Herrion finished up his meal, a gentleman slid out of his nearby booth and came over to Herrion's table.
"Excuse me, weren't you the assistant at Pitt?" the man said.
And when Herrion admitted that, indeed, he was the assistant coach made famous after getting pegged by a flying coin during a Panthers game at West Virginia, the man took a quarter out of his pocket and set it on the table.
"Not all West Virginia people are bad," he said and walked off.
Read more
from Dana O'Neil.