College Basketball Nation:

Tommy Brenton
January, 28, 2013
1/28/13
11:24
AM ET

Player of the Weekend – Victor Oladipo, Indiana
Stats generally don't show just how vital Oladipo is to the Hoosiers, but they came close on Sunday. He finished with 21 points, seven rebounds, six steals and three blocks in Indiana's win over Michigan State. He's the only player to reach those totals against a ranked team in the past 15 seasons.

Scorer of the Weekend – Ramon Galloway, La Salle
Three days after his layup propelled La Salle over No. 9 Butler, Galloway scored a career-high 31 points to lead the Explorers over No. 19 VCU. This marks the first time since the 1952 NIT that La Salle has defeated back-to-back ranked opponents.

Breakout Performance of the Weekend – Darrun Hilliard, Villanova
Hilliard posted career highs in points (25), rebounds (seven) and assists (six), as Villanova knocked off Syracuse 75-71 in overtime. He's the first player to reach those totals in a win over a top-5 team since Greivis Vasquez posted a triple-double against North Carolina in 2009. Villanova hasn't had a player reach those levels in any win since Michael Bradley in 2001.

Stat Sheet Stuffer – Tommy Brenton, Stony Brook
Brenton posted Stony Brook's first triple-double since moving to Division I, as the Seawolves beat Maine 79-69. Brenton finished with 15 points, 14 rebounds and 11 assists. Over the past 15 years, only three other players have reached that combination: Siena's Kojo Mensah (2005), Connecticut's Ben Gordon (2003) and Utah's Andre Miller (1998). Brenton is averaging over 8 PPG, 8 RPG and 5 APG. The last three players to do that all wound up in the NBA: Royce White, Evan Turner and Terrence Williams.

Freshman of the Weekend – Phil Forte, Oklahoma State
All it took was a uniform change. Forte, playing his first game wearing No. 13, scored a career-high 26 points off the bench as the Cowboys overcame a 13-point deficit to beat West Virginia 80-66. It was the most points by an Oklahoma State player this season and by a Cowboy off the bench in conference play since Torre Johnson's 26 in 2006 against Baylor.
February, 1, 2012
2/01/12
3:15
PM ET
Tommy Brenton
didn't move after he felt the "the crack, the pop."
The Stony Brook standout's knee had gone one way, while the rest of his body had drifted in a completely different direction on a shot-block attempt in a preseason pickup game.
Unbeknownst to him, he'd dislocated his kneecap and torn ligaments in his right knee.
[+] Enlarge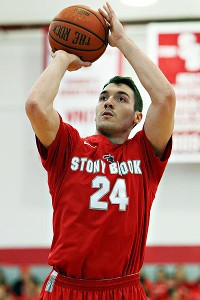 Debby Wong/US PresswireTommy Brenton, who missed all of last season with a knee injury, is leading Stony Brook in steals, assists and rebounds.
But he never pondered the possibility that he'd miss the entire 2010-11 season as he lay on the court. He'd recover after surgery in time to help the Seawolves challenge for the America East title, he thought.
"I had hope," Brenton told ESPN.com
But he was wrong.
Brenton never played one game following multiple surgeries and setbacks in rehab. But that wasn't his greatest obstacle last season.
As the Seawolves (13-7, 8-1 AE) missed a chance to go to the NCAA tournament after Boston University hit a pair of free throws with 2.4 seconds on the clock and won the America East tourney title, Brenton could only watch.
Based on the severity of his injury, he didn't know if he'd ever have another chance to compete with his teammates.
"Before last year, the biggest injury I had was a sprained ankle, which is like sitting out two weeks. To get this one, [sitting out seven months], was unreal," he said. "I couldn't imagine anything like it. There was times I didn't know if I'd play again just because of the rehab I was doing. Thinking about learning how to walk again with my leg because part of it, I couldn't even feel it. Getting all the muscle back, learning how to jump again, learning how to slide, it was just unreal."
With Brenton, the Seawolves won the America East crown two seasons ago.
Even without Brenton -- a tough 6-foot-5 guard/forward who's leading the Seawolves in rebounding (8.1 rpg), assists (3.5 apg) and steals (1.7 spg) this season -- the Seawolves nearly made the Big Dance.
But his return to the floor has reinvigorated a Stony Brook team that's on top of the America East conference again. On Friday, Stony Brook snapped a five-game losing streak to Boston University with a 66-57 victory over the Terriers.
As the game grew feisty and the two rivals showcased the tenacity that scratched any pregame plans to become Facebook friends, Brenton was the scrappy presence his team needed. The one it missed last season.
"We kind of feed off the energy that he brings and last year we didn't have anybody doing that," said
Bryan Dougher
, the team's leading scorer at 14.1 ppg. "I'll be the first to admit I wasn't ready to carry the load last year like I should've been. … He just does so much that people don't even notice sometimes."
Boston University and Stony Brook, the league's top defensive teams, could meet again in this season's America East tournament. But unlike last season, the Seawolves will have Brenton, a leader for a Seawolves team that possesses the highest Ken Pomeroy rating in its league.
The rematch would probably demand the same physicality as Friday's meeting. And that's fine with Stony Brook. It's actually welcomed.
The Seawolves take pride in their aggressive defense.
Portions of last week's win over Boston University resembled a summer playground game.
And in the middle of it all was a grateful Brenton who's back to employing the rugged basketball that an unfortunate knee injury wouldn't let him play last season.
"I think every game is going to be like that as the tournament comes closer and everyone's fighting for a higher seed. Every one counts," Brenton said.
Brenton will welcome – and cherish – every battle.