College Basketball Nation:

Tony Chennault
January, 28, 2014
Jan 28
2:05
AM ET
WASHINGTON, D.C. -- There was a time, and it wasn't all that long ago, when the Villanova Wildcats were one of the best defensive teams in the country.
Through Jan. 18, two opponents scored more than a point per trip in any game against the Wildcats. The first was Delaware in a tight win on Nov. 22, just before Villanova handled Kansas and Iowa on back-to-back nights in the Bahamas. The second was Syracuse, which still hasn't lost a game. Jay Wright's team ranked among the top three or four defenses in the country; it pressured offenses to the 3-point line and defended the perimeter with nearly equal enthusiasm; it was consummate. When the Jan. 19 Associated Press poll was unveiled, Villanova was deservedly ranked No. 4 in the country.
And then Creighton happened.
The Bluejays' 96-68 master class -- the best win in Creighton history and possibly the best offensive performance of the past decade -- didn't merely produce a bunch of eye-popping, retweetable statistics. It exploded Villanova's defense. Without breaking a sweat, Ethan Wragge and Doug McDermott and everyone else in a royal blue uniform did everything the Wildcats are designed to stop, over and over again, on Villanova's home floor.
By the middle of the second half, when it became clear Creighton wouldn't stop, it was worth wondering whether Wright's team had just suffered the kind comprehensive emotional battering Michael Jordan made famous. The kind old NBA veterans still whisper about, the kind that ruins a season.
Seven days later, Villanova is doing just fine, thanks.
[+] Enlarge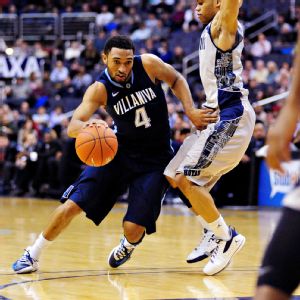 Evan Habeeb/USA TODAY SportsThings seem back to normal for Darrun Hilliard and Villanova after beating Georgetown Monday, the second straight road victory for the Wildcats.
Monday night's 65-60 win at Georgetown was a welcome return to form for the Wildcats -- a return to weak-side rotations and drawn charges, to interior challenges and forced turnovers, to the kind of adaptable, pressuring defense that earned them that No. 4 ranking in the first place.
"That was old-school Big East basketball," Wright said. "That was fun."
The Wildcats won despite shooting just 40 percent from the field, and 31.8 percent from 3-point range, in large part because they forced the action on the offensive end enough to shoot 28 free throws. It was offense-as-erosion, and nearly as slow.
Meanwhile, Georgetown couldn't crack Villanova's defense, turning the ball over 18 times and getting just nine free throws for their trouble. And that puzzled John Thompson III.
"We're getting the ball into the paint, we're getting penetration, we're getting drives, we're getting the ball down low, but fouls aren't being called," Thompson said. "I'm not saying we're being fouled and they're not called. I don't know, but you look at that stat right away and you see we shot nine foul shots they shoot 28, so we've got to figure out how to get fouled.
"Every game seems to be called differently. One could say that opposite ends of court are called differently."
The officials may have had a rough night at the office, and Georgetown's offense has hardly set the world alight -- Bluejays 2.0 it is not. But credit the Wildcats, too. Villanova's ability to combine maximum turnovers and minimal fouls made every Hoyas mini-run -- and it felt like there were dozens -- ultimately futile. After an 8-0 run to start the game, Thompson's team led just once.
One decisive late play summed up the general tenor: Down 61-58 with 34 seconds remaining, Georgetown guard Markel Starks -- who had 20 points and six assists and was the Hoyas' only effective offensive player -- drove baseline. As he elevated to swing a pass to an open teammate in the opposite corner, he crashed into a rotating Wildcats defender who had already anticipated the charge.
It was a sort of inverse scenario from just two days prior. On Saturday, Tony Chennault's would-be game-winner at Marquette was waved off at the last second. But Wright's team managed to pull out a 94-85 OT win anyway -- a game they won by pouring wave after wave of points on the board. Neither game was an aesthetic wonder, Wright admitted, but even he was impressed to come away from the week 2-0.
"[Our guys] really have great character and mental toughness," Wright said. "They really do. There's a lot of challenges, you know? You win a couple games, you get things going good, and then you get smacked in the face, you get knocked down. How you respond is important.
"Since that game we've been on the road two games back to back against two very good teams. We haven't been pretty in either one of them, but we've found a way."
That game. Whether intentional or not, Wright avoided mentioning Creighton by name. Under different circumstances, the omission could be read as denial. After two gutty bounce-back road victories, it reads more like acceptance. The Wildcats have moved on, and they seem to be doing just fine.
April, 24, 2013
4/24/13
5:00
AM ET
1. A number of college stars still have major decisions to make this week on their NBA draft plans and, according to either coaches or family members, the decisions are down to 50-50 for Miami's
Shane Larkin
, Michigan State's
Adreian Payne
, Creighton's
Doug McDermott
, Louisville's
Russ Smith
and Baylor's
Isaiah Austin
and
Cory Jefferson
. You can probably add Syracuse's
C.J. Fair
to this list of players still undecided as Sunday's NBA early-entry deadline looms. Miami and Creighton desperately need their All-Americans to return. If the Baylor players decide to stay, the Bears could be the third-best team in the Big 12. If they do not, Baylor might be lucky to be in the NIT.
2. The one-and-done rule gets all the headlines, but the number of transfers is what is stunting team growth and winning with consistency in a number of spots. Alabama had a chance to be a top-four SEC team, but that became much more difficult with the decision of
Trevor Lacey
to transfer.
Tony Chennault
wasn't a major contributor for Villanova after transferring from Wake Forest -- but he's on the move again in search of more playing time, while possibly sacrificing a chance to win. Players transfer for a host of reasons. But impatience is usually high on the list.
3. Pac-12 officials meets next week in Phoenix and, according to the league office, commissioner Larry Scott might not address the Ed Rush resignation in any great detail, nor will he get into the tension between the league and Arizona over the $25,000 fine levied against head coach Sean Miller. The league office contends that the Miller fine had nothing to do with the "jokes" Rush made at an officials meeting in which incentives were said to be offered for calling a technical against Miller; Rush has said he was joking, but wanted officials to enforce the rules on the court and in bench decorum. The league is conducting an internal investigation into the incident and how it was handled; a finding is due in June. Arizona wants Miller's fine rescinded, but there has been no indication that will occur.
March, 14, 2013
3/14/13
9:28
PM ET
NEW YORK - A quick look at Louisville's
74-55 victory
Thursday over Villanova in the quarterfinals of the Big East tournament at Madison Square Garden:


What it means:
Louisville is heating up at the right time, and moving closer to securing a No. 1 seed in the NCAA tournament. Villanova exits in the quarterfinals, but should hear its name called on Selection Sunday nonetheless.
The No. 4-ranked Cardinals (27-5) have now won eight games in a row; the defending Big East tournament champs advance to the semifinals.
The Wildcats (20-13) still had a productive trip to New York, picking up their 20th victory of the season against St. John's in the second round. And Villanova's three wins against top-five opponents this season -- Georgetown, Syracuse and Louisville -- should put the Cats over the hump with the selection committee.
The turning point:
Villanova took an early 4-0 lead, but Louisville answered with a 15-2 run to take control of the game. The Wildcats closed the gap to 22-19 with 3:35 remaining in the half, on a
Tony Chennault
jumper. The Cardinals responded with eight consecutive points, including 3-pointers by
Russ Smith
and
Peyton Siva
, to take their largest lead to that point, 30-19. Louisville was up 30-21 at intermission.
The margin was still nine (36-27) when Louisville went on a 10-1 spurt to go up 46-28 with 12:36 to play. Smith scored eight of those 10 points, including two more 3-pointers. Yet another Smith triple pushed the lead to 20, 51-31, two minutes later, and the rout was on.
Star watch:
Smith, the second-leading scorer in the Big East this season (17.9 points per game), scored a game-high 28 -- 21 in the second half. Smith shot 7-for-12 from the field, 4-for-6 from beyond the arc and 10-for-11 from the foul line.
Luke Hancock
chipped in 12 points off the bench, and Siva added 10.
JayVaughn Pinkston
scored 21 points to lead Villanova.
Mouphtaou Yarou
had 13 points and 11 rebounds.
Number crunch:
Villanova committed 25 turnovers -- with 18 coming in the first half. Not a huge surprise, though, when you consider that the Cardinals were second in the nation in steals per game (10.7) and the Wildcats were 318th in Division I (out of 347) in turnovers per game (15.4).
Also, Louisville shot 10-for-24 from downtown in the game (41.7 percent). Villanova was just 2-for-12 (16.7 percent).
What's next:
Louisville, the No. 2 seed, will play No. 6 Notre Dame on Friday night at approximately 9:30 p.m.
Villanova heads home and starts prepping for the Big Dance.
July, 23, 2012
7/23/12
11:00
AM ET
Editor's note: ESPN.com's Summer Shootaround series catches up on the offseason storylines for each conference. For more on the Big East, click here.
The most important player for each team in the conference ...
Cincinnati:
Titus Rubles
The juco transfer hasn't played a minute for Mick Cronin, but he could be the coach's most vital cog. A former guard who grew up and out since graduating high school, the 6-foot-8 Rubles has the heft and the ability to play a more power game as well. The Bearcats have plenty of experience in the backcourt but they need help replacing
Yancy Gates
. Rubles could offer it.
[+] Enlarge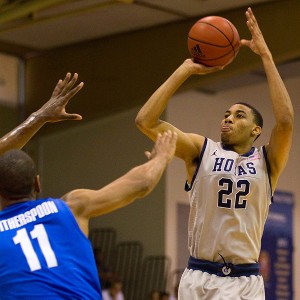 AP Photo/Eugene TannerOtto Porter will carry a heavy load this season as the Hoyas' leading scorer is gone and Porter's on deck.
Connecticut:
Ryan Boatright
The NCAA delayed Boatright's debut but when he finally played, he made the Huskies immediately better. He'll have to do the same this year, now that UConn is without
Jeremy Lamb
,
Alex Oriakhi
,
Andre Drummond
andRoscoe Smith. Much of the Huskies' success will depend on how Boatright and Shabazz Napierplay.
DePaul:
Cleveland Melvin
You have to feel for Melvin. He has been a terrific player for DePaul for two seasons with little in the way to show for it in terms of results. Melvin averaged 17.5 points a season ago, upping his numbers from 14.3 as a freshman … and still won just three Big East games. Eventually, someday, somehow the Blue Demons will turn it around. If it is anytime soon, Melvin will be the reason.
Georgetown:
Otto Porter
Much will be expected from the Hoyas' unexpected star of a year ago. The sophomore to be averaged 9.7 points and 6.8 rebounds for a Georgetown team that, like Porter, surprised more than a few. But leading scorer
Jason Clark
is gone from that crew, putting Porter squarely in the mix for a key role as both a leader and a scorer.
Louisville:
Russ Smith
This is
Peyton Siva
's team but there's no question that the Cardinals' sparkplug is the enigmatic, mercurial (insert quirky adjective here) Smith. Pitino loved his fearless guard, even though he didn't necessarily always love Smith's fearlessness. With a loaded lineup that should help Cardinals cure last season's offensive woes, Smith won't have to do quite so much this season but he will still be the catalyst for what could be another Final Four run.
Marquette:
Vander Blue
A team in the best sense of the word, Marquette won collectively instead of individually -- and that was with
Jae Crowder
edging out teammate
Darius Johnson-Odom
for conference player of the year honors. Amid the collection of unheralded superstars was Blue, a gifted player who has the ability to shine and now, with Crowder and Johnson-Odom gone, will have the opportunity, as well.
Notre Dame:
Jerian Grant
Sure,
Jack Cooley
will garner much of the attention for the Irish, but really Mike Brey's team will go as far as Grant takes it. He was terrific as a sophomore last season, turning heads with his 12.3 points and 5 assists per game and will have plenty to work with again this year. Notre Dame loses just Tim Abromaitis, who only played two games a year ago.
Pittsburgh:
Tray Woodall
The point guard missed 11 games last season with a groin/abdominal injury and while the Panthers were bad with him in the lineup, they were a bona-fide disaster without him. It was Woodall's return that sparked a brief bit of life in Pitt midseason and it is Woodall's presence that will make the Panthers go this season. There is plenty on Jamie Dixon's roster to make last season nothing but a bad memory, but to make things work, Dixon needs Woodall and his dribble penetration to get the offense working.
Providence:
Vincent Council
Despite all the hoopla (much deserved) surrounding Ed Cooley's incoming freshman class, the Friars remain very much Council's team. A terrific point guard, Council led his team in assists and scoring this season and with a better surrounding cast, could be due for a breakout season.
Rutgers:
Eli Carter
Carter was sensational in his freshman season, averaging 13.8 points per game for Mike Rice's squad. And while he and
Myles Mack
were arguably the Scarlet Knights' two most reliable players, losing
Gilvydas Biruta
(to Rhode Island) will put even more pressure on Carter's shoulders.
[+] Enlarge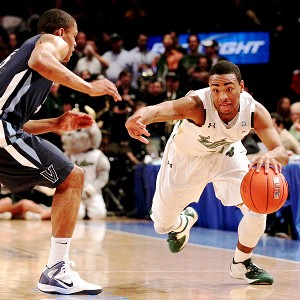 Anthony Gruppuso/US PresswireSouth Florida and guard Anthony Collins are primed to go far this upcoming season.
Seton Hall:
Fuquan Edwin
The best news for Kevin Willard: Edwin is already a terrific defensive player. Now if he continues to grow his offensive game (he averaged 12.5 points per game), the Big East can officially be put on notice. The big question for Edwin, though, is can he be The Guy?
Herb Pope
andJordan Theodore are gone, so the attention will be squarely on his broad shoulders.
South Florida:
Anthony Collins
The Bulls were one of the best defensive teams in the country and one of the worst offensively. Equaling out that ratio falls squarely in the lap of Collins, the point guard who was great defensively but made too many foolish mistakes on offense to get the Bulls in rhythm. He's a terrific talent and part of the reason that big things are once again expected for Stan Heath's team.
St. John's:
D'Angelo Harrison
Truth be told, the most important player might just be Steve Lavin, the head coach who missed last season while recovering from prostate cancer. But since Lavin is on the bench instead of on the court, we'll go with Harrison. The freshman averaged 16.8 points per game, and along with
Moe Harkless
, was one of the few steadying presences in a crazy season for the Red Storm. His return is huge for Lavin but Harrison will have to perform without his sidekick, Harkless, who left for the NBA.
Syracuse:
Michael Carter-Williams
The point guard who couldn't get through the backcourt logjam a season ago will be asked to carry the load for Syracuse this season. Highly touted out of high school, plenty who watched Carter-Williams practice thought he was more than ready for the spotlight. Now the chance has come.
Brandon Triche
will be there to lend an experienced hand, but how Carter-Williams plays will determine how Syracuse does.
Villanova:
Tony Chennault
The last time a displaced player landed on Jay Wright's doorstep, it turned out pretty well. Scottie Reynolds, orphaned by Kelvin Sampson at Oklahoma, led the Wildcats to the Final Four. Now it's Chennault, the Wake Forest transfer who was granted a hardship waiver to be near his family. The Philadelphia native, who averaged 9.0 points in his sophomore season at Wake, is a much-needed boost for a Villanova team that struggled mightily.
June, 19, 2012
6/19/12
10:12
AM ET
Wake Forest transfer
Tony Chennault
will be able to play this season at Villanova,
the school announced Monday
, and the timing couldn't be better.

Villanova lost guards
Maalik Wayns
and
Dominic Cheek
from last year's 13-19 team. Say what you will about both players and their 2012 seasons -- in Wayns' case, especially, the loss might be addition by (frustrating, ball-dominating) subtraction -- the departures left Wildcats coach Jay Wright with just one returning guard, junior
James Bell
, of any note.
That is no longer the case. Chennault, who averaged 9.2 points per game as a sophomore at Wake last season, was granted a hardship waiver by the NCAA on Monday. As such, he won't have to wait the customary year before suiting up for the Wildcats; he'll be able to play for Villanova immediately.
"The Chennault family has been dealing with so much this year," Wright said in a statement Monday afternoon. "Tony's mom has faced health issues and his brother, Mike Jay, died tragically earlier this month. We are grateful that the NCAA has taken these unique circumstances into account, and I know Tony is excited about the opportunity to be on the court with us next season."
The hardship waiver is occasionally looked upon with some suspicion, being a forgiving policy with the potential to be cynically exploited as a transfer loophole. But Chennault's case obviously (and unfortunately, given the tragic circumstances) qualifies.
What does it mean for Villanova? Chennault isn't likely to be an All-Big East candidate right away, but he is a nice cog in what could have been a much more difficult backcourt rebuilding process. Chennault brings extra built-in experience, and Wright will hope that experience dovetails nicely with the arrival of
Ryan Arcidiacono
,
the No. 6-ranked point guard in the class of 2012
and rising sophomore
Ty Johnson
.
The strength of the 2012-13
Villanova Wildcats
will be in the frontcourt, where
Mouphtaou Yarou
and
JayVaughn Pinkston
loom large. No, it may not be enough to compete for a Big East title -- but with Chennault in tow, the massive gap in Villanova's backcourt became considerably smaller.