College Basketball Nation:

Tony Parker
October, 7, 2013
10/07/13
2:30
PM ET
Right now, Arizona looks like the Pac-12's leader. But the young Wildcats could face competition from Oregon, Colorado and UCLA, the league's defending champion.
The latter features new coach Steve Alford and lacks former star Shabazz Muhammad, who turned pro. The Bruins, however, have a promising crew.

A key component in that potential is
Tony Parker
, a former McDonald's All-American. Parker was a member of the top-rated recruiting class that joined the program last season. But he failed to match the hype mostly because he couldn't stay in shape.
He averaged just 2.4 PPG and registered 6.3 MPG last year. Not exactly the numbers most anticipated from a player ranked 26
th
in a talented 2012 class.
Per Alford, Parker has worked hard to erase last season's shortcomings and prepare for a bigger role in 2013-14. That bigger role, however, will be played by a slimmer Parker.
"Well, Tony's had a really good offseason," Alford told ESPN.com on Monday. "He's lost 20, 25 pounds. I think he's built a lot of confidence by seeing what that does. He's moving better, he's in better condition. He's making plays now because he's in shape. So I think because of all that he's kind of rededicated to the game, and he's built some confidence. Hopefully that momentum carries forward because he's a very good low-post threat but he's learned to move out. He can knock down the 15-foot shot. Now he's defending much better because he's lost the weight."
Parker, who weighed 275 pounds last year, could be a critical player for the Bruins. The Wear twins (
David
and
Travis
) are two of the top bigs in the league. But Parker's production would be a boost for a group that dealt with multiple injuries last season.
He was a star for Miller Grove High School in Lithonia, Ga. But there were concerns about stamina and conditioning throughout the 6-foot-9 forward's prep career. "If you could get his motor to run at an extra-high level, Parker could be a terror on the glass," said the RecruitingNation scouting report on the young star.
But Alford said he expects Parker to give the Bruins more quality minutes this season, something he didn't do last year.
"We hope [the weight loss] has a dramatic impact because we're not deep up front. But if we stay healthy, we've got the talent," Alford said. "Tony is a winner and he competes that way. Now that his body is changing and his confidence is high ... now it's just a much better product."
November, 26, 2012
11/26/12
2:14
AM ET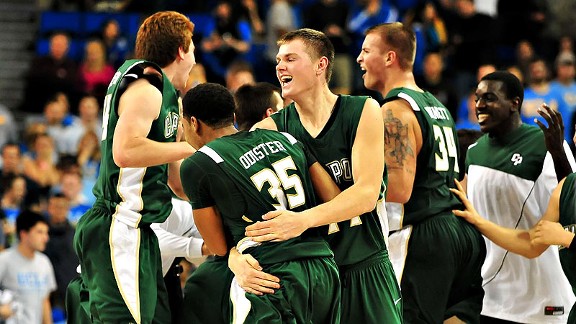 Louis Lopez/Cal Sport Media/AP ImagesCal Poly capitalized on a porous defense and recovered from an 18-point deficit to upset No. 11 UCLA
Even after UCLA signed the nation's No. 1 recruiting class, I had doubts that were masked by the program's potential.
The additions of
Shabazz Muhammad
,
Kyle Anderson
,
Tony Parker
and
Jordan Adams
suppressed my concerns. So I bought stock in UCLA and I slotted the Bruins as a top-10 team in ESPN.com's initial preseason poll. They had to get better, I figured. Too much talent to repeat the woes of 2011-12.
And then, UC-Irvine nearly upset the former powerhouse in overtime.
Young players need time to click with veterans, right?
And then, the Bruins lost to Georgetown.
C'mon, man. It was Muhammad's first game.
And then, they fell to Cal Poly
70-68
after leading by 18 points with 11:53 to play on Sunday night. The game ended when the Bruins put the Mustangs on the free throw line in the closing seconds of a tie game.
Well, even the best teams lose and … wait a minute. Huh?
It was an indefensible collapse against a program that's lost to both Fresno State and TCU this season. Yet, it's reminiscent of the Bruins teams that have all fallen short of expectations since the Final Four trifecta from 2006-08.
The latter teams all finished in the top five of defensive efficiency. Ben Howland hasn't had a squad that's even cracked the top-30 since that run.
The Bruins' defensive lapses helped Cal Poly recover from a 51-33 hole midway through the second half on Sunday. Those mishaps extended UCLA's streak of mental fragility. The Bruins fell apart. Again. It's becoming a familiar theme for the storied program that missed the NCAA tournament for the second time in three years last season.
On Sunday, the Bruins allowed 37 points in the final 12 minutes -- after giving up just 33 in the first 28. In that stretch, Cal Poly made 13 of 19 shots while UCLA missed 14 of 19.
And it all ended in confusion. Sophomore
Norman Powell
lunged at Kyle Odister with 14 seconds to play in a tied game. Powell apparently believed that his team was still trailing.
That was certainly the most critical gaffe of the evening but not the only one. The Bruins did what the Bruins have done too often in recent seasons. They showcased the execution that's seemingly elevated their ceiling just before the roof caved into those uncertain expectations.
They have pieces. Muhammad has played well for a guy who missed most of the preseason and the early portion of the regular season due to injury and an NCAA inquiry. But the addition hasn't changed the culture of a team that's failed to get stops when it's needed them and fizzled under pressure.
While Howland has new faces, he's still counting on the same veterans who couldn't stop last season's downward spiral. And he also has to rely on freshmen who love to score but haven't attained the defensive discipline they'll need to make a dent in a competitive Pac-12.
There's too much talent on the roster to assume that UCLA won't figure it out in the coming months. But the Bruins are a mess right now.
The "Kyle Anderson is a point guard" experiment has stalled.
Joshua Smith
's weight still limits his impact. The Bruins' shot selection is poor and disorganized. And despite the infusion of future NBA draft picks, they're not edgy enough to beat elite teams.
Or mid-level Big West teams.
September, 4, 2012
9/04/12
12:30
PM ET
This is supposed to be UCLA's big year. This is supposed to be the season in which one of college basketball's marquee programs sets aside the forgettable mediocrity of the past three seasons. After last spring's damaging tell-all report in the pages of Sports Illustrated, this is supposed to be Ben Howland's redemption song. This is the year UCLA puts all of the nonsense behind it, puts one of the most talented teams in the country on the floor, and gets back to being, well, UCLA.
[+] Enlarge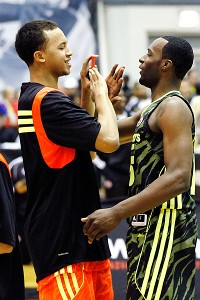 AP Photo/Charles Rex ArbogastWill ballyhooed UCLA recruits Kyle Anderson and Shabazz Muhammad get to suit up for the Bruins this season?
It may yet happen. But it's merely September 4, and questions about Howland's program -- particularly the eligibility of two of its incoming stars -- continue to dog the Bruins.
From ESPN LA's Peter Yoon
:
"Recently, there have been misleading and inaccurate public reports regarding the initial-eligibility certification of our men's basketball team's incoming class," UCLA athletic director Dan Guerrero's statement said. "Currently, there are two men's basketball student-athletes who have not yet received final amateurism certification from the NCAA."

A source who requested anonymity told ESPNLosAngeles that the two who have not yet been cleared are Muhammad and Anderson. Parker had been the subject of an inquiry, but has since been cleared. There are no further details on the nature of the inquiries into Parker and Anderson.
Guerrero's statement and Yoon's report came just days
after the Scout.com UCLA affiliate reported
that
Shabazz Muhammad
's eventual eligibility was "looking less promising," and that the NCAA had been investigating fellow incoming freshman stars
Kyle Anderson
and
Tony Parker
as well. UCLA's statement and Yoon's reporting corrected that account, but the report was at least half-right, as Anderson's eligibility apparently remains under review.
This raises a few questions. For one: Just how serious is Muhammad's eligibility situation? For months, many have assumed that Muhammad may have a few minor improper recruiting benefits to sort out, perhaps worthy of a short early-season suspension (a la John Wall in 2009), but nothing that would prevent UCLA's best recruit in a decade (if not longer) from getting on the court sooner rather than later. Now, there's a real concern that Muhammad may miss a considerable portion of the season, or may not become eligible at all. That's all it is right now -- a concern. But when a player this good is still facing eligibility hurdles, it's hardly a surprise to see fans freak out.
And that doesn't even account for Anderson, who like Muhammad is a top-five player in the class of 2012 and the Scottie Pippen to Muhammad's Michael Jordan in Howland's stacked recruiting class. But unlike Muhammad, Anderson actually traveled and participated with the Bruins for UCLA's China trip. If he wasn't yet eligible, why did UCLA allow him to take the trip? Or did something change between now and then? If so, what?
These are all things the NCAA needs to weed out, and
sooner rather than later
. (Though,
as John Ezekowitz pointed out on Twitter
, there is no rush to solve amateurism cases in time for classes to begin, because student-athletes can continue their academic work while they're being investigated for amateurism eligibility issues.) There won't be many details forthcoming until the organization finishes its review of Muhammad and Anderson's recruitments, before it finishes digging into their lives as highly touted AAU prospects.
The results of those investigations could be minor -- nothing more than most observers believed would happen before a Labor Day weekend full of
frightening headlines and vague official statements
. But it now appears more likely than ever that that
won't
be the case, and that UCLA will have much more serious issues on its hands, particularly related to the two best players in a class lauded as the program's -- and Howland's -- savior.
We'll have to wait and see. There's still plenty of time on the clock. But needless to say, between
the ongoing eligibility rumblings and a spate of untimely preseason injuries
, UCLA's putative coronation year is not off to a promising start. And if you're a UCLA fan, it's downright unsettling.
August, 15, 2012
8/15/12
1:27
PM ET
Just two days ago,
our own Joe Lunardi presented his August Bracketology
, yet another edition of an obviously way-too-early-but-nonetheless-fun snapshot preview of the season to come.
Myron and I debated it
, and one of the major things we agreed upon is that, yes, while UCLA is very talented, and Joe's decision to give them a No. 1 seed makes sense at a distance, once you start digging into the Bruins' details you can't help but feel less bullish about their national title chances. I wrote:
Let's count the major question marks: Can two freshmen (Shabazz Muhammad and Kyle Anderson) step in as the team's de facto backcourt leaders right away? What about freshman forward Tony Parker? Is Josh Smith going to get down to his fighting weight, and stay there? Can the Wear twins remain productive off the bench? And then there's Larry Drew II, who quit and transferred away from North Carolina when Roy Williams had the gall to start a transcendent college passer (Kendall Marshall) over him.
Don't get me wrong. UCLA could be awesome! But compared to, say, Kansas -- a program that hasn't finished second in its conference for the past eight years -- or teams other No. 1 seeds Kentucky, Louisville and Indiana, the Bruins, talented though they are, are far more worthy of your reluctance.
And
we didn't even get to this
:
UCLA freshman Shabazz Muhammad is not expected to receive eligibility clearance from the NCAA in time for the Bruins' trip to China and will not play during the Aug. 22–29 trip, according to sources close to the situation.

The NCAA is investigating whether Muhammad, the crown jewel in UCLA's top-ranked recruiting class, received improper benefits during his recruitment. The organization has not made any determinations on Muhammad's eligibility, but the team does not want to take any chances, sources said.
The improper benefits the NCAA is investigating are related to financial dealings between the Muhammad family and family friends Benjamin Lincoln and Ken Kavanagh,
the L.A. Times reported July 30
. At the time, UCLA was "expecting good news on" Muhammad, who told the paper he hadn't broken any rules, "showed the NCAA that we have done everything correctly," and fully expected to play in his team's home opener against Indiana State.
Two weeks later, Muhammad's NCAA eligibility issues are yet to be resolved. From UCLA's perspective, It would be nice for Muhammad to get to go to China -- I want to go to China! -- and even better to let him get some real, live game action in a largely rebuilt and freshmen-oriented lineup. But if sitting China out is the price Muhammad has to pay to a) not hurt his team if he is eventually ruled ineligible and/or b) be able to play when the season begins in November, well, so be it. No big deal.
That doesn't mean UCLA fans aren't at least slightly freaked out, and understandably so. Freshman guard Kyle Anderson missed early practices with a pre-existing hand injury. Freshman forward Tony Parker will miss the China trip thanks to a hamstring injury he suffered in practice (and he could miss up to a month). Of the four highly touted recruits in coach Ben Howland's stellar incoming class, only Jordan Adams, the No. 9-ranked small forward in the country, has avoided both eligibility and injury issues. Meanwhile, forward Anthony Stover was dismissed Aug. 6 for failing to meet the NCAA's academic eligibility requirements. All told, that leaves UCLA with just eight scholarship players to take to China, and it's hard to make the most of a foreign exhibition trip -- a major team-building activity both on and off the floor, a leg up on competitors whose foreign trips aren't scheduled for this offseason -- when your most talented and youngest players can't participate.
On Tuesday night, in a post that asked "Is Howland cursed?"
the die-hards at Bruins Nation were feeling less than calm
:
Or is this some sort of karmic payback? […]
Of the fab four freshman, Kyle Anderson missed the first practices because of a pre-existing injury. Shabazz had a high ankle sprain and missed many. Then Tony Parker got hurt and is out for China.

The #1 recruiting class have not practiced together when they were all healthy. To say nothing of Stover leaving. UCLA is down to 8 scholarship players but more importantly the entire team has yet to play together.

This is getting ridiculous.
You can feel their pain. This was supposed to be an all optimism, all the time sort of summer for UCLA, during which an insanely talented freshman class could fully assert itself within a struggling Bruins program without having to wait until November to do so. Now, with Muhammad facing eligibility concerns and Parker injured, this team may have to learn on the fly come November.
No, these are not positive signs. But nor are they death knells. They're merely more questions surrounding what is now unquestionably the single biggest risk-reward entity in the upcoming college hoops season. Stay tuned.
July, 17, 2012
7/17/12
10:00
AM ET
Editor's note: ESPN.com's Summer Shootaround series catches up on the offseason storylines for each conference. For more on the Pac-12, click here.
1.
UCLA's late recruiting surge
: Less than two months after a Sports Illustrated story threatened to damage the reputation of coach Ben Howland and his program, the Bruins added a pair of standout freshmen who could make UCLA a top-10 staple this season. Shooting guard
Shabazz Muhammad
-- the No. 2-ranked prospect in the class of 2012 -- announced his intentions during a live telecast on ESPNU in May. Center
Tony Parker
, who is ranked No. 26, followed suit soon after. Mix in fifth-ranked
Kyle Anderson
, a small forward who signed in the fall, and it's easy to see why UCLA's haul was ranked No. 1 in the country by ESPN.
2.
Mark Lyons transfers to Arizona
: The Wildcats' list of newcomers became even more impressive with the addition Lyons, who scored nearly 1,200 points in three seasons at Xavier. Arizona coach Sean Miller signed Lyons when he coached the Musketeers and had a chance to reconnect with him when Lyons decided to transfer for his final season. Lyons will provide a huge boost to a squad that also welcomes the country's third-ranked recruiting class. Mix in returnees such as
Solomon Hill
and
Nick Johnson
and there will be no excuses for the Wildcats missing the NCAA tournament, which they've done two of the past three seasons.
3.
USC's bounce back
: Could a team that finished 6-26 overall and 1-17 in Pac-12 play last season actually make the NCAA tournament in 2013? Trojans coach Kevin O'Neill says yes, and there appears to be validity to his optimism. Last year's squad lost four starters to season-ending injuries and was down to six scholarship players by the end of the season. Now USC is preparing to welcome back team captain
Jio Fontan
and NBA prospect Dewayne Dedmon along with newcomers such as Wake Forest transfers J.T. Terrell and Ari Stewart. Tissue-thin a year ago, the 2012-13 Trojans will be the deepest team of O'Neill's tenure.
4.
Washington hurt by NBA draft
: The Huskies' chances of repeating as Pac-12 champions took a major hit when sophomore small forward
Terrence Ross
and freshman point guard
Tony Wroten
left school early to turn pro. Both players became instant millionaires when they were selected in the first round. Ross was picked eighth by Toronto; Memphis nabbed Wroten with the 25th selection. The early departures will put additional pressure on players such as
C.J. Wilcox
,
Abdul Gaddy
and
Aziz N'Diaye
. Even with Ross and Wroten in the lineup, Washington missed the NCAA tournament last spring. Can they make it this season without them?
5.
Can Jahii Carson make Arizona State relevant again?
: The Sun Devils experienced their worst season under Herb Sendek when they went 10-21 last season. But let's face it: Arizona State hasn't had a quality point guard since Derek Glasser graduated two years ago. Carson was supposed to fill that void as a freshman last season, but he was ruled academically ineligible and never played a game. Luckily, he was able to practice with his teammates, which should help him adapt to the college game more quickly when he takes the court for the first time this fall. Arizona State has missed the NCAA tournament the past three seasons.
May, 11, 2012
5/11/12
11:45
AM ET
With the nation's No. 1 recruiting class set to arrive on campus later this month, most of the offseason buzz about UCLA has centered on the program's newest players.
But a few of the old ones aren't bad, either.
Josh Smith
-- if he gets his weight and his work ethic in check -- has the potential to be one of the nation's top centers. Point guard Larry Drew, a North Carolina transfer, practiced with the Bruins all last season and is poised to step into a starting role. And
David Wear
is back after averaging 10.2 points and a team-high 6.3 rebounds in 2011-12.
No returning player, though, was as good on the offensive end last season as
Travis Wear
, David's twin brother. Travis Wear averaged 11.5 points and 5.9 rebounds as a sophomore. He also blocked 1.2 shots per game.
Thursday ,he took time to speak with ESPN.com about why he thinks last season's struggles -- the Bruins went 19-14 and missed the NCAA tournament -- are a thing of the past.
What's the vibe around campus right now?
Travis Wear:
Everyone is really excited. We have a really good class coming in. We're putting ourselves in really good shape to be a great team next year. Everyone around here is really excited about Pauley (Pavilion) opening back up again so we can have our fan base on campus supporting us again. With the hype around this season, it makes it that much better.
How tough was it to have to play away from campus last season while Pauley went through renovations?
TW:
It was definitely difficult having to play off-campus in downtown L.A. It was tough to get fan support. We didn't have a great season, so that didn't help, either. We're definitely looking forward to playing on campus around our students and being in a home atmosphere.
As a current team member, how exciting was it to watch all of these high-profile commitments roll in during the past year?
TW:
It was really neat to see all these building blocks being added onto our team and to think about all the depth we're going to have, all the versatility and all the great players. Our practices should be just as competitive as the games we're going to play in next year. Everything is coming into place. People are really excited.
How would you find out when certain guys committed, guys like Shabazz Muhammad and Tony Parker?
[+] Enlarge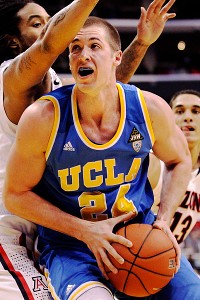 AP Photo/Jae C. HongUCLA has put last season's struggles behind it, forward Travis Wear says.
TW:
We knew the dates each one of them were supposed to announce. Most of the time I was off campus, so I'd just keeping checking Twitter.
You mentioned that you struggled at times last season. How convinced are you that those issues are a thing of the past?
TW:
We had a big team meeting. We've changed up a lot of things around here. This group is tighter right now than it's ever been, as far as on the court and off the court. Everyone is really handling their business. It feels great. Even when the coaches aren't there, everyone is always in the gym working out. It feels really good.
What, specifically, has changed?
TW:
It's just mainly our attitude. With the class we have coming in, it's obvious we have a chance to be really good. Everyone is really embracing that. We're not just going to go off the hype of, 'Oh, they have good players, so they're going to be great.' Everyone is here, working as hard we can to get to that level instead of just listening to the hype.
What effect did last season's Sports Illustrated article have on UCLA's program?
TW:
Not much. During the season, it was some adversity that we had to face. We came together a little bit after that. But it didn't much of an impact as far as motivating us. It might have motivated us a little, but honestly, it didn't change much.
Everyone knows that center Josh Smith has the talent to be a special player, but he's underachieved during his first two seasons. What have you seen from him during the offseason that leads you to believe his junior year will be his best?
TW:
Josh has been working out every day. He hasn't missed any workouts. He's grinding every day with us. It's nice just to see how hard he's been working. He has an opportunity to be great. To see him embracing that now is awesome.
Why do you think he's just now embracing it?
TW:
Sometimes, for certain guys, the light just clicks. I guess the light just went on.
What has coach Ben Howland's demeanor been like?
TW:
He's really excited. He's very energetic. All of the coaching staff, for that matter, has been great. They go through the workouts with us and they hit us. They're super-excited. You can just feel the energy from them.
The frontcourt will obviously be crowded with you and your brother and Josh -- plus the new guys coming in such as Tony Parker. How much do you like having that competition?
TW:
That's how you get better. You come and out compete every day for minutes. That's what makes teams great, being able to compete in practice. Then in the games you execute what you've been practicing all along. With Josh and my brother and Tony Parker and
(Anthony) Stover
... we'll have some battles. It should be fun.
You and Larry Drew both started your careers at North Carolina before transferring to UCLA. What about him gives you confidence that he can impact this team as a point guard?
TW:
Larry is one of the quickest players I've every played with or seen play. His ability to get into the lane and make good decisions is really going to help. It's really going to help the guys who can step out and shoot, because he's really good at penetrating, drawing the defense and then kicking it out to the open man. In transition, he's a great passer. He's very good at creating for others.
Any thoughts on the Pac-12?
TW:
I'm really excited for our conference. Arizona is going to be good. Even USC ... they had so many guys who sat out last year that were transfers or guys that got hurt. I think they'll have a really good team. The Bay Area schools like Stanford ... they're returning a lot of guys. Cal is always good. Washington is always good. Our league is going to be very competitive next year, and this new TV contract is going to make it even more exciting. It's all coming together. Everyone can feel it.
What summer plans do you have besides working out and hanging around the gym?
TW:
Not many. I want to spend as much time as I can around the new guys to help them adapt and get used to college life. I want to work out with them and get comfortable with their games. I'll probably go to the beach a lot, too. That's definitely something I like to do.
April, 30, 2012
4/30/12
12:31
PM ET
Editor's note: It's the offseason edition of The Watercooler. Eamonn Brennan and Myron Medcalf talk NBA draft decisions, the preseason's No. 1 team, UCLA's upside and more.
Myron Medcalf:
What's up, Eamonn? Feels like we left New Orleans months ago. Not sure how I'm going to handle the upcoming months without games. Withdrawal is setting in. But, it's already time to look forward to next season. How about Indiana? Three Big Ten wins two seasons ago. The Hoosiers will enter next season as a top-three team for sure.
Cody Zeller
is coming back. Wow, huh?
[+] Enlarge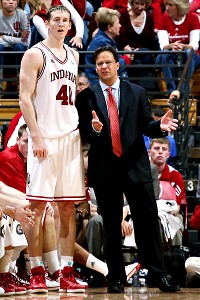 Brian Spurlock/US PresswireCody Zeller and coach Tom Crean have helped revive the Hoosiers.
Eamonn Brennan:
My buddy's little brother attends Indiana, and his mom brought back a shirt they're selling on campus that simply says "We're Back." Needless to say, IU fans would be loving this renaissance if they merely had a top-20 team. To go from where they were two and three years ago -- I mean, they were 12-20 in 2010-11; that literally just happened! -- to No. 1 in our very early preseason poll … well, it's remarkable, when you think about it. Such a dramatic turnaround.
MM:
Very remarkable. And Zeller is back. I know I mentioned that earlier. But he's a lottery pick if he leaves. I know the NBA draft entry deadline was Sunday, and many storylines were connected to it. But Zeller's decision to stay away from the draft is bigger than any of them in my opinion.
EB:
My reaction to Zeller coming back trends far more toward the "meh" side of things. It's not because he's not a great player, an immediate POY candidate and hugely important to the Hoosiers' chances, because obviously he is all those things. But I never thought there was any real threat Zeller would leave for the draft. Even as he jumped up to potential top-10 pick status, the way he's openly enjoyed his first season on campus, the patience his brother displayed at UNC, and the fact that Tyler will be a pro -- there's no rush, in other words -- made it clear that Zeller would be back as a sophomore. Some IU fans are hoping he'll stay all four years. That might be asking too much, but he's back for his sophomore season, and he has an awfully talented team around him.
Let's talk draft. Any decisions that really surprised you?
MM:
A few.
Maalik Wayns
… OK. He's a junior who carried the load for a bad Villanova squad. But he's a projected late second-rounder, and will possibly be undrafted. His teammate,
Dominic Cheek
, drank the Kool-Aid, too. The whole 'If I jumped off a bridge, would you do it?' is sometimes true. But the biggest surprise is
Quincy Miller
. He made the right decision to return a few weeks ago. Then he changed his mind. He should be a first-rounder. But with another year, he could be top 10. He's a great example of a young player who would gain a lot by coming back for his sophomore season.
Who surprised you?
EB:
Yeah, I thought Miller made the right call initially, because (a) without
Perry Jones III
there, he would have been the featured scorer on a good Baylor team, (b) he could take on college competition (and not fully grown men) while beefing up that lanky frame in the weight room, and (c) this draft already has how many talented tweener forwards set to go in the first round? Twenty? Thirty?
But when you're projected as a first-round pick, particularly when you're closer to the lottery end of things than the fringe, it never feels like a particularly bad decision to go.
That's kind of the deal with
Moe Harkless
. I thought Harkless could probably use another year in school for a St. John's team that really had time to congeal, but he looks like he could go in the first round. So you can't fault him for leaving now.
I thought
Khris Middleton
was one of the real surprises. He could have been a first-rounder last year but stayed. Then he got hurt all season and A&M struggled in its first year under Billy Kennedy. Now Middleton is in the draft, but isn't a likely first-round choice anymore. It will be interesting to see how he tests out and what scouts think if he can get healthy in pre-draft camps, because he's an awfully polished and athletic forward when he's at full speed. He could be a steal. (Which probably means the Spurs will draft him in the second round. Figures.)
MM:
True. The Spurs would nurse Middleton back to 100 percent, then use him to fuel some epic playoff run next season. You have to look at the powerhouses, too. Kentucky lost everyone. And yet, Calipari inks a top-two class again. And
Anthony Bennett
is still available. North Carolina is in a different boat. Still a very talented team, but a major shift from the veteran core the Tar Heels employed last season. On Kentucky … and I know this is a tough thing to assess right now … but should the Wildcats be preseason No. 1 with the talented freshmen who are headed to Lexington next season?
Also, what's the over/under on me adopting the
Nerlens Noel
box cut?
EB:
Oh, you should totally do it. I would put the odds at just slightly more favorable than a UK national title.
I am torn on the Indiana-Kentucky preseason No. 1 thing, because it's easy to forget the talent Indiana has arriving in
Yogi Ferrell
(a true athletic point guard who is exactly what they need) and even
Hanner Perea
, who comes with ready-made NBA athleticism (another thing the Hoosiers really need) at the 4 spot.
But Kentucky is reloading, no question, and if there's one thing we know about John Calipari, it's that he's the best in the country at getting new, young teams to come together as actual teams very early in the process. But this is not the 2012 Wildcats. Nerlens Noel is going to be a beast, but he's not
Anthony Davis
.
Michael Kidd-Gilchrist
, the heart and soul of that national title team, is nowhere to be found next season. I will be fascinated to see what this team looks like in November and December.
I have Louisville at No. 3 -- I think
Chane Behanan
is going to have a star-making breakout sophomore season.
My biggest preseason-ranking question revolves around the
UCLA Bruins
. Assuming Kyle Anderson's hand
ligament injury is long since healed
by the time the season starts, is that a top-five team?
MM:
Oh man … I mean, I'm trying to erase memories of last season. That "talent." That preseason ranking … That collapse. But if we're going to give Kentucky No. 1 status (potential) based solely on the status of its recruiting class, I think you have to give UCLA the same consideration.
Tony Parker
helped the Bruins grab a No. 1 class ranking on ESPN.com. We know talented freshmen
can
win national titles.
So I say they're top 10. Can't go top five yet because the returning guys were so inconsistent. Since we're talking about teams that are hard to assess … Thoughts on Ohio State? Is that a top-five squad with
Deshaun Thomas
leading the way now?
EB:
It's hard to know what to do with UCLA, because unlike Kentucky, we've yet to see Ben Howland take a star-studded recruiting class and turn it into a contender. In fact, last time he had a great class, things pretty much fell apart.
And yeah, I like Thomas as the star scorer. I think that's his perfect role. The question is whether he can be a leader on both ends of the floor, whether he'll devote himself to a total game, rather than being happy scoring a ton of points every night. Because he will shoot -- and score -- a lot.
[+] Enlarge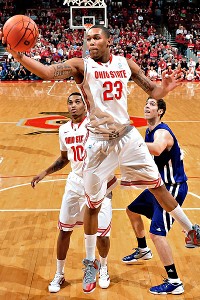 Jamie Sabau/Getty ImagesThe Buckeyes need a big season from Amir Williams.
The biggest question re: OSU is
Amir Williams
. I thought he was going to get a lot more run as a freshman, so
Jared Sullinger
could do his whole "hey, I'm a versatile, skinny power forward now, check out this 15-foot jumper!" routine in 2012. Instead, Sullinger gained all that weight back by the end of the season; he was basically playing the exact same position he played as a freshman, and Williams spent most of his time on the bench.
He has to take over in the middle right away, and
Shannon Scott
needs to have a big sophomore season as a combo 2-guard alongside
Aaron Craft
. If Craft and Scott can figure it out, I think that's OSU's most talented and dynamic lineup, and an awfully good one.
MM:
The bottom line is that we have a lot to look forward to next season. Many question marks remain, but I like the intrigue. Plus, some talented players are back.
C.J. Leslie
could make NC State a top-10 team.
Jeff Withey
was the most dominant interior defender in the NCAA tourney. He's back. The Big Ten is stacked. The Pac-12 might matter again.
I know it's early, but I'm pumped about the 2012-13 campaign. Not sure how I'll last until November without it. Maybe I'll watch this LeBron guy in the NBA playoffs.
EB:
My two-point is as follows:
1. Watch as much of the NBA playoffs as humanly possible (I love the NBA playoffs).
2. Watch the new Rihanna video as much as possible. No, RiRi, where have
you
been all my life?
MM:
Rihanna and the NBA playoffs … the perfect elixir. Good times as always, Eamonn. Until next time … or the next big development.
EB:
We'll talk that talk. Until then, Myron.
April, 24, 2012
4/24/12
5:00
AM ET
1. Former Virginia Tech coach Seth Greenberg was convinced he had a much-improved team next season.
Erick Green
would likely be an all-ACC guard.
Dorian Finney-Smith
is a possible star in the league. Last season's team had only three seniors. That's why this reeks of a classic athletic-director move of firing a head coach to set up a winning roster so the new coach has success in year one before a rebuild begins. The timing, with two-plus weeks left in the spring signing period, and the spring semester ending soon, might make it harder for anyone to leave.
2. UCLA has a chance for a special season with the top-rated recruiting class led by
Shabazz Muhammad
,
Kyle Anderson
,
Jordan Adams
and now
Tony Parker
, too. This is a Calipari-Kentucky-like class, oozing with one-and-done NBA potential. But for the Bruins to have a unique season like Kentucky just had, they must get veteran leadership, too. UK always had at least two selfless contributors who were upperclassmen. That puts the burden on
Josh Smith
,
David
and
Travis Wear
, Larry Drew II and
Tyler Lamb
to show significant improvement in leadership as well as their production.
3. Schools looking at
Mark Lyons
should pause after reading Xavier coach Chris Mack's statement. If Lyons was against the constructive criticism about what he needs to improve upon, then why toss a potential disruptive force into a locker room for only one season? Lyons has to share some of the blame for Xavier's mid-season collapse before the Musketeers rebounded to reach the Sweet 16. But something is clearly wrong if he can't finish his final year at Xavier.
April, 23, 2012
4/23/12
7:07
PM ET
If you're obsessed with recruiting, you are already well aware Tony Parker is not
just
a lighting-quick Frenchman leading the San Antonio Spurs to another remarkable season in their decades-long success.
And if you didn't know,
now you do
. Indeed,
this
Tony Parker -- the 6-foot-9, 270-pound native of Lithonia, Ga. version -- is one of the nation's top 30 men's basketball prospects and was the top unsigned center in the class as of Monday morning. On Monday afternoon,
Parker announced at a special ceremony at his high school
that he would take his talents to Westwood next season, committing to UCLA and once-embattled coach Ben Howland.
In and of itself, that's a huge get for Howland, who could theoretically start the beefiest frontcourt in the country by pairing Parker alongside center
Joshua Smith
(assuming Smith returns for his junior season). But Parker's commitment is even more important than that, because alongside the incredible talent Howland has already landed, Parker's addition gives Howland the ability to say something no coach but Kentucky's John Calipari has been able to say the past three seasons: He has the top class in the country.
Indeed, according to our Recruiting Nation experts, Parker's addition gives UCLA the No. 1-ranked class in the country to date. Naturally, that is still subject to change. (If No. 7-ranked Anthony Bennett chooses Kentucky, for example, Calipari could leapfrog right back to the top of the list.) But as it stands today, Howland's is the nation's best recruiting haul, and easily the best of his tenure.
How that talent -- which includes No. 2-ranked Shabazz Muhammad and No. 5-ranked
Kyle Anderson
-- congeals with current Bruins players is yet to be seen.
The biggest mistakes of Howland's career
came just after he recruited top classes filled with questionable character types (
Drew Gordon
and Reeves Nelson are the biggest lingering examples) that imploded his team's chemistry, sent talented players
running
transferring for the hills and cratered the program's standing among prep coaches and AAU types. Howland deserves blame for much of these woes. But with Muhammad, Anderson and Parker? It's too much talent. The Bruins are almost
guaranteed
to be good, or at least massively improved over their disappointing performance in the past three seasons.
With Parker on board, the Bruins' return to prominence -- or back to something resembling what we think of as "UCLA basketball" -- is very much in motion. For Howland, his team, and dispirited UCLA fans everywhere, the timing couldn't possibly be better.
All that remains is turning this talent into a team. That's the easy part, right?
April, 20, 2012
4/20/12
9:30
AM ET
If you were following the Memphis men's basketball Twitter account closely on Tuesday night, you would have noticed a profoundly strange and intriguing tweet sent at 10:43 p.m. ET. It read as follows: "tony parker." And that was it. The tweet was deleted a few seconds later.
Wait ... huh?
The
Memphis Commercial Appeal's Jason Smith
has the story, which is actually somewhat funny, even as it carries the threat of a secondary violation from the NCAA's committee on infractions. (It's not often that you use the words "NCAA violation and "funny" in the same sentence ... wait. Nevermind.
That actually happens all the time
.)
So what happened? Turns out, Tigers coach Josh Pastner was attempting to use the Twitter search function to find information on Tony Parker,
a 6-foot-9 forward ranked No. 26 overall in the class of 2012
, who lists Memphis as one of his final choices (
and who will announce his decision on Monday
). But Pastner was distracted, accidentally typed the search term into the "compose new tweet" field, hit enter, and voila: secondary violation. Pastner painted the picture for Smith:
"We're a couple men down and I'm very methodical in my hiring. Plus, you're in a recruiting period and we're making sure that we're finishing up strong academically. So I was probably doing too many things at once," Pastner said Wednesday.

"My wife was yelling at me because I was on the phone too loud. I was waking (the couple's infant daughter) up and waking my wife up because I had the TV on. She was complaining that I not only woke my daughter up, but I also woke the baby inside her up because she's pregnant.

"So I was waking everybody up, I was getting yelled at and on top of that I was thinking, 'What's going on with recruiting?' and 'Who am I going to hire?' and I made a mistake."
Did Pastner just throw his wife under the bus? I think he did! For shame, Josh. For shame.
Kidding, kidding. That scenario is so plausible it
has
to be true. And besides, we've all been there. I consider myself a Twitter "power user" (ick) and I still double-check every direct message I send to make absolutely sure I'm not sending it to the world, even if it's totally innocuous. The search bar could be every bit as dangerous.
But still, that's a mention of an unsigned recruit in a public forum, and that's not allowed. The good news? Memphis self-reported the violation, and the NCAA will certainly recognize this for what it is -- a simple, goofy, borderline endearing mistake. Hilarious, even.