College Basketball Nation:

Tony Snell
June, 14, 2013
6/14/13
8:13
AM ET
1. In two weeks, the draft will be over and it will be easy to assess by reviewing the draft to see who made a mistake by coming out too soon from college. Late second-round picks usually don't get guaranteed money and not getting drafted means the player will have a harder time having to earn a spot. So much can change in the next two weeks but two players whose decisions appeared questionable may have been well-advised on their decisions after all. North Carolina's
Reggie Bullock
has the size and the quick shooting ability to make the transition. In watching him work out, he has solid first-round ability. He still needs to work on his ballhandling but can more than hold his own in a comparable position battle. The same could be true of New Mexico's
Tony Snell
. Bullock seems to be a lock for the first while Snell is making his case to be chosen late in the first round, too. There will be others who missed and some who surprise even more. But these two look like they made the right call.
2. Former Holy Cross and Seton Hall coach George Blaney retired Thursday at UConn after serving in a top assistant role for Jim Calhoun and then for Kevin Ollie in his first season as a head coach. Blaney was an unheralded person for the Huskies but a key behind the scenes during the rise to a title and then navigating through difficult times. Calhoun's health problems and suspension could have steered the program off course. But Blaney was always there as the sage adviser. Blaney had great command of his team, was well versed on the league and had a competent, realistic grasp on the current team. He was able to calm Calhoun down, offer respected advice and mentor the younger coaches on the staff. He should feel proud that he served the school well.
3. Northwestern coach Chris Collins said as a young head coach he wanted someone with experience to help him out. Hiring his former Glenbrook North High School coach Brian James, a longtime NBA assistant, who had worked with his father Doug, was a mature and intelligent move. Collins has played and coached, as an assistant, in high-pressure moments at Duke. But he had never been in those situations where the onus is on him to make the decision. Having James on his side will be a huge plus. Memphis coach Josh Pastner hired Willis Wilson in this capacity when he first got his job. Not every first-time coach makes the right decisions on a staff. There has to be trust and familiarity to make it work. This one should prove to be smart for Northwestern and Collins.
April, 9, 2013
4/09/13
5:00
AM ET
1. The NCAA men's basketball rules committee meets next month and there will likely be be a significant development with replay. Chair John Dunne of St. Peter's fully expects the committee to adopt a rule that would allow officials to go to the monitor for all key decisions in the final minute of a game or half like scoring, out-of-bounds situations and fouls. Dunne wants to extend it to the final two minutes, but one influential administrator added that the ratio makes sense, with the NBA review period at two minutes for a 48-minute game and the NCAA at one minute for a 40-minute game. Meanwhile, the rules committee is also expected to adjust the combative elbow rule. The administrator said the officials will look at giving offensive players more space to create room, especially if the defender is up on them or comes from the blind side.
2. New Mexico's new coach, Craig Neal, said it was a family decision for
Tony Snell
to declare for the NBA draft. Snell's move is another classic example of how hiring a top assistant doesn't guarantee that returning players will come back just because the players' choice got the head job. This doesn't mean, however, that Neal wasn't the right choice; he was. He gives New Mexico its best chance at continuity. Neal said the Lobos will have three options to replace Snell's productive scoring in Kansas transfer Merv Lindsay,
Cleveland Thomas
and newcomer
Devon Williams
.
3. Maryland coach Mark Turgeon said he was set to meet with
Alex Len
on Monday about whether or not the 7-foot-1 sophomore will stay in school or declare for the NBA draft. Turgeon said a decision is likely sometime next week, in advance of the NCAA's arbitrary April 16 deadline. But Len can take his time. He doesn't need to decide until April 28, the real early-entry deadline -- when an actual list comes out from the NBA. Len will be a coveted choice due to his skill set and tantalizing potential if he decides to declare.
April, 1, 2013
4/01/13
5:00
AM ET
1. If New Mexico doesn't hire associate coach Craig Neal to replace Steve Alford then there is a legit chance that star players
Alex Kirk
,
Kendall Williams
and
Tony Snell
will go elsewhere, according to multiple sources. Of course, players can end up reconsidering depending on the hire but this possibility exists. There are five reasons (and more) why Neal fits now: 1. He allows for continuity of the success the Lobos have had and the current culture at UNM; 2. Neal has been a part of every major decision in the past six years in creating one of the most successful runs in UNM history; 3. Neal recruited every player on the team and those committed to playing for the Lobos; 4. Neal is well-liked by the administration and boosters and within the community; 5. He's ready. He was a candidate at his alma mater, Georgia Tech, and hiring an assistant -- if it's the right one at the right time -- is more than acceptable at New Mexico.
2. Georgia State returns four starters next season, including coach Ron Hunter's son, R.J., who led the team in scoring at 17 points a game, and the addition of Kentucky transfer guard
Ryan Harrow
will only make the Panthers more effective next season. Georgia State (15-16, 10-8 in the CAA) will join the Sun Belt next season. Harrow will likely receive a waiver to play immediately because of his ill father. Hunter said Harrow will definitely help his son become an even more productive player. Georgia State will send in the waiver immediately for Harrow to play next season. Kentucky was at 13 scholarships with Harrow and now without him the Wildcats will be down one but are still actively pursuing the last elite player in the class of 2013 in Andrew Wiggins. Harrow's loss won't be felt too badly at Kentucky with the arrival of Andrew and Aaron Harrison, both expected to start next season and eventually become NBA-level talent.
3. Wichita State's Gregg Marshall will be one of the hottest names in college basketball. But there isn't an elite job open for him right now and with a $1 million salary and a team that can win the Missouri Valley Conference every year there is no need to leave. Marshall will also want to enjoy being in the Final Four (and who knows, playing in the final or winning it all next week). He can be the toast of Wichita for a year and beyond so there's no reason to not enjoy this after all the hard work. Wichita State will have to pay Marshall even more and likely will after this historic run to the Final Four.
March, 16, 2013
3/16/13
8:13
PM ET
LAS VEGAS -- A few quick thoughts from New Mexico's
63-56 victory
over UNLV in the championship game of the Mountain West Conference tournament Saturday at the Thomas & Mack Center.


Overview:
Tony Snell
scored 21 points and
Kendall Williams
added 12 points and seven assists to lead New Mexico past UNLV in front of 18,500 fans. The Lobos led 34-32 at intermission and used an outstanding defensive effort to run away with the game in the second half.
Snell accounted for all of his team's points during a 10-2 run that ended with New Mexico leading 56-47 with about three minutes remaining. UNLV made just one basket during a nearly 10-minute span in the second half.
Still, the Rebels gave themselves a chance when back-to-back 3-pointers by
Bryce Dejean-Jones
shaved New Mexico's cushion to 56-53. UNLV forced a turnover on New Mexico's next possession and got the ball to
Katin Reinhardt
in transition. But Reinhardt missed a wide-open 3 -- a
wiiiidddeee
-open 3 -- from the right wing. New Mexico responded with a 3 from Snell that made it 59-53 with 1:06 remaining. That was basically the ballgame.
Reinhardt is typically one of UNLV's top shooters, but he suffered through a brutal Saturday, making just 4 of his 16 field goal attempts, including a handful of crucial misses that would have either given UNLV the lead or, at the very least, the momentum. Somehow, he was named to the all-tournament team.
Dejean-Jones scored 19 points in a losing effort while
Anthony Bennett
added 15. Bennett scored 13 of his team's first 15 points but was quiet after that. UNLV shot just 33.9 percent as a team and only 29 percent from 3-point range.
New Mexico, meanwhile, played an unselfish brand of basketball from start to finish. It's easy to see why the Lobos won the MWC regular-season title by two games. Sixteen of their 23 baskets Saturday came off assists, including seven from Williams and five from
Hugh Greenwood
.
By winning Saturday, New Mexico avenged a 64-55 loss to UNLV at the Thomas & Mack Center on Feb. 9. The Lobos were aided by some incredible fan support. There were at least as many -- if not more -- New Mexico fans in attendance as UNLV fans. At times it felt like a Lobos home game, especially during the postgame court-storming.
What's next:
New Mexico will take a 29-5 record into the NCAA tournament, which begins next week. UNLV is 25-9.
November, 30, 2012
11/30/12
10:00
AM ET
I was convinced the Mountain West could have the highest percentage of teams in the NCAA tournament. I'm not backing down from that statement. The depth is unprecedented and it might only get better. So let's dive into the inaugural power rankings for the MWC.

1. New Mexico.
The Lobos are off to a 7-0 start with quality wins against Connecticut and George Mason in the Virgin Islands and Davidson at home. Coach Steve Alford was bullish on his backcourt, and with good reason.
Tony Snell
and
Kendall Williams
can hang with any pair of guards in the country.
2. San Diego State.
The Aztecs fell to Syracuse to start the season but their defense has been solid ever since. San Diego State can make another statement this weekend by knocking off UCLA in the Wooden Classic in Anaheim.
3. Boise State.
Yes, I'm going with the Broncos over UNLV and Colorado State after the most impressive true road win so far for the conference. Boise State won handily at Creighton behind an outstanding effort from
Derrick Marks
. BSU also was within two possessions of taking out Michigan State in East Lansing. Leon Rice has the Broncos as a major factor in the last season in the MWC.
4. UNLV.
The Runnin' Rebels were stunned at home by Oregon last week, but rebounded to knock off Iowa State. UNLV needs to work on its shot selection and overall offensive patience. This team is still figuring out how to play with a host of newcomers blending with veterans. Coach Dave Rice gets another one in a few weeks when Khem Birch is eligible.
5. Colorado State.
Tim Miles left his best team for Larry Eustachy. He made the NCAA tournament last season and the Rams have every reason to believe they'll make it again. CSU won easily at struggling Washington. Minnesota transfer
Colton Iverson
has lived up to his hype and has been well worth the wait.
6. Wyoming.
The Cowboys are 7-0 with a schedule that's been about as soft as a light snow in Laramie. But Wyoming is defending and showing signs that it will be a major pest in the MWC this season.
7. Air Force.
The Falcons have a veteran crew that's only loss was in a fairly competitive game at Colorado. Air Force has a chance to build credibility within the league against Wichita State this weekend in the MWC-MVC Challenge. A number of coaches in the preseason said the Falcons' experience made them an intriguing watch this season.
8. Nevada.
The Wolf Pack were supposed to be a threat to get to the NCAA tournament. But Nevada has been slow out of the gate, losing at UC Irvine and Marshall and beating Cal State Fullerton, Green Bay and UC Davis by a
combined
six points.
Deonte Burton
is scoring as expected but the overall defense has been highly suspect.
9. Fresno State.
The Bulldogs are still in rebuilding mode under Rodney Terry. Their offense has been erratic. The problem for Fresno State is that there's no place to hide. There are only nine teams, meaning this improved group might have a hard time climbing.
November, 16, 2012
11/16/12
8:00
AM ET
Until Connecticut's opening day victory over Michigan State in Germany, there wasn't much reason to get excited about the 2012 Paradise Jam. And even after a gutty, fired-up UConn team showed us it's not ready to wither just yet, the P-Jam (which is an abbreviation I just made up, I think; let's go with it) is far from the best early-season tournament out there. That would be the Battle 4 Atlantis, which basically drank every other early-season tournament's milkshake.
Even so, there are a few teams and players worth keeping an eye on.
The basics
: Nov. 16–19 at University of the Virgin Islands
The set matchups
: Mercer vs. George Mason, 1:30 p.m. ET; Illinois-Chicago vs. New Mexico, 4 p.m. ET; Wake Forest vs. Connecticut, 6:30 p.m. ET; Quinnipiac vs. Iona, 9 p.m. ET
The favorite: Connecticut.
New Mexico isn't far off -- the Lobos are still criminally underrated in the 2012-13 Mountain West conversation -- but it's hard to look at what UConn did to Michigan State and not be impressed (particularly because the Spartans took down Kansas four days and a 4,500-mile trip from Germany to Atlanta later). The Huskies' backcourt --
Shabazz Napier
,
Ryan Boatright
,
Omar Calhoun
and lengthy wing
DeAndre Daniels
-- appear to be playing fast, scrappy, motivated basketball under hungry young coach Kevin Ollie. And they have a straightforward route to the tournament title game.
FIVE PLAYERS TO WATCH
Shabazz Napier, Connecticut
: Napier struggled with leadership issues throughout the Huskies' lackluster 2011-12 season; he fully admitted other players simply didn't want to hear it. But Napier is now a legit veteran presence with a national title on his résumé, and this greenhorn UConn team revolves much more around his perimeter abilities.
[+] Enlarge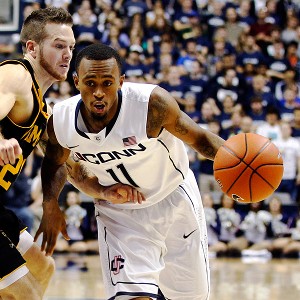 David Butler II/US PresswireRyan Boatright's making better decisions so far in his his sophomore season for UConn.
Ryan Boatright, Connecticut
: Boatright's freshman season was like many freshman seasons: promising but flawed. This season, he appears to be playing much more of a true point guard role, with Napier working more frequently off the ball, and the decision-making that made him a liability last season looks to be much improved.
Tony Snell, New Mexico
: The Lobos have a really good chance to win this tournament -- if UConn is the favorite, it's not by that much -- and Snell is a major reason why. He led New Mexico's 86–81 comeback win over Davidson Tuesday morning with 25 points, including a final-minute shot-clock-beating 3 to help seal the deal.
MoMo Jones, Iona
: Iona lost national assists leader Scott Machado and senior forward Mike Glover. It will gain former Iowa State point guard
Tavon Sledge
and former Toledo forward
Curtis Dennis
. But Jones -- the former Arizona point who transferred to Iona last summer -- should get the touches to have a very big season, even if he isn't always the most efficient scorer in the country.
C.J. Harris, Wake Forest
: The Demon Deacons still have a big talent hole to climb out of before they get competitive in the ACC again, but that doesn't mean you should overlook Harris. The guard had a breakout junior season, shooting 50.7 percent from 2, 42.2 percent from 3 and 84.4 percent from the line while lowering his turnover rate and drawing shooting fouls frequently.
FIVE BIG QUESTIONS
Is this Connecticut thing real?
As good as UConn looked Friday night -- and it did look good -- it's important to temper this kind of exuberance this early in the season. It was only one game (in Germany, no less) and Michigan State hardly had its finest outing. A convincing jaunt this weekend will hardly guarantee Big East title contention, but it will be another green shoot.
Where is George Mason right now?
Paul Hewitt enters his second season at George Mason with the program arguably as bereft of talent as at any point in the past five seasons. That's what happens when you lose two leading frontcourt scorers, Ryan Pearson and Mike Morrison (and your program's best recent scorer,
Luke Hancock
, is preparing to debut for Louisville). Mason looks likely to slide this season, but did open with a win over Virginia. This tournament will tell us more.
Is New Mexico good enough down low?
The Lobos have plenty of perimeter talent.
Kendall Williams
and Snell are gifted scorers,
Hugh Greenwood
is a crafty point,
Demetrius Walker
is finally getting it, and
Jamal Fenton
can really go. But after losing Drew Gordon to the draft, can New Mexico find and develop some interior presence in time to compete with UNLV and San Diego State?
Is Wake on its way?
There's no two ways about it: Jeff Bzdelik's tenure has been a disaster thus far, and that's before you consider the comparatively gleaming record of the man (Dino Gaudio) he replaced. But Bzdelik did improve Wake to a 13-win outfit last season after losing two starters from an 8–24 team, and Harris and
Travis McKie
form a really nice scoring combo. The Demon Deacons aren't going to challenge for the ACC title anytime soon, but there's at least a chance they won't be horrible. So there's that.
Will ESPN.com college football editor Brian Kelly shave his head if his alma mater, Quinnipiac, wins this tournament?
I don't know, but I
triple dog dare him
.
THE PICKS
First round
: Iona over Quinnipiac (sorry BK); UConn over Wake; New Mexico over UIC; George Mason over Mercer.
Semifinals
: UConn over Iona; New Mexico over George Mason.
Championship
: UConn over New Mexico.
March, 11, 2012
3/11/12
3:03
AM ET
New Mexico's fans have long treated the Lobos basketball program as the professional sports team the state does not have.
They pack the Pit. They talk about UNM all year long. They paint the town red.
And with that comes high expectations.
But the Lobos haven't always had to deal with the pressure from the conference or outside the region -- until this season.
New Mexico was the preseason favorite to win the Mountain West.
The Lobos did, sharing the regular-season crown with San Diego State. SDSU was the top seed in the MWC tournament, but UNM won by beating host UNLV on Friday, then San Diego State on Saturday to cap off the title run.
The state of New Mexico follows this team like the Commonwealth shadows Kentucky. But the Wildcats fans usually have their expectations met. That's not the case from Albuquerque to Alamogordo and all points in between.
"This one is special because we were expected to do it and we did it,'' said New Mexico coach Steve Alford by phone from Las Vegas after the Lobos'
68-59 victory
over the Aztecs at the Thomas & Mack Center. "We won both the league and the conference tournament. We were picked to win it so there was a lot of pressure all year on these guys.''
The Lobos were trying to figure themselves out to start the season without a four-year starting point guard in Dairese Gary. That somewhat accounted for a disheartening home loss to rival New Mexico State on Nov. 16, then a befuddling overtime loss to Santa Clara eight days later in the first round of the 76 Classic in Anaheim, Calif.
[+] Enlarge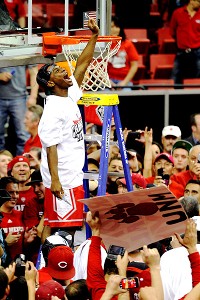 Ethan Miller/Getty ImagesNew Mexico celebrated its Mountain West tournament title by cutting down the nets in Las Vegas.
The Lobos won their next two games and didn't lose again until hosting San Diego State on Jan. 18.
"It just took us a while,'' Alford said. "San Diego State and UNLV both had good nonconference wins so they got all the attention early.''
The Lobos were flying under the radar, yet were racking up wins and split the season series with UNLV and SDSU. They ran out of gas and into two hot home teams in Colorado State and TCU two weeks ago. But that didn't affect this team, which has now won five straight.
The diversity of scoring with
Drew Gordon
,
Kendall Williams
and
Tony Snell
, the addition of
Hugh Greenwood
as a steading force at the point, and a coaching staff that is so secure now in this job has led to a program that is winning consistently.
Alford has now reached the NCAA tournament twice in the past three seasons. The Lobos were a No. 3 seed two years ago, beating Montana before losing to Washington.
The expectation will be on the Lobos to advance at least one round next week. Alford is hoping that the Lobos have earned the right to stay out west. New Mexico can't play in Albuquerque, since it is the host. But UNM could play in Portland. The West regional is in Phoenix if the Lobos were to win two games.
"We're real anxious to see where we'll be,'' Alford said. "We've got really good shooting, we're guarding the ball and we play nine or 10 people. But it will all come down to matchups.''
Alford said he couldn't get over how many Lobos fans turned out in Las Vegas. He expects a similar surge on the road in the NCAA tournament.
Dave Bliss had moderate conference tournament success toward the end of his tenure at UNM. Fran Fraschilla and Ritchie McKay weren't there long enough to establish a tradition. But Alford has now done something the others did not, and that's get in the NCAAs twice in three years.
"It's been unbelievable,'' said Alford, who previously coached Southwest Missouri State (now Missouri State) and Iowa to the NCAA tournament. "I think we'll have a couple thousand people waiting for us at the airport Sunday. We've got such a passionate fan base. We've put a good product on the floor. We've now had a three-week period where we've shot it well and we've guarded. Hopefully we can keep doing that and if we do we have a chance to be successful.''