College Basketball Nation:

Tracy Smith
November, 29, 2010
11/29/10
7:24
PM ET
By
ESPN.com staff
| ESPN.com
The ACC/Big Ten Challenge will be the dominant storyline in college basketball over the next few nights, so might as well put our writers and contributors on the spot with predictions, right?
For what it's worth, the group consensus for each game adds up to a 6-5 Big Ten victory over the ACC. But it's actually even closer than that. In the highly anticipated Iowa-Wake Forest matchup, our panel took the Hawkeyes by a 5-4 margin. If one of those five had picked the Deacons, we'd be projecting an ACC overall victory.
Sounds to us like an event worth tuning in to …
MONDAY
VIRGINIA AT MINNESOTA (ESPN2, 7 ET)
Jay Bilas:
Minnesota -- Tubby Smith has depth and guard play, and Tony Bennett doesn't.


Eamonn Brennan:
Minnesota – The Gophers are a complete and balanced team, even if
Al Nolen
and
Rodney Williams
miss the game due to injury; Tony Bennett's rebounding Virginia squad is, well, not.

Fran Fraschilla:
Minnesota -- The Gophers are one of the country's early-season surprises and they are at home in the friendly confines of Williams Arena. This will be ugly.

Doug Gottlieb:
Minnesota -- Despite not having Al Nolen, Minnesota is still loaded.
Maverick Ahanmisi
was a late signee who is a year older than most freshmen, and that maturity will come in handy.

Andy Katz:
Minnesota – The Gophers are depleted with injuries, but likely get
Devoe Joseph
back and are too strong, too tall and too deep for rebuilding Virginia.

Diamond Leung:
Minnesota -- Minnesota might be banged up, but
Blake Hoffarber
and
Trevor Mbakwe
should be able to dominate.

Joe Lunardi:
Minnesota -- The shorthanded Gophers are still too much for the Cavs at this point.

Dana O'Neil:
Minnesota -- Even without Al Nolen and Rodney Williams, the red-hot Gophers are too talented for the still struggling Cavaliers.

Jay Williams:
Minnesota -- Even though they won't have starters Al Nolen and Rodney Williams due to injuries, I expect Blake Hoffarber, Trevor Mbakwe and
Ralph Sampson III
to dominate.
TUESDAY
GEORGIA TECH AT NORTHWESTERN (ESPN2, 7 ET)
Bilas:
Northwestern -- The Wildcats will spread the Jackets out and keep them on a string between open 3s and backdoor cuts.


Brennan:
Northwestern -- Facing its first real "test" of the season, Northwestern's matchup zone and tricky Princeton offense will give Georgia Tech fits.

Fraschilla:
Northwestern -- Sadly, even a win over the Yellow Jackets won't mean much in March. Too much
John Shurna
in this one.

Gottlieb:
Northwestern -- Tech played well this weekend, but the travel and
Juice Thompson
will be too much.

Katz:
Northwestern -- If we're going to take the Wildcats seriously, they have to win a game like this at home against the inferior Yellow Jackets.

Leung:
Northwestern -- The Wildcats should stay undefeated playing on their home court and with John Shurna playing well.
Lunardi:
Northwestern -- A solid win over Creighton sets the Wildcats up nicely for another victory.
O'Neil:
Northwestern -- John Shurna has been terrific all season for a Wildcat team dreaming of -- gasp! -- an NCAA bid.
Williams:
Northwestern -- This is the year Northwestern makes the NCAA tournament because of Shurna and Thompson.
IOWA AT WAKE FOREST (ESPNU, 7 ET)
Bilas:
Iowa -- Wake Forest will have a hard time beating anyone this season.


Brennan:
Iowa -- Because as bad as Iowa is, Wake Forest is -- somehow -- worse.
Fraschilla:
Wake Forest -- Someone has to win, right?
Gottlieb:
Iowa -- Hawkeyes are coming off a win. Fran McCaffery will dial up something.
Katz:
Wake Forest -- I can't see the Demon Deacons losing four home games before Dec. 1.
Leung:
Iowa -- Between the two, Iowa has shown a few more signs of life.
Lunardi:
Wake Forest -- Neither team has played a true road game, so you have to go with Wake at home.
O'Neil:
Wake Forest -- Because as bad as the Demon Deacons have looked early, the Hawkeyes have looked worse.
Williams:
Iowa -- After watching Wake lose to Stetson, VCU and Winthrop, I give the edge to Iowa on the road.
OHIO STATE AT FLORIDA STATE (ESPN, 7:30 ET)
Bilas:
Ohio State -- Florida State can really guard, but scoring efficiently is a problem the Seminoles have and the Buckeyes don't.


Brennan:
Ohio State – FSU's defense will keep this one close, but the interior offensive rebounding of
Jared Sullinger
and
Dallas Lauderdale
will be too much for the Noles to manage.
Fraschilla:
Ohio State – The Leon County Civic Center is not the home court the Seminoles deserve.
Gottlieb:
FSU's
Chris Singleton
has put up insane numbers with two triple-doubles, but OSU has the athletes to guard him and his compadres.
Katz:
Ohio State -- The Buckeyes won at Florida and have a better inside game than Florida State, although FSU's Chris Singleton will likely put up the best numbers.
Leung:
Ohio State -- Despite the all-around talents of FSU's Chris Singleton, Ohio State has too many weapons, including Jared Sullinger in the middle.
Lunardi:
Ohio State -- Buckeyes complete the Sunshine State sweep in Tallahassee.
O'Neil:
Ohio State -- Tough follow for the Seminoles after an emotional, disappointing loss to the Gators. Plus, Jared Sullinger is the why to all questions about the Buckeyes.
Williams:
Florida State -- Yes, I call the upset here.
Xavier Gibson
and
Bernard James
will give Mr. Sullinger a lot to deal with down low.
MICHIGAN AT CLEMSON (ESPN2, 9 ET)
Bilas:
Clemson -- The Tigers are at home, and Michigan hasn't won away from home.


Brennan:
Clemson -- Michigan might not be as bad as we thought, but it is not good enough to beat a capable Clemson team, whose only loss was a one-point neutral-court defeat to ODU.
Fraschilla:
Clemson -- Early returns about new coach Brad Brownell are positive.
Gottlieb:
Michigan -- Searching for an upset here, the 1-3-1 proves tough to tame. The Wolverines appear a bit better than expected, though they will suffer in conference.
Katz:
Clemson -- The Tigers, regardless of coach, are too tough at home against similar-level teams.
Leung:
Clemson -- Tigers coach Brad Brownell is fitting right in and has enough weapons to win this one.
Lunardi:
Clemson -- The Wolverines are a long way from being able to win at Littlejohn.
O'Neil:
Clemson -- The Wolverines have done little to prove they're over what ailed them last season.
Williams:
Clemson -- After losses to both Syracuse and UTEP, I don't see the Wolverines bouncing back at Littlejohn Coliseum.
NORTH CAROLINA AT ILLINOIS (ESPN, 9:30 ET)
Bilas:
Illinois -- North Carolina doesn't push the ball and get easy baskets, and Illinois is at home.


Brennan:
Illinois -- The Illini have home-court advantage, but they also have the benefit of a veteran team that can match up with the athletic -- and as yet thoroughly disappointing -- Tar Heels.
Fraschilla:
Illinois -- Are the Heels losing their mystique?
Gottlieb:
Illinois -- Better guards, at home, and though Illinois does not have great strength inside, neither does UNC. Illini by more than 10.
Katz:
Illinois -- The Tar Heels are still searching for a leader and the Illini need this game too much to prove their relevance.
Leung:
Illinois -- It appears that catching the Tar Heels early is the way to go, and an Illini team with size can play with anyone.
Lunardi:
Illinois -- What once looked like a toss-up should be a comfortable win for the Illini.
O'Neil:
Illinois -- The Illini play with grit and determination, traits sorely lacking so far this season for the Tar Heels.
Williams:
Illinois -- UNC does not have the poise or experience to win this one on the road.
WEDNESDAY
NC STATE AT WISCONSIN (ESPN2, 7:15 ET)
Bilas:
Wisconsin -- The game is at the Kohl Center, isn't it? Next question.


Brennan:
Wisconsin -- Besides the immense advantage provided by the Kohl Center, the Badgers are, for all their early-season warts, one of the better rebounding teams in the nation. The Wolfpack without senior forward
Tracy Smith
are one of the worst.
Fraschilla:
Wisconsin -- Anywhere but the Kohl Center, I'd give the Wolfpack an even chance to win.
Gottlieb:
Wisconsin -- NC State has better talent, but Wisconsin will use
Jordan Taylor
off ball screens and
Jon Leuer
is a great fit for what Wisconsin does and Bo Ryan is great at what he does. Frankly, the Wolfpack might become bored with the tedious pace of the Badgers.
Katz:
Wisconsin -- The Wolfpack are without Tracy Smith and to beat the Badgers at the Kohl Center you have to be full strength.
Leung:
Wisconsin -- Jon Leuer is just too much to handle, and the Badgers are playing at home.
Lunardi:
Wisconsin -- The Badgers figure to be extra cranky after losing the Old Spice title game.
O'Neil:
Wisconsin -- I'm guessing practice hasn't been fun for the Badgers since their uncharacteristic slide against Notre Dame. Someone will feel the brunt of that frustration.
Williams:
Wisconsin -- The Badgers have compiled a 138-11 (.926) home record under coach Bo Ryan heading into the season. Enough said.
INDIANA AT BOSTON COLLEGE (ESPNU, 7:15 ET)
Bilas:
Boston College – The Eagles are at home and
Reggie Jackson
can really score.


Brennan:
Boston College -- Boston College has one awful loss (to Yale) and one solid win (over Texas A&M), so let's give it a slight advantage over an Indiana team that has yet to leave Assembly Hall -- or play a non-cupcake opponent.
Fraschilla:
Boston College -- Reggie Jackson hits it out of the park in the Eagles' win.
Gottlieb:
Boston College -- Reggie Jackson is the best player on the floor. The Eagles use the lessons learned in giving away leads in Orlando to help them beat IU.
Katz:
Indiana -- The Eagles own more talent but lack focus in finishing games, something the Hoosiers seem to have now.
Leung:
Boston College -- The easy part of Indiana's schedule is over.
Lunardi:
Boston College -- BC is coming off a very good showing at the Old Spice and should win at home.
O'Neil:
Indiana -- The recruiting good news for the Hoosiers spurs a much-needed good win on the court.
Williams:
Boston College -- When Reggie Jackson is allowed to probe with the dribble and is on his game, BC is a tough team.
PURDUE AT VIRGINIA TECH (ESPN, 7:30 ET)
Bilas:
Virginia Tech -- Purdue is not only missing
Robbie Hummel
, but really missing Chris Kramer.


Brennan:
Purdue -- Both teams have played solid defense and both have had their struggles offensively, but
JaJuan Johnson
should provide too many matchup problems for a shallow Va. Tech front line.
Fraschilla:
Virginia Tech -- Hokies are desperate for a quality nonconference win.
Gottlieb:
Virginia Tech -- Virginia Tech struggles with pressure defense (see Purdue). Purdue struggles to score against legit defenses without Robbie Hummel. Hokies in a great game.
Katz:
Virginia Tech -- The Boilermakers are still a formidable bunch, but winning in Blacksburg is hardly an easy task, especially when the Hokies are a top-three ACC team.
Leung:
Virginia Tech -- The Boilers are showing they're not the same team without Robbie Hummel, and they'll have their hands full containing
Malcolm Delaney
.
Lunardi:
Virginia Tech -- The Hokies want to stockpile every nonconference scalp they can get.
O'Neil:
Virginia Tech -- Neither team has exactly been lighting it up offensively, but the Hokies have Malcolm Delaney, who can score, and the home court.
Williams:
Virginia Tech -- Purdue simply doesn't have the same scoring punch like the Hokies' Malcolm Delaney,
Dorenzo Hudson
and
Jeff Allen
.
MARYLAND AT PENN STATE (ESPN2, 9:15 ET)
Bilas:
Maryland -- Although a road game, the Terps have more talent.


Brennan:
Maryland -- Maryland forward
Jordan Williams
is a budding star, and unless
Talor Battle
can sprout about 10 inches by Wednesday night, the Nittany Lions won't be able to stop him.
Fraschilla:
Maryland -- The Terps should grind out a road win in State College.
Gottlieb:
Maryland -- The Terps are better inside with Jordan Williams and though Talor Battle can win a game on his own, Maryland's size and pressure in the backcourt should hurt his percentages.
Katz:
Maryland -- Penn State is having a hard time being relevant while the Terps continue to play tougher, no matter the venue.
Leung:
Maryland -- The Terrapins' only losses are single-digit ones to Pitt and Illinois, so Penn State should be no problem.
Lunardi:
Maryland -- Penn State isn't the most athletic bunch and was already exposed by Ole Miss.
O'Neil:
Maryland -- The Nittany Lions would need to borrow one of JoePa's linebackers to have a player to contend with Jordan Williams.
Williams:
Maryland -- The Nittany Lions will have no answer inside for the Terps' Jordan Williams.
MICHIGAN STATE AT DUKE (ESPN, 9:30 ET)
Bilas:
Duke -- Michigan State is turning it over too much right now, and Duke's defensive pressure should capitalize.


Brennan:
Duke -- After Duke's dominant win over Kansas State and Michigan State's sluggish start in Maui, the Blue Devils look miles ahead of the field. This early in the season, the Spartans won't be able to close the gap in Cameron.
Fraschilla:
Duke -- Tough place for ANYONE to win.
Gottlieb:
Duke --
Derrick Nix
is back and he should help with the depth of Michigan State inside, but MSU struggled with the quickness of Washington and UConn. Duke's pressure and athleticism are similar.
Katz:
Duke -- The Spartans aren't in March form yet, while the Blue Devils look like they've already made plans for Houston.
Leung:
Duke -- In case you missed the CBE Classic, the Blue Devils are just better than everyone else right now.
Lunardi:
Duke -- Won't make the same mistake of picking against Duke this week.
O'Neil:
Michigan State -- I'll admit I'm not 100 percent in on this pick, especially with Duke playing at home. But after a few humbling visits to the other part of Tobacco Road in recent years, a disappointing loss to UConn and a tongue-lashing after a lackluster effort against Tennessee Tech, I think the Spartans are due for a show-me win.
Williams:
Duke -- Duke is hands-down the best team in the country and the energy within Cameron will be too much for Michigan State to handle.
November, 12, 2010
11/12/10
11:25
AM ET
It's always interesting to hear coaches discuss their own job situations. Few are willing to be candid about the dreaded hot seat, often to the point of outright denial and obfuscation; rare is the coach,
like Pat Knight at last month's Big 12 Media Day
, who is OK with admitting that their job is on the line. (Knight's admission in October -- that this is either a "get an extension or get fired kind of season" for him -- didn't exactly come from the college coach's media relations handbook.)
Where does Sidney Lowe fall on this spectrum? Facing his own get-an-extension-or-get-fired kind of year, with a handful of talented recruits and returning stars that should give Lowe the first NCAA tournament of his four-year tenure at NC State, the coach is not exactly talking turkey, even if his players are.
From the AP
:
In an interview with The Associated Press, Lowe didn't dwell on uncertainty about his long-term future at the school he led to a national championship as a player. Instead, he said he was in a good place when it comes to his outlook.
"I am because I see the light, as they say," Lowe said. "I see (the program) as I envisioned it before, as moving and getting to a certain point. ... It's going in the right direction and that's why I feel good. And these guys make me feel good in terms of their work. And I don't know what that means this year, OK? But I just know it's in a better place. We're moving forward. I know we're moving forward."

[...] [Senior forward Tracy] Smith said Lowe has been more relaxed so far this year, a sign he really isn't letting job talk get to him. But Smith also said the players want to win to "keep him around."

"There's been different rumors that his job may be on the line, but I try not to think about that," Smith said. "It's basically up to us to go out and play hard, play smart and play together."
Fair enough all around, I suppose, but despite Lowe's vague discussion of the topic, his All-ACC forward is correct: There
are
rumors about the safety of Lowe's job. Among any coach in the ACC, and perhaps among any in the country, Lowe desperately needs a good season in 2010-11. The Wolfpack are 20-44 in the ACC (and 71-61 overall) in Lowe's four years at the school. None of his teams has finished higher than a ninth-place tie in the conference. A handful of talented freshmen -- the
No. 7-ranked class in the country, according to ESPN
-- might have already saved Lowe's job once. Now he has to turn his talent into wins, and he has to do so immediately.
Nor is NC State a school willing to be patient with coaches that don't live up to its lofty expectations. After all, Lowe's predecessor, Herb Sendek, led the Wolfpack to four 20-win seasons and five straight NCAA tournament appearances in his final five years at the school, but came under fire from NC State fans for his 17-54 record against Duke, North Carolina, and Wake Forest. Since then, Sendek has been back to the NCAA tournament with Arizona State; NC State has not.
Lots can change during a college basketball season, but this is not a week-by-week thing. Lowe has one season, and only one season, to prove to NC State fans that his diagnosis -- "we're moving forward" -- is correct. More than any coach in the country, Sidney Lowe needs to add an NCAA tournament to his resumé. And he needs to do so now.
May, 10, 2010
5/10/10
1:31
PM ET
While Kentucky coach John Calipari was anticipating for the past month that he might lose his fence-sitters in the draft, he also knew he could still withstand the blow by recruiting at an elite level.
North Carolina State and Richmond are two programs that couldn't afford a setback.
[+] Enlarge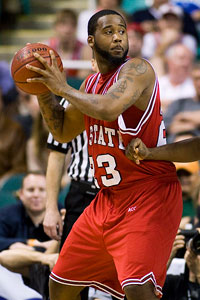 Chris Keane/Icon SMIRetaining Tracy Smith, NC State's leading scorer and rebounder last season, was vital for maintaining the program's momentum.
On the surface, there is no reason to believe NC State's
Tracy Smith
or Richmond's
Kevin Anderson
would stay in the draft. Neither had much buzz about them, but this is an era where just having someone mention you might be a first-round pick, or even a second-rounder, can entice a player to say goodbye to school.
NC State is a program that should be on the rise. With the return of Smith, the team's leading scorer (16.5) and rebounder (7.3) last season, the Wolfpack may finally turn the corner under Sidney Lowe after four subpar years. The Pack haven't won more than six ACC games under Lowe and won five last season. But NC State won six of its last nine games overall and the recruiting has finally reached a national level.
"We've definitely got momentum," Lowe said. "We finished strong and with quality players coming back and the young talent coming in we're going in the right direction.''
The Wolfpack signed up one of the top perimeters in the fall with guards
Ryan Harrow
and
Lorenzo Brown
. Then in late April, they snagged the highly coveted hometown forward
C.J. Leslie
of Raleigh. If Smith had departed early, the momentum would have been stunted.
"That would have been a tremendous blow to our team,'' Lowe said. "I wasn't worried, but someone got in his ear and told him that it won't hurt to throw your name in. It was all of a sudden. He did tell me that he would come back."
Lowe signed Leslie amid rumors that he was going to be fired (not true) and the athletic director who hired him was going to be out (which turned out to be correct when Lee Fowler resigned last week, effective June 30).
"We got C.J. during a tough time of change," Lowe said. "Lee was good to me. A good man. It was a tough deal."
Now the Wolfpack have the veteran presence in Smith and the high-level talent coming in with Harrow, Brown and Leslie.
"That's what we've been waiting for," Lowe said. "When you look at the top programs that's what they do, year in and year out. This is the group that we've been able to recruit when they were young. We've got guys coming back with some five-star, high-quality players to mix it in."
Programs trying to move upward can't afford to lose talent early to the draft if there isn't a backfill immediately behind them.
Richmond made the NCAAs for the first time under Chris Mooney this past season. The Spiders won nine games in the A-10 in each of the previous two seasons and then last season won 13 and 26 overall before losing to Saint Mary's in the first round of the NCAA tournament. The backcourt of A-10 player of the year Anderson and
David Gonzalvez
wasn't going to be reunited with Gonzalvez a senior. But had the Spiders also lost Anderson, keeping up with Temple, Xavier and Dayton would have been a chore.
Like Smith, Anderson just wanted to see if he could get a bite. With the short window of opportunity, he did not and returned.
Gonzalvez ate up a lot of minutes last season and
Darien Brothers
, who played sparingly,
Kevin Smith
and
Greg Robbins
-- the latter two more wings than traditional guards -- will share minutes in place of Gonzalvez. Take Anderson out of the equation and there goes Richmond's marquee player, its go-to guy and a veteran presence to ease in these players.
"That would have been difficult to overcome," Mooney said. "We've finished in the top five three straight years in the A-10 and we're on line to finish high again. That would have been a setback. We're building the program to where we want it to be.''
March, 13, 2010
3/13/10
12:04
AM ET
GREENSBORO, N.C. -- Quick thoughts from
North Carolina State's 58-52 win over Florida State
:
Anarchy has consumed the ACC tournament. Teams seeded 11th and 12th have reached the semifinals, along with a seventh seed -- and Duke. Of course. teams seeded 2 through 6 all lost their first game.
North Carolina State rode the classic Hoosier shooting stroke of freshman Scott Wood to this victory. Wood went straight Jimmy Chitwood on the Seminoles, making six 3-point shots. When the two teams met in January, he made seven. Get a hand up, Noles.
NC State also got two key baskets from big man Tracy Smith in the final minute to solidify the win. Smith struggled against the defense of 7-foot-1 Solomon Alabi most of the night, but came through in the clutch with with a pick-and-roll dunk on a nice feed from Javier Gonzalez, then made a baseline jumper.
This marks the second time in four years that NC State coach Sidney Lowe has guided a major underdog team into the ACCC semis. In 2007, the Wolfpack made it all the way to the final before losing to North Carolina.
The Marriott in downtown Greensboro is the hotel of winners. Both of the lowest seeded teams, NC State and Miami, are staying there. It will be rockin tonight in the lobby.
March, 11, 2010
3/11/10
11:53
PM ET
GREENSBORO, N.C. -- Postgame thoughts from
North Carolina State 59, Clemson 57
.
[+] Enlarge

Andrew Synowiez/US PresswireNC State's Tracy Smith scored 19 points against Clemson on Thursday.

The Redcoat Revival is back on. For another day, at least. Wolfpack coach Sidney Lowe and his bright-red suit coach will live to coach in the ACC quarterfinals for the first time since he originally broke it out in his first year, 2007. That year, Lowe wore the coat four straight days as NC State made an improbable run to the final before losing to North Carolina.
This time, Wolfpack fans can revel in the fact that they've advanced farther than the rival Tar Heels in this tournament for the first time since 2004. Carolina was bounced Thursday night by Georgia Tech.
The main force driving NC State into the quarterfinals was junior strongman Tracy Smith, who had 19 points and eight rebounds and was the team's only scorer in double figures.
Clemson star Trevor Booker got frustrated in the late going with his lack of touches offensively. Given the inability of his teammates to make shots, it's hard to blame him. Booker should have gotten more than 11 shots, though that still was a team high and he scored a team-high 17 points.
It was a good night for coaches on the hot seat. Paul Hewitt got a win over North Carolina in the first of two night games, and then Lowe followed up with the upset in the nightcap.
And it was a good day in Greesnboro for underdogs. Seeds No. 12 (Miami), 11 (N.C. State) and 9 (Virginia) all will play in the quarterfinals Friday. Then again, that's nothing new. In the last five ACC tournaments, the 11 and 12 seeds are a combined 7-3 in the opening round.
Horn-blower warning: In my witheringly insightful pre-tournament primer, I tabbed NC State as the most dangerous low seed and Wake Forest as the most vulnerable high seed. That's two calls correct in March with plenty of errant predictions so far.
March, 11, 2010
3/11/10
11:18
PM ET
GREENSBORO, N.C. -- Halftime thoughts from North Carolina State 25, Clemson 21.
Underdogs have ruled the day here. Or at least the first half. The No. 11 seed Wolfpack became the fourth underdog to lead at halftime, following Virginia (won), Miami (won) and North Carolina (lost).
NC State's quick hands produced six steals and forced nine turnovers, which helped limit Clemson to 22 field-goal attempts in the half. The Wolfpack weren't a whole lot better caring for the basketball, though, committing seven turnovers.
Clemson star Trevor Booker led his team with seven points and six rebounds, but it wasn't exactly a great half for the powerful post player. He was 1-for-6 from the foul line and turned the ball over four times.
Wolfpack junior Tracy Smith has shown great improvement this season, bumping his scoring average up from 10 as a sophomore to 17 this year. He's on his way to another productive night this time, with a game-high nine points in the first half.
NC State coach Sidney Lowe is rocking the red sport coat, which gave him good mojo in this tournament three years ago. Lowe wore it every day on the way to a surprising ACC final appearance in '07.