College Basketball Nation:

Travis McKie
January, 11, 2013
1/11/13
7:30
AM ET
Can we just call places 3 through 6 a tie? After the first week of ACC play, it's harder than ever to judge the middle of the league pack. But here are this week's ACC Power Rankings, based on myriad factors, including how teams have performed lately and the foes they've faced:

1. Duke.
Still undefeated, still No. 1 after victories over Wake Forest and Clemson. But the Blue Devils will be tested Saturday not only by an NC State team that has won nine in a row, but by playing without senior forward
Ryan Kelly
, who is out indefinitely with an injured right foot.
2. NC State.
The Wolfpack was picked to win the ACC during the preseason by both media and coaches, and Saturday's home game against the Blue Devils will show if it has what it takes to make that push.
Lorenzo Brown
, with 21 points against Georgia Tech, was the latest to lead his team in scoring. Who's next?
3. Miami.
The Hurricanes have never started 2-0 in the ACC -- until now. Senior forward
Kenny Kadji
had 18 points to help break his team's 10-game losing streak to UNC on Thursday night, and sixth-year senior
Julian Gamble
(14 points against the Tar Heels) has been filling in admirably for the injured
Reggie Johnson
.
4. Maryland.
Dez Wells
had a bad shooting night,
Alex Len
at times got pushed around, and the Terps saw their 13-game winning streak snapped via a 12-point comeback by Florida State. Whether they bounce back at Miami this weekend could be a good indication of whether they're a top-tier ACC team.
5. Florida State.
Junior forward
Okaro White
has come up big during the Seminoles' 2-0 ACC start, averaging 17.5 points and 8 rebounds. And so has his team. "We sat down, the juniors and seniors, with the young guys and told them we have to stop talking, and we have to show them how hard you have to play,'' White told Tallahassee.com.
6. Virginia.
Beat North Carolina, only to lose to Wake Forest? It might be that sort of topsy-turvy season for the Cavs, who should get more and more of a boost as senior guard
Jontel Evans
, who returned from injury last weekend, gets more and more back in sync with the offense.
7. North Carolina.
Coach Roy Williams said his team was stressed in the locker room after losing to Miami on Thursday night. And for good reason: This marks only the fourth time UNC has ever started 0-2 in the ACC, and things won't get any easier at Florida State on Saturday.
8. Boston College.
The Eagles have now won six of their past seven games, and gave NC State a scare in their only loss since Dec. 4. Sophomore
Lonnie Jackson
has posted double digit points for three consecutive games, including a season-high 22 at Virginia Tech.
9. Georgia Tech.
The Yellow Jackets had a six-game winning streak broken by the start of ACC play. Tech is shooting just 35.2 percent during its 0-2 conference start.
10. Wake Forest.
Despite shooting just 26 percent after halftime and failing to score a field goal for the final 10 minutes, the Deacs survived Virginia's comeback attempt. "We stayed with it," Wake Forest forward
Travis McKie
told The Times-News. "I think early in the season we would've put our head down and had a pity party. But we stayed with it and continued to fight hard." Wake has now won five of seven games.
11. Clemson.
The Tigers scored only 10 points, on just 12 percent shooting, in the first half at Duke on Wednesday. Yikes.
Devin Booker
has posted two double-doubles in Clemson's 0-2 ACC start.
12. Virginia Tech.
Already-undermanned Tech was down to six scholarship players during its midweek loss to BC, thanks to illness and injury.
Erick Green
continues to lead the nation in scoring, but the Hokies have now lost four in a row, and are 0-2 in ACC play.
November, 16, 2012
11/16/12
8:00
AM ET
Until Connecticut's opening day victory over Michigan State in Germany, there wasn't much reason to get excited about the 2012 Paradise Jam. And even after a gutty, fired-up UConn team showed us it's not ready to wither just yet, the P-Jam (which is an abbreviation I just made up, I think; let's go with it) is far from the best early-season tournament out there. That would be the Battle 4 Atlantis, which basically drank every other early-season tournament's milkshake.
Even so, there are a few teams and players worth keeping an eye on.
The basics
: Nov. 16–19 at University of the Virgin Islands
The set matchups
: Mercer vs. George Mason, 1:30 p.m. ET; Illinois-Chicago vs. New Mexico, 4 p.m. ET; Wake Forest vs. Connecticut, 6:30 p.m. ET; Quinnipiac vs. Iona, 9 p.m. ET
The favorite: Connecticut.
New Mexico isn't far off -- the Lobos are still criminally underrated in the 2012-13 Mountain West conversation -- but it's hard to look at what UConn did to Michigan State and not be impressed (particularly because the Spartans took down Kansas four days and a 4,500-mile trip from Germany to Atlanta later). The Huskies' backcourt --
Shabazz Napier
,
Ryan Boatright
,
Omar Calhoun
and lengthy wing
DeAndre Daniels
-- appear to be playing fast, scrappy, motivated basketball under hungry young coach Kevin Ollie. And they have a straightforward route to the tournament title game.
FIVE PLAYERS TO WATCH
Shabazz Napier, Connecticut
: Napier struggled with leadership issues throughout the Huskies' lackluster 2011-12 season; he fully admitted other players simply didn't want to hear it. But Napier is now a legit veteran presence with a national title on his résumé, and this greenhorn UConn team revolves much more around his perimeter abilities.
[+] Enlarge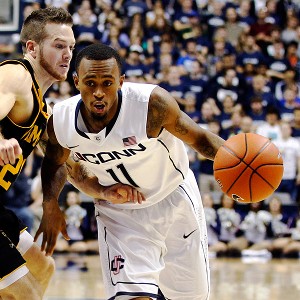 David Butler II/US PresswireRyan Boatright's making better decisions so far in his his sophomore season for UConn.
Ryan Boatright, Connecticut
: Boatright's freshman season was like many freshman seasons: promising but flawed. This season, he appears to be playing much more of a true point guard role, with Napier working more frequently off the ball, and the decision-making that made him a liability last season looks to be much improved.
Tony Snell, New Mexico
: The Lobos have a really good chance to win this tournament -- if UConn is the favorite, it's not by that much -- and Snell is a major reason why. He led New Mexico's 86–81 comeback win over Davidson Tuesday morning with 25 points, including a final-minute shot-clock-beating 3 to help seal the deal.
MoMo Jones, Iona
: Iona lost national assists leader Scott Machado and senior forward Mike Glover. It will gain former Iowa State point guard
Tavon Sledge
and former Toledo forward
Curtis Dennis
. But Jones -- the former Arizona point who transferred to Iona last summer -- should get the touches to have a very big season, even if he isn't always the most efficient scorer in the country.
C.J. Harris, Wake Forest
: The Demon Deacons still have a big talent hole to climb out of before they get competitive in the ACC again, but that doesn't mean you should overlook Harris. The guard had a breakout junior season, shooting 50.7 percent from 2, 42.2 percent from 3 and 84.4 percent from the line while lowering his turnover rate and drawing shooting fouls frequently.
FIVE BIG QUESTIONS
Is this Connecticut thing real?
As good as UConn looked Friday night -- and it did look good -- it's important to temper this kind of exuberance this early in the season. It was only one game (in Germany, no less) and Michigan State hardly had its finest outing. A convincing jaunt this weekend will hardly guarantee Big East title contention, but it will be another green shoot.
Where is George Mason right now?
Paul Hewitt enters his second season at George Mason with the program arguably as bereft of talent as at any point in the past five seasons. That's what happens when you lose two leading frontcourt scorers, Ryan Pearson and Mike Morrison (and your program's best recent scorer,
Luke Hancock
, is preparing to debut for Louisville). Mason looks likely to slide this season, but did open with a win over Virginia. This tournament will tell us more.
Is New Mexico good enough down low?
The Lobos have plenty of perimeter talent.
Kendall Williams
and Snell are gifted scorers,
Hugh Greenwood
is a crafty point,
Demetrius Walker
is finally getting it, and
Jamal Fenton
can really go. But after losing Drew Gordon to the draft, can New Mexico find and develop some interior presence in time to compete with UNLV and San Diego State?
Is Wake on its way?
There's no two ways about it: Jeff Bzdelik's tenure has been a disaster thus far, and that's before you consider the comparatively gleaming record of the man (Dino Gaudio) he replaced. But Bzdelik did improve Wake to a 13-win outfit last season after losing two starters from an 8–24 team, and Harris and
Travis McKie
form a really nice scoring combo. The Demon Deacons aren't going to challenge for the ACC title anytime soon, but there's at least a chance they won't be horrible. So there's that.
Will ESPN.com college football editor Brian Kelly shave his head if his alma mater, Quinnipiac, wins this tournament?
I don't know, but I
triple dog dare him
.
THE PICKS
First round
: Iona over Quinnipiac (sorry BK); UConn over Wake; New Mexico over UIC; George Mason over Mercer.
Semifinals
: UConn over Iona; New Mexico over George Mason.
Championship
: UConn over New Mexico.
November, 7, 2012
11/07/12
10:40
AM ET
College basketball is a multibillion-dollar sport. With so much money at stake -- along with the prestige and exposure that comes with consistent success -- there's always pressure on coaches to win.
The following list doesn't necessarily include coaches who are on the "hot seat." Only the athletic directors and insiders privy to the true statuses of these coaches know what's necessary for each to maintain his current position. From the outside, however, they all appear to be coaches who need to win. Now.
Another lukewarm season might not cost them their jobs. But it certainly won't help their respective causes.
Here's my list of 10 coaches who need to win now:
[+] Enlarge

Bruce Thorson/US PresswireTubby Smith has yet to lead Minnesota to an NCAA tournament victory in five seasons on the job.

Tubby Smith (Minnesota) -- Smith has reached the NCAA tournament twice in five seasons since he left Kentucky to take the Minnesota gig in 2007. But he hasn't won a game in the Big Dance during his time with the Gophers. The extension he signed in the offseason will mean little if the Gophers miss the NCAA tournament again. New athletic director Norwood Teague came from Virginia Commonwealth, where Shaka Smart helped that program attain national relevancy. Teague expects the same in Minneapolis. So the pressure continues to rise for Smith, who's endured multiple off-court incidents during his term. Proof that he's seeking public support: Smith now allows media in the locker room after games, a first in his tenure.

Ben Howland (UCLA) -- Accomplishments in college basketball are quickly forgotten. That's why Howland's back-to-back-to-back run to the Final Four from 2006 to 2008 seems like an ancient feat. Howland's recent years have been plagued by personnel issues and underachievement. But there's a strong buzz surrounding his 2012 recruiting class. Howland, once again, has a roster than can make a run in March, assuming Shabazz Muhammad is cleared by the NCAA. The flip side of the hoopla is that UCLA's fan base will likely bemoan anything less. So the Bruins must reach their potential, it seems, to keep Howland's seat cool.

Bill Carmody (Northwestern) -- Northwestern is not a football school or a basketball school. It's a school school, one that places a great emphasis on its broad academic imprint. But there is discontent with the men's basketball team's inability to reach the NCAA tournament. It has never happened. The Wildcats have come close in the past three years -- the most fruitful stretch in the program's history -- but those seasons all ended without a bid. The swell of disappointment has grown with each close call. Athletic director Jim Phillips reportedly considered a change but ultimately gave Carmody, who is entering his 13th season, a vote of confidence after another possible berth slipped away last season. He might not receive the same support in a similar scenario this season.

Travis Ford (Oklahoma State) -- In his first two seasons, Ford led the Cowboys to the NCAA tournament. But the program hasn't met that bar since 2010. Last year, Ford had an NBA prospect (Le'Bryan Nash) and multiple high-level athletes but still struggled in the Big 12 due to a subpar defense (the Cowboys' 70.8 points per game allowed was the second-highest tally in the league). Oklahoma State continues to invest in basketball. Its latest project, a multimillion-dollar upgrade of the program's locker room, illustrated its commitment to the sport. But it's equally interested in winning. And Ford has missed the mark in recent years. He had a young team a year ago, but this season's group is so talented -- enter Marcus Smart -- that youth won't be a valid excuse again.

Herb Sendek (Arizona State) -- Few programs endured Arizona State's offseason shift. Sendek added assistants Eric Musselman and Larry Greer, two men who've coached in the NBA, to his staff after finishing with a 10-21 record in 2011-12. Sendek also lost top scorer Trent Lockett (13.0 ppg), who transferred to Marquette to be closer to an ailing mother in Minnesota. The good news: Talented point guard Jahii Carson is eligible. But Carson's presence and the additions to his staff won't guarantee additional years for Sendek, who was the Pac-12's coach of the year in 2010. He has to find a way to climb out of the league's basement in 2012-13.

Craig Robinson (Oregon State) -- President Barack Obama's brother-in-law has gradually upgraded the talent in Corvallis in his first four years. His best player last year, Jared Cunningham, was a first-round pick in the 2012 NBA draft. But Robinson is still trying to prove that the Beavers are on the rise after finishing seven games under .500 in his first four years (64-71). Last year's 21-win season was both promising and disappointing. Oregon State had its chances but ultimately finished with a 7-11 mark in Pac-12 play. The loss of Cunningham was a tough one for the program. But its greatest problem last season -- a defense that was ranked 154th in defensive efficiency -- was a collective issue. It's something Robinson must address in 2012-13.

Kevin Ollie (Connecticut)/Chris Walker (Texas Tech) -- Both Ollie and Walker were placed in similarly uninspiring situations during the offseason. After Jim Calhoun retired, Ollie signed a one-year contract to coach a Huskies team that lost top talents Jeremy Lamb, Andre Drummond, Roscoe Smith and Alex Oriakhi and will not compete in the postseason due to a subpar Academic Progress Rate score. After former head coach Billy Gillispie's messy offseason exit, Walker inherited a Texas Tech squad that earned one Big 12 victory last season (1-17). Neither Ollie nor Walker is promised anything beyond this season. And their circumstances will limit their abilities to turn their "temporary" tags into permanent ones.

[+] Enlarge

Kevin C. Cox/Getty ImagesJeff Bzdelik enters his third year at Wake Forest with just five total ACC victories to his credit.

Jeff Bzdelik (Wake Forest) -- From 2001 to 2005, the Demon Deacons reached the NCAA tournament. They also secured back-to-back trips in 2009 and 2010. But Bzdelik's first two seasons were rocky. Under his watch, Wake Forest achieved one ACC victory in 2010-11 and four last year. That's progress. But is it enough to satisfy a fan base that will watch the neighbors on Tobacco Road (North Carolina State, North Carolina and Duke) enter the season as potential national championship contenders? Bzdelik is on the right track, and Travis McKie and C.J. Harris should help the program move forward in his third season, too. Any movement in the other direction, however, will encourage more scrutiny of Bzdelik's job status.

Andy Kennedy (Ole Miss) -- Kennedy averaged more than 20 wins in his first six seasons, but his program's name was never called on Selection Sunday. And close never suffices in college basketball. Kennedy's legacy won't be defined by his consistency as much it will be marked by the program's ongoing NCAA tournament drought and his efforts to end it in 2012-13. That's crucial for Kennedy, who might have a tough time convincing his superiors to keep him with another respectable finish that doesn't involve a trip to the Big Dance.

Ken Bone (Washington State) -- Bone's program returns the Pac-12's leading scorer, Brock Motum (18.0 ppg last season). But Motum's presence only intensifies the expectations for the Cougars. Bone hasn't led the team to the NCAA tournament since replacing Tony Bennett in 2009. The Cougars have been inconsistent. A suspect defense (141st in defensive efficiency last year) hasn't helped. But this season's Pac-12 is filled with unknowns. Washington State can rise in the standings if it's tough on both ends of the floor. Another mediocre year sans an NCAA tournament berth, however, will not help Bone extend his time in Pullman.
June, 22, 2011
6/22/11
11:55
AM ET
By
Diamond Leung
| ESPN.com
COLORADO SPRINGS, Colo. -- The upcoming NBA draft could be the last of its kind if the one-and-done era is drawing to a close. With the league and players' union set to negotiate a collective bargaining agreement, up for debate once again is the current rule that requires draft-eligible players to be at least 19 years old during the year of the NBA draft and one year removed from high school.
But what do college players think, the ones who arrived after the age of preps-to-pros? Some got to have their say this past weekend at the USA Basketball U-19 training camp in Colorado. Generally, their opinions were summarized along the lines of what Arizona State incoming freshman Jahii Carson had to say.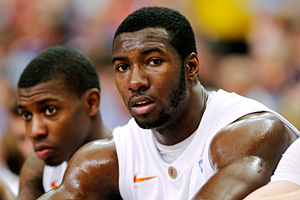 Bob Kupbens/Icon SmiPatric Young is used to throwing his weight around for the Gators.
"I think if a kid's good enough to play pro basketball as an 18-year-old kid that's graduated from high school, he should have the ability to go do that," said Carson, a top-10 point guard recruit. "But also I feel like if he's not ready yet to enter, they should have a rule that he has to stay."
Ask Michigan State's
Keith Appling
, and the former McDonald's All-American and Michigan Mr. Basketball says he likes age limit in theory because he believes in the college experience. But he also believes that players who want to declare for the draft out of high school should be able to.
Ask Butler's
Khyle Marshall
, and he doesn't believe in a process that caused some players to go to college for a year before bolting. "I'm 100 percent against one-and-done," he said. "It's either you're [declaring] out of high school or you just stay two, three years or all four years. We're trying to build a team. We're not trying to have a guy come in and then leave automatically. We're trying to build a program."
Wake Forest's
Travis McKie
, a former top-100 recruit, thinks players who go to college should be required to stay for two years before being able to declare. Florida's
Patric Young
, who has developed into a draft prospect after a McDonald's All-American high school career, says it should be three years, which would be a rule similar to the one for college baseball players and Major League Baseball -- a model that a garnered a growing number of outspoken supporters.
"I think you should have to stay for three years to develop your game just like baseball," Young said. "Help build your program up."
Said Appling: "I think if that would happen in college basketball, it would make the NCAA a lot better. There are a lot of guys leaving early. The talent is going down, but if a lot of guys chose to stay two or three years, it would be a lot better."
Young's Florida teammate
Scottie Wilbekin
knows how it feels to leave school early. He signed with the Gators as a high school junior, graduating early so he could get a head start on his college career. He fails to understand the logic of holding someone back from his NBA dreams in the first place.
"I went to college a year early when I was 17," he said. "I mean, I was good enough to do it, so I did it. If players are good enough to go right out of high school, they should be allowed to."
Carson, who was one of only two incoming freshmen to be invited to try out for the U-19 team, was told he had the kind of talent it took to go the NBA straight out of high school. So he admitted to wondering what it would be like to make the preps-to-pros jump, but his parents set him straight. "My mom and dad always stressed college, college, college," said Carson, whose mother is a college professor.
It made the Mesa, Ariz., native see that players ultimately should be able to make big decisions for themselves that would impact their educational and financial futures.
"I've always watched LeBron. I've always watched Josh Smith," Carson said. "I was thinking these guys are ready to be NBA basketball players out of high school, and if they went to college they would also dominate there, too. But a guy like
Kemba Walker
who stayed and took that route is also going to be an NBA lottery pick. I just think it's whatever the kid feels is best for him."