College Basketball Nation:

Travis Trice
June, 20, 2014
Jun 20
9:30
AM ET
By
ESPN.com staff
| ESPN.com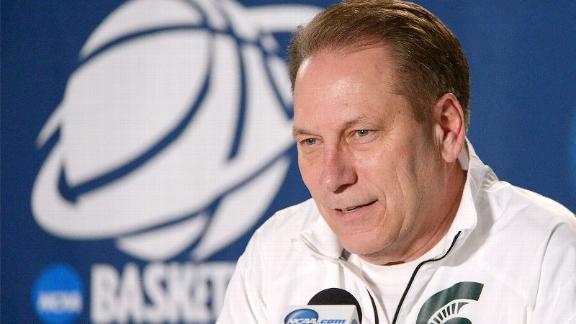 In today's 3-point shot, Andy Katz reports on Michigan State's offseason and Tom Izzo's optimism, Izzo's preference to schedule games against military academies and how Georgia State is building its team.
March, 27, 2014
Mar 27
3:30
PM ET
By
ESPN.com staff
| ESPN.com
January, 21, 2014
Jan 21
11:47
PM ET
The opponent mattered as much as the circumstances Tuesday night.
Although Michigan State had the luxury of competing in East Lansing, it still faced a viable Indiana team that's searching for an identity. That's always a dangerous predicament for a favored home team because an opponent might find it midgame.
Plus, Wooden Award candidate
Adreian Payne
missed the matchup due to a sprained right foot that reportedly could sideline him for the next two weeks.
The Hoosiers were combative in their hunt for a significant road win -- the only elixir for a recent loss to Northwestern -- as expected. But Michigan State emerged from the rubble
with a 71-66 victory and a remarkable 7-0 start in the arduous Big Ten.
The Spartans continue to regroup when personnel limits threaten their success.
No Payne? Fine.
[+] Enlarge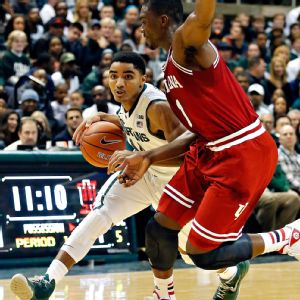 Duane Burleson/Getty ImagesMichigan State's Garry Harris drives against Indiana's Noah Vonleh.
Gary Harris
, a possible lottery pick this summer, scored 20 of his 24 points in the second half. Michigan State forced 18 turnovers against an Indiana team that continues to cost itself possessions and games with sloppy ballhandling.
The Spartans were down 46-41 with 11:51 to play. But by the 3:53 mark, they were ahead by 10. A few free throws in the final minute and the Spartans had proven, again, that they're the current Big Ten kings and threats to reach Arlington, Texas, in April.
"I made no bones about it at the beginning of the year that this is one of those teams that I think has a legitimate shot,"
Tom Izzo told reporters prior to Tuesday's game
. "And, I think that we've proven that we do. We could lose three games in a row and still prove that we do."
That potential is tied to its overall health, though.
And the Spartans haven't really been 100 percent all season.
That hasn't stopped them from climbing to the top of the league and winning their last 11 games, following a loss to North Carolina on Dec. 4. But it's still the lingering concern for the program.
Payne is out. Harris has dealt with an ankle injury -- he played with a bad shoulder last year.
Travis Trice
missed time due to illness.
Matt Costello
, too. Just three players saw action in each of the team's first 18 games.
Three.
The Spartans are deep enough to tussle with any team in the Big Ten, even if Payne can't go or Harris is hobbled or Trice doesn't feel well. They've shown that multiple times.
Their ceiling is high. To reach it, however, Izzo will need a healthy roster.
Noah Vonleh
is an NBA-ready freshman who's gradually opening the toolbox and showing off talents that should compel scouts to slobber. He took advantage of Payne's absence in a performance that carried the Hoosiers (13 points, 13 rebounds, one block, one steal).
Payne is a significant component on offense and defense for the Spartans. He's agile enough to contain shooters and big enough to stop post players.
Yogi Ferrell
(19 points, 4-for-13) might have had even more trouble finding good shots with Payne on the floor.
Yet, they won without him.
Tuesday's win provided more proof of Michigan State's resilience. The best teams ignore circumstances and adjust.
But injuries -- especially if Payne isn't available for a lengthy period or if he's bothered by the foot injury for the remainder of the season -- could be detrimental in the coming weeks. The Spartans will play Michigan, Iowa (in Iowa City), Georgetown, Penn State and Wisconsin (in Madison) in their next five games. It's a stretch that will either solidify their spot atop the Big Ten or jeopardize it, as conference frontrunners ascend.
An interesting transition is taking place in college basketball right now. The true contenders are beginning to emerge.
Arizona is a versatile juggernaut that would be a nightmare for any team in the country.
Tyler Ennis
has helped Syracuse stay on top of the ACC. And
Joel Embiid's
presence might position Kansas to be the scariest team in the field of 68 come March.
In late January, squads often take shape and turn the corner, for better or worse. The overrated are exposed. The elite young teams tend to evolve this time of year as they finally reach a level of chemistry and maturity that they just didn't have in November and December. The veteran programs win the gritty games and showcase the true value of experience.
Things begin to make sense in college basketball as February approaches.
Or fall apart.
The Spartans continue to avoid the latter scenario even as injuries affect their lineups.
If Izzo's squad does what it's capable of doing and wins the Big Ten and makes a commendable run in March, then the program will earn rightful praise for its ability to navigate this midseason turbulence.
But if this injury bug undercuts the Spartans, and if it refuses to relinquish its hold the rest of the way, then Michigan State's year could end with disappointment and a question.
What if the Spartans had been healthy?
March, 23, 2013
3/23/13
7:42
PM ET
AUBURN HILLS, Mich. -- There are times Michigan State wants to slow it down, power the ball inside, take a team's attempt at being tough, laugh and move on.
These are the hallmarks of a Tom Izzo outfit: toughness, rebounding and a team that will continually play harder than you. Every single time.
But is the Michigan State slowdown a myth? Would the Spartans actually prefer to run?
"Yeah," freshman
Gary Harris
said. "I think so."
In some cases, there is a little truth within the myth, because Michigan State hardly ever runs like Memphis, the opponent the Spartans trounced
70-48
on Saturday. But that might be the scary thing about Michigan State (27-8) now.
If they can play fast and they can play slow, can the third-seeded Spartans really play at any pace they want?
The Big Ten, known as a conference wanting to play at a glacial pace compared to most other high-level college basketball leagues, has always heard those criticisms. Other than Wisconsin, no team might hear it as much as Michigan State, which enjoys to play through its big man,
Derrick Nix
, and at a half-court pace where he can work inside.
The Spartans, though, proved Saturday that they are more than a bunch of guys who slog through low-scoring games by preference and design. They showed they have the capability to do much, much more.
[+] Enlarge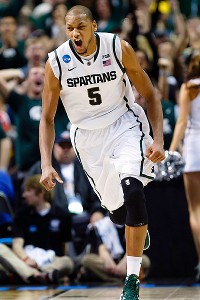 Rick Osentoski/USA TODAY SportsAdreian Payne had a monster game for Michigan State: 14 points, 10 rebounds, 5 blocks and 2 steals.
"That's what people assume, that the Big Ten will slow it down and grind it out," Michigan State sophomore guard
Travis Trice
said. "It kind of feels good that we can show we can run if we need to, if that's what we have to do."
Though there are times during Michigan State practices where Izzo wants to push the pace, the Spartans are a strong grinding team. But they took perhaps the fastest squad in the country and completely outplayed it, scoring 70 points as they ran right through the sixth-seeded Tigers (31-5).
They threw alley-oops to junior forward
Adreian Payne
, who had 14 points and 10 rebounds, and pounded Memphis with both the Tigers' own style and the traditional beat-em-up Michigan State brand of basketball.
The reason they can do this is their defense. Michigan State blocked seven shots -- five by Payne -- and had 10 steals. They grabbed 16 more rebounds than Memphis and held the Tigers to 29.7 percent shooting.
"They just killed us on the boards," Memphis junior guard
Joe Jackson
said. "Every time that we had a chance to cut their lead, they got the offensive rebound and scored.
"That's what killed us."
Which is exactly what Michigan State wants.
Even when its starting point guard,
Keith Appling
, left the game with a shoulder injury, Michigan State kept going right at Memphis the same way it did when Appling was in the game.
When they do that, the Spartans become increasingly tough to beat.
From his seat in the stands at the Palace of Auburn Hills, former Michigan State guard Charlie Bell wondered if this Spartans team is on the same path as in 2000, when one of Izzo's all-time favorite units ended up winning a national championship.
The team Izzo has this season feels more and more like a vintage Michigan State team, one which could make another big run, having already reached the Sweet 16 for the fifth time in the past six seasons.
"I think they are better [than us]," Bell said of the current crop of Spartans. "They've got the talent. With big Nix down there and the way Payne has been shooting the ball, the way he's playing and how long he is, they could definitely go all the way.
"They have all the talent."
And they now have the ability to play however they want, too.
March, 23, 2013
3/23/13
4:58
PM ET
AUBURN HILLS, Mich. -- Some thoughts after third-seeded Michigan State
knocked off No. 6 seed Memphis 70-48
in a round of 32 game in the Palace of Auburn Hills.
Overview:
This was a complete antithesis of style from the first game of the day in which Michigan run-and-gunned its way to the Sweet 16. Michigan State forced Memphis into a more plodding, sloppy, ugly game.


Exactly how the Spartans prefer to play.
If the Spartans can force an opponent to try to be tougher than them, Michigan State will usually win. That is exactly what happened to Memphis, which couldn't get into its preferred style of athletic, running play.
Michigan State could play that way, but the Spartans were just fine controlling the pace and using their size to send themselves to the Sweet 16 again.
It didn't come without some issues, as Michigan State had point guard
Keith Appling
leave the game due to an injury in the second half, but the Spartans were able to handle the game the rest of the way with a combination of
Denzel Valentine
and
Travis Trice
handling the ball.
Turning point:
Valentine missed a 3-pointer in the corner, but Memphis missed the rebound, allowing the Spartans'
Adreian Payne
to slip into the lane for a dunk. That forced Memphis coach Josh Pastner to call a timeout with the Spartans up 43-32. The margin would stay from 10 to 12 points for most of the rest of the game.
Key player:
Payne can do it all and is a prototypical power forward in the NBA. In college, this means there's potential for dominance, which Memphis learned Saturday. The 6-foot-10 Dayton, Ohio, native showed off his freakish athleticism as a two-way player, blocking five shots and grabbing a double-double with 14 points and 10 rebounds.
Key stat:
29.7 percent from the field. Memphis couldn't get out and run like it normally does, forcing the Tigers to take more difficult, contested outside shots. It did not go well, as Memphis was 5-of-23 from behind the 3-point line and struggled to take advantage of any mistakes Michigan State made.
Next:
Michigan State moves to the Sweet 16 -- its fifth in the past six seasons -- to face either No. 2 seed Duke or seventh-seeded Creighton in Indianapolis on Friday.
March, 22, 2012
3/22/12
12:35
AM ET
PHOENIX -- A little over a month ago -- still weeks before Louisville ran off its six-game postseason winning streak, which includes a Big East tournament title and a spot in the Sweet 16 -- coach Rick Pitino gave his then-struggling point guard,
Peyton Siva
, a bit of visual homework.
The assignment: Watch Phoenix Suns point guard Steve Nash.
Watch the two-time NBA MVP work possessions. Watch him change the pace and speed of his approach. Watch him keep his dribble alive at all times, even when seemingly every option had broken down. Watch him circle under the rim, watch him play every angle, watch him reload and reassess when nothing came. Watch him attack again.
"One of the reasons why Peyton was struggling is he's so fast, he plays at one pace," Pitino said Wednesday. "I wanted him to start to change his pace, and also, if he didn't have anything, continue dribbling out in a circle and take another opportunity -- and nobody does that better than Steve Nash.
"Anytime you show them a great basketball player, they love to emulate that."
No one would confuse Siva for the Suns legend just yet, but the results of the film session are hardly in dispute. In the past month, Siva has elevated his game, boosted a lackluster offense, and led his team -- which lost four of its first six Big East games, then another four of six beginning in mid-February -- to the US Airways Center, the stage upon which Nash displays his nightly brilliance.
"Growing up he was one of my favorite players to watch," Siva said. "Coach P really had me watch more film on him and how he kept his dribble alive. It really helped me out by not forcing things and getting in trouble or making jump error passes. And it really helped me out probing the court, giving other guys open looks, and seeing the whole court a little better."
[+] Enlarge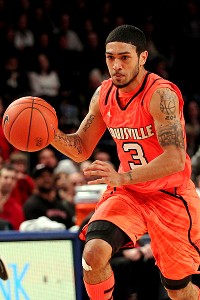 Anthony Gruppuso/US PRESSWIRELouisville coach Rick Pitino has asked Peyton Siva to watch how Phoenix Suns guard Steve Nash varies his pace during games.
The question now, of course, is whether Siva's late-blooming improvement will be enough to key the Cardinals past the No. 1-seeded
Michigan State Spartans
in the first game in Phoenix (7:47 p.m. ET). If Louisville is going to keep pace with the West favorites, Siva will have to dictate the tone of the game on the offensive end, where the Cards -- who ranked No. 13 in the Big East in points per possession this season -- will be facing the nation's third-ranked efficiency defense,
per KenPom.com
.
Siva's play at the point of attack, where he often works off high-ball screens before cannonballing himself into the lane, will be crucial: According to Synergy Sports Technology scouting data, nearly 40 percent of Siva's offensive possessions come as the ball handler in pick-and-rolls, and the Spartans are allowing a staggeringly low .059 points per trip on such plays, one of the best marks in the country.
There are other matchups to consider, of course: How does
Gorgui Dieng
guard the rim against not only
Draymond Green
but
Adreian Payne
and
Derrick Nix
, a trio that dominates the boards on both ends of the floor? For that matter, who matches up with Green, Tom Izzo's hyperversatile star? Asked about the issues Green presents at "his position," Pitino conceded that he didn't have a ready-made answer.
"Well, that's just it, 'his position' -- I'm not sure what his position is," Pitino said "If they need somebody to run a pick-and-roll, if they need a post-up, if they need a guy to take you off the bounce, he does that. He's about the most complete player in college basketball in terms of all phases of the game."
The Cardinals have one major trump card, one area in which they actually rank ahead of Michigan State on a per-possession basis: defense. Louisville's defense is the second-stingiest in the country this season, and not only because it holds opposing shooters to the third-worst effective field goal percentage in the nation. The Cards also force turnovers, and lots of them.
"They're scrappy," Michigan State guard
Keith Appling
said. "They're going to force a lot of turnovers. We're going to have to keep our composure and get into our offense as fast as we can."
Which, again, comes back to Siva -- not just on the offensive end, but in how he sets the tone on defense, whether he creates turnovers and fast-break opportunities for UL. As Pitino prepares to face off with a similarly brilliant tactician in Izzo (the two last met in the tournament in 2009, when MSU knocked off the top-seeded Cardinals in the Elite Eight), and against a team whose only clear weakness is its tendency to turn the ball over, it's clear that Siva's all-court play will hold the key.
"We got our guys to this point by pressing and running, and we're not going to change because the other team may be a little better on the backboard and try to take possessions away," Pitino said. "So we're going to run with them. They're the better backboard team. But we're going to make it that type of basketball game. We do not want to play slow against Michigan State."
Who to watch
Louisville's Gorgui Dieng and Chane Behanan
: The Cardinals will be pressuring constantly, no doubt, but if Michigan State does break the press and get into its offense, UL will be at a severe disadvantage on the interior. Dieng is the lone Louisville player with the size and length to make life difficult for Payne, Nix and Green inside, but at 6-foot-7, Behanan might be the best chance Louisville has of matching a quality rebounder with the athleticism to guard Green on the perimeter. That's a lot to ask of a freshman in his first Sweet 16, but it may be Louisville's best hope of keeping pace on the glass.
Michigan State's Keith Appling and Travis Trice
: Appling, Trice and
Brandon Wood
form the core of the Spartans' underrated backcourt, but how will this trio handle Louisville's relentless defense? Wood has kept his turnovers to a relative minimum this season (his turnover rate is a mere 14.1 percent), but together, Appling and Trice average a turnover rate of 22.1 percent. If MSU has any true vulnerabilities -- and this has been a constant under Izzo in recent seasons, even among his best teams -- this is it. That's music to Pitino's ears, and it makes Appling's and Trice's roles as the primary backcourt ball handlers especially crucial.
What to watch
Simply put? Size versus speed. Take it away, Coach Izzo ...
"Seeing [the pressure] on film and hearing it from a coach or hearing it from another player, and all of a sudden getting in one of those traps and having to get the ball out is a little different," Izzo said. "So we try to do what we can do. But we have played a million different styles. That's not going to be an excuse for this team. We're going to take care of the ball and make some shots and make sure that our defense doesn't let them get a lot of layups and make some shots -- or we're not. And I think that's what the game is going to come down to.
"They've got to handle our physical size inside and we've got to handle their pressure outside. That's what basketball is about, is the matchups, and who exploits whose, and who plays better against whose strengths will probably determine the winner."
March, 18, 2012
3/18/12
9:58
PM ET
COLUMBUS, Ohio -- Before he wiped the floor -- he actually grabbed the sweeper from a ball boy in the final minutes of Michigan State's
65-61 victory
over Saint Louis on Sunday at Nationwide Arena to erase a wet spot --
Draymond Green
cleaned up the locker room.
Since the Spartans reached Nationwide Arena last week, they'd hinted at past distress. They were even instructed not to discuss the 2010-11 season. Senior guard
Austin Thornton
admitted, however, that "guys had minds elsewhere," during one news conference.
The cause behind that fall from back-to-back Final Fours to a one-and-done program in the 2011 NCAA tournament wasn't as simple as injuries and a bad night. The Spartans had issues.
But Green's leadership eliminated yesteryear's drama and fueled the team's run to the Sweet 16.
In one crucial play against the Billikens, this squad illustrated its renewed bond and his role in it.
With three minutes to go, Tom Izzo gave Green the ball. He'd struggled to get comfortable in the paint in the second half -- proof that Rick Majerus still has it -- so Izzo told his 6-foot-7, 230-pound forward (everything?) to run point.
"I did go up to him and I said, 'Look, I'm going to put the ball in your hands the last three minutes because we can't get it to you down low, but you've got to make good decisions,'" Izzo said.
Green scored 16 points, grabbed 13 rebounds and recorded 2 steals.
But his greatest moment came after Izzo turned him into a point guard. The Billikens had cut Michigan State's 11-point lead midway through the second half to two with 3:18 to go on
Kwamain Mitchell
's layup.
Green nailed a 15-footer. Then, he blocked
Cory Remekun
's shot on the other end. And on his team's next possession, he channeled Magic Johnson.
[+] Enlarge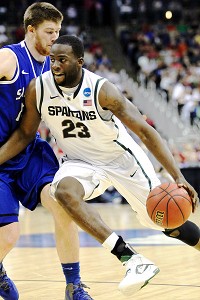 Greg Bartram/US PresswireDraymond Green's move to the point down the stretch helped Michigan State hold off Saint Louis.
He drove toward the rim in traffic. And as a national-player-of-the-year candidate and the best player on the floor, he had every right to take that shot.
But Green is a star who doesn't care about that status. He had a greater goal in mind.
Instead, he moved toward the bucket, drew Billikens and found
Keith Appling
wide open in the corner.
Appling connected on the 3-pointer and put the Spartans ahead 58-51 with 1:37 remaining on the game clock, one of his six assists on Sunday.
Prior to that play, Green had encouraged Appling to get loose.
"We got in the huddle in one of our timeouts, Draymond instilled some confidence in me, told me I was a 41 percent 3-point shooter last year, so shoot the ball," Appling said.
Green was actually the first option on that critical sequence, but deferred to his teammate.
"All night, I was begging him to shoot, too," he said.
Late free throws sealed Michigan State's trip to the Sweet 16, where it will face Louisville in Phoenix. But Green's continued emphasis on unity ensured that this program would not unravel in the clutch moments it navigated against Saint Louis.
On Twitter, some commented that Green's decision to wipe up the floor late in the game was an example of the senior "trying too hard" to show off his leadership and selflessness.
An entire locker room of young men who call him a brother would disagree.
Travis Trice
said he admires Green because he invites the team's freshmen over to his house in East Lansing, Mich. It's not a random occurrence but a consistent effort by Green to include everyone in the program.
One staffer said Green just "gets it." He shows up early for meetings. He treats the trainers -- not just his teammates and coaches -- with respect.
Derrick Nix
said Green's dish to Appling showcased that humility. His teammate makes those plays often, Nix said, because he's interested in the success of the entire program, not his own numbers.
"Draymond's one of those pass-first guys. Little do a lot of people know, he's going to pass it before he takes a shot because he's so unselfish when he should be selfish at times," Nix said.
The same man who's helped the Spartans connect on and off the floor with his personality is the same person who will jump on a player if he's out of order.
"Barking," players called it during the NCAA tournament.
At halftime Sunday, players argued over the effort level in the first half. Green was vocal during the exchange.
"He is our head on this team, him and Keith," Nix said. "If it's something going on, they're going to know about it and address it."
Players accept Green's praise and criticism because they respect him.
It's easy to see why.
As much as he oozes confidence, Green admitted that he's prone to mistakes. He's not the perfect player/kid/friend/son/teammate he appears to be.
He said the pressures of garnishing attention for earning Big Ten player-of-the-year honors and being mentioned as a candidate for national honors were tough to handle.
"I still have times where I struggle and I go in to Coach behind closed doors and talk to him," Green said. "Nobody may know about it. My teammates may not know about it."
It's that genuine persona and vulnerability that have anchored Michigan State's undeniable chemistry.
Yes, Green is one of the best players in America. But according to those around him, his leadership is equally significant for the program and its potential to reach New Orleans.
"If he wanted to he could go off and say, 'Screw you guys, I'm going to get my numbers. I'm going to do what I can to get my numbers,'" Thornton said. "He sacrifices to make the team better."
February, 10, 2012
2/10/12
9:00
AM ET
When and where:
Saturday (ESPN, 6 p.m. ET), Value City Arena (Columbus, Ohio)
Michigan State breakdown:
The Spartans have played their best basketball since early losses against North Carolina and Duke dropped them off the radar screen for a while. Like always, Tom Izzo and his team went to work and improved through tough practices and intense competition. This is not Izzo's best team, but it is a group he relishes going to battle with, and one that he really likes. But with this game against the Buckeyes, Michigan State begins a brutal seven-game stretch in which the Spartans play six teams ranked in the KenPom.com top 50, four of which are games against top 10 teams.
Michigan State, as always, is an outstanding rebounding team that can get second shots and limit your second chances. The Spartans boast a plus-10.8 rebound margin and grab more than 40 percent of their misses. Defensively, the Spartans bend but don't break and have done a really nice job all season of making it tough to get open, unchallenged shots. MSU leads the Big Ten in field goal percentage defense in conference games at 38.6 percent, which is just ahead of Ohio State. This is the best help and gap-protection defense the Spartans have played in a few years, and it shows in every defensive metric. On the offensive end, Michigan State is solid but not spectacular. It is a good shooting team, hitting 48 percent of its shots from the floor in conference and more than 38 percent of its 3-point shots.
[+] Enlarge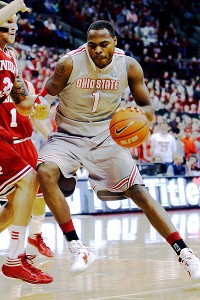 AP Photo/Jay LaPreteDeshaun Thomas is a scoring threat Michigan State can't ignore.
Ohio State breakdown:
The Buckeyes have the best low-post scoring big man in the country in
Jared Sullinger
, one of the top scoring wings in
William Buford
and the best on-ball defender in
Aaron Craft
. Ohio State also has a lefty third scorer in
Deshaun Thomas
, who put up 30 points this season against South Carolina.
Ohio State's numbers are surprisingly similar to Michigan State's. The Buckeyes lead the Big Ten in field goal percentage at 49 percent (with Michigan State second) and are second in the league in field goal percentage defense (with Michigan State second) at 38 percent. Earlier in the season, OSU dropped a few games, in large measure because of Sullinger was out with an injury for a time. The key improvement for Ohio State has been on the defensive end. Thad Matta has spent more time on team defense this season than at any time in his career in Columbus. The Buckeyes are rated as the No. 1 overall defense by KenPom.com, and Ohio State is able to force turnovers at a high rate, while limiting fouls and keeping the opponent off the free throw line.
Spartan studs:
There is no question that
Draymond Green
is the heart and soul of the Spartans. Green averages 15.2 points and a league-leading 10.6 rebounds; he averages nearly double figures in defensive rebounds alone. He is a good passer and really works as a defender. Green is playing with a sense of urgency and seems to know that this team has a chance to do something special in the NCAA tournament.
Keith Appling
has done a great job handling the ball and is averaging nearly 12 points and 3.3 rebounds. Appling has been attacking more off the bounce and has done a solid job. A real key is
Branden Dawson
, a McDonald's All-American who is a terrific player and looks like he was chiseled out of stone. Dawson has played very well in Big Ten games and will be crucial if Michigan State is to steal a victory in Columbus.
Brandon Wood
and
Travis Trice
have come in and done a nice job for Izzo and have added to Michigan State's ability to hit perimeter shots and run the team.
Buckeyes' best:
Sullinger is, by a fair margin, the best low-post scorer in the country. In Big Ten games, Sullinger averages 18.6 points and 8.7 rebounds, and he can be the very best player in the country. He, along with Craft, do a magnificent job of filling their roles. Ohio State has been resolute in getting the ball inside to Sullinger, and he was dominant in last Saturday's win over Wisconsin. But Thomas and Buford have become legitimate threats.
Lenzelle Smith
didn't make a Namath-like guarantee, but he has played very well over the past three weeks. Smith is a terrific athlete who can really guard. He can also hit open shots.
[+] Enlarge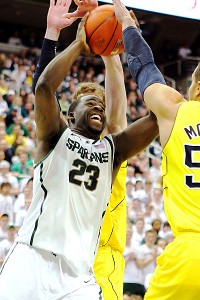 Mike Carter/US PresswireDraymond Green has been a force offensively and on the glass, and is the Spartans' undisputed leader.
X-factors:
Thomas and
Derrick Nix
. Thomas is one of the best scorers in the Big Ten. Nix has improved his body, his mobility and his confidence. Nix has been a real factor and it will be interesting to see if he can hang with the Buckeyes and stay out of foul trouble. Both Nix and
Adreian Payne
will have to keep a body on Sullinger in any attempt to limit him. One thing they cannot do is foul Sullinger and allow him to shoot free throws.
Key stat:
Rebounding. In a game that features the top two defenses in Big Ten play, a premium will be on the backboards. Michigan State sends three and sometimes four to the offensive glass to get second shots, and the Spartans do a very good job of limiting you to one shot. These are also the top two rebounding teams in the league.
Who wins:
Ohio State, 66-62. With the Buckeyes at home, I favor Brutus. Michigan State cannot afford to worry should it play well and lose. The remaining six games are difficult and important, punctuated by a rematch with Ohio State at the Breslin Center in the regular-season finale. Win or lose, the next game will be really important for Michigan State. For Ohio State, the same schedule applies. The Buckeyes play just as tough of a slate to end the season as MSU, with six of the final seven games against the KenPom.com top 50.
November, 12, 2011
11/12/11
12:19
AM ET
SAN DIEGO -- After an event aboard the USS Carl Vinson that will be a lifetime memory, the Michigan State basketball team found that its identity mirrored in some small way the servicemen and women it entertained Friday night.
The Spartans will have to be tough and rugged and able to adjust on the fly if they are going to be a success this season.
"We played hard, we made the hustle plays," said an emotionally drained Tom Izzo. "We can be better offensively."
The Spartans lost to top-ranked North Carolina
67-55
, despite outrebounding the Tar Heels by 15. MSU dealt with multiple players in foul trouble and a woeful 30.6 shooting percentage as a slight breeze blew across the deck. The weather couldn't mask a 2-for-20 effort from behind the 3-point arc, though.
Austin Thornton
was a brutal 0-for-7 from the field, while freshman
Travis Trice
began his career 1-for-8. But Michigan State's
Keith Appling
said the wind wasn't an excuse he or teammates were willing to give.
[+] Enlarge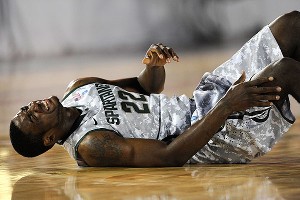 Christopher Hanewinckel/US PresswireBranden Dawson suffered a scare in the first half, but was able to return for the Spartans.
The Spartans got off to decent start in the first few minutes when they were controlling the offensive backboard. But that was before the Tar Heels started to click and run past MSU.
The Spartans weren't helped by a first-half injury to freshman forward
Branden Dawson
, who tweaked his right knee on a center-court logo. Izzo said at halftime and again after the game that the decals are a detriment to players and a serious concern for coaches and players. Dawson said he was a bit nervous after he went down.
He worked on his knee behind the basket, doing slide drills to loosen it up. It worked, as he ended up playing all but five minutes. But he wasn't as effective in the second half, scoring only 4 points and grabbing two of his seven rebounds after the break.
Dawson had ice on his knee after the game, but didn't appear to be having any issues. He will have to be a major factor for the Spartans, helping
Draymond Green
as well as
Adreian Payne
and
Derrick Nix
inside. The Spartans are already down one forward with Delvon Roe having to give up the sport due to injury.
"Coach Izzo told me I have to keep going to the glass," Dawson said. "We know that's what we have to do."
Green was down on himself for his play (6-of-19 from the field), but he did finish with 18 boards.
"We outrebounded them by 15 so you can see that we can be the old Michigan State," Green said. "We have to shoot the ball better, but we can win a lot of games rebounding like that."
The Spartans play Duke on Tuesday night at the Champions Classic in New York City. The Blue Devils have their tallest team in years, giving MSU another challenge inside.
But the Spartans love every minute of this. Izzo said he wouldn't have it any other way, playing the No. 1 Heels in Friday's spectacular and moving environment and then going across the country to play Duke on what could be coach Mike Krzyzewski's clinching victory to own the all-time win record.
"I do this because I'm selfish," Izzo said. "I want to be at these games. We're still building our program. We got something out of this. We competed. There was a different look in our players' eyes. There were no issues, none with the weather. It was just great."