College Basketball Nation:

Trevon Hughes
March, 27, 2010
3/27/10
2:58
PM ET
By
Diamond Leung
| ESPN.com
The
Reese's College All-Star Game
will be played at the Final Four on Friday, and some seniors will get an extra college game and a trip to Indy under their belts. According to a UCLA press release, here's how one of the teams coached by Gene Keady will stack up:
Michael Roll
(G, UCLA)
Robert Glenn
(F, IUPUI)
Trevon Hughes
(G, Wisconsin)
Jerome Randle
(G, California)
Adam Koch
(F, Northern Iowa)
Omar Samhan
(C, Saint Mary's)
Aubrey Coleman
(G, Houston)
Bryan Davis
(F, Texas A&M)
Tyren Johnson
(F, Louisiana Lafayette)
Quincy Pondexter
(F, Washington)
UPDATE: Pondexter
won't be playing
.
March, 21, 2010
3/21/10
3:48
PM ET
JACKSONVILLE, Fla. -- Quick impressions of the first half here at Jacksonville Veterans Memorial Arena, where
12th-seeded Cornell leads No. 4 Wisconsin, 43-31
:


Can't say this result is all that surprising, since Cornell was the most impressive team here Friday outside of maybe Duke. After shooting 57 percent in a first-round win over Temple, the Big Red connected on 59.3 percent in the first half against Wisconsin. This is a Badgers team that only allows 56 points per game, and Cornell is 13 points away from that figure already. The reason? Steve Donahue's team runs crisp, offensive sets, and his guys just don't miss open looks. The Big Red also look like the quicker and more athletic team, and they've hustled to keep many balls alive. Emblematic of that was a play late in the half, when Jeff Foote tipped out an offensive rebound to Chris Wroblewski, who drained a three from the top of the key. Cornell has scored 21 points off turnovers or offensive rebounds, or almost half its points so far.
Jon Leuer scored Wisconsin's first 12 points, and for a while it looked like he might have to carry the entire load. But Jason Bohannon chipped in seven first-half points, breaking out of a prolonged shooting slump. When he hit his first three-pointer, the Badgers fan section erupted. They know how important he is to this team as a bona fide third scoring option behind Leuer and Trevon Hughes.
Hughes, though, has struggled. He has five points but also five turnovers. Wisconsin as a team had only four turnovers against Wofford on Friday. Louis Dale has done a great job of slowing down Hughes's penetration, and Dale has scored eight points on the other end.
Like they did against Temple, the Big Red aren't getting a ton of stops, as Wisconsin shot 52.2 percent in the half. But as long as they keep making the Badgers have to score every time down to keep pace, they'll be just fine. Bo Ryan needs his team to get back to its patented suffocating defense in the second half to make a rally.
March, 21, 2010
3/21/10
9:33
AM ET
JACKSONVILLE, Fla. -- The first batch of games here in Jacksonville lacked the drama that gripped some of the other sites. Three of the first four contests were decided by double digits.
But with Cornell, Duke, Cal and Wisconsin, I'd put this pod's SAT scores up against any other subregional. Here's a look at the games on tap for Sunday:


Cornell (12) vs. Wisconsin (4), 2:50 p.m.
Key to the game:
Cornell can shoot it as well as anybody. Wisconsin defends as well as anybody. Sounds simplistic, but that's basically what this game boils down to. Cornell dissected Temple, another good defensive team, in the first round, getting pretty much whatever open looks it wanted. Wisconsin rarely allows anybody to feel comfortable, but its defensive philosophy of chasing shooters off the three-point line will be challenged by a team with four players capable of draining the long ball at any time.
"We have to try to take away their air space," Badgers forward
Jon Leuer
said. "When you have a guy breathing right down your neck when you come off a screen, it makes you think twice about shooting a 3. We have to make them put it on the floor and hopefully take some tough jumpers."
Player to watch:
Wisconsin's
Trevon Hughes
. He makes the Badgers go, and his ability to penetrate and dish could cause problems for Cornell's defense.
Louis Dale
will be under a lot of pressure to slow Hughes down.
Who has the edge:
Believe it or not, Cornell. Wisconsin has struggled shooting the ball lately, and the Big Red is riding a huge wave of confidence right now. They proved they could handle a deliberate, defensive-minded team in the first round and will be headed to the Sweet 16 if they play the same way today.


California (8) vs. Duke (1), 5:15 p.m.
Key to the game:
The Golden Bears and Blue Devils meet in the tournament for the first time since Jason Kidd outdueled Bobby Hurley in 1993. Duke's trio of
Kyle Singler
,
Nolan Smith
and
Jon Scheyer
garner a lot of attention, but Cal has its own Big Three with
Jerome Randle
,
Theo Robertson
and
Patrick Christopher
. Emphasize the word "three" with that group, because all of them like to let it fly from way beyond the college arc, as Louisville found out Friday night. They give the underdog Bears a shooter's chance.
"We haven't played a team with this many weapons from the outside," Scheyer said. "It's all about being disciplined on defense."
Duke, though, has a major advantage in size, as Cal's only starter over 6-foot-6 is former Blue Devils transfer
Jamal Boykin
. And this is one of the best defensive teams, at least statistically, that Mike Krzyzewski has ever fielded. Duke will have to close out on shooters and prevent the Bears from getting runouts in transition like they did Friday against Louisville.
Player to watch:
Randle. The point guard, whom Krzyzewski called "a blur," can change the game with his speed, deep range and near-automatic foul shooting. He'll be matched up against Duke's best on-ball defender in Smith.
Who has the edge:
Duke. Cal had a nice performance against Louisville, but hasn't proved it can beat an elite team yet this season. The Blue Devils should be able to ride their length and depth to avoid the same second-round fate as fellow No. 1 seed Kansas.
March, 19, 2010
3/19/10
7:05
PM ET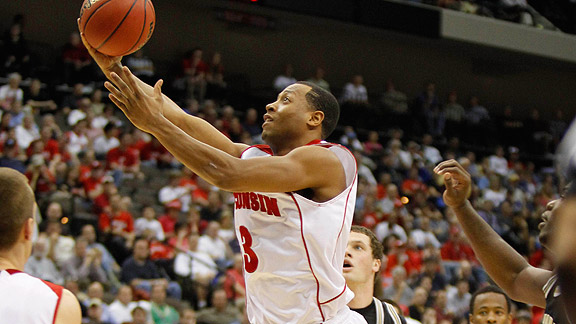 Bob Donnan/US PRESSWIREWisconsin Badgers guard Trevon Hughes teamed up with Jon Leuer to give the Badgers a fierce 1-2 punch in a 53-49 win over Wofford.
JACKSONVILLE, Fla. -- With just one look from teammate
Trevon Hughes
,
Jon Leuer
knew what was coming.
Wisconsin had the ball, trailing Wofford by a point with the clock dwindling under 30 seconds. Leuer flashed out high, ready to set a ball screen for Hughes. But Hughes told him to "go flat," meaning head to the baseline. And that's when the two made eye contact.
"I knew then that if my guy came off, he was going to find me," Leuer said.
That's how it happened, too. Hughes drove into the lane, drawing a double team that left Leuer open in the corner. Hughes delivered the pass, and Leuer drilled a 17-foot jumper with 17 seconds left as the fourth-seeded Badgers held off No. 13 seed Wofford 53-49.
The two-man game worked all day for Wisconsin. Leuer had 20 points and Hughes scored 19, with the rest of the team adding only 14. But if the Badgers want to win more than one game in this tournament, they'll need more than just a pair of contributors.
Continuing a troubling trend that started in the Big Ten tournament loss to Illinois, Wisconsin struggled to get anybody other than Leuer and Hughes going. They combined to go 14-for-29 against Wofford while the rest of the team shot just 6-for-35. Against the Illini, the supporting cast was only 9-of-34 from the field. Third leading scorer
Jason Bohannon
is mired in an awful slump. He missed all four of his shots against Wofford and is 2-for-20 in his last three games.
"People game plan to not give up the three and that's his game," Hughes said of his backcourt mate. "He's going to come around, and I feel sorry for whatever team we play when he does."
Maybe, but until then the Badgers are living on the edge. If Wofford had made more than one of its seven second-half free throws, or if the Terriers'
Cameron Rundles
hadn't lost the ball out of bounds with 4.9 seconds left, Wisconsin might already be done. Hughes acknowledged that his team has to play a whole lot better against Cornell on Sunday.
This was a weird game in a lot of ways. Wofford couldn't make a shot most of the first half, and then it couldn't miss. The much smaller Terriers outrebounded Wisconsin 37-30. The Badgers had only four turnovers, but only dished out three assists.
"Sometimes it doesn't always go as scripted," Leuer said.
Luckily for he and his teammates, the most important play of the game developed just as he thought it would.
March, 19, 2010
3/19/10
5:13
PM ET
JACKSONVILLE, Fla. -- Wisconsin narrowly avoided becoming the latest first-round upset victim against Wofford.


Jon Leuer
's 17-foot jumper from the baseline with 17 seconds left helped the
No. 4 seed Badgers escape against No. 13 Wofford 53-49
.
Down by eight at halftime, Wofford came out smoking in the second half, hitting its first eight shots, including three three-pointers. Despite a considerable size disadvantage, the Terriers worked Wisconsin over on the backboard and took the lead several times in a back-and-forth half.
But after
Trevon Hughes
hit Leuer for the go-ahead score,
Cameron Rundles
turned the ball over with 4.9 seconds to go. Leuer was fouled and made both free throws to seal it. Rundles was in tears and had to be consoled by several teammates as they walked off the floor.
So the Badgers advance, but they can't feel great about the effort. Hughes' assist was one of only three by his entire team for the game. Wisconsin was just 1-of-8 on threes and got just 14 points outside of Hughes and Leuer. Sounds weird to say, but the Badgers will have to play better than that to beat Cornell.
March, 19, 2010
3/19/10
3:59
PM ET
JACKSONVILLE, Fla. -- It was a first half only a Wisconsin fan could love.
The fourth-seeded Badgers lead No. 13 Wofford 27-19 after 20 minutes of intermittent basketball skill. Wofford was just 2-for-15 to begin the game and ended the half shooting just 28 percent. The team has no assists and five turnovers.


Wisconsin's length clearly caused problems for the Southern Conference champions, who start three guards and a pair of 6-6 forwards.
SoCon player of the year
Noah Dahlman
has managed just two field goal attempts, and the Terriers need more for him to make this a game in the second half.
Trevon Hughes
has been the main man for Wisconsin, scoring 14 points in the half.
Jon Leuer
added eight points in what has been mostly a two-man show on offense. The Badgers' shooting woes from the Big Ten tournament have continued, as they made just 10-of-29 shots in the first half.
We'll hope for prettier sights in the second half, but Wisconsin would happily continue this street fight if it can advance to Sunday.
March, 12, 2010
3/12/10
5:33
PM ET
INDIANAPOLIS -- Illinois center
Mike Tisdale
calls head coach Bruce Weber "a defensive juggernaut."
Few would use that term to describe Weber's team this season.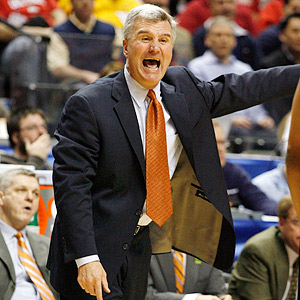 Brian Spurlock-US PRESSWIREIllinois coach Bruce Weber's new defensive strategy is paying off.
Weber is known for demanding defense from his players, but Illinois struggled to defend its own basket for much of 2009-10. The Illini finished the regular season ranked 10th in the Big Ten in points allowed (66.5 ppg). In Sunday's home outing against Wisconsin, they allowed 72 points and couldn't keep the Badgers off the backboards.
When Monday's practice rolled around, Weber made a decision.
"I told [the assistants], 'I'm going to coach the way I want to coach,'" Weber said. "We went after it for about an hour: all competitive drills, very physical. Took a little bit of a reprieve on Tuesday, came back, same thing on Wednesday.
"I said guys, 'This is how we should be playing all the time.'"
Illinois responded in Friday's Big Ten tournament quarterfinal rematch with Wisconsin, holding the Badgers to 20 points through the first 24 minutes. Wisconsin's shooting percentage dipped to 15 percent at one point before guard
Trevon Hughes
got hot down the stretch.
It wasn't enough, as
Illinois held on for a 58-54 win
, its fifth against an top 50 RPI opponent. Weber and his players weren't about to proclaim themselves part of the NCAA tournament bracket, but as Tisdale said, Friday's win "couldn't hurt."
Illinois won its first game on a neutral court this season. The Illini blanketed the opponent's stars for most of the game. Veterans like
Demetri McCamey
(13 points, 8 assists, 5 rebounds) and
Mike Davis
(10 points, 10 rebounds) made key shots down the stretch, and Tisdale went for 21 points and eight rebounds.
Translation: Illinois looked like an NCAA tournament team, which hasn't always been the case this season.
"We've had our ups and downs where we've looked not [even] NIT-bound," Tisdale said. "And we've had games where we looked like we could beat anybody."
Weber stated Illinois' case after Friday's win, pointing out the number of quality wins, big road wins against Wisconsin and Clemson and a tough schedule to close the season. But he and his players stopped short of proclaiming themselves bracket-bound.
"Everybody keeps asking, but we don't know," Davis said. "Only the committee knows. [Saturday], if we win, we're definitely in."
Ohio State will test Illinois' newfound defensive intensity. The Buckeyes shot 53.1 percent in a blowout victory in Champaign on Valentine's Day, and they got hot from 3-point land in a 73-57 triumph in Columbus on March 2.
Weber targeted defense and rebounding as his top goals Friday, and Illinois responded, holding a 40-33 edge on the glass. He told McCamey and Davis that he needed their best defensive effort of the season, and they responded with 13 defensive rebounds and two blocks.
Monday's workout clearly paid off.
"It was like an early season practice," Davis said.
"If you walked in practice Monday for the first time," Tisdale said, "you'd have thought we were crazy."
Crazy? Perhaps.
But now Illinois might be called something else -- tournament worthy.
March, 12, 2010
3/12/10
4:35
PM ET
INDIANAPOLIS -- Talk about good omens. Illinois had one during a timeout with 12:50 left in Friday's Big Ten tournament quarterfinal matchup against Wisconsin.
As the "Kiss Cam" segment played on the Conseco Fieldhouse JumboTron, an Illinois fan appeared on the screen, got down on one knee and proposed to his girlfriend.
She said yes.
Will the NCAA tournament selection committee do the same on Sunday?
Illinois has a much more convincing case after edging No. 4 seed Wisconsin 58-54 to advance to the Big Ten tournament semifinals Saturday against top seed Ohio State. The Illini limped into the tournament having lost five of six, but they delivered their best defensive effort of the season.
And it came at a perfect time. Illinois has beaten Wisconsin twice and now owns five wins against the RPI Top 50. In a year where the bubble is extremely weak, it should be enough to put the Illini in the bracket.
It didn't come without some tense moments down the stretch, as Wisconsin got hot after struggling mightily with its shooting.
First-team All-Big Ten guard
Demetri McCamey
really stepped up for Illinois after a rough outing in Sunday's loss to Wisconsin. McCamey was brilliant at both ends of the floor, getting his teammates involved and taking timely shots, none bigger than a fallaway 3-pointer with the shot clock winding down to put Illinois up 49-38 with 2:23 left. Illinois really needed its best player today, and he answered.
So did center
Mike Tisdale
(21 points, 8 rebounds) and forward
Mike Davis
(10 points, 10 rebounds). Davis made several huge plays in the final minutes. And after a rough first half,
D.J. Richardson
showed why he's the Big Ten co-Freshman of the Year.
Illinois came in ranked 10th in the Big Ten in scoring defense (66.5 ppg), an uncharacteristic statistic for a Bruce Weber-coached team. But the Illini looked like one of Weber's old squads today, forcing Wisconsin into jumper after jumper and miss after miss. The Badgers had 20 points with less than 16 minutes to go in the game.
Wisconsin star guard
Trevon Hughes
missed his first 11 shots before connecting with 1:44 left. Hughes led a furious rally in the closing minutes, hitting four 3-pointers, the last to bring Wisconsin within two points. But he fouled out on a near steal with 26 seconds left, and teammate
Jason Bohannon
missed a potential game-tying 3-point attempt.
Wisconsin needs both Hughes and Bohannon to step up next week in the NCAA tournament, where it likely will be a No. 4 or No. 5 seed.
March, 12, 2010
3/12/10
3:19
PM ET
INDIANAPOLIS -- Illinois is halfway to a victory that could seal an NCAA tournament berth. Wisconsin doesn't look overly interested in being here.


Some quick thoughts at halftime of Friday's second quarterfinal:
Demetri McCamey looks like he did a month ago, and that's a very good thing for Illinois. McCamey has put Sunday's ugliness behind him and recorded 10 points on 5 of 8 shooting. He even cracked a smile after hitting a fadeaway late in the half to put Illinois up 29-18. It looks like all is well between McCamey and head coach Bruce Weber, though there's still a half to go.
Illinois' front line has provided a major lift. Center Mike Tisdale swished just his second 3-pointer of the season and finished the half with nine points and 5 rebounds on 4 of 5 shooting. Forward Mike Davis also answered the bell with six points and five boards, hitting 3 of 4 shots. Illinois shot a blistering 65 percent for the half but committed way too many turnovers (9).
Forward Jon Leuer continues to show up big for Wisconsin, but he's the only one so far. Leuer, who sparked Wisconsin's four-game win streak to close the regular season, has a game-high 11 points. It hasn't helped, though, as Wisconsin's backcourt looks simply awful so far. Trevon Hughes is 0-for-8 from the field, and Hughes, Jason Bohannon and Jordan Taylor are a combined 1-for-17 for three points.
Illinois hasn't been a good defensive team this year, but the Illini look like the old Weber teams today. Wisconsin is settling for way too many outside shots, and the Badgers are losing the rebounding edge 18-13.
February, 8, 2010
2/08/10
8:16
PM ET
By
Diamond Leung
| ESPN.com
January, 14, 2010
1/14/10
1:01
PM ET