College Basketball Nation:

Trevor Booker
March, 19, 2010
3/19/10
6:43
PM ET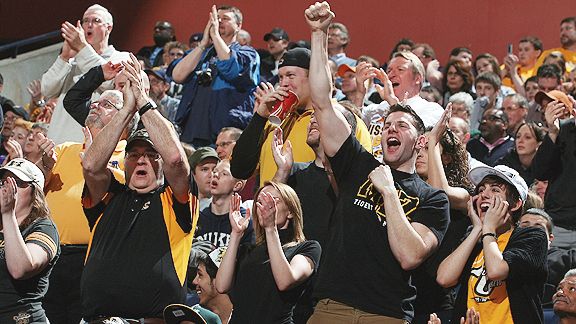 Rick Stewart/Getty ImagesMissouri fans cheer as the their Tigers beat No. 7-seeded Clemson.
BUFFALO -- Between the humbling loss to Nebraska in the Big 12 Tournament and the first-round game against Clemson, Mike Anderson dug deep into his bag of torture treatments.
He pulled out the defensive slide drills and the full-court 1-on-1, 2-on-2 exercises of misery. The calendar said March but the revert to the basics read October.
The message to Mizzou was clear: That team that was run out by the Cornhuskers in Kansas City? Those were Paper Tigers.
The real Tigers showed up in Buffalo. Missouri showed a Clemson team that prides itself on playing uptempo what uptempo really looks like.
It looks like 15 steals and 20 forced turnovers.
It looks like an eye-popping 20 points off turnovers and an even more amazing, 22-2 edge in fast-break points.
It looks like an
86-78 win
.
"We haven't played that way in a long time,''
Keith Ramsey
said.
The (Gold) Tigers picked a perfect time to rediscover themselves. They will face West Virginia in the second round, a team that is far more content playing in the half court than running up and down and a team whose best point guard,
Joe Mazzulla
, is playing with one bad wing.
And Anderson, who has made a career out of turning under-recruited talent into overachieving success, could be itching to add another chapter to his bio.
"Our teams typically start playing some of their better basketball right around late February, March,'' said Anderson, whose Tigers last year streaked to the Elite Eight. "I guess we really turned up the intensity and I think it was reflective today. I think you build your team up until you get to this point because to me, this is what you work towards.''
Oliver Purnell will have to take his word for it. The Clemson coach remains the Susan Lucci of college basketball -- six trips to the NCAA Tournament, three schools, zero wins.
Not even the orange blazer could work its magic.
"There will be a perception among some people (that Clemson can't win in the tourney). I certainly don't subscribe to that,'' Purnell said. "I wouldn't say we play extremely well but we competed, we were ready, they wanted it and it just didn't happen for us.''
It didn't happen because the (Gold) Tigers turned the tables on what the (Orange) Tigers were supposed to do.
Laurence Bowers
and his injured wrist and Keith Ramsey weren't supposed to be able to handle monstrous
Trevor Booker
.
Individually they probably couldn't.
But together? Together the two made like a Venus flytrap, double-teaming Booker every time he touched the ball.
The result, just 12 points from Booker and a win for Missouri.
"We hear that all the time, what we can't do,'' Bowers said. "We hear it when we go up against
Cole Aldrich
,
Ekpe Udoh
. We have a lot of experience handling talented big men.''
And the other little pointed-out fact: Ramsey and Bowers are talented big men in their own right. Ramsey had a season-high 20 points and eight rebounds while Bowers, who was thrilled to shave the splint on his injured wrist enough to expose his whole palm, had 15.
But with Mizzou it is never about offense it's always about defense. They swarm and swat and pester and annoy teams yet never seem to foul up themselves. Missouri, the second best team in the nation in turnover margin, lived up to its billing with only nine miscues in a frenetically paced game.
"Our pressure is constant,'' assistant coach Matt Zimmerman said. "Coach is always big on wear and tear.''
And the (Gold) Tigers, seasoned by a re-introduction to the hellacious basics that make them special, wore and tore the (Orange) Tigers apart.
"This is who we are,'' Taylor said. "The question is, will we play like this the rest of the tournament? I think we're capable, but can we do it. We'll see.''
March, 19, 2010
3/19/10
5:05
PM ET


BUFFALO -- A few quick impressions after Missouri's upset of Clemson.
For starters, this isn't an upset. Yes, Mizzou was a No. 10 seed Clemson a 7, but anyone who has been paying attention all season knows that the (gold) Tigers are a very good team. Mix in the Susan Lucci curse on Oliver Purnell -- 0-for-6 in the NCAA tournament with three different schools now -- and this cannot in good conscience be called an upset.
Mizzou could give West Virginia absolute fits. The speed of the game and the Tigers gnat-like peskiness will certainly disrupt the Mountaineers. Joe Mazzulla is going to have to steer a steady ship.
Tons of credit to the undermanned Mizzou frontcourt. Without Justin Safford (ACL) and with Laurence Bowers playing with a club on his injured left wrist, they still managed to contain Trevor Booker and Jerai Grant (11 and 12 points respectively). Keith Ramsey was a monster with 20 points and seven rebounds and Bowers was equally tough with 15.
And if there is a bigger pain in the posterior (and I mean that in the best sense of the word) in college basketball than J.T. Tiller I'd like to meet him. The senior runs around like his shorts are on fire and is absolutely everywhere. He sets the tone for this 40 minutes of speed that is Mizzou basketball. He finished with 10 points, four assists and five steals.
March, 19, 2010
3/19/10
3:46
PM ET


BUFFALO -- Some halftime observations from the HSBC Arena:
No big surprise, this is a track meet. Both teams love to get out and go and are happily getting out and going.
Clemson is playing right into Missouri's hands. The Orange Tigers (we have to differentiate somehow) have coughed up 13 turnovers, leading to 16 easy points. Nothing makes Mizzou's eyes light up more than a chance for a runout and the Gold Tigers have been given ample opportunity with 10 fast-break points.
Clemson's ability to score from outside has been critical. The Orange Tigers are 8-of-13 from the arc but they ought to be able to expose Mizzou's beat-up interior more with Trevor Booker. The big man only has three touches and two points.
Meanwhile, the undermanned Gold Tiger interior (Justin Safford done with an ACL and Laurence Bowers is playing with a bad wrist) has 12 points in the form of Keith Ramsey in a head-scratching surprise.
March, 11, 2010
3/11/10
11:53
PM ET
GREENSBORO, N.C. -- Postgame thoughts from
North Carolina State 59, Clemson 57
.
[+] Enlarge

Andrew Synowiez/US PresswireNC State's Tracy Smith scored 19 points against Clemson on Thursday.

The Redcoat Revival is back on. For another day, at least. Wolfpack coach Sidney Lowe and his bright-red suit coach will live to coach in the ACC quarterfinals for the first time since he originally broke it out in his first year, 2007. That year, Lowe wore the coat four straight days as NC State made an improbable run to the final before losing to North Carolina.
This time, Wolfpack fans can revel in the fact that they've advanced farther than the rival Tar Heels in this tournament for the first time since 2004. Carolina was bounced Thursday night by Georgia Tech.
The main force driving NC State into the quarterfinals was junior strongman Tracy Smith, who had 19 points and eight rebounds and was the team's only scorer in double figures.
Clemson star Trevor Booker got frustrated in the late going with his lack of touches offensively. Given the inability of his teammates to make shots, it's hard to blame him. Booker should have gotten more than 11 shots, though that still was a team high and he scored a team-high 17 points.
It was a good night for coaches on the hot seat. Paul Hewitt got a win over North Carolina in the first of two night games, and then Lowe followed up with the upset in the nightcap.
And it was a good day in Greesnboro for underdogs. Seeds No. 12 (Miami), 11 (N.C. State) and 9 (Virginia) all will play in the quarterfinals Friday. Then again, that's nothing new. In the last five ACC tournaments, the 11 and 12 seeds are a combined 7-3 in the opening round.
Horn-blower warning: In my witheringly insightful pre-tournament primer, I tabbed NC State as the most dangerous low seed and Wake Forest as the most vulnerable high seed. That's two calls correct in March with plenty of errant predictions so far.
March, 11, 2010
3/11/10
11:18
PM ET
GREENSBORO, N.C. -- Halftime thoughts from North Carolina State 25, Clemson 21.
Underdogs have ruled the day here. Or at least the first half. The No. 11 seed Wolfpack became the fourth underdog to lead at halftime, following Virginia (won), Miami (won) and North Carolina (lost).
NC State's quick hands produced six steals and forced nine turnovers, which helped limit Clemson to 22 field-goal attempts in the half. The Wolfpack weren't a whole lot better caring for the basketball, though, committing seven turnovers.
Clemson star Trevor Booker led his team with seven points and six rebounds, but it wasn't exactly a great half for the powerful post player. He was 1-for-6 from the foul line and turned the ball over four times.
Wolfpack junior Tracy Smith has shown great improvement this season, bumping his scoring average up from 10 as a sophomore to 17 this year. He's on his way to another productive night this time, with a game-high nine points in the first half.
NC State coach Sidney Lowe is rocking the red sport coat, which gave him good mojo in this tournament three years ago. Lowe wore it every day on the way to a surprising ACC final appearance in '07.
March, 3, 2010
3/03/10
8:47
AM ET
The Morning After is our semi-daily recap of the night's best action. Try not to make it awkward.
No. 7 Ohio State 73, Illinois 57
: There were zero upsets to speak of last night, and Illinois' bid for a tournament-securing win at Ohio State was no different. Instead, the night was a feel-good Buckeye festival. Thad Matta's team secured a share of the Big Ten title.
Evan Turner
got a national spotlight, not that he needed it (more on this below). And
Mark Titus
, the by-now-famous
purveyor of Club Trillion
, made the most of his senior night,
notching one final trillion
in front of hundreds of Club Trillion t-shirt-clad OSU fans --
not to mention raising a whole bunch of cash for sick children
. Really, things couldn't have gone much better.
The most notable performance of the night -- other than Titus', obviously -- probably came from Ohio State sharpshooter
Jon Diebler
, whose seven 3-pointers for 21 points (this scoreline math is refreshingly simple) helped bury the Illini in the second half. After the game, though, the only national topic was Turner. More specifically, the topic was "Is Evan Turner the player of the year?" Every analyst ESPN had to offer on Sportscenter proclaimed it to be true. The only dissenters? America. In a SportsNation poll, 37 percent of the country voted for
John Wall
as the player of the year; Turner notched 33 percent of the vote. Which means one thing, America: You're on notice. I know Wall might be the most familiar name, but it's March now. There's no excuse for this. Inform thyself. Wall is a great player, but Turner has had a better season, and he deserves the award. I thought we Turner advocates had settled this issue already -- seriously, you have no idea how good it felt to see the unanimous pundit praise for Turner Tuesday night -- but apparently not. We have more work to do. Turner bandwagon team ...
assemble!
No. 19 Vanderbilt 64, Florida 60
: Again, no upsets here: Florida, like Illinois, could have sealed an at-large NCAA tournament spot with a win over the sturdy Commodores on Tuesday night. It didn't happen. Still, the Gators acquitted themselves nicely in the loss; Florida held a typically efficient Vanderbilt offense to a mere 64 points on 60 possessions. Billy Donovan's team was undone by its poor shooting, though, hitting 21-of-50 2-point shots and just 2-of-13 from 3 for a paltry 31.8 effective field goal percentage. Even in a solid defensive effort, that's not going to get the job done.
The Associated Press wrap of the game seems to think that Florida significantly hurt its tournament chances with the loss, but that seems slightly overstated. Sure, Florida didn't help itself, but losing by four to Vanderbilt at home isn't the worst result in the world, is it? Florida might have more work to do -- but no more work than before Tuesday, right?
Everywhere else
: Cincinnati likewise needed a big win to keep itself in the at-large conversation. They almost got it,
but insert the old koan about horseshoes and hand grenades here
...
UTEP clinched the outright Conference USA title with a hard-fought win at Marshall
... Missouri's
Zaire Taylor
almost perfectly recreated
Tyus Edney's famous game-winner in a
thrilling overtime win at Iowa State
...
North Carolina became the second team in the history of college basketball to get to 2,000 wins
; one wonders if the current players felt strange holding that 2,000-win plaque, given this season's ugliness ...
Syracuse had no problems with St. John's on senior night
...
Baylor won at Texas Tech
, handing Pat Knight's team its sixth straight loss ...
Minnesota suffered a major letdown at Michigan
, one which officially puts the final nail in the the already almost-entirely-assembled Gophers' coffin ...
Trevor Booker
did manly things in
Clemson's win over Georgia Tech
... and
Marquette shredded Louisville's zone in a 21-point win in Milwaukee
.
February, 24, 2010
2/24/10
12:13
PM ET
The Atlanta Tipoff Club, which awards the Naismith each year, has narrowed its preseason list of 50 "watch" players down to the much more manageable 30 -- what it calls its midseason candidates list, even if, on Feb. 24, the whole "midseason" thing is a bit of a misnomer. But that's beside the point. The point is that we have 30 players to mull over now. True, most of the list won't even crack consideration for the final player of the year award, which is almost certainly going to go to Ohio State's
Evan Turner
or Kentucky's
John Wall
. But the tally is fun to look at anyway.
One minor quibble: The list of 30 manages to include six ACC players -- just one behind the Big East's leading seven -- without including Virginia Tech guard
Malcolm Delaney
, who happens to be leading the conference in scoring with 20.2 points per game for a 21-5 Tech team that's overcome its horrid nonconference schedule to (probably) play its way into the NCAA tournament. Nothing against
Al-Farouq Aminu
or
Gani Lawal
or
Sylven Landesberg
or
Trevor Booker
but it's hard to see how you could include those four and leave Delaney off the sheet.
Anyway, the full list is after the jump. Other quibbles? Let's hear 'em in the comments.
January, 23, 2010
1/23/10
11:10
PM ET
CLEMSON, S.C. -- Duke finally won a road game Saturday night, beating No. 16 Clemson
60-47
at Littlejohn Coliseum.


The No. 6 Blue Devils avoided their first 0-4 road start since the 1981-82 season, which was Mike Krzyzewski's second season at Duke.
The Blue Devils also avenged one of the worst losses of the Coach K era: a 74-47 rout at Clemson last February.
After the score was tied at 23 at the half, Duke started to pull away early in the second half. The Blue Devils' suffocating defense forced Clemson to turn the ball over five times in its first nine possession after the half.
Guard
Nolan Smith
led the Blue Devils with 22 points on 8-for-13 shooting, and reserve
Lance Thomas
added 13 points. Senior forward
Trevor Booker
led the Tigers with 22 points on 10-for-14 shooting.
January, 13, 2010
1/13/10
10:15
PM ET
CLEMSON, S.C. -- Any thought Clemson couldn't be a pressing, disruptive, turnover-producing team at Littlejohn Coliseum this season was dispelled in the first 20 minutes Wednesday night, as the Tigers have a 50-32 lead on No. 13 North Carolina.
Sure, the Tigers gave up a 23-point lead to Illinois early in the season and lost.
Yes, the Tigers beat Boston College here last Saturday and were able to dictate the pace. But the Eagles have traditionally been bothered by the Tigers' pressure here or in Chestnut Hill.
But for the Tigers to do to North Carolina what it did last season to Duke was a significant confidence boost in the first half. Clemson scored 50 points before halftime after racing out to a double-digit lead within the first few minutes. The Tigers forced Carolina into 16 turnovers and the Tar Heels couldn't make a 3-pointer.
Meanwhile, Clemson was scoring at a rapid pace, with
Trevor Booker
owning the paint early and then
Tanner Smith
,
Andre Young
and
Noel Johnson
all finding their stroke for two 3s a piece.
Clemson shot 57 percent, 46 on 3s and shared the ball well with 12 assists on 19 field goals.
It didn't help the Heels that they weren't full strength, either. For the second straight time UNC came limping into the state of South Carolina.
A week ago Monday, the Tar Heels lost to the College of Charleston without
Marcus Ginyard
and
Will Graves
(both out with ankle injuries). This time,
Tyler Zeller
is out and was wearing a boot on his right foot. An MRI proved negative but he will get a bone scan when he returns to Chapel Hill. The move is meant to be preventive with so much of the season still to go.
North Carolina coach Roy Williams said to me at the half: "Our big guys have to move more.''
Deon Thompson
made one field goal,
Ed Davis
made none and neither did Will Graves. Backup
Travis Wear
had more field goals than all three with two.
"(Clemson's) pressure was really good,'' Williams said. "Our team was scared to death. I've never seen anything like that (from one of his teams).''
December, 17, 2009
12/17/09
12:02
PM ET
Five things to know from Wednesday night's action:
1.
Hassan Whiteside
recorded the first triple-double in Marshall history in Wednesday's 105-54 win over Brescia. The freshman came off the bench to record 17 points, 14 rebounds and a school-record 11 blocks. It was the sixth Division I triple-double of the season, second by a freshman, and first for a player coming off the bench. The last player with a triple-double off the bench was Chris Lowe (Massachusetts) in March 2008. Whiteside also recorded the first triple-double this season that included double-digit blocks. Last season,
Cole Aldrich
(Kansas) and Hasheem Thabeet (UConn) were the only players to record a triple-double of the points, rebounds and blocks variety.
2. Duquesne played its second double-overtime game of the season, beating Canisius 86-77. Every Dukes starter played at least 35 minutes, and both
Damian Saunders
and
Bill Clark
played the full 50 minutes. No team plays its starters more than Duquesne, which averages 173.6 minutes per game from its starting five. That is over 12 minutes per game more than the next team. Clark is averaging 38.2 minutes per game, third most in the nation. Duquesne is only getting 8.2 ppg off the bench, second fewest in D-I (USC is averaging 7.9).
3. In case there was any doubt,
Chris Warren
made it clear that he is back during Ole Miss' 91-81 overtime win over UTEP. The Rebels guard suffered a torn ACL last season in the midst of a breakout sophomore campaign. On Wednesday, he poured in a career-high 32 points thanks in part to a 13-for-15 performance at the free throw line. However, Warren's night was not always smooth sailing. With five minutes to go in the first half, he had already scored 17 points. He didn't score again until there were 69 seconds left in regulation. He wound up scoring 11 points in the overtime period, with nine coming at the free throw line.
4. How do you explain DePaul's loss at home to a 1-8 team? Maybe there was one player the Blue Demons didn't completely see coming. American's
Vlad Moldoveanu
was playing in his first game for the Eagles after transferring from George Mason in the middle of last season. The 6-foot-9 Romanian came off the bench to score a career-high 26 points, the most scored by an Eagles player this season. The entire American starting lineup only had five more points than Moldoveanu. It is also the most points scored off the bench this season against a power six conference team.
5. Clemson's
Trevor Booker
seems to have added a new dimension to his arsenal. In the first 109 games of the senior's career, he never had more than five assists in a game. Ten days ago, he had seven assists against South Carolina. Then last night, he was in distribution mode again. Booker was one assist shy of a triple-double, finishing with 13 points, 11 rebounds and 9 assists in an 80-63 win at East Carolina. One has to think Oliver Purnell wanted to get him that triple-double, though. Booker matched his season-high of 35 minutes in a game where East Carolina trailed by 17 at the half and never really threatened.
December, 4, 2009
12/04/09
11:58
PM ET
We'll all be watching the UNC-Kentucky grudge match, but here are three more games I'm looking forward to this weekend:
St. John's at Duke: This might be the most important game of the weekend. The Blue Devils need to bounce back at home after a loss to Wisconsin and St. John's needs a win to keep its postseason train rolling down the tracks. The Johnnies have won their first six games, but have yet to play a team comparable to Duke or in an atmosphere comparable to Cameron Indoor Stadium. A win on Saturday would go a long way toward getting St. John's back above the fold.
Iowa State at California: It's a near-desperation game in Berkeley on Saturday night. Big things were expected of the Cyclones and Golden Bears this season, but both have taken body shots early. Iowa State dropped games to Northwestern and Northern Iowa and Cal has dropped games to Syracuse, Ohio State and New Mexico. Both teams need this game for résumé and mental health reasons.
South Carolina at Clemson: Perhaps no team in the country needs a win this weekend more than Clemson. The Tigers host their banged-up rivals from Columbia at Littlejohn Coliseum on Sunday. After losing a 23-point lead to Illinois and failing to let Trevor Booker touch the ball in the second half, Oliver Purnell and his team need a win to feel better about themselves.