College Basketball Nation:

Trevor Cooney
March, 5, 2014
Mar 5
12:44
AM ET
If the NCAA tournament comes anything close to what we witnessed during Tuesday night's slate of 7 p.m. games, we'll have a fulfilling end to the college basketball season.
This closing week of the regular season felt like the opening weekend of the tournament with upsets that will potentially upset the tournament bubble. A must-win for Georgetown ended with
a 75-63 victory
over No. 13 Creighton. A must-win for Baylor ended with
a 74-61 triumph
over No. 16 Iowa State. Georgia Tech contributed to the downward spiral of No. 7 Syracuse by pulling off
a 67-62 upset
.
No. 1 Florida and No. 25 Kentucky both needed second-half awakenings before pulling away for their respective wins.
No. 12 Michigan was the only team than made the outcome totally boring. The Wolverines secured the Big Ten title outright by
pummeling Illinois 84-53
.
Baylor and Georgetown played with the desperation of teams needing to solidify their résumés. ESPN's Joe Lunardi had the Bears in as an 11-seed before beating Iowa State. Tuesday's win should just solidify their standing -- especially if they end the regular season with a win at Kansas State to reach .500 in Big 12 play.
[+] Enlarge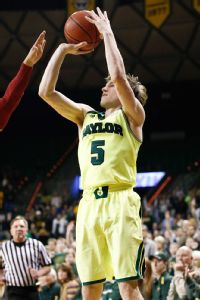 Jim Cowsert/USA TODAY SportsBrady Heslip scored 18, including five 3-pointers, to help Baylor upset No. 16 Iowa State.
Eight of Baylor's 10 losses had come to ranked teams, but the Bears changed that narrative by executing down the stretch. They held the Cyclones scoreless the last four minutes of the game.
Brady Heslip
broke a 61-61 tie with his fifth 3-pointer of the second half and the Bears never trailed again.
Georgetown's win over the Bluejays propels it into Saturday's regular-season finale with another opportunity to impress the committee at No. 6 Villanova. The hot-shooting Hoyas jumped on Creighton from the beginning en route to shooting 54 percent from the field.
It was the defensive job they did on Creighton's
Doug McDermott
that keyed their win. Though McDermott did score 22 points, he needed 23 shots to get there. The Hoyas held him to just six points on 3-of-10 shooting as they built a 42-28 lead at halftime.
McDermott got hot in the second half and led a charge that cut a 16-point deficit down to five with 1:34 left. But the Hoyas made five of six free throws and Creighton couldn't muster another basket to close the game.
Syracuse's fall from being a potential No. 1 seed in the tournament appears to be complete unless it can turn things around quickly. That doesn't seem likely as the Orange lost for the fourth time in five games and suffered their second setback to a team in the lowest third of the ACC.
The Yellow Jackets were a perfect senior night opponent having entered the Carrier Dome as losers of their past four. But they were in control most of the game against a Syracuse offense that again struggled to score.
C.J. Fair
delivered 28 points and
Tyler Ennis
added 18, but no other Syracuse player reached double figures. Guard
Trevor Cooney
went 3-for-12 from the field -- including just 1-of-7 from 3-point range -- and finished with seven points.
The Orange sorely missed the presence of sophomore forward
Jerami Grant
, who is nursing a back injury and did not dress out for the game. Grant averages 11.8 points and is their leading rebounder with 6.7 rebounds.
The loss dropped Syracuse one step closer to a full scale panic. Kentucky nearly joined them.
The Wildcats trailed Alabama 28-25 and were flirting with their first three-game losing streak in five years. Tied at 32-32 in the second half, they used a 9-2 spurt to take the lead for good en route to a 55-48 win.
It wasn't an overwhelming show of strength for the Cats. They shot just 32 percent from the field, including a 1-for-11 outing by James Young, but they showed fortitude they didn't have in the loss at South Carolina.
Julius Randle
's 11 rebounds powered a 41-27 advantage for Kentucky, which helped it outscore Bama 18-3 in second chance points.
No. 1 Florida made upset-minded South Carolina believe that it was headed toward paying another SEC fine. The Gamecocks knocked off Kentucky on Saturday leading their crowd to rush the court after the game. That drew a $25,000 fine from the league for violation of policy and another violation would have upped the ante to $50,000.
The Gators led just 28-26 at halftime and by four points at the under-12 media timeout. The Gamecocks' confidence seemed to be rising with each minute they remained close, but
Michael Frazier II
put an end to that.
Frazier already had five 3-pointers in the half. He made six more over the game's final 11 minutes, including his first of those six that ignited a 15-0 run en route to
a 72-46 win
. Frazier set a new school record with his 11 3-pointers, beating Joe Lawrence's mark of nine set on Dec. 27, 1986. He also scored a career-high 37 points.
The Illini never really had a chance against Michigan. They held their previous four opponents to less than 50 points. The Wolverines scored 52 in the first half. They bombarded Illinois by shooting 11-of-14 from 3-point range and 67.9 percent overall from the field.
The win secured Michigan's first outright Big Ten title since 1986. The Wolverines were the only ranked team that seemingly were never seriously challenged on Tuesday. That's why, although the tournament is still two weeks away, the madness has already started.
February, 23, 2014
Feb 23
12:56
AM ET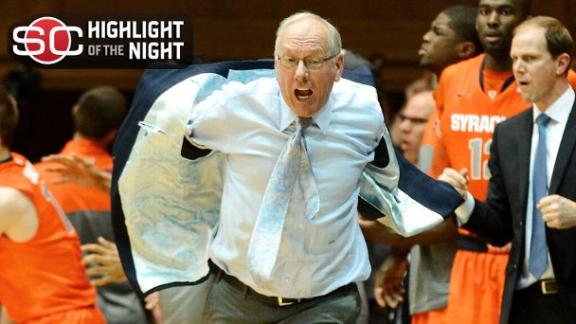 DURHAM, N.C. --
Syracuse
, a winner of its first 25 games, the No. 1 team in the nation, has in a week dropped back-to-back outings, dropped out of first place in the ACC and, in the process, dropped its close-game mystique.
It had to happen at some point, right?
The Orange were undefeated, but they were not dominant. The warning signs were there as early as the fourth game of the season when they trailed St. Francis Brooklyn by four points with four minutes left. They continued with close games against average teams like Miami, Notre Dame and North Carolina State.
"I think everybody realized we had a lot of things to learn," freshman guard
Tyler Ennis
said. "We weren't playing our best, but we were still able to pull out wins."
The difference now is that a loss to Boston College in overtime and
Saturday's 66-60 loss at No. 5 Duke
come at a time in the season when the best teams are generally trending upward. With road games left at Maryland, Virginia and Florida State, the Orange are trying to shrug off their setbacks.
Syracuse coach Jim Boeheim noted his team won its first eight games that were decided by two or fewer possessions before losing the past two.
"We flew through, obviously, and escaped a few times," Boeheim said. "We knew the end of the year would be hard, and that's fine. These games help you. This will help you. This was a tournament game."
[+] Enlarge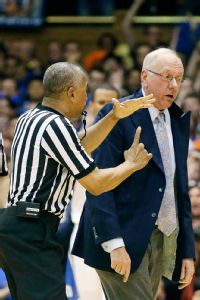 AP Photo/Gerry BroomeArguing a charge call against C.J. Fair earned Jim Boeheim two technical fouls.
Boeheim certainly acted like it when he was so disgusted that he charged on the court after
C.J. Fair
got called for a charge with 10.4 seconds left in a two-point game. He promptly earned two technical fouls and was tossed from the game.
There's no panic in Syracuse yet, but redshirt sophomore guard
Trevor Cooney
knows how quickly things can turn.
"I know the guys who were on the team last year that played and we lost five in a row, so we know that feeling and you don't want to ever have that feeling again," Cooney said. "So you just got to come ready for the next game. You put this game behind you. You learn from it, but you put it behind you."
Postseason games generally are won by great backcourts, but it's starting to seem like a season's worth of minutes could be taking its toll on the Orange's tandem.
The past five games, Ennis is shooting just 33.9 percent from the floor. Ennis has played at least 40 minutes in six of their 13 conference games -- including 43 minutes in the overtime loss to Boston College -- and averages 35 minutes for the season.
Ennis said he wasn't fatigued, but he was short on many of his jumpers against the Blue Devils, finishing just 2-for-13 from the floor. It marked his lowest shooting percentage for any game in which he's had more than 10 attempts.
Over that five-game span, Cooney is shooting 29.2 percent, including his 1-of-5 outing against Duke. Cooney, who averages 32 minutes per game, scored his lowest total in ACC play with four points against the Blue Devils.
"We just got to get some easy points in transition, get Trevor some easy looks because he's been guarded closely," Fair said. "When he makes 3s, that stretches everything else out for us."
Saturday's game could be a launching point for sophomore guard
Michael Gbinije
to get more playing time. The Duke transfer returned to Cameron Indoor and scored eight points in 20 minutes off the bench.
He could bring much-needed relief to an Ennis-Cooney backcourt that has carried most of the backcourt load for the Orange all season.
"Our guards have played so far above anything that I would have ever hoped for. I'm just totally impressed with what they've done this year," Boeheim said. "Mike coming in is really a good thing for us moving forward. It was tough for him to come back down here and play. He played his best game of the year."
The good thing for Syracuse is its defense is playing at a high level. What's hurting the Orange lately is their offense is lagging behind.
The rematch with Duke brought offense back to earth for both teams. The Orange, who shot 57.4 percent from the field in the first meeting, managed to shoot just 38.7 percent on Saturday. They scored half of their points in the paint, but when forced to shoot from outside that area, the Orange struggled.
According to ESPN Stats & Info, the Orange made just nine of 33 attempts from outside the paint against the Blue Devils. The past three games they are shooting just 20 percent outside the paint. That's why they made an effort to get to the rim in the second half en route to shooting 51 percent.
"We played to our strengths. We attacked the basket a lot more. I feel like that's why our percentage was so high [in the second half]," said sophomore forward
Jerami Grant
, who scored a team-high 17 points.
Grant said back-to-back losses haven't put any dent in the team's confidence in close games.
"We have a lot of poise. I definitely think we can bounce back," Grant said. "We have a quick turnaround, which is probably a good thing for us going out to Maryland. I know it's going to be a tough game, tough environment. We'll be fine. We just have to go out and play our own game."
February, 4, 2014
Feb 4
12:06
AM ET
Two nights after the best game of a great 2013-14 season, played in front of the largest on-campus crowd in college basketball history -- a brilliant back-and-forth affair so good it stunned Syracuse coach Jim Boeheim and Duke Mike Krzyzewski, the two winningest coaches ever to roam Division I sidelines, into awed reverence -- Syracuse responded the way anyone who reaches that kind of sheer adrenaline high is bound to. With symptoms of withdrawal.
C.J. Fair
, so imperious Saturday night, shot 2-of-13.
Jerami Grant
was 3-of-8.
Tyler Ennis
finished with six points on 2-of-5 shooting.
Rakeem Christmas
shot 50 percent but attempted just two field goals, so that's hardly a distinction. Notre Dame arrived in Syracuse 12-10 on the season, a team largely decimated by the season-ending suspension of Jerian Grant (Jerami's brother) for academic reasons, with matchup woes all over the floor. But the Fighting Irish defended and took care of the ball well enough to push Syracuse hard on its own floor on a night when pretty much every player in an Orange uniform looked out of sorts, drained and hollow.
Well, except
Trevor Cooney
.
Cooney was none of those things. Cooney was locked in. Cooney was energetic, physical, engaged. Cooney shot 11-of-15 with nine 3-pointers. The rest of the Orange made 10 field goals
total
-- Cooney outdid them by one on his own. His 33 points were more than half of the 61 Syracuse needed to hold off the pesky, muddying Irish. It is no stretch to say he singlehandedly saved Syracuse's chase for regular-season perfection.
[+] Enlarge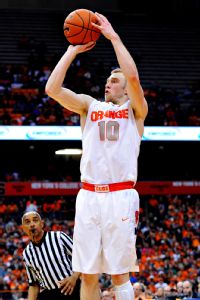 Rich Barnes-USA TODAY SportsTrevor Cooney made it rain when most of his teammates' offensive games went dry, helping No. 1 Syracuse remain undefeated.
He also provided a helpful manual for just why this 22-0 Syracuse team is profoundly difficult to beat.
Fair has been the Orange's workhorse all season. After his 28 points on 12-20 shooting against Duke on Saturday -- a relentless barrage that buoyed Syracuse as the Blue Devils knocked down 3-pointer after 3-pointer -- Boeheim remarked that Fair had morphed into a great player in the matter of 45 minutes. But he was already really, really good. He played his worst game of the season Monday, and Syracuse still won.
Ennis has been the steadiest Orange all season. He is a preternaturally talented guard, but his greatest strength has been his unshakeable calm, his consistency. Since the start of the season, he has been scoring the ball efficiently, finding teammates for buckets on 32.2 percent of his possessions, rarely turning the ball over, and generating steals. And on Monday night, he played his least assertive game of the season (he still had eight assists and six rebounds, so calling it his "worst" would be harsh), and Syracuse still won.
They won because, oh yeah, Cooney is awfully good, too.
Despite shooting 42 percent from 3-point territory on the season and posting an offensive rating in the mid-130s, the sophomore shooting guard has received less attention than either of the Orange stars. In January, that has mostly made sense: After a brilliantly hot shooting start, ACC opponents have focused more of their perimeter attention on Cooney, refusing to leave him alone on the perimeter even when Ennis and Fair and Grant probe and muscle their way to the rim. In Syracuse's first three ACC games, Cooney's 3-point shooting was bad: 2-of-12 at Miami, 3-of-8 versus Virginia Tech, 2-of-12 again versus North Carolina. He was 2-of-5 against Boston College, 2-of-8 against Pitt, 0-5 at Wake Forest. Even Saturday night, Cooney's shooting was hardly why Syracuse beat Duke: He attempted just two long-range shots.
Of course, Cooney was helping his team win even when he wasn't making shots: He was drawing defensive attention, but he was also playing great, disruptive defense on the other end: Cooney forces 4.5 steals every 100 possessions, 16th-most in the country. He's far from a one-trick specialist.
But still, he hadn't had a definitive shooting night since December. On Monday, he had much more than that: He tied a school-record (held by his childhood hero, Gerry McNamara) for most 3s in a game. He singlehandedly shot his team to a win it otherwise probably didn't deserve.
This is the thing about Syracuse, made all the more remarkable by the talent Boeheim lost this summer (guards Michael Carter-Williams and Brandon Triche, as well as wing James Southerland): There is always someone there to beat you. This weekend, against Clemson, nine-tenths of the Orange roster might struggle, Cooney included, but Grant might go off. Or maybe it'll be Ennis. Or Fair. Or ... well, you get the point.
Syracuse had the night of its life Saturday, and on Monday it felt the after-effects. But because Cooney shot so well, and Boeheim has so very many weapons at his disposal, it managed to escape with a win anyway.
How do you get past the first week of February without a loss, as the Orange have? Nights like Cooney's are a pretty good place to start.
January, 30, 2014
Jan 30
1:01
AM ET
WINSTON-SALEM, N.C. -- It seems like everyone else in Syracuse has wanted to talk about the Duke game on Saturday, judging by the 34,000-plus tickets already sold. For much of the first half against Wake Forest, it seemed the Orange were preoccupied thinking about that game too.
Syracuse looked very beatable. Like in a "How are they still unbeaten, and how are they ranked No. 2?" kind of way. The Orange shot 25 percent in the first half and allowed the Demon Deacons to hang around.
Their lead stayed within eight points even though they were dominating the boards and bothering Wake's shooters with their length.
Ultimately, though, Syracuse had
Tyler Ennis
and Wake Forest did not. And for the third time on the road -- along with Boston College and Miami -- the Orange turned an otherwise close game into a decisive win, this time prevailing 67-57.
"You've got to find a way to win these games and this team has been able to do that," Syracuse coach Jim Boeheim said.
[+] Enlarge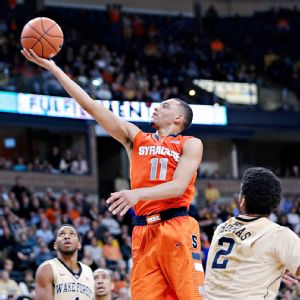 AP Photo/Chuck BurtonFreshman point guard Tyler Ennis has taken the leadership reins at Syracuse.
Here are other observations from the Syracuse win:
• This is without a doubt Ennis' team now. That's not a knock on how
C.J. Fair
has played this season, but Ennis gradually asserts his imprint a little bit more every game.
After shooting 0-for-6 in the first half, he went 6-of-8 in the second half, scoring 8 of 10 points during a run that kept the Orange in control of the game. Ennis had 16 of his game-high 18 points in the second half.
"Tyler Ennis played the game like a freshman in the first half, but in the second half he played like the senior that he is," Boeheim joked. "When he got going, that was the difference in the game."
• The first trip to Tobacco Road for Syracuse as an ACC member provided quite a surprise for Boeheim. Syracuse had a sizable crowd clad in orange among the 12,523 at Lawrence Joel Veterans Memorial Coliseum.
"[Against Miami,] we had 4,000 but they all live down there. They're from Syracuse," Boeheim said. "I don't know where these people came from. We go places like Philadelphia, Washington, we have people there. But here I was shocked."
Boeheim at one time seemed to be reluctant in leaving the Big East for the ACC. He clowned around about potential restaurant options in Greensboro, N.C., where the tournament is often held, compared to the Big East in New York. But he even changed his tune there too.
"It was the best Italian dinner I've had in a long time," Boeheim said. "Who would have thought? Winston-Salem."
• If Syracuse rebounds the way it did against Wake, it will not only beat Duke, but have a chance to run the table in the ACC. The Orange entered the game with a plus-5 rebounding margin, but beat the Deacons 55-35 on the boards.
Jerami Grant
led the Orange by tying a career-high 12 rebounds.
"Our inability to rebound simply killed any kind of momentum that we were working hard to gain," Wake coach Jeff Bzdelik said. "We would play pretty good defense, but we never finished the defensive possession."
•
Trevor Cooney
, who finished without a 3-pointer for just the second time this season, isn't afraid of the big shot. The redshirt sophomore guard had missed his first seven shot and even passed up on a few open looks in the second half. For a split second, it seemed as though his confidence was shaken.
But Cooney's jumper from the left corner extended the Orange's lead to nine points with 1:44 left, which was their biggest lead of the game at that time.
January, 18, 2014
Jan 18
9:20
PM ET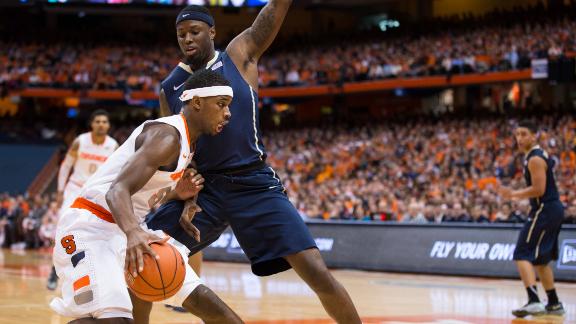 It's not difficult to identify the strengths that make Syracuse such a stalwart contender.
Its elite playmakers --
Tyler Ennis
,
C.J. Fair
and
Jerami Grant
-- could all be millionaires in a few months. Its bench is packed with capable reserves.
Syracuse is long and athletic. Jim Boeheim's 2-3 zone pushes opponents to the court's margins, disguising the pockets of space as gaps while luring them into traps. They flood the lane.
Analytic stats, which allows one to label the effectiveness and potential of teams better than at any time in college basketball history, love the Orange.
Entering the weekend, the Orange had allowed just 25.0 PPG in the paint according to ESPN Stats & Information, third-fewest among power conference schools. They also possessed the ACC's top offensive rebounding rate (41 percent) and its best defensive turnover percentage (Syracuse had forced turnovers on one-quarter of its opponents' possessions in its first 17 games).
The polls love the Orange (second in the Associated Press and USA Today Coaches polls). Ken Pomeroy's module loves the Cuse (No. 2 overall on KenPom.com), too.
[+] Enlarge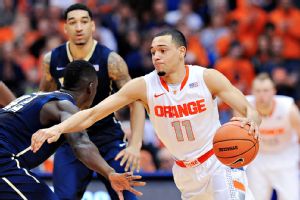 Rich Barnes/USA TODAY SportsSyracuse freshman point guard Tyler Ennis has maturity and savvy that belies his youth.
The only mark against Syracuse is a strength of schedule that's 14
th
among the BPI's top-15 squads (91
st
).
That collection of numbers did not mean much to Boeheim as his team lost its lead during a 59-54 win over Pittsburgh in the Carrier Dome on Saturday.
Lamar Patterson
missed five of his first seven shots but put up a few miracle 3-pointers in the second half that killed the vibe. His second clutch 3 put Pitt ahead with 6:02 to play.
Those shots allowed Syracuse's lofty numbers to be pushed aside for the oft-referenced -- and cliché -- eye test.
Everything we really needed to know about Syracuse was reaffirmed against the Panthers in the final minutes.
It wasn't the team's first bout with drama this season, as Syracuse encountered turbulence against Miami, Boston College and even St. Francis (N.Y.). But those were nothing compared to what beset the Orange on Saturday.
Pitt was roaring rapidly, as the Panthers nibbled away at a 10-point deficit in the second half that seemed like 30 in a low-scoring affair before taking the lead on Patterson's second 3-pointer.
That's when Ennis emerged.
There were his two layups that ultimately put Cuse ahead by three points with 32 seconds to play. His late free throws essentially sealed it.
He's a freshman with a veteran's vision, an assertive leader. He doesn't panic -- he just goes.
The common theme among last year's Final Four teams was their trustworthy point guards. Michael Carter-Williams, Trey Burke, Malcolm Armstead and Peyton Siva were critical players in their respective squads' runs to Atlanta.
Ennis has that DNA, too.
In a significant league matchup, he belied his age with his effectiveness and poise, and did it with the game on the line.
Grant is a pro. He's relentless on both ends of the floor, as his jump shot kicked off a 12-4 run that gave Syracuse temporary separation in the second half.
Fair finished with 13 points, six rebounds and three blocks in 40 minutes.
Trevor Cooney
secured a rebound off
Cameron Wright
's missed 3-pointer prior to Ennis' crucial layup.
The Orange's defense picked up, too. That last 3-pointer by Patterson was his last field goal of the game, as he missed his final three shots due in large part to Syracuse's suffocating defense.
Boeheim has everything for an ACC and national title run.
Syracuse's numbers were strong on Saturday. It shot 51 percent from the field and held Pitt to 38 percent shooting.
In the process, the Orange proved that they're a legitimate national title contender again and the team to beat in the ACC. Not simply because of what the stat sheet says but also based on the manner in which they closed the game.
Syracuse's ACC slate will offer additional tests in the near future. There's a highly anticipated game against Duke on Feb. 1. The Orange will travel to Pitt (Feb. 12) and Duke (Feb. 22) next month, and a road game at Virginia on March 1 should also be a challenge.
But on Saturday, Syracuse certainly passed the eye test.
Its grade? A. As in "America's best team."
December, 27, 2013
12/27/13
9:00
AM ET
On the bus for a USA Basketball game a few years back, Jim Boeheim sat down next to Jay Wright and whispered a little secret. The Hall of Famer had gotten the drop on the Big East schedule, which by then was a convoluted mess thanks to the league's gargantuan size.
Neither coach loved playing the other twice a season, but somehow the folks in Providence, R.I., usually conspired to make that happen, and Boeheim had just learned the two would tango twice yet again.


"You ought to call the league and complain,'' Boeheim told Wright.
"And I'm like, 'You're in the Hall of Fame. You call,'" Wright said recently, recounting the story.
That Big East is no more, yet Villanova-Syracuse continues, this time because Boeheim and Wright wanted the game.
But what once looked like nothing more than just a nostalgic trip down the defunct conference's Memory Lane is now something far more sizable. Saturday's 2 p.m. ET game at the Carrier Dome was supposed to be the undercard, the warmup to Louisville at Kentucky.
Instead, it's the main attraction.
The Philadelphia Wildcats and the Orange, not the
Kentucky Wildcats
and Cardinals, are both in the top 10; Villanova and Syracuse each bring undefeated records, not the past two national championships.
Eighth-ranked Villanova might be the most unlikely top-10 team in the country, a squad picked to finish fourth in its brand-new league. But Villanova has earned its way to its ranking, not just on the backs of wins against Kansas and Iowa but by summarily dismissing everyone else. Throw out those two games (one won by four, the other by five in overtime) and Villanova is beating its opponents by an average of 21.7 points.
Still, understandably, questions linger, with folks curious if the Wildcats merely caught some Bahamian magic to win in Atlantis. And with the strength of the new Big East still uncertain -- no one else is ranked, though the teams do have pretty hefty RPI numbers -- those questions might not go away easily.
The date with Syracuse will help. While the No. 2 Orange may not have a litany of big wins -- Baylor and Indiana rank as the best -- anyone who has seen them play knows Boeheim has another special team.
Tyler Ennis
isn't mentioned among the best freshmen in the country, but he ought to be. The point guard is nothing shy of superb, and has a terrific supporting cast in
C.J. Fair
,
Trevor Cooney
and
Jerami Grant
to help make him look good.
Yet what will make this game especially fun is that, unlike most nonconference opponents that go into the orange haze of 20,000-plus in the Carrier Dome like deer in headlights, Villanova won't be intimidated.
The less-experienced, more-unsure Wildcats nearly knocked off the then-No. 3 Orange last season, and when, in 2006, the entire town of Scranton, Pa., joined the city of Syracuse to laud Gerry McNamara in his final game, it was Villanova spoiling the party, winning by 10.
"It's going to be a test, another chance to show what we can do,'' said Nova senior
James Bell
. "But it's nothing new.''
No, but then again this isn't just another stroll down Memory Lane, either.
December, 4, 2013
12/04/13
2:01
AM ET
SYRACUSE, N.Y. -- Watching
Trevor Cooney
, it's hard not to think of a certain other Irishman in Orange. Elementary schoolers sang odes on Gerry McNamara's last game at Syracuse while fans openly wept, so Cooney has a few miles to go before he matches his assistant coach in Syracuse lore.
A few more nights like Tuesday, though, and the fans back in his Delaware hometown might want to start reserving the Greyhounds for his last night at the Dome just like the folks in Scranton did for McNamara.
It wasn't just the five made 3-pointers. They were nice, especially the big one he hit early in the second half to start what would be a methodical march to an
easy 69-52 victory against Indiana
in the Orange's first Big Ten/ACC Challenge.
No, like McNamara, what endears Cooney to the crowd is how he plays. He looks more like the kid you'd pick last for dodgeball. Aside from the coaching staff, no one on the Syracuse bench has less hair on their heads than Cooney. He's sort of pasty and scruffy and, in an interview, is polite and unassuming, with not even a hint of bravado.
Looks, they truly are deceiving, because Cooney flat out can play. He is not some arc-camping diva but rather a gritty baller who swiped four steals to go with his 21 points and wrote the first part of what might be his McNamara-esque epic with 9:19 left in the game.
Syracuse led by a comfortable 17 points when Cooney swiped the ball from
Jeremy Hollowell
. He barreled toward the basket for a layup but was hit hard from behind by
Austin Etherington
. Cooney crashed into the stanchion, while the Dome fans went bananas.
While the officials went to review the play -- they'd eventually assess Etherington with a flagrant-2 and eject him -- an initially woozy Cooney huddled up his teammates while the students chanted, "Tre-vor Coo-ney."
[+] Enlarge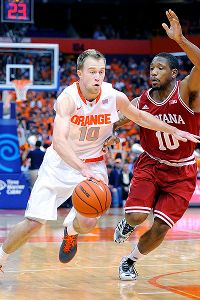 Rich Barnes/Getty ImagesTrevor Cooney drives against Evan Gordon in Syracuse's win.
"That's my little brother," McNamara said. "He's worked so hard, and done so much, it's impossible not to root for him. I've never seen anyone work as hard as he did. I knew when his time came, he'd be a success."
The time didn't come right away for Cooney, as so often is the case here. Immediate gratification is rare at Syracuse, where coach Jim Boeheim still prefers the old-fashioned method of teaching and growing players into their roles.
That was Cooney, who redshirted his freshman season. Instead of looking at it as a year off, though, he made it a year on. Full on. His workouts were "grueling," McNamara said, complete with before-practice Dome stair runs, endless hours in the weight room and even more in the gym. Cooney said it was easy because he wasn't playing, but even McNamara, no slacker himself, was awed.
Even after that redshirt season, Cooney waited some more. Last season, Cooney came off the bench behind an all-star roster that included Michael Carter-Williams and Brandon Triche. He averaged just 11.2 minutes a game and when he did get his chance, his shots didn't always go in. Cooney shot only 26 percent from the arc.
"Coming in here, I knew it would be a process," Cooney said. "I decided to treat it like a journey. I just knew if I kept working, one day it would come."
And now finally, this season, the day has come. He's shooting 26-of-55 from the arc (47.2 percent), and he and teammate
Tyler Ennis
are playing as well as any backcourt in the country, making the transition from Carter-Williams and Triche much more seamless than anyone could imagine.
But that's always the way it is for Boeheim. If there is a better coach at fitting the square pegs into his square holes, I'm not sure who it is. Boeheim doesn't just find the best players; he finds the best players that fit his needs. His is not so much a system as it is a well-oiled machine.
It's why year after year, player after player, Syracuse is still good. Look at this team and you can see the parts working together: the shooter (Cooney), the savvy point guard (Tyler Ennis), the scorer (
C.J. Fair
), the bigs who won't kill you but will do what they need to do (
DaJuan Coleman
,
Baye Keita
and
Rakeem Christmas
). Mix in the confounding zone and it all makes sense.
"We all know this system," McNamara said. "We know how to find the fillers and the guys that we need. We know every play. We know the zone. We know exactly who fits."
It's dangerous, of course, to make any grand presumptions about a team in December. In Indiana's case, it would be downright unfair. The Hoosiers are incredibly young and it's an awful lot to ask a team full of freshmen to come into an atmosphere like this one -- 26,414 on a random Tuesday night in December -- against a defense like that one and play well.
Could they have played better? Yes. Syracuse's zone is now officially Indiana's kryptonite. The Hoosiers looked as puzzled and confused here as they did nine months ago in the Sweet 16, which is a bit surprising. Theoretically, they've watched game tape since.
Still, this by no means sends Indiana into the trash heap.
And bold proclamations about Syracuse are equally dangerous but I'm still willing to make one: The Orange are very good, maybe even best team in the ACC good. At the very least, circle the dates of Feb. 1 (Duke at Syracuse) and Feb. 22 (the Orange in Durham) good.
We've gotten this far and haven't even mentioned Fair much. The leading scorer of a year ago is again at the top of the statistics. He's more than capable of taking over a game, but he doesn't have to. The Orange have four players averaging double figures.
Including the guy sitting right behind Fair in the scoring column: Trevor Cooney, Gerry McNamara in training.
August, 30, 2013
8/30/13
5:00
AM ET
1. Syracuse coach Jim Boeheim learned quite a bit about his team's character on the four-game tour to Canada last week. The Orange trailed Carleton by 15 points with 15 to play and came back and won by four in overtime. The Orange went on a 14-0 run during the second half and had to do it without a fully healthy
C.J. Fair
, who sat out the previous game. "We made a pretty good comeback for a bunch of untested guys,'' said Boehiem. "Everybody contributed and did something good.'' Freshman guard Tyler Ennis, who will lead the team at a critical position for the Orange after losing
Michael Carter-Williams
and
Brandon Triche
, scored 15 points and was 7-of-7 from the line in that game. "It was a good trip, a quick trip, but a good trip,'' said Boeheim. The bigs were solid and have been throughout the summer. That means there doesn't appear to be much concern for Fair, Dajuan Coleman, Baye Moussa Keita and
Rakeem Christmas
.
Jerami Grant
was the most consistent player and will be a reliable and productive player this season. Duke transfer Michael Gbinijie also had his moments. "We learned a lot about our team,'' said Boeheim. "We scheduled well early. We want to be ready for the ACC.'' The Orange should challenge Duke.
Trevor Cooney
will have to make shots. But if Ennis is a stable presence then the perimeter will be just fine. The Orange are in the Maui Invitational where they could meet up with Gonzaga. The Orange host Indiana in the ACC-Big Ten Challenge, go to St. John's and host Villanova in headline nonconference games. Boeheim agreed with my stance that the ACC needs to have more than just Duke-North Carolina for premier games in the final weekend. Syracuse ends at Florida State. I suggested the ACC put rivalry games in the last weekend like Syracuse-Louisville when the Cardinals join the league in 2014-15. "Exactly, there should be better games at the end of the year, no question,'' said Boeheim. "There are too many potential good games. Obviously there should be Duke-North Carolina. But there are a lot of good teams. This certainly has the potential to be better than any league.''
2. The ageless Florida State coach Leonard Hamilton, who turned 65 earlier this month and has looked the same for the past 20 years, got exactly what he wanted in the trip to Greece. He scheduled practices and games against the Greek national team. He didn't want any soft competition. He wanted his players to experience professionals at the highest level overseas. "It was more like midseason practices,'' said Hamilton. "It was very good for our guys. We played at a high level and had to be focused offensively and defensively to compete.'' Hamilton said he never thought his team was in sync last season after finishing 18-16 overall and 9-9 in the ACC, a year after winning the conference tournament title for the first time. "We had seven first-year players and five freshmen and JC kids and international players,'' said Hamilton. "I thought we were always thinking and responding and reacting last season. But I saw a better grasp of execution [on this trip]. We showed signs we can get back to what we did during our four-year run of going to the NCAA tournament and winning the ACC title.'' Hamilton said different players were productive on the trip but the two leaders were as expected
Ian Miller
and
Kiel Turpin
. "They played very well together and as a team,'' said Hamilton. "We actually practiced zone defensive possessions. We had game-like practices. We didn't keep score in those or keep track but we had a lot of game-like scrimmages where we were rotating guys in and out. It was really, really good for us to correct our mistakes.'' Hamilton said this was also a positive trip for
Michael Ojo
,
Boris Bojanovsky
and
Robert Gilchrist
, the bigs who will be behind Turpin or at times next to him. Hamilton said he absolutely loves what he's doing, "loves the young people, traveling with them, being with them every day. Each year I have more energy. I'm excited about the new ACC. It gives you another shot of adrenaline. I'm excited to be a part of it and it does motivate you.''
3. Few teams needed something positive more than Auburn basketball on a foreign trip. Auburn coach Tony Barbee was buzzing about the excursion to the Bahamas. "I learned two things: we can really shoot the ball as a group,'' said Barbee. "We made 13 3s in a game from international distance. And juco transfer Chris Griffin made six. We should be able to score the ball better. We could have four or five double-figure scorers. A year ago, we only had one.'' K.T. Harrell will be a reliable scorer but if there are multiple scorers then the Tigers will at least have a chance to move up in a muddled SEC. The Tigers enter the season with six freshmen on the roster.
April, 7, 2013
4/07/13
2:08
AM ET
ATLANTA -- It's a moment, Syracuse guard
Brandon Triche
said, that might haunt him: looking for teammate
James Southerland
with 19.2 seconds left in the national semifinals of the NCAA tournament, finding him covered, opting to drive to the basket for a potentially game-tying layup instead ...
Only to be called for an offensive foul.
"That's a moment you dream about -- those final seconds, the ball in your hands, trying to make the best play for your team," he said after Syracuse lost to Michigan
61-56
on Saturday. " ... We just needed another bucket."
That pretty much summed up Syracuse's night.
[+] Enlarge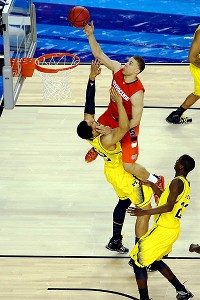 Andy Lyons/Getty ImagesThis play, on which Brandon Triche was called for a charge against Jordan Morgan, "could have gone either way," Triche said.
For all the pregame talk of the Orange's ferocious, suffocating, octopus-like 2-3 zone defense -- and whether Michigan could slice through and shoot over it -- it was Syracuse's offense that failed it in the end.
Although forward
C.J. Fair
scored a game-high 22 points on 9-for-20 shooting, teammates Southerland (2-for-9) and
Michael Carter-Williams
(1-for-6), usually double-digit scorers, combined for seven points and made only 3 of their 15 shots.
"They started out strong, and we never really got anything going," Southerland said.
Syracuse shot 41.8 percent for the game -- including 3-for-14 on 3-pointers.
"I think they're a good defensive team," Syracuse coach Jim Boeheim said of the Wolverines. "We have shot the ball well from 3 this year. We're shooting about 20 percent from 3, in our nine losses. It hasn't been something that we've been really good on. We try not to take a lot of 3s. But we had good looks. I mean, they were all good looks."
Southerland, who didn't score his first field goal until the final two minutes of the game (on a dunk that cut Michigan's lead to four), had a
very
good look with 41 seconds left, when he buried a 3 to cut a once-11-point deficit to 57-56.
But after Michigan's
Trey Burke
made only one of two free throws,
Jordan Morgan
stepped in front of Triche to draw the charge, which Triche said "could have gone either way."
"I probably should have made a better decision," he said. "Probably should have pulled up ... for a jump shot instead of actually taking it all the way down there, because I did see him."
Although who's to say, in this game, that a jumper would have gone in for Syracuse, either?
"It was tough because offensively, we never could get anything going," Triche said. "We couldn't get multiple made shots in a row. We'd make one, and we probably didn't make another shot for two minutes or something.
"We didn't have much momentum offensively. Defensively, we started to pick it up, chip away, and that's what we did -- we chipped away all the way to the last second of the game."
After the charge call,
Jon Horford
hit one of two free throws to push the Wolverines up by three. But with nine seconds left -- and with a chance to tie it -- Syracuse reserve
Trevor Cooney
took and missed a bad 2-point shot that ultimately resulted in a dunk for Morgan and Michigan on the other end.
In a game that saw Syracuse's vaunted 2-3 zone hold the Wolverines to 33.3 percent shooting in the second half, it was a frustrating way to finish the game. And the season.
And the dream of winning a national title.
"Final Four, down two points, the opportunity to tie the game or take the lead -- but get a charge," said Triche, a senior. "That's what I'll probably remember the most."
April, 6, 2013
4/06/13
11:44
PM ET
ATLANTA -- Michigan hasn't been to the NCAA title game in two decades. And Saturday, it didn't allow a 2-3 zone -- no matter how lengthy or athletic or frustrating -- to keep it from returning.


Led by
Tim Hardaway Jr.
,
Mitch McGary
and
Glenn Robinson III
-- and helped by the fact that Syracuse's
James Southerland
and
Michael Carter-Williams
, who average double digits, combined for only seven points -- the Wolverines survived a last-minute push from their fellow fourth seed to win
61-56
in the national semifinals of the NCAA tournament and advance.
A quick look at the game:
Turning point:
Trailing 17-15 with 10:14 left in the first half, Michigan outscored Syracuse 21-8 before halftime, shooting over Syracuse's defense (including two 3-pointers from freshman
Spike Albrecht
and a loooong one from
Trey Burke
) when it wasn't beating it down the floor. The Wolverines led 36-25 at halftime -- and 43-32 with 15:08 left, before the Orange painstakingly patched together a 13-5 comeback that cut their deficit to 48-45 with 7:41 left.
But it didn't get interesting again until the final minutes, when Southerland -- scoreless to that point -- dunked with 1:58 remaining to cut his team's deficit to four and then hit a 3-pointer with 48 seconds left to cut it to 57-56.
Michigan's Burke and
Jon Horford
bookended a
Brandon Triche
offensive foul with a free throw apiece. And after
Trevor Cooney
missed for Syracuse (30-10),
Jordan Morgan
sealed it with a breakaway dunk for Michigan.
Key player:
McGary finished with 10 points, 12 rebounds and a career-high six assists.
Key stat:
Southerland and Carter-Williams -- who had been averaging 10 and 13 points, respectively, during the NCAA tournament -- were a combined 3-for-15 from the field.
Up next:
Michigan (31-7) advances to play top-seeded Louisville in Monday night's championship game. The Wolverines last reached the title game in 1993 (although that season record was vacated because of NCAA sanctions).
March, 15, 2013
3/15/13
10:00
PM ET
NEW YORK -- A quick look at the Syracuse's
58-55 overtime win
over Georgetown in the semifinals of the Big East tournament.
What it means:
It doesn't get any better than that.


Georgetown and Syracuse, the two longtime archrivals, met one last time as fellow members of the Big East conference Friday night. And after 45 thrilling minutes, Syracuse had landed the final punch.
In a game that will be talked about for years to come, played in front of a sellout crowd at Madison Square Garden, the Orange defeated the Hoyas to advance to this year's Big East championship game.
No. 19 Syracuse (26-8, 11-7), which had lost four of five games prior to tournament, has now won three games in three days, previously defeating Seton Hall and Pittsburgh. The Orange will be a higher seed in the NCAA tournament as a result. And they've gotten some revenge after losing to the Hoyas twice in the regular season -- both times by double digits.
No. 5 Georgetown (25-6, 14-4), which had won 13 of its past 14 games, will no longer contend for a No. 1 seed in the Big Dance after this loss. But the Hoyas will still get a very high seed and will be a force to be reckoned with.
How it happened:
Georgetown drew first blood.
Otto Porter Jr.
scored the first bucket of the game and the Hoyas went in front by as many as five and maintained the lead for almost the entire first 12 minutes. But a
James Southerland
3-pointer pulled Syracuse even, 17 apiece, with 8:04 remaining in the first half. That was the first three points of a 13-0 run, making it 27-17, as Georgetown went nearly eight minutes without scoring a point. Freshman guard
Trevor Cooney
, who averaged 3.5 points in 11.7 minutes per game, scored 10 first-half points for the Orange, including a pair of 3s. Syracuse led 29-20 at intermission.
Georgetown gradually clawed its way back in the second half.
Mikael Hopkins
scored the Hoyas' first seven points, and then
Markel Starks
buried three 3-pointers in short order. Georgetown finally tied the game up, 49 all with 1:48 left in regulation, on a pair of
Jabril Trawick
free throws.
Baye Keita
drained both ends of a 1-and-1 to put Syracuse back in front 51-49, but then Porter also made both ends with 7 seconds left to tie the game again.
Michael Carter-Williams
missed a jumper at the buzzer and we moved on to overtime.
Syracuse's
Brandon Triche
scored the first two points of OT on a driving layup, and then Starks fouled out with 3:36 remaining -- a big blow to Georgetown. With 18 seconds left and the Orange in front 57-55, Triche was fouled. He made the first, but missed the second, giving the Hoyas another chance to tie. But after a timeout, Porter was smothered defensively and turned the ball over. With four seconds left, Fair went to the foul line, but missed both free throws. Georgetown rebounded, but Trawick's half-court heave at the buzzer was off the mark.
Star watch:
Triche, Southerland and Keita each scored 13 points for Syracuse. Triche scored 11 of his 13 after halftime. Southerland drained four 3-pointers, giving him 16 for the tournament -- that ties the tourney record. Keita, who averages just 3.3 points per game and was shooting just 48.6 percent from the foul line, made all seven of his attempts from the charity stripe.
Hopkins had 15 points to lead Georgetown. Starks scored 13 and Porter added 12.
Number crunch:
In a box score that reveals a very even game, two things stand out. Syracuse was a little better from beyond the arc, shooting 7-for-18 (38.9 percent); Georgetown was 4-for-18 (22.2 percent). Even more important, Syracuse was 13-for-19 from the foul line (68.4 percent). Georgetown, on the other hand, was just 11-for-20 (55 percent).
What's next:
Syracuse, the No. 5 seed, will play No. 2 seed Louisville on Saturday at 8:30 p.m. ET. Georgetown heads home, licks its wounds and begins preparing for the Big Dance.