College Basketball Nation:

Trevor-Mbakwe-out-for-year
November, 28, 2011
11/28/11
4:56
PM ET
When I heard that Minnesota's
Trevor Mbakwe
had torn the ACL in his right knee and
will miss the rest of the season
as a result, I had flashbacks. And they were all based off phone calls I received during my time covering that team.
The star recruit who delivered a farewell address to the program and its fans through YouTube. Seriously.
The Mom who traveled from Canada and contacted me at 3 a.m. to confirm that her son, another highly touted recruit under Tubby Smith, had played his last game for the Gophers. The Dad who wanted to know how his son had ended up in the academic bind that would force him to miss the majority of the 2009-10 season. The same Dad who called a year later to say his son had suffered a broken foot and would miss most of the following year, too.

Monday's news felt familiar for me and others who've tracked Smith's Gophers. Not the specific injury, but the damage to the program's prospects.
When Minnesota's season was separated from its potential as Mbakwe clutched his right knee, I was shocked but not surprised, if that makes sense. I couldn't believe that the injury had occurred at this juncture of the season.
But bad news has become the norm at Minnesota. Few teams have experienced the breadth of Minnesota's tough luck in recent years.
Check out this timeline:
2009-10
-
Royce White
, the program's first five-star recruit in nearly a decade, announces his decision to quit college basketball through YouTube. Minnesota's 2009 Mr. Basketball eventually leaves the program and signs with Iowa State without suiting up for the Gophers.
- Mbakwe is suspended for the entire season due to legal issues connected to a felony assault charge in Miami. He never pled guilty. By entering a pretrial intervention program, he's reinstated by athletic director Joel Maturi.
- Starting point guard Al Nolen is ruled academically ineligible for the entire second semester.
2009-10 (Offseason)
-
Justin Cobbs
and Paul Carter transfer.
2010-11
-
Devoe Joseph
transfers to Oregon in January.
- Nolen misses the majority of the season with multiple foot injuries. The Gophers lose 10 of their last 11 games. They started the year with a Puerto Tip-Off championship anchored by wins over North Carolina and West Virginia.
2010-11 (Offseason)
- Colton Iverson transfers to Colorado State
2011-12
- Mbakwe suffers a torn ACL in the team's seventh game. Smith has had missing parts for three years. Injuries, transfers and other issues have rocked the program. Mbakwe's injury, however, is Smith's biggest setback because of his significance to Minnesota's slim postseason hopes. Past Gophers teams had veterans who'd experienced major setbacks in the past. They knew how to recover and adjust.
But this is Tubby's youngest team. Mbakwe was an old man on a squad with multiple newcomers. Someone will have to step up, but most of the candidates are still learning their roles and transitioning to Division I basketball.
Junior
Rodney Williams
and senior
Ralph Sampson III
will face the most pressure to help the program avoid a collapse. But their time at Minnesota has been defined by inconsistency. Andre Hollins and
Austin Hollins
are tough young guards who continue to mature. And
Julian Welch
has gotten off to a strong start, too.
They can help.
But Mbakwe was The Man for the Gophers. A potential All-American. One of the nation's top rebounders. And after experiencing international competition and high-level instruction at top camps during the offseason, he was a more polished player on offense.
Now, the Gophers will have to find a way to compete without him.
Bad luck is one thing. But at what point is a team considered to be cursed?
You have to wonder why things continue to go south for Smith and the Gophers.
This is just bizarre.
November, 28, 2011
11/28/11
11:29
AM ET
If
Trevor Mbakwe
's tweets Sunday were any indication, the
Minnesota Golden Gophers
forward may be out for the season. Mbakwe was still in the locker room Sunday night
when this heartbreaking tweet
-- "Lord please get me through this." -- broke through on his feed. Mbakwe followed up by
thanking Twitter for its support
;
he called what happened Sunday night
a "Minor setback for a MAJOR comeback."
[+] Enlarge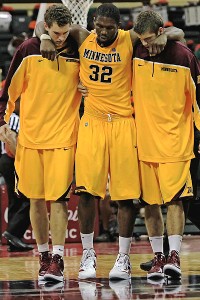 Kim Klement/US PresswireGophers forward Trevor Mbakwe gets help off the court after he hurt his knee against Dayton.
There is still the matter of an MRI, of course, which Mbakwe will undergo Monday. You never know: The doctors may find something positive in Mbakwe's diagnosis. Maybe, just maybe, the apparent knee injury that knocked Minnesota's star forward out of the Gophers'
86-70 loss in the Old Spice Classic Championship game to Dayton Sunday night
won't
be of the season-threatening variety.
But as Minnesota coach Tubby Smith told reporters,
"it doesn't look good."
Needless to say, if Mbakwe loses a large portion of the 2011-12 season -- or even all of it, which appears to be the consensus outcome here -- it would be utterly devastating to Minnesota. Mbakwe is the Gophers' star forward, a double-double machine who drives the offense forward despite the Gophers' struggles throughout the rest of the lineup. Without Mbakwe, an already thin frontcourt gets much thinner, Smith loses his team's lone post advantage, and the Gophers' path to the NCAA tournament, hardly an easy one in the first place, suddenly looks far more arduous.
Assuming the injury is that bad, not only is it devastating in a vacuum, but it's devastating in context, too. The last two seasons at Minnesota have carried with them major opportunities for program progress under Smith, and each season has brought with it a host of injuries, personnel defections and ultimate disappointment. Two years ago, top recruit
Royce White
was arrested, benched, and ultimately left the program. That same year, guard Al Nolen missed the second half of the season thanks to academic ineligibility. Last season, Nolen lost most of his senior season to injury, while guard
Devoe Joseph
transferred and Smith was left playing shooting guard Blake Hoffarber at point. Minnesota entered the season with a balanced, intriguing lineup, but ended up missing the NCAA tournament after late collapse.
Not quite as much was expected this season, but the upside was there. And now this. We'll see if the MRI brings Gophers fans some positive news. But if it's bad as it seems -- if it's as bad as Mbakwe's locker-room tweet -- then it could be very bad indeed.