College Basketball Nation:

Trevor Releford
November, 28, 2013
11/28/13
12:10
AM ET
NEW YORK -- Five quick thoughts on
Duke's 74-64 win over Alabama
on Wednesday night at Madison Square Garden in the semifinals of the NIT Season Tip-Off:
Thank heavens:
New Yorkers, and college basketball fans across the country, get what we wanted -- No. 4 Arizona vs. No. 6 Duke, Friday night in the championship game. Between the Champions Classic in Chicago and now the NIT, the college basketball gods have been very kind this November.
Neither team had it easy in the semifinals. Arizona overcame a 19-point first-half deficit against Drexel, and Duke trailed Alabama by seven early in this game before getting into gear. The Blue Devils led by double digits at halftime, 33-22, and held off a strong Crimson Tide surge in the second half. Alabama drew as close as five.
Good as advertised:
Duke's freshman stud,
Jabari Parker
, scored a game-high 27 points, shooting 9-for-12 from the field and 9-for-10 from the foul line. Quite a Madison Square Garden debut.
Parker has scored 20 points or more in his first seven collegiate games. The last freshman to do that? Kevin Durant.
Next up is a matchup with fellow top-5 recruit
Aaron Gordon
of Arizona. These two have many more Garden games in their future at the next level.
Change of direction:
Duke entered this game with very gaudy offensive numbers -- sixth in the country in points per game (92.7) and third in field goal percentage (55.0). But defense is what jump-started them in this game.
The Blue Devils forced the Crimson Tide into 11 turnovers in the first half and held them to 34.6 percent shooting from the field (9-for-26). They took five charges in the first half alone, including three on Alabama leading scorer
Trevor Releford
.
For the game, Duke held Alabama to 40.4 percent from the field (23-for-57) and 16.7 percent from beyond the arc (2-for-12). The Blue Devils had played very poorly defensively thus far this season.
One to forget:
Alabama isn't a good offensive team to begin with. But if Releford doesn't score, the Crimson Tide won't win many games.
Releford didn't get going until very late -- he went more than 26 minutes before scoring his first point. He finished with 11 points but shot just 2-for-7 from the field and had four turnovers. Releford came in averaging 18 points.
As expected:
Alabama was picked to finish sixth in the SEC -- that sounds about right. The Crimson Tide are very good defensively, as usual. But coach Anthony Grant just doesn't have enough capable half-court scorers.
March, 15, 2013
3/15/13
7:00
PM ET
NASHVILLE, Tenn. -- All Tennessee can do now is sit and wait for Sunday's NCAA tournament selection show.
It will be an agonizing wait for the Vols, who sit ever so precariously on the proverbial bubble.
But while the Vols wait, Alabama plays on after slugging out a
58-48
victory Friday over cold-shooting Tennessee to move into the SEC tournament semifinals Saturday against top-seeded Florida at Bridgestone Arena.
"We didn't come into this tournament worrying about what we had to do to get into the NCAA tournament," said Alabama junior guard
Trevor Releford
, who scored 14 points and got the best of his Tennessee counterpart,
Trae Golden
, who was held to two points on 1-of-7 shooting.
"All we control is what we do here, and then it's automatic if we win [the SEC tournament]. We don't have to worry about anybody giving us a bid. We're not going to settle. We just wanted to come out and win basketball games."
[+] Enlarge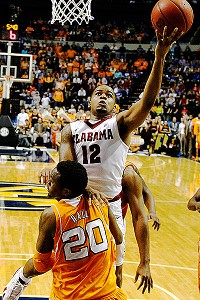 AP Photo/John BazemoreGuard Trevor Releford proved key in Alabama's SEC tourney win over Tennessee on Friday.
The Crimson Tide (21-11) needed to do just that to keep their NCAA tournament hopes alive. Simply beating Tennessee wasn't going to be enough. But taking down Florida on Saturday could make things interesting when the bids go out on Sunday.
"The only thing we were worried about was what was right in front of us," Releford said. "That's winning this championship."
Alabama was among the "next four out" in ESPN bracketologist Joe Lunardi's latest projection of the NCAA tournament field. Tennessee was among the "last four in" heading into Friday's game.
But whereas Alabama played with a sense of urgency -- and held steady when Tennessee made a mini run to pull within four points with 5:27 to play -- the Vols played tight and looked a little leg-weary in the second half. They also jacked up 23 3-point shots and made just five.
The Crimson Tide pressed most of the game and dropped back into a zone defense that gave the Vols fits.
Jordan McRae
, who had been brilliant down the regular-season stretch for Tennessee, was held to nine points and shot just 3-of-13 from the field.
Combined, Golden and McRae shot 4-of-20 from the field.
Josh Richardson
led the Vols with 16 points.
"They did a good job of pressuring the ball the whole game, and shots were hard to come by," Richardson said.
Tennessee coach Cuonzo Martin said following the 64-62 win over Missouri to close the regular season that he thought the Vols had done enough to get into the NCAA tournament.
Unfortunately for his Vols (20-12), he won't be the one making the call.
He reiterated his belief Friday that he felt like Tennessee was an NCAA tournament team and added that it would be an "insult" to the SEC if the league didn't get more than four teams in the field.
Either way, it's going to be close. It probably helped Tennessee that both Virginia and LaSalle, two other bubble teams, lost Friday in their conference tournaments. The Vols also wouldn't mind if Kentucky and Ole Miss both lost later Friday night in their SEC tournament games.
Alabama had even more work to do than Tennessee entering the SEC tournament, which made Friday's contest as must-win as a must-win game could be.
The Crimson Tide don't own a lot of marquee wins this season, and that makes Saturday's shot at the Gators crucial.
"When you're at this point in the season, they all count the same," Releford said. "You better play every game like it's your last."
March, 9, 2013
3/09/13
6:13
PM ET
By
ESPN.com staff
| ESPN.com
March, 8, 2013
3/08/13
9:30
AM ET
Another attempt, my final attempt to rank the SEC. … It's been real.

Florida. The Gators are still the kings of the SEC. Yes, they've fallen a few times this season. But they've been the most dominant team in the conference. They've suffered three SEC losses, all on the road, against Tennessee, Arkansas and Missouri. But they've also achieved the league's top scoring margin (plus-18.8 points per game). The Gators already have won the SEC crown, but a win at Kentucky on Saturday would truly stamp their supremacy within the league.
Missouri. I can't tell you whether Mizzou will make a run in the NCAA tournament. The Tigers are just too inconsistent. But they're 4-1 in their past five games. And Tuesday's 93-63 win against Arkansas -- in Columbia, of course -- allowed the Tigers to display their potential. Phil Pressey has become a more efficient distributor. He has finished with eight or more assists in Mizzou's past four games. He also has recorded 14 turnovers combined in the same stretch. Saturday's road game at Tennessee is a serious test for a Missouri squad that has been shaky off campus. But its ceiling is high, especially if Pressey continues to play maestro and limits his mishaps.
Tennessee. Cuonzo Martin's team faces Missouri on Saturday in a critical game. A loss to the Tigers won't destroy its NCAA tourney hopes. But a win might seal an at-large bid. The Vols lost to Georgia this past weekend, but that didn't nullify the momentum they have amassed in the past month. They have won seven of their past eight entering the weekend. Jarnell Stokes, Jordan McRae and Trae Golden anchor a team that has outplayed most of America's bubble teams in recent weeks.
LSU. The SEC tournament is wide open. Any team could reach the final, it seems. And in a league with so many bubble squads vying for an at-large bid, the tournament's action should reflect the stakes. Johnny Jones' program is not one of the SEC's bubble teams. But it's certainly a sleeper to make a run and spoil the postseason plans of its conference colleagues. The Tigers have won three of their past four and are 8-3 since Jan. 30. With Johnny O'Bryant III (13.7 PPG, 8.7 RPG) inside and its ability to defend the perimeter (SEC squads are shooting just 28.9 percent from the perimeter against LSU, second in the conference), LSU could shock the field in Nashville next week.
Kentucky. Still talented. Still a mess. Still on the bubble. Somehow. After Thursday night's 72-62 loss at Georgia, John Calipari blamed himself for the loss. "I've done a crap job with this team," he said. Well, it's not completely Cal's fault, but it's refreshing to hear a coach accept blame. The Wildcats are young. The Wildcats lack veteran leadership. The Wildcats lost their best player during the most important stretch of the year. But they've had so many chances to play their way off the bubble and they've stumbled. Taking that L at Georgia hurt their NCAA tournament hopes and might have guaranteed an NIT berth. But a win against Florida on Saturday could lead Kentucky to the Big Dance.
Alabama. Let me say this. Trevor Releford (15.5 PPG, 2.1 SPG) could carry Bama to the SEC championship. At this point, I'm convinced any team could win that thing. But Anthony Grant's program also could lose its first game and go home with nothing more than an NIT berth. There's just nothing about the Crimson Tide that makes me a believer. They have lost three of their past four matchups (all road games). This lukewarm stretch sums up Alabama's entire season. So-so. Defense has helped Bama stay alive all year (59.8 PPG allowed in SEC play, No. 2 in the conference). But the team is so inconsistent everywhere else that it has reached the end of the season with minimal mojo.
Georgia. So … Mark Fox's team is 8-4 since Jan. 26. The Bulldogs have knocked off Kentucky and Tennessee in their past two games. Fox's young squad has matured in recent weeks. Kentavious Caldwell-Pope (18.2 PPG, 7.0 RPG, 2.1 SPG) is a star. But without an offensively astute crew around him, the Bulldogs have focused on defense (56th in adjusted defensive efficiency, per Ken Pomeroy). Georgia hasn't even cracked the RPI's top 100. This is not a bubble team. But it's certainly a dream killer right now.
Ole Miss. Last week, a few Ole Miss fans told me they didn't like my placement of the Rebels in the most recent rankings. They were justified in their frustration. Ole Miss should have been lower. This is an average team (at best). We were all blinded by the Marshall Henderson Show earlier this season. For once, Ole Miss was fascinating. Then Andy Kennedy's program caught an allergy to defense (71.2 PPG allowed in SEC play, 12th in the league). Sure, the Rebels are a bubble team. But they're not playing like a tournament team (see Saturday's inexplicable 73-67 road loss to rival Mississippi State).
Arkansas. The Razorbacks aren't that different from the rest of the conference. They're a dazzling spectacle at home. Just bad whenever they're on the road. That's the story of the entire conference -- the nation, really. But Saturday's 30-point loss at Missouri was enough to send any bandwagon into a ditch. Arkansas has lost three of its past four. Not exactly the kind of convincing conclusion to the regular season that the selection committee would like to see from a bubble squad. But … this is Arkansas. A lot of teams have lost on the road this season. Few, however, have matched the extremes of Arkansas' Dr. Jekyll/Mr. Hyde routine.
Texas A&M. I wanted to trust the Aggies. Really, I did. That January road win against Kentucky and an early February victory against Missouri convinced me that Elston Turner (17.7 PPG) & Co. would end the season on a high note. Didn't happen. Things fell apart for this program.
Vanderbilt. The bad news is that Kevin Stallings' program sits at the bottom of the SEC. The good news is that his top five scorers should return next season. And incoming four-star recruit Damian Jones should help in his first season with the squad.
South Carolina. Can Frank Martin build something special with the Gamecocks? We'll see. His first year was a rough one.
Auburn. Bottom line is that Auburn's administration will soon decide whether it's going to give Tony Barbee more time to rebuild after another tough season.
Mississippi State. Last night, Rick Ray sent me a text message that simply said, "Can't make this up. Jalen Steele tore his ACL last night. That's FOUR season ending knee injuries." I know you think your favorite team has endured tough times in 2012-13. But I don't think any team in the country has matched Mississippi State's situation. Still, MSU's fan base will feast on last weekend's win against Ole Miss for months.
March, 1, 2013
3/01/13
9:30
AM ET
My latest attempt to rank the SEC ...
1. Florida.
Still No. 1 to me. I'm not going to drop the Gators for a loss to a hungry Tennessee team this week. Billy Donovan's squad was short-handed. But
Will Yeguete
and
Michael Frazier II
will be available for Saturday's matchup against Alabama. The Gators have followed the trend within the SEC and nationally by struggling on the road. Every squad on this list, however, has encountered the same off-campus struggles. But no team in this conference possesses Florida's talent, skills and résumé.

2. Missouri.
Frank Haith's program has improved. The Tigers are finally fulfilling their potential. Perhaps it took three, four months for this group to achieve the chemistry necessary to make it happen. Injuries to
Keion Bell
and
Laurence Bowers
did not help. But they're jelling now. Sure, it's just a win over South Carolina but the Tigers topped 80 points in their second consecutive road game with that 90-68 victory Thursday night. Also,
Phil Pressey
did not attempt a field goal in the game, but he finished with nine assists. His recent performances prove he realizes Mizzou needs him to be a better distributor.
3. Tennessee.
Cuonzo Martin is cooking something in Knoxville. The Vols are sitting on the NCAA tournament bubble after six consecutive wins, a streak that includes victories over Kentucky and Florida. Tuesday night's win over the Gators was crucial for Martin's squad. The Vols have certainly dealt with a variety of obstacles this year. Jeronne Maymon has been sidelined all year with a knee injury. The Vols lost four of their first five SEC games. But they're playing great basketball right now.
Jarnell Stokes
is more assertive now.
Trae Golden
is leading.
Jordan McRae
is balling. This could be a very dangerous squad if it cracks the field in the NCAA tournament.
4. Kentucky.
Kudos to John Calipari's team. It's not easy for a veteran squad to move forward after losing its best player. This crew is making a push with freshmen. The Wildcats have won three of four without star
Nerlens Noel
. The 30-point loss they suffered at Tennessee in their first full game without the freshman standout projected trouble for the young crew. But the Wildcats are fighting for an at-large bid.
Alex Poythress
is a matchup problem for any team in America when he wants to be. And his recent efforts prove he recognizes his significance to this team's postseason, especially with Noel sidelined. He scored 16 points in Wednesday's 85-55 victory at Mississippi State, and he dropped 21 points in Saturday's 90-83 overtime win against Missouri.
5. Alabama.
Bama has won four of its past five games. But the Crimson Tide didn't achieve that success against the league's best -- and the Tide suffered a triple-overtime road loss to LSU over the weekend. Their next two matchups, road games against Florida and Ole Miss, however, will give Anthony Grant's team a chance to prove it's a top-tier team in this league and one that should be feared in the conference tournament.
Trevor Releford
can lead Bama in this final stretch, but he'll need other scorers to step up consistently to avoid a late collapse (61.7 PPG in SEC play, ninth in the league).
6. LSU.
Johnny Jones' squad has won four of five. The Tigers are not in the NCAA tournament conversation. But if you're looking for a team that could rally in the SEC tournament, check out the Tigers. They play fast (41st in adjusted tempo per Ken Pomeroy). They defend the 3-point line (SEC squads are shooting just 28.9 percent from the arc against the Tigers). And sophomore
Johnny O'Bryant III
(13.6 PPG, 8.7 RPG) is a young star.
7. Arkansas.
It's the same story with the Razorbacks. They can contend with America's best when they're home. The road is a completely different tale for this squad. They've secured double-digit home wins against Tennessee and Florida. They have a win over Missouri, too. They've lost to South Carolina and Vandy on the road. The Razorbacks would be in the mix for the conference title if they had avoided those road losses to subpar SEC squads.
8. Ole Miss.
It's getting hot for Andy Kennedy and his program. The Rebels have tumbled in the standings after losing five of their past nine games. The good news? They've actually won three of four and they can win the last three SEC games on their slate. The bad news? Their at-large hopes have been jeopardized by their recent fall. They're the league's best offensive team (75.9 PPG) and one of its worst defensive squads (70.3 PPG allowed). That's a formula for chaos.
9. and 10. Texas A&M/Vandy.
Both are 6-9 in the SEC, and that's surprising for different reasons. Texas A&M has wins over Kentucky and Missouri but the Aggies have had far more lows than highs. Kevin Stallings' young squad has won four of its past six games. That's a finish that his program can build on for next season.
11. Georgia.
Mark Fox's program had amassed momentum during a five-game winning streak. Since then? The Bulldogs have lost four of their past five.
12.-14. South Carolina/Mississippi State/Auburn.
It's difficult to separate these three teams. The good news for all three? It's March. This will end soon.
February, 15, 2013
2/15/13
9:30
AM ET
One man's attempt to decipher the ongoing chaos that defines the SEC in 2012-13:
1. Florida.
The Gators were questioned following a surprising road loss to Arkansas last week. But they revealed their prowess in recent lopsided wins against Mississippi State and Kentucky. Florida's greatest quandary is its competition. When it looks good (second in both adjusted offensive and defensive efficiency per Ken Pomeroy), many suggest that it's not facing premier opposition. When it loses? Panic and "I told you so." But the Gators are still one of America's best teams. There shouldn't be any debate about that.

2. Missouri.
I don't know if the Missouri squad that stomped Ole Miss in Columbia on Saturday (98-79) is the real Missouri. The Tigers, however, proved what they're capable of when they smashed the Rebels last weekend. Three players topped 20 points. They shot 52 percent from the 3-point line. They followed that with a 42-point road win against Mississippi State on Wednesday night. But I'm still evaluating those road losses to Texas A&M and LSU. You should do the same. I have no doubt that Frank Haith possesses a roster that has the potential to contend with any team in the league. Even Florida. But only at home. If Haith's squad can get its act together once it leaves campus, then Missouri could finally become the team we thought it would be entering the 2012-13 season.
3. Alabama.
After Florida, the SEC becomes a confusing assortment of squads that are difficult to assess because of their collective inconsistency. So you have to reward a team -- for the purposes of these rankings -- when it hits its stride. Bama's offense is what it is (58.1 ppg, 12th in the league). It's been that way all year. The Crimson Tide scored 37 in a 12-point road loss to Auburn on Feb. 6. I'm still digesting that. But, Anthony Grant's program has won four of five to secure a third-place slot in the SEC. It won three of those games by four points or less. You can look at that multiple ways. Either Bama is just an average SEC team that is squeezed by other mediocre teams, or
Trevor Releford
(14.6 ppg) leads a gritty squad that is winning with an aggressive defense (55.5 ppg allowed) that has masked its offensive challenges.
4. Arkansas.
I think Florida is really good. So I'm still impressed by the Razorbacks' win against the Gators last week. Yes, they followed it up with a loss at Vanderbilt. But they've won three out of four. And Mike Anderson commands an offensive unit that is as potent as it is inconsistent.
BJ Young
and
Marshawn Powell
? That is serious talent. The Razorbacks have struggled on the road. So has the rest of the league, the rest of America. But they've demonstrated their ceiling in this four-game stretch. Arkansas could finish the season strong.
5. Texas A&M.
Oh, Texas A&M. Your ability to baffle is quite baffling. The Aggies beat Ole Miss on Wednesday night because
Elston Turner
scored 37 and went 7-for-10 from the 3-point line. The Aggies are not a good 3-point shooting team (32.3 percent, ninth in the league). Yet they shot 50 percent from beyond the arc in their past two wins (against Ole Miss, Missouri). With so many single-digit losses and wins (every game in February), Texas A&M's free throw shooting (71.8 percent, second in the SEC) and rebounding (39th nationally in offensive rebounding rate) position the Aggies to win those tight games. But there is danger every night for the Aggies. They seem to embrace it.
6. Ole Miss.
The
Marshall Henderson
(19.5 ppg) buzz has decreased in recent weeks. And the Rebels have revealed their flaws. They are an offensive gem (74.8 ppg, No. 1 in the SEC). Four of their past five opponents, however, have shot 46 percent or better from the field. That's why they have lost four of their past five. Andy Kennedy's offensive tools are fluid and potent. Yet his defense (71.8 ppg, 13th in the SEC) has been absent in recent weeks. Really, all year (2013). The good news for the Rebels is that they will not play Missouri or Florida in their last seven SEC games. The bad news is that their defense is so uncertain, they could still finish the season in the bottom of the standings.
7. Kentucky.
I hate what happened to
Nerlens Noel
. As Dana O'Neil pointed out this week, it's a devastating injury for him and his experience as a young man. Surgeons will repair the ACL. And Noel will probably enter the NBA draft and make millions in the coming months. But the program is obviously hurt by the loss. The Wildcats had not orchestrated a convincing argument for an at-large bid even when they had Noel. What now? John Calipari's youngsters must dig deep. The selection committee will likely consider Noel's injury. But I think the next seven games (and whatever happens in the SEC tournament) will dictate Kentucky's fate on Selection Sunday, since it has not really justified at-large status to date. It's unfortunate that the Wildcats won't have Noel down the stretch, because they were improving with him, especially on defense.
8. Georgia.
Billy Donovan will probably win it. But perhaps Mark Fox will ultimately be the SEC's coach of the year. The Bulldogs endured one stretch that included losing seven of eight in November and December. However, the Bulldogs have won five of six. Fox has one double-figure scorer (
Kentavious Caldwell-Pope
is averaging 17.7 ppg). The Bulldogs have the worst scoring offense in the league (57.2 ppg), but they have enhanced their defense, which is fourth in the conference (60.6 ppg allowed). And they are second only to Florida in 3-point shooting (37.3 percent). Overall, it's a major improvement for the program. The Bulldogs are still fighting after losing four of their first five SEC games.
9. Tennessee.
Cuonzo Martin's crew scored a win against rival Vanderbilt on Wednesday night in Nashville. Yes, the Commodores have struggled all season. But an Arkansas team that defeated Florida couldn't win there last weekend. The Vols are just 5-6 in league play.
Jarnell Stokes
, however, can lead Martin's squad up the SEC standings. He's a bully right now. And I'm not surprised. Stokes has finally accepted his leadership role with the team. The Vols will go as far as he takes them. That's a lot of pressure for a sophomore, but it's the reality. After that 58-46 win against Vandy, (Stokes finished with 17 points, 10 rebounds, five blocks and a steal), Martin said, "Jarnell has really stepped us as our guy. Now our offense flows through Jarnell." Stokes has recorded double-doubles in seven of eight games. In Stokes the Vols should trust.
10. LSU.
Johnny Jones' team has won four of five. Sophomore
Johnny O'Bryant III
has rivaled Stokes in recent games. He finished with 30 points, 10 rebounds and a block in a 64-46 win at South Carolina on Thursday, and he has double-doubles in seven of the past eight games. The Tigers defend the 3-point line better than any team in the league (opponents are shooting just 26 percent). This is a good example of the challenges I face each week with these rankings. On Jan. 30, the Tigers defeated Missouri. They are 10th right now, but they could be fourth in these power rankings. That is the scenario each week when you have so many teams with similar records, resumes and struggles.
11-12. Vanderbilt/Auburn.
Last weekend, the Commodores beat Arkansas by 18. It was just the second time Vandy scored 67 or more in regulation in SEC play. The Commodores, however, are in the top half of the league in scoring defense. Tony Barbee's program won its first two SEC games. But the Tigers have lost eight of their past nine.
13-14. South Carolina/Mississippi State.
These schools have won four games combined in the SEC. South Carolina and Mississippi State are 13th and 14th, respectively, in field goal percentage and field goal percentage defense in the SEC.
November, 30, 2012
11/30/12
9:30
AM ET
By now, many assumed that Kentucky would own the No. 1 post in the SEC. As I compile the first edition of ESPN.com's power rankings for the conference, however, I'm not even sure they're No. 2. The Wildcats have faced some tough teams but they've been inconsistent. It's early, so these rankings will change. But the Gators are on top. It might be tough for the rest of the league to knock them off their perch, too.

1. Florida.
The Gators destroyed Wisconsin and crushed Marquette in the SEC/Big East Challenge.
Kenny Boynton
is one of four players averaging double figures for the 6-0 squad. Plus, Florida has been one of the nation's most efficient offensive and defensive units in November.
2. Missouri.
Michael Dixon Jr. leaving the program
is certainly a blow for the Tigers, but they're still one of the league's best teams.
Phil Pressey
(15.0 points, 6.2 assists per game) and
Laurence Bowers
(14.2 ppg, 6.3 rebounds per game) have led Frank Haith's squad to victories over Stanford and Virginia Commonwealth in recent weeks.
3. Kentucky.
John Calipari's young squad has been battered by some of the nation's top teams, suffering losses to Duke and Notre Dame (on the road). The 14-point loss against the Fighting Irish on Thursday was a blow to its ego but the Wildcats could shake it off Saturday if they get a win over Baylor.
4. Alabama.
I'm not sure whether I believe Alabama's 6-0 start but I believe in
Trevor Releford
(18.6 ppg) and the leadership he's provided for Anthony Grant's squad. The Crimson Tide have been tough on defense. And they can prove that this start hasn't been a fluke when they visit No. 17 Cincinnati on Saturday in the SEC/Big East Challenge.
5. Tennessee.
The Vols were overmatched against Oklahoma State in Puerto Rico but they bounced back with a victory over UMass and then crushed Oakland, a Summit League contender, by 27 points. A win at No. 20 Georgetown on Friday would certainly elevate Tennessee nationally.
6. Ole Miss.
The Rebels haven't played a high-major opponent this season, but they've crushed the non-BCS opponents on their schedule by an average of 29.2 ppg. Andy Kennedy's 5-0 squad has looked good thus far, but this start won't mean much until it starts SEC play in January.
7. Arkansas.
The Razorbacks lost to Wisconsin and Arizona State during the Las Vegas Invitational. But I still think this Arkansas team, led by
BJ Young
(20.5 ppg) and
Marshawn Powell
(12.2 ppg), is better than most of the teams in the SEC. Friday's home matchup against No. 6 Syracuse will be an opportunity to show it.
8. Texas A&M.
Elston Turner
(15.7 ppg) is one of three players averaging double figures, and freshman
J'Mychal Reese
(7.3 ppg) has been a young standout for a 5-1 Aggies squad that's beaten teams it's supposed to defeat. The Aggies did give up 70 points (and only recorded 49) against a Saint Louis squad that's rarely recognized for its offense.
9. LSU.
Johnny Jones' tenure has started off with five wins and zero losses, including Thursday's 72-67 victory over Seton Hall. And with a small sample size, the Tigers are top-100 in defensive efficiency. Could be worse for a program that's struggled in recent years.
10. Georgia.
The Bulldogs need to stop the bleeding after losing four of their past five games, although two of those losses came against Indiana and UCLA. They'll play at South Florida on Friday in the SEC/Big East Challenge. Few SEC squads need a win as badly as Mark Fox's.
11. South Carolina.
Frank Martin's team is in a bad spot. The Gamecocks lost to Elon last week and suffered a 24-point defeat to St. John's on Thursday.
Bruce Ellington's return
, until the football team begins prep for its bowl game, is a plus for the squad.
12. Auburn.
The Tigers have lost close games to Boston College (50-49) and Rhode Island (double overtime).
Frankie Sullivan
(18.3 ppg) shoulders the bulk of the offensive burden and that's one of the 2-4 team's problems: It lacks balance.
13. Vanderbilt.
The Commodores, who lost every significant player from last season's rotation, get a pass for losses at Oregon and to Davidson (at a neutral site). Scoring 33 points against Marist? Ugh.
14. Mississippi State.
Rick Ray walked into a messy situation when he accepted the head-coaching job last spring. These Bulldogs have struggled on both ends of the floor. It's worth noting, however, that Marquette, Texas and North Carolina were responsible for three of their four losses.
November, 15, 2012
11/15/12
10:01
PM ET
NEW YORK -- Alabama football fans are still smarting from Saturday's loss to Texas A&M. But their basketball team is off to a 3-0 start.


The Crimson Tide defeated Oregon State on Thursday at Madison Square Garden,
65-62
, in the semifinals of the 2K Sports Classic. The Beavers fall to 2-1 on the season. It's a good early-season win for Alabama, on a big stage.
The skinny:
The first half was very tight -- neither team led by more than five points, and there were seven ties and 11 lead changes. Alabama took a 35-32 lead into the locker room, scoring the final four points of the half.
Alabama opened the second half on a 12-2 run, taking a 47-34 lead. The Crimson Tide led by as many as 15, and appeared in control of the game -- until the Beavers came roaring back late. A 17-3 run by Oregon State was capped off by two free throws by junior forward
Devon Collier
that tied the game with 43 seconds remaining.
The biggest shot of the game? That belonged to Alabama sophomore guard
Rodney Cooper
, who drained a 3-pointer with 12.2 seconds left to put the Crimson Tide up 65-62. Oregon State had two more cracks to re-tie it. With 5.2 seconds left, junior guard
Ahmad Starks
turned the ball over after receiving an inbounds pass along the sideline. Then, after a missed Alabama free throw and a timeout, with 2.2 seconds left, junior guard
Roberto Nelson
got the ball, but his half-court heave was off the mark at the buzzer.
Star watch:
Alabama's got some talented guards, and they were the key to this victory. Sophomore
Trevor Lacey
, averaging 19 points per game coming in, scored a team-high 20, and made 4 of his 7 3-point attempts. Junior
Trevor Releford
and Cooper added 12 points apiece.
Collier, a local product, had a game-high 21 points off the bench for Oregon State. Starks, who scored 51 points in the Beavers' first two games of the season, had just three points against the Crimson Tide.
Number crunch:
One thing stands out on the stat sheet above all -- turnovers. Oregon State had 19 of 'em; Alabama had just seven. That's the difference in the game.
What's next:
Alabama will play the winner of the second semifinal between Villanova or Purdue in the championship game, Friday at 7:30 p.m. Oregon State will play the loser of that game at 5 p.m.
November, 15, 2012
11/15/12
9:00
AM ET
The four-team field of the 2K Sports Classic isn't populated with superstars. Alabama, Oregon State, Villanova and Purdue aren't expected to compete for the championships of their respective conferences -- if they reach their ceilings, they might find themselves on the bubble on Selection Sunday. Although there's limited star power in this tournament, the parity could add to the competition. With so many potential bubble teams in the field, a 2K Sports Classic title could be a separating factor for the selection committee in four months.
The basics
: Nov. 15-16 at Madison Square Garden in New York
The set matchups
: Alabama vs. Oregon State, 7 p.m. ET; Villanova vs. Purdue, 9:30 p.m. (Both games on ESPN2)
[+] Enlarge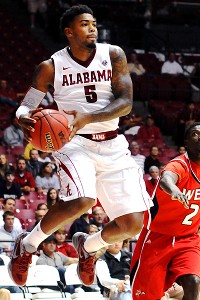 Kelly Lambert/US PresswireGuard Trevor Lacey has averaged 19 points in two games for the 2K Sports Classic favorite.
The favorite
: Last season, Alabama reached the NCAA tournament for the first time since 2006. But JaMychal Green and Tony Mitchell, who averaged more than 27 points combined, are gone. Still, Anthony Grant has a team that can compete for a slot in the NCAA tournament.
Trevor Lacey
,
Rodney Cooper
,
Andrew Steele
and
Trevor Releford
comprise the field's most talented core. They also have experience that some of the other participants lack. Those features should propel Alabama to a pair of victories and the tournament title.
FIVE PLAYERS TO WATCH
Trevor Lacey, Alabama
-- The 6-foot-3 guard scored 15 points in Bama's season-opening victory over South Dakota State. He dropped 23 on West Alabama. Grant needed a new playmaker following the departures of Green and Mitchell. And Lacey looks like the player who will fill that role for the Tide in 2012-13.
Ronnie Johnson, Purdue
-- Matt Painter uses three Johnsons (
Terone
, Ronnie and
Anthony
) in his rotation. And they're all significant. Freshman Ronnie Johnson (the younger brother of junior Terone; Anthony Johnson is no relation) is the new starting point guard for this young Boilermakers squad. And he has been impressive in his debut. After two games, he's averaging 10.5 points, 6.0 rebounds and 4.5 assists.
Ryan Arcidiacono, Villanova
-- The freshman guard has averaged 18.0 points and 5.0 assists through two games, both wins, for Villanova. Arcidiacono, ranked 46th on ESPN Recruiting Nation's list of the top 100 prospects in the 2012 class, steps into a key role in the backcourt just months after talented guards Maalik Wayns and Dominic Cheek left the program to turn pro. It's early, but Arcidiacono's start has been a promising one.
Ahmad Starks, Oregon State
-- Craig Robinson's program lost its best player when Jared Cunningham left school early. But Starks could be the catalyst Robinson needs to produce one of the Pac-12's best offensive units again. Starks scored 33 points in a win over New Mexico State, and he recorded 18 points in a season-opening victory over Niagara.
Devonta Pollard, Alabama
-- Pollard was the gem of Grant's 2012 recruiting class (28th in Recruiting Nation's top 100). The 6-7 forward has had his moments early. This tournament -- and the venue -- could bring out the best in Pollard. He received a flurry of high praise during the recruitment process. Expectations are high, even though he has struggled early.
FIVE BIG QUESTIONS
Can Alabama get back to the NCAA tournament?
This tournament will be a good barometer for Grant's program. Alabama has the talent to win it -- and really, it should. If it doesn't secure the tournament championship, then any doubts about the Crimson Tide's potential to return to the NCAA tourney will be validated.
How will Oregon State survive without Jared Cunningham?
Cunningham was the 24th pick in the 2012 NBA draft. Losing a first-round pick would hurt any program. But even with Cunningham, Oregon State finished 7-11 in the Pac-12. The Beavers have regrouped and rebuilt. So any early success would give the program a confidence boost.
Which team took the biggest offseason hit?
Every team in this field shares a similar burden: They all lost a significant player(s) from last season's squad. Villanova (Wayns and Cheek), Alabama (Mitchell and Green), Purdue (Robbie Hummel) and Oregon State (Cunningham) enter 2012-13 without their stars from a year ago. Within that group, the Boilermakers will have the most difficult time replacing the production and leadership of Hummel. But they've all been forced to overcome personnel hits.
Is Villanova underrated?
Nova is coming off a 5-13 finish in the Big East. And they lost their two best players in the offseason. But the early production from Arcidiacono suggests that the Wildcats could outperform preseason projections that placed them at the bottom of the league.
Can Purdue compete in the Big Ten?
The Boilermakers are in that second tier of teams in the Big Ten. It's a mixed bag -- Northwestern, Illinois, Purdue, Minnesota, Wisconsin and Iowa -- that features a multitude of possibilities. With so much depth, a young Boilers squad will have its hands full in league play. And that's why its nonconference slate is so important. Painter's youngsters need to prove to themselves that they can compete against high-level opponents.
THE PICKS
Semifinals:
Alabama over Oregon State; Villanova over Purdue
Championship game:
Alabama over Villanova
March, 16, 2012
3/16/12
5:31
PM ET
GREENSBORO, N.C. -- As soon as Creighton guard
Josh Jones
missed a pair of foul shots that might have put Alabama away for good with 8.7 seconds left in Friday's Midwest Region second-round game, there was only one thought that came across his mind.
"I knew if I missed those free throws and they made a shot, it was all on me," Jones said. "All I could think was: 'Who can I stop now?'"
Fortunately for Jones and the Bluejays, he blocked Alabama guard
Trevor Releford
's 3-pointer with one second left to preserve No. 8 seed Creighton's
58-57 victory
over the No. 9-seeded Crimson Tide at Greensboro Coliseum.
Alabama players argued Jones hit Releford's arm as he shot -- and TV replays showed as much -- but officials didn't call a foul and the game was over.
"I was really relieved because I felt like I determined the outcome of the game," Jones said. "If I'd made those free throws, they would have had to [make] a desperation shot. When I missed them, I was kind of mad. I left it up to myself to get a stop at the end."
Creighton won its first NCAA tournament game since upsetting No. 5 seed Florida 83-82 on Terrell Taylor's 3-pointer with 0.2 seconds left in double overtime in Chicago in 2002. The Bluejays advanced to play the winner of Friday's game between No. 1 seed North Carolina and No. 16 seed Vermont in Sunday's third round.
"We beat Alabama at their own game," Creighton coach Greg McDermott said. "I would not have guessed that we could win a game at 58-57. I thought we were going to need to be in the 70s and get the tempo in our favor the entire game. We weren't able to ever get it there, and that's a credit to a great defensive team."
[+] Enlarge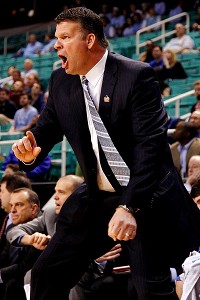 Mike Ehrmann/Getty ImagesGreg McDermott and Creighton recognized Alabama's final play from video of the SEC tournament.
Creighton won the game because it played great defense at the end. During a timeout before Alabama's final inbounds play, McDermott instructed his players to show man-to-man defense when they went on the floor, but then pop into a zone at the last second. After the Tide inbounded the basketball with 4.7 seconds left, Alabama coach Anthony Grant realized what the Bluejays were doing and called timeout with 2.4 seconds to play.
"They switched to zone and we had a man play on, so I tried to get a quick timeout to give our guys something to go with," Grant said.
McDermott said the Bluejays recognized the Tide's play from video they watched of an Alabama game in last week's SEC tournament. When Releford caught the ball and attempted a 3-pointer, Jones was ready to contest it.
"We saw it on the Internet and thought we could cover it in the zone the best," McDermott said. "Josh Jones did a really good job of it. He got Releford's right hand, made him take a really tough shot. We don't play zone a lot, and we have worked on it a lot the last 10 days."
Alabama's first choice was to throw the ball inside to All-SEC forward
JaMychal Green
, but he was double-teamed. So the ball went to Releford at the top of the key instead.
"They went zone and we figured they were going to go zone, so we tried to overload a corner and tried to pop Releford to the top, hoping that maybe we would be able to throw it inside as they got extended," Grant said. "But they did a good job. They closed on the ball and affected the shot."
Having trailed for the final five minutes of the first half and most of the second, Creighton's defense helped turn the game around in the final nine minutes. After Alabama grabbed a 50-43 lead on Charles Hankerson's baseline jumper with 8:02 left, the Tide didn't score again for the next 5 1/2 minutes.
"Our goal in the zone against Alabama was to try to keep the ball out of the paint, both off the dribble and to try to plug it up so they couldn't get it to Green and [Nick] Jacobs down low and swarm them if they do," McDermott said. "And for the most part, we did a good job of that. But I thought we could accomplish the same thing versus them with our mantoman defense."
Doug McDermott
, the Creighton coach's son, led the Bluejays with 16 points on 6-for-12 shooting with 10 rebounds. The country's third-leading scorer (with 23.2 points per game going into the contest), McDermott had to work for nearly everything against the Crimson Tide.
"They double-teamed Doug some in the first half and got it out of his hands," Greg McDermott said.
Creighton's plan all along was to wear down the Crimson Tide.
"The plan was just to outrun them," Jones said. "They kept playing the same guys over and over. We have more depth than most teams we play. It was kind of like a stalemate. They weren't scoring, but we weren't catching up with them. We just knew we had to keep running on them."
At the end, though, Creighton had to have one stop.
March, 16, 2012
3/16/12
3:59
PM ET
GREENSBORO, N.C. -- Breaking down No. 8 seed Creighton's
58-57
victory over No. 9 Alabama at Greensboro Coliseum on Friday:


Overview:
The Bluejays rallied from an 11-point deficit in the second half and then survived the Crimson Tide's furious rally in the closing seconds to get their first win in the NCAA tournament since 2002.
Creighton had a chance to put the game away in the final minute, but the Bluejays went 1-for-5 on foul shots in the final 33 seconds. Alabama made it 58-57 on guard
Andrew Steele
's layup with 18.4 seconds to go, and then Creighton guard
Josh Jones
missed two foul shots with 8.7 seconds left.
Alabama set up for a last-second play with 4.7 seconds remaining, but then Tide coach Anthony Grant called timeout just after the ball was inbounded. With 2.4 seconds to go, Tide guard
Trevor Releford
fired a 3-pointer from the top of the key, but Jones partially blocked it at the buzzer.
Turning point:
After trailing for the last five minutes of the first half and most of the second, the Bluejays made their move with less than nine minutes to go. With the Crimson Tide holding a 48-41 lead, Creighton guard
Grant Gibbs
threw an inbounds pass off the back of Alabama forward
JaMychal Green
and scored on a layup to make it 48-43 with 8:43 left. The Bluejays got back-to-back 3-pointers from
Ethan Wragge
and Jones to take a 51-50 lead with 5:39 remaining.
Key player:
Creighton's
Doug McDermott
came into the game as the country's third-leading scorer with 23.2 points per game. He had to work for everything against Alabama, scoring 16 points on 6-for-12 shooting with nine rebounds and one blocked shot. His layup put the Bluejays ahead 54-50 with 3:44 remaining.
Key stat:
The Bluejays had 14 assists (on 22 shots) with only seven turnovers. Creighton never really allowed Alabama's full-court press to become much of a factor in the game.
Miscellaneous:
Green finished with 12 points and six rebounds in his final game at Alabama. ... Gibbs had 10 points with six rebounds and four assists. ... Creighton outscored Bama 26-18 in the paint and outscored its bench 18-6. ... Creighton's last win in the NCAA tournament came on March 15, 2002, when Terrell Taylor hit a 3-pointer with 0.2 seconds left in double overtime to defeat No. 5 seed Florida 83-82 in Chicago.
What's next:
Creighton will play the winner of top-seeded North Carolina and No. 16 Vermont on Sunday.
February, 13, 2012
2/13/12
5:00
AM ET
1. Alabama coach Anthony Grant will ultimately be judged on wins and losses during his tenure in Tuscaloosa. But he will sleep well at night knowing he is running his program the right way. His decision to
indefinitely suspend four players
--
Andrew Steele
,
Trevor Releford
,
JaMychal Green
and
Tony Mitchell
--should earn him plenty of praise. Grant won't put character behind the quest for wins and an NCAA tournament berth. Mitchell was already suspended while the other three were driven back to Alabama from Baton Rouge for a violation of team rules that occurred prior to the trip. The Tide lost handily to LSU and host Florida on Tuesday. The four players' status is unknown as of Sunday. The NCAA tournament selection committee won't give Bama credit for losing games without suspended players. But the Tide administration should.
2. Maryland's
Terrell Stoglin
has been an elite scorer this season. But Saturday against Duke, he wasn't pleased with the way his 30 minutes were dispersed and the time he spent on the bench. So he tweeted after the game: "Loved sitting that bench today. Smfh wow.'' Maryland coach Mark Turgeon said he would handle the matter internally and that Stoglin was frustrated. He could also add that Stoglin is a bit immature. And that's OK. He's in college. But Stoglin doesn't need to tweet every thought he has and potentially disrupt the team concept when the Terps are trying to survive the season with depleted numbers.
3. The Colonial Athletic Association didn't distinguish itself in the nonconference, and that's a shame. The top three CAA teams are playing as well as they have at any point in the season and are headed for a fantastic league finish. Drexel (13 in a row), VCU (11 straight) and George Mason (won nine of 10) are all tied at 13-2 with three games remaining in the conference season. But it's hard to see how any of them would get an at-large berth. Still, VCU, or Drexel, especially, could be a dicey opponent in the first or second round of the NCAA tournament.