College Basketball Nation:

Trey Thompkins
March, 19, 2011
3/19/11
2:05
AM ET
CHARLOTTE, N.C. -- In the regular season, Washington was easy to pick apart and poke at, leaving observers wondering whether or not it could truly be a special team in March.
The Huskies demonstrated an inability to win consistently on the road, and at times a failure to win games played below 70 points.
Yet, something has happened with this team when games matter more -- the Huskies seem to play with more purpose.
Washington has become a postseason team, a squad that can suddenly defend when it needs to, board when it has to, and lean on star junior guard
Isaiah Thomas
to make the big play when he must.
Criticizing the Huskies was fair and justifiable during the regular season. Washington had chances to prove it was an elite team but couldn't win two games in Maui, lost at Texas A&M and then couldn't win slow games at Stanford or Oregon State. It even fell apart down the stretch in its usually vaunted homecourt against Washington State and USC.
[+] Enlarge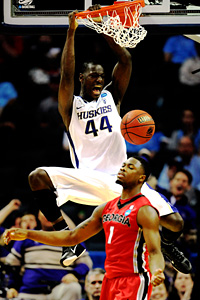 Bob Donnan/US PRESSWIRESo far, Darnell Gant and the Washington Huskies have been flying high in the postseason.
So why should there have been optimism?
"I just told our guys, 'Dudes if we don't win and play well right away, we're going home,''' Thomas said of his pre-Pac-10 tournament conversation.
Well, they must have listened because the Huskies won the automatic berth in thrilling fashion with a 3-pointer at the buzzer to beat the Wildcats in the Pac-10 tournament final. Thomas took that shot. He wasn't in position to take a game-winner against Arizona in Tucson a few weeks earlier as
Derrick Williams
blocked Washington from a victory.
And then the NCAA tournament selection committee took the No. 7-seeded Huskies and shipped them farther away than any other team when it sent the Seattle-based school to Charlotte to take on nearby No. 10 Georgia.
Yet Washington's fans seemed to be in greater numbers than Georgia fans, and were certainly louder. And with good reason. Washington played UGA's halfcourt game and beat the Bulldogs by staying strong on the backboard and running the break effectively, earning a
68-65 win
and a date with No. 2 seed and hometown favorite North Carolina on Sunday at 12:15 p.m.
"We understand now that we have to play defense to win games,'' said Washington senior
Justin Holiday
. "Sometimes we haven't been as focused on defense toward the end to win games.''
Thomas said the momentum from the Pac-10 tournament did have an effect on the Huskies' confidence here. Washington was the aggressor to start the second half after the two teams were tied 28-28 at halftime, the first close half of any of the three previous games in Charlotte on Friday.
"They're a team that scores in bunches and they know their strength,'' said Georgia's
Trey Thompkins
. "They like to play the game fast-paced. They came down in the second half and started knocking down shots. They were contested. That just shows the quality of shooters and the quality of team that they have.''
Georgia extended a great deal of respect to Washington on the postgame podium. UGA coach Mark Fox, a former Nevada assistant and head coach, is familiar with UW's success in the past six years under coach Lorenzo Romar.
"We got the game we wanted, but we didn't defend well in the second half,'' Fox said. "We gave up almost 54 percent and didn't rebound well enough. Even though we got the game we wanted to, you still have to make the plays at both ends and we didn't do that. It was frustrating.''
The balance Washington displayed was the reason the Huskies advanced to play the Tar Heels.
Aziz N'Diaye
,
Matthew Bryan-Amaning
and a collection of guards led by the recently reinstated
Venoy Overton
gang rebounded, according to Amaning, in a way that made it harder for the Bulldogs to focus on one player to keep off the glass.
And, of course, when the Huskies needed a big shot they turned to Thomas. He finished with 19 points, seven assists and two turnovers and made all seven free throw attempts.
Now the trick will be how Washington fares against a UNC team that has length and runs as well as any team in the country. The Huskies will get looks but if they don't knock down shots and get some putbacks, then the Tar Heels certainly could run them out of the building. And this will be a road game for Washington with Carolina blue dominating the arena.
"I think we have a great chance because we like to get up and down,'' Thomas said. "We both like to play the same style. It's going to be a great game.''
March, 10, 2011
3/10/11
3:21
PM ET
ATLANTA -- Facing perhaps a must-win, Georgia grabbed early control of the opening game of the SEC tournament and ran over the Tigers at Atlanta's Georgia Dome. With an RPI rating lower than No. 40, the Bulldogs seemed to be in OK shape for an NCAA at-large bid entering the SEC tourney. But a loss to the struggling Tigers, who won only four SEC regular-season games, might have been enough to knock them on the wrong side of the bubble.


Turning point
: Auburn trimmed Georgia's lead to 34-24 in the opening minute of the second half. But Georgia forwards
Trey Thompkins
and
Travis Leslie
made 3-pointers on consecutive trips, giving the Bulldogs a 45-27 lead with 16:06 to go. It was never close the rest of the way.
Key player
: Thompkins, a junior from nearby Lithonia, Ga., and a potential first-round pick in this summer's NBA draft, had his best game in quite a while. The All-SEC choice scored 22 points on 8-for-15 shooting and grabbed 10 rebounds. Thompkins, who was dogged by ankle injuries for much of the season, made a season-high three 3-pointers and was much more active.
Key stat
: 39-29. Georgia had a big rebounding advantage and especially hurt the Tigers on the offensive glass, grabbing at least four boards off missed foul shots.
Miscellaneous
: Leslie had his fifth double-double of the season, scoring 12 points with 10 rebounds.
What's next
: The Bulldogs get a rematch with SEC West champion Alabama in Friday's semifinals. The Crimson Tide defeated UGA 65-57 in the March 5 regular-season finale in Tuscaloosa, Ala. Alabama might need to sweep two games against UGA to have a realistic chance at an NCAA at-large bid. Tony Barbee's first season at Auburn ended with an 11-20 record, but the Tigers showed a lot of progress down the stretch.
March, 2, 2011
3/02/11
12:35
PM ET
A quick look at the player and coach of the year races in the SEC:
Player of the Year
[+] Enlarge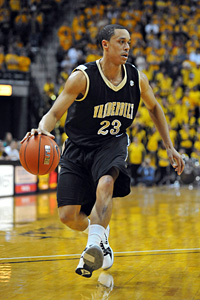 Denny Medley/US PresswireVanderbilt guard John Jenkins leads the SEC in scoring at 19.4 points per game.
Vanderbilt's
John Jenkins
couldn't get free for a potential game-winning 3-point shot Tuesday at Kentucky. But Jenkins still led the Commodores with nearly 20 points a game this season.
Since preseason SEC player of the year
Trey Thompkins
had to deal with a high ankle sprain early on and simply hasn't been consistent or dominant enough for Georgia, the award has been wide-open all season. The conference has plenty of candidates for potential player of the year with Kentucky's
Brandon Knight
and
Terrence Jones
having fabulous freshman campaigns, Alabama's
JaMychal Green
leading a Crimson Tide revival, and Florida's
Chandler Parsons
doing a little bit of everything for the conference champion Gators.
But my choice would be Jenkins.
He's come through time and time again for the Commodores this season, leading the SEC in scoring (19.4 ppg) and 3-pointers made (86) while shooting 41 percent from beyond the arc.
The sophomore guard played all 40 minutes and scored 32 in a memorable win against Kentucky the first time the teams played in Nashville. He was great in big games against Alabama (20), at Georgia (21-point second half) and at Mississippi State (21). The award could go to a number of players, but Jenkins seemed to shine the most when his team needed him most.
Coach of the Year
Billy Donovan's Florida team was the SEC favorite in the preseason. And in the end, the Gators will have at least a share of the title.
The Gators were a frustrating team early on. The home blowout loss to Ohio State early on can be excused, but a neutral-court loss to UCF and home losses to Jacksonville and South Carolina? Huh? But there were still some highs, like beating Florida State on the road, knocking off Xavier in Cincinnati, and Kansas State in South Florida.
Then the Gators really found their stride around mid-January. Donovan had to help mold a team that hadn't won anything since the Gators took the national title in 2007. This crew of seniors and juniors were living in the shadow of the back-to-back national championships. Yet they found a way to win a highly competitive SEC East, and after crushing Alabama on Tuesday night, will at the very least take a share of the overall title.
The team predicted to win doesn't always equate to the coach of the year award. And Alabama's Anthony Grant is certainly a worthy candidate after turning an ugly nonconference season into an 11-4 record in the SEC. But Donovan did his best coaching job since winning the title in 2007 and deserves the honor.
Click here
to find out who our panel of 15 experts voted for in each of the nation's 10 best conferences.
February, 16, 2011
2/16/11
11:11
PM ET
ATHENS, Ga. -- At halftime of
Vanderbilt's 64-56 victory
at Georgia on Wednesday night, Commodores guard
John Jenkins
had zero points and was 0-for-5 from the field.
At least Jenkins, the SEC's leading scorer at 19.8 points per game, was only half as bad as teammate
Jeffery Taylor
, who also was shut out in the first half on 0-for-10 shooting.
Making matters worse, Commodores forward
Festus Ezeli
scored only four points on 1-for-8 shooting in the first 20 minutes.
Together, Vanderbilt's top three scorers combined for four points on 1-for-23 shooting in the first half against the Bulldogs.
Somehow, the Commodores trailed only 27-21 at the half.
"One of my assistants said, 'Well, it couldn't have been any worse,'" Vandy coach Kevin Stallings said. "I told him, 'Yeah, Festus could have missed the one shot he made.'"
Things didn't get much better for the Commodores at the start of the second half. Jenkins missed his first three shots of the half, and the Bulldogs took a 40-26 lead on reserve
Sherrard Brantley
's 3-pointer with 14:33 to go.
Then Jenkins finally warmed up.
[+] Enlarge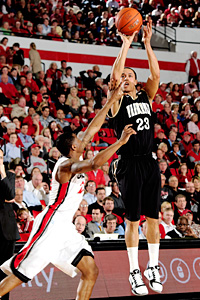 Dale Zanine/US PRESSWIREVanderbilt's John Jenkins scored all 21 of his points in the second half of Vandy's win at Georgia.
The sophomore made his first basket on a 3-pointer with 13:15 to play.
"I just got an open look," Jenkins said. "They were hard to come by in this game. I knew I had to knock it down because I might not get another one."
Jenkins, who scored a career-high 32 points in Vanderbilt's 81-77 win over Kentucky on Saturday, was only getting started. He added four more 3-pointers in the final 10 minutes and scored 18 of his team's final 24 points. All 21 of his points came in the final 14 minutes.
"My teammates kept telling me, 'It's going in. It's going in,'" Jenkins said. "It's positive thinking."
Said Georgia point guard
Dustin Ware
: "We knew at some point he was going to come in and get hot. He's a great shooter. You're never going to shut him down completely."
Stallings said Jenkins' hot shooting fueled his team's intensity on defense. Georgia didn't make a field goal in the final 9 minutes, 47 seconds, and was outscored 24-3 to end the game.
"We went from our zone to man and we were just physical and played tough and got them to miss," Stallings said.
With the Commodores leading 58-56 in the final two minutes, UGA had a chance to tie the score or take the lead on two consecutive trips. But forward
Trey Thompkins
turned the ball over and then
Travis Leslie
missed a running bank shot.
Georgia's third close SEC loss at home -- the Bulldogs lost to Tennessee 59-57 on a last-second putback on Jan. 18 and 104-91 in double overtime to Florida on Jan. 25 -- was another blow to its fading NCAA at-large hopes.
With an RPI rating hovering close to the top 40 going into Wednesday night's game, Georgia desperately needed another signature victory. The Bulldogs are now 2-8 against RPI top-50 foes, beating only Kentucky and UAB. A victory over the Commodores, who were No. 16 in the RPI, would have bolstered their NCAA hopes.
Instead, Georgia heads into the final five games of the regular season maybe needing to win at Tennessee on Saturday or at Florida on Feb. 24 to improve its at-large stock.
Meanwhile, Vanderbilt won only its second SEC road game, after also defeating Mississippi State 81-74 in Starkville on Jan. 27.
"It's a big-time confidence builder because everybody knows we've struggled on the road a little bit," Jenkins said.
January, 26, 2011
1/26/11
12:19
AM ET
ATHENS, Ga. -- When Florida had a chance to put Georgia away for good on Tuesday night, Gators guard
Erving Walker
missed two foul shots in the final 36 seconds of regulation.
When the Bulldogs missed a shot on the final play of regulation, the Gators didn't block out, allowing UGA forward
Trey Thompkins
to score the tying basket just before the buzzer.
During the past few seasons, when Florida coach Billy Donovan was struggling to rebuild a program that won back-to-back national championships in 2006 and '07, his teams would have probably folded in overtime.
Ever since Corey Brewer, Taurean Green, Al Horford and Joakim Noah left for the NBA after their junior seasons in 2007, the Gators seemed to lack the intestinal fortitude to come back from gut-wrenching blows.
But for the third time in two weeks, these Gators showed they might actually have the confidence and courage to make a sustained run in March.
[+] Enlarge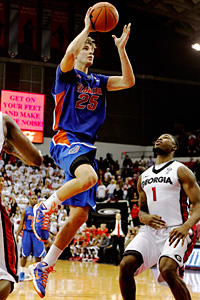 AP Photo/John BazemoreFlorida's Chandler Parsons scored 18 points -- nine of which came during the second overtime.
After blowing an eight-point lead in the final three minutes of regulation, Florida forced a second overtime on Walker's desperation 3-pointer with one second left and then pulled away from Georgia for a
104-91 victory
at Stegeman Coliseum.
"It shows we're not going to give up," Florida forward
Chandler Parsons
said. "We could have easily packed it up after Thompkins tipped in the shot."
The Gators could have packed it in at the end of the first overtime period, too. The Bulldogs (14-5, 3-3 SEC) took an 85-82 lead on forward
Jeremy Price
's two foul shots with 6.7 seconds to go. Instead of fouling, UGA allowed Walker to dribble up the floor and launch a 3-pointer from about 30 feet.
Walker drained it, forcing a second overtime and taking the wind out of Georgia's sails.
"When I grabbed the ball, I thought I heard a coach say something [about fouling]," Walker said. "I wanted to take the shot before they fouled me. I shot it a little farther back, instead of moving in for a cleaner look. I didn't know if it was good the moment it left, but it felt good. I knew it had a shot of going in."
The Gators (16-4, 5-1 SEC) scored the first nine points of the second overtime and ran away with their eighth victory in nine games.
Six games into SEC play, Florida is alone in first place in the SEC East. The Gators were the preseason favorites to win the division and are finally starting to live up to their lofty billing.
"I think it's us being humble," said Parsons, who scored 18 points, including nine of the Gators' 19 points in the second overtime. "I think it's about us being hungry. I think it's about us understanding what it takes to win. We all want to win."
And it's about the Gators being tougher than they were during the past few seasons.
Florida has already won road games at Florida State, Xavier and Tennessee, where the Gators won 81-75 in overtime on Jan. 11. And although the Gators struggled to put away lowly Auburn 45-40 on the road last week, they still produced an 8-0 run in the final two minutes to win the game.
Florida has suffered a couple of head-scratching losses -- it lost to a suddenly ordinary UCF team 57-54 in Orlando on Dec. 1 and, worse, 71-68 in overtime to Jacksonville at home on Dec. 20 -- but the Gators finally seem to be learning to handle success.
"I think they're starting to learn that you've got to line up and play," Donovan said. "They're getting better. I like coaching these guys. They're great kids. As a coach, you always want more from your team, but I think we're getting better in that area."
January, 8, 2011
1/08/11
10:15
PM ET
When even the 7-9 Seattle Seahawks are eliminating the reigning Super Bowl Champs
in the first round of the playoffs
, you know it's been a crazy day.
Such was the case in college hoops Saturday, too. When you play 139 games in one day, there are always going to be wild finishes, unexpected results and upsets. But this was something else entirely. Seven ranked teams lost to unranked teams. To wit:
(There was also a genuine thriller, UConn's 82-81 overtime win at Texas. My postgame analysis on that classic can be found
here
.)
[+] Enlarge

Ron Chenoy/US PRESSWIREColorado's Alec Burks scored 36 points and had eight rebounds in an upset of Missouri.
October, 26, 2010
10/26/10
1:05
PM ET
It's the SEC's turn in the preview spotlight. Here are five things I can't wait to see in the conference this season:
1. Florida's rebirth
Bill Simmons, some other guy that writes for ESPN.com,
has a rule
: "After your team wins a championship, they immediately get a five-year grace period: You can't complain about anything that happens with your team (trades, draft picks, salary-cap cuts, coaching moves) for five years. There are no exceptions." There's nothing particularly wrong with that rule, but success breeds the desire for more success, so it's hard for a fan base -- even as it basks in the glory of back-to-back titles -- to just sit a half-decade out. In other words, spoiled as they might have been by Florida's back-to-back national title brilliance in 2005-06 and 2006-07, you can forgive Gators fans for maybe being just a little bit impatient. Billy Donovan's program took a steep nose dive into NIT mediocrity for two years following his career-making national titles. Some Florida fans even questioned if Donovan merely caught lightning in a five-man batch, that the glory days at Florida were already over.
As we know now, Donovan has been patiently and quietly performing a classic rebuilding project in Gainesville. That project started to pay dividends last season, when a young Gators team got back to the NCAA tournament for the first time since the program cut down the nets. In 2010-11, the project should really pay off. Florida returns all five starters from last season's team. That group includes a trio of seniors led by forward
Chandler Parsons
, and a still-developing sophomore talent in
Kenny Boynton
. More talent arrives this fall, too,
in the form of 6-foot-9 forward
Patric Young
, the No. 13-ranked player in the class of 2010. That combination of veteran experience and precocious talent led the SEC media to overwhelmingly select Florida as the favorite in this season's SEC, and if Young is ready to contribute immediately, the Gators could be a top-10-type team for much of the season.
Which is to say that while they still have a ways to go -- and this season's team will have plenty of last season's flaws baked in -- Donovan's Gators are back on top of the SEC. And guess what? It didn't even take five years.
2. Kentucky's young stars
That group may or may not include
Enes Kanter
, the Turkish forward whose eligibility case remains at a standstill at NCAA headquarters in Indianapolis. But no matter: John Calipari's latest
No. 1 recruiting class
should still have plenty to offer in entertainment value. There's guard
Brandon Knight
,
the No. 2-ranked point guard in the 2010 class
, who
gave UK fans the vapors
in a trio of impressive summer exhibition performances. There's
Terrence Jones
, the No. 2 small forward in the class, who put on a Washington hat at a press conference before finally settling on Big Blue. There's
Doron Lamb
, another McDonald's All-American, who could play Eric Bledsoe to Knight's John Wall. This team will have interior issues if Kanter can't get eligible; the only other players taller than 6-foot-8 on the 2010-11 roster are junior college transfer
Eloy Vargas
and little-used backup Josh Harrelson. Meanwhile, Calipari is promising a return to his up-tempo dribble-drive system after last season's more post-oriented pro-style offense. We might not know how good this Kentucky team can be -- anything is on the table -- but we do know that those freshmen should be awfully entertaining.
3. Trey Thompkins' turn in the spotlight
If you took an informal poll of 100 casual college basketball fans, I bet 65 wouldn't be able to tell you where Trey Thompkins played his basketball. Learn now, folks: Mr. Thompkins just might be your SEC Player of the Year by the time March rolls around. That honor will have to do with Georgia's performance, of course. The Bulldogs played their conference foes as tough as anyone last season, and second-year coach Mark Fox has a couple of talented players in hyperathletic guard
Travis Leslie
and prized in-state recruit
Marcus Thornton
, and Georgia should be more competitive and consistent in 2010-11. But the real draw is Thompkins. Versatile at 6-foot-10 and 247 pounds, Thompkins is an effective rebounder, a tough interior scorer, a shot-blocker, and the rare college big man capable of working his game from anywhere on the court. In 2009-10, he averaged 17.7 points, 8.3 rebounds, and 1.2 blocks per game, all the while shooting 38 percent from beyond the arc. There's no reason to expect any less this season. The only difference this time around is a few people outside the SEC might actually notice.
4. The debut of Renardo Sidney
Few players come with so much baggage, and so much talent, as Mississippi State forward Renardo Sidney. Ineligible for his entire freshman season thanks to a handful of shaky recruiting issues, Sidney languished on the sidelines in 2009-10 wondering when it would be his turn. This season, after all that waiting, Sidney's turn has finally come. (After a nine-game suspension and a repayment of around $11,000. Naturally.) Sidney was one of the most highly touted big men in the 2009 class, and in the wake of the graduation of Jarvis Varnado, the NCAA's all-time leading shotblocker, Sidney's effectiveness on the low block will be immediately needed. Will his long-awaited arrival live up to the hype? We'll eagerly wait nine games to find out.
5. The ongoing Tennessee mess
It's never easy to predict how off-court drama will affect on-court performance. Last season, when Tennessee was missing four players (including top big man Tyler Smith) thanks to their involvement in a New Year's Day arrest, the team's season was supposed to be over. Instead, without Smith, the Volunteers went on to upset Kansas at home and eventually make an appearance in the Elite Eight. In other words, it'd be foolish to write off Bruce Pearl's 2010-11 Volunteers. Pearl's situation
keeps getting worse
. While the successful coach wouldn't lose his job thanks to on-court performance, he has already had his contract terminated, has been caught in at least one big lie, and will be facing the same questions all year long. It's impossible to predict just how much of a distraction the nonsense swirling around Tennessee's program could be, but one thing is for sure: Pearl's position is tenuous. There is little he can do on the court in 2010-11 to improve it.
March, 12, 2010
3/12/10
12:32
AM ET
NASHVILLE, Tenn. -- It took a while, but Georgia finally has a win this season outside the state of Georgia.


The Bulldogs were 0-11 in true road games and 1-12 in neutral site games, and that one win was in Duluth, Ga.
Maybe they're starting a new streak after
sprinting past Arkansas 77-64
on Thursday in the first round of the SEC tournament.
The more you watch the Bulldogs, the more you're impressed with them, particularly super sophomores
Trey Thompkins
and
Travis Leslie
. Thompkins finished with 23 points and 14 rebounds, his 10
th
double-double of the season. The high-flying Leslie had 21 points.
The Bulldogs (14-16) were much more active on the boards, as evidenced by their 45-28 rebounding advantage.
The Hogs (14-18) put the wraps on a disappointing season and an even more disappointing close to the season. They lost for the sixth straight time and broke down in the final three or four minutes when Georgia stepped on the gas.
March, 11, 2010
3/11/10
11:20
AM ET
NASHVILLE, Tenn. -- The SEC tournament returns to Nashville for the first time in four years, and tickets are hard to come by.
Even some of the seats in the upper reaches of Bridgestone Arena are going for three times their face value, and watch those prices continue to soar if Kentucky is in the championship game on Sunday.
The Wildcats get a bye on Thursday along with Vanderbilt in the East and Mississippi State and Ole Miss in the West.
Here's a quick glance at Thursday's first-round games:


Game 1: Alabama vs. South Carolina
What's at stake:
Alabama coach Anthony Grant said his team is playing some of its best basketball of the season entering the tournament, but it's been a bumpy ride at times for the Crimson Tide in Year No. 1 under Grant. Unless the Gamecocks get hot and win the tournament, they're looking at a sixth straight season of staying home for the NCAA tournament. They haven't won an NCAA tournament game since 1973.
What to look for:
If South Carolina senior guard
Devan Downey
is on, he's one of the most dangerous guards in the country. Just ask Kentucky. He had an ankle injury that bothered him the latter part of this season. Keeping him out of the lane will be Alabama's greatest challenge.
Noting:
The Gamecocks played their final 24 games this season without two of their best players,
Dominique Archie
and Mike Holmes. Alabama forward JaMycal Green, the team's top rebounder and second leading scorer, was suspended and didn't play in the Crimson Tide's 79-70 win over the Gamecocks in Columbia. He's back in Grant's good graces now and will play Thursday.


Game 2: LSU vs. Tennessee
What's at stake:
The Tigers won just two conference games this season after winning the SEC regular-season championship a year ago under Trent Johnson. Two of those wins have come in their last four games. The Vols are already penciled into the NCAA Tournament, but a deep run in Nashville could improve their seeding. Right, now they're probably a No. 4 or No. 5 seed.
What to look for:
The Vols have been one of the hottest teams in the SEC, knocking off Kentucky at home a couple of weeks ago and whipping Mississippi State to ruin the Bulldogs' Senior Day last Saturday. They've traditionally struggled in the SEC tournament, though, and have had some epic flame-outs early in the tournament.
Noting:
Guard play has not been LSU's strength this season, but junior
Bo Spencer
has turned it up in these last couple of weeks and averaged 17.7 points in his last three games. He's also shot the ball better from 3-point range. Tennessee is 7-1 in Bridgestone Arena and has won six straight games in this building.


Game 3: Auburn vs. Florida
What's at stake:
It's pretty simple for the Gators. Win or else. They're sitting precariously on that NCAA tournament bubble for the third straight year. A loss to Auburn would make it difficult to make a case that the Gators deserve an NCAA bid. The next loss for Jeff Lebo may be his last one as the Auburn coach.
What to look for:
If Auburn is going to pull the upset, the Tigers have to knock down 3-point shots. They attempt an SEC-high 25.6 3-pointers per game.
Chandler Parsons
has been the catalyst for the Gators. He's a big guy who can shoot, handle the basketball and has also gotten better at working his way inside for tough shots. If the game's on the line, he's the one Florida will go to. He sank game-winning shots this season at the buzzer against North Carolina State and South Carolina.
Noting:
The Gators would like to have a repeat performance at the free-throw line. They made 32-of-40 at the stripe to beat the Tigers during the regular season. Auburn is one of two teams in the SEC to have either led or been tied at some point in the second half this season in conference games. The other is Kentucky. Auburn senior guard
Tay Waller
has scored 20 or more points in five straight SEC games, the first Auburn player to do that since Wesley Person in 1994.


Game 4: Arkansas vs. Georgia
What's at stake:
Auburn's Jeff Lebo may be the SEC coach with the hottest seat, but Arkansas' John Pelphrey will be next in line if the Hogs don't get it going. They enter the tournament on a five-game losing streak. Georgia has some of the best young talent in the league and also has enough muscle inside to make a run this week.
What to look for:
Trey Thompkins
and
Travis Leslie
pose an explosive inside-outside tandem for Georgia. Thompkins has been a force scoring inside this season and is usually automatic on that turnaround jumper in the lane. The high-flying Leslie is one of the best finishers in the league. If you're looking for a freshman who doesn't play like a freshman, keep your eyes on Arkansas forward
Marshawn Powell
, who's averaging 15.1 points, 6.7 rebounds and also becoming the Hogs' best leader.
Noting:
Arkansas guard
Courtney Fortson
, who was suspended for the first 14 games of the season, has averaged 18.1 points per game in his 17 games back as a starter. When he has it going, he's good enough to take over games. But he's also been known to shoot you out of a game. Fortson had 27 points in Arkansas' 72-68 win over Georgia in Athens back in February. That's a game the Bulldogs led by 15 points at the half. Georgia enters the tournament having lost three of its last four games.
January, 23, 2010
1/23/10
10:54
PM ET
In his first season as Georgia's coach, Mark Fox watched his Bulldogs play undefeated Kentucky even for 38 minutes before losing 76-68 at Rupp Arena on Jan. 9.
[+] Enlarge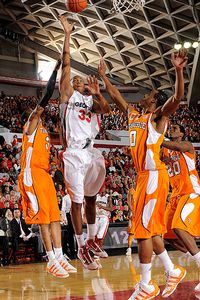 Dale Zanine/US PresswireGeorgia's Trey Thompkins led all scorers with 21 points.
Four days later, Fox saw the Bulldogs nearly knock off then-No. 23 Ole Miss at home before falling 80-76 to the Rebels. Three days later, Georgia blew a 13-point lead in the final four minutes of a 72-69 loss at Mississippi State.
All the while, Fox had to wonder if anyone in Georgia was really noticing his team's improvement. There were tons of empty seats at Stegeman Coliseum for home games. There wasn't a single UGA beat reporter at the Mississippi State game.
On Saturday, Fox was finally rewarded for his yeoman's work with his first SEC victory. The Bulldogs stunned No. 8 Tennessee
78-63
in front of a rare sold-out crowd at Stegeman Coliseum, ending a 10-game drought against the Volunteers.
It was Georgia's first win over a top-10 ranked opponent since beating No. 8 Kentucky in February 2004.
Georgia led the Vols by double digits most of the way and built its lead to as many as 24 points.
"All year long, we've just really pushed them about getting better and pushing forward," Fox said Saturday night.
Under Fox's guidance, the Bulldogs have gotten better, even though their 9-8 record (1-3 SEC) might not show it.
Georgia beat Illinois 70-67 on Dec. 19 and stunned rival Georgia Tech 73-66 on Jan. 5.
Forward
Trey Thompkins
, who had 21 points against UT, is turning into one of the SEC's better players. Sophomore guard
Travis Leslie
has become a highlight film with his high-flying dunks and an excellent all-around player. He had 19 points, nine rebounds and seven assists against the Vols.
A few weeks ago, after Leslie dunked over Kentucky's
DeMarcus Cousins
, Fox had former Georgia All-American Dominique Wilkins talk to him.
According to Fox, Wilkins told Leslie: "Hey, you're making great plays in the air. You've got to make great plays on the ground."
Just as importantly, Georgia finally got some help from its bench against UT. Freshman guard
Ebuka Anyaorah
scored seven points. Junior forward
Jeremy Price
scored nine points in a season-high 26 minutes.
"We finally got something out of our bench," Fox said. "Fatigue has been a big factor for us."
Slowly, the Bulldogs are starting to get their legs -- and confidence -- back.
"This program has been down and these kids have been beat down," Fox said. "But we have some quality wins now. It was a packed house today. It gives us credibility and momentum. Winning games like this helps us in recruiting and winning fans back. It helps us in everything."
December, 9, 2009
12/09/09
9:22
PM ET
NEW YORK -- It's hard to put too much credence in St. John's
66-56 win
over Georgia in Wednesday's SEC/Big East Invitational. The rebuilding Bulldogs are very much a work in progress under first-year coach Mark Fox.
[+] Enlarge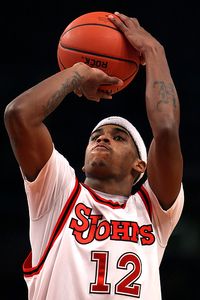 Chris Trotman/Getty Images Dwight Hardy's 12 points led a balanced St. John's attack Wednesday night.
But there is no arguing the Red Storm are better. They have better players -- and that's without
Anthony Mason Jr.
, who has yet to return from an injury -- and they just play better. St. John's broke open a flat-out ugly game in the second half, upping the tempo on offense and containing Georgia's best player,
Trey Thompkins
, who had only four of his 19 points in the second half. Most impressive, St. John's shared the wealth, putting 10 players in the scoring column.
There was a time -- like two years ago -- when the Red Storm couldn't even hold their own against good mid-majors or middle-of-the-pack teams in the BCS leagues. That's starting to change. This season, they've already beaten Siena (the mid-major darling) and a decent Temple team, and were more than respectable in a nine-point loss to Duke.
That importance of that improvement to the Big East can't be undersold.
The league can and certainly has fared quite well without its New York City main attraction being relevant, but the heart of the league remains in the Big Apple and it helps to have its signature team back among the living. St. John's has a long way to go and a huge hill to climb. Where once kids from New York never left the city, now they hardly ever stay, and winning some recruiting wars is the only way the Red Storm can really be a major factor again.
But baby steps count, especially in the top-heavy Big East, where climbing out of the basement can be a Sisyphusian chore. The university showed faith -- surprising faith -- when it offered Norm Roberts an extension when everyone else thought the coach was on his way out.
St. John's may just be rewarded for that faith this season.