College Basketball Nation:

Trey Zeigler
July, 22, 2013
7/22/13
10:37
AM ET
1. Inside Carolina first
reported Monday morning that all charges
against North Carolina's
P.J. Hairston
were dismissed on Friday, stemming from a June 5 arrest that included a misdemeanor marijuana possession. A Durham County clerk confirmed to ESPN.com that the charge was dropped, although Hairston does have a speeding ticket to be heard on Aug. 2. North Carolina coach Roy Williams issued a statement last week that there would be serious consequences for Hairston's actions but the school has been waiting for the legal process to end. Well, now it essentially has but Williams was clear that there are no games or practices in July. So, it will be interesting to see how UNC handles Hairston in the fall. He put himself in a position to be in trouble but now has escaped any serious legal issues. There has been a lot written about this case, the rental car, who rented it and how the Tar Heels have dealt with the situation. North Carolina can survive if Hairston isn't available early in the season. Whether the Tar Heels have him or not for the potential showdown against Louisville in the Hall of Fame Tip-Off game at the Mohegan Sun may not matter. Hairston could have declared for the draft. He did not and chose to return. But NBA teams are aware of this incident and will be watching him going forward. The onus is on him to behave and be an upstanding citizen for UNC and in the area if he wants the questions to fade.
2. First Steve Forbes, now Scott Monarch is back in Division I. Forbes was part of the Tennessee staff that got dumped over the allegations from a barbecue with a recruit and subsequent statements over the event that followed. Forbes didn't lie to investigators but still had a one-year show cause. Forbes was a successful junior college coach at Northwest Florida, winning 66 games and reaching the national title game before landing back in a high-profile position as an assistant at 2013 Final Four participant Wichita State. A year ago, Monarch was fired at Marquette after not giving truthful responses over whether or not he provided gear and transportation to a recruit. Head coach Buzz Williams had to sit a game to start the Big East schedule due to the violation, even though he wasn't a participant. Now, Monarch is back in Division I at North Texas, working for former Marquette associate head coach Tony Benford. The coaching bonds are strong and these show how coaches can come back from an NCAA issue as long as they have relationships and networked well. Burn the bridges, turn your back on someone and getting re-hired soon in Division I will prove to be extremely difficult.
3. Transfers are coming to every program in America. Deal. No program is above the add on of players. And coaches are realizing that they must add players mid-stream who they may not have recruited. The latest examples are at TCU where the Horned Frogs added
Chris Washburn
Jr. from UTEP and
Trey Zeigler
of Pitt. Georgia Tech added Tennessee's
Trae Golden
. It has become increasingly apparent that programs can't survive without adding a transfer at some point to balance the classes or simply for an infusion of talent.
November, 29, 2012
11/29/12
5:00
AM ET
1. Clemson's
Milton Jennings
had better be apologizing to his Tigers teammates for quite some time after his arrest early Wednesday for possession of one ounce or less of marijuana,
according to the Anderson (S.C.) Independent Mail
. Why? The Tigers played well for a rebuilding club at the Old Spice Classic in Orlando, Fla., and should have protected their home court and beaten Purdue in the ACC/Big Ten Challenge on Wednesday. Instead, the Tigers lost to the Boilermakers by 12. Jennings was averaging a team-high 10.8 points a game. Jennings' lack of leadership had a direct effect on this loss. Meanwhile, Ernie Zeigler, the former Central Michigan coach and father of Pitt forward
Trey Zeigler
, said his son has apologized to team staff and in person to athletic director Steve Pederson for a DUI over the weekend. Zeigler has been indefinitely suspended by Pitt coach Jamie Dixon. "Trey is a very good kid who made a bad mistake,'' said his father. "He showed very poor judgment. He will be disciplined by the judicial system, currently by coach Dixon and, more importantly, by his parents. We are extremely confident Trey will learn, grow and ultimately respond in the appropriate fashion to the adversity he brought upon himself.''
2. Tulane coach Ed Conroy is confident that the Green Wave can live up to the challenge of playing their games at the New Orleans Arena (capacity 18,500) when they join the Big East rather than playing at the Devlin Fieldhouse (formerly Fogelman), which holds 3,600. Conroy said the setup will be similar to St. John's, which plays its marquee games at Madison Square Garden and other random games on its campus in Queens, N.Y. Conroy said Tulane will play non-conference games at Devlin and Big East games at the home of the NBA's Hornets. Conroy said playing the Big East games at the Hornets' site was part of the deal of admission to the conference. Of course, this further complicates scheduling for the Big East, most notably assistant commissioner Tom Odjakjian. He lost school-controlled arenas at Louisville, Rutgers and Notre Dame in 2014 and '15 and added one in Tulane that nevertheless will be at the mercy of the NBA schedule. Odjakjian also got one campus-controlled arena and one where he'll have to wrestle pro dates away from the NBA with Temple and Memphis, respectively.
3. The frustrations at Texas are bubbling over. Texas gave the NCAA information on
Myck Kabongo
's paid workout last May (former teammate and current Cleveland Cavalier Tristan Thompson has already been quoted saying he paid for the plane ticket but Kabongo's brother paid him back). The school submitted its paperwork "a while ago,'' according to a source, but no word from the NCAA on any penalty. Texas has already held Kabongo out of six games and the Longhorns are 4-2 in his absence.
November, 27, 2012
11/27/12
5:00
AM ET
1. One of the sleeper games that won't get much publicity during the ACC-Big Ten Challenge is Maryland at Northwestern. The Terps have only one loss (to Kentucky in Brooklyn in the opener) while Northwestern is undefeated after winning the tournament in South Padre Island with an overtime win against Illinois State. What does Maryland have to do? "Guard their Princeton offense, get to the shooters and take care of the ball while executing in the halfcourt,'' said Maryland coach Mark Turgeon. As for the Wildcats, who will likely once again be on the bubble in March for the ever-elusive bid, "We must not get outrebounded by more than 10, we must make shots, and [Drew] Crawford has to play well,'' said Northwestern coach Bill Carmody.
2. The Battle 4 Atlantis was clearly the best tournament this November. But it's hard to project these fields. The Gazelle Group, which runs the Legends tournament, had no idea when they locked in Indiana that the Hoosiers would be No. 1. The Old Spice Classic looked much better with Vanderbilt and West Virginia and Gonzaga, but the former two are going through rebuilding seasons. Maui had only one ranked team -- North Carolina -- a rarity for that event. These events will go through different stages. In 2014, Orlando's Old Spice Classic will have marquee teams Kansas, Michigan State and Marquette, which may make that event the top in '14.
3. Pitt has suspended
Trey Zeigler
indefinitely for a DUI Sunday. That's a shame. Zeigler said last week in New York, while recovering from a hamstring injury, that he was hoping to play the way he projected and be much more aggressive offensively. But Zeigler should have been on his best behavior even more since he received a waiver to play this season when he pleaded that he was due the hardship because his father, Ernie, was fired at Central Michigan. Zeigler got a break to get immediate eligibility without sitting out a year. And then he gets a DUI and is suspended? Zeigler will need to apologize to more than his teammates, staff and family. He should also make sure he tells the compliance department and administration that pushed his waiver that he is truly sorry for his transgression.
July, 23, 2012
7/23/12
10:00
AM ET
Editor's note: ESPN.com's Summer Shootaround series catches up on the offseason storylines for each conference. For more on the Big East, click here:
1.
Unsteady rudder:
The Big East is prepping to lose two of its most iconic members, has no commissioner and needs to negotiate a new television contract to continue to prosper.
Other than those developments this offseason, Mrs. Lincoln liked the play very much, thanks for asking.
Unrest and unease has been a near-universal theme in college athletics lately, but nowhere is the footing quite so slippery as in the Big East. After making football-centric decisions, the league did finally manage to make some sound basketball decisions, adding Temple and Memphis to the ever-swelling conference, but that doesn't mean everything is stable.
The Big East is in the market for both a new commissioner and a new television contract. Making the right choice in both instances will be critical.
John Marinatto was a good man who cared deeply for the Big East, but lacked the CEO chops needed to succeed and flourish in today's world of college athletics. The new commissioner will have to be equal parts visionary and diplomat, able to predict the future and placate the membership, both existing and new.
And the league bravely -- or foolishly -- turned down a deal a year ago, prompting the unease that led to the departures of Syracuse, West Virginia and Pittsburgh. The bidding starts again in the fall and while that will be centered mainly around football, basketball's livelihood will be tied to the deal as well.
Neither a new commissioner nor a new TV deal will settle the unsteady league for good but the right choices will go a long way.
2.
The Syracuse and Pittsburgh farewell tour:
This will be the end of the line for one of the founding members in the Big East, with
Syracuse announcing it negotiated its way out of the league a year earlier than the bylaws allowed
;
Pittsburgh soon followed suit
. With a $7.5 million buyout paving the way for each school, they'll both jump to the ACC in 2013.
Fortunately -- and probably not coincidentally -- the Big East scheduled two Georgetown-Syracuse games this season, guaranteeing us at least two more versions of one of the sport's best rivalries.
[+] Enlarge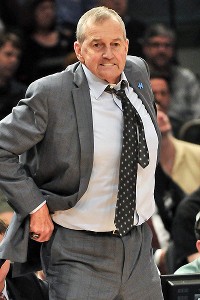 Cal Sport Media/AP ImagesJim Calhoun's Huskies are among the 15 teams banned from postseason play because of poor classroom performance.
Unfortunately, with Connecticut's APR troubles (see below) and postseason ban, the Huskies and Orange -- the leads in 2009's six-overtime play -- will never meet in the Big East tournament again.
Chances are this won't be a nostalgic last run through the conference. Folks aren't happy with Syracuse and Pitt's decisions to bolt and it will probably be an awkward tango to the finish line.
3.
UConn's postseason ban:
Despite appeals and arguing from UConn, the NCAA has decided to stick with its APR standards, rendering the Huskies ineligible for postseason play. And since the league doesn't want its automatic bid to go to a team that can't participate in the NCAA tournament, UConn won't be in New York for the Big East tournament, either.
That's a hefty blow to the Huskies, of course, but a big one to the conference as well. Sitting just a quick car ride away from Madison Square Garden, UConn is a big draw for the tournament in March (though no one travels quite like the Orange-loving Syracuse fans).
4.
Return engagement?
A year ago, Louisville served as the beggars at the feast, the surprise member at the Final Four party. They survived as much as they won, overcoming a laundry list of injuries to key players, to make their way to lifting the Big East tournament trophy and followed that up with a trip to New Orleans.
This year people expect the Cardinals to thrive as well as survive, all the way to Atlanta and a Final Four return engagement.
The rationale is simple: Louisville returns everyone to the lineup save Preston Knowles and inserts George Mason transfer Luke Hancock to fill that role. (That is, after Hancock recovers from shoulder surgery. Not everything has changed in Louisville).
But Rick Pitino knows a thing or two about trying to get back to the Final Four, having walked down Expectation Highway with Kentucky in 1996 and 1997, and realizes what he's up against.
"This past year at Louisville, we didn't expect to go but now we have high expectations to go and do it," Pitino told ESPN.com's Andy Katz. "I think this time will be tougher than it was at Kentucky. At Kentucky, it was totally unexpected, but this time it will be expected. It's hard to have a Final Four that will be expected."
5.
Will order be restored?
Even now, a good three months after the season ended, the final Big East standings don't look right. There, near the bottom of the barrel are Pittsburgh and Villanova, tied with identical 5-13 records of misery in the conference.
So the important question: Were those failures a blip on the screen or the beginning of something a little more long-term?
All signs point to some quick healing for Pitt, which welcomes touted freshman
Steven Adams
and Central Michigan transfer
Trey Zeigler
to go with returning players
Tray Woodall
,
Talib Zanna
and
Dante Taylor
. Last year's troubles were hard to decipher, so it's tough to imagine a repeat.
Villanova's situation isn't quite so crystal clear. The Wildcats were a debacle all year and from that mess,
Maalik Wayns
and
Dominic Cheek
, the team's two leading scorers, left early. That could be addition by subtraction if the two didn't want to be around anymore but those are still mighty shoes to fill.
Jay Wright has two top-100 recruits in
Ryan Arcidiacono
and
Daniel Ochefu
, plus Wake Forest transfer
Tony Chennault
,
JayVaughn Pinkston
and
Mouphtaou Yarou
. That's a good foundation to build on but whether Rome can be rebuilt in a season remains to be seen.
May, 29, 2012
5/29/12
10:30
AM ET
Perhaps Pittsburgh's long national nightmare -- and by nightmare, I mean a "one-year break from an otherwise consistently successful program" -- is over.
Indeed, the Panthers got good news this past weekend,
when the NCAA announced that it was going to allow guard Trey Zeigler
, who played the first two years of his career under his father Ernie Zeigler at Central Michigan, to play immediately at Pittsburgh next season.
This is slightly surprising news, given that Zeigler's transfer was not the result of a family illness or graduate exemption, but rather the result of his father's firing in March. Which is not the same as saying Zeigler
shouldn't
be allowed to play immediately. Let's be real: Zeigler's odds of attending Central Michigan (and turning down Michigan State, Michigan, UCLA and Arizona State)
as a top-35 recruit in the class of 2010 were almost nil
; he didn't commit to the school so much as to his father, and few would dispute that. All in all, it seems like a pretty fair decision. It's just unique, is all.
But whatever the reasoning behind it, the news is entirely welcome news for Pittsburgh coach Jamie Dixon, who will now reload his backcourt immediately after a disappointing 2012 season and the loss of senior guard and longtime scoring leader Ashton Gibbs. Dixon can slot Zeigler, a 6-foot-5 shooting guard, in the backcourt alongside point guard Tray Woodall, who missed much of 2012 due to injury but consistently improved his play as he became full strength later in the season. Meanwhile, freshman point guard James Robinson -- the No. 4-ranked player at the position in the class of 2012 -- should provide a solid third option at point guard.
Pitt's backcourt will need to take on the lion's share of scoring production at the very least, because the frontcourt may still be a year or two away. Much of that will depend on New Zealand-born freshman center Steven Adams,
the No. 4-ranked center, and No. 6-ranked overall player, in the incoming class
. Adams will be charged with replacing Nasir Robinson, who himself was replacing a senior-laden 2011 group, alongside forwards Dante Taylor (whose 16.3 offensive rebounding rate in 2011 portends big things in bigger minutes) and Talib Zanna (who likewise posted a 14.2 rebounding rate in 2011, and whose name always reminds me of
this character from "Mass Effect
").
If Adams and a new-look Pitt frontcourt can excel immediately, then Pittsburgh's goal of returning to the NCAA tournament should be little more than a boring expectation. If all goes well, the ceiling should be much higher; this team could compete with Louisville and Syracuse at the top of the Big East. And it will be fascinating to see Zeigler -- a talented player asked to do everything for a team that ranked
No. 270 in KenPom at the end of 2012
-- competing in a big-time conference with talented players around him. That alone could improve his play considerably.
At the very least, Dixon has his backcourt back in fighting shape. It took a slightly unusual NCAA decision to make it happen, but the end result is the first truly great news Pitt fans have heard in a year.
May, 28, 2012
5/28/12
5:00
AM ET
1. Connecticut forward
Roscoe Smith
has transferred to UNLV and the Runnin' Rebels will file a waiver to have him play next season instead of sitting out. The case, according to a source, will be built on Smith's desire to play in the NCAA tournament. UConn is banned from the 2013 NCAA tourney due to a poor Academic Progress Rate. The Rebels are perfectly willing to have Smith sit out next season, but are making the attempt. This will be an interesting case for the NCAA. The rule has been that if there is a postseason ban, and you have as many years left as the ban, then you can transfer without sitting out. That's why UConn's
Alex Oriakhi
, who will be a senior, is eligible immediately at Missouri. If Smith, who will be a junior, gets the waiver then the NCAA will be open to criticism for its lack of consistency in interpreting the rule.
2. There is hope for Smith based on the
Trey Zeigler
case. Zeigler was granted a waiver to play immediately at Pitt after transferring from Central Michigan. Zeigler left after his father Ernie was fired. His transfer is no surprise, but a coach being fired isn't an out of the norm hardship for a player. No one said Zeigler had to stay at CMU. He didn't, but now because his father got fired he received a hardship waiver. That's fine, but it shows once again a lack of consistency by the NCAA as to why some players get a waiver and some don't.
3. Memphis tried to get Kansas to play a home-and-home series to no avail. But the Tigers are still loading up on their nonconference schedule in their final season in C-USA. Memphis coach Josh Pastner said he has games against Louisville, at Xavier, Tennessee, as well as playing in the Battle 4 Atlantis (Louisville, Duke, Missouri, Minnesota, Northern Iowa, Stanford and VCU), and that he is locking in home games against Ohio, Harvard and Loyola (Md.) -- all NCAA teams last season.
April, 10, 2012
4/10/12
5:00
AM ET
1. Ernie Zeigler told ESPN.com Sunday that his son Trey would sit out next season and then play two seasons at Pitt. But the Panthers will make an attempt to seek a waiver for Zeigler to play next season. Duke was going to seek the same thing had Zeigler chosen the Blue Devils. The premise is that Zeigler had to leave Central Michigan because his father was fired as head coach.
2. Kansas coach Bill Self said Ben McLemore is eligible and ready to go for next season. Self said in the preseason that McLemore might have been the team's most-ready NBA level talent. That was before
Thomas Robinson
had a breakthrough season. But if McLemore has the impact projected then the Jayhawks should be in the thick of the title race again next season.
3. San Diego State will play UCLA in the Wooden Classic on Dec. 1 at the Honda Center. Give SDSU coach Steve Fisher credit for constantly trying to upgrade the Aztecs schedule. But these types of games will become even more important once San Diego State moves to the Big West in 2013. The Aztecs will need to secure neutral-site games against top competition due to the lower conference power rating of the Big West compared to the Mountain West. Conversely, this will be a dangerous game for UCLA. SDSU should be the favored team to win in this game.
November, 15, 2010
11/15/10
6:39
PM ET
By
Diamond Leung
| ESPN.com
Central Michigan plays at Hawaii Monday night in a Rainbow Classic game that tips off at 11 p.m. local time and 4 a.m. on the East Coast, and for those wondering how in the world they'll either stay or get up to watch this one, here are some sources of inspiration.
Two nights earlier in Hawaii around the same time, Central Michigan's overtime game against Montana State was just ending. Thrilling, we know. And yes, people were in the stands heroically doing their best to stay awake and watch two non-local, non-power conference teams slug it out.
From
Central Michigan's website
:
At the end of Saturday night's exciting overtime game, there were only about 55 fans in the arena for the second half and both schools' broadcasters could be easily heard from the benches during the quiet points of the game, despite being on the opposite side of the court.
The Chippewas ended up losing, but The 55 who remained got to say they were there to see highly regarded freshman
Trey Zeigler
score 21 points for his father, coach Ernie Zeigler.
The night before that, Zeigler made his debut with 11 points and eight rebounds as Central Michigan won against Cal State Fullerton on a buzzer-beater 3-pointer from
Jalin Thomas
, who was sick during the game but found a way to send everyone home happy.
So the benchmark for college basketball late-night watching has been set. Go to sleep at your own risk Monday night.
November, 3, 2010
11/03/10
1:26
PM ET
MOUNT PLEASANT, Mich. -- In coaching, all you ever want is an advantage. In the MAC, that advantage has typically come in the form of an NBA-level player.
Think Wally Szczerbiak at Miami, Bonzi Wells at Ball State, Gary Trent (the Shaq of the MAC) at Ohio and Chris Kaman and 'Thunder' Dan Majerle at Central Michigan.
Ernie Zeigler II has been the head man at CMU for four years now and has led the Chippewas to back-to-back MAC West Division championships. He married his wife Seantelle and on April 20, 1991, Ernie III (Trey) was born. Little did either know that this little bundle of joy could someday become an "advantage."
Trey showed signs of being a player at age 12 and had positive point guard influences like Brandin Knight at Pitt to model his game after. ESPN.com rated him No. 33 on the ESPNU 100 as an elite senior out of Mt. Pleasant High School and his game became so impressive and advanced that he had scholarship offers from all over the country, including at finalists Michigan, Michigan State and UCLA.
The Bruins were considered by many to be the frontrunner as coach Zeigler had served as Ben Howland's assistant for five seasons at Pitt and UCLA.
A week before the Kentucky Derby Festival Basketball Classic in April 2010, Trey told his father that he was heavily leaning toward going to UCLA. It appeared to be a done deal. Ernie called Howland to give him the good news.
Then everything changed.
The epiphany moment came for Trey as he was playing a week later in the Derby Classic and
Ray McCallum
, Jr. was his roommate. McCallum, also a highly rated ESPN.com prospect (No. 17) was leaning toward playing for his father, Ray Sr., at Detroit. Those heart-to-heart talks with his good friend convinced Trey to do the same thing.
Ernie Zeigler awaited his son's return from Kentucky and they met in his office for one last recruiting pitch, coach to player and father to son. But before the elder Zeigler could say a word, Trey said, "Dad, I'm coming here to play for you."
Ernie called Howland back. One week prior, Howland was consoling his former assistant on Trey's probable decision to go to UCLA and now the roles were reversed.
Howland was and is a class act and they remain great friends today despite the flip-flop. And Ernie Zeigler has now coached his freshman son every day in practice this fall.
"I love playing the point and getting guys involved," said the younger Ziegler. And he does it well.
Trey Ziegler is 6-5 with point guard skills and the versatility to play the 1, 2 or 3. He is a dynamic passer with vision and possesses a coach's son understanding of the game. He can score mid-range and sees over defenders in the open court and is effective creating passing lanes off the dribble. He has some Gordon Hayward in his game, although he is three inches shorter and currently lacks the 3-ball range. But like Hayward, Zeigler is a 3-S player: Size, skill and scoring ability.
Coach Zeigler told his team during practice, "Our mid-range game is going to be our strength." His son Trey is a prominent part of that.
Every shot, every movement, every pass and every decision I saw in practice has led me to believe that the next great MAC player will be
Trey Zeigler
.
A few more observations from CMU:
The Chippewas are more athletic inside with 6-8 Andre Coimbra, who is still raw but is rangy with wing span and a motor. The big Brazilian could be an inside difference-maker as his game is refined.
One other freshman is vying for playing time at CMU. Derek Jackson from Cleveland has good feet on D and is unselfish on O. I love his catch, square and shot-fake. He will be a good one when it is all said and done.
The Chips play seven of their first eight away from home, with their only home game against nationally ranked Temple. Tough start, but a great way to challenge a young and talented team.
If you are an incurable insomniac, you can see Trey Zeigler and Central Michigan take on Hawaii in Honolulu on ESPN during the 24-hour Tip-Off Marathon. The game will tip off at 4 a.m. ET on Nov. 16. Get that Red Bull ready.
April, 15, 2010
4/15/10
12:21
PM ET
If I told you that the No. 17-ranked player on the ESPNU 100 list committed to play his college basketball at a Horizon League school, and that school wasn't Butler, what would you say? What about if I said the No. 33-ranked player just told the world he was going to spend his college career at Central Michigan? You'd be more than a little confused, right?
Then, being the smart person that you are, you'd investigate further, only to find that both of these players -- Detroit's Ray McCallum, Jr. and CMU's Trey Zeigler --
committed to those schools because their respective fathers are the respective coaches
. Hey, this is easy! Recruiting has never been so simple.
Yes, McCallum and Ziegler both officially announced their decisions to go play for their dads on Wednesday. Amid jokes of less yard work (funny) and increased allowance (a little too close to the improper benefits bone to be really tasty, but oh well), both players said they'd relish the opportunity to help their fathers build programs at places that are known less for their NBA players and more for their, well, um ... hmm. Exactly what are Detroit and Central Michigan known for?
That's the point, actually. McCallum and Ziegler made very clear choices on behalf of their families. Instead of going to any number of elite programs with gigantic budgets and a history of developing NBA talent -- when you're No. 17 or No. 33 in the country, you pretty much have your pick of the litter -- they chose to help their fathers attempt to build something Butler-esque at otherwise low-profile places. (Or, at the very least, put a few good years together in time to take a power conference job. Ahem.)
The question is whether that's the right strategy for the players. Sure, it's selfless. Some selflessness is great. But since when should college basketball players with potential NBA futures be
entirely
selfless? There's an NBA out there, and it would stand to reason that playing somewhere high-profile like Kansas or Kentucky would increase your odds of getting drafted at a exponential rate compared to, say, Mt. Pleasant, Mich.
This isn't an unheard-of view, either. The
Sporting Blog's always-excellent Chris Littman almost made this argument yesterday
. To wit:
While I can't really argue with that point, isn't there something to be said for going to a program that has a rep of producing NBA players? [...] And really, my point was more playing Devil's Advocate anyway, but there is something to be said for the high-major route to the NBA. Sure, you could star at a school like Davidson, but big numbers are always viewed with great skepticism at low and mid-major institutions. Look at some of the guys declaring early from high-major programs and think about the numbers they would've had to put up at a smaller school to even think about declaring.
There's no question there's a tradeoff there -- playing and succeeding at a big school simply confers more legitimacy in the scouts' eyes in regards to a potential NBA player's chances of succeeding in the pros. No question. At the same time, though, it's 2010, and in 2010 we have satellite TV and the Internet and all sorts of really awesome telecommunications things -- to say nothing of the legion of scouts each NBA team employs -- which ensure that a really good, NBA-worthy player at a small basketball school doesn't go unnoticed. Will Ray McCallum and Trey Zeigler get the same level of attention at Detroit and CMU that they would have gotten in the Big Ten? Probably not. But they can still get to the NBA. If that means helping Pops build his program in the meantime, well, that's just loyalty. And there's nothing wrong with that.