College Basketball Nation:

Troy Williams
November, 22, 2013
Nov 22
1:07
AM ET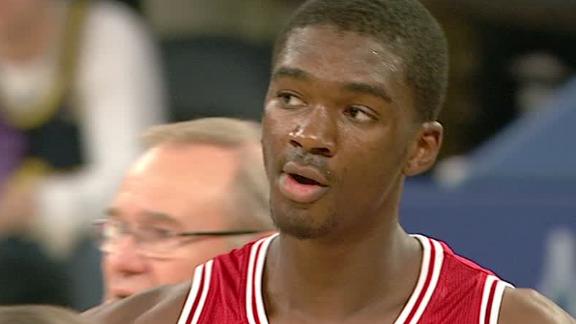 NEW YORK -- Here are five quick thoughts from
Indiana's 102-84 win over Washington
on Thursday night at Madison Square Garden:
Diaper dandies:
Indiana freshman
Noah Vonleh
has gotten more headlines thus far, but fellow frosh
Troy Williams
was even better Thursday night.
The 6-foot-7 swingman scored a team-high 22 points, shooting 8-for-12 from the field and 6-for-7 from the foul line (plus eight rebounds). He scored from all over the floor, displaying highlight-reel athleticism. In fact, his most exciting play was a missed dunk over a Washington player that might still make the "SportsCenter" Top 10.
Vonleh wasn't bad, either, by the way -- 18 points, nine rebounds, despite being limited to 24 minutes because of foul trouble in the first half. He fell one rebound short of his fifth consecutive double-double to start his collegiate career.


One-sided:
The Hoosiers took a 50-37 halftime lead by dominating the Huskies on the offensive glass and at the foul line. Indiana had 15 offensive rebounds and shot 16-for-18 from the foul line in the first half.
"We knew that Indiana was a really good offensive rebounding team, but what they did just decided the game on the boards," Washington coach Lorenzo Romar said. "Right away they established themselves, 15 offensive rebounds -- that's tough to overcome."
Indiana kept on coming in the second half, never allowing Washington to get closer than nine points. The Hoosiers finished with a 50-29 rebounding advantage overall and made 31 of 36 free throws. (The Huskies were just 19-for-28 from the foul line.)
Hold your horses:
Indiana, picked to finish in the middle of the Big Ten, is now 5-0 -- but let's not get carried away. This is their first victory against a major conference opponent, and not a particularly impressive major conference opponent.
Coach Tom Crean is relying on a lot of freshmen and sophomores, too.
Will Indiana be exciting to watch? Absolutely -- it has already topped the century mark three times and is averaging 94 points per game. But let's see the Hoosiers pull this off against stronger competition.
Consolation prize:
Five players scored in double figures for Washington. Senior guard
C.J. Wilcox
scored a game-high 24 points, is averaging more than 20 points per game on the season and should be among the leaders in scoring in the Pac-12.
The Huskies will put up plenty of points this year. That won't be their problem.
The bad news:
Washington was picked to finish eighth in the Pac-12 in the conference's preseason poll, but if they don't step it up on defense, they'll be hard-pressed to finish even that high.
The Huskies were like a sieve Thursday night, allowing the Hoosiers to pick them apart with ease. Penetration was a piece of cake. They got beat on backcut after backcut. It wasn't pretty. Washington must play hard at both ends.
October, 22, 2013
Oct 22
9:00
AM ET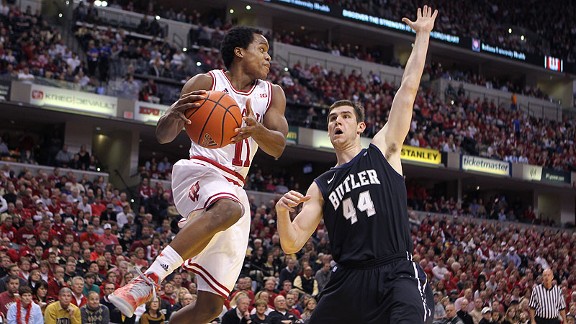 Brian Spurlock/USA TODAY SportsSophomore point guard Yogi Ferrell will take on a much bigger role for the Hoosiers this season.
It's college basketball preview season, and you know what that means: tons of preseason info to get you primed for 2013-14. But what do you really need to know? Each day for the next month, we'll highlight the most important, interesting or just plain amusing thing each conference has to offer this season — from great teams to thrilling players to wild fans and anything in between. Up next: Promise and uncertainty in the Big Ten.
You have to feel for the Big Ten. After decades of punchlines -- 10 losses in its first 10 ACC-Big Ten Challenges, groaningly slow basketball, and a dearth of NCAA tournament success -- last season the Big Ten finally ascended to the conference-hierarchy throne.
Its reign lasted about as
long as Robb Stark's
.*
When the ACC officially added Syracuse, Pittsburgh and Notre Dame this summer, it became the de facto top league by sheer force of acquisition. But even in a status-quo alternate universe, the Big Ten wasn't a guarantee to maintain its exalted position in 2013-14. This is less an argument about conference strength than a way into a summary of the league's individual parts: This season, uncertainty is the one true king.
Nowhere is this crystallized more clearly than in Bloomington, Ind. The Hoosiers, now fully rebuilt by coach Tom Crean, waved farewell to two top-five picks (
Victor Oladipo
,
Cody Zeller
) and two dependable four-year seniors (Jordan Hulls, Christian Watford) this spring. What remains might be as talented as any group in the Big Ten this season: Sophomore point guard
Yogi Ferrell
, sophomore wingman
Jeremy Hollowell
, highly recruited freshman forwards
Noah Vonleh
and
Luke Fischer
, top-100 small forwards
Troy Williams
and
Stanford Robinson
. But save senior guard
Will Sheehey
, the Hoosiers will look totally different when you see them in November. With all that talent and capable guard play, they might be
very
good. But no one can know for certain.
You don't have to squint too hard to see this trend elsewhere in the league. Iowa is looking to make a leap from sneaky-good to just plain good. Purdue has a potential lottery-pick center in
A.J. Hammons
, but what else? Northwestern will be playing modern basketball for the first time in 13 years. With
Tim Frazier
back, Penn State has a chance to be legitimately
good
not terrible. Nebraska will introduce a player who
could be one of the best recruits
in school history (New Zealand native
Tai Webster
). Illinois turned over whole swaths of production, but everyone expects John Groce to come up with an answer. New Minnesota coach Richard Pitino wants the Gophers to run, run, run. Even Michigan will be figuring out how to make its high-powered attack run without the national player of the year. And Ohio State has to score without Deshaun Thomas.
Perhaps the only sure things are that a) Michigan State will compete for the national title, and b)
Wisconsin will finish no lower than fourth
.
That seems like a lot of things to know about the 2013-14 Big Ten. It's really only one thing:
We don't know that much about the 2013-14 Big Ten
. It could be great. It could be meh. There's only one way to find out.
* The North remembers.
September, 26, 2013
Sep 26
7:00
PM ET
If you have to have a sudden flurry of injuries, it's better to have them now than in January.

That's the best possible outlook for Indiana coach Tom Crean right about now. Just a few days after it announced freshman guard Troy Williams would miss "the next few weeks" with a hand injury, on Thursday Indiana revealed that fellow freshman Luke Fischer sprained his shoulder in a scrimmage this week. The good news, beyond the fact that both injuries came in September, is that Fischer's injury is also of the "few weeks" variety according to the school; he isn't likely to miss a large swath of time. The bad news? The next few weeks are pretty important, too.
That is especially the case for Indiana. No team, save Kentucky and Kansas, needs its freshmen to take immediate steps like IU. The Hoosiers return just one starter, sophomore Yogi Ferrell, and waved farewell to four 1,000-point career scorers, two of which were reliable seniors (Christian Watford and Jordan Hulls), two of which were top-five NBA picks (Victor Oladipo and Cody Zeller). Crean has established an unmistakable program momentum, one he has planned to sustain through solid recruiting, and he has done exactly that -- ESPN's recruiting experts rank IU's 2013 class No. 4 in the country, behind only Kentucky, Kansas and Memphis.
Fischer might be the most important player to that effort. Much of the summer's attention in Bloomington has focused on Noah Vonleh, and rightfully so -- Vonleh is a top-15 player in a loaded class, a likely lottery pick, and an athletic freak of nature who by all accounts has treated his first summer on a college campus like an 1980s action movie star in a training montage. Fischer's presence, on the other hand, has largely gone unnoticed. This despite the fact that a) Fischer is the No. 4 center in his class and the No. 34 player overall and b) the best shot Indiana has of replacing Zeller's interior dominance -- namely his ability to earn trips to the free throw line.
The Williams injury is probably less impactful, despite his status as a four-star player. Crean has plenty of guards and wings to throw at the problem. Jeremy Hollowell is a very promising sophomore, Will Sheehey is still in the building, freshman Stanley Robinson is comparable, Vonleh is versatile facing up, and so on. An anchor on the low block is the truly pressing need.
It's hardly a dire situation. A few weeks and zero games missed, as Crean said about Williams, is "minor in the scheme of things." But if IU wants to make the transition into its post-Zeller (or maybe post-Hulls?) era seamless, its prospects have to make good on their potential right away. That process has already begun, and it will continue long after Fischer and Williams have healed. But the first official practice of the season less than 30 hours away, a promising but unusually young Indiana finds itself at an unfortunate cohesion disadvantage. The clock is already ticking.
May, 24, 2013
May 24
5:00
AM ET
1. Vanderbilt hasn't released
Sheldon Jeter
to his hometown Pitt Panthers yet. It may or may not come. Vanderbilt coach Kevin Stallings has never blocked a player from transferring to a specific school in the past. Jeter could be the first. Regardless of whether or not it's fair to put a block on a player receiving a scholarship in his first year at a new school (blocking doesn't prevent the player from transferring to a school, but does cloud the process with the NCAA), there is a right and wrong way to depart. Jeter tweeted "Due to some personal issues, I am leaving Vanderbilt University to be closer to my family.'' According to a source with direct knowledge, he didn't meet face-to-face with Stallings to tell him he was leaving. Jeter, a freshman forward from Beaver Falls, Pa., isn't the first nor the last to mishandle a departure. There is a mature way to deal with leaving.
Evan Gordon
left Arizona State two weeks ago. He went in and told Herb Sendek he was out. The conversation didn't last more than a few minutes. But at least there was one. Jeter averaged 5.5 points, 3.4 rebounds and 17.5 minutes a game. He'll probably end up at Pitt. He may be on scholarship by next season. Cooler heads may prevail here. But most of the time the reason there is animosity over an exit is the way in which it is handled.
2. Indiana coach Tom Crean said he's already looking at how the Hoosiers will play next season without
Victor Oladipo
,
Cody Zeller
,
Jordan Hulls
and
Christian Watford
. He said he still wants to push the tempo and fully expects this team to be offensively effective like last season when the Hoosiers were one of the nation's best. He's banking on
Will Sheehey
continuing to lead and show his work ethic to the young Hoosiers. Expect
Yogi Ferrell
to team up with Sheehey and newcomer
Noah Vonleh
as well as
Troy Williams
as some of the top producers. The player who may surprise more than any other could be
Luke Fischer
, a 6-9 forward who is considered the most efficient newcomer by the staff and
Stanford Robinson
, who will add to the depth on the perimeter. Crean said the speed of the game has to be high for the Hoosiers yet again. Look for
Jeremy Hollowell
and
Hanner Mosquera-Perea
to be one of the more intriguing early-season battles for Zeller time. The Hoosiers are still looking for one more nonconference game. The Hoosiers are in the 2K Classic in NYC with the likely matchup pitting Indiana against Boston College or Washington to ensure the Hoosiers and UConn are on opposite sides of the bracket. IU plays at Syracuse in the ACC-Big Ten Challenge and Notre Dame in Indianapolis.
3. Arizona released its nonconference schedule Thursday and for what should be a top-10 ranked Wildcats team there are a number of challenges: at San Diego State (Nov. 14), hosting UNLV (Dec. 7) and New Mexico State (Dec. 11) and at Michigan (Dec. 14). But the headline event should end up being the NIT Season Tip-Off where Duke is the other primary host with Arizona. Alabama and Rutgers are also hosts. If the home teams hold serve, which doesn't always happen in the only nonconference neutral-site tournament where you still have to earn a spot with two wins, then a potential Arizona-Duke matchup over Thanksgiving would be the top-10 game the NIT has desperately craved for years. Duke is also playing another high-profile Pac-12 team in New York when it plays UCLA in December.