College Basketball Nation:

Tulsa
March, 7, 2010
3/07/10
1:57
AM ET
Winners from Saturday
Notre Dame:
The Irish gave the selection committee another reason to put them in the dance with yet another road win, this time with
Luke Harangody
and at Marquette -- a team in the tournament field. The Irish are earning their way into the field.
Duke:
The Blue Devils likely earned the fourth No. 1 seed with a hammering of North Carolina on Saturday night. Duke also clinched a share of the ACC regular-season title. The Blue Devils passed the eye test of a team that could get to Indy.
Saint Louis:
The Billikens won at Dayton, completing a season sweep of the Flyers and finishing in fourth place in the Atlantic 10. Rick Majerus has done an outstanding job with a club that is void of upperclassmen. The Billikens could be a sleeper to win the A-10 in Atlantic City next week.
Baylor:
If you're looking for a sleeper in the Big 12 tournament, it could be Baylor. The Bears ran away from Texas and looked like a team ready to get busy in the postseason.
Kansas:
The Jayhawks may have locked up the No. 1 overall seed after winning at Missouri on Saturday. Kansas got inspired play from its key contributors and once again heads into the conference tournament on a high.
Louisville:
The Cardinals had to win two of there games this week and did. Louisville beat Connecticut, then lost at Marquette before beating Syracuse on Saturday. That gave the Cardinals a sweep of Syracuse and a likely bid to the Dance in the final game at Freedom Hall.
Tennessee:
The Vols did something Lane Kiffin couldn't do, taking a 17-0 lead on the road in the SEC. Tennessee lit up Mississippi State and had the look of a team that could be a major factor in an SEC tournament that they'll play in their home state just a few hours away in Nashville.
Virginia Tech:
The Hokies didn't have their second-leading scorer in
Dorenzo Hudson
, survived a nasty moving screen by
Gani Lawal
on
Malcolm Delaney
and gutted out a win over Georgia Tech in Atlanta. The Hokies dismissed any doubt about their candidacy with a win.
Washington:
The Huskies kept alive their chances of an at-large berth by winning at Oregon State. That win doesn't get them in the dance, but a loss would have been crushing.
Arizona State:
The Sun Devils are in Joe Lunardi's bracket and they had to beat UCLA to stay in the field. They did, sweeping the L.A. schools this week. But here's the deal: ASU and Washington are heading for a showdown in the semifinals of the Pac-10 tourney. Loser is out, winner has a pulse.
Memphis:
The Tigers had a great week, winning at UAB and crushing Tulsa at home. The Tigers get the sweep of the Blazers. If you're looking for a second C-USA team to go along with league champ UTEP, it could be the Tigers. They may get a third shot at UAB in the semifinals.
Maryland:
The Terps won at Virginia. Yes, UVA was playing without
Sylven Landesberg
, who has been suspended for the season due to academics, but the Terps still won a road game. That means Maryland gets a share of the ACC title. That's an outstanding accomplishment for this squad.
Pitt:
The Panthers lost to Indiana early in the year without
Jermaine Dixon
and
Gilbert Brown
. Pitt could have lost to Providence at home, but when it mattered most the Panthers have come up huge. They beat Rutgers as expected Saturday but that meant Pitt got the No. 2 seed after beating West Virginia and Villanova at home in February. Jamie Dixon has done a phenomenal job with the Panthers. There is no reason Pitt should be No. 2 in the Big East with what it lost.
Losers from Saturday
Rhode Island:
Had a shot to convince the selection committee that it was worthy, but lost at UMass a week after losing at St. Bonaventure. The Rams didn't beat the top three teams in the A-10 (Xavier, Temple or Richmond). URI must win the conference tournament.
Mississippi State:
The Bulldogs started a must-win game down 17-0. Mississippi State has blown two chances to win a key home game – to Kentucky and now Tennessee. The Bulldogs didn't do anything Saturday to convince the selection committee.
Georgia Tech:
The Yellow Jackets may still get into the field. But they gave the selection committee a reason to pause after losing at home to Virginia Tech, sans Dorenzo Hudson, who was hurt. The Yellow Jackets finished seventh in the ACC and had only one conference road win.
Connecticut:
The Huskies had an awful week, losing at Notre Dame and then losing at South Florida on Saturday. The Huskies now probably have to get to the Big East semifinals to crawl back into the conversation.
Dayton:
The Flyers were teetering on the bubble before the Billikens bulldozed the Flyers late and stole a win. Dayton now probably has to win the A-10 tournament to get a bid.
Villanova:
The 'Cats may have played themselves out of a No. 2 seed by losing at home to West Virginia. Villanova also fell to the No. 4 seed in the Big East tournament. 'Nova can still make a magnificent run, but it made the journey more difficult.
Kansas State:
The Wildcats lost their third home game in the Big 12 by falling to lower-level Iowa State (also lost to Kansas and Oklahoma State). The Wildcats blew a No. 2 seed with the home loss Saturday.
LaSalle:
The Explorers were supposed to be a sleeper in the A-10. They won't even make the tournament in Atlantic City. The Explorers will join winless Fordham in sitting out the conference tourney.
Oklahoma:
The disaster season came to a conclusion with a sad effort against Texas A&M. The atmosphere was awful and the Sooners sunk.
North Carolina:
The Tar Heels were handed the second-worst loss under Roy Williams. The Tar Heels were embarrassed by Duke and limp into the ACC tournament. It was just awful.
UAB:
The Blazers had a huge week with games against UTEP and Memphis. They lost them both and pushed themselves onto the wrong side of the bubble.
Tulsa:
The Golden Hurricane got hammered by Memphis and limp into hosting the conference tournament next week. Tulsa was the preseason favorite to win Conference USA.
A few nuggets:
Georgetown coach John Thompson III said late Saturday night that Austin Freeman felt fine after the game, his first since being diagnosed with diabetes. Freeman scored 24 points in the win over Cincinnati. Freeman missed the West Virginia game last Monday. Thompson told me that the Hoyas will continue to monitor Freeman's blood-sugar level and don't anticipate any problems going forward this season.
Notre Dame got Luke Harangody back for the win at Marquette. Harangody played 11 minutes off the bench. Irish coach Mike Brey told me late Saturday night that Harangody will continue to come off the bench this season. He said 'Gody told him to use him however he wants to ensure the team wins. Brey said the Irish have become mentally tougher in the past few weeks. The Irish were 4-2 without Harangody, beating Pitt and Connecticut at home and winning at Georgetown.
KVAL-TV reported that Oregon coach Ernie Kent has been fired and that he was told on Feb. 22 by Oregon athletic director Mike Bellotti. No one will be surprised if this does occur, but Kent told me in a text late Saturday night that this is the same story he has heard the past four years. Meanwhile, Bellottti sent this statement out late Saturday night after Oregon's win over Washington State: "Ernie and I have talked, and we will continue to talk through the Pac-10 Tournament."
February, 25, 2010
2/25/10
4:27
PM ET
Saddle Up is our nightly preview of the hoops your TV wants you to watch. Here's Thursday's rundown.
Tulsa at No. 5 Duke, 7 p.m. ET, ESPN2
: Hey, Dad, I can't see real good. Is that --
waves glasses up and down face --
is that a
nonconference game
I see over there? Why, yes, Matt Foley, it is: Those of you who thought we were done with any and all nonconference fun until the NCAA tournament were wrong. Instead, Tulsa will head to Cameron Indoor Stadium tonight to play Duke. Why does this game exist? Two reasons: 1) Because Coach K wanted a late-season nonconference game to help prepare his team for the NCAA tournament, and 2) because Tulsa coach Doug Wojcik wants his team to experience playing an elite team in a hostile road environment.
Both missions will be accomplished. The slightly disappointing Golden Hurricane will get their experience and a long-shot chance to do what no team has done this year (beat Duke at home) or in 77 tries (beat Duke at home in a nonconference game). Duke will put Tulsa through the meat grinder in the name of tournament preparation. Both parties will go home happy. The only way to change this status quo -- and maybe the only way for Tulsa to get in the tournament, with a big emphasis on the maybe (and barring the C-USA tournament, of course) -- is for it to pull off an shocker-of-the-season-level upset. But don't hold your breath.
South Carolina at No. 2 Kentucky, 9 p.m. ET, ESPN2
: The only reason Kentucky isn't, as of Feb. 25, sitting at 27-0 and dealing with writers like me trying to put into perspective how impressive that run is, and how likely the Cats are to finish a perfect season, and so on and so forth, is South Carolina. More specifically,
Devan Downey
. The diminutive guard and his cohorts dealt Kentucky its only loss of the season on Jan. 26. Of course, that game was in Columbia, where the Gamecocks are game. Away from home, South Carolina is an ugly 1-8, and tonight's match up requires Downey and company to play in front of 24,000 screaming Kentucky fans, a far cry from the last time these two faced off. That alone would lend to a blowout tonight; add in Kentucky's reborn focus in recent weeks and its likely desire to punish South Carolina for dealing
John Wall
and company that lone loss and, well, yeah. Things could get ugly.
Everywhere else
:
Mike Montgomery will hope Cal fans show up
to
tonight's game with Arizona
, as the Bears can inch closer to their first conference title in 50 years. ...
Santa Clara will go to Gonzaga for tonight's late West Coast showdown
. ...
Wisconsin travels to all-but-dead Indiana
; for seeding purposes, the Badgers can't afford another letdown. ...
Iowa-Northwestern is your early ESPN game
, and don't try to hide your excitement, either. ...
Georgia will look to climb back to .500 at Vanderbilt
; good luck. ... and, this being Thursday night,
there are a host of Pac-10 games
that (other than Cal-Zona, I guess) don't mean a whole lot more than which team gets which seed in the Pac-10 tournament, when the real anarchic fun ought to begin.
January, 27, 2010
1/27/10
10:01
AM ET
The Morning After is our semi-daily recap post. Try not to make it awkward.
[+] Enlarge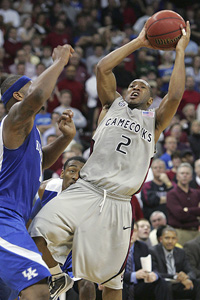 AP Photo/Mary Ann ChastainDevan Downey did most of his damage off the dribble, which led to 23 of his 30 points.
South Carolina 68, No. 1 Kentucky 62
: There's nothing quite like your roommate coming home from work, glancing at the game you're watching, and asking who South Carolina's best player is and you telling him it's 31-points-per-game scorer
Devan Downey
... and then watching as Downey hits a series of clutch down-the-stretch baskets one more unfathomable than the next. The fallaway three-point play? The extra-tight crossover on the left block? That probably-a-little-lucky-but-who-cares spin move through a sagging, slapping defense, ending with a teardrop high off the glass? Downey finished with 30 points on 9-for-29 shooting, but who cares? He got to the line all the time, and he made so many key buckets in crunch time that a few (OK, a ton of) early misses can be excused. If the average college basketball fan wanted to get to know this 5-foot-9 guy from South Carolina they'd been hearing about, well, there he is. He's pretty awesome, huh?
In the meantime, there are sure to be a flood of stories about why this is a good loss for Kentucky. That makes sense. It will disappoint Kentucky fans that their ascent to college basketball's upper crust has been derailed so quickly, but the more reasonable among them would have had to assume it would happen eventually. Upsets happen. All Kentucky can do is take the lessons from Tuesday night --
John Wall
and
Eric Bledsoe
must protect the ball better; when
DeMarcus Cousins
has position, he needs the rock; help defense means stopping penetration
and
recovering to your man -- and apply them as they go on their quest for a national title. I'm not sure I buy the good loss theory. There are no such things as good losses. But there are plenty of good lessons to come from losses, and those are what Kentucky needs right now.
(Oh, and for plenty more on last night's game, be sure to scroll below for
Pat Forde's instant postgame observations
and
Dana O'Neil's wrap
.)
No. 5 Michigan State 57, Michigan 56
: I have no allegiance to Michigan, other than my affection for a friend who went there, and that has nothing to do with Michigan basketball. (Plus, that friend broke our fantasy league's traveling trophy yesterday, so I couldn't care less about him right now. Such disrespect!) I attended a rival Big Ten school. But I have to admit I'm starting to feel a little bit sorry for Michigan fans. First their team is ranked in the top 15 at the beginning of the season. Then they have to suffer through 19 games of mediocre, lifeless basketball, nine of which the Wolverines lost. Then their best player is suspended for a date at Purdue. Then they welcome No. 5 Michigan State, play the Spartans tough for 40 minutes, lose a one-point lead on a
Kalin Lucas
jumper with 3.5 seconds left, and then rim out an inbound play that nearly got them a two-foot game-winner with less than a second left. I mean,
yikes
. Whether Michigan should be better than this or not is up for debate; whether their fans expected more and are now forced to face a 10-10 team is not.
But there is a silver lining here, however bleak it may be: Even if Michigan had won last night, it's not like they'd be in the tournament for sure. Heck, even if they'd won, converted the win into momentum, and finished the Big Ten regular season strong, there's no guarantee the committee will find the Wolverines worthy. Michigan will probably need to win the Big Ten tournament to get in the NCAA. Look on the bright side, Michigan fans: This loss, painful though it may be, doesn't really matter.
No. 13 Kansas State 76, Baylor 74
: Smart money was on this being a close game, an eminently winnable one for Baylor if the Bears kept K-State off the free throw line. At the most crucial time, that didn't happen:
LaceDarius Dunn
fouled
Jacob Pullen
with eight seconds left to put the Wildcats guard on the free throw line, where Pullen knocked down the two game-winning shots to give K-State a steal of a win on the road. Baylor actually shot more free throws than Kansas State; the Bears also managed to keep turnovers low and rebound a decent portion of their offensive misses. The difference
was in the shooting
. Kansas State shot a 58.8 eFG percentage, while Baylor shot 43.2 eFG, and the Bears' solidity in other facets of the game wasn't enough to overcome a cold night in Waco.
Everywhere else
: On a day when
Clemson fans were talking
about becoming an elite hoops program, this has to be
a disappointing road loss at Boston College
...
Maryland cruised over Miami
, continuing the Terps' streak of efficient, impressive basketball in the ACC thus far ...
West Virginia had few issues at DePaul
... UAB defended its place in the top 25 by
topping Tulsa and taking full ownership of a wide-open C-USA
... This was probably NC State's best shot at toppling the hated Tar Heels in, what, five years? Unfortunately for the state's red-clad fans, it didn't happen,
as UNC cruised to a 14-point win
... and Northwestern, despite its ugly efficiency profile,
played Minnesota tough at Minnesota
. The Wildcats are still, despite all odds, looking tourney-worthy.