College Basketball Nation:

Ty Abbott
November, 22, 2010
11/22/10
1:59
PM ET
By
Diamond Leung
| ESPN.com
UAB players in their new road uniforms might be difficult to identify given the
black numbers on dark green jerseys
, and yes, it does kind of appear they play for a new boy band called U2B.
But at least the Blazers won in those uniforms. After debuting the uniforms with a win at Middle Tennessee, the jerseys took so much heat that they went back to their old unis three days later playing at Arizona State.
The result? ASU's Ty Abbott hit a game-winning 3-pointer in the final seconds to
beat a more identifiable UAB team
.
The Birmingham News
reported that the uniforms will return after the black numbers get some gold piping, but for now, it's an ugly situation (in a fashion sense).
Associate head coach Donnie Marsh blogged
that he was taking responsibility for the uniform design, noting that while the players loved the new uniforms, he was getting comments about "U2B" and the difficulty in seeing the numbers once the players start sweating.
I guess I went a little too "Phil Knight" this time. At any rate, please don't blame anyone else. This one stops at my feet. But trust me, the uniforms won't dictate our effort.
September, 2, 2010
9/02/10
2:27
PM ET
By
Diamond Leung
| ESPN.com
It took until September, but Arizona State has finally received assurances that swingman
Rihards Kuksiks
will return for his senior season,
according to a team spokesman
.
Kuksiks, who led the Sun Devils in scoring last season, is back on campus after spending August
playing for the Latvian national team
and considering a pro career.
He'll now be paired with shooting guard Ty Abbott and joins the collection of talented recruits Herb Sendek has assembled as he tries to improve on a 22-win season and get ASU back to the NCAA tournament.
In the meantime, try your hand at reading about what Kuksiks has been up to during his time away at
sportacentrs.com
, a site not to be confused with, well,
you know
.
May, 19, 2010
5/19/10
6:52
PM ET
By
Diamond Leung
| ESPN.com
If Arizona State coach Herb Sendek ever decides to get on Facebook like all the cool kids are doing these days, this would make a good profile pic.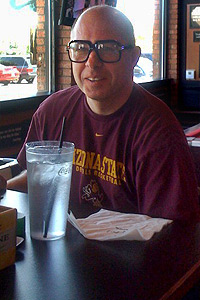 courtesy of ASU Media RelationsSendek led the Sun Devils to a 22 wins and a second-place finish in the Pac-10 last season.
Here's Sendek trying on former Sun Devil James Harden's designer glasses during lunch last week. I'm no fashion critic, but let's just say it doesn't appear he pulls off
the Peter Parker look
quite like Kentucky's DeMarcus Cousins does. Call it the
Six Flags commercial guy
look?
Still, the point is that Sendek had enough of a sense of humor to try.
Appearances have rarely been a point of emphasis for Sendek over the years, as he's stuck to a grind-it-out system that isn't necessarily pretty to watch. That didn't win him any style points at North Carolina State and might have even
cost him the occasional player
at ASU, but it was good enough for a surprising second-place finish in the Pac-10 this season.
For three straight seasons, the Sun Devils have won at least 21 games. Sendek has only one NCAA tournament appearance during that time to show for it, but his team once again is expected to be in the hunt in the Pac-10 next year as the program looks to turn a corner.
And the recruits are coming to play for him. Last month, I spoke with Sendek's prized recruit, 6-foot-5 forward Keala King, who raved about his future coach's no-nonsense style.
"I've seen him when he's mad and when he's happy," King said, marveling at a practice he witnessed during which Sendek was especially hard on star guard Ty Abbott. "He doesn't take a day off."
Sendek, who's won coach of the year awards in three different conferences (including last season in the Pac-10), will never be a quote machine. But the wins are coming and maybe behind the scenes Sendek is more of a
Mr. Personality type
than people give him credit for. Maybe all you need is a new pair of glasses to see that.
Want some more surprising perspectives on Sendek? Check out the info in this
Arizona State blog post
:
After the 2005-2006 hoops season, there were 60 Division I coaching changes, including Coach Herb coming to Tempe. Guess how many of the 60 remain? If you guessed 35, you got it. So less than 60 percent of the coaches hired four years ago remain.

...

Sean Miller turns 42 this November and is the youngest of the Pac-10 coaches. Johnny Dawkins turns 47 on Sept. 28. Guess who is third and turns 48 in February? Yup, Coach Sendek hits 48 on Feb. 22, 2011.
March, 11, 2010
3/11/10
10:27
PM ET
LOS ANGELES – Maybe this is why some have pegged the Pac-10 as a one-bid conference this season. Arizona State is a bubble team needing to win at least two games to secure a bid in the NCAA tournament and the Sun Devils find themselves trailing Stanford, 29-28 at halftime. Arizona State has never led while Stanford has led by as many as 10.


Stanford finished tied for eighth in a dismal Pac-10 and yet the Cardinal have dominated the Sun Devils in the paint, outscoring them 14-to-6 while getting 12 points off turnovers.
Rihards Kuksiks
seems to be the only active player on the court for Arizona State as he has 15 points and four rebounds. No other Sun Devil outside of
Derek Glasser
has more than seven points. Meanwhile seven players have scored for Stanford and their balanced attack.
If the Sun Devils, who swept the Cardinals this season, are to win this game they will have to stop settling for bad 3-point shots and get
Ty Abbott
, who is 1-of-5 and only has two points, more involved in the game.
February, 27, 2010
2/27/10
7:56
PM ET
By
Diamond Leung
| ESPN.com
BERKELEY, Calif. -- Confetti rained down from the rafters at Haas Pavilion, as a historic day for Cal happened to coincide with coach Mike Montgomery's 63rd birthday party.
[+] Enlarge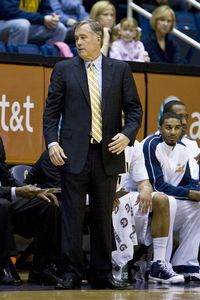 Jason O. Watson/US PresswireCoach Mike Montgomery and his Cal Bears earned at least a share of the Pac-10 title on Saturday.
The Bears clinched at least a share of the conference title with a decisive 62-46
win over Arizona State
, marking the first time in 50 years they have been able to call themselves champions. As for Montgomery?
"Getting old," he mused, concluding his press conference with a false claim that he had turned only 56.
Winning, however, never really did go out of style with Montgomery, who only six years ago captured the last of his conference titles with rival Stanford.
He resigned to take the Golden State Warriors job after that 2004 championship. Two years in the NBA resulted in an under-.500 record and the Warriors parting ways with Montgomery. Two years at Cal led to Montgomery standing at the top of a ladder with scissors in his hands and a hoarse voice while addressing the crowd.
"Honestly, we've been under the gun," Montgomery said. "The stress has taken its toll. My voice started to give up yesterday. It isn't from yelling."
The old veterans at Cal bought in and did it together. Celebrating Senior Day, guards
Patrick Christopher
(14 points) and
Jerome Randle
, along with forwards
Jamal Boykin
(14 points) and
Theo Robertson
(13 points), each helped gradually wear down Arizona State.
Christopher held
Ty Abbott
, the Sun Devils' leading scorer, to eight points on 4-of-13 shooting. Randle was limited himself to seven points, but was more than satisfied with wearing the net around his neck and cutting off a strand of it to keep as a memento.
"I've never been that high up anywhere," the 5-foot-10 point guard said.
"Different things from different people, that's the key," Montgomery said. "His focus was totally on winning this game. We wasn't worried about who was scoring. He was just worried that we were scoring."
ASU led at halftime by a point, but Cal went on an 18-4 run to finish the game and surrendered only two field goals in the final 11 minutes. The Sun Devils were only 3-for-22 from 3-point range.
Cal has fielded teams with more talent, but no team had won a conference championship since Pete Newell's Bears took the Athletic Association of Western Universities title in 1960.
With the win, the 20-9 Bears also clinched the top seed in the Pac-10 tournament and have hopes of making an NCAA tournament run.
"This team can accomplish so much," Boykin said. "All the feelings will kick in when this season is over."
Montgomery declared that the Pac-10 was not a one-bid league, stopping short of saying the conference crown should give the Bears at least an at-large berth into the NCAA tournament.
"Not too concerned about that," Montgomery said. "Other people make that decision. They can't take this away.
"To me, the conference championship is the crown jewel. It's the thing that means the most."
February, 27, 2010
2/27/10
5:15
PM ET
By
Diamond Leung
| ESPN.com
BERKELEY, Calif. -- Cal fans stormed the court amidst confetti, as
the Bears clinched at least a share of the Pac-10 title for the first time in 50 years
. Cal also gets the first seed in the conference tournament. Classy move by senior
Jamal Boykin
, who didn't join the party on the court until going down the line to shake hands with Arizona State. The Bears then cut down the net.
Boykin was matched up against the taller Eric Boateng on defense, and it was a constant battle down low between the two Duke transfers and former roommates. They had a long hug after the game.
A big swing came with 8:40 left. Ty Abbott missed a wide-open 3-pointer that might have cut the lead to four. Instead, Theo Robertson corralled the rebound and ended up scoring on the other end and completing a three-point play to extend the lead to 10.
Arizona State's Jerren Shipp scored a season-high 14 points. One of his most important baskets came off an inbound pass coming out of a timeout, and the layup stopped Cal's 6-0 run to open the second half with 17:02 left.
February, 27, 2010
2/27/10
4:00
PM ET
By
Diamond Leung
| ESPN.com
BERKELEY, Calif. -- If Arizona State is going to ruin Senior Day at Cal and take first place in the Pac-10, it's getting off to a great start.


Derek Glasser
and
Ty Abbott
are doing an excellent job defending the perimeter and pestering Cal's
Jerome Randle
, who made only one of his first six field goal attempts.
Those 3-pointers from way downtown just aren't there right now.
But Randle, always difficult to stop, scored Cal's final five points of the half to cut the Sun Devil lead to a point.
He has seven on the game after getting emotional during Senior Day ceremonies, and for good reason. Check out
Andy Katz's feature
on the diminutive guard from Chicago.
Two other Bears seniors,
Patrick Christopher
and
Theo Robertson
, have seven points apiece as well.
The Sun Devils were led by
Jerren Shipp
, who had 10 points off the bench. Shipp's brother, Joe, starred at Cal, a program that desperately wants what would be a historic win.
February, 22, 2010
2/22/10
2:05
AM ET
By
Diamond Leung
| ESPN.com
Arizona freshman
Kevin Parrom
has now ruffled feathers at Arizona State in his first two rivalry games. Last month, there was the hard intentional foul Parrom committed on
Ty Abbott
, who was going up for a layup.
In the rematch tonight, Parrom made his presence felt again, according to the
East Valley Tribune
:
As the final buzzer was about to sound in Arizona State's 73-69 victory on Sunday, ASU senior point guard Derek Glasser was dribbling out the clock and threw the ball into the air. Parrom appeared to put a forearm into Glasser's chest.

Glasser went after Parrom while both team formed the postgame hand-shake line, but was restrained by ASU coaches. Arizona coach Sean Miller immediately sent Parrom to the locker room while the two team's shook hands.

After the game, Miller apologized to Glasser and ASU coach Herb Sendek.
Arizona State is now only a half-game out behind first-place Cal in the standings, and the Sun Devils could turn into Wildcat fans for a day on Thursday. An Arizona win at Cal combined with an Arizona State win at Stanford would give the Sun Devils sole possession atop the Pac-10 heading into a potential showdown between the Sun Devils and Golden Bears on Saturday afternoon at Haas Pavilion.
February, 18, 2010
2/18/10
4:16
PM ET
By
Diamond Leung
| ESPN.com
With the Pac-10 season (mercifully?) winding down,
Jon Wilner of the San Jose Mercury News
and
Bob Clark of the The Register-Guard
are calling Arizona State's Herb Sendek the frontrunner for the conference's coach of the year.
Yeah, you heard that right, NC State.
Since Ned Wulk took home that honor for the Sun Devils in 1980, every Pac-10 school has had a coach of the year except Arizona State.
This year's team is 18-8 and only a game out of first place going into Sunday's rivalry game at Arizona.
Sendek after tinkering with his offense has gotten big contributions out of
Ty Abbott
and Duke transfer
Eric Boateng
.
School assists leader
Derek Glasser
is also
starting to heat up again
after being benched earlier in the season.
Arizona State might have lost NBA draft picks James Harden and Jeff Pendergraph and gotten picked seventh in the preseason media poll, but Sendek has his team right in the race.