College Basketball Nation:

Tyler Griffey
February, 9, 2013
2/09/13
10:34
PM ET
By
ESPN Stats & Information
| ESPN.com
AP Photo/Sue Ogrocki
Oklahoma forward Romero Osby (24) reacts at the end of Oklahoma's upset win over No. 5 Kansas.
It's been a bad week to be a top-five ranked team. Since the men's Associated Press poll came out Monday, top-five teams have gone 0-5 on the road.
All five losses have come to unranked opponents, with the No. 5
Kansas Jayhawks
the latest to fall, losing Saturday in Norman, Okla., to the
Oklahoma Sooners
.
Tuesday -- Arkansas 80, (2) Florida 69

The
Arkansas Razorbacks
knocked off the No. 2
Florida Gators
, the first victory for the Razorbacks against a top-two team since they beat No. 2 Auburn on Feb. 24, 1999.
In seeing their 10-game win streak snapped, the Gators allowed Arkansas to score 80 points and shoot 49.1 percent from the field, both season worsts for a Florida team that entered perfect in conference play while outscoring opponents by nearly 27 per game.
Wednesday -- TCU 62, (5) Kansas 55

The Jayhawks managed only 13 points in the first half, their fewest in 15 seasons, and shot 29.5 percent from the field, their worst mark in 344 games under Bill Self.
Not only did TCU get its first Big 12 win of the season, it was the program's first win over a top-five opponent
ever
.
Kansas entered sixth in ESPN's Basketball Power Index (BPI). The 240-spot difference between that Jayhawks' ranking and TCU's 246 was larger than in any of the 1-versus-16 matchups in last year's NCAA tournament.
Thursday -- Illinois 74, (1) Indiana 72

Illinois shocked No. 1 Indiana with a buzzer-beating layup from
Tyler Griffey
to make it five consecutive weeks that the top-ranked team in the country has lost.
Perhaps the biggest shock was that Illinois got the win in comeback fashion -- the Fighting Illini trailed by 12 at the half and closed the game on a 13-2 run. There's only been one larger comeback from a halftime deficit against a top-ranked team in the past 15 years (Stanford rallied from 13 down against top-ranked Duke to win on Dec. 21, 2000).
Indiana connected on more than half its 3-pointers but went cold down the stretch, making just one basket in the game's final five minutes.
Saturday -- Wisconsin 65, (3) Michigan 62 (OT)

Today's mayhem started in Madison, where the
Wisconsin Badgers
won their 11th consecutive home game over Michigan.
To force overtime, the Badgers needed a game-tying buzzer-beater from
Ben Brust
from about 40 feet. Since the 1996-97 season, NBA players are just two of 64 (3.1 percent) on potential game-tying shots from that distance with less than two seconds left.
Saturday -- Oklahoma 72, (5) Kansas 66
In Norman, the Sooners got revenge on the Jayhawks, snapping a 10-game losing streak against their Big 12 rival.
The Kansas defense, which had been the best in the nation against the 2-point shot entering the game, allowed Oklahoma to shoot 50 percent from 2-point range.
The Jayhawks have now lost three games in a row to unranked opponents. On the bright side, the last time they did that was in 1988, when they went on to win the national title.
February, 8, 2013
2/08/13
11:02
AM ET
By
Ryan Feldman, ESPN Stats & Info
| ESPN.com
Player of the Night – Nate Wolters, South Dakota State
Wolters scored 53 points, the most by any D-I player in the last four seasons. The last D-I player to score that many points was Kentucky's Jodie Meeks, who scored 54 against Tennessee in January 2009. Wolters accounted for 53 of South Dakota State's 80 points, or 66 percent of its scoring Thursday. He shot 17-of-28 from the field, including 9-of-14 on 3-point attempts. Wolters and Meeks are the only players in the last 15 seasons to score 53 points while shooting 60 percent on field-goal attempts with nine or more 3-pointers.
Clutch Performance of the Night – D.J. Richardson, Illinois
Richardson went on a personal 8-0 run in the final three minutes against Indiana to tie the game before
Tyler Griffey
won the game with a buzzer-beating layup. Richardson scored 23 points, the second-highest total of his career. Illinois is now 5-0 in Richardson's career when he scores at least 20 points.
Passer of the Night – Frankie Dobbs, Bryant
Dobbs dished out a career-high 13 assists in Bryant's win over St. Francis (NY). Dobbs' previous career high was 10 assists, which he accomplished twice. After finishing 1-17 in conference play and 2-28 overall last season, the Bulldogs are now in first place in the Northeast Conference with a 9-2 conference record.
Efficient Offensive Player of the Night – Isaiah Canaan, Murray State
Canaan stepped up for Murray State in a key win over Belmont. Canaan scored 26 points – including the go-ahead 3-pointer with 35 seconds left -- while attempting just nine field-goal attempts. He also added six assists. Canaan is the only D-I player this season to score at least 26 points and dish out at least six assists while attempting fewer than 10 field goals.
Stat Sheet Stuffer – Adam Kemp, Marist
Kemp and his Marist teammates had quite the night. Not only did Kemp put up an impressive stat line of 29 points, 16 rebounds and seven blocks, but Marist won at Iona, 105-104 in double-overtime. Kemp is the first D-I player with at least 29 points, 16 rebounds, and seven blocks in a game since Rider's Jason Thompson against Siena in January 2007. It's quite coincidental that the only players to post those numbers over the last seven seasons both did it in MAAC conference play.
February, 7, 2013
2/07/13
11:15
PM ET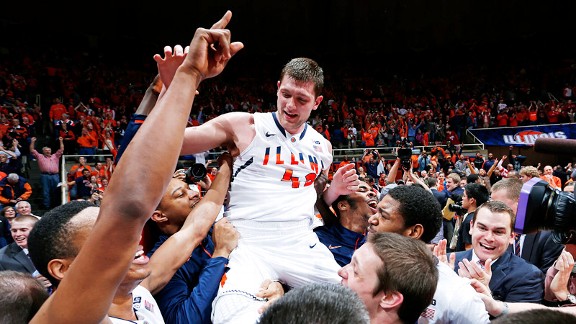 Joe Robbins/Getty ImagesTyler Griffey was an even bigger man on Illinois' campus after his buzzer-beating winner Thursday.
A heavy unease has permeated the entire country.
There are no guarantees right now. No easy nights. No assumptions except for the fact that no team is safe.
With so many letdowns, upsets and surprises, it's risky to invest in numbers. It's not wise to believe in "talent" alone. Nothing makes sense today.
Illinois' illogical -- but fitting -- come-from-behind
74-72 victory
over No. 1 Indiana on a buzzer-beating layup in Champaign on Thursday night was simply the latest thriller in a season packed with late-game theatrics and stunners.
I figured I'd witnessed this act in the past. At some point, Indiana would extend its 65-54 advantage with 6 minutes, 46 seconds to play, I thought.
And then it happened. Again.
A struggling team refused to die in a matchup it had no business winning. The Fighting Illini had gone from a seat in the royal palace (12-0 start) to a role as national jester (2-7 start in the Big Ten). Their NCAA tourney hopes were evaporating. Their dreams of a finish in the top tier of the league in John Groce's first season as coach had become a laughable fantasy.
Until the final two minutes of Thursday's game -- the only game that mattered for a team without promises.
The Illini, a team I've criticized and questioned all season, decided to fight. A
D.J. Richardson
3 (game-high 23 points, 4-for-8 from long range) cut Indiana's lead to five points with 2:53 to play.
Wow.
Another Richardson 3-pointer with 2:05 to go. A two-point deficit for the Illini.
What's happening?
A
Victor Oladipo
layup followed a Richardson jumper, resulting in a 72-70 lead for the Hoosiers. Just 52 seconds to go. A fortnight in a year filled with last-minute turnarounds.
Brandon Paul
tied the game on free throws. Oladipo committed a turnover in the final seconds but glided down the floor like Spider-Man and swatted Richardson's potential game winner.
This is crazy.
Just 0.9 seconds to play. Enough time for a shot but not enough time for a good one.
And then a wild thing happened in that final nine-tenths of a second. Indiana, a squad ranked 12th in adjusted defensive efficiency (per Ken Pomeroy) prior to the game, abandoned the area near the rim in a confusing defensive possession.
[+] Enlarge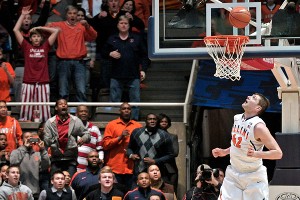 AP Photo/John DixonThis shot was the difference between 2-8 in the Big Ten and a win over No. 1 that saved the season.
Cody Zeller
drifted toward the perimeter as
Tyler Griffey
snuck behind him, galloped down the lane and converted Paul's inbounds pass for a layup that has to be one of the most perplexing game winners in recent memory.
Oh my! Oh my! Oh my!
This is the norm now, I guess. A 13-2 rally for the Illini in the final 3:36.
Per ESPN Stats & Information, Illinois overcame the second-largest halftime deficit in a win over a No. 1 team (12 points) in the past 15 years. It's the sixth loss of the year for a No. 1 team in the Associated Press poll -- the fifth consecutive week this has happened.
What's so surprising about Illinois' win is that Indiana played well throughout the game even though it committed 14 turnovers. The final four minutes cost the Hoosiers the game, but they belied the overall stats.
The Hoosiers connected on 50 percent of their field goals (52.9 percent from the 3-point line, 92.9 percent from the charity stripe). Indiana is the first No. 1 team since the 1996-97 season to shoot 50 percent or better from the 3-point line and lose, according to ESPN Stats & Info.
Illinois entered the day with a BPI of 70, five slots behind Illinois State. Yet the Illini now have victories over Gonzaga, Butler, Ohio State and Indiana. If La Salle, Virginia and Iowa are still in the at-large conversation, Illinois is in the conversation.
As for Indiana … questions. The Hoosiers are still jousting with the concerns about their challenges outside Assembly Hall. This was supposed to be the tuneup for a crucial matchup at Ohio State on Sunday.
And for the bulk of this game, the Hoosiers were in control. They were not rushed. They were not hurried. They were not worried.
The Illini exploited that calm as other teams have in matchups against favored conference title contenders in recent weeks. TCU over Kansas. Indiana State over Creighton and Wichita State. Arkansas over Florida. Saint Louis over Butler. Villanova over Louisville and Syracuse. South Dakota State over New Mexico. LSU over Missouri.
Most of those matchups were road games for the ranked.
We all recognize college basketball's parity. We all know that we're still waiting for a great team to rise. But the limited separation within the Top 25 is based on the ongoing problems those squads have had on the road.
Away games are always tough -- I get that. But it feels as though the difficulty has been elevated in 2012-13. Every night, it seems, another proven program falls.
Those hostile venues have been the stages for many upsets, a statement backed by everything that happened in the closing minutes of Indiana's loss at Illinois on Thursday night and everything that occurred in college basketball prior to that.
In closing, here are five quick thoughts on the upset:
A young man (South Dakota State's Nate Wolters) scored 53 points in a win Thursday, and he's not even the top story in college basketball right now.
Indiana at Ohio State on Sunday is the biggest game of the season for the Hoosiers and Buckeyes, if it wasn't already the most significant matchup of the year for the latter.
The Illini deserve a lot of credit for what they overcame in that win in Champaign.
I may owe this Illinois group an apology after weeks of questioning its heart, toughness and talent.
I certainly owe the game a promise: I'm through with assumptions.
January, 5, 2013
1/05/13
7:15
PM ET
The last time
Brandon Paul
played Ohio State at home, he didn't have just a career game -- he had
anybody's
career game.
That night, Jan. 10, 2012, Paul scored 43 points on 15 shots, including 8 of 10 from beyond the arc. More than a few of those shots were patently ridiculous -- a contested fallaway 3 from the corner, a bank shot from 20 feet, step-backs from every angle -- and they let you know pretty early on that Paul was just having one of
those
nights. Stand back and enjoy.
Despite all that efficient brilliance, Illinois still only barely toppled the Buckeyes, 79-74. In the end, the game was a weirdly telling sign of things to come: Paul went back to his usual inefficient self and Illinois lost 12 out of its last 14 games, turning a 15-3 start into a 17-15 finish that got its coach, Bruce Weber, summarily canned.
This time around, the home victory over Ohio State couldn't have been more different. Illinois didn't have to summon its very best; Paul didn't have to go off. He just needed to do what he's been doing all season. He just needed to be consistent.
[+] Enlarge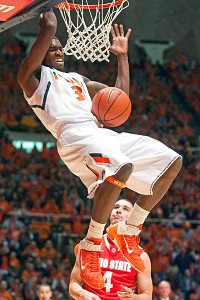 AP Photo/Darrell HoemannBrandon Paul credits the freedom new Illinois coach John Groce has given him for his steadier play.
"I really do just think it's about consistency," Paul told ESPN.com via phone following Saturday's
74-55 cruise
over No. 8-ranked Ohio State. "I'm a lot more consistent this year than I've been in the past."
It's simple but true. Last season, Paul's crazy 43-point breakout was an aberration in an otherwise choppy season. On Saturday, his 19 points on 12 shots (with 7 rebounds and 3 assists) was still one of the best performances on the floor (Illinois center
Nnanna Egwu
had 16 points on 10 shots, with 8 rebounds), and it was more in line with what we've come to expect from Paul this season. Last season, the guard still used 28 percent of his team's possessions -- the same as in 2012-13 -- but his offensive rating was a mere 95.2. Before Saturday's game, his 2012-13 mark was 111.4.
Paul's senior year has thus far been the best of his career, and it isn't even close. He's not only more "consistent," he's
better
, and so is his team.
How? Paul gives a lot of the credit to coach John Groce, who did a major set renovation on Illinois' offense in his first offseason with the team. Doing away with much of Weber's three-out, two-in motion, Groce instead spaced the floor. He frequently plays a four-guard lineup, runs much more high screen-and-roll, and allows 6-foot-9 forward
Tyler Griffey
to spot up from 3, where he's shooting 45 percent on the season.
All of this has helped Paul feel like he has more space to operate on offense -- he can take a screen or two, read the defense, attack the rim or dish to one of several perimeter options. But Groce has also done something much more basic: He has made his star guard feel trusted.
"He's given me, and continues to give me, more freedom," Paul said. "He knows if I make a strong decision with the ball he doesn't really have to worry about bad shot selection. We've all done a better job this year with bad shot selection, myself especially.
"He's given me the option to control the team, to control the game," Paul said. "He says to go at my pace, and make sure everyone else is on the same page. That definitely helps."
To be sure, Paul got plenty of other help in Saturday's victory. His teammates put in a balanced scoring effort -- Egwu picked up an off Griffey down low, while
Tracy Abrams
went 5-of-7 from the field and
Joseph Bertrand
added 12 points off the bench. It also helped that Ohio State went just 4-of-19 from 3.
Deshaun Thomas
needed 21 shots to get his 24 points, and the rest of his teammates combined for just 31 points on 28.2 percent shooting, easily the ugliest performance of the season from a typically good offensive team, albeit one that has yet to notch a marquee victory, and will have its doubters in droves. And 11th-ranked Illinois cleaned up all those misses on the glass, something the Illini struggled to do in Wednesday's Big Ten-opening loss at Purdue.
Illinois' victory also highlighted the sheer strength of the Big Ten, and just how difficult it will be to steal wins on the road in league play.
"You can't take one game off," Paul said. "You have to compete no matter where you're at. It's going to be like every year in the Big Ten -- there are going to be a lot of ups and downs."
Rarely was that more true than for the 2011-12 Illini, who went from an upset of a Final Four team and a classic 43-point performance to 17-15 with a fired coach. This season, the Illini have set about making those downs less down, even if the ups are never quite as high. In a word: consistency.
"We had balanced scoring, guys in double digits, guys were getting a lot of gang rebounds," Paul said. "I love these types of games."
March, 13, 2010
3/13/10
4:13
PM ET
INDIANAPOLIS --
Evan Turner
isn't saving himself for the NCAA tournament.
The Ohio State star is building his legacy right here at Conseco Fieldhouse, hoping for a return trip to Lucas Oil Stadium in exactly three weeks. If Turner keeps playing like this, it's hard to imagine the Buckeyes won't be back in town.
After hitting the game-winning 37-footer Friday against Michigan, Turner went for 31 points, 10 rebounds and six assists in
Saturday's 88-81 double-overtime win
against No. 5 seed Illinois. Although he fouled out with a minute left in the second overtime, it didn't matter.
Teammate
David Lighty
came through in the closing seconds with a huge layup and Ohio State advanced to the Big Ten tournament championship, where it will face Purdue or Indiana.
It wasn't always pretty for Turner, who committed 10 turnovers and seemed frustrated at times. But every time Ohio State needed a big bucket down the stretch in regulation and in the first overtime, Turner provided it in dramatic fashion. Illinois simply had no answer for him.
The Illini now nervously will wait to see whether they earn an NCAA tournament at-large bid. Five victories against top 50 RPI teams and an excellent effort Saturday against Ohio State should be enough, but Illinois was so close to essentially putting itself in the bracket.
The Illini had two chances to win the game, both at the end of regulation and in the first overtime. And both times, they couldn't get off a shot before the buzzer. Their inability to create a look in the overtime session had to be particularly frustrating.
After missing his first five shots, Illini guard
Demetri McCamey
came through with 22 points, five assists, four steals and four rebounds. Illinois also got a huge boost off the bench from freshman forward
Tyler Griffey
(13 points, 5-for-7 shooting), but it wasn't enough.
Ohio State remains alive for a possible No. 1 seed in the NCAA tournament. It'll need a win Sunday, but with Turner on the floor, I wouldn't bet against the Buckeyes.
March, 13, 2010
3/13/10
2:35
PM ET


INDIANAPOLIS -- Once again, Illinois is finding its groove at the Big Ten tournament and can cement itself in the NCAA tournament field with 20 more minutes of good basketball. Ohio State needs a sharper second half to remain alive for a No. 1 seed.
Quick thoughts at the halftime break, with Illinois leading, 37-31:
Illinois did a great job of hanging tough despite Demetri McCamey's slow shooting start (0-for-5), and McCamey kept his head up, which hasn't always been the case this season. D.J. Richardson, Mike Davis and Brandon Paul sparked the Illini on a 14-0 run midway through the half that turned the game around. After getting picked by Evan Turner early in the half, McCamey returned the favor and scored his first points on a 3-point play. Illinois still likely needs more scoring from McCamey (three points, 1-for-6 shooting) to hold off Ohio State.
Three Illinois freshmen -- Richardson, Paul and Tyler Griffey -- are all making nice contributions today. Richardson leads Illinois with 11 points, including three 3-pointers, and Griffey has seven points on 3 of 3 shooting after replacing Mike Tisdale, who fell into early foul trouble.
Turner didn't have the greatest half with the ball i his hands (five turnovers), but backcourt mate William Buford picked up the slack with 11 points and five rebounds on 4 of 8 shooting. Buford will be Ohio State's top option in 2010-11 if he returns to school, and he certainly looks comfortable scoring the basketball today.
Turner fell to the floor at the end of the half after coughing up the ball, and he seemed to be upset with an Illinois player as he walked off the floor. McCamey, who teamed with Turner in high school, might have said something to the star. It'll be interesting to see how Turner responds in the second half.