College Basketball Nation:

Tyler Hansbrough
January, 23, 2013
1/23/13
1:00
PM ET
By
Jeremy Lundblad, ESPN Stats & Information
| ESPN.com
On Wednesday at Miami (7 ET on ESPN),
Seth Curry
needs 12 points for the Curry brothers to pass Larry and Eddie Bird for the second-most by a pair of brothers in Division I history.
Barring injury, the Curry brothers should pass the Hansbroughs in February for the most ever.
Below is one man's opinion on the top 10 pairs of brothers to play college basketball. Just missing the list? Tyler and
Cody Zeller
.
10. Dominique and Gerald Wilkins
Both Wilkins brothers were more successful NBA players, but that shouldn't diminish what they accomplished in the college ranks. Dominique is arguably the best player in Georgia history, and its only player to win SEC Player of the Year. Younger brother Gerald helped guide Chattanooga to the NCAA Tournament in his first season, and his 21.0 points per game as a senior is the highest in school history.
9. Tom and Dick Van Arsdale
The most accomplished twins to ever play basketball, it wasn't just looks that made the two difficult to distinguish. Tom averaged 17.4 points and 10.0 rebounds in his three seasons at Indiana, while Dick averaged 17.2 points and 10.0 rebounds.
8. Chuck and Wesley Person
Only three players in Auburn history have scored 2,000 points. Two of them were brothers. Chuck is the school's all-time leader with 2,311 points, while Wesley is third at 2,066. While both were elite at Auburn, it's worth noting that neither won SEC Player of the Year.
7. Mark and Brent Price
At a school famous for producing guards, no one had a better career at Georgia Tech than Mark Price. He was the first freshman to lead the ACC in scoring, and was the Yellow Jackets' leading scorer in all four seasons. Brent Price split his college career between South Carolina and Oklahoma. He was an All-Big Eight selection as senior, once scoring 56 points in a game.
6. George and Ed Mikan
Named of ESPN's 25 greatest college basketball players in 2008, George Mikan helped revolutionize the game with his height. A two-time national player of the year, he led DePaul to the NIT title in 1945, averaging 40.0 PPG in that tournament. A year younger, Ed was also a member of that championship team. He also went on to become a member of DePaul's Hall of Fame and play in the NBA.
5. Ed and Charles O'Bannon
The O'Bannon brothers combined to bring UCLA a national title in 1995. Ed won the Wooden Award that year, as well as the Most Outstanding Player of the tournament. Charles was an All-Pac-10 selection in each of the two years after Ed left, making it five consecutive years than an O'Bannon was so honored.
4. Larry and Eddie Bird
No two brothers have scored more points at the same school. Larry Bird requires no introduction. Over three seasons at Indiana State, he averaged 30.3 PPG and 13.3 RPG. In 2008, ESPN's panel of experts named him the ninth-greatest college player of all-time. But did you know he had a brother? Eddie Bird came to Indiana State a decade later and averaged double figures in all four seasons with the Sycamores. He's still sixth on their all-time scoring list.
3. Stephen and Seth Curry
Barring injury, the Curry brothers will be the highest-scoring duo of brothers in Division I history. Older brother Stephen led Davidson to the Elite Eight as a sophomore and finished as the school's all-time leading scorer despite playing for only three years. In fact, only five players have scored more total points in a three-year college career. Seth's career at Duke isn't nearly as prolific, but the senior captain could help lead the Blue Devils to a national title.
2. Bernard and Albert King
The best player in Tennessee history, Bernard King won SEC Player of the Year in all three seasons in Knoxville. He averaged more than 25 PPG in all three seasons. Overshadowed by his older brother, Albert was certainly no slouch. He averaged in double figures in all four seasons at Maryland and is the fourth-leading scorer in school history. Albert garnered ACC Player of the Year honors as a junior.
1. Tyler and Ben Hansbrough
No pair of brothers has scored more combined points than the 4,485 from the Hansbroughs. Tyler Hansbrough finished his North Carolina career as the ACC's all-time leading scorer (2,872 points) and eighth all-time with 1,219 rebounds. One of only five players with 2,800 points and 1,200 rebounds, it's no stretch to call him one of the greatest college basketball players of all time. But younger brother Ben was no slouch. In 2011, he averaged 18.4 PPG at Notre Dame and was named Big East Player of the Year.
Honorable Mention
George and Derrick Gervin, Horace and Harvey Grant, Blake and Taylor Griffin, Brook and Robin Lopez, Jay and Sam Vincent, Gus and Ray Williams, Cody and Tyler Zeller.
September, 12, 2012
9/12/12
7:25
PM ET
Tami Hansbrough, the mother of former North Carolina basketball All-America
Tyler Hansbrough
, resigned her position as a school fundraiser Wednesday as the school continued to study trips she took with Matt Kupec, UNC's vice chancellor for university advancement.
Kupec, a former Tar Heels quarterback, resigned Sunday night after an internal review showed he had charged personal trips with Hansbrough to the university. Hansbrough had been placed on administrative leave.
Chancellor Holden Thorp told The (Raleigh) News & Observer on Monday that Kupec and Hansbrough appeared to have taken non-university-related trips to destinations where Hansbrough's youngest son,
Ben
, was playing basketball for Notre Dame. Thorp did not say how many trips the couple took.
Click
here for the rest of the story
.
May, 30, 2012
5/30/12
10:00
AM ET
Nonconference scheduling is becoming more of a puzzle, what with the
increase in league games
and
some foes pushing for neutral sites
.
But one piece North Carolina coach Roy Williams is determined not to give up: hometown games for the Tar Heel basketball players who want them.
[+] Enlarge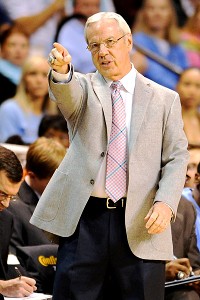 Ethan Miller/Getty ImagesRoy Williams says he still tries to make hometown games a priority when scheduling nonconference matchups.
"It's something we look forward to doing,'' Williams said earlier this week. "Different kids, it means more to. Sean May was really looking forward to going back to Indiana … but he was very disappointed in the reception he got there. And then you've got Tyler Hansbrough, we took him up to St. Louis, and he was really excited about it. And the reception he got was just off the charts.
"... People they grew up with, people in their families, friends, you can't always get tickets for everybody that you want, not even for home games. So I think playing it on the road and taking it into their area, there are people that are close to them from when they were younger that have a much better chance of getting to the game. It's always been important to me."
The UNC tradition of taking players back home began with coach Dean Smith, and Williams, an assistant on Smith's staff, continued it when he became head coach at Kansas.
Another complication in scheduling such games, however, has been the rise in players leaving early for the pros.
"I remember [when I was at Kansas] scheduling and playing in Oakland against Oregon," Williams said. "Looking around, that game was for Drew Gooden to take him back home, and all of a sudden, you couldn't find Gooden, because he was already in the NBA. So that's a little bit of the problem, too."
To try to get around that, Williams and UNC senior associate athletic director Larry Gallo have tried to schedule more "go home" games earlier in Tar Heels' careers. (The St. Louis trip took place during Hansbrough's sophomore season in 2006-07, for example; and the Tar Heels played at Evansville when Tyler Zeller was a junior in 2010-11.)
Players who grew up near ACC schools don't have special games scheduled because they're competing near home during conference play anyway. (Forward John Henson fit into this category, Williams said, since he moved to Tampa in high school, and the Tar Heels played at two Florida schools, Miami and Florida State, in league competition.)
And for some players, like Iowa native Harrison Barnes, a road trip back home isn't a priority. So hometown games aren't scheduled.
"There was no one that Harrison -- because we talked about it a few times -- there was no one that jumped out at him that he wanted to play,'' Williams said of Barnes, who left after his sophomore season and is expected to be one of four UNC first-round draft picks in June.
Added Gallo: "Coach Williams always talks to the individual player, asks what he wants, because he doesn't want to put undue pressure on him. He makes sure it's something the player wants to do."
Currently, there are no hometown games
scheduled for next season
. Williams said he has talked to redshirt junior Leslie McDonald about taking him back home to Memphis, and Williams has had some discussions with the Tigers, "but nothing is set in concrete."
Other possible future destinations, judging by the incoming freshman class, include Iowa (Marcus Paige) and Wisconsin (J.P. Tokoto). But keep in mind:
balancing the difficulty of the schedule
also factors into which teams UNC might try to play in those areas, and when.
"It is harder with more conference games and more national rivalries,'' Williams said. "... So you have less freedom than you've ever had on your schedule, and less flexibility than you've ever had. So it is getting harder, but I still do want to do it, there's no question.
"During the course of the recruiting process, we talk to our youngsters and see if that's something they would be interested in. ... And we will continue to do that. It's something I like to do."
Follow Robbi Pickeral on Twitter at @bylinerp.
July, 29, 2010
7/29/10
11:37
AM ET
Us college folk are still getting to know Mr. Harrison Barnes. We know
he's talented
. We know
he approaches basketball with the mindset of a CEO in training
. We know he used Skype to announce his collegiate decision, a method that was both original and, after learning of Barnes' all-business attitude, entirely fitting. How many 18-year-old prep stars prefer to handle their business via videoconference?
But how good will he be? OK, well, duh. He'll be good. But good enough to make the Tar Heels completely forget their ugly 2009-10? Good enough to get UNC back to the elite? Good enough to compete for a title?
That we don't know. According to Barnes' new coach, though, it won't be for a lack of effort.
Via Fox's Jeff Goodman
, get ready for some high praise:
"It's unfair that people are talking about him as a savior," Williams said. "But he has come right in and already earned the respect of the veterans with his work ethic and focus."

"Tyler is the most driven player I've ever coached," Williams said. "I think Harrison will be number two. He has tremendous focus, self-discipline and is so driven."
That's a little scary, when you think about it. After all, Tyler Hansbrough was talented, but as an incoming freshman he wasn't in the same stratosphere, athletically or otherwise, as Barnes. Hansbrough built his career on sheer determination, on a borderline psychopathic dedication to competition. There was a reason they called him Psycho T. And for all the backlash Hansbrough received from fans during his time at UNC -- he did have his irksome tendencies, after all -- by the end of his career it was impossible to deny just how good that career really was.
Imagine if Barnes experienced the same arc. It's unlikely Williams will be able to keep Barnes on campus for longer than a year or two. The NBA is already calling, and he won't have Hansbrough's four-year college career, that's for sure. But a player as talented as Barnes with Hansbrough's work ethic baked in? That's just, well, terrifying. And also awesome.
Try as he might, Williams isn't lowering the expectations for his incoming star one bit. In fact, he's raising them.