College Basketball Nation:

Tyler Ulis
December, 30, 2014
12/30/14
3:00
PM ET
What we're reading while we try to avoid being subsumed by an encroaching obsession with Dragon Age: Inquisition. Submit links via Twitter.
December, 29, 2014
12/29/14
12:39
PM ET
In
Saturday's 58-50 win over Louisville
, Kentucky guard
Tyler Ulis
scored 14 points on 5-of-8 shooting in 26 minutes.
That number is more impressive than it looks, given the 59 possessions the two rivals shared. Even then, it doesn't quite get to how well Ulis played. He was his usual pestering self at the defensive point of attack. He was also commanding with the ball -- patient, intelligent, unwavering. His second-half 3s (at the 10:38 mark, and again at 7:24) opened up the kind of seven- and eight-point leads from which the Cardinals were never going to recover. He did it all with an intermittently leaking cut above his right eye. He "controlled pretty much the whole game," as Louisville guard
Terry Rozier
put it. No one was more valuable to UK's win.
Meanwhile,
Andrew Harrison
, Kentucky's starting point guard and Ulis' putative platoon counterpart, had one of the worst games of his career. Other than a late 3, he went 0-of-5 from the field, coughed up six turnovers, openly sulked, received a widely noted dressing down from Kentucky coach John Calipari for leaving his huddle too early, and mostly looked miserable even as the Wildcats were polishing off a massive road victory.
[+] Enlarge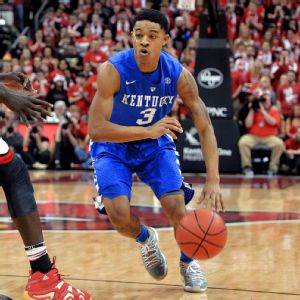 AP Photo/Timothy D. EasleyTyler Ulis was Kentucky's best point guard on Saturday at Louisville. But don't expect him to get too much more playing time.
Before and after the final buzzer, this contrast -- gritty Ulis vs. pouty Harrison -- prompted all manner of second-screen second-guesses. Ulis was Kentucky's best point guard! He
should take Harrison's minutes
! And then responders would jump in:
Calipari would do that but can't
, because who knows how both Harrison twins would react? Kentucky's chemistry might be damaged beyond repair!
The agreed-upon assumption is that Calipari would just
love
to ditch the platoons and put Ulis atop his One True Rotation, but because he has to keep everyone (read: the Harrisons) happy, his hands are tied. But what about close games? Ulis has to play in close games!
Two days later, let's get one thing clear: It doesn't matter.
None of it matters
.
ESPN Insider's John Gasaway got at this point in his Sunday column
, with Dakari Johnson as the perfect example. Johnson played just 11 minutes Saturday.
Marcus Lee
played just 10.
So let's say Johnson and Lee are at the end of the bench in non-blowouts. Just imagine if Calipari is ever "forced" to play Johnson, for example. The Wildcats will then be in the perilous position of having to rely on quite possibly their best individual offensive rebounder, a player who's more or less the identical twin of Willie Cauley-Stein in terms of block percentage and a prospect who's projected as a 2015 first-round pick.
The same is true of Kentucky's guards. Ulis and
Devin Booker
may well represent the Wildcats' best perimeter duo. They certainly provide better outside shooting, the one glaring weakness in the Harrisons' games specifically (they are a combined 28.7 percent from 3 on the season) and the team's offense generally (UK shoots just 32.1 percent from beyond the arc). From an aesthetic standpoint, Ulis' ballhandling really does make Kentucky's offense feel more fluid, less stagnant. But for all that, Andrew Harrison's assist rate is practically the same as Ulis' (31.6 to 32.4) and both players turn it over fairly often (Harrison on 26.8 percent of his possessions, Ulis on 22.9 percent).
But, again, none of this really matters. Even if Harrison were always as bad as he was Saturday and Ulis were always as good, it still wouldn't matter.
Kentucky is playing to world-historic levels on the defensive end. It rampaged through its nonconference slate allowing just 0.82 points per possession (adjusted for competition), mostly because its back line simply does not allow easy interior scores. If the Wildcats keep that up, they will end the season as the best defense of the per-possession era. On Saturday,
Rick Pitino said
they were "one of the great defensive teams I've seen in my 40 years." Meanwhile, the Wildcats grab 46 percent of available offensive rebounds, likewise the highest mark in the country. Perimeter shooting becomes less crucial when you turn half of your misses into second chances.
Here's a helpful thought experiment: Tomorrow, Ulis decides he no longer cares for the game of basketball. He announces his retirement at the ripe old age of 19, and he looks forward to spending more time with his family. Or whatever. Does Kentucky look any less likely to win the national title? Louisville in the Yum! Center presented Kentucky with by far its toughest test of the season, and with both Harrisons struggling, with its offense scoring less than a point per trip, the Wildcats still escaped unscathed. Do they look any more vulnerable to anyone in the SEC? Look at the Wildcats
five toughest games going away
: At Florida? At South Carolina? At Georgia? Come on. UK may or may not enter March undefeated, but any loss in the SEC would be a self-inflicted aberration. Are you really going to pick against them?
That's why Calipari will keep Andrew Harrison in the starting lineup. That's why he can revert to playing his top nine guys about 20 minutes per game at the start of SEC play. That's why he doesn't have to worry about any of the potential personnel dilemmas everyone was tweeting about Saturday. He can mix things up as he pleases, and as the matchup dictates, with an eye on overall team cohesion. Only in March, and even then only late in the tournament, will the Wildcats come up against the kind of team (Duke, Virginia, Wisconsin) that might have the right offensive combination to test them.
For now, Kentucky is so much better than the rest of its regular-season opponents that it can afford to keep the Harrison twins happy and heavily involved, even if it means ignoring what might be an "ideal" lineup. There is no opportunity cost there. A slight boost in offensive efficiency is worthless when your defense is impenetrable. "Crunch time" doesn't exist when you're blowing everybody out.
Should Calipari bench the Harrison twins? Should Ulis play more? These are the kinds of questions you're supposed to ask about a college basketball team, the kinds of things almost every coaching staff has to carefully consider.
Kentucky is not one of those teams. Kentucky is so good, the usual rules don't apply.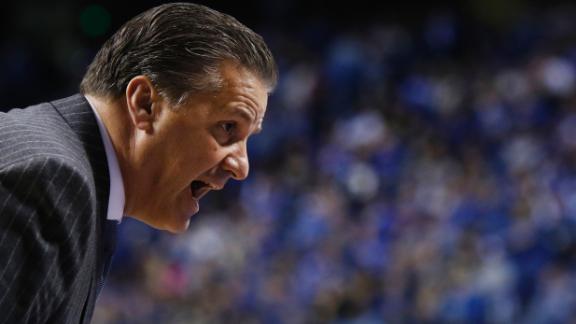 October, 27, 2014
10/27/14
6:00
PM ET
On Monday morning, we revealed ESPN's 2014-15 Preseason Top 25. Topping the list was, surprise surprise, none other than the
Kentucky Wildcats
, who edged out (No. 4) Duke's own highly touted talent freshmen, (No.3) Wisconsin's experienced returners, and (No. 2) Arizona's combination therein.
But as we wrote in the power rankings, our interest in the Wildcats lies not just in
whether
UK will be good, but
how
. How do you get so much talent -- not only a swath of returning stars but a loaded 2014 class, too -- into a five-man basketball rotation? John Calipari's answer was predictably radical: He would
sort his players into two platoons
. Each group would play roughly the same number of minutes. The Wildcats would attack their opponents in waves.
There are plenty of questions worth asking about this idea, chief among them whether so many NBA-hungry talents will be eager to play role-player minutes. There's also the issue of general flexibility. What happens in late-and-close situations? What if one group vastly outperforms the other? And then there's the matter of the groups themselves: Who will play with whom?
The latter query now has an answer. On Monday night, Kentucky will play its annual Blue-White Scrimmage, and on Monday afternoon,
via Facebook
, Calipari officially assigned hotkeys to his Starcraft-ian Control Groups. They are:
and
It's worth noting, of course, that this is a first draft, Monday night is just a scrimmage, these teams are subject to change, etc. Still, there are some interesting thoughts here. For starters, no pun intended, it's clear that Calipari wants to mix his returning players with newcomers. Publicly, the coach would likely argue that these configurations simply work better; privately, it's fair to wonder whether avoiding some emergent freshmen-versus-veterans narrative is also a priority.
It's also interesting, though not especially surprising, to see the Harrisons in the same lineup. Earlier this month,
Calipari told the ESPN College Basketball Podcast he had considered splitting the duo
, to give each a chance to prove themselves as individuals to NBA scouts. "But," Calipari eventually concluded, "for me, to win now, it's best if they play together."
Anyway, platoons! They're totally a real thing, the No. 1 team in the country is totally unveiling them tonight, and you can now totally point to specifics in your arguments against them. So: What do we think?
May, 5, 2014
5/05/14
10:30
AM ET
Members of the Class of 2014 have (mostly) made their decisions. Which incoming freshmen should you get to know? Here is a look at the best passers -- and one name to know in 2015:
1. Tyus Jones, Duke
He is the consummate point guard. His passes are always away from the defense and he has that snap on the ball that you just can't coach. On the fast break, he will come to complete stop and let the trailer fill the lanes and make a precise pass for a layup or 3-point shot. In tight quarters he can penetrate and pitch effectively by making a soft pass or a bounce pass and he demonstrates the outstanding vision, poise and patience to be a great set-up man. Some players pass to get rid of the ball, but when Jones passes, it usually leads to an assist.
April, 23, 2014
4/23/14
5:10
PM ET
The size was what got you. That's what coaches said about Kentucky as the Wildcats made their redemptive run through the 2014 NCAA tournament: You could gin up a genius game plan, but they were always going to be taller than you at just about every position. In other words: Good luck!
Here's something horrifying: Next season, Kentucky is going to be even taller.
On Wednesday, UK sophomore forward
Alex Poythress
announced his decision to return to school
for his junior season
. The decision makes sense: Save some startling highlights and solid toolbox defense in the tournament, Poythress failed to distinguish himself much in his sophomore season, especially on the offensive end. NBA scouts still aren't quite sure what he is, how he could develop, where he fits at the pro level. (Or, if they do know, "a 6-foot-8 small forward who can't shoot or handle, but rebounds his position and guards relatively well" isn't getting them excited.)
[+] Enlarge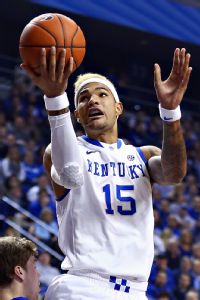 Andy Lyons/Getty ImagesSeven-footer Willie Cauley-Stein is just one piece of a Kentucky team that will be among the tallest in the country next season.
Whether Poythress can accomplish as much in his junior season remains to be seen. But his return alone ensures a couple of things about the 2014-15 Kentucky Wildcats:
They are going to be old.

They are going to be massive.
The first one is a relative term, of course. At Kentucky, where John Calipari just played seven freshmen in a Final Four game (and got the highest percentage of minutes from freshmen in said game since the Michigan Fab Five), "old" is having experienced players, period. But along with
Willie Cauley-Stein
's return, Poythress' decision ensures that Calipari will have two juniors with plenty of minutes under their belts in potential starting (or starting-minutes-level) roles for the first time since the Darius Miller-DeAndre Liggins-Josh Harrelson combo in 2010-11. Against all odds, a coach once determined to turn over his roster every season suddenly is peppering his lineups with hundreds of returning minutes.
The second one was a done deal no matter what
Dakari Johnson
decided. Then, on Wednesday afternoon, Johnson dropped the size bomb: He decided to come back to school, too.
A 7-foot center whose combination of size and athletic gifts made him a low-post force in the tournament (especially alongside
Julius Randle
), Johnson is one of those big men who is both preternaturally athletic and still growing into his body. He has the proverbial "baby fat" scouts love to minimize in their imaginations. Either the NBA now or a year in school (and then the NBA) would have probably worked out equally well for him. A decision to return creates a crowded frontcourt situation for Kentucky, one that should terrify anyone outside Big Blue Nation's border territories.
Calipari already has two 7-footers back for next season in Johnson and Cauley-Stein. He has
Marcus Lee
(6-10 and maybe the most athletic player in the country) and 6-11 freshman
Karl Towns
as a potential backup frontcourt. Or vice versa. Or some mix therein. Poythress is a 6-8 small forward. Oh, and then there's
Trey Lyles
, the No. 6 overall player in the 2014 class. He is a power forward with real post moves and 17-foot range who also happens to be 6-10. That's at least two, and maybe three, waves of NBA size.
A handful of teams will have one player that big. Maybe two, if they're lucky. Calipari could create a real-life edition of Jon Bois' NBA Y2K series with no player shorter than 6-10 in his starting lineup -- if he really wanted to. (We'd highly recommend it.)
In the real world, unfortunately, someone has to play guard. The question is whether that will still be
Aaron
and
Andrew Harrison
-- who seem to be finding out for the first time in their lives that they are not necessarily first-round NBA draft picks, and possibly adjusting their plans -- or two more five-star Calipari recruits (shooting guard
Devin Booker
and point guard
Tyler Ulis
. Booker is 6-5.
If the 6-6 Harrisons are back, Kentucky will still have one of the tallest backcourts in the country. But even if they aren't, Calipari will unleash one of the biggest teams in recent college hoops history on a now-entirely-suspecting hoops populace.
The 2014-15 Kentucky Wildcats will be older and wiser, sure. But they'll be bigger, too. Much, much bigger.
November, 6, 2013
11/06/13
1:15
PM ET
We are one week away from the national signing period for men's basketball. Seven of the top 17 recruits in the country are still on the board. Here's the latest on some schools rising and falling in the
ESPN class rankings
:
To continue reading this article you must be an Insider
October, 9, 2013
10/09/13
10:04
AM ET