College Basketball Nation:

University of Oregon
January, 31, 2010
1/31/10
3:09
AM ET
Polls are a snapshot of a team over the course of a week, a quick glimpse of who is playing well from Monday to Sunday.
Kansas deserves to be No. 1. The Jayhawks won at Kansas State in overtime in a place where Texas could not. The win will be enough to propel the Jayhawks to No. 1 in the country when the polls are announced on Monday.
But who is No. 2?
That's where the debate gets interesting between late Saturday and Monday morning.
I would lean toward Syracuse. The Orange had quite a week. Remember, this is about what you have done during the week. It's not necessarily about a team's entire body of work.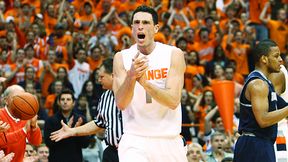 Jerome Davis/Icon SMISyracuse rallied from a big early deficit to beat Georgetown.
Syracuse had one of the more impressive wins earlier in the week when the Orange steamrolled Georgetown in the final 30 minutes at home last Monday. That's the same Georgetown team that took out Duke in convincing fashion Saturday.
Villanova has quite an argument as well with a home win over Notre Dame for its only game of the week. But Syracuse has played a tougher slate than Villanova. Overall, if you compare their sole losses, then losing to Pitt, even at home, may be a tad better than losing at Temple. This argument has holes on both sides so deciding who is most worthy of the No. 2 spot right now might come down to how you feel about the pair. And right now, after Syracuse found a way to win at DePaul when it didn't play well, the edge could go to the Orange.
Of course, the Kentucky nation would have an issue with the Wildcats not being No. 2 after dismantling one of the hottest teams in the country in Vanderbilt. The Wildcats looked quite special in running away from the Commodores. The question is does Kentucky get knocked down this week because it lost a game, even though it was on the road at South Carolina? The answer for now is yes. Remember the poll isn't about where teams will finish in March but how they're playing over the course of a week.
One thing is certain: Texas is dropping lower than No. 6 and Michigan State will at least stay put at No. 5 after a week in which the Longhorns fell to Baylor and Michigan State beat Northwestern.
Maybe I shouldn't have dumped off my original sleeper team so early. UTEP beat UAB in double overtime in Birmingham to draw into a first-place tie with the Blazers in Conference USA. I still think UAB is the only team in the league that can get in as an at-large unless Tulsa wins at Duke.
Here's what's great about the Ivy League. You go, you dress and maybe you can get into the game. Cornell played 18 players in the first strike against Harvard in the Ivy League chase.
San Francisco will not have another crowd like the one it had to beat Gonzaga late Saturday night. But credit the Dons, they did what Santa Clara and others in the league could not -- hold on to beat the mighty Zags. Other WCC teams tend to freeze when they have a chance to shut down the Zags.
The Big East will investigate how the officials handled the West Virginia-Louisville game, especially in going to the monitor to (ahem) look at the shot clock when they may have actually been looking at who should have possession on an out-of-bounds play. Official Mike Kitts didn't make a call and when no call is made on the floor, the possession goes to the team with the alternating possession arrow, which was Louisville. The ball actually did go off Louisville and West Virginia got the ball. So while the call was right it was not handled correctly. Louisville coach Rick Pitino criticized the officials by saying he was "tired of the officiating." The Big East says it will investigate.
Marquette's Jimmy Butler told me Saturday he was speechless after making the game-winning shot to beat Connecticut. The Golden Eagles had been 1-7 in games decided in the final five minutes this season.
Notre Dame's loss at Rutgers is the kind of defeat that can send a team to the NIT.
Siena's win over Marist should clinch the Saints' BracketBuster date at Butler. Announcements are due Monday.
Maybe the most bizarre event of Saturday occurred in the USC-Oregon game. USC manager Stan Holt got a technical foul after saying something to official Bobby McRoy, which led to the game becoming tied at 47-47 with 4:35 left. Holt left the bench and the Ducks went on a 10-0 run to essentially win the game 67-57. USC coach Kevin O'Neill was quoted in the Oregonian late Saturday night saying, "That's on me and that will be rectified -- it already has been -- he's gone. That's incomprehensible to me, in a two-point game, that our manager would get a technical foul. It's unforgivable, it's unprofessional. I apologized to our team for it, also." Holt was a three-year graduate manager. The only remaining question was how he did he get home from Eugene after O'Neill clearly tossed him off the roster?
December, 12, 2009
12/12/09
7:24
PM ET
A few quick hitters on Saturday's slate:
UCLA is officially toast. The Bruins have no shot to get in the NCAA tournament unless they win the Pac-10 tournament. Seriously, even if the Bruins were to win the Pac-10, the question will be what have they done? It's early but it's not too soon to announce this after the Bruins were rocked once again in the city of Anaheim, this time in a different venue (Honda Center) and by another team (Mississippi State) by double figures (72-54). The Bruins are now 0-4 in Anaheim.
Mississippi State's Ravern Johnson scored 29 in the convincing win for the Bulldogs. John Riek gets eligible for the Bulldogs next week to add depth to the frontcourt. No one knows if Renardo Sidney will ever play for Mississippi State. Even without him the Bulldogs should be 1-2 in some order with Ole Miss for the SEC West title.
Saint Mary's had a major road win, beating Oregon by five in Eugene, a day after learning guard Wayne Hunter was done for the season with a torn ACL. Hunter had started the first seven games and averaged 11.6 points a game. Omar Samhan scored 22 and, despite a love affair here with Portland and San Diego early, the Gaels look like they may be the real challenger to Gonzaga in the WCC.
The Pac-10 continues to be dreadful out of conference as Washington lost to Georgetown in Anaheim, and the aforementioned UCLA and Oregon losses, make the league look even worse. Seriously, there is a power five this season and then the sixth-best conference will either be the A-10 or the MWC. Deal with it. The Pac-10 may be looking at a best-case scenario of two NCAA bids. And the committee may discuss expanding the tournament? To get more mediocrity in the field? No thanks.
Georgetown's Greg Monroe had a super week with 25 points and 15 boards in a win over Butler and then followed that up with 15 points, eight boards and six assists in the win over the Bruins. Monroe's mate Julian Vaughn showed he can score too with a career-high 18. The Hoyas will be a contender for the Big East title.
Kansas blew out La Salle and freshman Xavier Henry scored 31 points with four rebounds and two assists. Can you imagine what Memphis would have been like with Henry, John Wall, DeMarcus Cousins, Eric Bledsoe, Roburt Sallie, Willie Kemp and possibly Duke transfer Elliot Williams? It would have happened had John Calipari stayed put instead of going to Kentucky.
Butler got a desperately needed win by holding off Ohio State by eight at home. Matt Howard fouled out again though and the Bulldogs have to find a way to stop the insanity of him getting into foul trouble.
Ohio State played its first game without Evan Turner and was expectedly erratic. William Buford proved to be the scorer, though, with 20 points.
George Mason beat Creighton, easily one of the more disappointing teams in the country now at 3-5. Creighton coach Dana Altman got a technical in the final 18 seconds, which didn't help. It was Altman's first technical since 2007.
Portland and Pitt got much-needed wins after rough weeks of late.
Chris Warren of Ole Miss is showing no signs of his ACL bothering him as he scored 20 against McNeese State and is averaging 17.5 on the season.
Western Carolina, picked to win the Southern Conference with the College of Charleston, shocked Louisville 91-83 at Freedom Hall. The Cardinals can't use the excuse of not having Preston Knowles, Jerry Smith and Peyton Siva when they didn't have them for the loss to Charlotte. Louisville goes through early-season funks every year under Rick Pitino, but this one seems deeper and their road game on Jan. 2 in Kentucky seems awfully daunting.
Kentucky ran away from Indiana in Bloomington, 90-73, behind Eric Bledsoe's 23. John Wall had "only" 11 points, but had eight assists and only one turnover. Kentucky coach John Calipari said he couldn't be more thrilled for how his players handled their first true road game. Meanwhile, Indiana may have found a big-time scorer as freshman Maurice Creek went for 31.
Wisconsin needed a win after losing at UW Green Bay and the 72-63 victory against rival Marquette will do well for this team's ego and confidence going forward.
Columbia's Noruwa Agho continues to be one of the best-kept secrets in the country as he made a pair of threes and scored 23 points in a win at Bryant. Agho is shooting over 64 percent on 3s (27 of 42) so far this season.
The box score of the day came out of Seton Hall-VMI. The Keydets make teams play uptempo and the Pirates obliged with a 134-107 win. Jeremy Hazell scored 33 while Jamel Jackson scored 40, making 12 of 15 3-pointers. The 134 is the most points scored by the Hall in its 105-year history as was the 241-points combined. Jackson broke the Hall single-game record with 12 3s. By the way, he comes off the bench and was averaging seven points a game entering the day.
Oklahoma finally awoke in a game against a significant opponent as Willie Warren went for 27 points in an overtime win at Utah, which had just beaten Michigan at the Huntsman Center earlier in the week.