College Basketball Nation:

UNLV
January, 24, 2012
1/24/12
12:23
PM ET
By
Evan Kaplan, ESPN Stats & Info
| ESPN.com
The Mountain West Conference moved into the top five, while the SEC got closer to the Big East in ESPN Stats and Info's weekly college basketball rankings.
For a complete recap of how we rank the conferences, click <a href="
here
and
here
.

The MWC has continued to rise in the rankings this season and is now nearly three full percentage points ahead of the ACC. The conference is getting more respect from the computer polls than the ACC and got a season-high 10.6 percent human bonus this week.
There are just two Mountain West teams in the Top 25, but the
San Diego State Aztecs
and
UNLV Rebels
are both ranked in the top 15 in the nation. The Aztecs are ranked 12th in the ESPN/USA Today Coaches poll this week, the highest they've been all season.
While the Mountain West moved into the top five this week, the SEC moved closer to the Big East, cutting the gap in half from eight percentage points to four. The conference has three teams ranked in the Top 25, but the
Kentucky Wildcats
moved into the top spot in both polls this week, slightly helping its human bonus.
The SEC saw a three point jump in the computer rankings this week and was helped by two out-of-conference wins on Saturday over Big Six conference teams. The
Arkansas Razorbacks
beat the
Michigan Wolverines
66-64 while the
Tennessee Volunteers
took care of the
Connecticut Huskies
, giving the SEC big wins over the Big Ten and Big East.
The
Murray State Racers
are ranked ninth in the ESPN/USA Today poll and 11th in the AP poll, but the Ohio Valley Conference remained in the number 22 spot in the power rankings this week.
No conference moved up or down more than one spot in this week's rankings.
February, 13, 2010
2/13/10
6:35
PM ET
February, 10, 2010
2/10/10
3:45
PM ET
Saddle Up is our daily look at the hoops your TV wants you to watch tonight. Here's Wednesday night's rundown. Special programming note: I'll be flying to Indianapolis tomorrow to participate in the NCAA's mock selection committee, so my blogging may be a little light these next couple of days. I'm sure you'll find a way to persevere.


No. 7 Duke at North Carolina, 9 p.m. ET, ESPN
: Given the average college basketball fan's general fatigue with Duke-North Carolina -- everyone likes to complain about the attention these two teams always receive, and not without reason -- you might be struggling to find a reason to care about tonight's game. After all, if North Carolina (13-10, 2-6 in the ACC) is this bad, what's the point? Won't Duke just roll?
Maybe. Maybe not. Duke is certainly a more complete and more polished team than the Tar Heels. Veterans
Jon Scheyer
and
Kyle Singler
and the rest of Duke's formidable lineup constitute a major advantage over UNC's talented but inexperienced bunch. But it's not that cut and dry. Duke has major flaws, and one of them is that it's just not very good on the road. Let's not forget the
Devils' trouncing at Georgetown two weeks ago
. Nor should we ignore
Duke's loss at NC State
two weeks before that. Duke played very few nonconference road games, and it's been punished for it since, going 2-4 on the road in six tries overall. For a team with national title aspirations, Coach K's bunch has a way of looking decidedly average away from Cameron Indoor.
Meanwhile, North Carolina is in a horrific tailspin. What better way to turn the season around after losing six of your last seven than by getting a win at home over your hated rival? What better way to build confidence in your young players than by them proving to themselves they can play with an elite group like Duke? Or maybe the inverse happens: Duke dominates UNC at home in front of a disgusted crowd, and Roy Williams has to figure out how to get his team to recover from its latest disaster -- and how to talk to the media without
sounding depressed and apoplectic after the game
. The outcome will be high drama, in its own marginal way.
This might not be vintage UNC-Duke. You won't confuse tonight's lineups with anything you'll see on ESPN Classic. But sleep on it at your own peril. For reasons different than the past, this rivalry might surprise you yet.


Connecticut at No. 3 Syracuse, 7 p.m. ET, ESPN
: Speaking of intrigue, or a lack thereof ... ladies and gentlemen, allow me to present UConn-Cuse 2010! These two teams have taken opposite trajectories to end up where they are today. Syracuse was seen as a marginal Top 25 team at the beginning of the season; the Orange has morphed into one of the few viable challengers to Kansas' putative crown. UConn was a top 15 team to begin the year, and has morphed into a Jim Calhoun-less shell of its former self -- dominant shot-blockers on the defensive end (where the Huskies are No. 1 in the country for the ninth year in a row)
and barely average at almost everything else
. Jim Calhoun is being mentioned for coach of the year awards. Jim Calhoun is still on a leave of absence with no return date imminent.
It's hard to spin those conditions into something positive, even for me, and I'm positive (to a fault, admittedly) about any and all college basketball on my television. It's college hoops! It's awesome in and of itself! We get to watch basketball! Hooray for basketball! But it's hard not to feel the same sinking feeling many will have about Duke-UNC, and that many had about Kansas-Texas --
this game should be so much better
. It's up to UConn to prove us wrong. (In the Carrier Dome. Against a dominant 2-3 zone. With a team that can't shoot. Um, good luck, I guess?)


No. 19 New Mexico at No. 25 UNLV, 11 p.m. ET
: It would be criminal to focus on the above games and not give what could be tonight's best, most important matchup some love. New Mexico at UNLV is tonight's only game featuring two top 25 teams, and that's not the only reason to watch. Whoever wins tonight takes over first place in the Mountain West, where three teams (these two, plus BYU) are vying for NCAA tournament bids. Plus it features a matchup between the conference's two best wing players, New Mexico's
Darington Hobson
and UNLV's
Tre'Von Willis
. New Mexico rarely turns the ball over; UNLV thrives on forcing steals. New Mexico loves to get to the free throw line; UNLV never allows its opponents that luxury. Stay up past your bedtime, East Coasters. You don't want to miss the game of the night.
Everywhere else
:
Ohio State will visit Bloomington
, where the Hoosiers have been a tough out all year. But tough enough to keep
Evan Turner
Line Watch from showing up in the morning? Doubtful. ...
Northern Iowa will go on the road to play a pesky Drake squad
, which wants this win forever, man (sorry). ... Georgia Tech has lost its last two games on the road and
will try to avoid a third at Miami
. ...
Florida goes to Columbia
, where a banged-up
Devan Downey
should be in the lineup. ...
Northwestern's game at Iowa is a must-win for the Wildcats' tournament chances
. ... and a pair of important A-10 battles --
Charlotte at Dayton
;
Richmond at Rhode Island
... will go down.
January, 9, 2010
1/09/10
7:15
PM ET
By
Diamond Leung
| ESPN.com
New Mexico has likely played its way out of a national ranking after a
74-62
loss at home to UNLV.
The Lobos' loss snapped a 19-game winning streak at The Pit, and it was their first conference loss at home since 2008. Coming on the heels of Tuesday's 10-point road loss in their Mountain West Conference opener to San Diego State, this one hurts even more after starting the season 14-1.
Kendall Wallace
hit seven three-pointers for UNLV to score a game-high 21 points, and
Tre'Von Willis
added 20 for the Rebels.
January, 7, 2010
1/07/10
11:00
AM ET
The Morning After is our semi-daily morning recap post. Try not to make it awkward.
[+] Enlarge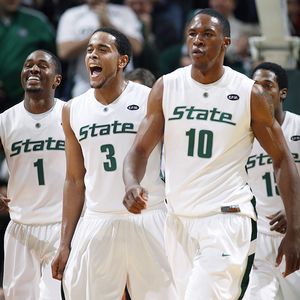 AP Photo/Al GoldisMichigan State outlasted Wisconsin in a "defensive struggle."
Michigan State 54, Wisconsin 47
: Now
this
is a Big Ten basketball game. After their uptempo, runaway win over Northwestern Saturday, it was reasonable to assume the Spartans would want to push the pace against the slow, plodding, methodically effective
Wisconsin Badgers
. That did not happen: These teams shared 59 possessions (the national average is about 70), and they weren't particularly effective with even those limited opportunities. The AP report is characterizing this game as a "defensive struggle" -- Bo Ryan said much the same -- and that's partially true. Each team prevented the other from getting anywhere near their current averages for points or efficiency. But neither team shot well, and that has plenty to do with it, too.
The good news for the Spartans is that they took care of business at home against what appears to be the second most likely challenger for their Big Ten throne. Everywhere else (with the possible exception of an
Evan Turner
-fielding Ohio State team) looks a little bit worse than expected; Purdue, Michigan State, and Wisconsin are your three Big Ten teams worth their national salt.
Kansas 71, Cornell 66
: Three cheers for Cornell, huh? This is a team that went into Allen Fieldhouse, one of the most historic and intimidating basketball arenas in the world, and not only hung with Kansas but very nearly beat them. Cornell took a one-point lead into the final minute, and you know the rest:
Sherron Collins
took over the game, scoring nine straight points at the end and singlehandedly refusing to cede the lead back to Big Red. What does the win mean? Well,
Kansas got its first legitimate test
. It had a poor shooting night and still survived. Bill Self will be pleased. But more than anything it means that Sherron Collins is still the de facto leader and go-to guy of the
Kansas Jayhawks
, no matter how good
Xavier Henry
has been. Henry might be the more talented scorer, but when the game and season are on the line, Collins will have the ball in his hands. As it should be, eh?
Connecticut 71, Seton Hall 63
: Seton Hall could have used this one, but what should you expect? Connecticut isn't vintage Connecticut, but they're still a good, athletic team, and they're still going to win the games they should win at home. So maybe hoping for a Hall win would have been too optimistic. The point is that Bobby Gonzalez's team, after starting 9-1, has now lost four straight. Granted, three of those losses were understandable (to West Virginia in OT, to Syracuse, and to UConn) but one was an indictment of the Pirates altogether (the 102-94 OT loss to Virginia Tech without
Malcolm Delaney
on Saturday). Seton Hall entered Big East play with a legitimate shot at reaching the NCAA tournament. Those hopes are fading fast.
Tennessee 88, Charlotte 71
: On Dec. 5,
Charlotte played an injury-bit Louisville team and beat them by 22 points
. Last night's game had the potential for similarity: Tennessee is reeling after the suspension of four players, one of whom was star forward
Tyler Smith
, for gun-related arrests. If any team looks ready to fold in the season, it's Tennessee. But that didn't happen. Rather, the exact opposite did: Tennessee put a whoopin' (as they say in Tennessee) on Charlotte from the opening tip.
Wayne Chism
led the way with 18 points as all five Tennessee starters scored in double digits. Hey, maybe Bruce Pearl was right.
The Vols do still have weapons
.
Everywhere else
: Syracuse got a minor challenge from Memphis
before pulling away late
... One of two things is happening here: Either Marquette is surprisingly good again, or Georgetown has another disappointing team. Or maybe both. Either way,
the Golden Eagles upset the No. 12 Hoyas in Milwaukee last night
...
No. 23 BYU survived its first conference test of the season
, winning by four over UNLV ...
Indiana received the blunt end of an Evan Turner welcoming party at Value City Arena
... Craig Robinson's Oregon State rebuilding project suffered its worst loss to date,
dropping a lifeless 99-48 game to, get this, Seattle
... and the Pac-10 suffered yet another indictment, this one directed at the team most people still have national hopes for, Cal;
a bad UCLA team beat the Golden Bears 76-75 in Berkeley Wednesday night
, and I think it's official: The Pac-10 is beyond redemption. Let's just ignore it from now on, OK? (I'm kidding! I love all conferences equally, even when they're really bad.)
December, 26, 2009
12/26/09
11:45
AM ET
A few weeks ago, in a previous life,
I wrote the following about USC
:
Like a beautifully rendered post-apocalyptic landscape, you won't be able to help checking in on the Trojans. [...] These are not last year's USC Trojans. The reasons for this are obvious: Tim Floyd resigned his position amidst a Yahoo! Sports report that he had a very dirty hand in O.J. Mayo's recruitment, and Floyd chose not to fight the impending NCAA investigation into USC's entire athletics program. Instead, he fled, leaving his players to transfer and recruits to choose elsewhere. USC, with its brand-new stadium and shiny uniforms and big-program sheen will look an awful lot like D.C. in "Fallout 3." What was here before was beautiful, but the destruction has an attraction of its own.
I hate reading my old writing, so realize how difficult that was for me. Why, yes, I do want a cookie. Thank you.
Anyway, the point is that USC wasn't supposed to be good. It wasn't even supposed to be marginal. USC was a program in distress, a bombed-out and depleted facsimile of what Tim Floyd spent years building and then, if reports of his involvement in the dirty specifics of O.J. Mayo's recruitment are correct, destroying. The Trojans look different. They're being coached by Kevin O'Neill, who by all accounts
is not a player's coach
, and that's putting it very politely. They have a fraction of the talent left over from last year's team.
And yet, don't look now, but USC might still be OK. Downright good, even. I know, I know. It's weird. But it's true. After all,
USC just cruised to an easy win over No. 20 UNLV
at the Diamond Head Classic. That would be interesting enough, but it follows the Trojans' 22-point win over Tennessee on Dec. 19. That was guard
Mike Gerrity
's first game since his transfers from Pepperdine and Charlotte. Gerrity was granted a waiver by the NCAA to play against Tennessee, and the Trojans are mighty thankful for his services.
Alongside the return
of academically suspect forward
Leonard Washington
-- also
the name of a classic Chappelle's Show character
, and that never hurts -- the Trojans have
serious basketball people asking seriously
: Can USC actually win the Pac-10? Maybe?
Maybe not. Let's not get ahead of ourselves. But the Trojans have cleared at least one hurdle: they're decidedly
not
awful. Post-apocalyptic landscape this is not.