College Basketball Nation:

USA Basketball
July, 16, 2013
7/16/13
4:35
PM ET
Though there may still be room for USA Basketball's talent development apparatus to improve and expand --
as John Infante writes today
, the landscape is begging for a hoops academy akin to U.S. Soccer's development school -- the highest levels really are a well-oiled machine.
Jerry Colangelo and Mike Krzyzewski always have their list of unimpeachable national team selections, players like LeBron James and Chris Paul. But they are always on the lookout for young talent, too. This is especially true in off-years, when there are no Olympics on the immediate horizon. The net ends up being a win both for USA Basketball and for basketball in the U.S. The
number of young players that emerged from the 2010 FIBA World Championships as bona fide NBA stars
is a perfect example. This confluence can work for everyone.
[+] Enlarge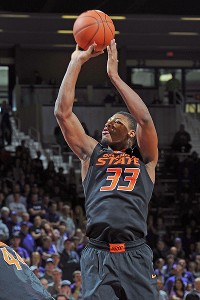 Peter G. Aiken/Getty ImagesMarcus Smart is the only non-NBA player invited to Team USA's minicamp in Las Vegas this month.
From July 22-25, Team USA is holding its annual minicamp in Las Vegas, which will include a handful of closed practices followed by an event-ending showcase at the Thomas & Mack Center at UNLV. Still one year removed from the 2014 FIBAs, and three years away from the next Olympics, this summer is all about young talent -- collecting it in one place, drilling with Coach K and the rest of Team USA's staff, and starting to think about which group should make up the next young-ish batch of players at the FIBA World Championships.
Naturally, all of these players are in the NBA. There is just one exception:
Marcus Smart
.
Yes, the Oklahoma State rising sophomore -- national freshman and Big 12 player of the year in 2012-13 -- is the only non-NBA player invited to take part in minicamp in Las Vegas this month. Even more impressive: Team USA didn't invite a single player from this year's draft. Everyone else on the list --
which you can see in full here
-- has played at least one full season in the NBA, and oftentimes several.
Naturally, Oklahoma State coach
Travis Ford is thrilled with this development
.
"We're very excited for Marcus," Ford said in a release. "It's an incredible honor to be the lone college player to be selected. It's a great honor for him and our program. He continues to represent us in a first-class manner, both on and off the court."
That he does. It's been a long time since Oklahoma State had a player as talented as Smart, sure, but when's the last time it had a player this good at representing himself and his associations to the public? Smart's talent, as impressive as it is, is only half the story. No doubt Colangelo had that in mind when he selected Smart, who is coming off a 9-0 run to win the U19 FIBA Worlds this summer in the Czech Republic, where he averaged 9.6 points, 2.8 rebounds, 2.2 assists, and 2.4 steals per game while shooting 50.0 percent from the field. He was also the team captain. Is it any wonder Team USA counts itself among his fans?
May, 23, 2013
5/23/13
4:30
PM ET
If I were an 18-year-old college basketball star, I would want to play for Team USA. Maybe it's because I grew up playing soccer, and representing your state, region or country at various age Olympic Development Program levels was always the goal (one I fell far short of reaching; I settled on playing for my high school). Or maybe I'm partial to being flown around the world to play basketball for what amounts to an age-appropriate national All-Star team. Who wouldn't be?
Quite a few of the best players in the class of 2013, as it turns out. On Thursday,
USA Basketball released its list of players
who accepted invitations to try out for the U19s in advance of the FIBA World Championships in the Czech Republic this summer. While the list is full of talent, much of it with a year of college experience under its belt, it is not full of top incoming freshmen in the class of 2013. Arizona's Aaron Gordon is the only top 20 guy on ESPN's top 100 to accept an invitation.
Conspicuously absent alongside the Jabari Parkers of the world is pretty much all of Kentucky's best-ever incoming class. On Thursday,
Kentucky coach John Calipari made it clear to the Sporting News
that wasn't his idea:
"Most of it is, they didn't want to play. I'm not forcing kids to do anything," Calipari told Sporting News. "I think the reason they all turned it down is, they want to get started."

[...] Calipari said center Willie Cauley-Stein was invited to try out for USA Basketball this summer; Cauley-Stein is eligible for the World University Games. But Cauley-Stein said he preferred not to go and asked if it that would be OK. He said Randle took the same approach.

"Willie said, 'This is not the summer for me to do this stuff. I just can't wait to get back. I want to get prepared,' " Calipari said. "I'm happy they're thinking in those terms. They know the spotlight's on them."
I'm anticipating a wave of "these kids don't respect their country!" comments, but let's go ahead and just not, OK? USA Basketball is an excellent development program in its own right, and no doubt a great experience, but the summer climate is different now. Gone are the days when players were essentially on their own until the official start of practice, when local summer ball leagues, open runs and the odd FIBA event were their only way to stay crisp during the offseason. Two years ago, the NCAA passed a rule that allows players enrolled in summer courses to receive a couple hours per week of individual instruction from their coaching staff. Not only can this class of incoming freshmen spend time getting used to their new collegiate homes, and getting a head start on schoolwork, they can actually work on specific basketball skills with their coaches. The idea of staying on campus is much more persuasive.
I'd say that goes highly touted freshmen, from Parker to Randle and Co. at Kentucky. For many of these players, the plan is to stay one year in college. That might not the most fun idea; there must be some impulse to stick around as long as possible. But at the very least, all of these players -- Kentucky's in particular, certainly -- must know that one college season isn't nearly as long as it seems from the beginning. If you really want to be good enough to win a national title in just five months, you'd better get a running start.
(Correction: An original version of this post listed Andrew Wiggins as absent alongside other young American players; Wiggins is Canadian. Duh. My apologies for the error. -- EB)
May, 20, 2013
5/20/13
2:00
PM ET
Back in February, Duke coach Mike Krzyzewski stepped down from Team USA. If you missed it, don't be too hard on yourself; there wasn't a celebration or retirement ceremony or any sort of ritual. Instead, Coach K appeared on "Mike & Mike in the Morning," said his time coaching Team USA -- which included two Olympic gold medals, a 2010 FIBA title with a thrilling team built on young stars, and zero losses since 2006 -- had been
an honor
. He said he expected USA Basketball chairman Jerry Colangelo to name his successor this summer, and that was basically that. An excellent chapter in Coach K's illustrious coaching history had quietly closed. On to the next.
Turns out, Coach K just can't quit USA Basketball. This past weekend,
Coach K told SI.com
he is in discussions to return to the team through the 2016 Olympics in Rio de Janiero, discussions which Colangelo appears all but set on at this point:
However, Krzyzewski told SI.com on Saturday that he and USA Basketball chairman Jerry Colangelo have been talking about his return "quite a bit."

"I think it's very close to being resolved," Colangelo said in the SI.com report. "That's all I can say for sure.

Give it another week and it should be resolved."
And why not? That's the immediate response to all this. If Coach K is still interested in the job, and Colangelo can convince the 66-year-old he has the time and energy to devote himself to it, why
wouldn't
you lock him up for as long as he wants to do it?
The national team job is not like most coaching jobs. X's and O's are the most visible, and thus the most routinely overrated, part of a coach's job, but never is that more true than with Team USA. Even as the world catches up to us, Team USA will always be the most talented group on the floor. It should beat nearly every opponent, save perhaps Spain, in convincing fashion. We have LeBron James. We're too good. Even so, this presents a different set of coaching challenges. It involves managing an entire team full of big egos. It requires a coach who can focus players on the task at hand without seeming draconian or detail-obsessed. It requires someone to constantly instill the importance of unpaid Olympic basketball to millionaires for whom it must sometimes seem like an unnecessary summertime hindrance.
Coach K has excelled at precisely those things, while also recognizing the difference between NBA and foreign rules and establishing an open, spread offensive style of play (with Carmelo Anthony as a devastating long-range four) that works in the foreign game. He has re-established Team USA as the hegemonic superpower domestic fans demand, and
become something of a surrogate collegiate mentor to James and Kobe Bryant, among others
. He has checked every possible box.
There are few coaches who could do the same. Phil Jackson, certainly. Greg Popovich, probably. George Karl and Jim Boeheim, maybe. After that, the list of coaches with enough gravitas to walk the tricky tightrope line required to coach a modern Dream Team verges on zero.
August, 13, 2012
8/13/12
3:15
PM ET
"It's tough for me to say it [from these] lips, but I love that guy. I love him."
That's Chris Paul, a former Wake Forest Demon Deacon, talking about the head coach of the Duke Blue Devils, Mike Krzyzewski, just after the United States men's basketball team outlasted Spain to win yet another gold medal.
No wonder other coaches (
fully 70 percent of those surveyed, according to our buddies at CBS
) firmly believe Coach K has received an almost immeasurable recruiting boost from his time spent working with the best players in the world. A Demon Deacon saying -- gulp -- he loves Coach K? Just how popular is this guy, anyway?
But forget recruiting. Any recruiting benefit Coach K earned during his seven years at the helm of Team USA -- which included a 62–1 record and gold medals in London, Beijing and at the 2010 FIBA World Championships -- is dwarfed by comparison to what his guidance has meant for American basketball at the highest stage.
[+] Enlarge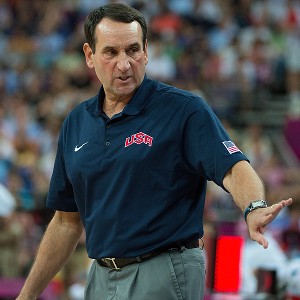 Harry E. Walker/MCT via Getty ImagesMike Krzyzewski helped guide Team USA to another gold medal.
Before Krzyzewski and Jerry Colangelo took over in 2005, Team USA was a mess. Pundits around the world foretold of American basketball's great leveling -- thanks to the Dream Team and globalization and a score of other factors -- the talent in Europe and South America was catching up, while the best American players lacked the fundamentals and cohesion needed (outside shooting, spacing, back cuts, zone defense, etc.) to win under international rules. They were no longer good enough to merely walk on the floor and win.
Some of that proved true.
Spain's athletic rise
in the past decade has been fascinating to watch, and the Spaniards, for the second straight Olympics, provided a truly legitimate challenge to Team USA despite lacking a guard better than Jose Calderon. (That was thanks mostly to Team USA's injured-depleted lack of size, which forced LeBron James to guard the Gasols, but no matter -- Spain has great players and a great international team.)
But America's international program is different now, too. It is more organized and less disparate. It devotes more time to the development of rising stars, a la the 2010 FIBAs, where a host of young players won gold (Kevin Durant, Derrick Rose, Kevin Love, Russell Westbrook, Tyson Chandler, Andre Igoudala, the list goes on), built their résumés for future Olympics inclusion, and went back to their NBA teams noticeably improved for it. In the face of dwindling hegemony, Team USA started planning ahead.
Much of the above was Colangelo's vision, but a vision is only so good as its implementation. That's where Coach K came in. After close calls at the 2000 Olympics and the 2002 FIBA worlds, a talented NBA-rich roster agreed to suit up for the 2003 FIBA Americas, where it easily cruised to a win. Then, nine of those 12 players elected not to play in the 2004 Olympics. A group of rising stars (LeBron James, Carmelo Anthony, Dwyane Wade, Amar'e Stoudamire) were hurriedly slotted alongside veterans Stephon Marbury, Allen Iverson and Tim Duncan, and the team never truly came together. Playing for Team USA was still an option, not a requirement; once it was complete, the hastily constructed 2004 roster fell to savvier, more prepared squads.
Coach K changed that in two key ways. He helped convince America's best players that playing for a gold medal wasn't an annoying waste of an offseason; rather, it was the highest calling for which an American basketball star could strive. Then, once all of the country's best players agreed -- these were rival superstars who spend most of their time trying to topple each other -- he infused that larger calling into the on-court structure, getting the best players in the world to buy in (for lack of a less clichéd phrase) to a momentary collective spirit that cared less for minutes and points and shots and endorsements and more about representing America well, and successfully.
This was true in 2008 in Beijing, and it was true again in 2012. How many minutes did Kevin Durant and LeBron James play together this summer? How many times did James -- as he did during Team USA's closing run on Sunday -- whip a one-handed pass to Durant on the wing (who in this case promptly drove to his left, elevated over Marc Gasol, and scored a gorgeous floater and a foul)? Just a few months ago, James and the Miami Heat robbed Durant and Russell Westbrook and James Harden of an NBA title in a heated series. But there was Durant and his teammates, hugging LeBron and jumping around at midcourt, as Team USA celebrated its win not as disparate factions or a bunch of stars but as just that -- a team.
There were just as many examples in 2008, when the Kobe-LeBron debate was at its peak. Throughout seven years of international basketball, Coach K has almost always had the best talent in the world. This has made it paradoxically both easier and more difficult to succeed. But he has balanced those competing influences as well as anyone could. In the process, he took a key role in restoring the world's true basketball superpower to its rightful place on the gold medal stand.
The man has accomplished much in his basketball career: 927 wins, four national titles, 12 ACC regular-season and 13 ACC tournament championships, a plethora of coach of the year awards, you name it. Duke fans will always remember Coach K as the man who built and then sustained one of the nation's most revered (and simultaneously loathed) college hoops institutions. UNC fans will always loathe him. But for my money, the past seven years of his career -- the two gold medals, the focus on youth development, the great redemption project that was USA Basketball -- are the important accomplishment of his career. Coach K, along with James and Bryant and Durant and Colangelo and all the rest, made American fans feel good about American basketball again.
Plus, the guy got Chris Paul to publicly confess his love. What more do you need?
July, 31, 2012
7/31/12
3:30
PM ET
The U.S. Men's Olympic basketball team has brought a new and entirely social-media-oriented competition to the London Olympic Games. It is called "#GotEm." The object of the game -- which has been led by Twitter savant and Minnesota Timberwolves star forward Kevin Love -- is to catch teammates, all of whom are used to fanatical curation of their public images -- in various states of camera surprise. I
love
this game.
A few days ago,
Love Instagrammed a photo of most of Team USA
, including Coach K, sleeping soundly on the team plane, headphones and pillows and eye masks in tow. His tweet: "#GotEm ALL. Even Coach K. I win." Russell Westbrook and Deron Williams
have since retaliated
.
But the best #GotEm-style tweet thus far came from Williams on Monday,
when he caught coach Mike Krzyzewski "working on his yoga before practice."
I don't know much about yoga, but that it appears Coach K is demonstrating the
"child's pose,"
which stretches the back and "normalizes circulation after the head stand." I'm assuming Coach K hadn't just completed a head stand, because surely Williams would have shared it. Alas.
In any case, this is why #GotEm is quite possibly my favorite thing about the Olympics, or at least about Team USA's performance thus far. (
Blur's reunion is pretty tough to top
.) The shot of global NBA superstars napping on a plane does more to humanize typically distant players than any PR offensive ever could. And, above all, we learned that Coach K -- a stern, commanding coaching presence if ever there was one -- has a few yoga poses he likes to run through at some point before practice.
Thank you, Kevin Love and Deron Williams, for bringing this knowledge to the greater college basketball populace. We are forever grateful.
June, 21, 2012
6/21/12
4:02
PM ET
Never fear, you basketball-loving, Dream Team-worshipping, blueblooded American, you: The United States is still producing the best basketball talent in the world.
Of course, you don't need me to tell you that. One glance at LeBron James should do the trick. Similarly, you most certainly didn't need the results of the U18 FIBA Americas -- which Team USA won handily Wednesday night -- to confirm this piece of information. But it is not enough to have the best players or to win the big international competitions. We like to know we're miles better than anyone else in the world.
As such, let's have a hearty cheer for the American teens charged with owning the under-18 division of 2012 FIBA Americas this week. That group -- which was coached by Florida's Billy Donovan and primarily featured top prep prospects such as
Julius Randle
,
Marcus Smart
,
Shaq Goodwin
, with a dash of early-enrolled Tennessee forward
Jarnell Stokes
for good measure -- did exactly that, finishing the tournament with an 81-56 win over Brazil,
per a USA Basketball release
. The team's final five-game average margin of victory: 38.6 points. USA! USA!
Team USA wasn't always dominant in the tournament, or even in the final; spurred on by a vocal crowd (haters!), Brazil cut the U.S. lead to as little as four in the first half. The United States led by just six at halftime, and could have been trailing had Brazil's U18 team shot better than 9-of-19 from the free throw line. But the U.S. pulled it together in the second half, racing out to an early third-quarter lead and never looking back. Randle finished with a double-double, and Donovan was pleased with the way the team coalesced in a short amount of time:
"I told our guys after that they're the ones that made it all possible. There was a lot of sacrifice. We had a lot of good players and I think they all understood that they all could probably score more, they all could probably do more, but maybe it wouldn't be the best thing for our team. I was just really proud of the way they sacrificed for one another, they sacrificed for our country and they really wanted to win," Donovan said in a release.
Teamwork, skill and domination: These are the baseline expectations for any Team USA basketball player, from the Dream Team to the Redeem Team to the Teen Team (working title!) on down. The quality of high school-age basketball in the other Americas notwithstanding, it's good to hear even the youngest members of USA Basketball are gauging themselves on a universally high standard. Now, about that Olympics gold medal ...
May, 14, 2012
5/14/12
4:15
PM ET
The
offseason is rough
, but at least we have two things:
1. The NBA Playoffs.
2. Olympic basketball.
[+] Enlarge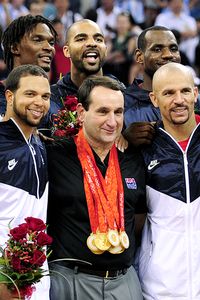 Bob Donnan/US PresswireDuke coach Mike Krzyzewski helped revitalize USA basketball, winning Olympic gold in 2008.
I realize there are many college hoops fans who have no interest in the pro game, and while I don't understand you lot -- it's really good basketball, promise! -- such a stance does mean you likely take no solace in the mere presence of the NBA playoffs. But we can all get behind Olympic basketball, right? The collection of the world's best players, wearing the Stars and Stripes, vying for a gold medal -- it's a thrilling experience made all the more exciting by the continued global evolution of the game.
Though it may feel like it, it wasn't always this way. Just twelve years ago, USA Basketball appeared to be on something like a permanent decline. The 2004 Olympic team failed to capture gold at the Games, losing to Argentina 89-81 in the semifinals, and the recriminations were long and loud and thoroughly embarrassing to coach Larry Brown and his players (most notably Allen Iverson), who were seen as emblematic of the NBA's supposed me-first culture. The international game was on the rise -- less selfish, less brash, more fundamental -- and the United States, dominant basketball superpower, was on the way out.
That didn't happen, and we have two men to thank.
One is USA Basketball chairman Jerry Colangelo, who revamped the men's national team with the establishment of a player pool designed to give the organization more structure and continuity. Colangelo's general vision has been the driving force behind the idea of USA Basketball as a program, not as an isolated, once-in-four-years affair.
The other is the man Colangelo hired to oversee the team, Duke coach Mike Krzyzewski,
who today announced this summer's 2012 Olympics would most likely be his last on the job
. Under Coach K, USA Basketball became something less like a lark --
hey, sure, let's go win gold and travel, should be fun
-- and something more like a consistent, dedicated annual effort. In 2008, Coach K selected an amazing team built on the league's best talent, with players who were not only better than their competition but adjusted their styles to the international game (a frequent criticism of past teams) and played selfless, ego-free basketball. Coach K got Kobe Bryant and LeBron James and Carmelo Anthony and Chris Paul and Dwight Howard and you-name-it to
play together
. (Watch footage of Bryant's defense in that tournament. It was breathtaking.) When Spain's talented team tested the Americans in the 2008 gold medal game, they were ready. The 2004 team would have been run off the floor.
Then, in 2010, Coach K won again, this time in the FIBA World Championships with a group of players effectively dubbed the "B Team" -- young, emerging stars like Derrick Rose, Russell Westbrook, Andre Igoudala, Kevin Durant and Kevin Love. (The list goes on: Eric Gordon, Stephen Curry, Rudy Gay, Danny Granger ...). Nearly every player on that team came back from the 2010 FIBAs and went on to be a star on the league, Durant and Rose most notably. And is it a coincidence that Lamar Odom was sixth man of the year in 2011, or that Tyson Chandler anchored the Dallas Mavericks to an NBA title?
We can argue the developmental benefits of USA Basketball under Coach K. What we can't argue is the massive evolution the team has undergone since that nightmare in 2004. A fractured, bloodied entity is long since behind us: The 2012 men's Olympic team will come in as the obvious favorite, and none of the questions of the past -- Can the personalities work together? Can the U.S. play the international style? -- will linger over the proceedings. Coach K is an old-fashioned patriotic type. Whether you agree with his politics or not, his ability to imbue his star-studded, millionaire-loaded national teams with that spirit -- country first, team second, individual last -- has to be considered among the finest accomplishments of his career.
It would be too much to say Colangelo and Coach K "saved" USA Basketball. The players are far too good for that. Even as the game globalizes, the rest of the world still has a long way to go to catch up. And the personalities of the 2008 stars, specifically Bryant, went a long way toward ensuring a level of focus and dedication not seen in 2004.
Still, eight years ago, USA Basketball
was
in crisis. Today, it's as strong as it's ever been. It isn't always hard to coach the best players in the world, but it isn't always easy, either. And Coach K was the perfect man for the job.
July, 22, 2010
7/22/10
3:02
PM ET
At least, that's what Mike Krzyzewski thinks. From
the Fayetteville Observer
:
"Look," he said, "there's nothing better that a high school or collegiate kid could do than to play USA Basketball. There is nothing better."

Furthermore, Krzyzewski was quick to point out just how many high school stars -- most notably Class of 2011 gems like Rivers, McAdoo, wing Quincy Miller, guard Quinn Cook, guard Marquis Teague and forward Michael Gilchrist -- prioritized USA Basketball this summer over AAU ball.

"We're moving in that direction," Krzyzewski said. "And that's a big deal."
That might be a little bit of Coach K's famous patriotism speaking, but he has a point. AAU and summer league basketball has a reputation, largely deserved, of being uncompetitive summer hoops filler. In many cases, AAU is far less structured than your average high school basketball team, let alone a college program. Defense is a secondary concern. Bad habits reign. You know the drill.
USA Basketball, on the other hand, does have the benefit of structure. The games are competitive. The opponents aren't friends. The coaches, even the assistants and staffers, are college level. Moreover, players don't lose anything by way of exposure: A good performance in the FIBA U18 championships, for example, can boost one's recruiting stock just as much as any AAU display could.
Just ask Austin Rivers
.
And hey, maybe pivoting slightly away from AAU hoops could help alleviate the presence of agents, shoe-runners and other nefarious types in prep basketball. So there's that.
Of course, not everybody can play for the good ole US of A; as currently constructed, there are simply too many talented prospects at any given age group. Nor is it necessarily preferable to the AAU circuit for many players, some of whom might not want to travel overseas for competitions. But it would be interesting to see USA Basketball evolve into its own sort of ancillary developmental system, the way many foreign soccer nations (Germany is the shining example) prioritize player development at the national level over club involvement from an early age. It may never take hold, but it's an option. And if any ambassador can spread the idea, it's Coach K.