College Basketball Nation:

USC
February, 3, 2012
2/03/12
8:01
AM ET
By
ESPN Stats & Information
| ESPN.com
A scan of the college basketball box scores each night guarantees all kinds of statistical oddities and standout performances. Here are some we found from Thursday.

Iona 105, Canisius 86
and
Weber State 92, Portland State 79
Iona's
Lamont Jones
poured in 43 points and Weber State's
Damian Lillard
scored 40 in the their teams' victories. Lillard became the first player this season to record two 40+ point games, and Thursday marked the first time this season two players eclipsed the 40-point plateau on the same day.
Western Carolina 82, Chattanooga 76
Western Carolina's
Keaton Cole
attempted 19 3-pointers in the win, tying him with Iona's
Sean Armand
for the most in a regulation game this season. Cole is the only player to have three games with at least 15 3-pointers attempted; he scored 18 points in all three games. Maryland's
Terrell Stoglin
attempted 20 3-pointers in the Terrapins' 90-86 double-overtime loss to Miami (FL) on Wednesday.
Pacific 60, UC Riverside 52
Pacific's
Ross Rivera
made 15 free throws in 21 minutes off the bench, the most made free throws by a substitute this season.
Trillion of the Night:
Eric Strangis
of Southern Cal played 10 minutes without accumulating a stat in the Trojans'
60-53 loss
at Washington State.
February, 17, 2010
2/17/10
1:49
PM ET
February, 5, 2010
2/05/10
12:44
AM ET
LOS ANGELES – The more the results come in from the Pac-10, the harder it is to see more than one bid.
California continues to toss away its chances of being a team respected enough by the selection committee to earn an at-large berth. The Bears let a game slip away Thursday night at USC, losing 66-63 and dropping to 14-8 overall. The Bears are now one of four 6-4 teams tied atop the league standings, including a UCLA team is 11-11.
"It's very frustrating to know what we're capable of,'' said Cal senior wing
Patrick Christopher
after the game.
Cal had its chances, but
Theo Robertson
couldn't convert two free throws (he made one) to tie the game in the final minute.
Jerome Randle
made some 3s to keep the Bears in play, but they couldn't make a stop when they needed it most against a USC team that has nothing more to play for than pride and a possible regular-season Pac-10 title.
"If the expectations were low, the players were young and we didn't have a great coach then it would just be like whatever,'' Christopher said. "But we have all the pieces to the puzzle. It's very frustrating. It's very hard to describe after a loss like this. We had the game. We let it get away after controlling it from the beginning. It was in our hands. It's really frustrating.''
Being on the bad side of a 25-0 run and seeing a 30-17 lead turn into a 12-point deficit is no way to build street cred with the committee, let alone the coaches or national media that vote in polls (albeit popularity contests).
Cal's poor execution at times, which is somewhat astounding for a Mike Montgomery-coached team, continues to be troubling. The Bears had the Trojans down 13 with a chance to step on their throat. But the Bears wilted during a critical stretch and found out that USC is a wee bit tougher.
California let a chance to win at Arizona last Sunday escape too as Nic Wise made the money shot to beat the Bears in the final stanza. That's two games in a row where Cal should have won and didn't. At some point the team that was predicted to win the league, nicely position in the top 25, has to actually win a key game, right?
"We're getting to the point where we've got to say that's enough,'' Christopher said. "We're missing the opportunities to be the team that we need to be.''
Christopher said the Bears' lack of defensive synergy with each other is costing them dearly. He said his team can shoot with any team in the country – and he's right when he's on or when Randle is draining deep 3s. But the sign that Cal is clearly out of sorts is Montgomery needing to go zone in the first half to build the lead. Monty had been much more of a man coach at Stanford befofe going zone this year (coincidentally the same season that UCLA has gone zone in the Pac-10 under man-to-man driven Ben Howland who has conceded he doesn't have the athletes to go man).
"This has got to end for us,'' Christopher said. "We're putting ourselves in a bad position. We're giving up too many points. We're turning the ball over and a championship team can't have that. This has to change.''
No one should be shocked by a Kevin O'Neill-coached team that never gives up. It's not in his nature, and it hardly ever reflects the way the Trojans have or will play under him.
The Trojans came out with a purpose in the second half and put a severe dent in the Bears' at-large chances, barring a flurry of wins down the stretch. USC had the best non-conference resume in the Pac-10 for a reason (wins over Saint Mary's, UNLV and Tennessee) – when the Trojans are defending, they are fundamental and focused and can beat anyone in the league.
It's a shame the Trojans won't have a shot to play in the postseason after self-imposed sanctions took them out of the postseason. USC definitely could have been in play for an at-large bid and a real threat to win the Pac-10 tournament.
Cal needs to find a way to get something out of its post and get
Jerome Randle
some consistent help. Had it not been for his three 3-pointers after the Trojans' 25-0 run, the Bears might've been run out of the Galen Center.
Something was just awry with this squad. Maybe it was
Jorge Gutierrez
forgetting a knee brace that a manager had to go fetch at the hotel or maybe it was the third straight road game for the Bears, especially after Sunday's heartbreaking loss in Tucson. But the Bears lost some of their mojo and it took a while to get it back once they realized they were in for a fight.
Watching these two teams play is a microcosm of the Pac-10 this season. There are flashes when you see how good the team could be if it were to play consistently for 40 minutes. The scoring runs, the defensive stops tease you into thinking these teams can win games in March. Whoever emerges and wins this league will not get a decent seed and will have a tough first-round game, but the winner will be capable of at least showing well and winning a game.
The coaches in the Pac-10 still hold out hope that a power six league cannot possibly be denied at least one at-large bid. But as O'Neill said earlier Thursday, the league missed out to make its mark in the non-conference. All that's left is league play and beating each other up, while great for morale and competitive balance, doesn't make it more palatable to the selection committee for multiple bids.
February, 4, 2010
2/04/10
11:36
PM ET
LOS ANGELES --- Arizona has the best young talent in the Pac-10.
But it shouldn't be close as to which team has the most experience.
Cal is still the pick to figure out a way to win the Pac-10.
No other team has as experienced a pair of guards as
Jerome Randle
and
Patrick Christopher
with
Theo Robertson
as the third option.
Of course depth is an issue with the Bears, but there's no reason why Cal shouldn't find a way to win the regular-season and be in play for a bid.
Or is there?
Well, as the first half was unfolding here at the Galen Center it became clear once again that the Bears have to make perimeter shots or they don't win.
That has been the issue for this squad. Like some other higher-profile teams that were supposed to be more consistent (like North Carolina or Connecticut) the Bears can't have an off night and expect to win.
Cal took a 30-27 lead into the half but the Bears had to grind it out as has been the case in the Pac-10.
Randle can be a streaky shooter as can Christopher, but they both can find a way to get into the seams of the Trojans' defense for layups.
Some other quick thoughts:
Mike Montgomery must be constantly perplexed by some of the quick shots that the Bears take either from the perimeter or inside. Monty had been such a disciplinarian at Stanford for shot selection.
USC's Mike Gerrity is still a calming presence, but isn't dominating the games in the Pac-10 the way he did when he first became eligible.
USC manager Stan Holt is back on the bench. He was reinstated after an ill-timed technical at Oregon led to a Ducks' 10-0 run and ultimately a USC loss in Eugene last Saturday. Kevin O'Neill said he believes in second chances. Holt looks like he doesn't want to do anything wrong. He's ready with the timeout chairs and sprints out to deliver them.
Cal's Jamal Boykin has really improved his face-up game, hitting a few jumpers. If he continues to do this, the Bears will have a shot to win the Pac-10 tournament at the Staples Center next month.
Monty is playing zone to mess with USC.
I'm impressed by the crowd on a Thursday night to see Cal play a Trojans' team that isn't going to the postseason.
USC athletic director Mike Garrett is in the front row on the end line. It's amazing how he has survived a number of controversial hires and multiple NCAA investigation. The Heisman is a powerful trophy.
USC has spunk and doesn't quit. That's a sign of an O'Neill coached team. There is actual noise here at the Galen Center. I still contend that this could one day be quite a home court.
February, 4, 2010
2/04/10
3:59
PM ET
Saddle Up is our nightly preview of the hoops your TV wants you to watch. Oh, come on. You can always record the new "Parks and Recreation." Catch it after the games! Anyway, here's Thursday night's rundown.
No. 19 Georgia Tech at No. 9 Duke, 7 p.m. ET, ESPN2
: Purdue's rivalry showdown with Indiana will be on the main network tonight, but those of you unconcerned with Midwestern hoops provincialism will probably be more interested in this. It's a good one: Georgia Tech toppled Duke back before Duke's road woes were an apparent problem, back when Duke's record matched its gaudy efficiency numbers. Since then, Georgia Tech has become even more confusing: Is this the team that
loses at Virginia
? Or the team that wins
at UNC
? And what does a
tight road loss at Florida State
, followed by an
all-cylinders-pumping home blowout of Wake Forest
really mean? I have no idea. Georgia Tech is an enigma -- a dynamic squad with enough young talent (look no further than freshman
Derrick Favors
here) to compete for the ACC title, but who has put it all together once or twice thus far. Tonight's a legitimate chance for the Jackets to show us who they really are. Win at Duke, and the rest is gravy.
No. 7 Purdue at Indiana, 7 p.m. ET, ESPN
: You've already heard plenty about What It All Means, what the rivalry says about the state of Indiana, and why, despite the Hoosiers' post-Kelvin Sampson morass, this is still a hot ticket in the Midwest. You'll no doubt hear plenty more of it tonight. For now, let's focus on the hoops. Since dropping three in a row to start the Big Ten season, Purdue has rattled off four straight wins. Much has been made of Purdue's lack of a "true" point guard, but the Boilermakers' best quality is that they never turn the ball over;
they're the No. 7 team in the country in that all-important tally
.
Purdue is also more than capable at turning other teams over, and that just so happens to be Indiana's worst quality --
the Hoosiers give the ball away on 22.3 percent of their possessions
. Indiana is not as incapable of upset wins as last year. If the Hoosiers keep turnovers low and make enough shots to keep Purdue within striking distance, they have a chance. And hey, the home crowd never hurts; Indiana is much better in Assembly Hall than it is away from it. Still no one would expect Indiana to win this game, and the numbers back that up. The Boilermakers are tough, physical, and experienced, all qualities IU is still figuring out. This is a great rivalry, to be sure. Whether this year's version will live up to that history is less certain.
Everywhere else
: You would have been forgiven for thinking Tennessee's season was effectively over after the Tyler Smith fiasco; you, me, and everyone else would have been wrong. The Vols are still in the Top 25, still fighting for the SEC title and still a viable NCAA tourney team.
They'll try to keep their surprising run going with a visit to LSU
, which has a chance to prove its not actually the worst major conference team in the country. ... Portland is one of Gonzaga's few fellow contenders in the WCC; pity for the Pilots
they're stuck playing Gonzaga
just after
the Zags dropped their first conference game of the year
. ...
Butler welcomes a surprisingly tough Detroit team to Indianapolis
; the return of former Indiana characters
Eli Holman
(who famously threw a potted plant in Tom Crean's office) and coach Ray McCallum should be interesting. ... Maryland will try to get back to its early ACC form with
a tough road visit to Florida State
. ... How could it possibly get any worse for UNC?
Losing to Virginia Tech and going to 2-5 in the ACC would be a start
. ... Finally, in the Pac-10,
Cal will travel to USC
and attempt to get a game up on Arizona in the conference standings; meanwhile,
Arizona will have a daunting task at Washington
.
January, 31, 2010
1/31/10
3:09
AM ET
Polls are a snapshot of a team over the course of a week, a quick glimpse of who is playing well from Monday to Sunday.
Kansas deserves to be No. 1. The Jayhawks won at Kansas State in overtime in a place where Texas could not. The win will be enough to propel the Jayhawks to No. 1 in the country when the polls are announced on Monday.
But who is No. 2?
That's where the debate gets interesting between late Saturday and Monday morning.
I would lean toward Syracuse. The Orange had quite a week. Remember, this is about what you have done during the week. It's not necessarily about a team's entire body of work.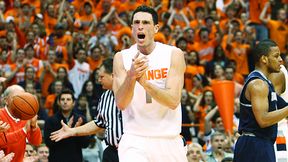 Jerome Davis/Icon SMISyracuse rallied from a big early deficit to beat Georgetown.
Syracuse had one of the more impressive wins earlier in the week when the Orange steamrolled Georgetown in the final 30 minutes at home last Monday. That's the same Georgetown team that took out Duke in convincing fashion Saturday.
Villanova has quite an argument as well with a home win over Notre Dame for its only game of the week. But Syracuse has played a tougher slate than Villanova. Overall, if you compare their sole losses, then losing to Pitt, even at home, may be a tad better than losing at Temple. This argument has holes on both sides so deciding who is most worthy of the No. 2 spot right now might come down to how you feel about the pair. And right now, after Syracuse found a way to win at DePaul when it didn't play well, the edge could go to the Orange.
Of course, the Kentucky nation would have an issue with the Wildcats not being No. 2 after dismantling one of the hottest teams in the country in Vanderbilt. The Wildcats looked quite special in running away from the Commodores. The question is does Kentucky get knocked down this week because it lost a game, even though it was on the road at South Carolina? The answer for now is yes. Remember the poll isn't about where teams will finish in March but how they're playing over the course of a week.
One thing is certain: Texas is dropping lower than No. 6 and Michigan State will at least stay put at No. 5 after a week in which the Longhorns fell to Baylor and Michigan State beat Northwestern.
Maybe I shouldn't have dumped off my original sleeper team so early. UTEP beat UAB in double overtime in Birmingham to draw into a first-place tie with the Blazers in Conference USA. I still think UAB is the only team in the league that can get in as an at-large unless Tulsa wins at Duke.
Here's what's great about the Ivy League. You go, you dress and maybe you can get into the game. Cornell played 18 players in the first strike against Harvard in the Ivy League chase.
San Francisco will not have another crowd like the one it had to beat Gonzaga late Saturday night. But credit the Dons, they did what Santa Clara and others in the league could not -- hold on to beat the mighty Zags. Other WCC teams tend to freeze when they have a chance to shut down the Zags.
The Big East will investigate how the officials handled the West Virginia-Louisville game, especially in going to the monitor to (ahem) look at the shot clock when they may have actually been looking at who should have possession on an out-of-bounds play. Official Mike Kitts didn't make a call and when no call is made on the floor, the possession goes to the team with the alternating possession arrow, which was Louisville. The ball actually did go off Louisville and West Virginia got the ball. So while the call was right it was not handled correctly. Louisville coach Rick Pitino criticized the officials by saying he was "tired of the officiating." The Big East says it will investigate.
Marquette's Jimmy Butler told me Saturday he was speechless after making the game-winning shot to beat Connecticut. The Golden Eagles had been 1-7 in games decided in the final five minutes this season.
Notre Dame's loss at Rutgers is the kind of defeat that can send a team to the NIT.
Siena's win over Marist should clinch the Saints' BracketBuster date at Butler. Announcements are due Monday.
Maybe the most bizarre event of Saturday occurred in the USC-Oregon game. USC manager Stan Holt got a technical foul after saying something to official Bobby McRoy, which led to the game becoming tied at 47-47 with 4:35 left. Holt left the bench and the Ducks went on a 10-0 run to essentially win the game 67-57. USC coach Kevin O'Neill was quoted in the Oregonian late Saturday night saying, "That's on me and that will be rectified -- it already has been -- he's gone. That's incomprehensible to me, in a two-point game, that our manager would get a technical foul. It's unforgivable, it's unprofessional. I apologized to our team for it, also." Holt was a three-year graduate manager. The only remaining question was how he did he get home from Eugene after O'Neill clearly tossed him off the roster?
January, 22, 2010
1/22/10
10:05
AM ET
The Morning After is our semi-daily recap post. Try not to make it awkward.
Seton Hall 80, Louisville 77
: Wednesday was a night of streaks. Memphis lost its conference win streak; DePaul broke its conference losing streak; Pitt ceded its Big East home game streak, and so on. Louisville might as well have played on Wednesday night, as the Cardinals lost for the third time in a row for the first time since 2005-06. If that seems confusing, it's not just the awkward phrase. That's how good Louisville has been in the Big East for the past three years, and in 2009-10, for whatever reason, the Cardinals are managing to post efficient statistics and numbers and still look utterly mediocre in the win column. That's what's most confusing: Why isn't this Louisville team better? Or, more precisely, why isn't this Louisville team,
which appears on paper to be one of the best four or five teams in the Big East
, so apparently unable to turn that efficient profile into wins?
No. 20 Butler 48, Loyola (IL) 47
: Perhaps the most important thing for Butler is they survived, and won, a game in which they made .08 points per trip, posted a 38.4 FG percentage, went to the free throw line on a mere 17 percent of their possessions, and were out-rebounded on the offensive end almost 2-to-1. Still, though, that is an ugly performance. Even against mediocre Horizon League teams like Loyola, Butler won't be able to play this badly and expect to make it through the conference slate unbeaten,
which is pretty much what they have to do
to secure an at-large bid and not worry about the pressures of the conference tournament come March. If you wanted to over-analyze the game, you could say that surviving and winning on the road on such a bad night was a good thing, that it proved Butler's mettle, or something. Or you could just call it what it is: a bad game that Butler can't afford to replicate all that often.
Indiana 67, Penn State 61
: Indiana fans have had a weird relationship with this year's IU team. Most went into the season with some cautious optimism, only to have that optimism simultaneously piqued and dashed week in and week out. Tom Crean's team is
capable of beating Pitt in Madison Square Garden
, only to
lose Loyola (MD) at home a week later
. This is the kind of up-and-down, tweener season Crean is having right now: His team can play inspired, coherent basketball and challenge and even topple superior teams ... and then a night later can toss in horrid, ugly performances that have some of the more strident IU fans already questioning the length of Crean's contract. (Kentucky fans get a bad rap for being too hard on coaches, but IU fans deserve a shout-out: That some are already nibbling at the edges of his popularity is kind of shocking. What did you expect? Things were screwed up before, and Crean is trying to make them less screwed up, and you're going to blame him when the process takes longer than you hoped? Note that you could, were you so inclined, substitute Barack Obama's name in for Tom Crean's ... but let's not go down that road.)
Anyway, the point is that Thursday night was one of IU's Dr. Jekyll nights. Penn State is a bad team, but Big Ten road wins were an absolute impossibility last season. Crean has his team at .500 after 18 games. Given the circumstances he inherited, that's worthy of some measure of respect.
No. 10 Gonzaga 91, Pepperdine 84
: Today's AP wrap makes note of the history of Pepperdine-Gonzaga, when both teams used to contend for the WCC every year, when both teams used to make it to the NCAA tournament, when both teams were mid-major darlings (even if Gonzaga hogged most of the press). Those days are basically over: Gonzaga has emerged the victor, becoming a national power a ubiquitous national profile and Nike shorts in every sports good store in the country. Pepperdine has receded in WCC mediocrity. But last night, the two teams had one of their trademark duels, the kind that harkened back to the glory days of the late 1990s, and Gonzaga needed a career-high 32 points from Matt Bouldin and a 20-and-13 from freshman Elias Harris to get past the Waves at home. One more note on Harris: Most reading this blog will already know this, but Elias Harris should be in contention for every freshman award there is. It's not that he'll win all of them -- John Wall, John Wall, John Wall -- but Harris' performance deserves national attention. He's special.
Everywhere else
:
Florida notched a big SEC road win over Arkansas, 71-66
...
Utah State cruised in Fresno
... Siena stayed unbeaten in the MAAC with a
six-point win over Loyola (MD)
... Isiah Thomas' FIU team dropped to 6-16 overall with
a 15-point loss to Arkansas State at home
...
Cal utterly destroyed Oregon in Berkeley
...
Oregon State scored 35 points in a 60-possession game and promptly lost to Stanford
; more on this later ...
Washington State beat a lifeless USC team in L.A.
... and
UCLA caused its fans to rush the court with a home win over Washington
. More on this later, too. In the meantime be sure to
check out Diamond's live coverage of the game from Pauley Pavilion
.
January, 21, 2010
1/21/10
3:44
PM ET
Saddle Up is a quick preview of the basketball your TV wants you to watch tonight. Here's Thursday night's rundown.
Louisville at Seton Hall, 7 p.m. ET, ESPN
: If I told you Louisville was almost exactly as efficient a basketball team as Syracuse, would you believe me? Probably not: Syracuse has one loss and is a favorite to make the Final Four; Louisville already has two losses in the Big East and is still apparently rebuilding from last year's Earl Clark-Terrence Williams dual exodus.
But it's true!
Louisville has been a pretty darn efficient team so far in the Big East, tying Syracuse with a plus-.11 efficiency margin, good for fourth in the conference. Louisville plays very good offense (largely thanks to its
No.5-ranked offensive rebounding percentage
) and serviceable defense. Louisville's problem is fouls: The Cards give up way too many trips to the line to opposing teams, a stat that makes Pitino's style of play -- pressing, pushing, forcing teams to play fast and scattered -- much more difficult to pull off. Seton Hall, meanwhile, needs a to start a flurry of Big East wins if it wants to sniff the NCAA tournament; the Hall's weak non-conference schedule make a Big East run imperative. At 1-3 so far, it's not looking good.
Florida at Arkansas, 9 p.m. ET, ESPN
: Speaking of teams that need to start rattling off conference wins: Florida. This is a team that doesn't shoot particularly well, and combines that problem with its stunning inability to get to the free throw line. Florida is No. 302 in the country in free throw rate. This is very bad; either the Gators need to figure out a way to shoot better, or they need to figure out a way to get to the line. One or the other could cause a veritable renaissance in Gainesville. Neither will see the Gators left out of the NCAA tournament for the third straight year.
No. 20 Butler at Loyola (IL), 8 p.m. ET, ESPN360
: Butler has an interesting conundrum on its hands. Because the Bulldogs fared somewhat poorly in their non-conference slate -- the same non-conference slate that could have pushed them into high-seed territory come March, had things gone as planned -- Butler finds itself needing to win almost every league game to avoid needing to win the Horizon League tournament to guarantee its NCAA bid. Fortunately, the Horizon League isn't chock full of talented teams, at least not as talented as Butler. Unfortunately, that doesn't matter. What'd we learn Wednesday night? (And, you know, in every college basketball tournament ever?) Upsets happen. The Bulldogs could slip and still make the tournament as an at-large bid, but it won't be a guarantee. This means that every league game Butler plays -- even against opponents like Loyola, which is 3-4 in Horizon League play -- is important and nervy. Sounds like fun, right?
Everywhere else
: There's a big slate of Pac-10 games this Thursday, including
Washington-UCLA
, where our man Diamond Leung will be on the scene. If you desperately want to watch a desperately unwatchable conference, there's also
Oregon State-Stanford
,
Oregon-Cal
, and
Washington State-USC
...
Gonzaga will take on Pepperdine
at home, which used to be a much better game, but should still provide some exciting moments ...
Indiana and Penn State will do battle
in the three-team race (the third team is Iowa, natch) not to be the worst team in the Big Ten which, given the other two teams in each's equation, would be very bad indeed ...
Siena will look to stay perfect in the MAAC
... and last but not least,
Utah State will travel to Fresno to help settle in a match up of 3-2 WAC teams
. Also,
Jersey Shore is on
. You know you're going to watch. Don't lie to me.
January, 21, 2010
1/21/10
12:55
PM ET
Have something you want linked? Got a new hoops blog you think we should see? Follow me on Twitter and hit me up with your stuff. Now, as always, the links:
January, 5, 2010
1/05/10
1:00
PM ET
It's been a day or so since the
USC-suspending-itself-from-postseason-play story
arrived on our doorstep, and among college basketball writers, a singular consensus has emerged: USC sacrificed its basketball team to save football. But whether or not that sacrifice will work is a different story altogether.
CBS' Gary Parrish weighed in on the topic almost immediately
, and he was none too pleased:
So yeah, Southern California absolutely hammered itself Sunday by announcing self-imposed sanctions that'll put a ceiling on what Kevin O'Neill's first team can accomplish. And if you're one of those -- like Tim Floyd, for instance -- who always thought USC would sacrifice the basketball program in an attempt to protect the football program, well, you now have your proof, which is why it's difficult to applaud athletic director Mike Garrett, who released a statement Sunday that included the following phrase: "When we've done something wrong, we have an obligation to do something about it, and that is exactly what we are doing here."

Really?

Then when will USC do something about Reggie Bush?
That's the
same argument as Sporting News writer Mike DeCourcy
, who wrote that it was "almost convenient for USC football that O.J. Mayo played hoops at the school":
So it does not take a particular genius for business, perhaps not even an expert on collegiate sports, to understand what is happening here. In their most recent game, the basketball Trojans faced Pac-10 opponent Arizona State before a Saturday night crowd of 5,917. The football Trojans finished their home season against Arizona in front of 83,753. The difference between those two gates is measured in the millions.

[...] This is like watching a rerun of Parks and Recreation -- a bad sitcom about incompetent bureaucrats. Yep, that fits. No one with any degree of wisdom is going to pretend Mayo was innocent, or even an amateur, during his time at USC. But once again basketball players with no particular connection to any alleged rules violations are being asked to bear the punishment.
DeCourcy's argument is hurt by his labeling of "Parks And Recreation" as "bad" --
"Parks And Rec" is one of the best new shows on television
, co-written and produced by a former sports blogger who used to swing a bat at bad baseball writing with the same ferocity as Eli Roth in "Inglourious Basterds." That sports blogger has now given us Tom Haverford and Ron Swanson. Sorry, but that show is awesome.
Still, I digress. As you can see, this is the general consensus, repeated elsewhere for good measure in the past few days to the point where it seems to be becoming accepted wisdom. Which makes sense, because the strategy makes sense. Tim Floyd's alleged carelessness has given USC the perfect opportunity to punish itself without touching the very program that makes the entire USC athletics department possible: football. Wouldn't you do the same thing? And if you're a USC fan, aren't you, at least on some level, OK with this strategy? Sure, you're probably a bit sad for USC's seniors -- especially
Mike Gerrity
, who is playing like a Pac-10 player of the year after finally regaining his eligibility -- but most USC fans can swallow a little basketball sorrow if it means the football program stays the way it is.
Win forever
, indeed.
The problem is ... well, do the Trojans really think the NCAA is this dumb? Or, more accurately: Is the NCAA actually this dumb? If everyone sees through your obviously transparent switcharoo strategy -- football? what? but look what we did to the basketball team! -- won't the NCAA see through it, too? And doesn't the potential severity of the allegations related to Reggie Bush and Joe McKnight, which involve words like "$100,000" and "improperly leased luxury vehicle" sort of obviate USC's ability to just brush its football program's problems under the table?
You would think so. If everyone recognizes USC's double-secret probation strategy, then it's not much of a double-secret probation strategy. Then again, this is the NCAA. When the NCAA is involved, you never really know what to think.
December, 31, 2009
12/31/09
11:22
AM ET
If tonight's matchup between conference foes USC and Arizona needs any hype, it just officially got some.
As you'll no doubt remember, Tim Floyd had himself a bit of an unfortunate offseason. After
being implicated in a Yahoo! Sports report
tying him directly to some not-exactly-above-board O.J. Mayo-related recruiting issues, Floyd decided to quickly and quietly resign his post as USC's head coach. This left the program in a lurch. Players transferred. Floyd's 2009 recruiting class dispersed. USC was headed for a rebuilding year, or five.
That's not exactly how it's worked out; thanks to the return of guard
Mike Gerrity
, USC might be the surprise of the 2009-10 Pac-10 thus far. And current USC players -- those who didn't understandably decide, like former USC recruits and current Arizona players
Derrick Williams
,
Solomon Hill
and
Lamont Jones
, to head for greener, more stable pastures -- are letting the defectors know they're not forgetting the betrayal.
Freshman forward
Evan Smith
, please
step to the mic
:
"I just want to win this [expletive] game because they left us, they left the program," Smith said. "They all decided over some [expletive] controversy, they all decided to dip out."
Like I said, if you needed any hype to get you ready for what is probably, without contextual considerations, just an OK game, you now have it. This is some professional wrestling-type stuff. Rumble of the class of 2009! Or something! We should probably find a better name for it, but, yeah, you get the idea.
December, 29, 2009
12/29/09
1:32
PM ET
The Pac-10 is horrendous this year, right? Like, it isn't just bad in a conventional sense, as it relates to the Big-12 and Big-10 and Big East and ACC. It's historically bad. Or at least that's the common consensus early in the 2009-10 season. With the exception of USC and Washington and maybe (
maybe
) Cal, you're not going to find much to love out West this year.
That's a fair assessment, sort of. But maybe the Pac-10 isn't as historically bad as most people think. That's
the verdict from Basketball Prospectus' Ken Pomeroy
(warning: slightly overlong blockquote ahead):
But I'll submit that to find a worse Pac-10 season, one need not go back too far. I nominate 2004, a season when only four teams in the league finished with a winning record overall. Three teams got bids, putting together a total of one NCAA tournament victory, which came at the expense of a 16-seed. I expect the reason that the '04 season gets lost is because Stanford and Arizona were ranked in the top ten for most of the season. Stanford, as you may remember, won the regular-season title and earned a one-seed in the tourney. That was the year that the Cardinal made it to the final game of the regular season before incurring their first loss. Stanford had a great year, but there's a little bit of the chicken-or-egg situation here. Their undefeated run was partly fueled by a weak conference and that their second-toughest conference game was also the last one on the schedule. [...] Even though there will be no unbeaten in the Pac-10 this season, Cal and Washington may well be as good as the Cardinal were in '04, and USC seems to have firmed up a nice portfolio in recent days, no? Yes, this season's Pac-10 is below average by power conference standards, but the odds are in its favor to equal the number of bids from '04 and certainly to exceed the number of tournament wins from that season.
Why does the Pac-10 feel so much worse in 2009-10 than it has in years past? After all, Pomeroy's argument is pretty airtight; 2004 was a much worse year for the conference overall, but no one seems to talk about it, at least not anymore. I submit that it has to do with UCLA's recent dominance and the conference's overall improvement in recent years. But without Arizona and UCLA near the top of the conference -- and with USC supposedly in post-Tim Floyd hell (though that hasn't really worked out as such thus far) -- the whole conference just feels deflated. But not as deflated as in years past.
Somewhere in here,
there's a Klosterman-esque argument to be made
about reality, perception, and the incessant, inaccurate merging of the two. For now, let's just be thankful stats exist. They tend to make things a little easier, don't they?
December, 26, 2009
12/26/09
11:45
AM ET
A few weeks ago, in a previous life,
I wrote the following about USC
:
Like a beautifully rendered post-apocalyptic landscape, you won't be able to help checking in on the Trojans. [...] These are not last year's USC Trojans. The reasons for this are obvious: Tim Floyd resigned his position amidst a Yahoo! Sports report that he had a very dirty hand in O.J. Mayo's recruitment, and Floyd chose not to fight the impending NCAA investigation into USC's entire athletics program. Instead, he fled, leaving his players to transfer and recruits to choose elsewhere. USC, with its brand-new stadium and shiny uniforms and big-program sheen will look an awful lot like D.C. in "Fallout 3." What was here before was beautiful, but the destruction has an attraction of its own.
I hate reading my old writing, so realize how difficult that was for me. Why, yes, I do want a cookie. Thank you.
Anyway, the point is that USC wasn't supposed to be good. It wasn't even supposed to be marginal. USC was a program in distress, a bombed-out and depleted facsimile of what Tim Floyd spent years building and then, if reports of his involvement in the dirty specifics of O.J. Mayo's recruitment are correct, destroying. The Trojans look different. They're being coached by Kevin O'Neill, who by all accounts
is not a player's coach
, and that's putting it very politely. They have a fraction of the talent left over from last year's team.
And yet, don't look now, but USC might still be OK. Downright good, even. I know, I know. It's weird. But it's true. After all,
USC just cruised to an easy win over No. 20 UNLV
at the Diamond Head Classic. That would be interesting enough, but it follows the Trojans' 22-point win over Tennessee on Dec. 19. That was guard
Mike Gerrity
's first game since his transfers from Pepperdine and Charlotte. Gerrity was granted a waiver by the NCAA to play against Tennessee, and the Trojans are mighty thankful for his services.
Alongside the return
of academically suspect forward
Leonard Washington
-- also
the name of a classic Chappelle's Show character
, and that never hurts -- the Trojans have
serious basketball people asking seriously
: Can USC actually win the Pac-10? Maybe?
Maybe not. Let's not get ahead of ourselves. But the Trojans have cleared at least one hurdle: they're decidedly
not
awful. Post-apocalyptic landscape this is not.