College Basketball Nation:

Vander Joaquim
December, 20, 2012
12/20/12
3:00
PM ET
My favorite Diamond Head Classic of all time -- 2010 -- was a bit of a disaster. Last year's was OK: Xavier struggled in its post-brawl malaise, and Kansas State and Long Beach State emerged better for the trip. But 2010 had what might be the greatest moment in recent college hoops history: When Mississippi State's Renardo Sidney and Elgin Bailey were caught
slapping each other in the stands on live TV
while watching other teams play in the same tournament. It was hilarious. By the end of the 2010 title game, a not-very-good Butler team was standing with the trophy in their hands, almost like, "Um, I guess we'll take it? You guys are all insane! Can we go back to Indiana now?"
Let's break down this year's Diamond Head Classic.
The basics
: Dec. 22, 23 and 25, 2012, at Stan Sheriff Center, Honolulu, ESPNU/ESPN2/ESPN3
The set matchups
(all times ET): Dec. 22 -- Ole Miss vs. Indiana State, 4 p.m. ET; San Diego State vs. San Francisco, 6 p.m.; Arizona vs. East Tennessee State, 10:30 p.m.; Miami vs. Hawaii, 12:30 a.m.
(
For the full bracket, click here
.)
The favorite
: Arizona. This is pretty obvious: The Wildcats are the No. 4-ranked team in the country, and for good reason -- on Saturday, they beat a very good Florida team at home, thanks in large part to Sean Miller's infusion of veteran savvy (
Solomon Hill
), freshman talent (
Kaleb Tarczewski
,
Brandon Ashley
,
Grant Jerrett
) and great guard play (
Mark Lyons
,
Nick Johnson
). All the pieces are here.
FIVE PLAYERS TO WATCH
[+] Enlarge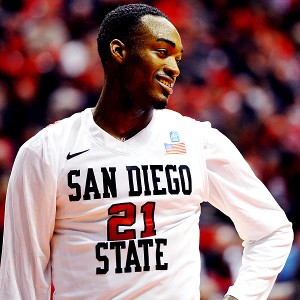 Christopher Hanewinckel/USA TODAY SportsSDSU's Jamaal Franklin is averaging 18.6 points, 9.7 rebounds, 3.1 assists, 1.7 steals and 1.2 blocks.
Mark Lyons, guard, Arizona
: As stated just above, it is a little bit difficult to narrow Arizona down to just one player to watch -- the Wildcats have a variety of weapons at their disposal. It would be just as fitting to include Hill, the team's do-everything senior forward, or Johnson, one of the most improved and efficient shooting guards in the country this season. But Lyons is the team's point guard, leading the Wildcats in usage rate, and playing the most efficient, selfless basketball of his life to boot. (To wit: He's shooting 56.8 percent from inside the arc, 41.5 percent outside it, and 86.5 percent from the free throw line.) If Arizona has one piece more important than the rest, it's Lyons. And if he can keep up, look out.
Jamaal Franklin, forward, San Diego State
: Franklin's line to date this season: 18.6 points, 9.7 rebounds, 3.1 assists, 1.7 steals, 1.2 blocks. Not only is Franklin really good at a lot of things, he does a lot of things all the time: He uses fully 33.4 percent of San Diego State's offensive possessions, the third-highest mark of any player in the country. He's a beast. You probably knew that already. But there's your reminder.
Reggie Johnson, center, Miami
: When you first look at Johnson's shooting numbers, you might be a little nonplussed. The big fella shoots 45.5 percent from inside the arc? Huh? Johnson's finishing may never be Jared Sullinger-esque … but oh well. What Johnson does well, he does
very
well: He dominates the glass on both ends of the floor, blocks 7.5 percent of opponents' shots, draws 7.2 fouls per 40 minutes and gets to the free throw line all the time. Johnson needed some time to grow into his role on the basketball floor, but now that he has, there aren't too many (any?) forwards in the country who can keep him out of the lane.
Marshall Henderson, guard, Ole Miss
: The Ole Miss guard has always been talented. He hasn't always had it together. He started 30 of 31 games as a freshman at Utah and earned a reputation as both one of the Mountain West's best and most hated young players. He then transferred to Texas Tech, was arrested on a felony drug charge, had the charges dropped, then left Texas Tech for South Plains Junior College, where he went undefeated, scored 19.6 points per game, won the juco national POY award and a national title, and subsequently transferred to Ole Miss. He's off to an impact start thus far. Go figure.
Vander Joaquim, center, Hawaii
: Over the summer, an NBA scout emailed me to ask what I knew about Hawaii senior Vander Joaquim. The answer was "almost nothing," but my curiosity was piqued, and after a few hours of research, I came away really impressed. The dude is a long 6-foot-10 with real ball skills and back-to-the-basket moves. But this season he's taken a downturn in almost every statistical category -- points, rebounds, blocks, efficiency, you name it -- and it will be interesting to see whether the competition of the Diamond Head can jog loose some of his junior year form.
FIVE BIG QUESTIONS
Is this Ole Miss's coming-out party?
You may not realize it, but the Rebels are awfully good. They currently rank No. 21 in Ken Pomeroy's rankings, with a top-15 defense that forces turnovers, blocks shots and generally makes life miserable for opposing defenses. Problem is, the Rebels haven't beaten anyone good. Their best win is Rutgers; the rest are all total cupcakes. Facing the one good team on their nonconference schedule to date, Ole Miss fell at Middle Tennessee 65-62. There is no shame in that loss, and the Rebels appear to be legitimately good. But they'd do well to actually prove it this weekend.
Who's the best out west?
It appears to be Arizona, and it doesn't look too close right now. But don't say that to a San Diego State fan. The Show is very much convinced that no one can touch their Aztecs out west, and they have a point: For all of Arizona's talent, SDSU defends just as well, if not better, than do the Wildcats, and Franklin is the best player on either team. If both win out, they'll face off in the championship game. Yes please.
Is Miami good enough to contend in the ACC?
Duke is the ACC favorite, there's no doubt about that, but a confluence of factors (UNC's turnover, FSU's dropoff) have left the spots just below the Blue Devils wide open this season. Maryland may have something to say about that, but right now Miami -- with Johnson dominating the middle,
Kenny Kadji
spacing the floor and
Shane Larkin
having a quietly great season -- is looking like the second-best team in the ACC. We'll find out more this weekend.
Will anyone spring an upset?
This is a good bracket. Ole Miss, San Diego State, Arizona and Miami all have a great chance of winning, and if chalk wins out Saturday we'll have two really solid semifinals to take in. I expect this to be the outcome. It's hard not to. But one-game elimination tourneys are always vulnerable to upsets, and both Indiana State and San Francisco have a chance to shock the world. East Tennessee State and Hawaii? Not seeing it. But hey, you never know.
Will any team get into a massive, embarrassing brawl in the stands in the middle of another team's game?
Because that was hilarious. I just wanted to reiterate that.
THE PICKS
Opening games
: Ole Miss over Indiana State; SDSU over San Francisco; Arizona over East Tennessee State; Miami over Hawaii
Semifinal games
: Ole Miss over SDSU; Arizona over Miami
Championship game
: Arizona over Ole Miss
December, 22, 2011
12/22/11
8:00
AM ET
College hoops doesn't totally shut down over the holiday. In fact, eight lucky teams get to spend Christmas in Hawaii, where they'll compete for top honors at the annual Diamond Head Classic. OK, OK, so this isn't quite the Maui Invitational. The field is nowhere near as strong as what we saw at the Lahaina Civic Center in November, as is usually the case when you compare the two. But for holiday hoops -- including a couple of college games on Christmas Day to distract from you all that NBA and NFL goodness (and, for that matter, your family) -- it definitely gets the job done.
And hey, there are some intriguing storylines here. Kansas State proved itself as an emerging defensive force after a dominant victory over Alabama on Saturday; the Wildcats just might be this tournament's favorite. Xavier is the obvious candidate for those honors, but can the Musketeers overcome the personnel losses they suffered in the Cincinnati brawl to avoid a first-round loss to a very tough Long Beach State team? For that matter, can the Beach -- which beat Pittsburgh at Pitt and has tested Kansas, North Carolina and Louisville on the road -- turn its impressive play into some attention-garnering wins? And what do we make of Clemson?
To get you up to speed, let's take a quick run through the eight teams in the 2011 Diamond Head Classic field, in order of their placement in the bracket. UTEP plays Clemson in the first round, Kansas State plays Southern Illinois, et al. You get the idea. And in case you'd rather not visualize an invisible bracket running across your computer screen, here's
the bracket itself
(PDF). To the preview:
UTEP

Where they stand:
Things kicked off in ugly fashion for the 2011-12 Miners -- their season opener was a home loss to Texas-San Antonio -- and haven't improved much since. The Miners also own a home loss to Stephen F. Austin, they split with New Mexico State, and their only high-major opponent to date, a struggling Oregon team, topped them in Eugene. UTEP was no doubt thrilled when it landed Tim Floyd in the wake of the USC mess, but the big-name coach has a major project ahead of him in his second season in El Paso.
Key player:
Senior forward
Gabriel McCulley
doesn't get as many touches as some of his teammates, but he still leads the Miners in scoring, rebounding and steals, and he gets his points efficiently -- his offensive rating of 116.7 is vastly better than any of UTEP's other main contributors.
Key stat:
22.6. That's the percentage of possessions on which UTEP (4-5) turns the ball over to its opponents, which ranks the Miners No. 237 in the country. Put simply, UTEP doesn't take care of the ball, and that trait is dragging what could otherwise be a decent offense down.
Best-case scenario:
UTEP gets the kind of game it prefers in Clemson -- a slow-paced defensive battle -- and manages to hold on long enough to take down the Tigers and play Kansas State tough in the second round.
Worst-case scenario:
A first-round loss should give way to a favorable second-round matchup in Southern Illinois, but at that point, thanks to the dearth of quality teams on the wrong side of the bracket, UTEP will have missed its one chance to get a remotely impressive win.
Clemson

Where they stand:
It's hard to say. The Tigers are 6-4 this season, thanks in part to three disconcerting losses (to College of Charleston, Coastal Carolina and South Carolina, all at home). But the Tigers lost those games by three, one and three points, respectively, and thus far they've posted very impressive defensive-efficiency stats, the kind that lend confidence for the future. Perhaps this tournament, giving the Tigers the chance to test their mettle against the likes of Kansas State and/or Xavier, will help us form a more reliable picture.
Key player:
Guard
Andre Young
is this team's leader in minutes and points, and he's been good at just about everything this year, posting an offensive rating of 129.8 (one of the top 40 in the country to date) while shooting efficiently, setting up his teammates and keeping turnovers to a minimum. Young's size (he's listed at 5-foot-9, which is almost certainly generous) could hold him back at times, but as far as efficient point guards go, he's a good one.
Key stat:
0.88. That's the number of points the Tigers allow to opponents per possession, which ranks them No. 17 in the country by
Ken Pomeroy
's metrics. It's a very good defense. But because Clemson has struggled to score, it has gotten bogged down in close games to seemingly inferior opponents at home, and its record has suffered as a result.
Best-case scenario:
Clemson handles UTEP and moves on to play Kansas State -- another stout defensive team -- in the second round, where it finally wins one of those close games. Don't count the Tigers out.
Worst-case scenario:
A loss to UTEP would certainly qualify. Then you're 6-5, and you've got a bunch of bad marks on your at-large sheet, and all of a sudden a trip to the NCAA tournament from the jumbled middle of the ACC is looking incredibly unlikely.
Kansas State

Where they stand:
Quietly and steadily, Kansas State coach Frank Martin has his team off to a 7-1 start in 2011-12. The Wildcats' only loss came in double OT to West Virginia, but they bounced back with a 71-58 victory over Alabama on Saturday. For many, that might be proof enough that Martin's team is back and ready to wreak havoc in the Big 12. But a solid trip to Hawaii certainly couldn't.
Key player:
Kansas State doesn't always look fluid on offense; when the Wildcats get their points, it's usually because freshman forward
Thomas Gipson
already hauled down a miss. Gipson has been something of a revelation early in his career, particularly on the offensive boards, and without his and fellow forward
Jamar Samuels
' contributions under the rim, K-State really struggles to score.
Key stat:
41.4. That's what Wildcats' opponents are shooting from the field (as measured by effective field-goal percentage) this season. That's the 11th-lowest mark in Division I hoops and a key reason why this defense has been so stout so far this season.
Best-case scenario:
A championship. If Xavier isn't the favorite anymore -- and we'll see -- then it has to be Kansas State, which has one of the most talented outfits on the island and can heartily defend (like Clemson) but can also score a little bit, too (unlike Clemson).
Worst-case scenario:
It's hard to imagine K-State falling to a truly bad SIU team in the first round, so worst-case is probably a loss in a knock-down, drag-'em-out defensive slugfest with Clemson in Round 2. If the Wildcats fall there, they lose a chance to play and beat the Musketeers in the finale, and that would be a nice little addition to the tournament resume.
Southern Illinois

Where they stand:
On shaky ground. Remember when Southern Illinois was a mid-major darling and coach Chris Lowery was the next big thing? Those days are long gone now, and in their place is yet another brutal Salukis squad, one off to a 3-5 start that includes losses to Western Kentucky, Western Michigan, Northeastern and -- believe it or not -- something called Ohio Dominican. SIU's only wins to date: Chicago State, Northern Illinois, SIU-Edwardsville, three of the cupcakiest opponents you'll ever see. Yeah. It's bad.
Key player:
Mamadou Seck
. For one, he has a fantastic name. Two, he's basically Lowery's only effective player, a guy who contributes points, blocks, steals, assists and rebounding on both ends of the floor.
Key stat:
0.89. That's how many points the Salukis are averaging per possession this season. For reference's sake, it ranks them No. 314 in the country. There are 345 D-I basketball teams. You get the idea.
Best-case scenario:
A win or two in the consolation rounds, maybe, or at least some signs of progress in close losses.
Worst-case scenario:
Three more losses and the unfortunate continuation of what has already been a painful nonconference slate.
Long Beach State

Where they stand:
Long Beach State's record doesn't come anywhere close to doing this team justice. Sure, the Beach is 5-5, but look closer. The 49ers have beaten Pitt in its own building. They lost by four at San Diego State, two at Montana, eight at Kansas and six at North Carolina, and they gave Louisville a decent run in the Yum! Center, too. This is an interesting tournament for Dan Monson's team. It clearly has the ability to hang with top teams on the road, let alone on a neutral floor, and gets to face a crippled Xavier squad in the first round. Could LBSU really pull this thing off?
Key player:
The dynamic duo of
Casper Ware
and
Larry Anderson
. Ware and Anderson form one of, if not the, best mid-major backcourt duos in the country -- combined, they averaged 32.6 points per game -- and both are at their best when attacking opposing defenses off a miss in the open court. They're both good, and they're both very fun to watch. Don't miss 'em.
Key stat:
71.0. That's the number of possessions the 49ers average per game, which ranks them among the 20 or so fastest teams in the country. LBSU wants to run, run, run and then run some more, and if an opposing defense doesn't have its guard up, look out.
Best-case scenario:
A championship! LBSU can play with the big boys, as it has proved in some incredibly hostile and difficult road environments this season. What's more, the 49ers get Xavier in the first round, before guard
Mark Lyons
finishes his suspension for his role in the Cincy-Xavier brawl two weeks ago. Call it an early Christmas present for Monson and company. If they get past the Muskies, hey, they might just win this thing.
Worst-case scenario:
A loss to Xavier, which would at the very least banish them to the consolation bracket and probably end any and all hopes -- slim though they were -- of garnering some at-large consideration from the tournament selection committee in March.
Xavier

Where they stand:
Before the brawl, everything was peachy. The Musketeers were undefeated.
Tu Holloway
was doing his thing. In the post-brawl fallout, after suspensions to Holloway (one game), Lyons (two games) and
Dezmine Wells
(four games), the Musketeers looked putrid in a 64-42 home loss to Oral Roberts. Holloway is back for the start of the Diamond Head, but Lyons will miss one more game. Wells didn't make the trip. Can Xavier overcome the losses and assume its rightful position as this tournament's clear favorite?
Key player:
Holloway. Xavier has had a tendency to underperform for roughly 35 minutes at any given time this season, at which point Holloway has rescued them with late 3s and clutch heroics. Without Lyons as his running mate Thursday, Tu won't be able to wait that long.
Key stat:
40.2. That would be Xavier's opponents' effective field-goal percentage, and if you remember the Kansas State stat, you'll know that it is very low -- the sixth-lowest in the country, to be precise. Xavier gets out on top of you, and it has both the speed and physicality to make sure good looks at the rim are rare.
Best-case scenario:
A title. Frankly, Xavier should be the favorite, even with all the post-brawl personnel losses. Even with Wells at home, the Musketeers will be the most talented team on the island.
Worst-case scenario:
That said, taking on LBSU's Ware-and-Anderson show
without
Lyons is a daunting task. It wouldn't be a shock to see Xavier drop this one, at which point it would be in the consolation bracket and facing the loser of the Auburn-Hawaii game. Ouch.
Auburn

Where they stand:
Here's to a forgiving schedule. The Tigers are 7-1 to begin the season, but check out this hardy list of opponents: McNeese State, Kennesaw State, Nicholls State, Arkansas-Pine Bluff, Seton Hall, South Florida, North Florida, Florida A&M. The loss (81-59) came at Seton Hall. The wins came at home. Michigan State, this is not.
Key player:
This team's main strength is blocked shots, and its chief purveyor of the rejection is forward
Kenny Gabriel
, who records a swat on 12.2 percent of available possessions. (Fellow forward
Rob Chubb
is no slouch defending the rim, either.)
Key stat:
20.4. That's the percentage of available possessions when this team records a block, the third-highest in the country to date. That's a lot of blocks! Unfortunately, the Tigers haven't shown much offensive know-how just yet, and they're weak in other areas. (And, to be fair, those block rates might be the product of playing that murderer's row of interior talent you see listed above.) Either way, that mark trails only Kentucky and Connecticut this season. That has to be worth something.
Best-case scenario:
A win in the first round and an encouraging coming-out party -- win or lose -- in a second-round matchup against a full-strength Xavier team. At the very least, it would help improve that dreadful nonconference strength of schedule. Ick.
Worst-case scenario:
A loss to Hawaii in the first round and a blowout to either Xavier or LBSU in the second.
Hawaii

Where they stand:
Gib Arnold's team is 5-4 and ranked No. 231 in Pomeroy's rankings. That kind of says it all. The wins have come against Cal-State Northridge, UC Davis, Pacific, Hawaii-Hilo and North Carolina A&T; the losses were a product of matchups with Gonzaga, Eastern Washington, Pepperdine and Pacific. That's exactly what you'd expect. The good news? Hawaii doesn't have to do the traveling, time-change adjusting, touristing and everything else that comes with a trip to Hawaii. The Warriors can just play. Maybe that's good for an upset or two?
Key player:
Zane Johnson
is this team's leading scorer, but forward
Vander Joaquim
-- 11.6 points, 9.8 rebounds, 1.4 blocks per game -- is its most productive player, and one the Warriors will need if they plan on playing at the rim with the block-happy Tigers.
Key stat:
24.3 percent. That's Hawaii's turnover rate this season, which puts it near the bottom 50 or so in the country and has, along with subpar shooting, truly stunted this offense to date.
Best-case scenario:
Auburn hasn't had to experience road basketball often this season, let alone road basketball in the middle of the Pacific Ocean, so Arnold's team might have an early upset (so to speak) in them here. But with LBSU or Xavier awaiting in the second round, it's hard to picture the Warriors going any further than that.
Worst-case scenario:
Finishing without a win, which would mean (almost certainly) losing to Southern Illinois at some point. Losses to Southern Illinois are probably best avoided. To put it kindly.
October, 14, 2010
10/14/10
4:20
PM ET
By
Diamond Leung
| ESPN.com
First-year Hawaii coach Gib Arnold brought in so many new players that the team will be largely unrecognizable when it is introduced at the school's Madness event.
According to the
Honolulu Star-Advertiser
, the team will try to make a good first impression Friday evening by doing the haka -- a traditional dance that
Hawaii football players have performed
to fire themselves up for games.
The haka idea came about when Arnold saw the dance group of Mana Gauthier practicing on campus. The new coach talked to the former UH golfer about working the team through some lessons.

But can it be anywhere close to the quality of the UH football team's version?

"It's so completely opposite of my element, but I definitely enjoyed working on it, and I hope the fans enjoy it," said junior point guard Anthony Salter, a Tallahassee, Fla., native and one of 10 newcomers to Hawaii. "I don't want to offend anybody if we don't do it well enough. I know that's big to the culture and things like that. I'ma go out there, give it my best shot, get the dances down perfectly so I make a good impression."
The haka has been known to intimidate opponents, which is more than a team that last season went 3-13 for a last-place finish in the WAC can say.
Perhaps then the group dance will be a symbolic way of ushering in a new era with Arnold, the former USC assistant who wants to rebuild the program by primarily recruiting players internationally and from Southern California.
Among the players Arnold has added to the roster are centers in
Vander Joaquim
, a junior college transfer from Angola, and
Davis Rozitis
, a Latvian who will sit out the season after transferring from USC. Other recruits come from all across the United States.
It's this motley crew that will chant and posture while doing the haka, hoping a display of togetherness will translate on the court as well.