College Basketball Nation:

Victor Rudd Jr.
March, 17, 2012
3/17/12
12:47
AM ET
NASHVILLE, Tenn. -- Breaking down No. 12 seed South Florida's
58-44 victory
over No. 5 seed Temple on Friday night in the second round of the NCAA tournament Midwest Regional at Bridgestone Arena:


Overview:
Nobody uglies up a game better than South Florida, and the Bulls did it again Friday after smothering California on Wednesday night in their first-round game. South Florida set a Big East record this season by allowing just 56.8 points per game. Temple was fortunate to get to 40 after being beaten, battered and bruised by a South Florida defense that is relentless. There's no such thing as a good look against the Bulls, especially anywhere near the goal.
Amazingly, the Bulls were able to win despite making just three of 27 shots from the field (11.1 percent) in the first half. Of course, the Owls got off only 13 shots in the first half and couldn't take advantage of South Florida's cold shooting.
South Florida, which trailed 19-15 at the half, opened the second half with an 11-2 run. A 3-point spree fueled by back-to-back treys from
Toarlyn Fitzpatrick
gave the Bulls a 14-point lead, and they're simply too good defensively to lose that kind of lead.
Turning point:
It looked like Temple might be on the verge of a comeback after trailing by as many as 14 points with 10:34 to play. The Owls pulled within 41-38 on
Ramone Moore
's 3-pointer, and the momentum was shifting in their direction. On the next possession, South Florida's
Victor Rudd Jr.
found himself out top with the shot clock winding down and fired up a 3-pointer that banked in off the glass with 5:11 remaining.
Key player:
Rudd scored 17 points and was 4-of-6 from 3-point range. He had 13 of his points in the second half and made all three of his treys after the break.
Key stat:
With both Ohio and South Florida winning Friday, that means either a No. 12 or a No. 13 seed will advance to the Sweet 16 from the Midwest Regional.
Miscellaneous:
South Florida now has evened its all-time NCAA tournament record at 2-2 after coming into this one 0-2. ... The Bulls were 6-of-8 from 3-point land in the second half. ... In their two tournament games this year, the Bulls have allowed a total of 98 points. They held Cal to 54 on Wednesday in Dayton. ... The Owls (24-8) now have lost in their opening game of the NCAA tournament in four of their past five appearances.
What's next:
South Florida (22-13) advances to the third round of the NCAA tournament and will take on No. 13 seed Ohio on Sunday. The Bobcats defeated Michigan in the earlier game Friday night.
March, 15, 2012
3/15/12
1:27
AM ET
DAYTON, Ohio -- The
South Florida Bulls
don't play fast. They don't light up the scoreboard or crack nightly Top-10 highlight reels.
"Ugly" is the word that's typically used to describe their rugged style, which helped them establish a Big East record for scoring defense (56.9 ppg).
And following their
65-54 victory
over California in the First Four at the University of Dayton Arena Wednesday, the Bulls made it clear that they don't care about their critics' slights.
"I know people have their opinions. So they can say what they want," said
Anthony Collins
, who scored 12 points. "But we're just going to play our style of play and take our time and get whatever shot we want."
[+] Enlarge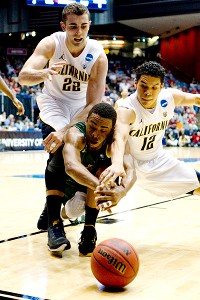 Greg Bartram/US PresswireThe Bulls stymied Cal's offense and kept the Bears to only 13 points in the first half.
The Bulls, a team that entered the game averaging 59.2 ppg, were on pace to score nearly 80 points at one point in the first half. They held a 36-13 lead at halftime, after finishing the first half on a 14-0 run.
Victor Rudd
Jr. led the team with 15 points and
Augustus Gilchrist
added 11.
Cal registered 5 field goals (20.8 percent clip from the field), missed all four of its 3-point attempts and was outscored 20-2 in the paint before halftime.
South Florida's uncharacteristic offensive surge continued in the second half along with the crippling defense. The Bulls held a 32-point lead with 8:51 to play. They didn't maintain that margin. But they never allowed the Bears to make a BYU-like push down the stretch.
In the end, South Florida's abrasive, unsexy defense and methodical offense resulted in the program's first-ever tournament victory. And that's all that mattered to Stan Heath, who ended South Florida's stint as the only Big East team that hadn't earned an NCAA tourney berth.
"Well, we're all thrilled. Our president, my athletic director, it's always great to keep your bosses happy, and we're thrilled. And we didn't want to just come here for one game," Heath said after the game. "We were excited to get in here. But we did want to prove a little bit that we deserve and we belong and we're legit. And I think the kids took that to heart. But it's a building process and we took a big step in the right direction today. But we want to take some more steps as well."
After reaching their average (59 points) with 7:09 to play, the Bulls pulled back and worked the shot clock. With a second round shot at 5-seed Temple on the line, they didn't want to squander their sizable lead, especially after witnessing Iona blow a 25-point edge in Dayton Tuesday.
"Yeah, we just wanted to come out and stay aggressive. And last night, you know, the teams, when I watched them play in the night before, that the teams played up and down real fast and was scoring the ball," Collins said. "But then … when they had the big lead, they still was coming down and shooting fast shots. We wanted to go down also, but also take a good shot so the other team couldn't come right back down fast and get a better shot."
The Bears averaged 71.7 ppg entering their loss to South Florida. But South Florida held Cal's top scorers
Jorge Gutierrez
and
Allen Crabbe
to 21 combined points and a 7-for-24 clip from the field.
The Bulls clamped Cal's scorers with a defensive philosophy that's carried them all season, one that's not TV friendly but worked for them.
"We get mad when people score, no matter what kind of bucket it is," said Rudd. "And that's what makes us have people scoring in 50, 40, because we don't like it when people score at all, not even a free throw. So we get mad at each other, and that's how we play great defense."
March, 14, 2012
3/14/12
11:20
PM ET
DAYTON, Ohio -– Instant analysis from Wednesday night's matchup between South Florida and California, both 12-seeds.
Overview:
South Florida's game plan has remained the same all season. Make opponents play their grind-it-out, rugged, low-scoring style.


They set a Big East record by holding opponents to 56.9 ppg. But the Bulls had only averaged 59.2 ppg on offense entering their matchup against Cal.
So it was shocking to see the Bulls register 36 in the first half of their
65-54 victory
over the Bears. Their tough defense was far less surprising (Cal shot 36 percent from the field. ) But the Bulls were on pace to score nearly 80 points during the first half, a complete contrast to the way they've played all season.
Cal embarrassed itself. They took bad shots as USF amassed a double-digit lead in the first half. They played soft. The Bears only scored 13 points in the first half (5-for-24 from the field, 0-for-4 from the 3-point line). And they couldn't recover from that deficit in the second half even as South Florida's offensive pace returned to normal levels.
You have to give the Bulls credit for their pressure. It was the program's first NCAA tournament victory.
Turning point:
USF could sense how timid the Bears were to start the game. Cal didn't like USF's relentlessness on defense and they backed down. The Bulls took advantage early and were up 15-3 with 13:03 remaining on the game clock. At halftime, they were up 36-13.
Key player:
Victor Rudd Jr.
had 15 points and six rebounds. He was 7-for-10 from the field. Three Bulls recorded double figures.
Key stats:
The Bears were 3-for-15 from the 3-point line. South Florida went 28-for-49 from the field.
Miscellaneous:
I know South Florida plays ugly, but if the Bulls maintain this success on offense, then they could be a Sweet 16 team. Temple and Michigan (if the Wolverines beat Ohio) might have trouble with this style.
What's next:
The Bulls will face Temple in the second round of the NCAA tournament.