College Basketball Nation:

Vincent Council
March, 1, 2013
3/01/13
12:28
PM ET
Player of the month -- Otto Porter, Georgetown
(November: Mason Plumlee; December: Doug McDermott; January: Kelly Olynyk)
Porter catapulted into the Wooden Award race in February, as he led Georgetown to a 7-0 month. That included a career-best 33 points at Syracuse and a clutch performance at Connecticut. He averaged 19.0 PPG, 7.3 RPG, 2.4 APG and a 145.3 offensive rating during the month. But numbers don't do Porter's defense justice. Opponents shot just 37 percent against Georgetown in February with Porter a constant presence.
Defensive player of the month -- Zeke Marshall, Akron
(November: Jeff Withey; December: Nerlens Noel; January: Nerlens Noel)
Opponents shoot just 40.8 percent against Akron, fourth lowest in the nation. The Zips are 10th in the nation with 10.3 block percentage. Oh, and they've won 19 straight. The 7-footer in the middle was a big reason behind those results, and February showed why. Marshall averaged 7.7 RPG, 3.3 BPG and 1.0 SPG during the month.
Freshman of the month -- Marcus Smart, Oklahoma State
(November: Marcus Smart; December: Anthony Bennett; January: Jahii Carson)
Smart led the Cowboys to a 7-1 record in February. His month included 25 points in a win at Kansas and career-high 28 in a win over Oklahoma. His 17.4 PPG ranked fifth among Division I freshmen during the month, while he led all freshmen with 3.1 steals per game. Smart's game seems to rise to the level of his competition; all seven of his 20-point performances this season have come against likely NCAA tournament teams.
Scorer of the Month – Nate Wolters, South Dakota State
(November: C.J. McCollum; December: Doug McDermott; January: Erick Green)
Wolters led all scorers with 27.6 PPG in February, while shooting 57.7 percent from the field. That included a school-record 53-point performance on February 7 at IPFW. That was the most points in game since Jodie Meeks had 54 in 2009. Wolters also averaged six assists per game during February. He's the first player to average 27 PPG and 6 APG in February since Earl Boykins and Charles Jones did it in 1998.
Free throw shooter of the month -- Russ Smith, Louisville
(November: Jordan Adams; December: Tyler Haws; January: Lamont Jones)
Once a potential Wooden Award candidate, Smith shot just 35.2 percent from the field in February. It's a good thing he made up for it at the line. Smith had a 90.8 free throw percentage during the month, while averaging 8.4 makes per game (tied for most in the nation).
3-point shooter of the month -- Marland Smith, Southeast Missouri State
(November: Ryan Sypkens; December: Jordan Price; January: Ian Clark)
Seemingly out of nowhere, Smith emerged as one of the nation's top long-distance shooters. Entering the month he averaged 7.8 PPG with a 33.3 3-point field goal percentage. But in February, he averaged 17.4 PPG and shot 62.0 percent from beyond the arc. That included nine 3s against Eastern Illinois, tying a school record.
Rebounder of the month -- Jarnell Stokes, Tennessee
(November: Jamelle Hagins; December: Andre Roberson; January: Richard Howell)
Tennessee emerged as a tournament contender in February, and Stokes' rebounding played a key role. He averaged 11.4 RPG during the month, fourth in the nation. The Volunteers have outrebounded opponents in 11 of their past 12 games. Stokes is on track for Tennessee's highest single-season rebounding average since Steve Hamer in 1995-96.
Distributor of the month -- Vincent Council, Providence
(November: Michael Carter-Williams; December: Trey Burke; January: D.J. Cooper)
Council finished fifth in the nation with 7.7 APG in February, and his 3.8 assist-to-turnover ratio separated him from the point guard pack. Over the last five games, he's handed out 37 assists compared to just six turnovers. Providence started 2-7 in Big East play, but has won five of six in February. Council also made Big East history in February, passing Sherman Douglas for the most assists in conference games.
February, 16, 2013
2/16/13
7:15
PM ET
Just last week, NCAA tournament selection committee chair Mike Bobinski hosted the first of a handful of teleconferences heading toward Selection Sunday. It was just a day after
Nerlens Noel
tore his anterior cruciate ligament, so naturally Bobinski was asked how the loss of Kentucky's best player would affect the Wildcats' chance at an NCAA tourney berth.
Here's what he said:
"The reality is we have about 4 1/2 weeks of basketball left to be able to watch Kentucky play and see how they perform without him in the lineup now, and that will really tell the story I think of how we ultimately judge and view Kentucky."
Well, here's what the committee saw:
[+] Enlarge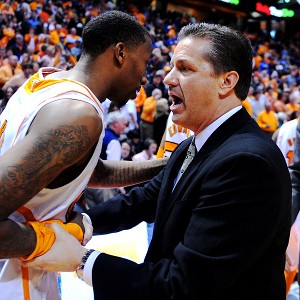 Randy Sartin/USA TODAY SportsA rocky road got worse Saturday for John Calipari and defending-champion Kentucky.
Tennessee 88, Kentucky 58
. Tied for the fourth-worst loss for UK in the past
80 years
. John Calipari's worst loss since Feb. 18, 1989. That was a lifetime ago, in his first season at Massachusetts, when the Minutemen lost to Duquesne by 31. He didn't have quite as many McDonald's All Americans on that roster.
If this were an audition for the tourney bracket, the director would be yelling, "Next!"
Just barely on the bubble to begin with -- Kentucky has zero top-50 RPI wins now that free-falling Ole Miss has dropped to 51 -- the Wildcats were quickly dumped to the First Four Out by Joe Lunardi on Saturday afternoon (remember, even before Noel got hurt, UK was getting essentially run out of the gym by Florida).
There is no question that losing Noel is a huge blow, but it is not just in terms of X's and O's. That Tennessee loss -- and give the Vols credit for playing a near-flawless game (especially point guard
Trae Golden
) -- exposed the real crux of the problem for Kentucky sans Noel.
For most of the season, he has been the only one playing with a combination of consistent ferocity and passion. The rest of the team tends to disappear frequently, lollygags on defense often and shows such dispassionate body language at times that you have to wonder whether the players are clock-watching.
In Noel's absence, his freshman classmates
Willie Cauley-Stein
,
Alex Poythress
and
Archie Goodwin
combined for 13 points, 13 fouls and nine turnovers.
A year after coaching one of the best collections of hard-working, unselfish players, Calipari has a group he cannot cajole, bullwhip or beg into cohesion. It has gotten so bad that the coach spent the week before the Florida game talking about his team's need to find love. Not the Valentine kind, but the bromance of basketball.
Thanks to the cottony soft bubble, Kentucky isn't dead yet. But the Grim Reaper is standing by. The Wildcats have six regular-season games left -- four that can only hurt them (against Vanderbilt, Mississippi State, Arkansas and Georgia) and two that will mean everything (visits from Missouri and Florida).
Noel, of course, won't be there for any of them, but for Kentucky right now, it's more about channeling the way he played.
Some other observations from Saturday afternoon:



1. Opportunity knocked ...
And North Carolina answered. Oklahoma couldn't unlock the door. Stanford didn't hear the doorbell. In what might go down as an ACC bracket-buster game, the Tar Heels topped Virginia,
93-81
. That doesn't officially seal either team's fate, but certainly it's a feather for UNC and a glancing blow for the Cavaliers.
Meanwhile, in the Big 12, Oklahoma blew an 11-point lead and lost
84-79 in overtime
at Oklahoma State, which has won seven consecutive league games for the first time in nearly a decade. It's a body blow for the rival Sooners, who have a confusing NCAA résumé -- an RPI of 20 but a 3-5 record against the RPI top 50.
As for Stanford, Bill Walton quite naturally put it best. Somebody, the analyst said, needs to start watering the roots of the Tree. Just two weeks ago, the Cardinal looked like the team that promised to capitalize on its NIT run from last season, winning three games in a row, including one against hot Oregon. Now, Stanford has lost three of four, blowing show-me opportunities against both Arizona and now UCLA.
[+] Enlarge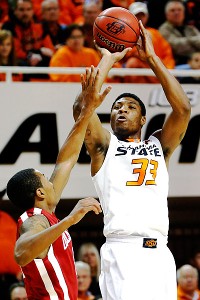 AP Photo/Sue OgrockiFreshman Marcus Smart scored 28 in OK State's rivalry win, the Cowboys' seventh in a row.
2. Pay attention to Marcus Smart:
The Oklahoma State guard might be the most unheralded player in the country right now. Seriously. The reason might be that on their own, none of his numbers jumps off the stat line -- he averages 14.4 points, 5.8 rebounds, 4.5 assists and 3.0 steals per game -- but then go back and look at that list collectively.
He's good at everything. Offense, defense, scoring and sharing, he is the consummate individual player and the consummate teammate. In the victory against the Sooners, he had 28 points, seven rebounds and four assists. Just another day at the office. He's also the reason the Cowboys are poised for their first NCAA tournament bid since 2010. Oklahoma State has won seven in a row. In that stretch, Smart is averaging 19.1 points, 6.1 rebounds, 4.3 assists and 3.4 steals.
3. What would happen if ...
Arkansas and Missouri played on a neutral court? Would the game ever end? Or better yet, would it ever start? Would both teams be turned into pillars of salt, frozen in fear by the unfamiliar, away-from-home surroundings? Give the Hogs credit -- they're now 15-1 at home after squeaking past Mizzou,
73-71
. But neither team can win on the road, which is something the selection committee kind of likes to see every once in a while.

4. Can a player win national player of the year and not make the NCAA tournament?
It has never happened with a Wooden winner, but
Doug McDermott
might be on the verge of rewriting history in a decidedly twisted way. McDermott is continuing to put up huge numbers -- he is averaging 23 points per game and just eclipsed the 2,000-point plateau -- but his team isn't doing much to prove it belongs in the field of 68.
The Bluejays rallied from a double-digit deficit to win
71-68
at Evansville and end their three-game skid. Feel free to celebrate the end of the losing streak, but then realize that Evansville is 14-13 overall and just 7-8 in the league, so skating to a three-point win doesn't exactly inspire a lot of confidence, does it?
In the latest player-of-the-year straw poll of actual voters, collected by Michael Rothstein, McDermott was second behind Michigan's
Trey Burke
. He had 118 points and 21 first-place votes to Burke's 136 and 30 (the poll is done every two weeks), and the next-closest vote getter,
Mason Plumlee
, wasn't even in the neighborhood, with 35 points and only four first-place votes.
Numbers matter in player of the year ballots, but don't think for a minute winning isn't (and shouldn't be) a factor. If Creighton doesn't right the ship well enough soon, it will be interesting to see whether McDermott is part of the collateral damage.

5. Watch out for Providence:
No, I'm not joking. Done in by injuries and down to five scholarship players early, the Friars appeared destined for their annual bottom-third-of-the-Big East finish. Not so fast. Coach Ed Cooley has talent --
Bryce Cotton
,
Kadeem Batts
,
Vincent Council
and
Kris Dunn
-- and now he's getting something out of it. Providence has won four consecutive Big East games for the first time since 2004, including wins against Cincinnati and today's
71-54 victory
over Notre Dame, which snapped a nine-game losing streak to the Irish.
I'm not sure whether the Friars are good enough to keep that streak going -- they go to Syracuse next -- but after too many lean years to count, Cooley has this team headed in the right direction. In a confusing Big East -- explain Villanova, please? -- Providence is good enough to make things even more confounding.
November, 15, 2012
11/15/12
8:00
AM ET
While this year's Puerto Rico Tip-Off field isn't chock-full of ranked teams, the bracket is dotted with notable players and emerging squads hoping to prove their worth -- and perhaps pull an upset or two. Here's a quick look:
The basics:
Nov. 15-16, 18 at Coliseo de Puerto Rico in San Juan, Puerto Rico
The set matchups:
Nov. 15 -- Akron vs. Oklahoma State, 10:30 a.m. ET; UNC Asheville vs. Tennessee, 1 p.m.; NC State vs. Penn State, 5 p.m.; Providence vs. Massachusetts, 7:30 p.m.
(
For the full bracket, click here.
)
The favorite:
NC State.
There's a lot of hype surrounding the sixth-ranked Wolfpack, and for good reasons: a strong finish last season that led to an NCAA Sweet 16 berth; the return of junior forward
C.J. Leslie
; and the addition of a heralded freshman class led by
Rodney Purvis
. This is the chance for Mark Gottfried's squad to show it can, and will, build off last March.
[+] Enlarge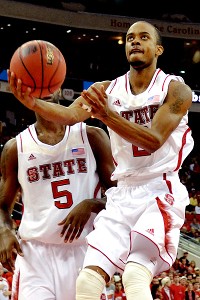 Rob Kinnan/US PRESSWiRENC State will need Lorenzo Brown's leadership as much as his statistics.
FIVE PLAYERS TO WATCH
Jeremy Atkinson, UNC Asheville:
The Bulldogs lost their top three scorers from the squad that won the Big South and came oh-so-close to beating Syracuse in the NCAA tournament last season. Now they're counting on this senior forward. He is averaging 20.5 points and eight rebounds for a team that has already beaten Western Carolina by 10, but lost to UNC Wilmington by eight.
Lorenzo Brown, NC State:
The Wolfpack have plenty of weapons in Leslie, Purvis,
Scott Wood
and
Richard Howell
, but to be consistently successful, Brown has to be the leader of the Pack. He posted 15 points and seven assists in their season-opening blowout win over Miami (Ohio), and those stats are great. But his most important contributions may well be his calm, his confidence and his leadership when this team is tested.
Tim Frazier, Penn State:
The guard was the only Division I player to average at least 17 points and six assists per game last season, setting a PSU season assist record (198) and recording 17 20-point games in the process. Pretty impressive, considering the team averaged only 61.8 ppg. The senior got off to a similar start this season, notching 23 points and six assists in a win over St. Francis (PA).
Marcus Smart, Oklahoma State:
The preseason Big 12 Freshman of the Year recorded 8 points, 7 rebounds, 7 assists and just 1 turnover in 34 minutes in his regular-season college debut against UC Davis. Highly praised for his competitiveness and court vision, the point guard's versatility and decision-making will be key to how far the Cowboys advance.
Jarnell Stokes, Tennessee
: Stokes wasn't quite sure of his identity as a player when he joined the Volunteers out of high school during the middle of last season. But now the 6-8, 260-pound sophomore is a bruiser and a low-post threat. He recorded 10 points and five rebounds in the Vols' season opener, and he will be looking to make things tough in the lane for foes this week. Making him even tougher: the fact that he has so many veterans around him.
FIVE BIG QUESTIONS
Will NC State live up to its ranking?
In this tourney, the Wolfpack are playing for more than what they hope will be the first of several championships this season; they're also playing for credibility. Win, and the kudos continue. Lose, and folks might wonder if NC State is ready for the spotlight. This tournament could set the tone for the rest of NC State's season.
How does Providence fare without Vincent Council?
Ricky Ledo's ineligibility and a shoulder injury to
Kris Dunn
had already left the Friars with only seven scholarship players. Council's hamstring injury not only cuts that to six but also means Providence will be missing the guy coach Ed Cooley considers the best guard in the Big East.
Bryce Cotton
started at point guard in Council's place against Bryant and posted a double-double (24 points, 11 rebounds), but the competition is about to get a whole lot stiffer.
Can Oklahoma State rebound?
In their season opener, the Cowboys had trouble putting away a UC Davis team that won only five games last season, and one of the concerns remains their lack of size. OSU -- playing without expected starting center
Michael Cobbins
, who injured his toe during the preseason -- was outrebounded 40-28 versus UC Davis. The Cowboys will face some tall challenges during this tournament, beginning with Akron's
Zeke Marshall
, and possibly continuing with Tennessee's Stokes.
Who else will step up for UMass?
There's no doubt that guard
Chaz Williams
is the star of this team, but the other Minutemen need to step up in big moments, too. They did just that earlier this week against Harvard, as
Jesse Morgan
and
Sampson Carter
bookended a Williams-forced turnover with 3-pointers to win by three points. Who's next?
Who's that guy with the 7-5 wingspan?
Why, that's the aforementioned 7-foot Akron senior Zeke Marshall. He entered the season as the Zips' career leader in blocked shots (246) and is averaging 4.5 blocks to go along with 11.5 points and 8.5 rebounds. And according to the school's website, he was the first top-100 recruit to sign with a Mid-American Conference program since Rivals.com began its ranking system in 2003.
THE PICKS
Opening games:
Oklahoma State over Akron; Tennessee over UNC Asheville; NC State over Penn State; UMass over Providence
Semifinal games:
Tennessee over Oklahoma State; NC State over UMass
Championship game:
NC State over Tennessee
July, 26, 2012
7/26/12
12:00
PM ET
Tournament bracket
for the Puerto Rico Tip-Off
When and where:
Nov. 15-16, 18 at Coliseo de Puerto Rico in San Juan, Puerto Rico
Initial thoughts
: NC State is hardly a lock to win this event. The Wolfpack will be getting all the preseason praise but Tennessee is a legit SEC top-three contender and will be one of the hardest teams NC State has to play if the two teams meet in the final. ... Oklahoma State will debut one of the most heralded freshmen in Marcus Smart, who was beloved by the U18 USA coaches when they won gold in Brazil last month. ... Don't sleep on UMass. The Minutemen are a legit A-10 contender and have a quality guard in
Chaz Williams
, formerly of Hofstra. ... Providence coach Ed Cooley said he has the best guard in the Big East in
Vincent Council
. He may be right. ... Penn State will be on national display in this event for the first time with its men's basketball team. By the time this game occurs, the football story will be nearly over for the fall and the Nittany Lions will need a new team to rally around. Pat Chambers has the personality to spark belief in his product. ... Back to NCSU. This is a critical tournament for its credibility. The Wolfpack have rightfully received preseason publicity as a potential ACC champ, but a flameout in Puerto Rico will fuel the narrative that they're not ready for primetime. ... The field in this event may not seem filled with NCAA-bound teams, but Oklahoma State and Massachusetts have a real shot to be on the bubble in March.
Matchup I can't wait to see
: As odd as this sounds, a UMass-Providence matchup in Puerto Rico is tantalizing. If Williams and Council were to guard each other it could be the toughest test either will face during the season. PC is still holding out hope that Ricky Ledo is eligible, too. The Minutemen have a strong producer inside in
Terrell Vinson
. I can't see Providence advancing past NC State. UMass would give the Pack a better game but the Minutemen will be pushed in this opener and may have a difficult time getting out of the first round.
Potential matchup I can't wait to see
: Oklahoma State-Tennessee in the semis would put quite a bit of talent on the floor. The Volunteers have
Jarnell Stokes
and
Trae Golden
to go along with
Jeronne Maymon
, while Oklahoma State has Smart,
Le'Bryan Nash
and
Cezar Guerrero
, who can all fill the stat sheet. But if this matchup occurs, expect the Vols to make life extremely difficult for the more finesse Cowboys.
Key players to watch
Jeremy Atkinson and Jaron Lane, UNC Asheville
: The pair of rising seniors have to take significant steps forward after the Bulldogs lost their top three scorers from a team that won the Big South, earned a No. 16 seed and went toe to toe with Syracuse in the NCAA tourney. Asheville is one of the more inexperienced teams in this field and may struggle to avoid being in the 0-2 seventh-eighth-place game.
[+] Enlarge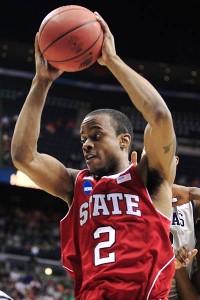 Tony Dejak/AP PhotoNC State needs a healthy Lorenzo Brown to lead the team.
Lorenzo Brown, NC State
: Brown had offseason knee surgery and his status for the Wolfpack's trip to Spain is in jeopardy. But if the Wolfpack are going to be an ACC title team, Brown must be the leader Mark Gottfried needs in key games like these in Puerto Rico. He'll have plenty of help with the arrival of Rodney Purvis, T.J. Warren and Tyler Lewis and the return of
C.J. Leslie
,
Richard Howell
and
Scott Wood
. But Brown must be the team's designated leader.
Vincent Council, Providence
: Council's numbers have continued to rise during his three seasons. He finds scoring rather easy. The departure of
Gerard Coleman
and the unknown status of Ricky Ledo and the injury to Kris Dunn means even more pressure will be on Council to shine early and often next season.
Tim Frazier, Penn State
: The Nittany Lions tended to have at least one go-to player/headliner under Ed DeChellis. Now Chambers has one in Frazier, who shined with more opportunities and averaged 18.8 points a game. Expect him to have the ball in all critical situations for PSU. Frazier has All-Big Ten potential. This event will be a solid prep for him going into the conference.
Zeke Marshall, Akron
: I remember seeing Marshall at the LeBron James camp in Akron when he was a junior in high school and wondering why this shot-blocker was going to the MAC. But Keith Dambrot stayed on him from the beginning and landed the best big man in the league. Marshall should get a chance to shine in three games in Puerto Rico and start to build a following for his senior season.
Le'Bryan Nash, Oklahoma State
: Nash had his moments where he was a star and others when he was an enigma during his freshman season. He has a shot to be one of the more productive players in the Big 12. He doesn't have all the pressure on him anymore with Smart's arrival. This is a significant season for Nash, both in college and in shaping how the NBA views him as a possible draft pick.
Jarnell Stokes, Tennessee
: Stokes started off last season season in high school, graduated early and suddenly was having a major impact scoring and on the backboard in the SEC. Now Cuonzo Martin gets Stokes for a full offseason and to tip off the year. He has a wide base and should be the most immovable post player in this event. He is on a team with experience and that trusts him to finish when he calls for the ball in the post.
Chaz Williams, UMass
: Derek Kellogg's program was struggling, rudderless at the most important position until Williams became eligible. He saved the team and the program from being mediocre and now he can elevate the Minutemen to the NCAA tournament. Williams will have the ball in his hands plenty throughout the four-day, three-game tournament.
Predicted winner
: If Brown is healthy, then NC State wins this event over Tennessee. But the Vols are more than capable of taking down the Wolfpack even with a healthy Brown playing. If any other teams are in the final, then it's a disappointing start for NCSU and UT. The pressure is on the Pack to get off to a signature start before high-profile games which follow in late November and early December. They are going to have to defend to beat Tennessee and do it with more purpose. The Vols will be ready for a physical scrum. This is the type of early-season tournament that could upset the rankings if UT wins. But I'll stick with NC State for now as the favorite.
Who others are picking:
Eamonn Brennan:
NC State over Oklahoma State
Jason King:
NC State over Oklahoma State
Myron Medcalf:
NC State over Tennessee
Dana O'Neil:
NC State over Tennessee
July, 23, 2012
7/23/12
11:00
AM ET
Editor's note: ESPN.com's Summer Shootaround series catches up on the offseason storylines for each conference. For more on the Big East, click here.
The most important player for each team in the conference ...
Cincinnati:
Titus Rubles
The juco transfer hasn't played a minute for Mick Cronin, but he could be the coach's most vital cog. A former guard who grew up and out since graduating high school, the 6-foot-8 Rubles has the heft and the ability to play a more power game as well. The Bearcats have plenty of experience in the backcourt but they need help replacing
Yancy Gates
. Rubles could offer it.
[+] Enlarge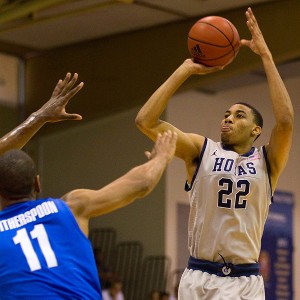 AP Photo/Eugene TannerOtto Porter will carry a heavy load this season as the Hoyas' leading scorer is gone and Porter's on deck.
Connecticut:
Ryan Boatright
The NCAA delayed Boatright's debut but when he finally played, he made the Huskies immediately better. He'll have to do the same this year, now that UConn is without
Jeremy Lamb
,
Alex Oriakhi
,
Andre Drummond
andRoscoe Smith. Much of the Huskies' success will depend on how Boatright and Shabazz Napierplay.
DePaul:
Cleveland Melvin
You have to feel for Melvin. He has been a terrific player for DePaul for two seasons with little in the way to show for it in terms of results. Melvin averaged 17.5 points a season ago, upping his numbers from 14.3 as a freshman … and still won just three Big East games. Eventually, someday, somehow the Blue Demons will turn it around. If it is anytime soon, Melvin will be the reason.
Georgetown:
Otto Porter
Much will be expected from the Hoyas' unexpected star of a year ago. The sophomore to be averaged 9.7 points and 6.8 rebounds for a Georgetown team that, like Porter, surprised more than a few. But leading scorer
Jason Clark
is gone from that crew, putting Porter squarely in the mix for a key role as both a leader and a scorer.
Louisville:
Russ Smith
This is
Peyton Siva
's team but there's no question that the Cardinals' sparkplug is the enigmatic, mercurial (insert quirky adjective here) Smith. Pitino loved his fearless guard, even though he didn't necessarily always love Smith's fearlessness. With a loaded lineup that should help Cardinals cure last season's offensive woes, Smith won't have to do quite so much this season but he will still be the catalyst for what could be another Final Four run.
Marquette:
Vander Blue
A team in the best sense of the word, Marquette won collectively instead of individually -- and that was with
Jae Crowder
edging out teammate
Darius Johnson-Odom
for conference player of the year honors. Amid the collection of unheralded superstars was Blue, a gifted player who has the ability to shine and now, with Crowder and Johnson-Odom gone, will have the opportunity, as well.
Notre Dame:
Jerian Grant
Sure,
Jack Cooley
will garner much of the attention for the Irish, but really Mike Brey's team will go as far as Grant takes it. He was terrific as a sophomore last season, turning heads with his 12.3 points and 5 assists per game and will have plenty to work with again this year. Notre Dame loses just Tim Abromaitis, who only played two games a year ago.
Pittsburgh:
Tray Woodall
The point guard missed 11 games last season with a groin/abdominal injury and while the Panthers were bad with him in the lineup, they were a bona-fide disaster without him. It was Woodall's return that sparked a brief bit of life in Pitt midseason and it is Woodall's presence that will make the Panthers go this season. There is plenty on Jamie Dixon's roster to make last season nothing but a bad memory, but to make things work, Dixon needs Woodall and his dribble penetration to get the offense working.
Providence:
Vincent Council
Despite all the hoopla (much deserved) surrounding Ed Cooley's incoming freshman class, the Friars remain very much Council's team. A terrific point guard, Council led his team in assists and scoring this season and with a better surrounding cast, could be due for a breakout season.
Rutgers:
Eli Carter
Carter was sensational in his freshman season, averaging 13.8 points per game for Mike Rice's squad. And while he and
Myles Mack
were arguably the Scarlet Knights' two most reliable players, losing
Gilvydas Biruta
(to Rhode Island) will put even more pressure on Carter's shoulders.
[+] Enlarge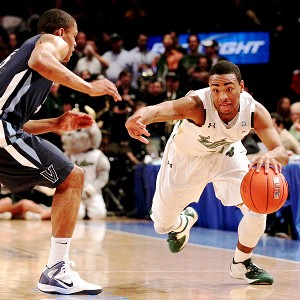 Anthony Gruppuso/US PresswireSouth Florida and guard Anthony Collins are primed to go far this upcoming season.
Seton Hall:
Fuquan Edwin
The best news for Kevin Willard: Edwin is already a terrific defensive player. Now if he continues to grow his offensive game (he averaged 12.5 points per game), the Big East can officially be put on notice. The big question for Edwin, though, is can he be The Guy?
Herb Pope
andJordan Theodore are gone, so the attention will be squarely on his broad shoulders.
South Florida:
Anthony Collins
The Bulls were one of the best defensive teams in the country and one of the worst offensively. Equaling out that ratio falls squarely in the lap of Collins, the point guard who was great defensively but made too many foolish mistakes on offense to get the Bulls in rhythm. He's a terrific talent and part of the reason that big things are once again expected for Stan Heath's team.
St. John's:
D'Angelo Harrison
Truth be told, the most important player might just be Steve Lavin, the head coach who missed last season while recovering from prostate cancer. But since Lavin is on the bench instead of on the court, we'll go with Harrison. The freshman averaged 16.8 points per game, and along with
Moe Harkless
, was one of the few steadying presences in a crazy season for the Red Storm. His return is huge for Lavin but Harrison will have to perform without his sidekick, Harkless, who left for the NBA.
Syracuse:
Michael Carter-Williams
The point guard who couldn't get through the backcourt logjam a season ago will be asked to carry the load for Syracuse this season. Highly touted out of high school, plenty who watched Carter-Williams practice thought he was more than ready for the spotlight. Now the chance has come.
Brandon Triche
will be there to lend an experienced hand, but how Carter-Williams plays will determine how Syracuse does.
Villanova:
Tony Chennault
The last time a displaced player landed on Jay Wright's doorstep, it turned out pretty well. Scottie Reynolds, orphaned by Kelvin Sampson at Oklahoma, led the Wildcats to the Final Four. Now it's Chennault, the Wake Forest transfer who was granted a hardship waiver to be near his family. The Philadelphia native, who averaged 9.0 points in his sophomore season at Wake, is a much-needed boost for a Villanova team that struggled mightily.
July, 6, 2012
7/06/12
5:00
AM ET
1. Marshall's chances of wrestling the Conference USA title away from Memphis increased dramatically with the news that
Dennis Tinnon
will receive another year of eligibility. Tinnon averaged 10 points and 10 boards for the Thundering Herd. The 6-8 forward should be one of the top forwards in Conference USA. Coach Tom Herrion said the decision on Tinnon was a major development for Marshall and changes the complexion of this team. He said there was no Plan B for Tinnon or the Herd if this fell through. Marshall should have one of the top inside-out combos in the league with
DeAndre Kane
and Tinnon. Memphis coach Josh Pastner said Marshall is "loaded" and should be the favorite. But it's hard to look past Memphis' talent pool and put Marshall ahead of them, even with the departures of
Will Barton
and
Wesley Witherspoon
. Still, Marshall could legitimately push Memphis for the title and not having the tournament in Memphis (it's in Tulsa) takes away a major advantage in March.
2. Providence coach Ed Cooley said that the best-case scenario for highly-touted newcomer guard
Kris Dunn
is for him to be ready to play by December after right shoulder surgery. Meanwhile, Cooley said that Ricky Ledo isn't going to be in summer school because he's not eligible. But Cooley said he remains optimistic that Ledo will get through the NCAA Eligibility Center in time to play in the fall. Cooley does have one significant player to count on in his second season. He said
Vincent Council
"is the best guard in the Big East.'' He said watching him work out this week reassured him of this fact even more.
3. Denver officials weren't initially talking about the Pioneers becoming members of the WAC on Sunday. But men's basketball coach Joe Scott offered up a few statements Thursday about the move. "The league will be good for us,'' said Scott of the Pioneers' first-year in the WAC with fellow new members Seattle, UTA, Texas State and UTSA before the latter three jet off to the Sun Belt and C-USA, respectively. The league will also say goodbye in 2013 to Utah State and San Jose State (MWC) and Louisiana Tech (C-USA). "We've got to do well in the WAC this year. We've got four starters back from a 22-win team.'' Denver would love to be with other like teams and get an invite from the WCC. But that's not an option at this point. "We just have to do as well as we can in the WAC, win as many games as we can and hope things have a way of working out. Hopefully good things will happen. It's a fluid situation out there.''
February, 27, 2012
2/27/12
10:00
AM ET
Syracuse put a bow on its nearly perfect Big East run, sewing up the conference's regular-season honors. But there's still much jockeying to be done in the final week -- for bubble positions and, more immediately, for seeding positions for the Big East tournament. The top four earn the double bye.
1. Syracuse:
The Orange clinched the regular-season crown with a win that might have been more impressive than the other 15. Syracuse needed to stave off UConn for a victory that made up in grit what it lacked in style points.

2. Marquette:
Not even the absence of four starters for a half could keep the Golden Eagles down or Buzz Williams from dancing. Marquette's rally from an 11-point halftime deficit at West Virginia proved this is a very good team.
3. Georgetown:
You almost had to feel for Villanova. The Hoyas went and got inexplicably clobbered by Seton Hall. Someone was going to pay. The Wildcats were the victim, sliced and diced by 21.
4. Notre Dame:
Nothing lasts forever, not even the Irish's luck. Notre Dame's nine-game streak ended at the hands of St. John's and an awful 4-of-31 performance from beyond the arc. The Irish need to fix that or their Big East tournament visit won't last long, either.
5. Louisville:
The Cardinals are among the teams pushing to grab that last top-seed position. To get it, they'll need to win two tough ones -- against equally hungry South Florida and at Syracuse.
6. South Florida:
The Bulls will be among the most watched teams all the way through Selection Sunday. South Florida is 11-5 in the league after beating Cincinnati but still needs a signature win. The Bulls have a chance at Louisville and then with a home game against fellow bubble resident West Virginia.
7. Cincinnati:
Most folks believe the Bearcats are in the Dance. But they certainly don't want to make it easy. Cincinnati scored 45 points against South Florida's defense and now has to finish up against Marquette and Villanova. A loss to the Wildcats isn't how Cincinnati wants to finish the season.
8. Seton Hall:
The Pirates giveth; the Pirates taketh away. A hugely impressive win against Georgetown proved why Seton Hall deserves NCAA consideration. A home overtime loss to Rutgers negated some of the good. How the Hall finishes will be critical.
9. Connecticut:
The Huskies showed more in defeat than they have all season, finally displaying some energy, hustle and feistiness in their loss to Syracuse. The question is: Was it too late? UConn absolutely cannot lose to Providence or Pitt to finish the season.
10. West Virginia:
Kevin Jones
might be the best player in the conference, but his team is trying to dull his star and keep him out of the NCAA tournament. The Mountaineers are fading, losing four of their past five. Jones struggled with foul trouble against Marquette, and no one picked up the slack.
11. St. John's:
Technically, Madison Square Garden is a home-court advantage for the Red Storm. The way this young team is playing, it just might take advantage of it.
Moe Harkless
and
D'Angelo Harrison
, perhaps as good a one-two punch as there is in the league, led St. John's to its upset of Notre Dame, its third win in a row.
12. Rutgers:
There's nothing like a win against your rival to cure what ails you. And we'll see whether that's the case for the Scarlet Knights, who ended a six-game skid by upsetting Seton Hall. Now it's up to Rutgers to use the momentum well against Villanova and St. John's.
13. Pittsburgh:
Saddled with injury and illness, the Panthers came up short on an upset bid against Louisville. That's five losses in a row, a streak the Panthers need to end to gain some confidence heading into New York.
14. Villanova:
Maalik Wayns
returned.
JayVaughn Pinkston
turned his ankle during pregame warm-ups. That about sums up the Wildcats' season, which is limping -- quite literally -- to a merciful finish.
15. Providence:
At this point of the season, the Friars are latching onto any good news: Blowing a 17-point lead yet still beating DePaul thanks to
Vincent Council
's late heroics qualifies.
16. DePaul:
The promise of a new beginning for the Blue Demons in the Big East has faded to the same result. DePaul will need to beat both West Virginia and Seton Hall to crawl out of their regular conference-basement seat for the Big East tournament.
January, 16, 2012
1/16/12
10:00
AM ET
Ranking this mega-league is not an easy task, but we'll give it another shot ...
1. Syracuse:
Someone on Twitter suggested that the Orange's second five be ranked as the second-best team in the Big East. It's not crazy, considering the bench accounted for 41 of Syracuse's 78 points against Providence.
2. Connecticut:
Another difficult week for the Huskies. With Jim Calhoun's suspension over, now UConn is dealing with the uncertainty of
Ryan Boatright
's status for the rest of the season as the NCAA looks into his eligibility again. That the Huskies were able to deal with the immediate news and win at Notre Dame is a credit to the team. The long-term effects, however, remain to be seen.

3. West Virginia:
Interesting week for the Mountaineers, who appear headed in the right direction. They play against in-state rival Marshall, a dangerous game against a good team in Conference USA, and then host Cincinnati.
4. Georgetown:
The Hoyas hopped off their losing streak in convincing fashion by toasting St. John's by 20. That should -- at least temporarily -- silence critics who wondered if Georgetown was heading to another midseason slide.
5. Seton Hall:
So was the loss to South Florida a hiccup or a more serious problem? That's the question that needs to be answered for the Pirates, who had a chance to win the game, but
Jordan Theodore
missed the front end of a one-and-one. Seton Hall is good, but until the Hall avoids upset losses, fans will be leery to go all-in.
6. Cincinnati:
Just how good are the Bearcats? We'll know by the middle of next week. This is Cincinnati's gauntlet: at Connecticut, at West Virginia and then home against Syracuse. One win would be good, two huge and three a reason for serious joy in the streets.
7. Marquette:
The Golden Eagles went back to their bread and butter, their defense, to beat skidding Pittsburgh. But one thing that's becoming obvious: The margin for error for Marquette is slim.
8. Notre Dame:
Tim Abromaitis
remains the Irish's leading scorer, despite not playing since tearing his ACL after Game 2. That tells you all you need to do know about the good job Mike Brey has done retooling this team into something respectable. The sledding gets harder now, with ranked opponents in three of Notre Dame's next five games.
9. Louisville:
The reeling Cardinals got exactly what the doctor ordered: a game against DePaul, one of the league's lower-tier teams.
Russ Smith
looks like the key puzzle piece for a team that struggles offensively. The sixth man makes his coach crazy, but Louisville needs to afford Smith some freedom if it's going to score. It also needs
Kyle Kuric
back.
10. South Florida:
Success for the Bulls has to come in increments, and beating a ranked opponent for the first time in 11 years counts. South Florida's inability to score makes nothing easy.
11. Rutgers:
This is just the way it's going to be for Rutgers. The Scarlet Knights are young and so the same team that can beat Florida and Connecticut and hold Pitt to 39 points can, in fact, lose by 24 to West Virginia.
12. St. John's:
Here's what you can know for sure about the Red Storm:
Moe Harkless
and
D'Angelo Harrison
are terrific. After that, how do you fairly judge a team with a roster full of freshmen, no head coach and players transferring? St. John's is skidding (losing four of its last five) with little reason to believe it can right itself.
13. Villanova:
The Wildcats just aren't very good. There's a host of reasons -- youth, inexperience -- but bottom line,
Maalik Wayns
is left to do everything on his own. He's trying, scoring 39 in Villanova's loss to Cincinnati, but it's just not enough.
14. DePaul:
The Blue Demons are better. But better still isn't equating to improved results, especially on the road. A victim of tough scheduling, DePaul has lost its past three games away from home. With two now back in Chicago, the Blue Demons need to get back on track.
15. Providence:
The Friars lost to Syracuse and lost badly, but credit Ed Cooley for benching leading scorer
Vincent Council
. As he tries to rebuild Providence, Cooley has to set a standard regardless of what it might do to the win-loss column.
16. Pittsburgh:
Put the Panthers right up there next to the pyramids as one of the Seven Wonders of the World. One of the most consistent teams in the country is now consistently awful. Fans are now looking for respectable losses, like ones in which Pitt scores more than 39.
January, 14, 2012
1/14/12
11:12
PM ET
It didn't look like a great slate of games coming in, but Saturday turned out to be full of upsets and last-second thrillers. Here are some things we learned from all the action ...
The Top Three


Florida State 90, No. 3 North Carolina 57
What we learned
: Wow. A true beatdown. Perhaps we don't have an elite team in college basketball this season. North Carolina has as much potential as any team in the country to warrant that title, but Saturday's meltdown -- the most lopsided of the Roy Williams era -- contradicted much of what we thought we knew about the Tar Heels. The Seminoles are always feisty against Carolina and Duke and tend to be giant-killers, but this was just silly. The Noles were 12-for-27 from the 3-point line in this victory.
Deividas Dulkys
was 8-for-10 from beyond the arc and scored a career-high 32 points. He had scored a combined 32 points in his previous
nine games
. The Tar Heels lost their fire once the barrage began. The Seminoles saw a vulnerable team and pounced. For the third time this season, the Heels lost a game outside of Chapel Hill. But in this loss, they were bullied and lethargic. How will UNC recover, and what on earth is the ACC about right now?


No. 2 Kentucky 65, Tennessee 62
What we learned
: Cuonzo Martin's Volunteers haven't looked like an 8-9 squad over the past week. In their past three games, they've defeated Florida, nearly knocked off Mississippi State on the road and battled Kentucky for all 40 minutes. Freshman
Jarnell Stokes
, the highly touted prep player who joined the team Monday, recorded nine points and grabbed four rebounds in his debut. Once Stokes gets into shape, he's going to have a major effect on a Tennessee squad that led Kentucky by eight in the second half and stuck with the Wildcats until the end.
Michael Kidd-Gilchrist
(17 points, 12 rebounds) and
Anthony Davis
(18 points, 4 blocks) are two of America's best, but their squad is going to get caught in league play soon if it continues to show up only after halftime.


No. 1 Syracuse 78, Providence 55
What we learned
: This game was over when Ed Cooley announced stud point guard
Vincent Council
would not play. The Friars' leading scorer might not have affected the final outcome, but he could have helped his squad's deplorable offense (3-for-14 from beyond the arc, 22 turnovers) against Cuse's press. Council was a beast in PC's 31-point destruction of Louisville earlier this week. But Syracuse proved, again, that it's the undisputed No. 1 team in the country. SU has separated itself from one of the most competitive leagues in the country. The Orange's 19-0 start matches the best in school history. With North Carolina losing to Florida State and Kentucky struggling against Tennessee, it's about time that Syracuse gets more credit for its strong start. Best team. In the country. No debate.
The Midwest Upsets


Northwestern 81, No. 7 Michigan State 74
What we learned
: Oh, Big Ten. How you always find a way to amaze us. Within the past week, the league's top three teams all have fallen in upsets. At home in Evanston, the Wildcats (losers of four of their previous five entering the game) snapped Michigan State's 15-game winning streak as
John Shurna
led four double-figure scorers with 22 points. This game meant a few things: (1) There's far less separation between the top and bottom of the Big Ten than there appeared to be two weeks ago. (2) Much like Michigan and Wisconsin, the Spartans are looking for a consistent No. 3.
Draymond Green
and
Keith Appling
were the team's only two scorers in double figures. (3) Northwestern needs to prove it can put together a string of games that resemble Saturday's outing. The Wildcats have pieces, but they tend to showcase their potential in spurts. Wonder whether this season will be different.


Iowa 75, No. 13 Michigan 59
What we learned
: I can't figure out Iowa or the Big Ten right now. The Hawkeyes knocked off their second nationally ranked opponent in two weeks. And in a Big Ten that's as hard to peg as any league in the country right now, the Hawkeyes look like a factor. I didn't say contender. But the Hawkeyes prove the Big Ten doesn't offer any easy victories. No pushovers in this conference (see Minnesota-Indiana, Northwestern-Michigan for further proof). For Michigan, this game just confirmed how much the Wolverines rely on
Tim Hardaway Jr.
He is 17-for-55 in the team's four losses. The only way the Wolverines -- now 1-3 on the road -- will make a push toward the top of the Big Ten standings is if Hardaway is more consistent.


Oklahoma 82, No. 18 Kansas State 73
What we learned
: Frank Martin was enraged after his team lost to an undefeated Baylor squad Tuesday at home. He preached defense in his postgame interviews. That was a major challenge for the Wildcats on Saturday, too. The Big 12's eighth-ranked scoring defense allowed a Sooners team that lost its first three Big 12 games to shoot 55 percent from the field. K-State's performances against Mizzou and Baylor suggested the Wildcats deserve a spot among the Big 12's elite. That's not necessarily the case anymore, with the Wildcats having dropped three of their past four games. Their conference slate gets easier from here over the next few weeks, but the Cats will find themselves in vulnerable spots, especially on the road, if their defensive woes continue. That's now 3-8 in its past 11 Big 12 road games for KSU. After a strong debut, Lon Kruger's squad fell hard (the Sooners had lost four of five entering Saturday's game). But the Kansas State victory should be a major confidence booster for OU. The Sooners snapped a 14-game losing skid against ranked opponents.
The Mountain West Thriller


No. 22 San Diego State 69, No. 12 UNLV 67
What we learned
: The Mountain West is going to make noise in March. The league's top two squads, both nationally ranked, battled for 40 minutes in San Diego. This wasn't a basketball game. It was a title fight. I wasn't there, but it felt like a tournament game from my couch. This game had some of the best back-and-forth action I've seen all season. Neither team could pull away.
Jamaal Franklin
(team-high 24 points) tumbled over a photographer in the final seconds and hurt his ankle. But he returned to the floor moments later and scored the game-winning bucket. Steve Fisher continues to exceed expectations after losing Kawhi Leonard to the NBA draft and three other starters. The Rebels won't beat the top squads in their league or the NCAA tournament if their two leading scorers,
Chace Stanback
(7 points, 3-of-9 shooting) and
Mike Moser
(9 points, 3-of-11), struggle in big games. But San Diego State is headed to Las Vegas on Feb. 11 for the rematch. Can't wait to see that. This matchup wasn't just a boost for the two teams on floor; it was a boost for the entire league. The Mountain West is tough. And don't forget about New Mexico, which won its 13th straight with a victory at Wyoming. The Aztecs and Lobos go at it Wednesday night.
Taking Care Of Business


No. 9 Missouri 84, Texas 73
What we learned
: The Tigers aren't conventional. They're undersized in a league with a multitude of skilled bigs and they're not very deep. But Frank Haith used seven players in his second consecutive victory since last week's lopsided loss at Kansas State.
Ricardo Ratliffe
led the Tigers with 21 points (10-of-12).
Marcus Denmon
, who had six in a win at Iowa State on Wednesday, scored 18 against the Longhorns.
Phil Pressey
(18 points, 10 assists, 0 turnovers) continued his impressive play. Few teams possess the perimeter depth and skill to challenge Missouri's talented backcourt for 40 minutes.
J'Covan Brown
scored 34 points for the Horns, matching the combined scoring tally for the team's other four starters. But they couldn't defend a Mizzou team that held a 43-30 edge at halftime and finished with four scorers in double figures. A week ago, folks questioned the Tigers' legitimacy. But they clearly have regained their mojo since the KSU loss and should pose a threat to any top-tier Big 12 team.


No. 20 Mississippi State 56, Alabama 52
What we learned
: Alabama entered this game on a five-game winning streak. But Bama won't beat most teams in the SEC by scoring 52 points.
JaMychal Green
(14 points) was the Crimson Tide's only double-digit scorer. The Bulldogs weren't much better. However,
Arnett Moultrie
's 25-point, 13-rebound output was the difference. The two teams combined to shoot 4-for-26 from the 3-point line, but
Dee Bost
was 3-for-3 from long range in the closing minutes and that was that. Man, the SEC is confusing. Kentucky is obviously the league's best, but who are Nos. 2, 3, 4 and 5? This was an opportunity for these squads to make a definitive statement about their places in the league. Didn't really happen. I expected more from this one, but hey, Mississippi State will take the win.
Some more observations from Saturday
Baylor looked like a national champ in its 106-65 victory over Oklahoma State. No, the Cowboys aren't an elite team. But the Bears shot 52 percent on 3-pointers (15-of-29) and had almost twice as many rebounds as OSU (48-25). Nine players scored for the Bears. Their depth is underrated, and it's going to be a huge asset in March.

[+] Enlarge

AP Photo/Al BehrmanMaalik Wayns, left, dropped 39 for Villanova in a loss at Cincinnati.

Iowa State blew a 12-point second-half lead and lost its second consecutive matchup against a ranked opponent in its 82-73 defeat at Kansas. But with Royce White (18 points, 17 rebounds), the Cyclones can win nine or more in the Big 12. By the way, a career-high 28 points out of Tyshawn Taylor should quiet a few of his critics.

Connecticut is such a different team when Alex Oriakhi and Andre Drummond are fully engaged. Drummond (10 points, 13 rebounds) and Oriakhi (12 points, 7 rebounds) were impressive in the Huskies' 67-53 win at Notre Dame, ending the Irish's 29-game home win streak. The Huskies didn't have Ryan Boatright, but they played like a complete team with their bigs being so active.

Pittsburgh played better Saturday but still lost at Marquette 62-57. The Panthers, the models of consistency over the past decade, have lost six straight and are 0-5 in the Big East. Holy cow. Let that one sink in.

His team lost once again in a close game at Cincinnati, but it's worth mentioning the effort by Villanova's Maalik Wayns, who had a line of 39 points (6-of-13 from 3), 13 rebounds and six assists, and put his struggling Wildcats in a position to win on the road.

Xavier has won three in a row, after topping St. Bonaventure 77-64. Mark Lyons and Tu Holloway combined to score 33 points in the victory. The Musketeers didn't secure any signature wins during this mini-revival, but that doesn't matter. X needed to get back to winning as it prepares for the Atlantic 10's toughest squads. Until someone in the conference knocks off the Musketeers at the Cintas Center (where they've beaten 42 consecutive A-10 opponents), this team is still the league favorite in my opinion.

Conference USA should be fun this season. Like Xavier, Memphis -- a decisive winner at Houston on Saturday night -- should still be considered the favorite until someone proves they can beat the Tigers on the road. But Marshall and UCF played a classic in a 65-64 Thundering Herd victory, and both could give Memphis trouble. Southern Miss is right in the mix as well.

Meanwhile, in the Mid-American Conference, Akron now has to be considered the favorite after a 68-63 victory over Ohio, which looked so solid in nonconfernece play but has faltered of late. The Zips have wins at Mississippi State and Marshall. If they make the NCAA tournament, look out.

Have to be impressed with the way Oregon swept the Arizona schools. Winning in Tempe is nothing to be overjoyed about, but winning in Tucson -- no matter how mediocre the Wildcats have been for most of the season -- is still special for any Pac-12 school. The Ducks are as good a bet as any to win this crazy league.

You know who won't win the Pac-12? The Ducks' rival, Oregon State. The Beavers have played great at times this season, but the bottom line is 1-5 in a down conference after a horrendous double-digit loss at Arizona State on Saturday.

You know who just might win the Pac-12? Stanford. The Cardinal now are 5-1 in the conference after a 20-point beatdown of Colorado, which began 3-0 (all at home) but got a rude awakening in the Bay Area by Cal and Stanford.

Gonzaga was shaky early Saturday night, but the Zags have to be happy with their 62-58 win at Loyola Marymount, a team that has knocked off UCLA and Saint Louis this season. Mark Few's team was absolutely humiliated at Saint Mary's on Thursday. A bounce-back victory was a must, and the Zags got it done.
December, 6, 2011
12/06/11
1:50
PM ET

From a size standpoint, Monday's Charleston Southern-Florida State game could not have been a bigger mismatch. According to kempom.com, the Seminoles are the third tallest team in the nation, averaging almost 6-7. Only Kentucky and North Carolina have more size on the roster. Meanwhile, Charleston Southern is the smallest team in the nation, with the average player barely over 6-2. Florida State led by 27 at halftime and cruised to a 76-51 win. The Seminoles defense continued to flummox opponents, holding the Buccaneers under 30 percent. However, Florida State will need to solve its turnover problem to compete with equally-matched opponents. After 21 turnovers Monday, they are averaging 18.2 per game, which ranks 327th in the nation.

Milwaukee's best shooting night
DePaul had never lost to Milwaukee in 10 previous meetings. That changed Monday. Milwaukee had three players score at least 19 points in an 87-76 win. The Panthers had their best shooting performance in recent memory, and it started right out of the gates. Milwaukee hit six of their first seven threes and led 35-13 midway through the first half. The Panthers finished 61.7 percent from the floor, an Allstate Arena record for an opponent.
Tony Meier
and
Paris Gulley
combined to go 10-for-10 from long distance.

Council falls a rebound short
Vincent Council
couldn't quite get that last rebound. Despite playing 37 minutes in a 31-point win over Brown, the Providence junior fell one rebound short of his first career triple-double. Council finished with 21 points, nine rebounds and 11 assists. It would have been the first triple-double by a Friar since Geoff McDermott in 2006. It was a tale of two halves for Council, who went into halftime with 15 points. In the second half, he had six rebounds and eight assists.

You can't spell Anosike without Siena
Siena snapped a five-game losing streaking, defeating Albany 64-60 in this battle of crosstown rivals. The Saints came back from a 19-point first-half deficit.
Evan Hymes
kept Siena in the game, scoring 19 of the team's 29 points at halftime. But the line of the night came from
O.D. Anosike
. The junior finished with 21 points and a career-high 18 rebounds. He's the fifth D-I player with at least 20 points and 18 rebounds in a game this season.

Samford's keeps launching
Samford took its three-point attack to a new level on Monday, with poor results. In a 74-52 loss to UTSA, the Bulldogs attempted 41 threes and only 14 shots from inside the arc. It's the most three-point attempts against a D-I opponent in a regulation game this season. On the season, 57 percent of Samford's attempts have come from beyond the arc. Over the past nine seasons, the highest such percentage is 54.4 by VMI in 2009.
July, 8, 2011
7/08/11
12:33
PM ET
PROVIDENCE, R.I. --
Marshon Brooks
could score, so much so that the New Jersey Nets acquired him late in the first round of the NBA draft.
But Providence couldn't defend. The Friars gave up 79.9 points a game under Keno Davis. And the numbers away from home toward the end of the season were even worse as Providence limped to the finish line, giving up 83 or more points six times in the final nine games.
New Providence coach Ed Cooley has one initial goal in reshaping the program -- defend.
"My number one focus is to focus on fundamentals defensively,'' Cooley said. "I don't care what they did prior to [me] being here. I want to establish one of the best defenses in the country.''
[+] Enlarge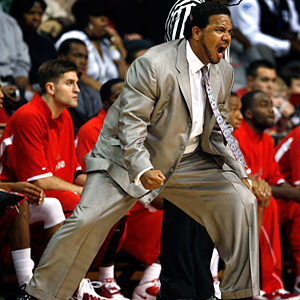 AP Photo/Mel EvansEd Cooley brings enthusiasm to his new job as Providence's head coach.
Cooley has a tough sell there with the current crop. He'll need to harp on the defensive side of the ball as much as possible. He said there was no ball for the first few times he went through individual instruction after getting the job.
Brooks is gone, his eligibility exhausted after providing 32.5 percent of the team scoring -- the most at PC since Jimmy Walker scored 39.2 percent in 1966-67. The Friars also lose fifth-year senior
Ray Hall
and two players who have been dismissed in sophomore
Duke Mondy
(7.7 ppg) and freshman
Dre Evans
(1.4 ppg).
The two newcomers will have to help in 6-foot-6 wing LaDontae Henton out of Lansing, Mich., and 5-foot-7 guard Kiwi Gardner out of Oakland. The Friars still have juniors
Vincent Council
(13.7 ppg) and
Kadeem Batts
(7.1 ppg) and sophomore
Gerard Coleman
(10.3 ppg) returning.
But there is a mentality that has to change here. The Friars have had a long history of success from Dave Gavitt to Rick Pitino to Rick Barnes to Pete Gillen to the early Tim Welsh years. But most of that, if not all, was in the pre-16 and soon to be 17-team Big East.
The Friars were 417-372 overall and 172-246 from 1979 to 2005. When the Big East went to 16 teams, the Friars were mired in mediocrity at 91-94 overall, 37-67 in the Big East.
PC's home arena, the Dunkin' Donuts Center, has been refurbished. The school has a new athletic facility that is more than manageable for a smaller school. But the proximity to players is still an issue for Providence and that won't change. If you were to honestly go down and rank the current 16 jobs on how hard they are to win, Providence and Seton Hall would be at the bottom, just below DePaul and South Florida, according to a number of coaches in the league.
Seton Hall may be in New Jersey, but playing in Newark, off campus, and in a congested traffic area is never an easy sell. That's an issue for DePaul, too, playing closer to O'Hare Airport then campus in downtown Chicago.
Interest has always been an issue at South Florida basketball. PC has dealt with a small talent pool in the region, needing to fight for recruits in the New York area and dealing with a small, private campus that has lacked diversity.
Now Cooley is the first African-American head coach and he will gladly take advantage of his groundbreaking hire.
Cooley is in charge at Providence and he has the background in the city and the personality to make a valiant attempt at making the school relevant again.
"My whole career has been about finding diamonds in the rough and developing young men,'' Cooley said. "We've got to establish our identity and get rid of the bad habits. We've got to run a fun, offensive style. We've got to win our home games and build a brand.
"I've been at the bottom of the Big East as an assistant and I learned from Al [Skinner] at Boston College in how to implement players. I found a niche at Fairfield. I didn't get them to the NCAA tournament and I feel bad about that, but we did well and we didn't have many Connecticut kids. We've got to identify the kids that are good enough for us.''
Cooley said he still needs to evaluate this current team, which will be a bit of a mixed bag for next season. He doesn't have many choices since Brooks is gone. There are no stars.
"I'm still not sure what style this team will play,'' Cooley said. "But I do know one thing -- we're going to guard somebody. It may be 15-10 at halftime. But we're going to guard somebody. We're going to learn to play defense the right way.''
The Friars will be predicted for the bottom of the Big East. PC might even be last. But Cooley has already connected with the campus and the city. He will get people to come and watch. Clearly, he has to win for them to return.
"Providence is committed in a different way now,'' Cooley said. "But they've never had a coach from Providence. I can sell Providence College. I can sell being from here.''