College Basketball Nation:

Virginia
February, 19, 2012
2/19/12
8:27
AM ET
By
ESPN.com staff
| ESPN.com
A scan of the college basketball box scores each night guarantees all kinds of statistical oddities and standout performances. Here are some we found from Saturday:
Note of the Day
Sixteen players had 10 or more assists Saturday, six more players than on any other day this season.

Oklahoma State 90, Texas 78
Oklahoma State's
Keiton Page
made all 20 of his free-throw attempts as part of a career-high 40 points. The 20 free throws without a miss match the most by any player since the start of the 1996-97 season. As a team, Oklahoma State made 43 free throws, matching the most by any team this season (Colorado State on Nov. 22).
Northwestern State 100, Campbell 86
Like Page, Northwestern State's
William Mosley
attempted 20 free throws on Saturday; unlike Page, Mosley made just five of his 20. No player since the start of the 1996-97 season had missed 15 free throws in a game before Mosley did it in Saturday's win. There were 93 free throws attempted in this game by both teams combined, most in a game this season.
Montana 94, Hawaii 79
Montana sophomore
Kareem Jamar
had 21 points, 11 rebounds and 11 assists in the win, the first triple-double of his career. The 21 points match the third-highest total of his career, the 11 rebounds are the second most he's had in a game, and the 11 assists are four more than his previous career high.
Washington State 72, Arizona State 50
Arizona State finished with 50 points despite scoring only eight points in the first half. They are the second team this season to score fewer than 10 points in the first half and still score at least 50 for the game. Eastern Michigan scored nine in the first half of a 71-50 loss to Virginia Tech on Dec. 22.
Virginia 71, Maryland 44
UVA won by 27 points despite being tied at halftime, matching the largest margin of victory by a team trailing or tied at halftime against a Division I opponent this season. Hawaii trailed South Carolina State by one at the half in a 27-point win on Dec. 29.

Marshall 73, SMU 68
SMU scored 54 points in the second half after scoring 14 in the first half. In their previous game, the Mustangs scored just 28 points.
South Alabama 66, Western Kentucky 61
South Alabama's
Javier Carter
had 10 points, 10 rebounds and eight blocks off the bench in the Jaguars' win. The eight blocks are the most by a bench player this season.
March, 11, 2010
3/11/10
10:45
AM ET
Previewing today's games in the ACC:

Boston College-Virginia, noon


At stake:
Both teams are hoping this is the beginning of a stunning run of four victories in four days. Not likely for either, but you have to start somewhere.
Who has the edge:
The Eagles. Virginia has lost nine straight and suspended its leading scorer,
Sylven Landesberg
, for academic shortcomings. BC won by 13 when the two met in Chestnut Hill on March 3.
Stat to watch:
Virginia has attempted the fewest free throws of anyone in the ACC, just 485. Next fewest is Boston College at 537, a full 80 fewer attempts than 10th-place Miami. Can either struggling offensive team find the easiest way to score by getting to the foul line?
Miami-Wake Forest, 2 p.m.


At stake:
Miami is hoping for a miracle. The Demon Deacons are playing for NCAA seeding and would like to win their first postseason game since 2008.
Who has the edge:
Wake, but not as big an edge as you might think. They're played poorly down the stretch, losing four of their past five, and the teams split their two regular-season meetings.
Stat to watch:
Wake Forest leads the nation in effective field-goal percentage defense, according to Ken Pomeroy's statistics. Miami, meanwhile, is a pretty good shooting team at 46.2 percent, second-best in the league. Which strength wins the day?
Georgia Tech-North Carolina, 7 p.m.


At stake:
Tech needs to win this game and perhaps another to feel secure about an NCAA tournament bid – and coach Paul Hewitt needs an NCAA tournament bid to feel secure about keeping his job. The Tar Heels are simply trying to pick their teeth up off the ground and salvage something from a disastrous season.
Who has the edge:
Georgia Tech swept the season series, winning close in Chapel Hill and by 17 in Atlanta. And the Yellow Jackets are closer to playing for something than the Heels.
Stat to watch:
Which team takes care of the ball? Both have committed more turnovers than they've forced – Carolina is last in the 12-team ACC in turnover margin in league games, and Georgia Tech is tied for eighth.
North Carolina State-Clemson, 9 p.m.


At stake:
North Carolina State is hoping to start a run – and, potentially, hoping to extend Sidney Lowe's tenure as coach. The Tigers are trying to improve their NCAA seeding.
Who has the edge:
Clemson. It won the only meeting between the two this season by three points in Raleigh. But NC State has won three of its past four coming into this game.
Stat to watch:
NC State is shooting just 44 percent on the season – and that drops to 40 percent in league games, last in the ACC. But the Wolfpack shot 50 percent or better in their past two victories. If Clemson keeps the Pack closer to 40 percent accuracy than 50 percent, it should win.
March, 6, 2010
3/06/10
2:56
PM ET
It's been an up and down season for the
Virginia Cavaliers
in their first year under coach Tony Bennett. Add another to the "down" column.
Bennett has suspended leading scorer Sylvan Landesberg for failing "to live up to his academic obligations,"
according to Virginia's sports information department
. Bennett's quote on the matter just about says it all:
"Sylven has failed to live up to his academic obligations and will not play in games for the remainder of the season," Bennett said. "This is a very difficult decision. Sylven is a fine young man who I deeply care about, but our players need to take personal responsibility for their academic obligations. There are standards and expectations that Sylven and every player in this program now and in the future must uphold. When they are not upheld, there are consequences."
The suspension comes on the tail end of Virginia's eight-game losing streak, a streak that erased any hope Virginia had of making the tournament with a surprisingly strong ACC start. Virginia has lost 10 of its last 12. Landesberg has been a major bright spot, though, scoring 17.3 points per game in his sophomore year.
In other words, Landesberg's suspension hurts Bennett's team in a bad way, but it's not as though the Cavaliers are still fighting for an NCAA berth, or that Landesberg's suspension will derail the team's tournament hopes. If there is any time to prove a point to your star player for the remainder of a season, now's that time.
February, 18, 2010
2/18/10
9:27
AM ET
The Morning After is our semi-daily look at last night's best hoops action. Try not to make it awkward. Oh, and sorry about that headline. I couldn't help myself.
No. 4 Purdue 60, No. 12 Ohio State 57
: Any time you face a player as good as
Evan Turner
, the conventional strategy is simple: Make someone else beat you. It might not have been conscious, but Purdue's execution in last night's impressive road win at OSU was the exact opposite. It let Turner get his points (and his assists, and his rebounds, and pretty much anything else he wanted, because what are you going to do, triple-team him?) and the rest of the Buckeyes couldn't step up in time. By the time OSU started hitting the shots it usually makes to complement Turner's brilliance, it was too late: Purdue is simply too smart, too hard-nosed and too complete on defense to spot it 15 first-half points. OSU and Turner made a valiant comeback, but it was too late.
Purdue's defense didn't stop Turner -- he went for 29 points, seven rebounds, and five assists -- but what it did do was isolate Turner from the rest of his teammates. Purdue swarmed OSU with that patented man-to-man defense, and Ohio State's offense turned simple. There was no motion, no movement, none of the things that the Boilermakers kept wowing with on their own offensive end. Instead, Turner would bring the ball up the floor, receive a screen or an iso call, go to the hoop and oftentimes score. But even a player as good as Turner can't rebound all of his misses. Even Turner can't find himself on back cuts. Even Turner can't make every shot. Ohio State had six assists all game; Turner had five of them.
In the end, it's games like these that set Purdue apart from the Big Ten pack. The Boilermakers have elite talent --
JaJuan Johnson
is perpetually slept on; sooner or later we'll learn -- but they also have the depth and style, that hard-nosed, lockdown defense thing that you can feel when you watch them, to outlast mercurial teams like Ohio State. Matt Painter's boys are not perfect, and they're not Kansas, but they're the closest thing the Big Ten has to a Final Four favorite. That much is no longer in dispute.
Louisville 91, Notre Dame 89, 2OT
: Which team needed this one more? Louisville, coming off an upset of Syracuse and trying to fight its way back into safe bubble territory? Or Notre Dame, whose bubble hopes are almost entirely waned, but who could maybe take a win at Louisville to the committee as a résumé-builder? Hard to say. What I do know that is that a Louisville win -- in which
Samardo Samuels
scored a career-high 36 points, including 16-of-19 from the free throw line,
marking the only real difference between these teams in Four Factors land
-- moves Louisville into legitimate tourney consideration, and just might move Notre Dame off the bubble for good. Such is life in the middle of the Big East.
Missouri 82, No. 17 Texas 77
: Is Texas going to drop out of the Top 25? This is the Longhorns' sixth loss in nine games, and while there's nothing wrong with losing at Missouri -- Missouri is a tough out, to be sure -- a team as talented as Texas losing so many games in the stretch run of its season, just as the country's elite are hitting their stride and doing their best work, ought to be hugely discouraging to voters. Take a gander at those Big 12 standings: Texas is 6-5 in the conference, behind Kansas, Kansas State, Texas A&M, Baylor and, yes, Missouri, which moved to 7-4 with Wednesday night's win. Texas is one of the most-talented teams in the country.
How does that happen?
Anyone with a really good answer -- something besides "Rick Barnes plays too many players" -- wins a cookie. Not kidding. I will mail you a cookie of your choosing. Just please help me understand this, because I am so very confused.
Everywhere else
: Duke was over the ledge in the first half at Miami, trailing by 12 at halftime and apparently doing another of its incomprehensible road loss routines, but credit the Devils for the turnaround:
Duke won 81-74 in an impressive comeback victory
. Sure, it's just Miami, but a road ACC win is a road ACC win. Especially for Duke. ... It was a night of survival for highly ranked teams, and
Kansas State's near-loss at home to Nebraska was no exception
. ...
West Virginia withstood Providence's second-half rally
. ... St. Louis got a huge win for itself and for the prospect of six A-10 teams in the NCAA tournament
with its win over Rhode Island
. ... Tennessee got a challenge from Georgia, but
pulled away for the nine-point win
. ...
Florida State rolled at Virginia
, a doomer for the Cavaliers' faint NCAA hopes. ...
South Carolina did itself no favors by losing at Arkansas
; as fun as it would be to have Devan Downey in the NCAA tournament, it's not looking good.
February, 17, 2010
2/17/10
4:02
PM ET
Saddle Up is our daily look at the hoops your TV wants you to watch. Here's Wednesday night's rundown.
No. 4 Purdue at No. 12 Ohio State, 6:30 p.m. ET, Big Ten Network
: If you're one of the college basketball fans
who doesn't live in a market that carries the Big Ten Network, or that doesn't have DirecTV
, well, man. I'm sorry. That's no good. Because tonight is one of the biggest games the Big Ten has had in years, and you're going to have to follow along on the Internet. You're also going to have to rush home from work; a 6:30 p.m. ET start time is mighty unfriendly to those Big Ten fans who live in the central time zone, which is most of them.
[+] Enlarge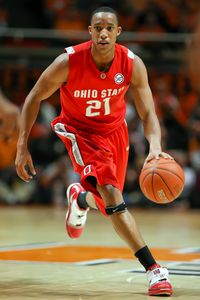 Robin Alam/Icon SMIExpect Purdue to try to smother Ohio State star Evan Turner.
Sneak out early. Duck your boss on your way out. Put up an out-of-office notification email. ("I'm not in the office, because I'm watching an awesome basketball game. Please direct all urgent issues to Person X, and don't bother me for the next few hours, nerds.") Do what you need to do, because the battle between the fighting Evan Turners and Matt Painter's steadfast and solid Boilermakers team is full of implications. If Purdue wins, they make a very strong case to displace Villanova as the fourth No. 1 seed and might cruise to the Big Ten title. If Ohio State wins, it boosts its own tourney resume and gets the added bonus of a foot forward in the Big Ten title race. The Big Ten is loaded at the top; tonight's result should provide some measure of separation.
The most notable match up on hand is, obviously,
Evan Turner
versus, well, anyone Matt Painter decides to send Turner's way. The Boilermakers are great at harassing opposing guards, and the one chink in Turner's armor is his tendency to turn the ball over. Expect Painter to try and smother Turner with multiple defenders as soon as he crosses the half-court line, and maybe before.
E'Twaun Moore
and
Chris Kramer
will play a prominent role, and it wouldn't be shocking to see
Robbie Hummel
try to keep Turner from dominating inside.
That's a solid strategy, but it leaves Purdue open to Ohio State's biggest non-Turner strength: shooting. The Buckeyes hit their outside shots. That efficiency means Turner doesn't need to dominate the scoreline for OSU to stay productive on offense; he merely needs to be enough of a distraction to dominate the other team's gameplan. If Purdue can find a balance between keeping Turner away from the areas he usually owns, as well as keeping OSU's shooters from getting too many kickouts and easy, Turner-delivered looks, Purdue has a great chance to win. But that, as with anything Villian-related, is easier said than done.
Whatever both teams decide to do, the numbers would point toward a close game:
Ohio State is the country's eighth-best offense
;
Purdue is its seventh-best defense
. Ohio State has the No. 24 defense in the country; Purdue has the No. 24 offense. Both teams have their eyes on deep tournament runs, and both teams are hitting their late-season strides. Like I said, rush home from work. Screw your personal file. This one is worth it.
But that's not all! Bonus previews, notes, and errata
: Be sure to check out
Hammer And Rails' lengthy preview of tonight's game
; same goes for Boiled Sports,
who says the anticipation "almost feels like a football game,"
which, were I a Purdue basketball player, would offend me. For the OSU-interested, you can find excellent fan-centric previews at
Eleven Warriors
and
Buckeye Battle Cry
. The
Big Ten Network seems rather excited about tonight's game
, too. And
don't forget the implications
. So many implications! (I like writing the word "implications." Implications. OK, sheesh, I'll stop.)
Everywhere else
:
Duke gets a chance to prove itself on the road against a decidedly mediocre Miami (FL) team
, which should be no problem, except this is Duke on the road, and, well, you know ...
West Virginia goes to Providence
, where Bob Huggins' men will attempt to sidestep the recent plague of Big East upsets ...
Nebraska plays Kansas State in Manhattan
; have fun, Huskers ... Your sneaky-good game of the night?
Texas at Missouri
... Georgia has played well on the road in the SEC;
their next challenge is at Tennessee
... Notre Dame, barely hanging on to a bubble spot,
will face fellow bubblers Louisville at Freedom Hall
... In a stacked A-10 with six possible NCAA tournament teams,
Rhode Island at St. Louis means a lot
... and two fringe ACC bubble teams will try to sort themselves out
when Florida State goes to Virginia
.
February, 5, 2010
2/05/10
11:57
AM ET
Georgia Tech blogger
BirdGT at From The Rumble Seat has a beef with his fellow ACC fans
. It goes a little somethin' like this:
All I've heard lately is, "Our conference is down!" or "North Carolina is bad so everyone else sucks too!" or "The ACC will only get one berth in the NCAA's!" Blasphemy? Yes. Insanity? Yes.
Mr. GT goes on to make the point, through charts and graphs and facts and figures, that not only is the ACC
not
down, it's actually fared quite well against other power conferences -- going 8-4 against the Big East, for example. Mr. GT also takes on the perception that the Big East is better merely because it's bigger, which is pervasive; you saw it already today, when Seton Hall coach Bobby Gonzalez revealed his opinion that middle-of-the-pack teams in the Big East
should get in the NCAA tournament
because the conference itself is so good. That's only partially true. There are plenty of good teams in the Big East. But it's also much bigger than any other conference, meaning its odds of producing elite teams from year to year are slightly higher than its counterparts. Likewise for its bad teams.
That's a digression, though; this is really about the ACC. Is the conference bad or not? That depends how you define "bad." After listing the conference's tempo free margins on Tuesday,
John Gasaway made this exact point
:
No truly scary teams, right? After all, Duke just got whacked by Georgetown in Washington D.C. on Saturday and, at the risk of skipping ahead, the Hoyas may be merely the Big East's fifth- or sixth-best team. So why is it that by the lights of at least one widely respected measure the ACC is the best conference in the nation? Simple: The league has bad teams but no truly awful ones. Remember this over the next few weeks as debates rage over whether the Big East is better than the Big 12. Talking about a conference through the medium of its NCAA tournament entrants is one thing. Talking about it "top to bottom" is quite another. Define your terms in advance.
The ACC isn't particularly intimidating this year, but that doesn't mean it's a "down" year, at least not if you're interested in looking at every team in every conference and comparing them as such. The ACC has one very good team (Duke), a couple of potentially good teams (Maryland and Georgia Tech, probably) a couple of surprises (Virginia and North Carolina, for different reasons) and a bunch of just-OK to bad squads. There isn't a single Rutgers or LSU or Penn State among them. The ACC might not crown this year's national champion, but let's not be too harsh, huh?
January, 29, 2010
1/29/10
9:55
AM ET
The Morning After is our semi-daily recap of the night's best action. Try not to make it awkward.
No. 12 Purdue 60, No. 15 Wisconsin 57
: Michigan State is still in charge of the Big Ten, but Purdue and Wisconsin aren't far behind. That's the conclusion from Thursday night's thrilling 58-possession game (not an oxymoron!) in West Lafayette, where Purdue and Wisconsin battled for 40 minutes, neither team able to totally solve the other, until
Trevon Hughes
' last-second floater rimmed out and the Boilermakers finished the game with a three-point margin. Purdue made just two threes all game but made up for it by shooting 73.3 percent on its twos, while Wisconsin made up for a lackluster two-point percentage by making 47.4 percent of its threes. This made for an even matchup. The difference, however slight, could possibly be found in offensive rebounding; Purdue rebounded 37.9 percent of its misses while Wisconsin only grabbed 21.2. In any case, the margin is almost too slim to call, and this is your second tier in the Big Ten. Michigan State still reigns, but both Purdue and Wisconsin are right there, and both deserve your respect. That was Thursday night's lesson.
No. 22 Georgia Tech 79, Wake Forest 58
: Anatomy of a thorough beatdown: Make a lot of shots (59.3 percent eFG). Stop the other team from doing the same (35.2 percent eFG). All else equal, um, yeah: You're going to win that game. Such was the case in Atlanta last night, as Georgia Tech laid the aforementioned thorough beatdown on Wake Forest, 79-58. Paul Hewitt said it best: "I'm not sure we can play much better than that." I'm not sure any team can. At least not any team in the ACC. Now it's up to Georgia Tech to replicate that performance. If they can, even sporadically, the Yellow Jackets ought to treat their fans to an awfully interesting couple of months.
Everywhere else
: Ole Miss shot well on the way to a
10-point road win over Auburn
... Pitt rebounded from a slow start -- the Panthers trailed by four at the half --
to take a 63-53 win over St. John's in Pittsburgh
; this was not a game Pittsburgh was allowed to lose ... Seton Hall and South Florida played into overtime, and
that's when Dominique Jones
took over, giving South Florida the two-point win ... Santa Clara pushed Gonzaga to the limit,
causing even Ken Pomeroy to worry
, but
the Bulldogs rallied from a 14-point deficit to take the win
...
Virginia Tech got an impressive win at Virginia
in overtime; Tony Bennett has had the Cavaliers playing solid basketball, so a loss at home is something of a surprise ...
Siena fought off another test from upstart St. Peter's
... and
Cal took another step
toward Pac-10 supremacy with a win over Arizona State in Tempe.
January, 25, 2010
1/25/10
1:20
PM ET
It's Monday, the Cats are the new No. 1 team in the country, and we're all just living in their shadow. Don't try to fight it. Do, however, send me links and posts via Twitter. Now, on with the links:
January, 16, 2010
1/16/10
11:52
PM ET
Quick roundup from Saturday's slate:
Ohio State, even at 3-3 in the Big Ten, may be the toughest challenger for Michigan State in the Big Ten now that Evan Turner is back. The Buckeyes' win over Wisconsin comes off a victory at Purdue. They next host Northwestern and then step out of conference at West Virginia, which may not be able to handle Turner. Turner had five turnovers and four fouls against the Badgers, but still made money plays, scoring 15 points.
Pitt coach Jamie Dixon said late Saturday he was hoping Louisville coach Rick Pitino would call a timeout in the final 20 seconds so he could set up a shot for Brad Wanamaker. Pitino did call the timeout and Wanamaker was open in the corner off the inbounds for the 3-pointer that essentially sent the game into overtime. Dixon also reminded me that the Panthers didn't look so hot in November and December because they didn't have their two of their top three guards (Gilbert Brown and Jermaine Dixon). "Who has their most experienced guards out?'' Dixon said. "You can't be without your guards.'' Dixon isn't getting too giddy about the 5-0 Big East start. "We've still got a long way to go.''
North Carolina may finish as low as fourth or fifth in the ACC. Georgia Tech, which has arguably the most talented frontcourt in the conference, finally closed out a significant road game by holding off the Tar Heels in Chapel Hill, 73-71. This win will do wonders for the Yellow Jackets' confidence.
Texas A&M showed tremendous poise to push Texas late in the game and proved that it will be a solid Big 12 team down the stretch. But the Longhorns have one of the top five players in the country in Damion James. His 3-pointer and blocked shot in overtime essentially won the game for the Longhorns in what was as large a performance as any player has made in a key game this season.
Northwestern had to beat Purdue to be relevant in the Big Ten. The Wildcats already lost at home to Wisconsin and Michigan State. The Wildcats made shots when it mattered most and Drew Crawford had two critical treys for the 'Cats.
Purdue is now 2-3 in the Big Ten. The Boilermakers were four games behind Michigan State last season. The Spartans are 5-0 in the Big Ten. The spread won't be as large this season, but it's already three games (I know they haven't played twice yet).
Syracuse has a real shot to win the Big East (not breaking news here) but West Virginia won't after losing at home to the Orange.
Tennessee has won four straight games -- Charlotte, Kansas, Auburn and now Ole Miss -- since the post New Year's Day arrests. That's significant and needs to be praised. Wayne Chism did a yeoman's job with 41 minutes and 26 points. The Vols are clearly the second best team in the SEC.
Clemson won a game it was supposed to by beating NC State on the road. But it could be costly. Point guard Demontez Stitt picked up a sprained left foot, was put in a boot and is questionable for the Tigers' next game at Georgia Tech.
Dayton was picked to win the A-10. Xavier may still be the team to beat. The Musketeers had a gutsy win over the Flyers at home, the kind of win you need to have if you're going to win the league. Can't believe the Flyers haven't won at Xavier since 1981.
Maryland could be 3-0 in the ACC had it not whiffed late at Wake Forest in overtime. The Terps smashed Boston College 73-57. The Eagles are now learning how much it needs a leader and a big-time point (departed guard Tyrese Rice is looking more important now than ever).
Kentucky coach John Calipari told me Saturday that John Wall (seven turnovers) played his worst game of the year and the Wildcats still won (72-67 over Auburn). He also said he wasn't ready for the 'Cats to be No. 1 in the country, but he might not have had any choice if Texas had fallen to Texas A&M. It still might happen soon if the Longhorns lose to Kansas State Monday.
After beating Miami handily, could Virginia could be 9-7 in the ACC and make the NCAA tournament? The Cavs already have three quality wins (UAB, Miami and Georgia Tech). The Cavs may only lose one home game (Duke) and could easily steal a road win at maybe BC later in the season. Tony Bennett is your leader in the clubhouse for ACC coach of the year.
Washington looked like Washington should in a romp of Cal. But guess who may win the Pac-10? Arizona State swept the Oregon schools on the road and is alone atop the Pac-10 at 4-2. Wow.
Meanwhile, USC pounded UCLA 67-46 for the worst loss the Bruins have had against the Trojans since the 1940s. Credit the Trojans for still playing hard without a postseason bid.
Oklahoma showed it's not done yet after following up a win against Oklahoma State by beating surging Missouri at home.
Love how Kansas State won a game it was supposed to by beating Colorado in Boulder in advance of hosting Texas Monday.
January, 14, 2010
1/14/10
9:30
AM ET
The Morning After is our semi-daily recap post. Try not to make it awkward.
Clemson 83, North Carolina 64
: Two conclusions. 1). North Carolina is, as of Jan. 14, not very good. 2). Clemson's basketball fan support is at an all-time high, and the Tigers are better for it.
On the first: This isn't exactly a shocker. After all, North Carolina came into Thursday night's game
ranked No. 41 in Ken Pomeroy's adjusted efficiency ratings
. They're merely OK defensively, and in past years this was fine, because the offense was otherworldy. That's not the case this year; UNC is 40th in points per possession, scoring about 1.1 points per trip. That's just ... meh. (And it doesn't help when you
turn the ball over
on 30 percent of your possessions, either.) It's certainly not what we've come to expect from Roy Williams' North Carolina teams, who have overwhelmed their opponents on the offensive end since the day Roy found a house in Chapel Hill. This team is young and new and not vintage UNC, and it shows. On nights like Wednesday, it shows badly.
Make no mistake, though, North Carolina wasn't merely bad on Wednesday. Saying so would be a disservice to Clemson and its fans. This is the second conclusion: Don't look now, but Clemson is starting to look like a pretty darn good ACC program. They've got the ability, sure. That's not entirely new; Oliver Purnell's teams have been playing at about this level for a few years now. But more than anything, Wednesday night showed just how far Clemson's fan base has come. It was this time last year that
Clemson writers were aghast
wondering why so many people were showing up to noon tip-offs at Littlejohn Coliseum. That was unlike Clemson fans, who typically prefer their football. (They're in South Carolina, after all. Don't fish prefer the water?) Newsflash: Clemson basketball has plenty of fans, too, and those fans are relishing the Tigers' stellar on-court product.* Chicken, meet egg.
*Speaking of on-court relish, this of course doesn't excuse the court-storming that went down on Wednesday night, which I'll get to in a later post. Here's a preview: Tsk-tsk, Clemson students. Tsk. Tsk.
Texas 90, Iowa State 83
;
Kansas 84, Nebraska 72
;
Missouri 94, Texas Tech 89
: Well, it was fun while it lasted. Most of Wednesday's talk revolved around how well Big 12 teams had done at home in 2009-10;
the conference was 112-1
going into Wednesday night's games. I said yesterday that that stat would be tested, and if it held up after Wednesday night's games, something seriously freaky was going on. Never mind. All three Big 12 road teams won on Wednesday night, even Missouri -- ostensibly rebuilding after an Elite Eight last year, but quietly 14-3 and 3-0 in conference -- at Texas Tech. I think we can rule out the supernatural.
Michigan State 60, Minnesota 53
: Minnesota is almost good enough to be ranked. Almost. The Gophers have lost five of their last six games to ranked teams (that stat courtesy of the wonderful folks in the ESPN research department), including on Wednesday night, when they played Michigan State almost even for 40 minutes in East Lansing and only barely came up short. The Spartans, meanwhile, are starting to find their groove after some struggles in the early nonconference season. Sound familiar? (I meant that rhetorically. Of course it sounds familiar. The Spartans do this every year.)
Pittsburgh 67, Connecticut 57
: Dana said it best last night:
Pitt is legit
. Simple, syntactically rhythmic and also, you know,
true
. Pittsburgh was supposed to rebuild in 2009-10. They were supposed to feel every pound of DEJuan Blair's body mass lifted from underneath the opponent's basket. (Which, by the way, note to every NBA GM that didn't take Blair in the late first or early second round:
You are idiots
. I'm not the first to tell you, but I'll gladly join the chorus. Letting Blair go to the Spurs in the late second round.
Unbelievable.
) Anyway, the point is, Pittsburgh isn't missing its big three nearly as much as we all thought. They're doing just fine, actually, perched quite neatly atop the Big East with wins at Syracuse , at Cincy and now at UConn. Jamie Dixon:
coach of the year
?
Everywhere else
:
Duke destroyed Boston College
at Cameron, which: duh ...
Syracuse dismantled Rutgers in New Jersey
, which again: duh ...
BYU had no problems with Air Force
on its way to a 12th win in a row, and speaking of coach of the year candidates, Dave Rose, come on down ... Northwestern had a chance to notch a huge Big Ten win over Wisconsin but lost hold of the game in the closing minutes,
losing 60-50
and taking another step toward a perpetual NCAA tourney-less existence ... Georgia plays hard, that's for sure; unfortunately the Bulldogs' best effort is often not quite good enough, and such was the case in
yet another close loss to a ranked team
Wednesday night ... Hey, wait a second. Is that Virginia? Beating Georgia Tech?
Why yes, yes it is
! More on this later in the day ...
Utah State outlasted Nevada
in a close overtime WAC win ...
Vanderbilt barely escaped Alabama
in Tuscaloosa ... and Xavier battled toward the top of the A-10 with
a win over Charlotte
.