College Basketball Nation:

Wagner Seahawks
July, 17, 2012
7/17/12
3:45
PM ET
Bashir Mason, Wagner's new head coach, suppressed his excitement when the school's athletic director, Walt Hameline, called to offer the 28-year-old the program's head coaching post in March. He stayed professional.
That didn't last long.
"When I hung up the phone … the only way I can explain it is that I gave one of those yells players give when they make a game-winning shot," Mason told ESPN.com. "I'm in the apartment alone. I actually think I started beating on my chest as well. A ridiculous feeling, an unbelieving feeling."
[+] Enlarge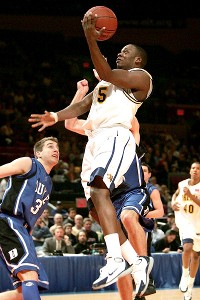 Travis Lindquist/Getty ImagesAt 28-years old Bashir Mason is the youngest DI coach in the country. He finished his playing days just five years ago.
Mason's celebration was warranted.
He'd just received an opportunity to become the youngest Division I head coach in America.
Just five years ago, Mason completed his career as a standout point guard at Drexel. He was a four-year starter who earned All-Defensive team honors in the CAA every season. He was the first freshman to win the CAA's defensive player of the year award during the 2003-04 season.
Former Wagner coach Danny Hurley offered Mason a slot as head coach of Saint Benedict's postgraduate squad -- Hurley led the varsity at the time -- after he graduated from Drexel in 2007. Mason coached the team to a state title in his only previous head coaching post.
Hurley added Mason to his staff at Wagner in 2010.
After Hurley, Mason's former high school coach, decided to take the Rhode Island gig in March, he offered then-Wagner assistant Mason the same post with the Rams.
Mason prepared to leave but not before interviewing for Wagner's vacant head coaching position.
He figured he had nothing to lose.
If Wagner had gone in a different direction, Mason would have moved onto Rhode Island. If the school chose him, a slim possibility in Mason's mind, he'd fulfill a dream.
Mason was so sure that Wagner would choose another coach that he began to track possible recruiting targets for Rhode Island to get a head start in his new position as a Rhode Island assistant.
But Wagner had other plans.
"I didn't think I had a chance in the world to get the job," Mason said. "I went after it just because I'm 28 years old. If I get it, unbelievable. If I don't get it, I'll be at Rhode Island as an assistant coach."
The first few months on the job have been rewarding and hectic for Mason. But the new NCAA rules that allow coaches to conduct player workouts during the summer have eased the transition.
"I would say the first month has been scramble mode. Trying to put a staff together. Trying to put a team together as they go through the transition of a new head coach," Mason said. "It's been great, especially with NCAA passing that rule that we can work with these guys for two hours … I'm getting a chance to figure out who I am as a coach. Things I like, dislike. The players are getting adjusted to my voice now. Not the voice of an assistant but as the head coach. Overall it's been really good."
Hurley directed Wagner to the national spotlight last season with a nonconference road victory at nationally ranked Pitt. That victory was the most memorable moment for a Wagner squad that finished 25-6 but missed the postseason. Hurley started his tenure with a team that finished 5-26 the previous season.
That massive turnaround made Hurley one of the hottest coaches in the country by season's end. His departure opened the door for another young coach who hopes to emulate his success.
Mason has the tools to do it, too. Three of the team's top four scorers return for a squad that finished the year with the highest ranking among Northeast Conference squads in Ken Pomeroy's adjusted efficiency ratings (No. 112).
Mason said he doesn't view his youth as an obstacle. He said he still has a lot to learn off the floor but he credits Hurley for "preparing me for this moment."
Wagner's administration respects him.
And his players recognize his authority.
But if they challenge it, he said, he'll gladly remind them.
"I think I carry myself with a demeanor where guys know that I'm running the ship," he said. "I'm close to them in age … [but] there's a line that you shouldn't cross."
February, 17, 2012
2/17/12
5:00
PM ET
As a ballhandler and a defender attacked each other between rows of orange cones, twisting and turning at video game speed, Danny Hurley shouted above the squeaking sounds of their high-tops. On a hill in Staten Island, the basketball coach was filling the dimly lit gym with the clichéd commands of his craft.
Move your feet. ... Keep him in front of you. ... Beat him to the spot.
One
Wagner College
player committed the not-so-venial sin of fumbling the ball in a rebounding drill, and Hurley barked, "You're fighting for your life." He kept wincing as he dug his hands into the gray stubble of his scalp, looking and sounding like any one of a thousand overcaffeinated lifers who confuse practice with a military exercise in the heat of a cold war.
Only Hurley isn't just another 39-year-old face in that crowd. He's the son of Bob Sr., living legend at St. Anthony in Jersey City, N.J., one of three high school coaches inducted into the Naismith Memorial Basketball Hall of Fame. Of greater consequence, Danny's the kid brother of
Bobby
, former lottery pick of the Sacramento Kings, two-time national champion at Duke, maybe the best pure point guard college basketball has ever seen.
Bobby was observing these drills in relative silence, assuming the subservient role of right-hand man. Suddenly the little brother has emerged as the family star, the
Eli
of the Hurleys, and the big brother has taken
Peyton
's place in the background.
Now 22-4 at Wagner two years after rescuing Mike Deane's 5-26 team, Danny is responsible for the most improbable New York basketball story this side of
Jeremy Lin
. Bobby is a first-time assistant learning the Northeast Conference trade from a figure inspiring enough to lead the Seahawks to a road victory over the Pittsburgh Panthers, then the 15th-ranked owners of a 70-0 record against Wagner's league.
For more of this story,
click here
.
December, 31, 2011
12/31/11
11:58
AM ET
By
ESPN.com staff
| ESPN.com

Wagner sophomore guard Kenny Ortiz hits an unbelievable behind-the-backboard shot at the buzzer to give Wagner a 64-62 win at Santa Clara on Friday night.


December, 29, 2011
12/29/11
5:25
PM ET
During his first individual workouts, Wagner's Danny Hurley looked at his brother, assistant coach and former Duke star Bobby Hurley, and shook his head.
He knew he'd inherited a program encumbered by a variety of challenges. But he was alarmed, confused and worried when some of his players couldn't finish basic drills.
"Two guys were throwing up, another guy was dribbling off his foot and the other guy was shooting hook shots," Hurley told ESPN.com. "[I'm thinking] 'What the hell did we just do?'"
Hurley, who played at Seton Hall, said he initially assumed that he'd need three or four years to convert Wagner into the program he envisioned.
[+] Enlarge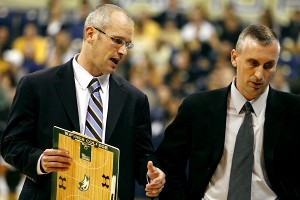 Charles LeClaire/US PresswireTwo seasons after inheriting a 5-26 squad, Danny Hurley, left, and Bobby Hurley have turned Wagner into a winner.
But in his first season, he won 13 games, eight more wins than the previous year.
And just 20 months after leaving his successful stint at St. Benedict's Prep in New Jersey and accepting the Wagner job, Hurley's squad reached a benchmark much earlier than he'd previously anticipated. His team's 59-54 win at No. 22 Pitt Friday was a milestone that's already boosted the program's profile.
Pitt entered that game with a 70-0 record against Northeast Conference schools.
"The closest we get to 'SportsCenter' often times is the ticker off the bottom. To be the lead story on the 11 o'clock SportsCenter … it's surreal," Hurley said. "To be able to do something like that in the infant stages, 20 months into trying to build a program that was 5-26, to be able to accomplish that in that short period of time is significant."
Hurley turned St. Benedict's into one of the best prep programs in America. He dismissed other job offers throughout his tenure there and ultimately stayed for nine years.
Loyalty runs in the family. His father, Bob Hurley, has been at St. Anthony High School in Jersey City, N.J., for nearly 40 years.
So Hurley didn't view the Wagner gig as a temporary stop when he took it. That would have been unfair to players, who will only buy in if they believe that their coach is genuine, he said.
"Kids are smart, so if it's phony, the culture's not going to be right. You've gotta show your kids that you care about them," he said. "That allows you to drive them."
Hurley said he's happy with the Pitt win but not satisfied. He craves bigger victories in the future for his 8-3 team, which faces Air Force in the Cable Car Classic in Santa Clara, Calif., on Thursday night. He also hopes his team can build off Friday's moment and compete for the NEC title. To achieve and maintain that success, he has to attract talented athletes to the small school in Staten Island, N.Y.
Friday's victory, the most significant highlight on Wagner's journey thus far, increased the likelihood that the school will draw better players in the future. Hurley said he's noticed a change in the outside perception of his program since its win over Pitt.
"We're not getting the 'Where's Wagner?' or 'Pronounce that again' [and] kids aren't asking me about St. Benedict's Prep," he said. "They're excited to know more about what we do."
What they do is swarm on defense. The Seahawks own the NEC's top field-goal percentage defense (40.2 percent). They held Pitt to a 2-for-15 clip from beyond the arc and forced 18 turnovers.
That relentless pressure is birthed in energetic practices.
"You come to our practice and you'll think that there's a fire drill. [After a player makes a stop or draws a charge], 12-13 players will be sprinting over to pick that player up and pat him on the back," he said. "That's drilled. You gotta win every day."
The latter usually comes at a cost. Not to coaches but to the programs that want to keep them.
Hurley, given his pedigree and the turnaround he's started at Wagner, could draw lucrative job offers in the coming months.
It'd be natural to expect most coaches in his position to move on if they were granted bigger, more prestigious opportunities. Hurley, however, said that's not something he's contemplating.
"My only focus is making Wagner the best that it can be," he said. "That type of talk means less to me than just about anybody, probably, in the business. I am my father's son, you know."
December, 23, 2011
12/23/11
11:07
PM ET
By
ESPN.com staff
| ESPN.com
Wagner scores
a 59-54 victory
at Pittsburgh, the Seahawks' first win over a ranked opponent since 1978.
October, 24, 2011
10/24/11
6:22
PM ET
By
ESPN.com staff
| ESPN.com
Before we get to the Blue Ribbon team-by-team previews for the Northeast Conference, here is Eamonn Brennan's one-minute wind sprint through the league:
Blue Ribbon breakdowns of all 12 teams in the NEC:
Central Connecticut State
Fairleigh Dickinson
Long Island
Monmouth
Mount St. Mary's
Quinnipiac
Robert Morris
Sacred Heart
St. Francis (N.Y.)
St. Francis (Pa.)
Wagner

More NEC content
:
New Faces, New Places: Andy Katz on how former North Carolina star and first-year Monmouth coach King Rice overcame alcoholism and is now getting his first shot at a head-coaching gig.
Paul Biancardi gives the lowdown on the recruiting picture in the NEC.