College Basketball Nation:

Wally Judge
March, 13, 2013
3/13/13
11:52
PM ET
NEW YORK -- A quick look at sixth-seeded Notre Dame's
69-61 victory
over No. 11-seed Rutgers on Wednesday night in the Big East tournament at Madison Square Garden.
What it means:
No. 24 Notre Dame is moving on to the quarterfinals in its final Big East tournament before heading to the ACC next season. Rutgers, soon to be a member of the Big Ten, makes an early exit as usual.


Notre Dame (24-8) is already a lock for the NCAA tournament. Rutgers (15-16) has now missed the NCAA tournament for 22 seasons in a row.
The turning point:
Notre Dame jumped in front early and dominated the first 20 minutes, going ahead 31-15 on a
Tom Knight
layup with 2:48 remaining in the first half. Rutgers'
Myles Mack
scored a bucket with one second left to pull the Scarlet Knights within 33-19 at intermission. Rutgers shot just 8-for-27 in the first half (29.6 percent), 1-for-8 from 3-point range.
The second half began differently, with the Scarlet Knights scoring nine consecutive points to get within 33-28. But then back-to-back 3-pointers by
Jerian Grant
and
Pat Connaughton
expanded the lead back to double digits, 39-28. Rutgers again closed to within 41-36, but Connaughton answered with another 3-ball. A few minutes later, Rutgers closed to within 49-43 and Connaughton drained another triple -- see a pattern here? The Scarlet Knights kept coming, but the Fighting Irish had an answer every time.
Star watch:
Connaughton finished with a game-high 21 points for Notre Dame, shooting 7-for-10 from the field and 6-for-8 from beyond the arc. Knight had 18 points and nine rebounds. Star forward
Jack Cooley
scored just two points, shooting 1-for-6 from the floor.
For Rutgers, senior forward
Austin Johnson
scored a career-high 18 points -- with 15 coming after halftime. Mack also scored 18 points. Forward
Wally Judge
, who scored a season-high 20 in the Scarlet Knights' win over DePaul on Tuesday, had just two points on Wednesday.
Number crunch:
Notre Dame shot 10-for-17 from beyond the arc (58.8 percent), while Rutgers was just 4-for-15 (26.7 percent). Notre Dame shot 15-for-19 from the foul line (78.9 percent), while Rutgers was just 5-for-11 (45.5 percent).
What's next:
Notre Dame will play No. 3 seed Marquette on Thursday at approximately 9:30 p.m.
Rutgers heads home to Piscataway, N.J., and looks forward to next season.
April, 23, 2012
4/23/12
3:00
PM ET
For more on Missouri's four incoming transfers,
click here
. In the meantime, a look at some other transfers set to begin play at their new schools in 2012-13.

Malcolm Armstead
, Wichita State (from Oregon)
: The point guard will be a huge boost to a Shocker backcourt that loses leading scorer
Joe Ragland
and
Toure' Murry
. Armstead, who played two seasons at Chipola College under Wichita assistants Greg Heiar and Dana Ford, will be a senior. He averaged 8.6 points and 4.4 assists in his last season with the Ducks (2010-11).

Khem Birch
and
Bryce Jones
, UNLV (from Pittsburgh and USC)
: Birch, the former McDonald's All-American, scorched a path from Pittsburgh to Las Vegas, lambasting his former team on the way out the door. Now he's got a more up-tempo style and a ready-made scoring partner in the form of
Mike Moser
. Jones, who left USC with similar ill will after reports of an altercation with a teammate followed him out of town, is already a proven scorer -- he averaged 11 points per game before his minutes dropped following the addition of
Jio Fontan
.

Rotnei Clarke
, Butler (from Arkansas)
: For a Bulldog team that struggled to score and shoot, Clarke is like a Christmas present. Arguably one of the best perimeter shooters in the game, he averaged 15 points and shot 44 percent from the arc before leaving Arkansas. Butler shot a woeful 28 percent from the 3-point line last season.

Will Clyburn
and
Korie Lucious
, Iowa State (from Utah and Michigan State)
: Fred Hoiberg's Ellis Island recruiting methods paid huge dividends this past season as the Cyclones' coach was able to meld a group of transfers into an NCAA tournament team. Now it's time for more tinkering with the additions of Clyburn and Lucious. Lucious, a true point guard, brings two Final Four berths and an early dismissal from Michigan State to Ames. Clyburn left Utah as the team's leading scorer (17.1 points) and rebounder (7.8).

Jamal Coombs-McDaniel
and
Taran Buie
, Hofstra (from UConn and Penn State)
: If the risks reap the rewards, then Mo Cassara could right Hofstra's downward blip quickly. The Pride won just three CAA games this past season, but with Coombs-McDaniel and Buie, he now has two high-caliber players and two terrific scorers on the bench. Both, however, need to embrace real change at Hofstra. Coombs-McDaniel left UConn in search of more playing time, but also after being arrested for marijuana possession. Buie, the most highly ranked recruit to land at Penn State, was suspended indefinitely in his final year there for a violation of team rules.

Larry Drew II, UCLA (from North Carolina)
: One of the most talked about transfers in recent memory, the Tar Heels' former piñata gets his do-over at Westwood. Certainly he has good timing. After a dismal and fractured season for UCLA, the Bruins landed top recruit
Shabazz Muhammad
, who, along with the Wear twins, give Drew plenty of options. Just how he handles them, and whether he can cut down on his turnovers, will be the biggest question mark -- one no doubt watched by folks in Los Angeles and Chapel Hill, with marked curiosity.

Luke Hancock, Louisville (from George Mason):
The Cardinals rode their defensive tenacity all the way to the Final Four this past season -- mostly because their offense couldn't take them out of Kentucky. Bringing in Hancock will help change that. He's not a bona fide superstar, but he's a solid and efficient scorer who most will remember for the 3-point dagger he dropped on Villanova two seasons ago in the NCAA tournament.

Ryan Harrow, Kentucky (from NC State):
Harrow's addition will go largely unnoticed amid the celebratory din with the arrival of
Nerlens Noel
, but Harrow could be the most critical part of the Wildcats' rebuilding. Kentucky went 4-for-4 in recruiting -- four players signed, four ESPNU Top 100 players -- but none of those guys are point guards. Harrow is. More important, he's a point guard with major minutes under his belt, having started 10 of his final 15 games at NC State.

Colton Iverson, Colorado State (from Minnesota):
You have to feel for a kid like Iverson, who opted for Colorado State a year ago in part because Tim Miles recruited him out of high school. Now Miles is gone, off to Nebraska, and Iverson, with one season of college basketball left, has a new coach to adjust to in Larry Eustachy. Eustachy should be thrilled, of course, to have Iverson, a solid big man who averaged 5.4 points and 5.0 boards despite sharing time with
Ralph Sampson III
in his final season at Minnesota.

Wally Judge, Rutgers (from Kansas State):
A former McDonald's All American who chafed under Frank Martin, Judge gets a second chance with Mike Rice. He's another feather in Rice's recruiting cap, but will need to play hard without the disciplinary issues that rendered him ineffective at Kansas State. The Scarlet Knights could use a big body with experience like Judge's in the Big East wars.

Aaric Murray
and
Juwan Staten
, West Virginia (from La Salle and Dayton
): Bob Huggins made no secret about his frustration with his young Mountaineer team this past season, bemoaning after they lost to Gonzaga in March about the team's lack of defensive pride and offensive ability. And that was before
Kevin Jones
and Truck Bryant left. Murray and Staten could change that. Murray, a highly touted prospect out of high school, averaged 15.2 points and 7.7 rebounds for La Salle. Staten, meantime, is a solid, tough-minded point guard who averaged 5.4 assists in his one season at Dayton.

D.J. Newbill, Penn State (from Southern Miss):
Here's why Newbill is huge for coach Patrick Chambers: He's from Philly. If Chambers is going to turn the Nittany Lions around, he has to make recruiting inroads in the state's biggest city. Newbill helps with that. The fact that he's also talented -- averaging 9.2 points and 6.2 rebounds in his one season with Eustachy -- is a huge bonus for a Penn State team in dire need of skill infusion.

J.J. O'Brien and Dwayne Polee, San Diego State (from Utah and St. John's):
O'Brien, who elected to leave Utah after Jim Boylen was fired, is a solid scorer who averaged 6.4 points despite missing nine games with a broken foot. Polee, a gifted athlete, started 27 games for Steve Lavin as a freshman, but he was on the wrong coast. Polee is from Los Angeles, and the pull to be closer to home, where his mother has an undisclosed illness, was too much to overcome. Now Steve Fisher, who already had an impressive would-be mulligan season, has even more talent to keep the Aztecs moving forward.

Stacey Poole, Georgia Tech (from Kentucky):
Poole, whose playing time headed south as the Wildcats brought in more talented freshmen, made the smart decision to head elsewhere where he will be needed. And Georgia Tech needs him. Poole, a top-50 player out of high school, will help Brian Gregory turn Tech in the right direction. An added plus: Poole's younger brother,
Solomon
, 25th in the ESPNU top 60, has the Yellow Jackets on his short list.

Eric Wise, USC (from UC Irvine):
Wise was looking to up his future stock, and Southern Cal, to up its future. Call this a match made in heaven. Wise averaged 16.3 points and 8.1 rebounds for the Anteaters, and will be a much welcomed shot in the arm for the Trojans, who averaged an offensive 53 points in winning one Pac 12 game all season.
May, 10, 2011
5/10/11
12:32
PM ET
There are always high stakes in any coaching hire, especially one involving a program like Maryland, one popularly perceived as a sleeping giant. But there are always small stakes, too.
File this bit of information under the latter: Former
Kansas State forward Wally Judge has decided he will transfer to Rutgers
.
What does that have to do with Maryland? Everything, actually. Judge, a former McDonald's All-American and marquee recruit for Kansas State coach Frank Martin, had narrowed his final two transfer choices to Rutgers and Maryland. But Judge, a D.C.-area native, was considering transferring to Maryland to play for former coach Gary Williams. Williams's retirement threw a wrench into those spokes, and after waiting to see who the new Maryland hire would be, Judge soon picked Rutgers.
The 6-foot-9, 248 pound forward
has yet to prove he can consistently contribute at the college level
, and he struggled to prove his worth amid a variety of issues under Martin at K-State. He won't change the face of Rutgers basketball. But the big man is talented (and, you know, big). If he can improve his game in workouts and practices during his required transfer sit-out year in 2012, he could be a valuable piece on Mike Rice's 2012 team, one that by that point will have one of 2011's best recruiting classes rounding into form as sophomores.
May, 3, 2011
5/03/11
11:08
AM ET
Remember January? Specifically, remember how down, how utterly irredeemable the Kansas State Wildcats seemed on Jan. 31?
Frank Martin's team had been disappointing all season. The Wildcats' offense was ugly and stagnant, which led to losses in every nonconference game of note and four of the team's first five Big 12 games (including losses at Oklahoma State and at home to Colorado). Those failures were accompanied by a bevy of off-court problems -- including
suspensions for stars Jacob Pullen and Curtis Kelly for receiving illegal benefits
from a department store in Manhattan, Kan., and
Pullen's poorly received proclamation that he would not play in the NIT
-- and then, well, this: Sophomore forward Wally Judge, a former McDonald's All-American expected to play a large role in Kansas State's program in 2011 and beyond, decided to quit the team.
That was rock-bottom for Martin and company in 2011. Soon thereafter, Pullen put K-State on his back in a propulsive win over Kansas. The Wildcats made an impressive run into the postseason -- Pullen didn't play in the NIT after all -- and after a hard-fought Sweet 16 loss to Wisconsin, this team's redemptive story came full circle.
In other words, it was easy to forget about Judge. After all, Pullen and crew provided little reason for Wildcats fans to pine for the soon-to-transfer forward's services. But what happened to Judge? Where will he land now?
Turns out, the forward has narrowed his choices to three schools: Maryland, Rutgers and Washington.
As Adam Zagoria
reports, Judge has completed visits to the first two schools on that list, and he's still considering Washington but has yet to visit the school's Seattle campus. Judge grew up just a few minutes from College Park, Md., so he was able to sneak in some family time in his visit with the Terps. He also got to play in an open gym with the current Terps and get a feel for how he thinks Maryland coach Gary Williams would use his services if Judge decides to stay close to home:
As for how the Maryland staff would utilize Judge, he said, they would "basically put the ball in my hands and let me be the same player I was there coming out of high school. Allow me to step out and show my perimeter skills and be a face-up four man instead of a five man."
No obvious reason was ever given for Judge's transfer. At the time,
Martin chalked it up to "some emotional situations
" and said that he understood the transfer because, in his words, "Why do something if you're not enjoying it?" Judge was struggling with his time at K-State, having begun his sophomore year in the starting lineup only to see his minutes wax and wane inconsistently throughout the early portion of the season.
But it's likely Judge's quote above -- which can be roughly translated as "I'm a peacock, you gotta let me fly!" -- gets at the core of his dissatisfaction at K-State.
Will Maryland, Rutgers or even Washington allow Judge to use his talents the way he sees fit? We'll see. In the meantime, the once-touted forward has some proving to do.
Wherever he goes, Judge wants to feel "comfortable" and "able to continue my life as being a good student but also progressing my basketball game and getting better and showing everybody that I'm not a bust."
February, 15, 2011
2/15/11
12:55
AM ET
Not much had gone right for Kansas State or
Jacob Pullen
this season.
In the preseason, Kansas State was picked to win the Big 12 for the first time ever and Pullen was tabbed as the conference player of the year.
Yet the Wildcats entered Monday night's game against Kansas with nothing but trouble to show for their efforts.
Sure, there were a few pops of success like beating Virginia Tech, Gonzaga and Washington State. But those games were in November and early December.
[+] Enlarge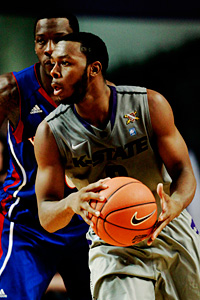 AP Photo/Orlin WagnerJacob Pullen poured in 38 points for Kansas State in an upset of No. 1 Kansas.
Senior
Curtis Kelly
had been suspended twice, missing nine games. Pullen was suspended for three games for accepting extra benefits. Wally Judge quit the team after 17 games.
Kansas State was 1-5 on the road in the Big 12 and had been swept by Colorado, the last matchup coming down to the buzzer Saturday night when a game-winning 3-point shot by
Rodney McGruder
wasn't allowed since it came just after the clock hit zeroes. With 33 seconds left in that game, Pullen committed a costly turnover with his Wildcats down one.
It's just been that kind of season for the senior guard. At one point he was so frustrated that he said this: "I won't play basketball in the NIT. I'm saying that now. If we lose and we have to go to the NIT. I will not play.''
Not good.
"There was a lot of things going bad for us,'' Pullen said by phone from Manhattan, Kan., on Monday night. "We had problems off the court. We were college students that made bad decisions and at the same time there was a lot of pressure on my teammates and they've never dealt with this and the expectations.''
And yet, all seemed forgiven on one magical Monday night at Bramlage Coliseum.
Pullen erased plenty of the bad karma with his 38-point undressing of Kansas in K-State's
84-68 rout
of the top-ranked Jayhawks.
"Credit goes to my teammates that did a great job of getting me the ball, setting screens and making plays,'' said Pullen after his career-high scoring performance. "When we make plays like we did tonight, we look good.''
A season ago, Pullen was one of the catalysts with his backcourt mate, senior Denis Clemente, in Kansas State's Elite Eight run that was ended by Butler in Salt Lake City.
"We won games with a core group of people that came in to practice and worked hard,'' Pullen said. "We've got a lot of young guys and freshmen that had to understand what we had to do. We didn't expect to be the No. 3 team in the country [in the preseason].''
Pullen said the team came together on Sunday and made sure they checked the poor vibes from the late loss to Colorado right at the door of the locker room.
"I made a bad play, turned the ball over and Rodney's shot was too late,'' Pullen said. "I knew we had to focus on Kansas. I felt I didn't want to be overly aggressive with my shot. But my team followed me and when I do things in practice that are lackadaisical it affects my team. Me and [coach] Frank [Martin] communicated in the last month that when I'm having a bad practice, he pulls me out. I know that as a point guard we have to understand each other and lately I've understood that he has to count on me as a leader.''
Kansas State (17-9, 5-6 Big 12) has five games remaining in the regular season. Home games against Oklahoma, Missouri and Iowa State are must-wins. Splitting the road games at Nebraska and Texas would help the cause, too.
But what happens to Pullen if Kansas State doesn't make the NCAA and is invited to play in the NIT?
"I will play anywhere,'' Pullen said. "I said that comment in a heated moment to get my teammates to understand the reality. I didn't say that comment to mean it. In my heart I will play for Kansas State regardless if it's in the NIT or the NCAA.
"I think if we can win some games, get a win on the road,'' Pullen said. "I think we'll play our way in.''
March, 13, 2010
3/13/10
7:35
PM ET
KANSAS CITY, Mo. – Quick hitters here at Sunflower State central:
Kansas probably has a 65-35 split in fans. That was evident during introductions when the two team videos were unveiled. The KU one probably pushed the noise meter a bit higher.
Kansas State may win this game -- may -- but it's obvious that Kansas is the better team and more capable of winning the national title. The Jayhawks simply don't rely on a pair of players like Kansas State. Kansas early went to Cole Aldrich, then saw the Morris twins, Marcus and Markieff get active around the basket or facing it. And then there is Sherron Collins. He's simply just better at making plays than anyone on Kansas State. Collins gets to the hole to create for himself and others. He had eight points, four assists and zero turnovers in the first half as Kansas built a 31-27 lead at the break.
My one knock on Aldrich is he can start quickly but then tends to fade. Aldrich picked up a ridiculous second foul during a scrum for a loose ball. We'll see if that becomes a factor in the second half.
Kansas' Thomas Robinson, Aldrich's replacement, needs to learn a pump fake. He came into the game, took two post shots and got them both blocked.
If you're looking for one stat to show the aggression of one versus the other, look to the free-throw line where Kansas is 8-of-10 and Kansas State didn't attempt a free throw.
Here's a stat you can't ignore. Kansas State isn't going to win unless Jacob Pullen makes shots. He was 1-of-7 in the first half and missed all three 3-pointers. That has to change if Kansas State is going to win the game. The one blessing for the Wildcats is they are getting some production from various role players like Curtis Kelly, Rodney McGruder, Wally Judge and Jamar Samuels.
What is Luis Colon doing? He missed two shots, picked up two fouls and played eight minutes. To deserve more time on the court he needs to be more productive.
I've covered every power six conference tournament and I would reiterate that Kansas City, when Kansas is in the final, is one of the best for atmospheric presentation. The Big 12 and the downtown do a solid job in creating a pre-game frenzy outside with the bars and restaurants. There is a street fair type of atmosphere. Tickets were going for $200 to $400, apparently, according to the licensed scalpers outside.
Everyone seems to be in quite a good mood here despite some dreary weather. I've been here for three days and haven't seen the sun.