College Basketball Nation:

Warde Manuel
August, 22, 2013
8/22/13
5:00
AM ET
1. The NCAA has lacked consistency on granting waivers, whether for an ill relative, in the wake of a coaching firing, following an NCAA violation or any other issue. But the national office cannot, rationally, be inconsistent on waivers when it deals with the same case. If a former Rutgers player is eligible immediately at a new school (
Mike Poole
at Iona and
Vincent Garrett
at Green Bay) because he fled the reign of former coach Mike Rice, then a new player (Kerwin Okoro or
J.J. Moore
) should be granted the same treatment and be allowed to play at Rutgers immediately. Okoro's case, involving the loss of his brother and father, has been well documented -- he clearly has a sympathetic reason to be granted a waiver. But there is a fairness issue for Rutgers that should come into play if departed players are getting a better deal. Two more --
Derrick Randall
at Pitt and
Eli Carter
at Florida -- may also get immediate eligibility. The only break the Scarlet Knights got was when
Jerome Seagears
was not penalized after he came back to Rutgers from Auburn two months after announcing he would transfer. New Rutgers coach Eddie Jordan said Wednesday there is another appeal coming for Okoro, with a different set of eyes and ears to evaluate the grievances. He said he's hopeful there will be a sensible conclusion.
2. Connecticut announced its schedule but not locations for all home games. That's because the Huskies still don't have a deal with their Hartford home, the XL Center. But, UConn athletic director Warde Manuel said, "because of timing of transition of management of XL, we are finalizing terms for this year and we will talk long-term arrangement in the near future. We will continue to play games at XL.'' The Huskies have a strong home schedule. UConn hosts headline teams Florida (Dec. 2), Stanford (Dec. 18), Harvard (Jan. 8), Louisville (Jan. 18), Temple (Jan. 21), Memphis (Feb. 15) and Cincinnati (March 1). The only home game on this list that has a designated home court is the Louisville game, at Gampel Pavilion in Storrs, because it has been tabbed for ESPN's "College GameDay" and the Saturday prime-time slot.
3. With teams returning from their foreign excursions, follow-up reports are trickling in. Vanderbilt, during its time in Greece and Italy, found out just how much it will rely on guard
Dai-Jon Parker
; the Commodores were also able to reinforce a pre-trip theory that Tulsa transfer Eric McClellan will be the primary point guard. The staff was also high on the impact of 6-foot-10 center
Damian Jones
and expects him to be one of the better first-year posts in the SEC (he'll need to be, with players like Kentucky's
Julius Randle
coming into the league). There is now a chance
James Siakam
can play power forward, allowing
Rod Odom
to play his more natural small forward. The hope is that Odom can take care of mismatches at power forward.; Siakam will need to be the glue guy, and can provide the necessary energy. The Commodores have only nine players on scholarship, so this trip was a must to create bonds and give them a head start on what could be a challenging season. Expectations are low, giving Vandy and coach Kevin Stallings plenty of head room to be a surprise in what is a wide-open SEC beyond Kentucky and Florida.
July, 8, 2013
7/08/13
1:15
PM ET
There is plenty of time to assess conference realignment's various winners and losers, and plenty of criteria by which we'll make those assessments in the weeks, months, and even years to come. It's a fluid situation, as the saying goes.
But if there's one school everyone pretty much everyone can agree got a raw deal in the past two years, it's Connecticut. The Huskies and their marquee basketball program spent much of the realignment fracas desperately (if not publicly) trying to escape the collapsing Big East for the ACC. They were spurned at every turn. Now, as the new reality comes into focus, Connecticut has traded the Big East for the American Athletic Conference and its ragtag band of TV-market-oriented additions. The Huskies now face the daunting task of maintaining a national athletics brand without the exposure and revenue provided by the old Big East.

How does UConn athletic director Warde Manuel -- who took over in Storrs, Conn., in February 2012 in the midst of the realignment scramble -- feel about all this? He's refusing to stress out, and he's "done" trying to find a new conference home.
From the Associated Press
:
"I've been done," Manuel said. "If my focus is always looking outside this organization and what we're doing, we're not going to maintain the success that we've had." [... Manuel] said UConn is not planning to cut any sports and he believes the school will have the TV exposure, money and opponents it will need to be nationally competitive. Too much, he said, has been made of which conference the Huskies call home.

"It's a business problem," he said. "My concern is the stability of UConn, and what we do at UConn. We're going to compete for national championships."
Which is exactly the attitude you'd expect Manuel to evince. What else is he going to do? Admit defeat? Come out and tell fans the Huskies had a good run in the Big East, but now it's time to scale back? Of course not. He's going to push on.
Mind over matter only goes so far. The AP quotes David Carter, executive director of the USC Marshall Sports Business Institute, who brings the real:
"It is difficult to think of the American Athletic Conference as anything but less than the Big East -- in terms of stature, brand strength, and overall positioning in the new landscape of college sports," Carter said. "And for strong college sports brands like UConn, this will have an impact."
What kind of an impact? On one hand, the murky nature of UConn's football affiliation could keep it from expanding at the same rate as schools like Syracuse, Pittsburgh and Louisville, other "basketball" schools whose new ACC home should help ensure a healthy football future going forward. On the other hand, does Connecticut really need a strong football team to succeed in the sports -- men's and women's basketball, naturally -- where it has notched the vast majority of its accomplishments in the past three decades? College football success may be more reliant than ever on conference affiliation, but hasn't the past decade of college hoops taught us that great programs (Memphis, Butler, Gonzaga, Xavier, to name the usual suspects) don't need a high-profile league to consistently win?
UConn fans may be distraught by the way realignment turned out for them, and the financial impact will be measurable. But who's to say hoops winters can't still be fun?
June, 11, 2013
6/11/13
6:20
PM ET
With the possible exception of the NCAA itself (emphasis on "possible") no one thinks the Academic Progress Rate is perfect. There is a simple reason for this: It isn't.
The metric the NCAA uses to quantify academic performance among Division I teams is riddled with flaws. It is
easily gamed by schools that have the resources
to do so, and harshly punitive for those who do not. It rankles coaches, who think they're punished for circumstances outside their control. It is somehow both statistically inscrutable (who uses a 1,000-point scale, anyway?) and statistically crude. It's retroactive punishments hurt players who might have had nothing to do with a team's past academic struggles.
One could go on and on about these flaws, and not unfairly so. But guess what? Warts and all, the APR
works
.
To find evidence, one need look no further than Storrs, Conn. UConn -- one of the premier brands of the past two decades just two seasons removed from a national title -- missed last season's NCAA tournament not thanks to bad play on the court, but to a four-year APR score of 902 earned during the final years of former coach Jim Calhoun's tenure. The Huskies were good enough to go dancing in 2012-13, but they weren't allowed to do so. An impressively determined performance was nonetheless reduced to little more than a series of exhibition games.
This week, when the new APR scores were released, Connecticut announced it had righted the ship, becoming eligible for postseason play once more.
How did it do this, exactly? By taking the APR seriously.
From the Associated Press
:
Over the past several years, the program put into place changes in an effort to boost the scores. Those include mandated sanctions for any player who misses three or more classes during the academic year and daily checks of course work for student-athletes who have a grade-point average of 2.3 or lower. Players also are required to attend at least nine hours of summer school each year and adhere to a "graduation plan" created to ensure each player is on a path to graduate, even if they leave school early for the NBA or other opportunities.

"The players really took pride in saying, 'This is not us. We are student-athletes in the true sense of the word'," said [Athletic Director Warde] Manuel. "They have showed that a one-year ban in the past is not a real indicator of how much they really focus on their academics as well as their athletics. That's the thing that made us, internally, happiest."
UConn was kept out of the NCAA tournament. Let's say that again: UConn was kept out of the NCAA tournament. This wasn't the archetypal scenario of the NCAA punishing some small school to prove a point. This was a program that has won three national titles since 1999 -- one that has its apparel anywhere Nike sells basketball
anything --
being told its grades weren't good enough for it to compete for a national title. There was no amnesty offered, no "OK, just don't do it again," appeal. The NCAA set a standard. The Huskies didn't live up. Punishment followed. Then Connecticut took steps to make sure it didn't happen again.
In other words, in UConn's case, the APR had the desired effect. It forced UConn to change, and to be public about those changes, just as it has forced every other program around the country to acknowledge the possibility of the kind of punishment -- a postseason ban -- that used to happen only when a program repeatedly committed the most brazen of major recruiting violations. In this case, at least, the APR has been a success.
Does it have flaws, loopholes, and an occasional lack of nuance? It's an NCAA rule! Of course it does! Does it force colleges to really, truly educate a player, and not merely pass him through whatever department gives the most A's? Not necessarily. Is it universally fair? No. Is it immune to trickery? No. Does it punish players unfairly, whether they're good students or not? Yes. These are all bugs some future edition of the APR, like any good new piece of software, should smooth out. In the meantime, the calculus is simple: Keep your players in good academic standing or pay the price.
Think of the current APR as a hammer. In a few years, maybe that hammer will be multi-pronged and electronically stabilized; maybe it will have a digital readout and an accelerometer that automatically tells your iPhone how many calories you burn every time you hang a picture on the wall. (I don't really know that much about hammers, but if this idea hasn't been taken already, by all means, enjoy). Maybe a new version will wipe out many of the APR's oft-cited flaws. Let's hope so.
For now, it's just a crude old wooden-handled hammer. There is much that could be theoretically improved about this tool, but that doesn't change the fact that it does a job. When the hammer hits, it hurts. And that's the most important feature of all.
December, 31, 2012
12/31/12
5:00
AM ET
1. Schools remaining in the Big East, like UConn, are getting anxious about the lack of a television deal for the 2013-14 basketball season. UConn had expected it would hear about the details of the deal by the New Year. But that was put off once the Catholic 7 decided to bolt earlier in the month (possibly as early as 2014, although they'd love to get out by 2013). Connecticut athletic director Warde Manuel said the school needs to know what kind of revenue it would receive next year from television, a must for all of the remaining schools. Meanwhile, don't expect the remaining Big East schools to allow Boise State to cut its own rights deal to keep home television profits. The Broncos are trying to be BYU and Notre Dame, which have national and international followings. But Boise State, which hasn't joined the Big East yet in competition, isn't going to get that kind of deal if schools like UConn can help it.
2. The Huskies should be applauded for following through on their commitment to Sandy Hook Elementary school and the survivors of the horrific shooting on Dec. 14 that killed 20 children and six adults. The Huskies continue to wear the SH patch on their uniforms. On Thursday the men's team went to Newtown and held a clinic for roughly 150 kids in the area. UConn officials said Saturday that the school has already raised $500,000 in a scholarship fund, set aside for siblings of the victims or graduates of Sandy Hook Elementary who would want to attend UConn. UConn women's coach Geno Auriemma personally pledged $80,000.
3. The NBA draft could be one of the worst in recent memory. A number of NBA scouts and decision makers I've come across at various games the past few months aren't thrilled to have picks in this draft. They would love to see the NBPA change the rule so that players have to be two years removed from high school and not just one. They think this would strengthen future drafts since players would be more experienced, mature and older. The lack of the proven commodity in this draft means it's a fluid situation and the flavor of the month for a number of scouts are two freshmen -- UNLV's
Anthony Bennett
and Kansas'
Ben McLemore
.
September, 13, 2012
9/13/12
3:55
PM ET
Legendary Connecticut coach Jim Calhoun bid a fond farewell to the basketball program he's built from the ground up in the past 26 years, but he -- as well as UConn athletic director Warde Manuel and new coach Kevin Ollie -- made it clear that farewell will be far from final.
Yes, as of a few minutes ago, Calhoun is officially retired. He won't be astride Gampel Pavilion sidelines on game days next season, or in any of the seasons that follow. But as the Huskies transition into a new era, the 70-year-old made it clear it's not in him to leave the game behind.
"I knew this day was coming," Calhoun said. "But I'd like to be a part of it in a whole different way."
Calhoun assured that his retirement was the first step in a full transition to the Ollie era. But he also pledged to remain involved with players and the team in ways the title "head coach" typically forbids.
"I would never tell Kevin or any of our staff what to do," Calhoun said, as chuckles rose up from fellow coaches, family members and fans in the audience. "But if they sought my advice I would clearly give my advice -- I've been known to do that on various occasions.
"But more importantly, I think for me, our family is a close family. I'm available to Kevin 24 hours a day, I'm available to the staff, and I'll be available to the guys."
Calhoun said he considered himself "one of the luckiest guys on the planet" for being able to retire in relative good health, and said his recent hip injury suffered while bicycling didn't directly cause him to make his decision now. Rather, the bike injury gave him a two-week period when he could do little else but reflect (and be waited on by his wife, Pat Calhoun, he was quick to point out), a period he said helped him realize now was the perfect time to pass the reins to Ollie, whom Calhoun said embodied "everything about this university."
Ollie, a former UConn player and 13-year NBA journeyman who has spent the past three years on the Huskies' bench, may need all the help he can get from his mentor -- "my second father," as he called him -- in the months ahead. Manuel refused to sign Ollie to a long-term deal, instead preferring a one-season trial run to see "quantitatively but also qualitatively what Kevin is like as a coach."
[+] Enlarge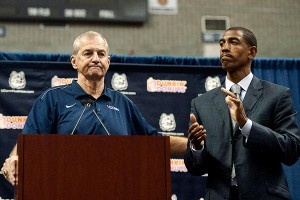 Jessica Hill/AP PhotoJim Calhoun, who officially announced his retirement Thursday at a news conference in Storrs, Conn., hands the reins over to new coach Kevin Ollie.
It won't be an easy year: Thanks to UConn's academic woes and the NCAA's stricter Academic Progress Rate punishment, the Huskies -- who lost in the first round of the NCAA tournament in 2012 and lost Jeremy Lamb and Andre Drummond to the NBA draft, as well as forwards Alex Oriakhi and Roscoe Smith to transfer -- are ineligible for postseason competition in 2012-13.
Ollie was emotional in his introduction, thanking his young family and former teammates and coaches and the players with whom he is about to embark on a challenging journey. He also thanked the fans, the "UConn family," promised diligence in the face of challenges ahead and said he wasn't bothered in the least by the lack of a long-term commitment from the university.
"I played the first six years in the NBA without a guaranteed contract, so this is easy," he said. "Whether it's two months, three months, I'm not going to stop until they tell me to stop.
"As I embark on this journey, we're going to take the stairs and not the escalator," Ollie said. "The escalator's for cowards. It's going to be one step at a time, but we're going to get there. ... It's not about X's and O's and winning and losing -- it's about these guys becoming special people. When they leave here, judge me on that. Judge me on that. And the wins and losses will come."
Few things in college sports are more challenging then transitioning away from a legendary tenure. Other powerful basketball schools -- most notably (and recently) Indiana and North Carolina -- have seen pristine programs struggle to maintain excellence for years after the departure of monolithic coaches Bob Knight and Dean Smith.
But Calhoun made it clear he'll never truly lose his passion for the game, or for what he's built in nearly three decades in Storrs. Rest assured, he'll be there every step of the way.
"To me, the gym is a place of comfort, of competition, to seek excellence, a place to grow," Calhoun said. "I'll miss the gym greatly. But I can't and I won't get away from basketball.
"I've already told the guys, I don't want to hear about playing time," Calhoun said. "Talk to Coach Ollie about playing time. But what I do want to hear -- I can look at you in sort of a different way. The personal involvement will still be there. The passion from game to game won't be. Therefore I can objectively look at [players] from a whole different set of circumstances. I'll see them more individually. I'll have more time for them.
"And I will be at practice," he said.
(Stay tuned for more on Calhoun's retirement and the UConn transition from ESPN's Andy Katz.)
May, 8, 2012
5/08/12
1:15
PM ET