College Basketball Nation:

Wayne Selden
November, 6, 2013
11/06/13
9:30
AM ET
Now that you know what you need to watch in every conference in the country in 2013-14, we've turned our attention to the theme of change -- from coaching swaps to player development to good old-fashioned rules, and anywhere in between. Today: Bill Self's sudden youth movement.
For starters, let's get this out of the way: Bill Self's success at Kansas is remarkable -- period, that's it, sentence over, the end. Self's Jayhawks have now won or shared nine consecutive Big 12 regular-season titles, a streak that would be crazy in a top-heavy mid-major league but is utterly jaw-dropping in a league like the Big 12. He has won more back-to-back regular-season Big 12 titles than he has lost home games at Allen Fieldhouse. And no, I have no problem doubling down on that stat. It's completely insane.
[+] Enlarge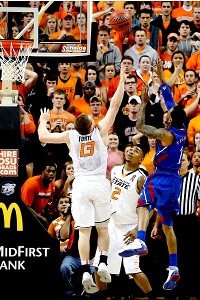 AP Photo/Sue OgrockiJunior point guard Naadir Tharpe is one of the few veterans on a Kansas team dominated by freshmen.
Just as impressive is how Self has gone about this unparalleled run of conference success: By building a program even the most old-school, anti-one-and-done hard-liners could love.
To dig into the past decade of Kansas rosters is to gaze upon the glories of personnel development. Every season, Self's teams have been a combination of talented youngsters, promising stars and reliable, program-sculpted veterans; every season, players from one group slowly move into the other.
In 2008, when Kansas won a national title, Sherron Collins played 50.2 percent of the Jayhawks' available minutes; in 2009, he was the team's leading scorer. That season, sophomore Cole Aldrich anchored the low block; Marcus and Markieff Morris served as understudies. In 2010, Marcus Morris earned a starting role at power forward alongside Collins, Aldrich, and rare one-and-done freshman Xavier Henry. In 2011, all three players left, and the Morris twins were backed up by an intriguing sophomore named Thomas Robinson. In 2012, after the Morris twins departed, Robinson morphed into a national player of the year candidate, and little-used three-year center Jeff Withey assumed the other frontcourt role. Last season, Withey was the stalwart on the low block, senior forward Kevin Young jumped from playing 27.6 percent of his team's available minutes to starting and seniors Travis Releford and Elijah Johnson joined lottery pick freshman Ben McLemore in the backcourt.
And so on. This is the single defining characteristic of Self's tenure: He has built lineups in the classical style -- developing players from clueless freshmen into All-American-level veterans while adding a dash of raw talent along the way. Every season, his teams are extremely good because every season there's another guy finally ready to make the most of his shot.
Every season, that is, except this one.
It is entirely possible Self has assembled his most purely talented group this season. There's some kid named Andrew Wiggins, and maybe you've heard of him, but there's also Wayne Selden, Joel Embiid, Perry Ellis, Conner Frankamp and Jamari Traylor. Are all of these players good? Yes. Are any of them seniors? No. Well, OK, but are any of them juniors? Also no!
Self has three upperclassmen on his team. They are point guard Naadir Tharpe (who earned his first major, and often shaky, run last season), forward Tarik Black (a graduate-exception transfer from Memphis who arrived in Lawrence just a few months ago) and Justin Wesley (a barely-used redshirt senior). That's it.
Which is what makes this such a completely fascinating season for Kansas beyond the Wigginsanity. For the first team since 2007, Self is coaching a team whose best players are freshmen, whose most reliable returning player (Ellis) is a sophomore, whose lone key senior spent the last three years 500 miles to the east, whose junior point guard remains an open question.
It's a good thing Wiggins and Selden and everyone else are so talented. They better be quick studies. Self Basketball 101 is usually a multiyear course. The advanced seminar is a matter of weeks.
June, 7, 2013
6/07/13
5:00
AM ET
1. Kansas coach Bill Self said every newcomer but
Andrew Wiggins
is on campus and in summer school. He said Wiggins' summer plans are still unresolved. Wiggins may play for the Canadian National team or may not. He is expected on campus soon. Self is already raving about
Wayne Selden
, one of the six newcomers. This will end up being one of Self's most enjoyable teams. He gets a chance to completely mold this crew in the summer with the comfort of having Wiggins. The Jayhawks won't be dominant, but they will be one of the most intriguing and entertaining teams to watch next season.
2. ACC freshman of the year
Olivier Hanlan
of Boston College won't go with the Canadian World University Games team to Russia next month. BC coach Steve Donahue said Hanlan was with the Canadian National Team for six days last week, but will spend the rest of the summer working out with the Eagles. Hanlan scored 41 points in an ACC tournament win over Georgia Tech. Hanlan has a chance to get the most out of this summer by working with his national team and better competition, while also spending quality time with his Eagles team that needs to make a move in the ACC and has a real chance to do so with so many returnees.
3. Oklahoma and Wisconsin are taking foreign trips in August, with the Sooners heading to Belgium and France and the Badgers going to Canada. The timing for the trips is crucial for both. Oklahoma is coming off an NCAA tournament season, but is retooling in what should be a Kansas-Oklahoma State-Baylor led Big 12. The Badgers desperately needed prep and games for
Josh Gasser
as he gets back from an ACL injury. Having this trip will allow Gasser to re-adjust to being the leader on this team.
Traevon Jackson
was the top playmaker in Gasser's absence. Now the two can attempt to work together. Wisconsin's season ended with a thud, losing to Ole Miss in the NCAA tournament. Playing in Canada in August will be a good precursor to mounting a run back to the NCAAs.
May, 24, 2013
5/24/13
10:00
AM ET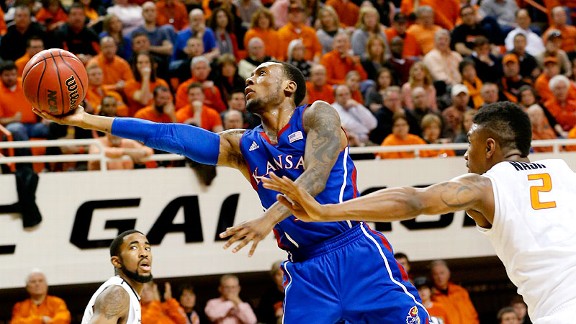 AP Photo/Sue OgrockiNaadir Tharpe is a veteran point guard on a team that's lacking in both veterans and point guards.
It's an exciting time to be a Kansas fan.
That sounds a little silly, doesn't it? Really, when
isn't
it a good time to be a Kansas fan? In 10 seasons under Bill Self, the Jayhawks have won or shared the last nine Big 12 regular-season titles, a
ridiculous streak
no program in the country, not even the most dominant mid-majors, can match. They've won six conference tournament titles, and averaged 30.6 wins per season in that span. In 2008, Kansas won the program's third national title thanks to one of the most thrilling shots in college hoops history. They've been seeded No. 1 in the NCAA tournament bracket in five of the last seven seasons.
This success didn't come after some extended period of suffering; it came after an already very successful coach (Roy Williams) made the difficult decision to take his dream job (North Carolina), which ended up working out for everyone. The Jayhawks play in arguably the best --
and probably the loudest
-- building in the country. "Rock, Chalk, Jayhawk" is one of the best sporting songs this side of English football.
Should we go on? The point is, it's
always
good to be a Kansas fan. Even in the darkest, Ali Farokhmanesh-induced days, the Jayhawks faithful have it better than just about any other program in the country.
And despite all that, I am still willing to argue that this is an especially exciting time for Kansas, mostly thanks to two words:
Andrew Wiggins.
Before Wiggins' commitment, Kansas was losing all five of its starters -- four seniors and a freshman who might be the No. 1 overall pick -- and replacing them with a handful of minor contributors and a crop of talented but hardly overwhelming talent.
Marcus Smart
was back at Oklahoma State and gunning for a conference title. The notion that 2013-14 would be the year Kansas'
force-choke
grip on the Big 12 finally loosened ran rampant through the college basketball cognoscenti.
After Wiggins' commitment, followed by the news that Memphis senior forward
Tarik Black
would also join up, the whole notion seemed laughable. Self had already reloaded with a very good recruiting class, including Joel Embiid, the No. 1 center, and Wayne Selden, the No. 4 small forward. Then he added a highly skilled 2-3-4 hybrid with handles and a 3-point shot.
It would be easy, given Wiggins' recruitment and the accompanying giddiness, to assume the hardest part of Self's job was over. False. In its own way, this season may be the toughest challenge of Self's already illustrious career. This isn't the usual Jayhawks' reload. Typically, when a score of players leaves Lawrence for NBA glory, Self replaces them with a crop of fully ripened second-, third-, and fourth-year players who can play his high-low offense from sheer muscle memory. The Jayhawks have had one-and-dones, but in an now seven-year era culturally dominated by eight-month players, Self has more often achieved success by unleashing the Thomas Robinsons and Jeff Witheys of the world after two or three seasons on the bench.
He won't have that luxury this season. He will be playing more freshmen at the same time than at any point in recent memory.
Because of those freshmen, it has been easy to gloss over how important Kansas' returning players always are to the Jayhawks' success, and how little that will change next season. There are three returning contributors likely to play big minutes: sophomore forwards
Perry Ellis
and
Jamari Traylor
, and junior guard
Naadir Tharpe
.
Tharpe is easily the most important of the three.
That's not to say he's the best. Ellis, a four-time class 6A Kansas state champion at Wichita Heights High School, had by far the most efficient season of the three in his rookie campaign, posting a 114.1 usage rate and comparable offensive and defensive rebounding percentages to Withey. He played just 33.4 percent of the Jayhawks' available minutes, and he struggled at times, but more often than not he was good. He
will
be good. Traylor, for his part, is extremely raw and athletic, which also makes him extremely exciting.
But Ellis and Traylor are forwards and with Wiggins, Black, Selden and Embiid, Kansas has at least four guys who can play some combination of the traditional 3, 4, and 5 spots. Ellis will play plenty; he's something close to a lock to start at the power forward spot, thanks to systemic experience alone. It's not that Ellis isn't good. It's that Self doesn't need Ellis to be good -- at least as much as he needs Tharpe.
That's because Tharpe is a veteran point guard on a team noticeably short on both veterans and point guards. Unless mostly untouted freshman Frank Mason surprises, four-star freshman Connor Frankamp, the No. 10 ranked point in the class, is the only other option at the spot.
That sound you heard was Kansas fans collectively shuddering. Tharpe is that kind of player -- clearly talented, clearly getting better, still maddeningly frustrating. His, ahem, nadir (sorry, but it had to happen eventually) last season came in Kansas' loss at TCU, when he finished 1-of-15 on some of the least-advised late-game shots you'll ever see. Tharpe wasn't that bad, obviously, but he was never a really efficient player; he finished with a 99.9 offensive rating, shooting 35.8 percent from inside the arc and 33.0 percent from beyond. Likewise, while he assisted on 28.3 percent of his possessions, he turned the ball over on 21.1 of them. At times, it seemed the only thing keeping Tharpe off the bench was senior guard
Elijah Johnson
's profound struggles.
For Kansas to legitimately contend as a national title candidate, Tharpe will have to be better. The good news? He won't have to score. Not with Wiggins and Selden, Embiid, Ellis and Black. However, what Tharpe will have to do is arguably just as important. He'll have to play great defense at the point of attack. He'll have to avoid turnovers. He'll have to hit the occasional outside shot. And he'll have to lead Kansas on the break, when it can avoid getting bogged down in the crowded half court, and most effectively unleash Wiggins' massive ability.
The first three, if not givens, seem eminently achievable. The fast-breaking responsibilities are the biggest concern. Last season, per Synergy scouting data, Tharpe ranked in
the seventh percentile in the country
in transition efficiency. Overall, Tharpe averaged just 0.654 points per transition possession. As the ballhandler, he averaged .821 -- better, but average at best.
Tharpe will have the luxury of playing alongside a swath of talented big men and probably the best amateur basketball player on earth. He won't have to do everything; he won't even have to do all that much. What he will have to do is make good decisions, particularly on the break.
The 2013-14 season is new territory for both Self and the Jayhawks. It is extremely exciting, yes, but like anything worth getting excited about, it's a little scary, too. Tharpe is a three-year veteran at a veteran-led program that is suddenly devoid of veterans, in the most important position on the floor. It's his job to minimize the scary parts and maximize the excitement, to represent the solidity that has defined Kansas in one of the more successful decades in the sport's history.
It's a different kind of pressure than what Wiggins will face -- but it is pressure all the same.
April, 16, 2013
4/16/13
9:23
AM ET
We won't see another college basketball game for about seven months. That's a long time.
But the players in the highly touted 2013 recruiting class will reach their respective campuses soon.
Future Arizona forward
Aaron Gordon
(No. 4 in the 2013 class per RecruitingNation) could be a game-changer who morphs Sean Miller's squad into a Final Four-caliber program. He's Blake Griffin Lite.
Indiana's
Noah Vonleh
(No. 8), a 6-foot-8 five-star forward, could make folks in Bloomington forget about the loss of
Victor Oladipo
and
Cody Zeller
.
Former
Nerlens Noel
teammate
Wayne Selden
(No. 12) is a stocky 6-foot-5 guard with swagger. He's going to Kansas and, yes, he'll log minutes for Bill Self.
Florida's Billy Donovan will have a good rotation problem when McDonald's All Americans
Kasey Hill
(No. 9) and
Chris Walker
(No. 14) enter the mix in Gainesville.
Locals are at the center of Memphis' nationally ranked recruiting class, which includes PF
Austin Nichols
(No. 15), SF
Kuran Iverson
(No. 31) and SF
Nick King
(No. 33).
[+] Enlarge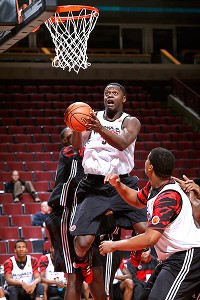 Courtesy of McDonald'sJulius Randle highlights a Kentucky recruiting some have touted as being the best of all-time.
Duke's
Jabari Parker
(No. 2) plays like a pro. He'll be ready to star in Mike Krzyzewski's system in Year 1.
And then there's the young NBA franchise that John Calipari signed. The "greatest recruiting class of all time" is a legitimate label for the top-rated bunch in the field.
Julius Randle
(No. 3),
Andrew Harrison
(No. 5),
James Young
(No. 6),
Aaron Harrison
(No. 7) and
Dakari Johnson
(No. 11) are all potential pros.
Here's what some of the coaches who'll have to deal with those young studs in conference play next season had to say (anonymously) about the impact they might have on their programs as freshmen.
Aaron Gordon (Arizona)
"Arizona will be very tough adding Gordon. He's versatile and athletic and could probably play three to four positions." --
Pac-12 head coach
.
Noah Vonleh (Indiana)
"Noah is as talented as any 2013 recruit. He has the total package. Should be an impact player from day one. He's very skilled for his size and also has a college-ready body." –--
Big Ten assistant
.
Wayne Selden (Kansas)
"He's a big-time athlete and very talented, I know that." --
Big 12 head coach
.
Kasey Hill and Chris Walker (Florida)
"Hill is a special talent and will play, but he is not beating out [
Scottie Wilbekin
]. He is too tough and the best defender in our league. I worry about Walker. Will Walker accept his role? Because he is not a better basketball player than [
Dorian Finney-Smith
] or [Damontre Harris]. He is a better athletic talent but not a better basketball player." --
SEC head coach
.
Austin Nichols, Kuran Iverson and Nick King (Memphis)
"I think from what I saw, Kuran Iverson has the intangibles to make an impact. Nick King has good length and size. He has the best chance to make an impact. Austin Nichols is going to need a year to develop his body." --
American Athletic Conference/Big East assistant
.
Jabari Parker (Duke)
"Jabari has the ability to impact the game in so many ways. He's versatile, knows how to win, and will fit in very well in Duke's style." --
ACC assistant
.
Aaron Harrison, Andrew Harrison, Julius Randle and Dakari Johnson (Kentucky)
"I think they're all very talented. When you're talking about this class, they all have the mentality of one-and-done. Now you have to make it work. Two years ago, they had some experienced guys with a seven-man rotation. Now, they'll have a nine- or 10-man rotation." --
SEC head coach
.