College Basketball Nation:

what-we-learned-120225
February, 26, 2012
2/26/12
1:20
AM ET
Click here
to read our afternoon recap. Now back to the lecture at hand, which comes in three parts:
The Rivalry


No. 2 Syracuse 71, Connecticut 69
: One of the many things to love about this Syracuse team -- besides its great zone defense and incredible depth and talent and length and pretty much everything besides defensive rebounding -- is how well it handles close games. Since the Jan. 21 loss at Notre Dame, Syracuse has taken respective best shots from Cincinnati, West Virginia, Georgetown, Louisville, South Florida and now at UConn, and each time the Orange have either pulled away late or made the key stop down the stretch to preserve the narrow win. It's a real skill, and it isn't entirely intangible; when you have a defense this good, you tend to get a lot of stops, and there's no reason why that wouldn't be true in the final minutes of any given game, too. But however you quantify it, the Orange win close games. Such traits tend to come in handy in March.
As for Connecticut? While the Huskies didn't get the win, they appear to be rounding into form, or at least starting to figure a few things out. UConn had its fair share of issues with Syracuse's zone, and there were plenty of bad shots to be had, but the Huskies were much more balanced (four players finished in double figures, while
Ryan Boatright
and
Shabazz Napier
combined for 13 assists) and competent on both ends of the floor in the second half. Unless it suddenly begins shooting the ball from outside at a much higher clip, this team probably has a ceiling. But there are plenty of realistic improvements to be made. Even better, many of them appear to be in progress. Let's not bury this team just yet.
The Upsets


Purdue 75, No. 13 Michigan 61
: When Purdue guard
Ryne Smith
was asked what he thought about guard Kelsey Barlow's dismissal from the team last week, he was direct, even curt: "Addition by subtraction," Smith said. Apparently he was right. Whatever the reason, Purdue played its best game of the season Saturday at the most important time, containing Michigan's outside shooters and slowly stretching a second-half lead thanks to the heady play of point guard
Lewis Jackson
, forward
Robbie Hummel
and, most importantly, guard
Terone Johnson
, who scored a career-high 22 points and made a handful of key plays down the stretch, including two big and-1 finishes around the rim. Purdue is an unconventional team with no true post presence; the Boilermakers rely on Hummel's outside-in versatility and an extended, guard-oriented style. This makes them a great matchup for Michigan, and, in their own way, a dangerous team.
In any case, Purdue can now feel entirely safe about its at-large NCAA tournament chances. Beating Michigan at home -- the Wolverines' first home loss of the season -- is most definitely a signature victory. And it couldn't have come at a better time.


TCU 83, No. 21 New Mexico 64
: Let's hear it for TCU! A round of applause is most definitely in order. At this time in 2011, the Horned Frogs were in the midst of a season-ending 13-game losing streak, en route to an 11-22 finish. This season is an entirely different story: TCU is playing its best basketball down the stretch, having won four of its past five (and eight in a row at home) and toppling ranked UNLV and New Mexico and a good Colorado State squad in the process. The key: great 3-point shooting. The Horned Frogs lead the league in long-range makes in conference play, and they're undefeated at home as a result. What a difference a year makes.
In the meantime ... um, what happened to New Mexico? Last Saturday, we watched in near-awe as the Lobos thoroughly dominated UNLV, which came just a few days after a 10-point win at San Diego State. Steve Alford's team, once a relatively unheralded efficiency darling with few good wins to show for it, looked set to run away with the Mountain West and make a deep run into March. Since then, the Lobos are 0-2 and are now in a three-way tie. A loss at Colorado State makes some sense; we know the Rams are tough, particularly at home. And this is not to take away from TCU, which (as you just read above) is giving everyone more than they bargained for in February, particularly in their own building. But a 19-point blowout loss? Isn't this the team that just rolled UNLV in the Pit and moved to 8-2 in the league? It's kind of weird, right?


Georgia 76, No. 11 Florida 62
: This is an upset, of course, but I'm not sure we should be all that surprised. Frankly, I'm not sure if a Florida loss should ever truly catch us off guard. Don't get me wrong: The Gators are good. But they're a specific kind of good. When their steady diet of 3s are falling, they can shoot opponents off the floor before said opponents even have a chance to catch their breath. But if the shots aren't going down, Florida has no Plan B.
Patric Young
is the only true post presence, and his offensive game is still a work in progress (and he's still underutilized as a scoring threat to boot). The Gators' defense -- which ranks fifth in opponents' points per possession in SEC play, No. 10 in opponents' 3-point field goal percentage and No. 10 in block rate -- still isn't good enough to hold opponents in check when the shots clanging off the iron and the opponents start turning long rebounds into secondary breaks and easy buckets. Florida might yet get there on the defensive end, but it isn't yet. If this UF team has a lower ceiling than it should, well, that's why.
The Bubble Specials


Alabama 67, Mississippi State 50
: It was instinctively easy to write off the Crimson Tide when coach Anthony Grant suspended
Tony Mitchell
and
JaMychal Green
; it was easy to predict a late collapse, even a fall off the bubble, for a team whose two leading scorers would be missing such important games down the stretch. Instead, the Crimson Tide keep, well, rolling. They've now won three in a row and prevented any hint of a collapse. Mississippi State, on the other hand, appears to be doing exactly that: The Bulldogs are collapsing. This is the Bulldogs' fifth consecutive defeat, a stretch that has included some good basketball (in the near-miss vs. Kentucky this week) but also some baffling losses (the loss at Auburn especially). It's no stretch to say Mississippi State -- which for much of the season looked like a tourney near-lock -- could wind up missing the tournament after all. The Bulldogs are, after all, 6-8 and tied with rival Ole Miss in the SEC standings. Ouch.
[+] Enlarge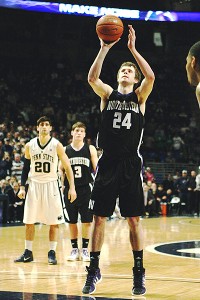 Rob Christy/US PresswireJohn Shurna's free throws pushed Northwestern past Penn State -- and kept an NCAA bid in sight.
Northwestern 67, Penn State 66
: Breathe a big ol' sigh of relief, Northwestern fans: In the chase for their first NCAA tournament appearance in school history, the Wildcats remain very much alive. Senior forward
John Shurna
made the game-winning free throws with just 2.6 seconds remaining, giving Bill Carmody his first win in State College since 2002. Big challenges still lie ahead: Ohio State comes to town on Wednesday, followed by next weekend's season-ender at Iowa, a team that just knocked off Indiana and Wisconsin in Carver-Hawkeye Arena. But for now, some minor rejoicing is in order. Northwestern's tourney hopes are still very real.
Rutgers 77, Seton Hall 72 (OT)
: Let's not take Seton Hall off the bubble just yet, eh? The Pirates got a great win over Georgetown this week, one that could have firmed up a previously shaky at-large profile. All Seton Hall needed to do the rest of the way was avoid bad losses. Well, losing to a young, 13-16 Rutgers team at home is just that. Next weekend, the Hall travels to DePaul. If the Pirates lose there, all the good vibes from the emphatic Georgetown victory will have almost entirely faded from the picture.


VCU 89, George Mason 77
: First things first: Thanks to Drexel's one-point win at Old Dominion on Saturday afternoon, VCU's win over George Mason won't give them a share of the CAA title this season. Bummer, sure, but the Rams would surely settle for a spot in the NCAA tournament, something to which they're at least a little closer after this victory today. As a league, the Colonial's top teams (Drexel, VCU and GMU) didn't get quality nonconference wins (VCU's best came against South Florida, for example), so any at-large consideration will have to come from separation at the top and perhaps a pair of deep runs for both Drexel and VCU in the CAA tournament. A win here was a must, and Shaka Smart's team got it, behind Bradford Burgess' career-high 31 points.


Dayton 76, UMass 43
: A home loss to UMass can't be called "bad," but for a team like Dayton -- which is desperately scrapping for a spot in the NCAA tournament -- it could have been disastrous. Instead, the opposite happened: UD won, and won big, looking very much like one of the A-10's best teams and a squad worthy of a tourney bid in the process. We'll see how the Flyers finish up, but if they're one of the last four in, they might just be one of the play-in game candidates, which are held in -- you guessed it -- Dayton!


Saint Joseph's 82, No. 22 Temple 72
: Speaking of somewhat fringe Atlantic 10 tournament hopefuls, the A-10 can't offer a bubble team a better shot at a marquee win than Temple on its own floor late in the season, but the Hawks still had to overcome Fran Dunphy's typically peerless bunch, which had won its previous 11 games and 13 in the 15-game stretch beginning with its Jan. 4 victory over Duke. Phil Martelli's team is now 9-6 in the league and 19-11 overall, and it added the one thing it desperately needed to its profile: A legitimate top-25 RPI win. Temple is most definitely that.


Penn 55, Harvard 54
: Just when you think it's time to plan a long-awaited Harvard hoops coronation, Penn's
Zack Rosen
comes along, scores 20 points, makes a huge jumper down the stretch and ices two game-winning free throws in the final 30 seconds. And all of a sudden the Ivy League race is legitimately up for grabs with both of these teams having two losses. (Another one-game playoff for the Crimson? Oh boy.) As an at-large entity, Harvard is still in decent shape, but its profile isn't so strong that it can afford to lose at either Columbia or Cornell in its final two games, lose out on the Ivy auto-bid, and still feel safe about being picked to join the group of 37 at-large teams. Big days ahead for Tommy Amaker's team.


Washington 59, Washington State 55
: For the first 10 or so minutes of the first half, it looked like Wazzu was going to hand its in-state opponent the type of loss that would severely damage Washington's at-large chances. But the Huskies fought back and, as the AP report notes, won the game's most important battle -- at the charity stripe: "Ultimately, the game came down to free throws. WSU (14-14, 6-10) went 11 of 12 to keep the game tied at 28-all despite shooting 27 percent in the first half. In the second half, the Cougars shot 6 of 20 from the free throw line, while the Huskies, who only went 2 of 5 in the first half, finished 17 of 24." The win keeps Washington on the right side of the bubble for now, but UW's marginal profile might not be able to survive a loss at either USC or UCLA going away.

Xavier 65, Richmond 57
:
Kenny Frease
's season highs in both points (19) and rebounds (14) helped carry Xavier to an ugly but ultimately victorious Saturday. A loss here would have kicked Xavier off the bubble for good and almost certainly, barring an upset in the A-10 tournament, ended Chris Mack's 100 percent NCAA tournament hit rate in his XU tenure. Instead, the Musketeers live to fight another day.


No. 21 San Diego State 74, Colorado State 66
: The Rams pass at least two NCAA tournament bubble tests: The RPI/SOS numbers are great, and they sure do look like a tournament team. But will that be enough? A win in Viejas Arena would have provided a tidy bookend to this week's huge victory over New Mexico, but the loss isn't a huge deal. Colorado State, which is undefeated at home in Mountain West play, hosts UNLV in Fort Collins in just three days' time. Win that one and the Rams are probably set.
February, 25, 2012
2/25/12
8:10
PM ET
At this point in the season, college hoops' biggest games come in two different sizes. There are: 1) genuinely big games and 2) genuinely big bubble games.
We had a smattering of both categories this afternoon. We'll cover all of the evening action later Saturday night, but let's dig into what we've seen so far:


No. 4 Kansas 87, No. 3 Missouri 86
: If these two teams don't meet in the Big 12 tournament -- and let's all pray to the basketball gods that they do -- well, at least we'll always have Feb. 25, 2012, the day a century-old rivalry served up an absolute classic.
Have we seen a better, more important, more frenzied game this season? In the past five years? Sure, UNC-Kentucky and Duke-UNC were great, but there wasn't anywhere near as much on the line. The putative end of a rivalry. Missouri's impending move to the SEC. The increased tension and finger-pointing therein. The Big 12 regular-season title, and KU's eight-year streak at the top of the league, and Mizzou's last, best chance to do something about it. This was always going to be a good game. But it delivered so much more: A brilliant offensive night from Missouri, an incredible second-half comeback by Kansas,* huge plays down the stretch from both teams, an overtime fraught with tension, an insane atmosphere. Kansas 87, Missouri 86 lacked for nothing. We got it all.
Judging by my Twitter feed -- which may or may not be a representative sample of all of America (OK, it isn't) -- you were probably watching this game, so there's little need to recap it minute by minute. (Plus,
our own Jason King has you covered
, and he'll have more from Allen Fieldhouse to come.) Instead, let's take a moment to review the state of the national player of the year race, in which
Thomas Robinson
remains very much a factor.
Anthony Davis
(as you'll see just below) has crept closer and closer to Robinson in recent weeks, and rightfully so: Davis' game-changing talents are the main reason Kentucky is so difficult to beat. But Robinson isn't ceding to the freshman without a fight. His performance today -- Robinson posted 28 points and 12 rebounds -- was a dose of mastery at the season's most important time. Even within the game, Robinson was the hero: His game-tying three-point play gave Kansas the tie in regulation, and his subsequent block of a streaking
Flip Pressey
with just four seconds remaining pushed the game to overtime. Whenever Kansas needed a big play, Robinson gave it to them.
Let the player of the year arguments rage on. If you can pick one player over the other, more power to you. Because I certainly can't.
In any case, I'm going to go watch the replay of this game. More than once, probably. When the college hoops gods serve up something this good, you can't discard it after one use. Whatever happens to the Kansas-Mizzou rivalry now, regardless of the Big 12 tournament, we'll always have this. Thank you, hoops gods. We love you, too.
*Which, by the way, tied the record for the biggest home comeback in Kansas history. KU recovered from a 19-point home deficit Dec. 2, 1995 against UCLA, but that started in the first half. Big game, but nothing like this. Crazy.


No. 1 Kentucky 83, Vanderbilt 74
: Vandy coach Kevin Stallings isn't the type to revel in moral victories, but even so, it would be hard for him to walk away from today's loss at Kentucky and not feel pretty good about his team. Kentucky, as you know, is a steamroller, an incredible collection of talent with a transformative defensive player in Anthony Davis and a coterie of first-round draft picks on the floor at any given time. But over the 80 minutes these two teams have played, Vanderbilt has come closest to legitimately challenging UK. There's a victory in there somewhere.
In any case, newsflash: Kentucky is still really, really good. Another newsflash: So is Davis. His incredible line -- 28 points, 11 rebounds, six blocks, and a 10-of-11 mark from the field -- pretty much says it all. (According to ESPN Stats and Information, Davis' 10-of-11 night gave him the highest field goal percentage of any Kentucky player against an SEC opponent in the past 15 seasons. We're running out of adjectives to describe this guy.)


No. 7 North Carolina 54, Virginia 51
: Lost in the hubbub of Missouri-Kentucky was this rather excellent game in Charlottesville, in which the Cavaliers executed their gameplan to precision. This team thrives in slow-paced affairs -- its adjusted tempo of 60.4 possessions per game
is the eighth-slowest in the country
-- and keeping this game in that range was Virginia's only hope of containing UNC's balanced, talented and typically uptempo offensive attack. That much went well. Virginia made every possession an important one. But having done so, the Cavaliers couldn't get the crucial stops and buckets they needed when the game tightened even further in the final minutes.
With 13.3 seconds remaining,
Tyler Zeller
headfaked Akil Mitchell and got all the way to the rim for a game-defining dunk. Virginia fans will be upset with the referees in this one; there's no question
Mike Scott
's foul changed the game, to say nothing of the issues it caused him defensively, with no fouls to spare down the stretch. Scott missed large portions of the game due to foul trouble, which included a very questionable fourth foul on
John Henson
,
as our Robbi Pickeral recounted in her Rapid Reaction
. But UVa had chances to win this one, to hold the Tar Heels back. It just couldn't quite get there.
Bubble Specials


Iowa State 65, Kansas State 61
: Before today, there was a good chance the Cyclones were going to make the NCAA tournament. They had built their resume in solid but unspectacular fashion in recent weeks, avoiding (for the most part) the kind of bad losses that could introduce some doubt into the process. With the closing troika of Kansas State (away), Missouri (away) and Baylor (home), the Cyclones could potentially have closed with an 0-3 mark and still gotten in. There wasn't a bad loss to be had.
But forget all that now: With this road win, the Cyclones are in. Kansas State had sealed its fate last week with back-to-back road wins over Baylor and Missouri. Iowa State's ability to overcome a tough, grooving defensive team on the road, to ride a scorching-hot
Scott Cristopherson
's 29 points (on 10-of-13 from the field and 5-of-5 from 3), to hold on to the win in the final moments, was all very impressive, the kind of thing that distinguishes you from the score of shaky bubble squads in the mix. There's no chance Iowa State misses the tournament now. Fred Hoiberg's team just killed the suspense.


Ole Miss 72, LSU 48
: LSU's bubble chances were always slim, but they might officially be over now. A loss at Ole Miss isn't a killer if you have an otherwise strong profile. LSU doesn't. Even worse, though, is that the Tigers weren't competitive. They never held a lead in this game, trailed 34-24 at halftime, and flailed throughout the second half en route to the rout. In the process, they shot 4-of-23 from 3 and 18-of-58 overall. A loss of any kind at Ole Miss may have pushed LSU's fringe bubble candidacy back too low along the S-Curve for the Tigers to be considered a legitimate contender, but a loss this bad definitely does.


Arizona 65, UCLA 63
: What a game for Arizona's seniors. In their final home game against their program's chief existential rival,
Kyle Fogg
and
Jesse Perry
combined for 36 points -- 28 of which came in the second half -- on the way to an ugly but well-deserved two-point win. As emotionally big as this victory no doubt was, it is even bigger for Fogg's, Perry's and the rest of the Wildcats' chances at making it to the NCAA tournament. A loss here would have been an ill-advised move in the wrong direction, as Arizona's profile -- like much of the Pac-12's -- includes only one top-50 RPI win. Those lack of top-end wins puts everything in jeopardy for squads like Washington and Arizona, who have been among their conference's best teams even as the rest of the college hoops world puzzles over just how bad the league really is. Nothing is guaranteed for anyone in the Pac-12. This win, expected though it may have been, is huge.


Memphis 87, Marshall 67
: The Tigers' at-large chances have long been boosted by their nonconference schedule, which was among the best (read: most difficult) in the country in November and December. The Maui Invitational was just that good. But the Tigers weren't necessarily all the way safe; another loss or two like last week's home defeat to UTEP could have spelled some bubble trouble down the stretch. But after today's dominant win at Marshall -- which included some scuffling and squaring up, as well as what appeared to be some discord on the Memphis sideline -- the Tigers are in really strong shape. In fact, between these two, Marshall needed this game more. The Thundering Herd's rather quiet at-large credentials were worth noting this week. They weren't in the field by any means, but they had their chances to get there. This was one of those chances. Marshall failed to take advantage -- and emphatically so.


Clemson 72, NC State 69
: In the past two weeks, NC State has had three shots at big wins. It let one slip in dramatic, mind-boggling fashion at Duke. It couldn't hang with Florida State or North Carolina. Those missed opportunities made today's road trip to Clemson a must. The Wolfpack entered Saturday right on the bubble, with a razor-thin difference between in or out status, and almost no margin for bad-loss error. But a bad loss is exactly what they got. Clemson's RPI isn't as bad as it once was -- the Tigers have steadily improved in ACC play -- but the committee will still see this as a loss to a sub-100 RPI (in Clemson's case, sub-140) and a fourth straight defeat at the season's most important time. With just a few games remaining, and no chances to notch a marquee win in the mix, NC State's fans may be destined to watch their team miss the tournament for yet another year. The future is bright under Mark Gottfried, but the present remains frustrating.


Rhode Island 64, Saint Louis 62
: Look up the phrase "bad loss" in the Official Unabridged Bubble Watch dictionary, and you're sure to see "at Rhode Island" at or near the top of the list. Saint Louis' profile -- a sound but hardly exciting ledger with a top-25 RPI but no top-50 wins -- now looks much shakier as a result of this loss. The Rams' RPI is in the high 200s; they entered Saturday with a horrid 5-23 record and 11 losses in their past 13 games. That changed when
Billy Baron
, son of Rams coach Jim Baron, made the game winner with just four seconds remaining, giving the Rams their best win of the season and putting SLU's at-large chances under much greater scrutiny. The Billikens aren't going to fall out of the bracket thanks to one awful loss, but if these struggles continue (Xavier and at Duquesne are up next), that outcome is hardly out of the question.


Drexel 73, Old Dominion 72
: Even with an imbalanced CAA schedule (which gave them just one game apiece vs. VCU and George Mason, both at home) the Dragons' streak of 22 wins in 23 games was impressive and worthy of bubble consideration. But the Dragons are still, like VCU and Mason and most of the CAA, hampered in many ways by their conference's lack of quality non-league wins, not to mention big RPI numbers and bigger nonconference strength of schedule figures. In other words, to stay in the at-large hunt, Drexel had to win on the road at ODU today. It did. When you win 23 of your final 24 regular-season games, you have to be in the tourney picture. But if Drexel's computer numbers stay this ugly, will the committee be impressed? Will three sub-150 losses (including Nov. 18's neutral-court loss to Norfolk State) doom the Dragons? This will be one of the more interesting questions the committee tackles in the hours leading up to the final bracket reveal.