College Basketball Nation:

Wichita State
March, 8, 2010
3/08/10
12:12
PM ET
In many ways, today is the real start of March Madness, though you could just as easily say that about last week, when the conference tournaments really began. But since we have, count 'em,
eight conference championships on the line tonight
, and since this week marks the beginning of all the power conference tournaments, today rather feels like the start of what will be four consecutive awesome weeks of win-or-go-home hoops. Let's go to the tape:
As always,
follow me on Twitter
to send me links and tips.
February, 23, 2010
2/23/10
1:00
PM ET
February, 13, 2010
2/13/10
5:25
PM ET
You already know all about what Siena's loss to Niagara means for the Saints.
It's, um, not good
. Now, just over 12 hours later, Northern Iowa can feel the Saints' pain.
Bradley hosted Northern Iowa in beautiful Peoria, Ill. today. Things did not go well. The Braves, sitting at .500, took advantage of an inefficient, cold Panthers team -- UNI shot 18-of-55 from the field, including 6-of-30 from behind the arc, committing 16 turnovers in the process.
The loss moves UNI to 22-3, with two wins over top 50 RPI teams in Wichita State and Siena, neither of whom are NCAA tournament locks. UNI's case isn't as dire as Siena's, at least not yet; the Panthers have played a much tougher schedule than the Saints, and a 13-2 record in the MVC is nothing to sniff at. Their RPI of 14 is considerably more impressive than Siena's No. 33 ranking.
But UNI lacks marquee victories, and 15 of their wins have come against teams with RPIs of over 100. A loss to DePaul is a confusing blemish. Assuming UNI won out in the MVC regular season, it was a lock, but this loss to Bradley throws everything into flux, much like Cornell and Siena before them.
Much like those two teams, this is another bummer. Anyone interested in college hoops wants to see how these teams do in the NCAA tournament, and this loss throws another such squad into an uncertain position. Now, it's up to UNI. An MVC conference tourney title may not be a must ... but it sure wouldn't hurt, either.
February, 10, 2010
2/10/10
8:37
AM ET
The Morning After is our semi-daily recap post. Try not make it awkward.
[+] Enlarge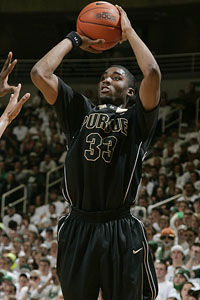 AP Photo/Al GoldisPurdue's E'Twaun Moore scored 25 points against Michigan State.
No. 6 Purdue 76, No. 10 Michigan State 64
: Well, now we've got a Big Ten race. As recently as eight days ago, it seemed an undefeated Michigan State team was primed to run away with the Big Ten. No more.
Kalin Lucas
sprained his ankle. The Spartans were blown out in Madison and then edged at Illinois. And Tuesday night, with a clearly laboring Lucas in the lineup, the Spartans couldn't stop a balanced, thorough, complete Purdue team. That leaves us with a logjam at the top of the Big Ten, one that should provide plenty of entertainment as the season winds down, and one that ought to leave Tom Izzo and company less than thrilled.
Then again, it was probably only a matter of time before Michigan State came down to Earth a bit, right? That's not even the best way to phrase it, I guess, because a loss to Purdue doesn't constitute some sort of statistical correction. The Boilermakers are just
good
.
Robbie Hummel
can score and direct from distance.
E'Twaun Moore
has what Steve Lavin might call a "complete toolbox, the hammer, the screwdriver, the bandsaw." (I just made that phrase up, but it sounds like something Lavin would say, only less awesome.)
Chris Kramer
is one of the best perimeter defenders in the country. And, perhaps most importantly,
JaJuan Johnson
is becoming a dominant force in the paint.
Johnson has been good in the past, but he hasn't always gotten the touches his high level of efficiency should demand. He hasn't needed to; Hummel and Moore and even Kramer can handle the scoring load just fine, thanks. But Johnson is a uniquely effective weapon for the Boilers. He can score in the paint, stretch defenses with outside jumpers and, on the defensive end, disrupt any interior shots with his freakishly long arms. (I hope that's not mean to say. Those arms
are
freakish.) Purdue has its own flaws. It's not a perfect team. But the Boilermakers are solidly balanced enough to play with anyone anywhere.
Oh, and Michigan State fans? Don't freak out. Your team is banged up and in the middle of the toughest part of their Big Ten season. There are worse places to be than 9-3. You'll be all right. Probably.
Illinois 63, No. 13 Wisconsin 56
: Don't look now, but Illinois is 9-3 in the Big Ten. And don't look now, but the way Illinois has put themselves in the thick of the Big Ten race after a shaky start is worthy of serious respect. Beating a Kalin Lucas-less Michigan State team at home is one thing. Going to Wisconsin and handing the Badgers their sixth loss (and their first-ever to an unranked team) at the Kohl Center under Bo Ryan is entirely another.
Demetri McCamey
deserves much of the credit -- McCamey scored 27 points on an efficient 11-for-17 shooting Tuesday night, adding seven assists (though he did have five turnovers, which I suppose we can let slide). Forward
Mike Tisdale
was likewise efficient, scoring 19 points on 8-for-11 shooting. The Illini have plenty of flaws, and there's no question they caught Wisconsin on a particularly bad shooting night -- the Illini aren't a great defensive team this year, at least not yet -- but when Illinois is shooting this well, it's hard to blame their opponents for their success. They deserve the credit, and with the aforementioned Michigan State loss, they deserve to be in the thick of the Big Ten race. Now all Bruce Weber's team has to do is play this well the rest of the season. Easy, right?
No. 24 Vanderbilt 90, No. 12 Tennessee 71
: 43. 43! That's the number of free throws the
Vanderbilt Commodores
shot in their 90-71 win over Tennessee in Nashville last night. There's a reason the Dores scored 90 points -- the Volunteers fouled 29 times in 40 minutes. Vanderbilt's free throw rate -- a ratio of free throws to field goal attempts -- was a mind-boggling 84.3 percent. Of course, Vanderbilt actually had to make these free throws. They did, hitting 37 of those 43. (Exclamation points are also applicable here. Thirty-seven made free throws!) And that's almost all you need to know: Vanderbilt built a big lead early, protected the ball, got good looks, and got to the line so often my head is literally spinning even as I type this.
In any case, it's a great win for Vanderbilt -- both for the team's tournament chances and for its in-state bragging rights. Bruce Pearl has done an admirable job keeping Tennessee tourney-bound in the wake of the Tyler Smith New Year's Day fiasco. Tuesday night -- a chippy, ugly affair, punctuated by the constant clang of Tennessee's misses -- was not in that vein.
Everywhere else
:
Kentucky kept Alabama at bay for a relatively easy win at Rupp Arena
;
John Wall
got his first double-double and
DeMarcus Cousins
got his seventh in his past seven games ... Providence had a legit chance to upset Georgetown Tuesday, leading 47-40 with 15 minutes remaining, but
Georgetown rallied in time to take a nine point win in Rhode Island
... Texas couldn't win in Norman,
but Texas Tech (barely) could
...
Vermont and Boston played a barnburner
, which Vermont won on a layup in the final 10 seconds ... Wichita State took another step back in the Missouri Valley,
losing at the previously 0-13 Evansville
... and
Wake Forest handled Boston College in Winston-Salem
.
January, 29, 2010
1/29/10
11:45
AM ET
Wednesday, much was made over
Seattle's decision to foul frequently in the second half
of its blowout to Washington, a strategy that caused six Redhawks to foul out, leaving four eligible players on the floor for the final 1:27. Turns out, that's not even remotely the weirdest foul-out-related anomaly in the past 20 years.
On Feb. 24, 1989,
Indiana State played Wichita State
. A brawl broke out in the first half. Indiana State's bench involved itself, and when the dust cleared, eight ISU players had been ejected, leaving the Sycamores to play the entire second half with just four players. Then,
as Kevin Pelton explains, Wichita State adjusted its strategy
:
Wichita State coach Eddie Fogler told his team to take it inside instead of settling for jumpers, and while that allowed the Sycamores to hang around–in fact, they got as close as four points–ultimately two players fouled out, leaving two on the floor to try to defend five. (That's a "2- zone", or a "line" defense.) The Shockers won the game 84-69.
There you have it, a result even more singular in its unusual nature than finishing a game with four players. That result? Finishing with two. Though I suppose the question begs to be asked: Which is more unlikely? Eight players being ejected for fighting, thereby forcing a team to play with a limited roster? Or a coach actively deciding he wants his players to foul for an entire half, thereby chipping away at his roster by choice? The weirdness gap here is not as wide as it seems.
January, 27, 2010
1/27/10
4:31
PM ET
Saddle Up is our preview of the hoops your TV wants you to watch tonight. Yes, your inanimate TV has totally real, humanoid feelings about your viewing habits. Here's Wednesday night's rundown:
No. 10 BYU at New Mexico, 10 p.m. ET
: BYU has had a hard time earning respect. This is probably fair. Last year's Cougars put together an impressive resumé and had the tempo-free chops to go along with it, and as soon as they got to the tournament (and as soon as yours truly picked them to finish in the Sweet 16), the Cougars lost by 13 to a so-so Texas A&M team, bowing out of the NCAAs after 40 minutes. So it's probably fair if this year's BYU Cougars -- a 20-1 team
currently ranked fourth in Pomeroy's adjusted efficiency ratings
-- are met with a degree of skepticism from the national media. For example, Monday Digger Phelps told his ESPN studio mates that BYU was too high in the polls at No. 10, which was met with understandable agreement. BYU
hasn't
played anybody. But in regards to their poll placement, the numbers seem to disagree; BYU might actually deserve to be higher.
The lesson here? They have to prove it. Tonight -- an away game versus a New Mexico team that launched itself into the top 25 early in the season, beating Texas Tech and Cal on the way there -- is a chance to do just that. It's also a chance to see
Jimmer Fredette
, BYU's point guard and leading scorer, match up with New Mexico guard
Dairese Gary
. It's as good a look as the Cougars going to get for a while. They ought to make the most of it.
Notre Dame at No. 3 Villanova, 7 p.m. ET, ESPN
: Does Villanova want a No. 1 ranking? If so, it'll have to handle its business tonight against a pesky but not-quite-there Notre Dame team. The Irish gave Syracuse a few fits with its zone last week, but ultimately fell short because their own defense was so bad. This is a trend under Mike Brey, and it's just the way things will go for this ND team. They might win a few games, but they'll need a surge if they want to make
Luke Harangody
's final year anything but another stopover to the next level, wherever Harangody might end up. (Maybe the NBA, maybe not.) A quick aside here: That's sort of sad. Watching Luke Harangody is a joy. He's one of the weirdest, most effective players we've seen in decades, and he's arguably best Notre Dame player of all-time. That he has toiled away his last two years of eligibility on decidedly mediocre teams feels like a waste.
Florida State at No. 7 Duke
: Duke has had its occasional issues this season, but from a tempo-free standpoint,
they still look awfully good
. That's good news, because Florida State doesn't fear Cameron Indoor Stadium; the Seminoles are one of only four visiting teams to have won at Cameron in the past four years. Florida State won seven in a row before back-to-back losses at Maryland and against N.C. State at home, and that last loss is not the stuff quality NCAA tournament teams are made of, even if N.C. State has been a slight surprise this season. But maybe, just maybe, if Florida state can manage to somehow keep its turnover bug at bay, its defense will be stingy enough to keep things close in Cameron. The court may look flat, but an uphill battle awaits.
Everywhere else
: It's not on the main network, but if you have ESPNU you can watch the newly minted top 25
Vanderbilt Commodores
go to Knoxville to take on in-state rivals Tennessee
... Temple faces another roadblock in its path to a potential A-10 title
in 14-5 Charlotte
...
Ohio State goes to Iowa
to see what happens when
Evan Turner
looks around, sees lots of 5-foot-8 guys guarding him, stops being polite, and starts getting real ...
Iowa State will visit Oklahoma
in a match up of two Big 12 teams with singular talents who have managed to completely disappoint their fans ...
Illinois State goes to Wichita State
... Georgia will see if it can keep its reputation for playing ostensibly superior teams tough on the road as
it heads south to Gainsville
...
Connecticut goes to Providence
; the Huskies are still without Jim Calhoun.
January, 20, 2010
1/20/10
9:00
AM ET
The Morning After is our semi-daily recap post. Try not to make it awkward.
No. 18 Georgia Tech 66, No. 16 Clemson 64
: Sometimes size is all you need. That's the prognosis over Georgia Tech's last-second win over Clemson Tuesday night, wherein
Trevor Booker
fouled Zachary Peacock on the arm with three seconds remaining, putting Peacock on the line to hit the game-winning free throws. Booker shouldn't feel too bad; he led Clemson in points (19), rebounds (nine), steals (three) and blocks (two), and in the all-important "impressive breakaway dunk that causes a "SportsCenter" anchor to inexplicably and awesomely reference 'Lost In Translation'" category with one. (Check the highlights
here
if you don't believe me.) In the end, though, the Georgia Tech win came down to size, specifically the size possessed by
Gani Lawal
and
Derrick Favors
. Favors went for 17 and 14, and finally appeared to be breaching his uber-prospect potential -- this was one of those "oh, THAT'S why" games -- and he and Lawal scored a combined 66 percent eFG. Their work on the interior also gave
Georgia Tech a decided offensive rebounding advantage
, and in a tough, somewhat ugly conference game, that was enough to make the difference.
Wichita State 60, No. 22 Northern Iowa 51
: Those of you who tuned in to Purdue-Illinois expecting a raucous Assembly Hall crowd had to feel a little disappointed; every time I dialed up the Big Ten on my remote, the Orange Krush and company were downright demure. Not so in Wichita. There, the Shockers played the streaking
Northern Iowa Panthers
for a shot at the Missouri Valley regular-season crown and, even more importantly, a chance to prove that the MVC isn't just a one-bid league in 2009-10. The Shockers opened up small lead after small lead against UNI, guarding the Panthers all the way out to 25 feet and holding what is usually a good 3-point shooting team (29.9 percent on the season) to a dismal percentage (11.8 percent). Wichita State made the most of its possessions by grabbing offensive rebounds, and Northern Iowa could never erase the deficit.
It's a huge win for the WSU program generally and coach Gregg Marshall specifically, and it gets Wichita State right back in the hunt in the MVC, which is all Marshall and company could ask for Tuesday night. Thanks to some impressive play and a rowdy home crowd, the Shockers got it.
No. 15 Purdue 84, Illinois 78
: This is a held serve, isn't it? Sure, road wins are tough, and road wins at Assembly Hall are tougher, but you would expect a good Purdue team to go into Champaign and beat a mediocre Illinois squad, would you not? That's fair, yes?
OK, so the Boilermakers have had their share of troubles these last three games, but this team is still talented, well-coached, deep (except at point guard, where it's very shallow) and experienced. Methinks the Boilers -- who got back to their efficient ways Tuesday night, scoring 1.12 points per possession (even as they allowed more than a point per possession on the defensive end) -- will be just fine.
No. 8 Tennessee 63, Alabama 56
: Tennessee won for three reasons Tuesday night. One, the Volunteers didn't turn the ball over. Like, at all. Two, the Volunteers got to the free throw line at an extraordinary rate, especially for a road game -- someone should tell the referees in Tuscaloosa what home-court advantage is supposed to mean -- and three,
Wayne Chism
. Chism scored all of his 11 points in the final seven minutes of the game, helping the Volunteers close out another SEC win, this one on the road. The question now is how long Tennessee can keep this up. After all, it's still four scholarship athletes down, including
Tyler Smith
, the Vols' best all-around playmaker before his dismissal. Can Tennessee keep rolling? Hey, it's come this far.
January, 19, 2010
1/19/10
3:50
PM ET
Saddle Up is a quick preview of the basketball your TV wants you to watch tonight. Here is Thursday night's rundown
.
My mind is big on finding themes where perhaps there are none. I recognize this is foolish. But if there is any sort of theme to be drawn out of tonight's action, it's whether the teams on hand are real or fake, about which side of their personalities are the real deal. It's like figuring out a girlfriend after a couple of months; that's when things start to get familiar and real, whether you like it or not.
All right, that analogy was terrible. Sorry. Let's just get to previewin':


No. 16 Clemson at No. 18 Georgia Tech, 7 p.m. ET, ESPN2
: Can either of these teams win the ACC? It's not looking good: Despite
Kyle Singler
's odd senior-year struggles, Duke is looking like an efficient beast unlikely to yield many conference losses. This is Duke's conference to win. But Georgia Tech and Clemson have proved themselves more than capable of beating the conference's usual powers. So which team is a contender? Which team can unseat Duke? If anyone can do it, it's probably Clemson; the Tigers are one of only four teams (Duke, Maryland, and Virginia being the three others) with a
positive efficiency differential
, and they have the ACC record to show for it. A win at Georgia Tech -- something Duke couldn't accomplish last week -- would go a long way toward proving the Tigers are more than just another footprint in Duke's path to an easy conference title. A loss means ... well, not a whole lot. It means Georgia Tech can win home games against solid teams, and it means Clemson probably isn't as good as their 20-point win over North Carolina. It's a confusing conference, this ACC. Let's see how it plays out.


No. 15 Purdue at Illinois, 9 p.m. ET, ESPN
: Can Purdue right the ship? After a 14-0 nonconference tear, the Boilermakers are looking suddenly vulnerable, having lost three straight Big Ten games, one of which came in a come-from-behind loss to Ohio State at home -- the kind of thing this Purdue team would have seemed incapable of three weeks ago -- and an upset loss to Northwestern in Evanston on Saturday. (Which was an awfully nice, résumé-building win for the Wildcats, for what it's worth.) Purdue doesn't look like the defensive buzz saw that took down a full-strength Tennessee team in one of the best games of the young season in November. They don't look like the team that beat West Virginia by 15. Ever since they hit conference play
the Boilermakers look like a mediocre defensive team
, and this Purdue team can't afford to be mediocre on defense. It's, like, their thing. They need to be good at it, or all hopes of a Final Four will be gone faster than Conan O'Brien. (Topical humor! What, are people not still talking about Conan O'Brien? Have we moved on?)
Meanwhile, Illinois is 4-1 in the Big Ten and is looking a little more coherent than in their disappointing non-conference start, but that start has just as much to do with playing Iowa, Indiana, and Penn State than anything else. Tonight is Illinois's chance to prove they deserved their preseason top 25 ranking, or at least some reasonable slice of it. It would be a quality Big Ten win. Heck, it would be a quality win, period. Illinois doesn't have nearly enough of those this year.


No. 22 Northern Iowa at Wichita State, 9:05 p.m. ET, ESPNU
: If the above options don't excite you, how about a little quality hoops from the Missouri Valley? Northern Iowa is ranked for a reason: The Panthers have won their last 15 games and have only been challenged a couple of times during that stretch, quietly going from MVC unknown to national mid-major power in the course of a couple of months. (In the meantime, if anyone can figure out how this UNI team lost to DePaul on Nov. 20 -- beyond "It was November and weird things happen in November" -- feel free to fill me in.) Tonight is the country's chance to get acquainted with the Panthers. While doing so, enjoy the
Wichita State Shockers
, who have racked up their own impressive record (16-3, 5-2 MVC) and appear to be UNI's most relevant challenger. At the very least, the Shockers can prove that the MVC is more than a one-bid league in 2009-10.
Everywhere else
: Is Tennessee ripe for a letdown? You would have said that before their handy win over Auburn and their gutty overtime victory over Ole Miss, and that didn't work out so well. But now the Vols must take their underhanded show on the road,
where a rebuilding Alabama team awaits
... Can Northwestern follow up its home win over Purdue with a
road win
over the
Evan Turner
-energized
Ohio State Buckeyes
? It doesn't seem likely, but neither did Saturday's victory ... Miami built a gaudy nonconference record before it got into ACC play, and things have headed downhill from there;
tonight's match up with Boston College in Miami
should be a brief respite from the losing.