College Basketball Nation:

Wildcats-Commodores 022010
February, 20, 2010
2/20/10
11:05
PM ET
NASHVILLE, Tenn. – For everything Kentucky's John Calipari is or isn't as a basketball coach, give him credit for one thing.
He's not afraid to point the finger at himself.
In his own words, Calipari called a boneheaded timeout with 2.5 seconds to play Saturday night, giving Vanderbilt coach Kevin Stallings a chance to draw up a length-of-the-court play at the end and the Commodores a great chance to send the game into overtime.
[+] Enlarge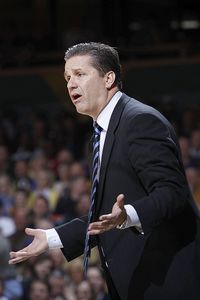 Joe Robbins/Getty ImagesJohn Calipari said his timeout with 2.5 second left was the "stupidest" of his career, but his Wildcats still pulled out a 58-56 win at Vanderbilt's always tough Memorial Gym.
"As we left the timeout, I said guys, 'This is the stupidest timeout I've ever called. Please make me look good. Somebody do something,' " Calipari recounted.
As fate would have it, A.J. Ogilvy's runner in the lane rolled off the rim as the buzzer sounded, and the No. 2-ranked Wildcats survived for the second straight time this week on the road in an ear-splitting, hostile environment.
This one was a grind-it-out
58-56 victory over the No. 19 ranked Commodores
, ending their 18-game winning streak at Memorial Gym.
"Hats off to Vandy. That was an Elite Eight environment," Calipari said. "That was two teams slugging it out and doing what they had to do to win the game."
The Wildcats (26-1, 11-1) won for the first time in five years in Memorial Gym, all but locking up the SEC championship and affixing their name to one of those four No. 1 seeds in the NCAA tournament.
No, they weren't perfect, and neither was their coach. In fact, they were far from it.
Over and above Calipari's late-game blunder, Kentucky turned the ball over 14 times, shot just 35.8 percent from the field (3-of-16 from 3-point range), missed three of its final four free throws and was beaten on the boards.
That said, these guys are oozing with talent, and even when they make freshman mistakes and even when they don't play their best or smartest basketball, there's a fearlessness about them and an aura about them that they're going to find a way to get it done.
Those are priceless qualities to have come NCAA tournament time.
"You gotta be a team that can grind it," said Calipari, who was still kicking himself afterward for calling the late timeout. "We want to play fast. Everybody knows how I coach. We want to try and score 100. But if you want us to play in the 50s, we'll play you in the 50s and we'll try to beat you. If you want to play a zone, we'll try to beat you that way.
"We don't force our will on the other team. We want to play different ways. When you get in that NCAA tournament, you don't know if you're playing a team that plays like Princeton, plays fast, plays slow. You've got to beat them.
"This was one of those. I love this, shooting 35 percent and 18 (percent) from the 3 and winning anyway."
A shooting clinic it wasn't on either side.
The two teams combined to make just 5 of 36 shots from 3-point range. Nobody had connected from long range in the second half until Kentucky's
Patrick Patterson
buried a 3-pointer from the corner at the 3:55 mark to give the Wildcats a three-point lead.
Patterson finished with 13 points and 13 rebounds and played 39 minutes. The Wildcats needed everything he gave them, too, because
DeMarcus Cousins
was in foul trouble and freshman point guard
John Wall
was struggling to make anything. Wall was 3-of-11 from the field, but still ended up making two of the biggest plays of the game.
His put-back after being stripped on a drive with 39.1 seconds remaining gave Kentucky the lead for good.
And then on the other end, Wall blocked John Jenkins' 3-point attempt with just under four seconds to play and the Wildcats clinging to a one-point lead.
A few seconds earlier, Jenkins had pump faked and got Wall off his feet in drilling a 3-pointer to bring the Commodores within a point. But this time, Wall didn't go for the pump fake and sent it back into Jenkins' face.
In each of the past two games, Calipari said Kentucky's defense in the final minutes has been about as good as it gets. On Tuesday, the Wildcats snuffed out Mississippi State on the road in overtime.
"We're big. We're long. We're athletic. We're quick. We're tough physically. Mentally, we're tough," Calipari said. "If we're going to advance, that's what it will be on.
"And if we're making shots, we bury people. If we don't make shots, then you're going to grind it out."
Despite going 2-0 in two tough places to play this week, Calipari said there's a youthful carelessness about this team that reared its head in both the Mississippi State and Vanderbilt wins.
"We did things that gave the other team a chance to beat us in both places, and that's because we're inexperienced and young," Calipari said. "We break down on a play. We do our own thing. We try to go for a steal when we need to just play solid defense.
"Again, we're the youngest team in the country (actually the 14
th
youngest, according to Kentucky's pregame notes). There's no one playing as many young guys as we do. We're young.
"But, also, the good news is they don't know they're not supposed to win here. They think they're supposed to win. That ain't bad, either. The problem is that if you give good teams a chance to beat you, they're going to beat you."
Patterson said nobody on Kentucky's team has given any thought to what the bigger picture might hold for the Wildcats after two clutch wins away from home.
All that will come later.
"We know every team we play is going to bring their 'A' game," Patterson said. "We don't worry about anything like (securing a No. 1 seed). We know what our record is, but we don't focus on that.
"We just focus on winning."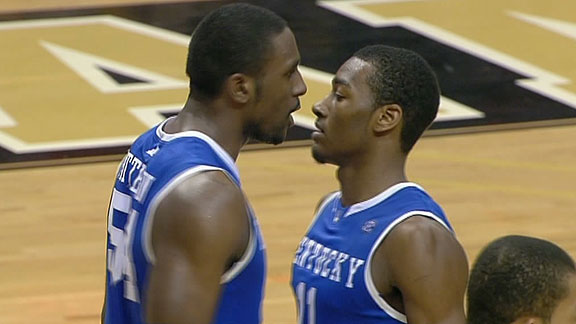 February, 20, 2010
2/20/10
8:45
PM ET
NASHVILLE, Tenn. – Kentucky's getting this winning thing down, even when the No. 2-ranked Wildcats don't play their best hoops.
[+] Enlarge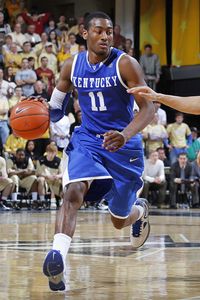 Joe Robbins/Getty ImagesKentucky star John Wall didn't have his best game offensively but came up with a key defensive stop in the waning moments of Saturday's narrow win over Vanderbilt.
Showing its grit when it counted, Kentucky held on to hand Vanderbilt its first loss of the season Saturday night in a
58-56 thriller at Memorial Gym
.
The Commodores, whose last loss at home was against Florida in January of 2009, had a chance to force overtime. With 2.5 seconds left,
Darshawn McClellan
threw a length-of-the-floor pass to a leaping
A.J. Ogilvy
. His one-handed runner in the lane rimmed out as the buzzer sounded.
The Wildcats (26-1, 11-1) all but locked up the SEC championship. It's also the second straight game this week that they were able to grind it out on the road. They won in overtime on Tuesday at Mississippi State.
Both teams shot the ball miserably, particularly from 3-point range. But it was
Patrick Patterson
drilling perhaps the biggest shot of the game with his 3-pointer from the corner with 3:54 to play to finally take the lid off the basket for the Wildcats.
Kentucky freshman point guard
John Wall
certainly didn't have his best game, but he came up huge in the final minutes. He had the ball stripped on a drive to the basket, but got the ball back and put it back in with 39.1 seconds left to give Kentucky the lead.
And then on the defensive end, he blocked John Jenkins' 3-point attempt in the waning seconds.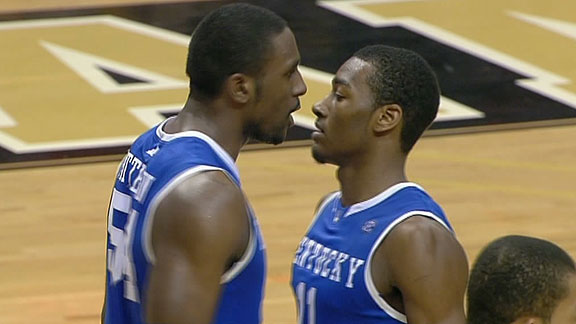 February, 20, 2010
2/20/10
7:14
PM ET
NASHVILLE, Tenn. – Neither team found much of an offensive flow in the first half Saturday.
Kentucky's
DeMarcus Cousins
maneuvered his way inside to 10 points, but also turned it over four times.
Vanderbilt shot it poorly (29 percent from the field) and also took some questionable shots.
In the end, it was a pretty even scrap, with the No. 2-ranked Wildcats going into halftime with a 27-25 lead at Memorial Gym.
Vanderbilt is one of the few teams in the SEC that can match Kentucky's height and length, but the Commodores had trouble finishing around the basket.
The other thing Vanderbilt has to do is get senior point guard
Jermaine Beal
untracked. He was just 1-of-5 in the first half for two points. He didn't score at all in the first half two nights ago at Ole Miss. He's been playing with a jammed right hand, and you have to wonder how much it's bothering him.
What kept the Commodores close was rebounding. They outrebounded the Wildcats 22-16 in the first half.
If Vanderbilt shoots it better in the second half, you have to like the Commodores' chances. They were just 1-of-10 from 3-point range. But, then, Kentucky was just a tad better at 2-of-10.
Here's the other thing: Vanderbilt wasn't overly aggressive taking the ball to the basket and only attempted eight free throws. The Commodores are averaging 31.4 free-throw attempts in SEC games this season.
These two teams combined for 70 free-throw attempts when they met earlier this season in Lexington.
February, 20, 2010
2/20/10
6:07
PM ET
NASHVILLE, Tenn. -- Vanderbilt swears by this old gym, one of the last remaining true basketball gymnasiums.


The opposing teams that have to come in here and play swear at it.
Memorial Gym is going on 60 years old, and the magic (opposing teams have another name for it) is as strong today as it was back in the 1960s and 1970s.
The benches are under the baskets. The place is always rowdy, and the Commodores usually play lights out.
Try this one on: In their past 117 games in this old barn, they've won 100 of them.
They try to stay unbeaten this season at home tonight against No. 2-ranked Kentucky, which has only lost once all season.
The ramifications in this one are wide-ranging. The Wildcats (25-1, 10-1) are already in great shape to secure a No. 1 seed in the NCAA tournament. A win at this place of horrors would have to lock up a top seed. They showed their grit on the road four days ago at Mississippi State in an overtime win.
The Commodores (20-5, 9-2) are quickly playing their way into a No. 3 seed. They're coming off a huge win 48 hours earlier on the road at Ole Miss. Taking down Kentucky -- especially when you look at Vanderbilt's current RPI (hovering around 12) -- would be that power win that would look awfully strong come selection time.
If you're looking for a key tonight, keep an eye on the free-throw line.
The Commodores shoot a ton of free throws, an average of 31.4 in SEC play. They attempted 34 on Thursday in their win over Ole Miss. The only SEC game this season that they haven't attempted at least 25 free throws was the Georgia game, a 72-58 loss in Athens.