College Basketball Nation:

Wildcats-Huskies-011711
January, 17, 2011
1/17/11
8:43
PM ET
By
Andy Katz, ESPN.com
| ESPN.com
STORRS, Conn. --
Kemba Walker
is performing for Connecticut as if he is an NBA All-Star. He's well-aware that he will take the last shot, and he won't have any doubt about making it.
He won't always make it -- plenty of NBA stars don't. But the Huskies believe their best chance to win is with Walker taking the shot, no matter the moment's conditions.
Don't mistake Walker with an actual NBA All-Star -- he's not. But he's carrying the burden more than any other player on a top-25 team.
Ealier this month at Texas everyone knew that Walker had to take the winning shot, no matter what. He took it, and he made it with five seconds left.
Game over.
There was no doubt who was going to take the last shot for Connecticut against Villanova on Monday with the game tied at 59.
"No matter what I was going to give the ball to Kemba,'' said Connecticut freshman guard
Shabazz Napier
, who handed the ball to Walker on the far side of the 3-point line. "If I was pressured too much, I would have called timeout. We all know who to give the ball to when time is running out.''
[+] Enlarge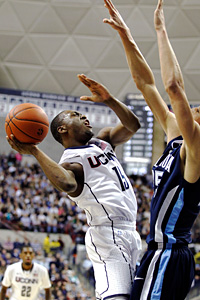 David Butler II/US PresswireKemba Walker scored 24 points against Villanova, including the game winner with 2.5 seconds left.
Napier drew the analogy that Walker is like a reliever, ready to close the game like the Yankees' Mariano Rivera.
There aren't many in college basketball who are doing that this season. As sensational as Ohio State's
Jared Sullinger
, Duke's
Nolan Smith
and BYU's
Jimmer Fredette
have been this season, Walker has got them beat on game-winning shots. You can make arguments for any of them for player of the year, but none of their teams have as little experienced help as the Huskies, which likely makes Walker the current favorite.
So how do you defend Walker once he got the handoff from Napier?
"There's nothing you can do,'' said Villanova's
Corey Fisher
, who went back and forth scoring with Walker. In the closing minutes, Fisher matched Walker's 3-pointer and free throws, enough to prompt Villanova coach Jay Wright to say that Fisher is as good as Walker but that Walker had the last possession.
"We wanted to trap him but he's so fast and he got it and we couldn't catch him,'' Wright said of Walker, who zipped into the lane and converted a floater with 2.5 seconds remaining for the
61-59 victory
. All Fisher could do was heave a desperate shot at the buzzer that was wide left.
"When he handed it off, we couldn't catch him and he went full speed,'' Wright said. "He's got another speed. He goes so fast and stops on a dime. As soon as he created separation he hit a floater. He's better at going to the middle of the lane than to the rim.''
"Of course the ball was going to be in my hands,'' Walker said. "Being the leader of this team, I wanted it to be in my hands. I was able to get a nice little shot off. I knew the other guy was going to come. I just tried to go before he came. I was able to go by my man and get a shot off.''
Walker is not without his imperfections.
He played his typical game. He dominated the ball when he had to, taking a high volume of shots (18), making a low percentage (six) and getting to the free throw line (9-of-12).
Walker hit a key bucket -- a step-back 3-pointer over
Corey Stokes
-- to give Connecticut a 57-54 lead with 1:03 left. That was after Fisher scored a few baskets in a row to bring Villanova back to a tie.
Walker made two free throws to give the Huskies a five-point lead before Fisher buried a 3-pointer to bring the Wildcats to within two.
Walker had a chance to stretch the lead but missed two free throws, giving Nova a chance. Walker then put Fisher at the line with 22 seconds left, ensuring that UConn would have the last shot.
Connecticut coach Jim Calhoun said Walker didn't foul Fisher on purpose. He said he was so frustrated about missing the free throws that he gambled on the steal.
Fisher made both free throws to tie the game and set up Walker for his personal time -- ending the game on his terms.
"We've got a lot of confidence at the end of the game that they were going to double and we actually thought someone else might get it this time, but Kemba is so clutch and he was able to knock it down,'' said UConn freshman wing
Jeremy Lamb
.
If the Huskies are to be more than the Walker show, Lamb will have to become the necessary complementary player. Calhoun said Lamb is ready to assume that role and the Georgia native scored 14 points Monday. Someone has to take on that responsibility.
"I think it can be true,'' Lamb said. "I just have to be more consistent. I was able to knock down shots and be more aggressive.''
Calhoun is well-aware of the importance of Monday's win. The Huskies have to protect homecourt in the Big East if they're going to be a competitor for a top-three finish. They have tremendous nonconference wins like Michigan State, Kentucky and at Texas and could get another one Saturday against Tennessee.
"The early season wins in Maui look terrific, but you have to come up with a good Big East record, and if you start looking ahead we still have to go to Marquette and play Louisville and Syracuse," Calhoun said. "We've got a lot of work to do.''
There has been so much attention on Walker -- and rightfully so -- but what is getting lost is the coaching job done by Calhoun. The season started with him missing the first practice to be in front of the NCAA committee on infractions for recruiting violations involving Nate Miles and answering to the charge of failing to create an atmosphere of compliance. The COI's report hasn't been sent to UConn yet or been made public.
In the meantime, Calhoun has coached Walker and a cast of freshmen to a top-10 ranking, a 15-2 overall record and a 4-2 record in the Big East. He is the early favorite for Big East coach of the year.
"I thought they'd be at this point now, but never thought they'd play well this long,'' Villanova coach Jay Wright said. "It started in Hawaii with a lot of young guys and they've been playing well the whole season. It's amazing what they've done.''
For Villanova this would have been a steal, picking up a road win where most won't get one, if any, this season. The Cats suffered their first Big East loss, and Syracuse is up next on Saturday at the Carrier Dome. Villanova might get reserve guard
Dominic Cheek
back for that game after Wright said Cheek's MRI didn't indicate a tear of his meniscus. Swelling in his knee, which started during the Maryland win Saturday, caused him to sit against the Huskies.
"We're going to be better and learn from this,'' Fisher said. "We played a good team on the road. We've got another one in their house in Syracuse. This was fun but we lost.''
Walker had the ball one more time than Fisher did to win the game. This is no longer a fluke, but rather a trend and one that is carrying the Huskies toward an NCAA tournament berth.
January, 17, 2011
1/17/11
6:12
PM ET
By
Andy Katz, ESPN.com
| ESPN.com
STORRS, Conn. --
Shabazz Napier
had the ball, but the odds that
Kemba Walker
would get it back for the final shot were overwhelming.
Had he not it would have been blasphemous.


Everyone at Gampel Pavilion, and watching Monday afternoon on ESPN, knew Walker would take the last shot.
He did. He made it. Game over.
Connecticut 61, Villanova 59
.
Importance for Connecticut:
The Huskies desperately needed this game to stay in the Big East title chase. Big East teams hoping to stay with Pitt and Syracuse can't lose at home. UConn still has plenty of tough road stops and this loss, while it wouldn't have affected the Huskies for a NCAA bid, could have crushed its conference title chances. UConn moves to 4-2 in the Big East, and while the Huskies would lose to the Panthers in a tiebreaker (they lost at Pitt), they can catch Syracuse with only one game against the Orange -- at home.
Importance for Villanova:
The Wildcats lost a road game to Connecticut in the Big East with Walker making the money shot to win the game. This won't hurt Nova. Villanova would have been euphoric about stealing a road win like this. As long as there are road wins upcoming against top-tier teams, the Wildcats will be in the chase. The Cats get Pitt twice. The problem for Villanova is its next game -- at Syracuse on Saturday after the Orange play at Pitt on Monday night.
Star of the game:
Fisher almost stole it from Walker with his 28 points and late-game exploits, but the honor has to go to Walker. He finished with 24 points, but it was his last 3-pointer and mid-range shot that won the game and will be remembered most.
Dud:
Corey Stokes
of Villanova had an awful game -- missing all six of his shots and watching as Walker buried a 3-pointer over his head with a minute left in the game.
Turning point:
Connecticut's pressure got the Huskies back in the game and changed the tempo. Villanova was winning inside and Walker wasn't burning them yet. Turning up the heat got the Huskies going in the right direction.
Atmosphere:
The game was a dud at times with its low score and poor possessions. But the atmosphere was electric, as it usually is here on campus. Having the game go down to a Walker shot with 2.5 seconds left allowed everyone to be euphoric at the end and added to a sensational college environment.